Internet Article Leads to Mac Addiction
Alan O'Neil - September 2002
I am a sophomore in high school, and I have seen my fair share of computers. The first computer I really remember using would be one of the Apple IIes in the computer lab back in third grade (seven years ago!) for Oregon Trail ("Please turn the disk over, then press the space bar"). Ah, good times.
The first computer that I owned was an Compaq running Win95. We had that for a while and then upgraded to another Compaq, with WinME (ewwww).
All through this time I had worked with Macs at school, usually in the form of the Power Mac 5xxx series. I had never really given Macs much thought as usable computers, and even bashed them sometimes. (One mouse button?!? You're kidding!) But I finally saw a diary of one IIcx user on the Internet and said to myself, "I have got to get me one of these!"
So I got on eBay and found myself a respectable IIci with 8 MB RAM and a 160 MB hard drive for $20. In another auction I bought a 24-bit NuBus video card for it. I plugged in a nice 15" SVGA monitor and an adapter, then watched in millions of glorious colors as it booted. I've been hooked ever since.
I began asking around at my high school, for I had seen lonely LC IIs hanging around on a shelf, collecting dust. But every time I inquired, I was told that they had to go through the district warehouse to be legally surplused (rats).
I managed to buy a Performa 400 with a StyleWriter and modem (the Performa and modem are going to my grandma for use as simple email and Internet computer. I am keeping the StyleWriters until the district lets me get my hands on the LaserWriter Pro sitting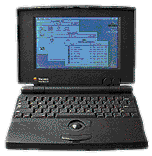 outside a hallway) from another student. I rescued a PowerBook 100 (currently DOA) from a friend for $20. Then I acquired a Power Mac 7100/66av.
I went to REPC in Seattle and found loads of Mac stuff. I bought three 12" monitors for $5 each. Then, while browsing the "as-is" section, I spied a lonely little Mac Classic in the corner. I grabbed it faster than you can say "it's mine!" Lo and behold, it had the memory expansion board and a 40 MB hard drive - all for $5! I plan to paint the case and keyboard a lovely silver, and accent the keys with translucent blue.
I have yet to break myself from the bonds of the PC, but as soon as I get a router, my brother and I will be able to share our broadband Internet using our Macs (I am loaning him my 7100). I am planning to purchase a load of Pluses, LCs and/or LC IIs and making a small ethernet/PhoneNet network.
I can dream about that 17" iMac, can't I?
Custom Search
Follow Low End Mac on Twitter
Join Low End Mac on Facebook
Favorite Sites
MacSurfer
Cult of Mac
Shrine of Apple
MacInTouch
MyAppleMenu
InfoMac
The Mac Observer
Accelerate Your Mac
RetroMacCast
The Vintage Mac Museum
Deal Brothers
DealMac
Mac2Sell
Mac Driver Museum
JAG's House
System 6 Heaven
System 7 Today
the pickle's Low-End Mac FAQ
Affiliates
Amazon.com
The iTunes Store
PC Connection Express
Macgo Blu-ray Player
Parallels Desktop for Mac
eBay

Advertise