Fresh Air: Why a MacBook Air Is My Newest Notebook
- 2009.06.16 - Tip Jar
Popularity:









Short link: http://bit.ly/h4k6i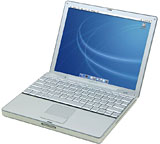 I've been a fan of the 12" PowerBook for many years and always considered it about the best balance of size, weight, and function in Apple's history. Of course,I prefer a larger, higher resolution, and higher quality screen, but likewise I also prefer smaller cases and less weight.
That is the dilemma that faces most road warriors, maximizing function while minimizing size and weight, which are of course mutually exclusive.
My Solution: 2 Notebooks
So exclusive are they that I long ago settled on a two laptop workflow, though even that can be limiting. For instance, I need at least one of my machines to have longer than 8 hour battery life, preferably much longer. I need one of my machines to weigh as little and be as tiny as possible for frequent flights, but I need the other to have a large-enough screen for long workdays.
Often they don't match up right: I prefer the ultra-long battery life on the tiny machine, but with very few exceptions that just doesn't work out. At least one of my laptops must be a Mac because of the instant suspend/resume, though I am equally adept in Windows and have no loss in productivity when forced to use that less-pleasant platform.
On Sunday, I had two machines that sort of meet my needs. A 15" MacBook Pro was my main machine, going to court with me every day because its instant and reliable suspend/resume, something Windows can never match. My lighter travel machine was a 14" Lenovo ThinkPad T400 that can weigh as little as 4.9 lb. and can fit in a considerably smaller case than the MacBook Pro, but it can be fitted with large batteries that will run it for up to 13 hours away from AC power, which is just the thing for trans-Pacific flights or long days in a conference.
The problem is that the MacBook Pro was just too big for its role as a courtroom machine that I schlep from place to place every day while the ThinkPad, despite its amazing battery life, is still too big for frequent travel and lacks the reliable suspend/resume of OS X.
13" MacBook Pro: Almost Perfect
I thought the new 13" MacBook Pro would be the perfect answer, and with its 7 hour battery life it comes very close to replacing both of my laptops at once.
Then I looked closer at the new 13" machine. 7 hours is good, but it's not good enough for my travel or lecture machine. 13" is large, but it's not large enough for my long workday or entertainment machine. The 14" ThinkPad - with its high-resolution screen, powerful Core 2 Duo, and 256 MB discreet graphics - is roughly equal to the MacBook Pro as an entertainment machine and better for long workdays due to its superior keyboard. A 13" MacBook Pro wouldn't improve on it for those functions and has barely more than half of the battery life.
So I passed on the 13" MacBook Pro and looked at other options.
Weighing My Options
I could sell the ThinkPad and use the MacBook Pro as the long day and entertainment machine, then buy an ultraportable with super battery life, such as the new ThinkPad X200s. Problem there is that the MacBook Pro is not the most comfortable machine to type on, at least for me. I find the palmrests too large, such that the sharp front edge cuts into my wrists, while the keyboard, nice as it is, isn't as nice as a ThinkPad for marathon typing sessions. Also - and most significantly - an ulraportable Windows PC doesn't have the instant suspend/resume I need for court, which even more than travel is where I want a small and light laptop.
The other option was an ultraportable Mac, perfect for courtroom use, and using the ThinkPad in the role of long day or long travel machine. Too bad Apple doesn't have a 13 hour option for the MacBook Air; then I could have the best of all worlds. As it is, the 5 hour MacBook Air is the perfect courtroom laptop, more than adequate for short-haul travel,and far smaller and lighter than anything else that is as pleasant to work with. It is compromised, for sure, but then again, not in any way that matters for courtroom use.
Close-out MacBook Air
With close-out pricing, the previous high-end 1.86 GHz MacBook Air with its 128 MB solid state drive (SSD) was reduced from $2,500 to $1,500 at my local Apple Store, and at that price, its compromises seamed somehow less compromising. Yes, it still has only one USB 2.0 port. Yes, there is no FireWire. Yes, the 5 hour battery is not user-replaceable. Yes, there is no built-in optical drive.
Of course, there also is no 1.5 lb. of extra weight that the 13" MacBook Pro carries around everywhere it goes.
Those compromises, by the way, only really manifest themselves when on the road, which is precisely when they really don't matter to me. For example, I have a powered USB hub on each of my two desks, one at home and the other in the office, and attached to those hubs are an external keyboard and mouse. At work there is a 20" monitor and a good set of external speakers, while at home there is a laptop stand, another decent set of speakers, and a 19" monitor. At home I also have the MacBook Air's external SuperDrive, as I frequently watch DVD movies or play games at home - but never do at work. On the road, of course, there is just 3 lb. of razor-thin sex-appeal.
Other roles are tougher. Short haul travel is easy. I just take the Air and load a movie or two to the SSD before I leave. For longer trips, it depends entirely on whether or not I will need more than 4 hours of battery life. Trans-Pacific flights or all-day lectures press the ThinkPad into service, while shorter hops have me reach for the Air. For overnight travel, I always have the option of packing the external SuperDrive or of traveling light, depending on whether or not I plan on playing some games or renting movies.
So while I went to the Apple Store to buy the new 13" MacBook Pro, its size and weight similarity with my PC laptop pushed me back down to the ultraportable class and the MacBook Air. Had Apple's closeout pricing not been so aggressive, I wouldn't even have considered an Air, as I was not interested in the hard drive model, and the SSD at $300 more is a difficult value decision.
One thing is certain, the MacBook Air is even more impressive in actual use than it ever was in magazine and online reviews - or on display at the Apple Store. I don't even notice it in my briefcase, which for the first time in two years is not one designed specifically to carry a laptop computer.

Andrew J Fishkin, Esq, is a laptop using attorney in Los Angeles, CA.
Recent Best Tools for the Job Columns
Links for the Day
Recent Content on Low End Mac
Recent Deals