14" iBook G4 (Early 2004)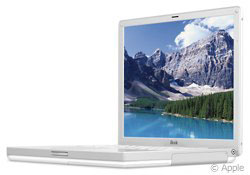 The 1 GHz model is often sold on the used market as a 1.07 GHz iBook G4. Apple marketed a 1.07 GHz machine as a 1 GHz model, making the 1.2 GHz version seem that much faster. Benchmarks bear this out.
For the first time, Apple offers a SuperDrive as an option on the iBook, making the 14" 1.0 GHz model (often reported as 1.07 GHz in benchmarks!) a very affordable, very portable way to burn DVDs.
In addition to a 20% speed bump, the 2004 iBook uses a G4 processor with a 512 MB level 2 cache - twice as big as on the previous iBook G4. Another improvement is 256 MB of RAM on the system board (twice as much) and maximum RAM is now rated at 1.25 GB, twice as much as the 2003 iBook officially supported.
The video remains the same Mobility Radeon 9200 chipset found in the earlier iBook. An internal Bluetooth module is a new option.
Details
introduced 2004.04.19 at US$1,299 (1 GHz) and $1,499 (1.2 GHz); replaced by 1.33 GHz model 2004.10.19
requires Mac OS X 10.3 or later
CPU: 1.07/1.2 GHz G4
bus: 133 MHz
performance:

Geekbench 2 (Tiger): 640 (1.2 GHz)
Geekbench 2 (Tiger): 574 (1.07 GHz)

ROM: 4 MB, NewWorld ROM in RAM architecture
RAM: 256 MB of SDRAM soldered in place, expandable to 1.25 GB using one PC2100 module (PC2700 compatible)
Level 2 cache: 512 KB on-chip cache
Video: ATI Mobility Radeon 9200 4x AGP
VRAM: 32 MB
display: 14.1" 24-bit 1024 x 768 91 ppi color active matrix, resolution scaling for 640 x 480 and 800 x 600 modes
video out: VGA and composite video
hard drive: 40/60 GB 4200 rpm ATA/100
optical drive: Combo drive, 4x SuperDrive optional

Combo drive writes CD-R discs at up to 24x, CD-RW at up to 16x, reads DVD-ROM at up to 8x, CD-ROM at up to 24x
SuperDrive writes DVD-R discs at up to 4x, reads DVDs at up to 8x, writes CD-R at up to 16x, writes CD-RW at up to 8x, reads CDs at up to 24x

floppy drive: external USB only
expansions bays: none
USB: 2 2.0 ports
FireWire: 1 FW400 port
ethernet: 10/100Base-T
modem: v.92 56k
wireless networking: 54 Mbps AirPort Extreme, optional on 1 GHz model, standard on 1.2 GHz model
microphone: built in
PC Card slots: none
Battery: rated at 6 hours
size: 12.7 x 10.2 x 1.35" (32.3 x 25.9 x 3.4 cm)
weight: 5.9 pounds (2.7 kg) with battery
Online Resources
Cautions