For the first time, Apple offered a SuperDrive as an option on the iBook, making the 14″ 1.0 GHz model (actually 1.07 GHz) a very affordable, very portable way to burn DVDs.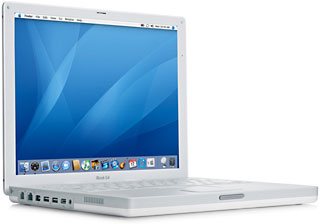 The "1 GHz" model is often sold on the used market as a 1.07 GHz iBook G4. Despite the fact that the CPU actually runs at 1.07 GHz, Apple marketed it as a 1 GHz model, making the 1.2 GHz version seem that much faster. Benchmarks bear out the 1.07 GHz speed.
In addition to a 12-15% speed bump, the Early 2004 iBook uses a G4 processor with a 512 MB level 2 cache – twice as big as on the previous iBook G4. Another improvement is 256 MB of RAM on the system board (twice as much) and maximum RAM is now rated at 1.25 GB, twice as much as the 2003 iBook officially supported.
The video remains the same Mobility Radeon 9200 chipset found in the earlier iBook. An internal Bluetooth module is a new option.
Details
Online Resources
Cautions
Keywords: #14inibookg4early2004 #14inearly2004ibookg4
Short link: http://goo.gl/Cz1whW
searchwords: 14inibookg4early2004, 14inearly2004ibookg4