iPhone Update to Break Apps and Unlocks, VOIP for iPhone and iPod touch, Wikipedia on Your iPod, and More
This Week's iPhone, iPod, and Apple TV News
Compiled by Charles Moore and edited by Dan Knight - 2008.01.03
Mac notebook and other portable computing is covered in The 'Book Review, and general Mac news is in Mac News Review.
All prices are in US dollars unless otherwise noted.
iPhone News, Reviews, & Opinion
iPod News, Reviews, & Opinion
iPhone Add-ons
iPod Add-ons
iPod and iPhone Deals
iPhone News, Reviews, & Opinion
Next iPhone Update Will Break Third-party Apps, Bust Unlocks
Computerworld's Gregg Keizer reports:
"The next upgrade for Apple Inc.'s iPhone will again relock unlocked phones and disable any third-party applications installed on the device, according to claims made by a noted iPhone hacker.
"Citing 'natetrue,' creator of the iBrickr utility, as its source, the Gizmodo blog posted a 10-second video clip that showed one of the changes purportedly included in the iPhone 1.1.3 firmware upgrade: the ability to rearrange application icons on the iPhone's home screen."
Link: Reports: Next iPhone Update Will Break Third-party Apps, Bust Unlocks
VOIP Comes to iPhone, iPod touch
9to5Mac's Quincy Pince-Nez reports:
"2007 was a monumental year for iPod hacking and a major milestone looks to be accomplished just before the year ends. The first SIP compatible VOIP solution for the iPod touch (and hopefully soon the iPhone) should be coming our way in the next 10 hours (as we write this)."
Link: VOIP Comes to the iPhone - iPod touch
Ruggedize Your iPhone for Winter
The Boston Globe's Mark Baard says:
"Congratulations: Santa has rewarded your good behavior with an iPhone. Now it's up to you to keep it clean and pristine, through icy, salty, and sandy New England winters.
"My favorite products for ruggedizing Apple's delicate devices come from OtterBox, which makes travel cases for smartphone and PDA users."
Link: Ruggedize Your iPhone for Winter
How to Install Third-Party Apps on Your iPhone or iPod touch
Lifehacker.com says:
"If a new iPhone or iPod touch found its way under your tree and you just can't wait until Apple officially supports third-party application development to extend its functionality (who can wait until February?), it's time you jailbreak your favorite new portable device. We've covered two methods for doing so already, but that feisty Apple keeps on changing things up, and the latest firmware (which all of you new owners are likely running) requires a bit more finesse before you gain access to the throng of great apps that have already been developed for the iPhone. So today we're jailbreaking that iPhone or iTouch of yours to open it up to the wonderful world of third-party software."
Link: How to Install Third-Party Apps on Your New iPhone or iPod touch
iPod News, Reviews, & Opinion
Apple to Launch iPod with Automatic Volume Control to Protect Hearing
The Daily Mail's Paul Sims reports:
"Listening to music non-stop has never been easier since the iPod came along.
"But future versions of Apple's MP3 player are to be adapted to prevent users from playing tracks at full blast through their earphones for too long.
"Amid growing fears that listeners could cause irreversible damage to their hearing - the highest setting is as loud as a chainsaw - Apple is developing an automatic volume control.
"A new patent reveals that the next iPods and iPhones could automatically calculate how long a person has been listening and at what volume, before gradually reducing the sound level."
Link: Apple to Launch iPod with Automatic Volume Control That Can Protect Your Hearing
United First to Tout iPod Integration with IFE System
Flight International's Mary Kirby reports:
"United Airlines has become the first airline to publicly tout its ability to let premium passengers play music and video content from their own Apple iPod personal electronic devices (PEDs) over the carrier's Panasonic Avionics-made in-flight entertainment systems."
Link: United First to Tout iPod Integration with IFE System
How to Install Wikipedia on Your iPod
makeuseof.com's Mark O'Neill says:
"I have an old 20 GB iPod and even though I have a lot of music on there, I am only taking up half of the space available. So there's another 10 GB kicking around doing nothing and so I decided to start putting some useful iPod tools on there for when I'm on the move. Some of that space was allocated for installing one of my favourite websites - Wikipedia.
"Yes that's right. Thanks to iPodLinux, you can now have the entire Wikipedia encyclopedia on your iPod...."
Link: How to Install Wikipedia on Your iPod
iPhone Add-ons
iPod Access Photo v1.3 with iPhone Support
PR: Findley Designs, Inc. announces the immediate availability of iPod Access Photo v1.3 for Mac OS X and Windows Vista/XP/2000. iPod Access Photo is the complete solution to viewing and retrieving photos stored on iPod players. New features in v1.3 include iPhone and iPod touch support, improved iPod Classic/Nano 3G support and Leopard OS X 10.5 support.
Features include:
Support For Mac OS X 10.3.9 or higher (Universal Binary)
Support for 10.5 (Leopard)
Support for Windows Vista, Windows 2000 and Win XP
Works with all iPods that support photos
Works with iPhone and iPod touch
Disable iTunes Photo Sync
Automatically uses highest resolution available
View Photos by Album
Full Size preview in application
Copy all your photos with one click
Easy to use interface
Ability to override photo names
Support for Multiple iPods
Need to get photos off your iPod and back onto your computer? If so you have probably realized that the iPod stores photos in files with a "ithmb" extension. These files contain all the photo data for your iPod but cannot be read by regular photo programs. iPod Access Photo solves this problem by allowing you to select individual photos and albums to be moved back onto your computer or to an external hard drive.
When iTunes transfers photos to the iPod it creates each photo in multiple sizes. The iPod uses these different size photos to display thumbnails, full screen images and television formatted images. iPod Access Photo always selects the highest resolution file available on the iPod. If the "full resolution" option was selected in iTunes then iPod Access Photo will use those files by default.
iPod Access Photo v1 is the perfect companion to iPod Access v4. With both programs installed on your computer you have complete control over all the media on your iPod that is important to you.
Link: iPod Access Photo for Mac OS X
JAVOHolster for the iPhone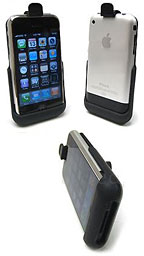 PR: The JAVOHolster for the Apple iPhone is a holster accessory solution for the on-the-go professionals. This stylish, yet durable JAVOedge Holster Belt Clip designed to quickly secure and release your Apple iPhone with no hassle. Easily clips to your belt or inside your pant pocket. Or even attach to a bag or a purse.
Features:
Designed to protect your device's touch screen fully.
Soft rubber pads the inside of holster cushioning your device.
Face-in design to provide paramount frontal protection.
Made out of high impact performance PC - Polycarbonate plastic.
Swivel belt clip allows maximum comfort while sitting or standing.
Belt clip is attached to the JAVOHolster via a strong metal ring.
Locking clip is engineered to snap your device on and off with one hand.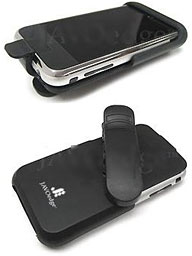 JAVOHolster is specifically designed for convenience and brisk functionality. It features soft rubber insulation to prevent scratching of your device when snapping it on and off the holster, and also a heavy duty locking swivel belt clip which gives your device the mobility you require. Your device will face inwards while snapped on to the holster to protect its sensitive touch screen. With the JAVOHolster, you can literally snap your device on and off with one hand.
Link: JAVOedge
iPod Add-ons
iSkin Introduces New Classic iPod Protector
PR: iSkin, a leading provider of protectors and accessories for the iPod and other cutting edge consumer electronics, today announced the release of its famed eVo3 protector for the iPod classic. The all-new iSkin eVo3 classic continues the regn as the first silicone protector for iPod to feature an ultra-clear, scratch resistant screen and face guard (ViSOR).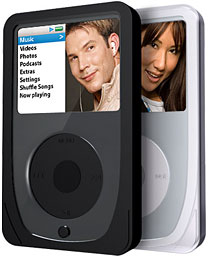 As with all iSkin products, the eVo3 classic is precision-molded with premium silicone to provide the ultimate fit with a high-quality finish. The protector is designed to provide maximum 360-degree protection without added bulk and to enhance the look and feel of the iPod. The eVo3 classic is available in two popular color options, Eclipse (solid black) and Arctic (clear frosted), and features click wheel protection and an anti-dust finish.
The new eVo3 classic's full-frontal ViSOR™ is specially coated with an optical finish leaving the iPod's screen fully viewable while protecting it against scratches and impact. It also features a micro-textured surface provides a enhanced feel and confident grip for the iPod. It has an integrated port cover helps to keep dust, dirt and other impurities from entering the iPod's dock connector when it's not being used.
The eVo3 classic also includes a updated version of the revoClip.
The new eVo3 classic iPod protector is priced at $34.99. It is available online now at iSkin.com, and scheduled to arrive in retail stores in the coming weeks. More information regarding this and other iSkin products can be found online at iSkin.com
iSkin Inc. introduced its first iSkin iPod protector in September 2002, creating a new and fashionable way to protect the iPod without sacrificing the functionality and aesthetics of the device. Today, iSkin is highly favored among iPod owners. With a growing line of innovative protective solutions for the iPod, iPhone, MacBook and other Apple products, iSkin is committed to delivering the best protection using the most advanced technology available. For more information about iSkin, visit iSkin.com.
Link: eVo3 classic
Join us on Facebook, follow us on Twitter or Google+, or subscribe to our RSS news feed
Links for the Day
Recent Content
Custom Search
Follow Low End Mac on Twitter
Join Low End Mac on Facebook
Favorite Sites
MacSurfer
Cult of Mac
Shrine of Apple
MacInTouch
MyAppleMenu
InfoMac
The Mac Observer
Accelerate Your Mac
RetroMacCast
The Vintage Mac Museum
Deal Brothers
DealMac
Mac2Sell
Mac Driver Museum
JAG's House
System 6 Heaven
System 7 Today
the pickle's Low-End Mac FAQ
Affiliates
Amazon.com
The iTunes Store
PC Connection Express
Macgo Blu-ray Player
Parallels Desktop for Mac
eBay

Advertise