iPhone to Hit $299 'Within Months', iPhone Car Integration Guide, iPhone Privacy Concerns, and More
This Week's iPhone, iPod, and Apple TV News
Compiled by Charles Moore and edited by Dan Knight - 2008.01.31
Mac notebook and other portable computing is covered in The 'Book Review, and general Mac news is in Mac News Review.
All prices are in US dollars unless otherwise noted.
iPhone News, Reviews, & Opinion
iPod News, Reviews, & Opinion
Apple TV News, Reviews, & Opinion
iPhone Add-ons
iPod & iPhone Deals
iPhone News, Reviews, & Opinion
I Predict iPhone Will Come Down to $299 Within a Few Months
ZD Net blogger Russell Shaw reports:
"With his customary deftness, my CNET colleague Tom Krazit mashes up some numbers from AT&T's earnings call this week with other numbers from Apple iPhone sales and projected sales reports.
"Tom's conclusion: iPhone sales are slowing, especially in AT&T's sales channels.
"OK, let us take that as fact. Where does this lead us?"
Link: Here's Why I Predict iPhone Will Come Down to $299 Within a Few Months
The Complete Guide to iPhone Car Integration
iLounge's Jeremy Horwitz says:
"Though we've reviewed hundreds of iPhone-compatible accessories since last June, there has not been a complete, turnkey solution for in-car iPhone integration that average users can go out and purchase with ease. The reason is simple: though the iPhone is supposed to be Apple's 'best iPod ever,' it actually doesn't work properly with many of the iPod's best previous car accessories, and the iPhone accessory development process has proved unusually difficult for even the best engineers out there.
"Today, the major problem is that there's no single accessory that charges, mounts, and performs all audio from an iPhone, so unless you want to hand-hold your iPhone while you drive - which is against the law in many places - you can't just connect one cable and expect to safely use both its music and phone features. This is largely due to Apple-imposed software limitations, but also certain technical hurdles developers need to overcome. So for now, in-car use of an iPhone requires a number of different parts, and we've created this Complete Guide to iPhone Car Integration to help you choose the ones that are best for your vehicle and personal needs."
Link: The Complete Guide to iPhone Car Integration
iPhone Privacy Concerns
MacFormat's Christopher Phin says:
"No, nothing sinister. But I did learn an important fact yesterday: if you don't want people to read the emails you're writing, don't write them on an iPhone."
Link: iPhone Privacy Concerns
More than a Quarter of iPhones Unlocked
PC Magazine's Scott Hillis reports:
"More than a quarter of people who bought Apple Inc's iPhone are using them on wireless networks other than AT&T's, the exclusive iPhone carrier in the U.S., a 'stunning' number that will pressure the company's business model, an analyst said on Monday.
"Bernstein Research analyst Toni Sacconaghi said analysis of sales numbers from Apple and AT&T Inc revealed about 1.45 million phones were 'missing in action' at the end of 2007.
"About 480,000 of those were believed to be held by AT&T as inventory, leaving another 1 million phones, or 27 percent of the total, that Sacconaghi said were 'unlocked' so they could work on non-AT&T networks."
Link: Analyst: More than a Quarter of iPhones Unlocked
iPhone Apps in the Works
Forbes' Elizabeth Woyke reports:
"Macworld may be over, but for a group of developers the most important Apple news has yet to be unveiled: the much-anticipated iPhone software development kit (SDK).
"Developers say they can't wait to get their hands on the SDK, which is expected to be released in late February and will allow third-party developers to create native applications for Apple's iPhone. But developers are also anxious about how Apple may monitor and distribute applications. So far, Apple has been characteristically mum about its SDK-related plans."
Link: iPhone Apps in the Works
Webapps Keep the iPhone Busy
MacLife's Michael Simon says:
"Even with the SDK being released, webapps are still going strong.
"Now that Apple has released the iPhone 1.1.3 firmware that allows users to automatically find their location in Google Maps and customize their home screens, it's just a matter of waiting a few short weeks for all those third-party apps to start pouring in. But in the meantime, there might be a couple Web-based gems that you might have missed:"
Link: Webapps Keep the iPhone Busy
iPod News, Reviews, & Opinion
Apple Applies to Light Up Laptop Touchpads, iPod Clickwheels
Register Hardware's James Sherwood reports:
"Apple has touched on a new way to help you find your way around its products. The company has registered technology in the US that could see the iPod's clickwheel or your MacBook Air's touchpad light-up when you finger it."
Link: Apple Applies to Light Up Laptop Touchpads, iPod Clickwheels
Apple TV News, Reviews, & Opinion
Apple TV Update 'Coming Soon'
PR: Apple announced Wednesday that the new Apple TV software update, which allows users to rent high definition movies directly from their widescreen TVs, is not quite finished. Apple now plans to make the free software download available to existing Apple TV customers in another week or two.
Apple TV's software update will allow movie fans to rent movies on the iTunes Store directly from their widescreen TV. With iTunes Movie Rentals and Apple TV, users can just click a button on their remote to effortlessly rent movies from a catalog of over 1,000 titles by the end of February, including over 100 titles in stunning high definition video with 5.1 Dolby Digital surround sound, with no computer required. DVD-quality iTunes Movie Rentals are $2.99 for library titles and $3.99 for new releases, and high definition versions are just one dollar more with library titles at $3.99 and new releases at $4.99. Purchases downloaded to Apple TV are automatically synched back to iTunes on the user's computer for enjoyment on their computer, all current generation iPods* or iPhone. Apple TV easily connects to a broad range of widescreen TVs and home theater systems and comes standard with HDMI, component video, analog and optical audio ports.
The new Apple TV software will be available as a free automatic download to all Apple TV customers within two weeks. Apple TV, which includes the Apple Remote, is available from the Apple Store, Apple's retail stores, and Apple Authorized Resellers for a suggested retail price of $229 for the 40 GB model and $329 for the 160 GB model (US and Canada). Apple TV requires an 802.11g/n wireless network or 10/100 Base-T Ethernet networking, a broadband Internet connection and a high definition widescreen TV. iPod games will not play on Apple TV. iTunes Movie Rentals are available in the US only.
*Movie rentals work on iPod classic, iPod nano with video, and iPod touch.
iPhone Add-ons
PRIE Ambassador Case for iPhone
PR: PRIE Ambassador for iPhone is now available in five different fashion looks. Traditionalists can choose versions in black nappa leather with either white or red stitching to complement any style. Other models include gold, gold with white, and silver colored leather for iPhone users who are looking to attract more attention to their device.
PRIE Ambassador is an open-face carrying case, which makes checking incoming calls a breeze. All ports, sensors and the camera remain open and accessible.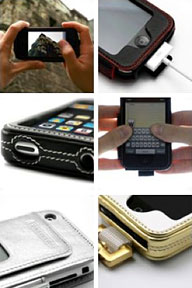 iPhone is held secure using a clever magnetic side latch and can be quickly removed when needed. For added protection of the Multitouch display, TuneFilm protective clear film is included free with PRIE Ambassador for iPhone.
Using the optional TuneWear hook, PRIE Ambassador can be attached to just about anything, such as a belt loop or carry bag. Remove the hook and slide iPhone easily into a jacket or pant pocket.
The suggested retail price is $59.95 each.
PRIE Ambassador for iPhone in all five styles is now available from the TuneWear store.
Link: TuneWear
iJailBreak Released for 1.1.3
PR: AriX, the 13-year old developer behind the open source iJailBreak utility downloaded over 200,000 times, has announced that iJailBreak 0.4 has been released. iJailBreak 0.4 allows iPhone and iPod Touch users on jailbroken versions of firmware 1.1.1 or 1.1.2 to automatically update to and jailbreak the newly released 1.1.3 firmware.
iJailBreak 0.4 works on Mac OS X Tiger or Leopard systems with an Intel architecture. Unfortunately, PowerPC (PPC) systems are not currently compatible - that is being worked on.
Users who currently have the previous version of iJailBreak installed should be notified of the new release and be offered the ability to have the utility update itself. If not prompted, go into the iJailBreak menu and choose "Check for Updates."
iJailBreak can be downloaded at Google Code, and more information can be found at their website. Donations through PayPal are greatly appreciated and go towards more devices for testing and development.
The process does require the user to start on a jailbroken 1.1.1 or 1.1.2 device. If you are currently on a non-jailbroken 1.1.1 installation, it is suggested that you visit JailbreakMe to jailbreak. Non-jailbroken 1.1.2 users should downgrade to 1.1.1 and continue from there. To downgrade to 1.1.1 from 1.1.2, follow the instructions posted at the iJailBreak website.
To downgrade from 1.1.3 to 1.1.1, visit the iJailBreak website - if you're on an iPod Touch do just the first page then visit JailbreakMe in Safari, and if you're on an iPhone do the first and second pages (includes jailbreaking); at which point you're clear to run iJailBreak. It's important to note that once downgraded, an iPhone will appear to be deactivated. This is not the case. Jailbreaking will 'reactivate' iPhone.
Note: all unlocks you do to an iPhone will remain untouched and will work 'out of the box' in your new 1.1.3 installation. Google Maps' new Locate Me function will not work on a jailbroken 1.1.3, however a patch is now being worked on and will be available in Installer.app shortly. In the mean time, the Locate Me app (also found in Installer.app) does the exact same thing Google Maps does, only in a separate application, so it's recommended you use that until the patch is available.
The actual jailbreaking process goes as follows: connect your device to your computer, open iJailBreak and click on the Jailbreak icon. Once iJailBreak tells you that it is finished, go into Settings->General on your device and set Auto-Lock to Never. Next, open Installer.app and install the '1.1.3 Soft Upgrade' package. This installation can take some time - maybe 5 or 10 minutes. Leaving your device alone at this point is fine and is encouraged.
Once the installation is complete, the device should reboot. If your device hasn't rebooted automatically after 15 minutes, it's safe to reboot it manually. Your device will then boot into your new 1.1.3 installation. Note that while all 3rd party applications have been deleted, their settings have not, so if/when you reinstall them, any settings or high-scores should appear as you left them.
If you are using an iPod Touch, the "Software Upgrade," which normally costs $20, will automatically be installed legally and for free. This will enable Mail, Maps, Stocks, Notes, Weather, and customizable home screens (a.k.a. wiggly icons).
New to iJailBreak 0.4 is the iJailBreak News Flash section of the utility. This little line of text will be downloaded from iJailBreak servers and will contain either a tip or new and interesting package to download from Installer.app (such as the Google Maps Locate Me patch) or a "3rd Party Application of the Week." (disclaimer: the "3rd Party Application of the Week" may not actually be updated exactly once a week)
Should you already be running a jailbroken 1.1.3 iPod Touch, iJailBreak 0.4 includes a nifty Add iPhone Apps button which will legally install the "Software Upgrade" for free.
Of course, as with anything of this nature, there's a small chance you may temporarily render your device inoperable. To restore your iPhone or iPod Touch, hold down the Power and Home buttons on the device until the Apple logo appears on the screen, at which point you can let go of the Power button - but keep holding the Home button. When you see the "Connect to iTunes" logo appear, you may let go of the Home button, connect your device to your computer, and use iTunes to restore.
As with previous versions of iJailBreak, 0.4.x is happily released under the GNU General Public License version 2. As such, the utility and code are provided AS IS and come with no warranty whatsoever. Any damage you do to your device(s) with iJailBreak or its underlying source code is your responsibility.
AriX hopes you enjoy this new version of iJailBreak and have a good time with 1.1.3 and all its wiggly niceness.
iJailBreak is an automated OS X jailbreaker for your iPod Touch or iPhone licensed under the GNU General Public License v2 written by 13-year-old AriX with help from 13-year-old friend Ben Feldman.
Link: iJailBreak
Join us on Facebook, follow us on Twitter or Google+, or subscribe to our RSS news feed
Links for the Day
Mac of the Day: iMac (Late 2006), introduced 2006.09.06. Apple introduced the biggest screen ever in an iMac with a 24" 2.16 GHz Core 2 Duo model.
Recent Content
Custom Search
Follow Low End Mac on Twitter
Join Low End Mac on Facebook
Favorite Sites
MacSurfer
Cult of Mac
Shrine of Apple
MacInTouch
MyAppleMenu
InfoMac
The Mac Observer
Accelerate Your Mac
RetroMacCast
The Vintage Mac Museum
Deal Brothers
DealMac
Mac2Sell
Mac Driver Museum
JAG's House
System 6 Heaven
System 7 Today
the pickle's Low-End Mac FAQ
Affiliates
Amazon.com
The iTunes Store
PC Connection Express
Macgo Blu-ray Player
Parallels Desktop for Mac
eBay

Advertise