Consumers Worldwide Flock to iPhone, Portable iPhone Speakers, Bruce Lee Cases, and More
This Week's iPhone, iPod, and Apple TV News
Compiled by Charles Moore and edited by Dan Knight - 2008.02.15
Mac notebook and other portable computing is covered in The 'Book Review, and general Mac news is in Mac News Review.
All prices are in US dollars unless otherwise noted.
iPhone News, Reviews, & Opinion
iPod News, Reviews, & Opinion
iPhone/iPod Add-ons
iPhone Add-ons
iPod Add-ons
iPod and iPhone Deals
iPhone News, Reviews, & Opinion
iPhone Storms World Smartphone Markets
Register Hardware's Tony Smith reports:
"Apple squeezed itself into third place in the list of world smartphone makers during Q4 2007, pushing ahead of Motorola and Palm and all the Windows Mobile device suppliers.
"The iPhone itself may divide opinion but there's no questioning its success. According to market watcher Canalys, Apple shipped 2,320,840 iPhones in the fourth quarter of 2007, just beating Motorola, which shipped 2,301,260 smartphones during the period....
"Focusing on the US market, Apple took a 28 per cent share, behind only RIM, which accounted for 41 per cent of the market."
Link: Apple iPhone Storms World Smartphone Biz
Consumers Abandoning Basic Mobiles for Advanced RIM and Apple Models
ChangeWave's Paul Carton and Jim Woods reports:
"Record numbers of consumers are abandoning their basic cell phones for more-advanced models, according to the latest ChangeWave consumer cell phone survey. The January survey of 4,182 consumers tracked key market share changes affecting cell phone manufacturers and service providers alike.
"Research In Motion (RIMM) and Apple (AAPL) appear to be the primary beneficiaries of the seismic shift toward more-advanced cell phones. Looking ahead, the Apple iPhone is now the top choice among respondents planning to buy a new cell phone in the next six months (up one point to 17%), but second-place RIM has the most momentum (up three points to 15%).
"For a copy of the entire ChangeWave Cell Phone report, please contact Darlene March, March Media Relations, (714) 514-3736."
Link: ChangeWave Survey Shows Consumers Abandoning Basic Models for Advanced RIM and Apple Phones
iPod News, Reviews, & Opinion
How to Tell If Your iPod touch Has the January Upgrade
TUAW's Erica Sadun says:
"What you might not know is that in order to purchase the iPod touch January upgrade you must be logged into your iTunes account and you must be running iTunes 7.6. You cannot make this purchase using earlier versions of the software.
"If you ever restore your iPod and need to get back those upgrades, once again you need to use the magic of 7.6 plus be signed into the account with which you purchased it. I found out the hard way that your Mac doesn't automatically "remember" that you purchased it and that it belongs on your iPod touch."
Link: How To: Tell Your iPod touch Has the January Upgrade
The Future of iPod Accessories: Cars, Cars, Cars
CoolTechZone's Gundeep Hora reports:
"Now that the market is proliferated with a multitude of iPod accessories, what's the next step for iPod accessory makers? Why, cars, of course. We had a talk with Kensigton at CES 2008 where the company was showcasing an entire product line for cars for the famed music player. None of the accessories we saw on the show floor, whether from Kensington or anyone else, were overly complex for obvious reasons. It was mainly adapters, holders, FM tuners or a mixture of all three. Nice, simple and to the point."
Link: The Future of iPod Accessories: Cars, Cars, Cars
iPhone/iPod Add-ons
ISofa Turns Your iPhone/iPod touch into a Remote Control for Your Mac
Blog iPhone France's Toma reports (translated from French):
"ISofa is a free software which transform your iPod touch/iPhone in a remote control for you Mac.
"It's brought to you by Ben & Mat and comes through www.iPhon.fr now in a new version with enhancements requested after the first release:
"Works now under Tiger and Leopard.
"Administration: Available, from your computer, at http://127.0.0.1:9999/admin/
"Skin can be changed, password can be set.
"Browser: All files can be read on the iPhone / iTouch, depending on its capabilities.
"ITunes: Videos now play fine.
"You can download the iSofa v1.2 below (or here). Fell free to ask enhancements in the comments of this post, for future versions!"
Link: ISofa v1.2 Now Supports Tiger! The iPhone/iPod Remote Control becomes Touch (Free Software)
iParrot Phrase Turns Your iPod/iPhone into a Translator
PR: The newest version of iParrot is released. Now iParrot supports all iPods (except iPod shuffle), iPhone and Apple TV. You can use iParrot in two ways: "Music Mode" and "Notes Mode". The "Music Mode" support all device, the "Notes Mode" support iPods that have Notes Reader feature.
iParrot Phrase is stocked with over 20 kinds of perfectly pronounced oral language for instant use. iParrot is organized into categories such as: Greetings, Transportation, Shopping, and Asking for helping etc. So it is enough for you to find the sentences you need instantly. Organized for instant access and ease, it is especially useful while traveling abroad. Virtual fluency available in Chinese, English, Japanese, Russian, French, German, Spanish, Italian, Korean, Portuguese, Thai and Vietnamese.
New in version 3.2:
System requirements:
iPod (Except iPod shuffle) or iPhone or Apple TV
60 MB free space on the device
iTunes 6.0 or later
Mac OS X 10.3.9 or later.
System support: PPC/Intel
$14.95 Demoware
Link: iParrot Phrase
Bruce Lee Cases for iPhone and iPod touch
PR: USB Fever announces Bruce Lee Crystal Cases for the iPhone and iPod touch.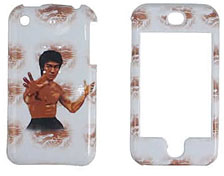 Features:
Unique ergonomic design
Printed with Bruce Lee
Fully Protected from bumps and scratches
Light weight
Perfectly fit
Anti-dust
Easy access to all ports, buttons and sockets
US$16.99
Accepting Pre-ordering, to be shipped on around 20 Feb 2008.
iPhone Add-ons
Ad Infuse Introduces Video Advertising Solution for the iPhone
PR: Ad Infuse, a leader in delivering highly personalized mobile advertising experiences, today announced a new mobile advertising unit designed specifically for the Apple iPhone. The new solution enables brands to uniquely reach the millions of iPhone subscribers in the US and Europe, bringing together video and browsing formats for the first time. The company introduced the new product to meet the growing demand from top brands and premium publishers for a more visual, rich multimedia experience that can leverage the unique mobile web capabilities of the iPhone.
The new ad unit is already in production with several early advertiser and publisher partners, with global availability later this month. Ad Infuse's platform will now automatically recognize the iPhone, and deliver advertisements optimized specifically for that device. The multi-format capability enables advertisers to gain broader reach with their target audience, delivering presence in more areas where subscribers are spending time on the mobile device. Publishers are now able to open up more of their content for more compelling multi-format campaigns, ultimately gaining from higher revenue opportunities.
"The iPhone has undeniably set new benchmarks in providing a rich and dynamic user experience for the mobile Web," said Liz Ross, President of Tribal DDB West, one of the world's top digital marketing agencies. "Being able to leverage its full potential, especially in video, is an exciting development for creating innovative and compelling ways to interact with consumers."
Ad Infuse offers full flexibility through a choice of video, browsing, or integrated multi-format campaigns. Utilizing progressive downloading for video, the solution delivers the same user experience as streaming but with a much higher image quality, ensuring the best presentation of an advertiser's creative assets. Video ads and content are able to stretch and rotate with the phone without any interruption, delivering a seamless user experience. In addition, dynamic ad insertion allows real-time targeting, and advertisers can rotate multiple ads throughout a campaign to keep it fresh and interesting for consumers.
"Ad Infuse continues to spearhead innovation in rich media and multi-format advertising solutions," said Brian Cowley, CEO of Ad Infuse. "As top publishers create content optimized for the iPhone and premium brands look to interact with consumers in exciting new ways, our new solution delivers exactly the kind of user experience and targeting capabilities the market is seeking."
Since its debut in June 2007, almost four million iPhone's have been sold worldwide according to Apple. And the user experience is drawing more users to the mobile web. In a recent study by M:Metrics, almost 90 percent of iPhone owners try to access the mobile web, compared to 10 percent of regular cellphone users.
Link: Ad Infuse
DLO Portable Speakers for iPhone
PR: Compact yet powerful, the DLO Portable Speakers for iPhone let you enjoy your music and videos in stereo sound without any threat of TDMA interference. Featuring an extra-wide sound stage and bass vents for delivering powerful sound, these small speakers pack a powerful punch.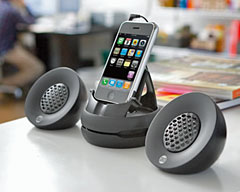 The removable, rotating stand holds the iPhone upright or horizontally for the ideal portable movie-viewing experience. Plus, you don't have to disconnect your iPhone if a call comes in - the Portable Speakers simply turn into your iPhone into a speaker phone! So while iPhone is connected, you can take and place calls as usual, without any disruption.
Small enough for home, office or dormitory desktops, the speakers also feature a unique compact design that makes them ideal for travel. Each speaker snaps neatly into the base to create a "ball" approximately 6 inches in diameter. The base features a recessed area for keeping cords securely wrapped and out of the way when not in use. Powered by either AAA batteries or the included AC adapter, the DLO Portable Speakers for iPhone are versatile enough to be used at home or on the go. Although our Portable Speakers were created with the iPhone in mind, they will also work with any audio device that has a 3.5mm headphone jack.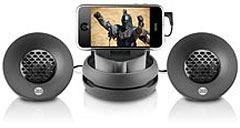 Quick Facts
Enjoy iPhone music and videos in room-filling, stereo sound
Powerful speakers with TDMA interference-free digital amplifier
Also turn your iPhone into a speaker phone
Two speakers, base and cables easily combine for compact storage and convenient travel
Use with 4 AAA batteries or with the included AC adapter
Compatible with any audio device with a standard 3.5mm headphone jack, including iPhone
Portable Speakers for iPhone - $49.99
Link: DLO Portable Speakers for iPhone
iFob: Free Social Networking Software for the iPhone and iPod touch
PR: iCloseBy.com announces iFob, a new technology that hits the heart of what is missing in social networks. iFob brings reality back to social networking. If you have a life, and go to hotspots, then iFob will help you find real people. iFob is native software for the iPhone, iPod touch and laptops, which finds other iFob users who are physically close by. iFob doesn't use a site, and doesn't need any kind of registration or account creation. You just install iFob on your iPhone, iPod or laptop, and then as you go in and out of coffee houses or other hotspots, iFob works like a radio beacon to say, "I am here!" At the same time, your copy of iFob listens to see who is also saying, "I am here!"
Whenever two copies of iFob find each other, they will light up and automatically exchange their "micro profiles." If you are worried about privacy, you can set your copy of iFob just to "Listen," so you will see other people's micro profiles, but they will not see yours until you want them to. Because there is no login or registration with iFob, you can change your iFob user name, or your micro-profile, as often as you want. You can use iFob as a tool, or use it as a social networking game where you exchange user names and micro descriptions of yourself with real people who are just a smile away.
iFob for the iPhone and iPod touch is free software. You can also purchase copies of iFob for your PC. iFob can be found and downloaded from the trusted software lists under the "network" category in the iPhone Installer app, or from the download section iCloseBy.com
Link: iCloseBy.com
GizMac Shipping Titan Clear iPhone Cases in Colors
PR: GizMac Accessories, designer and manufacturer of innovative products for the iPod and iPhone, announce their Titan Clear iPhone cases are now available in smoke and pink colors. Titan Clear for iPhone was originally introduced late last year in clear polycarbonate only.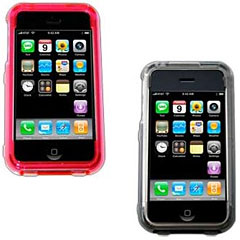 Today, GizMac begins shipping the Titan Clear iPhone case in colors as well. These new smoke and pink iPhone cases include all the features and benefits of the original Titan Clear case, but now have color.
"GizMac displayed the new Titan Clear iPhone case colors at Macworld this year," explained Ken Vitto, Marketing Director for GizMac Accessories, "The Macworld attendees were excited about the familiar, yet different coloration we have developed for these iPhone cases."
The Titan Clear case protects the iPhone with its tough, clear colored polycarbonate shell, but still allows some of Apple iPhone's striking appearance to show through.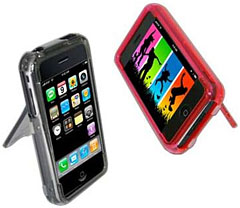 The translucent color combined with the curves of the case produces subtle color changes that make the Titan Clear iPhone case unique. Smoke and pink colors of the Titan Clear iPhone cases need to be explained to be fully appreciated. Smoke is a form of black that appears darkest on the curves and can exhibit an almost pewter look occasionally in the light. Pink is slightly luminescent and can be considered a "hot" pink, while the case may sometimes show a hint of red at certain angles in bright light.
The Titan Clear for iPhone includes a clear, slightly frosted holster with rotating belt clip and thin film, full screen protector. Titan Clear iPhone cases have a retail price of $34.99 and are available from authorized resellers or from GizMac directly.
Link: GizMac
SwitchEasy Launches New Spring Colors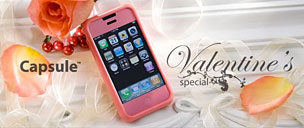 PR: SwitchEasy Limited announces the immediate availability of the latest colors for Capsule iPhone series, Military Green and Valentine's Pink and VisionClip for Military Green. In addition to the feature rich accessory kit from our popular Capsule from iPhone product line, we have included a video stand and a static screen guard for customers with different preferences.
Capsule for iPhone
Ultra Hard Polycarbonate casing with built-in case lock.
Industry's first Hard Coated protective easy-on membrane (non-adhesive type) with color accent for day to day fashionable protection
TactileTouch Membrane system for easy home button access
Easy slide in construction for easy installation of iPhone
Unique duo tone logo and body construction
Feature rich accessory kit which includes
Two) accented TactileTouch screen protectors
One transparent static screen guard (For customers preferring the transparent look)
Color matching connector protector to protect iPhone's 30-pin connector
Color matching 3.5mm headphone jack for any external headphones
Video Stand
Custom formed Universal dock adapter. Our dock adapter allows user to directly plug the iPhone with case to a speaker or dock with universal dock compatible systems.
Capsule for iPhone comes in four colors ( Ivory White, Ebony Black, Military Green and Valentine's Pink) which will complement any fashion needs.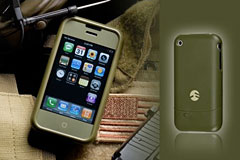 VisionClip for Capsule iPhone Case
World's first iPhone Clip/Holster with dedicated incoming Call/Time Window.
Easy clip and release mechanism for quick drawing and releasing of iPhone.
180 degree rotation for easy access.
Reverse phone installation design (LCD screen is not exposed when iPhone is installed in the VisionClip) for maximum protection of your iPhone.
VisionClip for Capsule for iPhone comes in three colors ( Ivory White, Ebony Black, and Military Green) which will complement any fashion needs. The suggested retail price of Capsule for iPhone is $29.99 and $14.99 for VisionClip in U.S. and Canada, and open price for the rest of the world.
Link: SwitchEasy
iPod Add-ons
Free podUp Utility Copies Music from Your iPod to Your Mac
PR: podUp is an application which copies all your music files from your iPod to a folder of your choosing, without having anything to do with iTunes.
It does not attempt to interfere with whatever copyright protection those files may have, it simply copies them, so files bought from the iTunes store will still be authorised only for the computer(s) you have authorisied.
To copy the files from your iPod to a folder:
Drag an iPod from the desktop to the podUp window.
Either drag the destination folder to the podUp window, or click in the window and choose the destination.
Click on the "Copy Files" button, and off it goes.
If your iPod is pretty full, it can take a long time, so you can stop it at anytime by pressing and holding the control key to the bottom left of your keyboard.
podUp remembers what it's already copied, so you can resume at anytime.
Version 1.1.1 now available - internationalized, and can check for updates.
System requirements: Mac OS X 10.4 or later.
System Support: PPC/Intel
Free
Link: podUp
Join us on Facebook, follow us on Twitter or Google+, or subscribe to our RSS news feed
Links for the Day
Mac of the Day: Unitron Mac512, introduced 1985. Unauthorized Brazilian clone of the Mac 512K.
Recent Content
Custom Search
Follow Low End Mac on Twitter
Join Low End Mac on Facebook
Favorite Sites
MacSurfer
Cult of Mac
Shrine of Apple
MacInTouch
MyAppleMenu
InfoMac
The Mac Observer
Accelerate Your Mac
RetroMacCast
The Vintage Mac Museum
Deal Brothers
DealMac
Mac2Sell
Mac Driver Museum
JAG's House
System 6 Heaven
System 7 Today
the pickle's Low-End Mac FAQ
Affiliates
Amazon.com
The iTunes Store
PC Connection Express
Macgo Blu-ray Player
Parallels Desktop for Mac
eBay

Advertise