iPod Sales Drop Expected, 2 GB iPod shuffle, iPhone Love Stumps Mobile Experts, and More
This Week's iPhone, iPod, and Apple TV News
Compiled by Charles Moore and edited by Dan Knight - 2008.02.22
Mac notebook and other portable computing is covered in The 'Book Review, and general Mac news is in Mac News Review.
All prices are in US dollars unless otherwise noted.
iPhone News, Reviews, & Opinion
iPod News, Reviews, & Opinion
iPhone/iPod Add-ons
iPhone Add-ons
iPod Add-ons
iPod and iPhone Deals
iPod News, Reviews, & Opinion
Apple Adds 2 GB iPod shuffle, Drops 1 GB Price to $49
PR: Apple on Tuesday announced that its iPod shuffle, the world's most wearable music player, is now even more affordably priced at $49 and that it is introducing a new 2 GB model of the iPod shuffle for $69. The popular iPod shuffle is just half a cubic inch in volume, weighs just half an ounce, features an aluminum design with a built-in clip and comes in five colors - silver, blue, green, purple and a (PRODUCT) RED special edition.
"At just $49, the iPod shuffle is the most affordable iPod ever," said Greg Joswiak, Apple's vice president of Worldwide iPod Product Marketing. "The new 2 GB model lets music lovers bring even more songs everywhere they go in the impossibly small iPod shuffle."
The iPod is the world's most popular family of digital music players with over 140 million sold. The lineup includes iPod shuffle, the world's most wearable iPod; iPod classic holding up to 40,000 songs*; the incredible iPod nano with video playback and the breakthrough iPod touch with a revolutionary Multi-Touch user interface. iPod owners can choose from a vast ecosystem of accessories with over 4,000 products made specifically for the iPod including cases, fitness accessories, speaker systems and iPod connectivity in over 75 percent of US automobiles.
The new 1 GB iPod shuffle is available immediately for a suggested retail price of $49 through the Apple Store, Apple's retail stores, and Apple Authorized Resellers. The 2 GB iPod shuffle will be available later this month for a suggested retail price of $69 through the Apple Store, Apple's retail stores, and Apple Authorized Resellers. iPod shuffle requires a Mac with a USB 2.0 port, Mac OS X 10.4.8 or later and iTunes 7.4; or a Windows PC with a USB 2.0 port and Windows Vista or Windows XP Home or Professional (Service Pack 2) or later and iTunes 7.4 or later.
*Music capacity is based on four minutes per song and 128-Kbps AAC encoding.
It's Weird to Live Without an iPod
The State News' Lindsey Poisson says:
"After weeks of not having my iPod handy, I'm undergoing severe withdrawal pains. I wrote this column expecting to find an answer, but I'm not entirely sure I've found it. What helps is how other people have responded to my iPod query. Each discussion has zeroed in on the same subject - personalization.
"The little thing literally expired the first day of classes this semester, without a chance for me to say goodbye. After about two years of moderate use, it had a good, long life. However, now I'm alone in this world.
"No David Bowie, The Killers, Nine Inch Nails or the latest podcast from National Public Radio's 'Wait Wait - Don't Tell Me!' Just silence as everyone else on campus walks around plugged into earbuds.
"Technically speaking, it's a problem that could easily be solved. Given the time, money and inclination, I could probably pick up another - probably one much better than my old-school iPod shuffle. Consumerism is just neat like that.
"However, the issue goes deeper than the iPod itself. It's the need for the iPod. I 'miss' an inanimate object - something I don't usually do...."
Link: It's Weird to Live Without an iPod
Drop in iPod Sales Expected
Seeking Alpha reports:
"Once again Apple gets hammered in the press. This time by Sandy Berger, FBR analyst, who figures that second quarter 2008 unit sales of iPods and iPhones will be down 60% and those of MacBooks will be down 50% from last quarter's results. He arrives at these estimates by gauging Apple's suppliers....
"But before investors lose too much heart, consider the following:
"Q2 unit sales traditionally do go down after the booming holiday season. It's awfully hard to match those Christmas iPod gifts in January through March. iPod sales are seasonal. Look at 2007 unit sales for the iPod. They went from 21 million in Q1 to 10 million in Q2 for 2007. A drop in iPods is expected; anything otherwise would be very unusual....."
Link: Apple: Rumors Keep on Coming, but Numbers Will Surprise - iPod Sales Down
iPhone News, Reviews, & Opinion
Users' Love Affair with iPhone Stumps Mobile World Panel
EE Times David Benjamin reports:
"A blue-ribbon panel of human behavior and technology experts at the Mobile World Congress in Barcelona, Spain agreed that the best recent advance in the mobile telecommunications user space came not from a mobile telecom company but from Apple Inc. - the iPhone.
"Anup Murarka, director of technical marketing for Adobe, cited a study showing that 77 percent of iPhone purchasers described themselves as 'very satisfied' with their user experience.
"In an ominous note for mobile operators, the iPhone respondents credited their happy experience not to AT&T, the channel through which iPhone services were delivered in the US, but to Apple, the device maker."
Link: Users' Love Affair with iPhone Stumps Mobile World Panel
Google Confirms Huge Search Traffic from iPhones
Macworld UK's Jonny Evans reports:
"Google has confirmed it has seen 50 times more searches from the iPhone than from any other mobile handset.
"'We thought it was a mistake and made our engineers check the logs again,' Vic Gundotra, head of Google's mobile operations told the Financial Times at the Mobile World Congress in Barcelona."
Link: Google Confirms Huge Search Traffic from iPhones
Land Rover LRX SUV Controlled by Integrated iPhone
Auto Express' James Disdale reports:
"Think Land Rover, and no doubt a chunky off-roader will spring to mind....
"Not this time! The LRX was the star of last month's Detroit Motor Show. It's a rakish concept representing a bold new design direction for the company as it gets ready to go head-to-head with the forthcoming BMW X1....
"The dashboard is clutter-free, featuring only an LCD screen boasting 3D graphics. It's linked to an Apple iPhone placed in a dock below the gearlever. This innovative set-up does away with the traditional key, and allows owners to personalise the car's functions.
"Everything is controlled through the phone - the seats, climate control, sat-nav and even the colour of the ambient lighting, with a choice of deep red, soothing green and cool blue. The screen acts as the ignition, too, generating a large red 'start' button when you want to fire the engine."
Link: Land Rover LRX SUV Controlled by Integrated iPhone
Bad Breath? Your Phone Can Tell You!
EE Times' Junko Yoshida reports:
"NTT Docomo is promoting the notion that a cellphone can morph into just about anything.
"The latest example is the Japanese company's 'wellnesss handset,' shown at the Mobile World Congress here.
"While billed as a prototype, a working model of the electronic paramedic is said to be able to check your heart rate, measure body fat and accurately count your footsteps.
"But the killer app in the wellness handset is its 'halitosis monitor.' Breathe into your phone, rather than your loved one's kisser, and it tells you whether you need a quick blast of Binaca."
Link: Bad Breath? Your Phone Can Tell You!
Monitor Home Energy Usage from Your iPhone
Electronic House's Arlen Schweiger says:
"You might not see this on one of those hip Apple commercials for the iPhone: using that nifty little device to check in on how much electricity your home is using and how much it is costing.
"Current State software, a concept developed as part of The Greener Grass, taps into your home as a real-time energy use monitoring system and timer for powered devices."
Link: Monitor Home Energy Usage from Your iPhone
The Next Generation of iPhone Hacks
Technology Review's Kate Greene reports:
"Apple's plan to release a software kit that lets people create legitimate add-ons for the iPhone could make the device appeal to an even wider audience....
"In today's cell-phone market, the iPhone stands out as the shining example of what a handheld device should have: a sleek design, easy-to-use software, and an intuitive interface. But the day Apple released it, geeks found the phone lacking, and they went to work to make their own software for it. These hackers have been crafting clever add-ons that range from instant access to a Blockbuster Online DVD queue to a pocket guitar that takes advantage of the touch screen. In addition, people have found ways to unlock the iPhone from AT&T, so that it can work on other cellular-phone networks."
Link: The Next Generation of iPhone Hacks
iPhone/iPod Add-ons
Clickwheel Builds on Its 2000AD 'Webcomics' for iPhone and iPod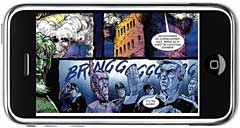 PR: Clickwheel, the distributor of online comic books or 'webcomics' for Apple iPhone and iPod and the exclusive distributor for the Sci-Fi comic 2000AD, has announced it will be expanding its offering in the lead-up to the main 2000AD Digital Download service launch later this year.
Clickwheel and 2000AD owners, Rebellion, has agreed to include archive material from 2007 in addition to the weekly 2000AD comic downloads, which began in December 2007.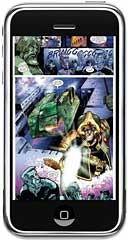 Will Simons, Creative Director of Clickwheel said; 'The plans Clickwheel and Rebellion have for the 2000AD download service are wide-ranging and incredibly exciting. They began with the 2000AD Christmas special in December and we're now implementing the first in a series of archive content.'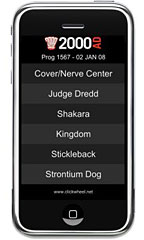 Jason Kingsley, CEO and Creative Director of Rebellion added 'As the download service was designed for existing overseas 2000AD readers and latent fans, the first archive will feature every issue from 2007 to give fans access not just to copies they haven't read but also overall storylines over a number of issues.' Will concludes; '2008 promises to be an exciting year for Clickwheel and 2000AD. We have offered the latest copies of 2000AD since December and with the 2007 archive in place, characters and storylines within the comic can be fully explored and enjoyed.'
The archive goes live Friday 15th February 2008. Visit clickwheel.net for more details
Link: Clickwheel
iPhone Add-ons
USB Fever iPhone Unlock Card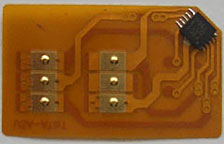 PR: With this card, you can unlock your iPhone
Applications: Attach this card to your SIM Card to unlock your iPhone
Package Contents: iPhone unlock Card x 1
Note: Firmware 1.12
Link: USB Fever iPhone Unlock Card
USBFever iPhone Wide Angle Lens
PR: Don't be limited by the original iPhone Lens, now you have a way to widen your eyes (iPhone).
Features:
Plug and Play
1 piece off attachment, just attach it when you need it.
Special coating on lens
compact size: 20x15x12mm
Magnification : 0.68x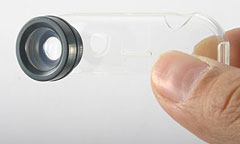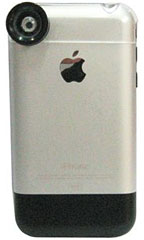 Package Contents: iPhone Wide Angle Lens x 1
US$11.99
Accepting preordering, to be shipped on/before 29 Feb 2008.
Link: USBFever iPhone Wide Angle Lens
iJailBreak 0.5.1 Released: iPhones on 1.1.3 Can Jailbreak Themselves
PR: AriX and Ben have announced the immediate availability of iJailBreak 0.5.1, the latest version of the open source Mac OS X jailbreaking utility. iJailBreak 0.5.1 allows iPhone (and soon iPod Touch) users the ability to jailbreak, and if so desired, unlock and "hactivate," their device in mere minutes. Currently iJailBreak 0.5.1 is an Intel-architecture only application that supports Mac OS X Tiger and Leopard.
This process also works for other firmware versions, however iJailBreak 0.5.x was written with 1.1.3 in mind, thus it's suggested that you only use iJailBreak 0.5.x for 1.1.3. Note that the unlock only works for iPhones with Boot Loader 4.6 (all iPhones that came preloaded with 1.1.2 or 1.1.3 have Boot Loader 4.6).
iJailBreak 0.5.x fixes many of the issues found with the "1.1.3 Soft Upgrade"-based method, including the inability to play some DRMed music. Those who have used the 1.1.3 Soft Upgrade include users of iJailBreak 0.4.x and iJailBreakMobile 1.0.
An iPod Touch-compatible version will be shipped as an update as soon as technically and efficiently possible and will include the free and legal enabling of the iPhone applications.
The jailbreaking process is very straightforward: download iJailBreak 0.5.1 from Google Code, plug in your device, open and run iJailBreak, and when you're ready, click the Jailbreak button. The entire process should take just a few minutes, and no music or settings will be lost. Your device will automatically reboot into your new, jailbroken 1.1.3 firmware.
Also, a feature for a future version the 0.5.x branch is in the works that allows users of the "1.1.3 Soft Upgrade" (which, again, includes users of iJailBreak 0.4.x and iJailBreakMobile 1.0) to "truly" jailbreak their device. This is not currently in 0.5.1.
As with all previous versions of iJailBreak, 0.5.x is free/open source software released under the GNU General Public License version 2.
Link: iJailBreak
iJailBreak's 0.5.x branch is an automated iPhone jailbreaker, taking advantage of ZiPhone as its core. The project is run by 13 year olds AriX and Ben.
Protecting the Screen from Being Seen, Case-mate Covers the Handheld Market
PR: Makers of innovative accessories for the iPhone, BlackBerry, Treo, iPod, and other handheld devices, Case-mate, announces the launch of a groundbreaking new Privacy Screen.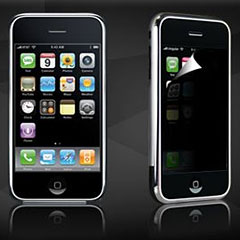 The Case-mate Privacy Screen Pro provides the ultimate protection from prying eyes. The static cling screen allows a viewing angle starting at 45-degrees from the device's surface, ensuring that data is crystal clear to the user but not to nosy neighbors. It is the highest level of security available on the market today (other brands offer a 60-degree viewing angle). The Case-mate Privacy Screen works both horizontally and vertically, and the static cling design is easy to install and will not leave a residue on the screen when removed. This state of the art Privacy Screen provides the user a crystal clear view, without the dimming haze created by similar products.
PDA, iPhone and Smartphone users everywhere can relax in the security of keeping their business, their business. The Case-mate Privacy Screen Pro is available for order.
Case-mate.com offers a wide selection of innovative cases, holsters, and accessories for iPods, iPhones, MacBooks, BlackBerrys, cell phones, MP3 players, and laptops. Cases are available in a variety of colors, and most come with free personalization and free shipping. Case-mate products have received stellar reviews from consumers and industry professionals for their perfect combination of style and function.
Link: Case-mate
Double Trouble - Proporta Dual Skin Silicone Cases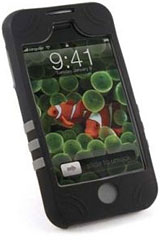 PR: Proporta are certainly the ones who know how to give your device the protection it truly deserves, but offering protection and style at the same time can sometimes be a little trickier. Proporta hit the nail on the head with their Dual Skin Silicone Cases - offering your iPod even more protection than it could ever wish for, and making it funkier than ever before.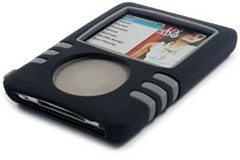 Two tough protective skins make up the Proporta Dual Skin Silicone Case and protect your device from scratching and impact damage, as well as complimenting it in a wide variety of colours.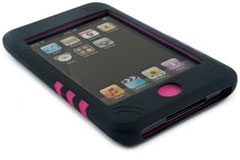 Both silicone layers have all the necessary cut aways enabling access to all ports and controls so that your iPod can still be used when it's inside the two layers. The upper layer also offers cut outs along the side of your iPod for anti-slip confidence, and a little bit of extra style.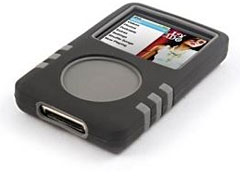 Proporta's Dual Skin Silicone Cases are available for all the newer members of the Apple iPod family, including the iPhone, iPod classic 80 GB, 160 GB, and 3G iPod nano.
Link: Proporta
iPod Add-ons
Griffin Evolve Wireless iPod Speakers Review
Register Hardware's Barry Schertel reports:
"Griffin makes some pretty cool bits and bobs for the iPod and iPhone, but its crowning achievement to date has to be the new Evolve iPod dock and speaker set.
"At first glance, the Evolve is nothing much more than an iPod dock - a fairly trendy looking iPod dock, but an iPod dock nonetheless. Then you pick up the speakers and notice they are completely wireless."
Link: Griffin Evolve Wireless iPod Speakers Review
Company Creates Wood Sound Systems for iPods
GateHouse News Service's Bob Tremblay reports:
"Owners of iPods who want to hear their music without headphones typically have to buy a sound system made out of plastic.
"Now they don't, thanks to Sprout Creation. The product creation company based in Wayland, Mass., has released Vers (pronounced like the line of poetry), a brand of sound systems made from handcrafted wood.
"Its debut product, Vers 2X, sounds better, looks better and is more environmentally friendly than the plastic products on the market, said Dave Laituri, who founded Sprout Creation last year with Tim Trzepacz."
Link: Company Creates Wood Sound Systems for iPods
The Tinbot iPod Case
PR: The Tinbots are here
Tinbot is a new generation of iPod cases. Designed to add some flavor while protecting your favorite gadget, the Tinbot features original designs from trendsetters in contemporary art: renowned vinyl toy designers Mad, Sket-One and Christopher Lee; DC Comic book master Jock; urban artists Parra, Kurt Ketchum and 7Sleepr. Also, we are offering a matte white Tinbot that you can customize to your heart's content!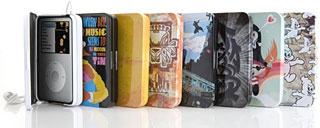 With a slim, sexy design, the Tinbot cases are constructed of high quality, impact-resistant tin and come equipped with headphone and charging ports. The interior is lined with neoprene padding to cushion the iPod in case of scrapes, bangs, drops, grinds, slashes or any other wear and tear that daily life dishes out. We invite you to check them out
What: iPod hard case
Material: tin
Compatibility: iPod Videos, 30 GB, 60 GB, 80 GB and iPod classics 80 GB, 160 GB
Price: $29.95
Link: The Tinbot
GizMac Accessories Ships New iPod nano Case
PR: GizMac Accessories begin shipment of their Aluminate iPod case for the 3rd generation iPod nano. Aluminate is a hybrid Nano case made from aluminum and polycarbonate. The front of the Aluminate is thin, colorful aluminum and the back of the case is made of tough, clear polycarbonate. The combination of the aluminum and polycarbonate provide superior iPod protection for the Nano.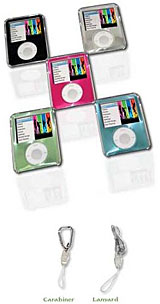 Screen and click wheel protection for the iPod nano are built into the Aluminate case. The Aluminate screen protector is part of the aluminum front cover and provides full screen protection. The click wheel protector is also part of the Aluminate's metal front cover and it protects while allowing the click wheel controls to function.
Attachments for the Aluminate iPod case include a quick change lanyard and carabiner clip. The Aluminate lanyard is a thin and light, yet strong and secure way to carry your Nano. The carabiner clip provides an additional way to wear or carry the Aluminate Nano case.
"The Aluminate is a good looking and protective iPod case to begin with," explained Ken Vitto, Marketing Director for GizMac Accessories, "Then we added extra functionality and value as GizMac always does with products we sell." GizMac has made choosing the color of Aluminate Nano case a little easier by including two different colors of cases in every package. The additional iPod case can be used to match your changes in style or can be given to someone else. GizMac will even customize your order with two of the same color Aluminates when purchasing from their web site directly.
The Aluminate iPod nano cases are available in metallic shades of black, silver, blue, pink and green. Retail price for the Aluminate is $29.99 and can be purchased through authorized GizMac resellers or from the GizMac website.
Link: GizMac
Join us on Facebook, follow us on Twitter or Google+, or subscribe to our RSS news feed
Links for the Day
Mac of the Day: 20th Anniversary Mac, introduced 1996.03.20. Honoring Apple's 20th anniversary, the TAM was the first flat panel desktop Mac and had a unique design.
Recent Content
Custom Search
Follow Low End Mac on Twitter
Join Low End Mac on Facebook
Favorite Sites
MacSurfer
Cult of Mac
Shrine of Apple
MacInTouch
MyAppleMenu
InfoMac
The Mac Observer
Accelerate Your Mac
RetroMacCast
The Vintage Mac Museum
Deal Brothers
DealMac
Mac2Sell
Mac Driver Museum
JAG's House
System 6 Heaven
System 7 Today
the pickle's Low-End Mac FAQ
Affiliates
Amazon.com
The iTunes Store
PC Connection Express
Macgo Blu-ray Player
Parallels Desktop for Mac
eBay

Advertise