House Bill Could Unlock iPhone, Nanotech to Power iPods, Britannica Mobile, and More
This Week's iPhone, iPod, and Apple TV News
Compiled by Charles Moore and edited by Dan Knight - 2008.02.29
Mac notebook and other portable computing is covered in The 'Book Review, and general Mac news is in Mac News Review.
All prices are in US dollars unless otherwise noted.
iPhone News, Reviews, & Opinion
iPod News, Reviews, & Opinion
iPhone/iPod Add-ons
iPhone Add-ons
iPod Add-ons
iPod and iPhone Deals
iPhone News, Reviews, & Opinion
House Bill Could Force Apple, AT&T to Unlock iPhone
News.com's Anne Broache reports:
"When T-Mobile began selling Apple's iPhone in Germany last fall, a legal skirmish ensued, forcing the wireless carrier to sell it untethered to a contract - at $1,460, no less. T-Mobile eventually persuaded a court that the two-year contract was legal.
"Now that same kind of European rule would be imported into the United States - meaning AT&T would be legally required to sell a contract-free iPhone - if a new Democratic proposal in the U.S. House of Representatives becomes law."
Link: Democratic Bill Could Force Apple, AT&T to Unlock iPhone
Apple Posts iPhone 1.1.4 Update
Register Hardware's Tony Smith reports:
"Zibri, the coder behind the latest iPhone jailbreaking and unlocking app, ZiPhone, has warned handset owners not to upgrade to the newly released version 1.1.4 firmware until the tool has been fully tested with the update.
"Apple posted the iPhone OS update last night. So far, all it's said about the new version is that the code contains a number of 'bug fixes'. What glitches they repair are not yet known."
Link: Apple Posts iPhone 1.1.4 Update
iPod News, Reviews, & Opinion
Professor Explains Nanotech Power for iPods
Computerworld's Sharon Gaudin reports:
"Wouldn't it be great if you could walk down the street listening to your iPod or using your smartphone without ever worrying about the battery dying?
"Zhong Lin Wang, a professor and nanotechnology researcher at the Georgia Institute of Technology, says that within five years, you might be able to do just that. According to Wang, instead of using a battery to power phones, MP3 players and other portable devices, you could harvest the energy generated by the movement of your shirt. Yup, you read that right - a 'power shirt,' which would provide users with a flexible, foldable and wearable power source."
Link: Professor Explains Nanotech Power for iPods
$5.99 Disposable Battery Powers iPod up to 8 Hours
News.com's Rick Broida says:
"Ick! Did I actually just write a headline with the words 'disposable' and 'battery'?! Let's see . . . yep, I did. But before you get your environmentalist dander up, consider: one, I recycle; two, I use compact fluorescent lightbulbs, and three, I have a relevant story to share."
Link: Power Your iPod for up to 8 Hours with $5.99 Disposable Battery
iPods Finding More Uses in War Zone
National Defense's Grace V. Jean reports:
"The creator of the VCommunicator software - Orlando-based Vcom3D - originally designed it to teach soldiers basic Iraqi Arabic phrases by way of an iPod. However, now troops are finding new tactical applications for the device....
"As they prepare for their daily patrols around Baghdad, soldiers from the 10th Mountain Division sync up their iPods, not with songs and movies, but with a laundry list of missions and audio files containing pre-recorded phrases in Iraqi Arabic or Kurdish....
"The simplicity that has made the iPod, manufactured by Apple , so successful as a music player also relates to its combat applications. Soldiers simply scroll through as they search for mission data or for spoken phrases. The display shows the sentence phonetically and in script, and the user can play the corresponding audio clip, which also can be synced to an avatar, or computerized character, that gestures according to customs.
"Troops also are uploading maps and other images and content onto the video iPods to assist them at vehicle checkpoints and door-to-door searches...
"The most recent version of the Vcommunicator comes on the new iPod nano, which troops are strapping to their wrists or wearing on lanyards around their necks."
Link: iPods in a War Zone
Apple Slashes Order Forecast for iPod Memory
InformationWeek's Antone Gonsalves reports:
"Apple has slashed its 2008 order forecast for the NAND flash memory used in the iPod and iPhone, prompting iSuppli to dramatically cut its 2008 global revenue forecast for the component found in many consumer electronics gadgets."
Link: Apple Slashes Order Forecast for iPod Memory
iPhone/iPod Add-ons
Britannica Mobile for iPhone and iPod touch
PR: In order to ensure the best experience, Britannica specifically optimized this site for the iPhone. Visit http://i.eb.com on your iPhone or iPod touch.
If you don't have an iPhone or iPod touch handy, you can still access plenty of great Encyclopaedia Britannica content from your desktop, including the complete encyclopedia, videos, atlas, dictionary and much more at britannica.com.
iPhone Add-ons
Control Your Computer's Mouse Using Your iPhone
tech.co.uk's Anna Lagerkvist reports:
"Cool application of the day: a piece of third-party software that lets you transform your Apple iPhone or Apple iPod touch into a wireless touchpad for your computer.
"Touchpad enables you to create a wireless touchpad on your iPhone, letting you control the mouse on your computer using just the handset. You can move the mouse around, click, double-click, and even drag items by double-clicking on a file but keeping the touchpad pressed down. You can scroll vertically by click-and-dragging on the right edge of the Apple iPhone screen."
Link: iPhone Morphs into PC Mouse Trackpad - Control the Mouse on Your PC Using Your iPhone
Mad Catz AirDrives Interactive Headset for iPhone
PR: Mad Catz Interactive, Inc. has announced today that it has begun shipping its next generation of AirDrives designed specifically for the Apple iPhone. Based on proprietary InAir innovative personal audio technology, the new AirDrives for iPhone provides superior comfort, fit, and sound quality along with a high performance microphone which also serves as a send/end button for answering and terminating calls.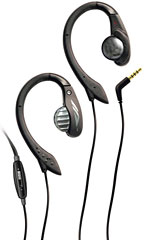 Darren Richardson, President and Chief Executive Officer of Mad Catz, commented, "In the six months since its release, Apple's iPhone is indisputably one of the most sought after consumer products worldwide and Mad Catz believes its innovative AirDrives headphones enhance the utility of this leading-edge platform. Combining voice capability with AirDrives' existing technology allows users the seamless integration of music selections, conversations and their surroundings. We look forward to bringing this virtual communication experience to consumers throughout 2008."
In conjunction with this new product offering, Mad Catz will move the pricing of its existing AirDrives and AirDrives for Kids headphones to $79.99 and $49.99, respectively.
The AirDrives for iPhone is currently available for purchase through the Mad Catz websites (madcatz.com, gameshark.com, and airdrives.com ).
The AirDrives for iPhone headset and AirDrives headphones feature a unique, outer-ear design that makes use of directional sound allowing users to remain alert and socially engaged while providing a distinctive listening experience. The patent-pending technology is designed with sound quality, overall comfort, and long-term ear health in mind and is compatible with iPods, MP3 players, computers, portable DVD systems and now the iPhone. Testing indicates that AirDrives passes the House Ear Institute and OSHA (Occupational and Safety Health Administration) standards for all-day listening based on sound pressure levels detected at the inner ear. The retail price is $99.99 for the AirDrives iPhone headset, $79.99 for AirDrives headphones and $49.99 for AirDrives for Kids.
Features:
Integrated discrete microphone enables handsfree dual use from MP3 earphones to iPhone headset.
Handsfree iPhone music pause / call answer functionality.
Remain aware of life's surroundings.
Comfortable ear grips adjust for precise fit and retention.
Unique outer-ear design delivers rich natural sound.
Unmatched versatility brings music into your active lifestyle
Durable design.
Specification: Engineered Around Your Ears
Handsfree iPhone music pause / call answer functionality.
Frequency Range: 20-20,000 Hz
Sensitivity: 98 dB SPL at source / 80 dB SPL at inner ear.
Impedance: 16 Ohm
Maximum Power Input: 15mW
Cable Length: 4'
Jack: Gold plated 3.5mm dual standard stereo / iPhone compatible plus compatible with all iPods, 90 degree
AirDrives - Stereo Earphones for iPhone and iPods
Price $99.99
Promotional Giveaway!With the purchase of this product, receive a FREE Mad Catz iPod Power Pro Bundle (SKU MOV035930/04/1). While supplies last.
PhotoDial for iPhone
PR: Picture dialing for the iPhone. With PhotoDial you can click on your contacts' portrait to call them. The fastest way to dial a number. Just tap on the pictures to dial your friends and family. You may change the order for quick dialing and set the size of the pictures.
To get a free tryout, start Installer on your iPhone, press Sources, then Edit, then Add. Next, type http://tinyurl.com/2t8cax
No need to scroll through a list of names, just add pictures to your contacts and you will see them appear in PhotoDial. A double-click on the home button will launch PhotoDial and a tap on a person's photo will initiate the call.
The software works with all languages and all firmwares. It will be available in Apple's official distribution channel in March and can be downloaded now for Jailbroken phones. You'll be automatically notified of free updates via Installer.
Normally $19.95 / EUR 14.95, our introduction offer (until March):
Now $14.95 / EUR 12.95 ex. tax
Link: PhotoDial for iPhone 1.0
Caterpillar Customizes Your iPhone
iclarified.com reports:
"Caterpillar is an unique package of little tools for your iPhone that can be installed separately from each other. Each module provides its own set of features aimed to make your use of iPhone more productive and fun. Customization, business tools, quick contacts search, system font replacement and many more."
iPod Add-ons
Free iPod Phrase Books Now Available on iTunes
PR: Following on from their release of the hugely popular lastminute.com iPhone Translator last year, software developers Coolgorilla today announced that their Talking iPod Phrase Books are now available to download from iTunes completely free of charge thanks to a savvy sponsorship agreement with lastminute.com
Perhaps one of the most sophisticated podcasts ever released, the iPod Phrase Books are available in six different languages the provide a convenient way to communicate whilst on holiday and work by translating English text into French, Spanish, German, Italian, Portuguese, and Greek audio.
A separate podcast for each language delivers the necessary sound files whilst another download installs a familiar phrase book menu system onto your iPod to give quick and easy access to the hundreds of audio translations.
Join us on Facebook, follow us on Twitter or Google+, or subscribe to our RSS news feed
Links for the Day
Mac of the Day: 17" MacBook Pro Core Duo, introduced 2006.04.24. The top-end MacBook Pro has a 1680 x 1050, 2.16 GHz Core Duo CPU, and supports Apple's 30" Cinema Display.
Recent Content
Custom Search
Follow Low End Mac on Twitter
Join Low End Mac on Facebook
Favorite Sites
MacSurfer
Cult of Mac
Shrine of Apple
MacInTouch
MyAppleMenu
InfoMac
The Mac Observer
Accelerate Your Mac
RetroMacCast
The Vintage Mac Museum
Deal Brothers
DealMac
Mac2Sell
Mac Driver Museum
JAG's House
System 6 Heaven
System 7 Today
the pickle's Low-End Mac FAQ
Affiliates
Amazon.com
The iTunes Store
PC Connection Express
Macgo Blu-ray Player
Parallels Desktop for Mac
eBay

Advertise