iPhone 1.1.4 Update Hacked, Make Your iPhone Vibrate and Then Ring, Woz Frustrated, and More
This Week's iPhone, iPod, and Apple TV News
Compiled by Charles Moore and edited by Dan Knight - 2008.03.07
Mac notebook and other portable computing is covered in The 'Book Review, and general Mac news is in Mac News Review.
All prices are in US dollars unless otherwise noted.
News, Reviews, & Opinion
iPhone/iPod Add-ons
iPhone and iPod Deals
News, Reviews, & Opinion
Apple Posts iPhone 1.1.4 Update
Register Hardware's Tony Smith reports:
"Zibri, the coder behind the latest iPhone jailbreaking and unlocking app, ZiPhone, has warned handset owners not to upgrade to the newly released version 1.1.4 firmware until the tool has been fully tested with the update.
"Apple posted the iPhone OS update last night. So far, all it's said about the new version is that the code contains a number of 'bug fixes'. What glitches they repair are not yet known."
Link: Apple Posts iPhone 1.1.4 Update
iPhone Jailbreak Tools Updated to Open Firmware 1.1.4
Register Hardware's Tony Smith reports:
"The latest version of iPhone activation, jailbreaking and unlocking tool, ZiPhone, has been released. The tool promises full access to Apple's handset in under five minutes.
"The update, which takes ZiPhone to version 2.5 in its command line, Windows and Mac OS X forms, follows Apple's release earlier this week of version 1.1.4 of the iPhone firmware."
Link: iPhone Jailbreak Tools Updated to Open Firmware 1.1.4
How to Make Your iPhone Vibrate First, Ring Second
jkOnTheRun says:
"It's usually the simple solutions in life that make my day. Case in point with the following scenario: you want your iPhone to vibrate first upon receiving a call, and then play a ringtone if you haven't taken the call in 10 seconds or so. That's pretty common functionality in many smartphones and even on feature phones, but it's not available natively on the iPhone.
"The simple why-didn't-I-think-of-that solution?"
Link: How to Make Your iPhone Vibrate First, Ring Second
AT&T Offering Refurbished iPhones at Knockdown Prices?
Gadget News 2 U reports:
"The chaps at BGR have received a leaked AT&T memo, which states the company will be offering refurbished iPhones for the lowly price of $199 (4 GB) and $249 (8 GB.) The refurbished iPhones will be made available with new contracts only, and are bound to sell as quickly as heavily discounted iPhones. Jump for the AT&T memo."
Link: AT&T Offering Refurbished iPhones at Knockdown Prices?
Abilene Christian University to Give iPhone or iPod touch to Incoming Freshmen
PR: An Apple iPhone or iPod touch will become a central part of Abilene Christian University's innovative learning experience this fall when all freshmen are provided one of these converged media devices, said Phil Schubert, ACU executive vice president.
At ACU - the first university in the nation to provide these cutting-edge media devices to its incoming class - freshmen will use the iPhones or iPod touches to receive homework alerts, answer in-class surveys and quizzes, get directions to their professors' offices, and check their meal and account balances - among more than 15 other useful web applications already developed, said ACU Chief Information Officer Kevin Roberts.
ACU's innovative plans for this technology have attracted the attention of Apple executives and leaders at Ivy League universities. In fact, Roberts returned to Abilene Monday from Cupertino, Calif., where he was asked to present ACU's creative vision for converged media devices at Apple headquarters to executives and to selected leaders from universities including Harvard, Yale, MIT, Duke, Stanford, Oxford, Princeton and UCLA, Schubert said.
ACU's vision for technology has been captured in a forward-looking film called 'Connected,' found online - along with information about ACU's other groundbreaking mobile learning efforts - at http://www.acu.edu/connected.
"We are not merely providing cutting-edge technology tools to our incoming students," said Roberts. "We are also providing the web applications that ensure these tools will become critical to the students' learning experience. Because 93 percent of ACU students bring their own computers with them to college, we are choosing to take them to the next level by providing converged mobile devices."
Dr. Dwayne VanRheenen, ACU provost, said, "This is exciting to me, not only because we're giving students new tools, but because we are transforming the learning environment. The extensive research that's been done on campus in the past 10 months has prepared us to launch with freshmen this fall, and research will be ongoing as we expand the program in the future."
For a number of years, ACU's faculty and technology staff have researched strategic opportunities presented by handheld devices in higher education, said Roberts. However, for the past six months, ACU's intensive research has focused on more than 30 projects exploring pioneering mobile learning strategies for enhancing the campus environment.
The 2008 Horizon Report stated, "As new devices... are released that make content almost as easy to access and view on a mobile as on a computer, the demand for mobile content will continue to grow. This is more than merely an expectation to provide content: this is an opportunity for higher education to reach its constituents wherever they may be."
The Horizon Report, produced annually as a collaboration between the New Media Consortium (of which ACU is a member) and the EDUCAUSE Learning Initiative (ELI), also described the explosion of converged media technology. "More than a billion new mobile devices are being manufactured - a new phone for every six people on the planet. In this market, innovation is unfolding at an unprecedented pace . . . mobiles are quickly becoming the most affordable portable platform for staying networked on the go."
Using innovative technology to enhance learning is not new at ACU. In fact, ACU was one of the first universities to use mobile devices as a learning tool in its graduate distance education programs. "Expanding to undergraduate, residential students is a natural progression for us," Roberts said.
"We enjoy great relationships with many technological leaders such as Apple, AT&T and Amdocs," Schubert said. "These relationships help us as we continue to be a university on the leading edge of technology, a central component of our 21st Century Vision."
ACU's innovative, diverse learning environment attracts about 4,700 students from nearly every state and 60 nations to its beautiful 200-acre Texas campus. Strong academic programs include business, pre-med, theatre, physics, psychology, education and information technology.
Link: Abilene Christian University to Give iPhone or iPod touch to Incoming Freshmen
Woz Has Pent-Up iPhone Frustrations
Wired's Betsy Schiffman reports:
"After a hot and torrid few months, Steve Wozniak's love affair with the iPhone is waning.
"'To tell you the truth I was really disappointed when the iPhone was introduced . . . half the phones in the AT&T store at the time were 3G phones,' Wozniak said at a press conference, according to a Sydney Morning Herald report. 'I was shocked because Apple is bringing the full internet [to mobiles] - full web pages with pictures and everything - and it's not 3G and I knew that would be a speed detriment.'
"It's a far cry from his earlier comments. The Apple co-founder waited in line with everyone else to buy 'a whole bunch' of iPhones, and recently raved that the iPhone will revolutionize cell phones and the way we communicate."
Link: Woz Has Pent-Up iPhone Frustrations
iPhone/iPod Add-ons
Charge your iPhone and iPod touch with Portable Solar Charger
PR: Introducing the new FreeLoader 8.0, lean, 'green' portable charging machine - free, continuous power for all the latest mobile gadgets.
The new FreeLoader 8.0 Portable Solar Charger by Solar Technology is a smart looking, versatile device that charges a multitude of the latest mobile gadgets for free using Solar Energy. The FreeLoader 8.0 can charge devices such as; digital cameras, iPods, PDAs, PSPs and mobile phones, and even supports a direct connection to two of the most recent mobile gadgets available on the market, the iPhone and the iTouch.
Designed to sit comfortably alongside the latest fashionable gadgets with its futuristic looks and design, the Freeloader 8.0 is gadgetry eye candy. It is also conveniently mobile, boasting a durable casing for hard-core mobility and the ability to fold into a stylish minimal device that can easily be slipped into a pocket or handbag.
Extremely reliable and easy to use, the FreeLoader 8.0 Portable Solar Charger uses the latest in cutting edge solar technology to convert solar energy into electricity, making power readily available for a wealth of popular mobile devices. For example, the FreeLoader 8.0 boasts the ability to power an iPod for 18 hours, a mobile phone for 44 hours, a PSP for 2.5 hours and a PDA for 22 hours. And because the FreeLoader 8.0 can partner with such a wide variety of gadgets it also eliminates the need to carry country specific adaptors when travelling abroad, making it the ideal travel partner.
To ensure batteries never run flat, the Freeloader 8.0 can simultaneously charge its own internal battery which holds its charge for up to three months and features extra sensitive solar panels which are more much efficient at absorbing light in cloudy and dim conditions that the UK in particular is prone to.
The Freeloader 8.0 is available in both Hot Pink and Cool Aluminium Silver from www.solartechnology.co.uk and popular retail outlets.
At £29.99 everyone can afford an environmentally friendly way to charge their favourite handheld gadgets and help to offset the carbon emissions that would otherwise have been created. Because working towards saving the planet, needn't cost the earth.
The Freeloader 8.0 is supplied with 11 adapters to power the following:
Dedicated Connector for iPod, iPod nano, iPhone
LG - KG800 Chocolate / Shine Series
Nokia Old 3.5mm jack and compatible phones
Nokia New 2mm jack and compatible N series phones
Samsung A288 and compatible Series phones
Samsung D800 and compatible current Series phones
Sony Ericsson K750 and compatible Series phones
4mm Jack compatible with Sony PSP, Tom Tom, some Digital Cameras, PDA's and Two Way Radios
Dedicated Connector for Nintendo DS Lite
Mini USB compatible with Blackberry, Smart Phones, Motorola Phones, HTC Phones, Qtek Phones, some Digital Cameras and other devices that charge via a mini USB port.
USB female for use with devices that can be charged via USB on your computer. For example MP3 or MP4 players and some Digital Cameras
Available FreeLoader 8.0 Accessories include:
Spare Freeloader battery and hub (s)
Adaptor plug to suit iPod and iPod nano
Adaptor plug to suit Siemens BenQ mobile phones
Adaptor plug to suit Nintendo Game boy Advanced / Old style DS
Adaptor plug to suit Nintendo Game boy Micro
Adaptor plug to suit Nintendo DS lite (now included with freeloader)
Adaptor plug to suit Samsung 2.5mm jack mobile phones
Adaptor plug to suit Panasonic mobile phones
Adaptor plug to suit Palm One PDA's and mobile devices
Adaptor plug to suit Alcatel mobile phones
Adaptor plug to suit Siemens C55 mobile phones
Adaptor plug to suit Siemens C25 mobile phones
Adaptor plug to suit Sanyo mobile phones
Adaptor plug to suit Motorola 3mm jack mobile phones
Adaptor plug to suit Sagem mobile phones
Adaptor plug to suit Micro USB connected mobile phones
In car power Adaptor
Mains power Adaptor
Freeloader Pouch
Spare Freeloader battery and hub (pink)
Freeloader Pouch (pink)
Adaptor plug to suit New Nokia mobile phones
Adaptor plug to suit Old Sony Ericson mobile phones
Adaptor plug to suit Old Motorola mobile phones
Adaptor plug to suit New Samsung phones
Freeloader AA & AAA Battery charger
For further information, images or sample requests please contact:
Solar Technology International designs and produces a range of solar products that allows you to use the sun for free energy. The solar panels let you capture the sun's energy and convert it to electrical current to power a range of appliances. Solar Technology's panels use Crystalline silicon technology, the latest in solar technology to harness power which is more efficient than amorphous or thin film solutions, particularly in lower light conditions found in the UK.
Link: Solar Technology International
Proporta Reversible Drawstring Bag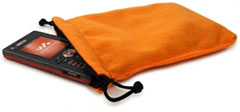 PR: Keep all your little bits and bobs (or perhaps even a whole device) stored safely away in a Proporta Reversible Drawstring Bag. Allows you to choose between two colours and keeps you organised.
Key Features
Suitable to protect any one of your devices, including iPods, MP3 players, mobile phones, digital cameras and PDAs
Soft and Lightweight
Choice of two stylish colours
Includes free cable tidy
External dimensions: 150mm (5.91") x 120mm (4.72")
$10.95
Link: Proporta Reversible Drawstring Bag
GyPSii Launches iPhone Social Networking Platform
PR: GyPSii, a leading geo-location and social networking service provider for mobile phones and Internet devices, is now available on the iPhone - Apple's market-leading high-end mobile device. The iPhone has shipped more than five million units worldwide since its launch in 2007.
The new web-based GyPSii iPhone application integrates its multiple services into a single interface, making it easy for users to enjoy a wide range of new and exciting location-based features and services, along with social networking - all using the fluid, intuitive touchscreen user interface of the iPhone.
GyPSii also confirmed that it would produce a "native" version of its application using Apple's Software Developer Kit (SDK) which is scheduled to be launched later this week, providing seamless access for all Apple users, from the desktop, to the iPhone.
GyPSii CEO, Dan Harple, said he didn't want iPhone users who were keen social networkers to have to wait any longer for the only social networking platform specifically designed for location-enabled mobile phones to be available for their handset.
"We'll work with the SDK as soon as it becomes available," he said, "and then we will be uniquely offering both web and native versions of our application for iPhone users."
GyPSii is taking advantage of its extensible product architecture enabling use of technologies (like Apple's Safari) to make its advanced, geo-location features possible on the iPhone. In supporting these advances in web technology, GyPSii delivers an optimal location-based experience on a mobile device, or on a desktop computer, or even via a set-top box.
Some of the new GyPSii for iPhone features enabled include:
Improved UI: The application provides users a desk-top-like web experience that is easier to activate, navigate and use via Apple's intuitive touchscreen.
Expanded People/Places layout: GyPSii users can have easy access to complete information on their favourite people and places that appear on the iPhone. Users simply choose their favourite People or Places, bringing up all relevant information such as proximity, details and their position on a map, all on one continuous screen. Users can also access one click dialing to phone People and Places.
Integrated directions from the mapping interface. Users can navigate to and from their favourite People and Places.
Improved location based search: Users can search by proximity using new easy to use categories for both People and Places.
Seamless user interface menus which take advantage of the progressive touch screen interface that comes with the iPhone.
Commenting on the launch of GyPSii for iPhone, GyPSii CEO Dan Harple said, "With the iPhone, Apple created a game-changing handset that revolutionized the mobile device market. We are doing the same with our geo-location technologies to connect people and content to places, events, and social networks in exciting and never-before-seen ways."
iPhone owners can use GyPSii to create and share experiences; photos, videos, audio and other content in real-time with friends, family and other network members, wherever they are in the world. Users can also search and locate people and places, as well access directions, maps and information on Points-of-Interest (POIs) - both in their immediate area and worldwide as well.
"With GyPSii on your iPhone, it becomes your mobile personal digital life recorder," continued Harple. "You can record and share every aspect of your life as it happens with your friends, family and your online community - all via your mobile. GyPSii for iPhone makes social networking dynamic, mobile, and real-time. We've integrated with the deep feature set on the iPhone, with the result being an entirely new way to communicate."
GyPSii for iPhone puts the application within reach of more than five million iPhone users worldwide, and advances GyPSii's global strategy to be the market-leading geo-location and social networking services platform running on the broadest range of high-end and mass-market consumer mobile devices. This commitment is device-independent, with the company working to develop new mobile technologies that are faster, easier to use, and available on more devices. GyPSii is already available on other market-leading mobile phones and platforms - including BlackBerry, Symbian and Windows Mobile-powered devices.
The addition of the iPhone to GyPSii's list of compatible handsets follows hard on the heels of the Mobile World Congress in Barcelona where the combination of Location-based services with mobile technologies, and the award-winning GyPSii application in particular, seized widespread industry attention.
"Initiatives like GyPSii may ultimately reach a status comparable with existing social networking sites, such as Facebook and MySpace," said ABI Research principal analyst Dominique Bonte.
Praising his development team for their achievement leading up to the launch of GyPSii, CEO Dan Harple said: "Our mission is to enhance every person's mobile experience; blending their lifestyle and how they share their lives with each other and their chosen social networks. Our first iPhone release version brings us one step closer to that goal, and adds further to our momentum."
GyPSii is now available for iPhone users.
Link: GyPSii
Nike + iPod Experience Coming to a Gym Near You
PR: Nike and Apple are working with major gym equipment manufacturers such as Life Fitness, Precor, Star Trac and Technogym to make their cardio equipment Nike + iPod compatible so health club members can easily track workouts on cardio equipment like treadmills, ellipticals, stationary bikes and stair climbers. Nike + iPod users will simply plug in their iPod nano into the equipment at the start of their workout to automatically record their progress. Users can then connect their iPod with their computer to upload the workout to www.nikeplus.com.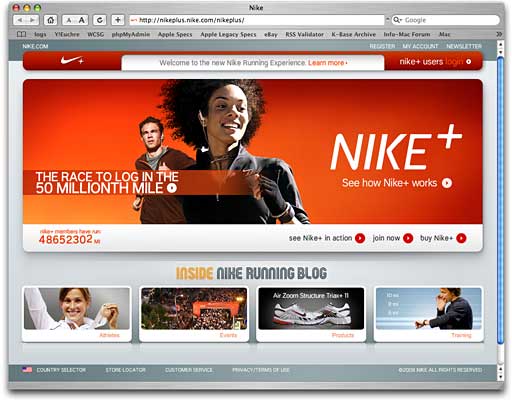 "The Nike + iPod experience revolutionized running. Now we're revolutionizing the gym cardio experience," said Trevor Edwards, Nike's Vice President of Global Brand and Category Management. "We're enabling people who go to the gym an opportunity to set goals, track progress, and compete in challenges with their friends and with other members of www.nikeplus.com. It's a groundbreaking tool for people who want to maximize their workouts."
"The iPod is an essential part of millions of people's workouts and now users can easily set goals and track their progress with Nike + iPod," said Greg Joswiak, Apple's vice president of Worldwide Product Marketing for iPod. "We're excited to be working with Nike and leading equipment manufacturers to bring the Nike + iPod experience to the gym."
At participating gyms, including 24 Hour Fitness nationwide and Virgin Active Health Clubs internationally, members will soon be able to use Nike + iPod to track their workout and log their data on www.nikeplus.com.
Nike + iPod will allow gym members to track progress, set goals and make challenges on www.nikeplus.com.
By using the www.nikeplus.com coaching tools, personal trainers now have the ability to help clients chart their progress.
When gym users connect their iPod nano to their computer, their workout data is sent to www.nikeplus.com through iTunes. This workout data is converted to "CardioMiles" so that users of cardio equipment can easily set goals and participate in challenges with runners and with users of other cardio equipment.
To date, Nike + iPod runners have logged close to 50 million miles on www.nikeplus.com , making it the world's largest running club.
Nike is the global leader in running, which is a strong and growing category for the company. It continues building energy and momentum worldwide with successful launches of innovative products from Nike + iPod to the Nike Amp+ watch. Nike + Sport Music has been extremely popular on the iTunes Store offering a wide range of playlists perfectly suited for your favorite sport.
Nike's innovative Nike + iPod running experience combining music, personal coaching and fitness networking has forever changed the way people run, creating in its first year, the world's largest online running destination at www.nikeplus.com . Launched just under two years ago, in partnership with Apple, Nike+ lets your iPod nano talk to Nike+ enabled running shoes through the wireless Nike + iPod Sport Kit. Data on time, distance, calories burned and pace is stored on your nano and is easily downloaded through iTunes to www.nikeplus.com . Nikeplus.com users not only can track their own data, but also challenge others and participate in online forums.
Join us on Facebook, follow us on Twitter or Google+, or subscribe to our RSS news feed
Links for the Day
Mac of the Day: Macintosh 512K Fat Mac, introduced 1984.09.10. The first Mac with enough memory for serious work.
Recent Content
Custom Search
Follow Low End Mac on Twitter
Join Low End Mac on Facebook
Favorite Sites
MacSurfer
Cult of Mac
Shrine of Apple
MacInTouch
MyAppleMenu
InfoMac
The Mac Observer
Accelerate Your Mac
RetroMacCast
The Vintage Mac Museum
Deal Brothers
DealMac
Mac2Sell
Mac Driver Museum
JAG's House
System 6 Heaven
System 7 Today
the pickle's Low-End Mac FAQ
Affiliates
Amazon.com
The iTunes Store
PC Connection Express
Macgo Blu-ray Player
Parallels Desktop for Mac
eBay

Advertise