Can iPhone Replace Desktops?, Medical Use for iPhone, 3G iPhone on Order?, and More
This Week's iPhone, iPod, and Apple TV News
Compiled by Charles Moore and edited by Dan Knight - 2008.03.28
Mac notebook and other portable computing is covered in The 'Book Review, and general Mac news is in Mac News Review.
All prices are in US dollars unless otherwise noted.
iPhone News, Reviews, & Opinion
iPod News, Reviews, & Opinion
Apple TV News, Reviews, & Opinion
iPhone Add-ons
iPod Add-ons
iPod and iPhone Deals
iPhone News, Reviews, & Opinion
iPhone Set to Displace Desktop PC
PC Magazine's Lance Ulanoff says:
"My generation's concept of what it means to compute is so quaint and firmly rooted in the 20th century. Young people and teens computing 10 or 20 years from now will look back and laugh at people like me (and, most likely, their own parents and grandparents) who sat down at desks and worked on 20-pound boxes.
"The decline of the deskbound PC has been under way for years, but recent events convince me that the transition to desktopless computing is accelerating at a breakneck pace. What's next? I have a feeling that mainstream laptops could someday meet the same fate.
"What precipitated these changes? The arrival of the Apple iPhone, of course. It's an okay phone and an excellent multimedia device, but now, with the promise the Apple SDK holds and the introduction of the Exchange ActiveSync software, it's about to become much, much more."
Link: Good-bye Desktop PC, Hello iPhone
iPhone Won't Replace Desktop PCs
PC Magazine's John C. Dvorak says:
"Time and time again we've heard that bigger is better - until the technology revolution came along, that is. Now, the emphasis is on smaller, cheaper, and faster. I've always subscribed to the notion that smaller is superior - until recently, when I saw that smaller is actually becoming a problem.
"The 'big' thing nowadays is to use a powerful laptop as your one and only computing machine. So, people sit at their office desks with the laptop in front of them and squint at the relatively small screen and go blind. They drag the machine everywhere, and if it gets lost or broken, they're toast, since they never perform any kind of backup....
"And it's only going to get worse. Everyone thinks that the iPhone is going to be the next major computing platform. Some even hope that it will replace the laptop as the primary PC platform. And what if it does? What are folks going to do when they spill coffee on their iPhones? They've already done a lot worse - they drop them into toilets over and over...."
Link: The iPhone Is No Desktop
The iPhone as a Physician Resource
PharmExec's George Koroneos reports:
"Physicians might soon have an excuse to swap their BlackBerries for fancy newish Apple iPhones. The super-secretive computer firm announced earlier this month that it would release development kits allowing third-party applications to be created for the phone.
"Apple's unusual move could be a boon for physicians who are increasingly trading in pen and paper for more high-tech handheld devices. At last they will have the opportunity to use mobile software that goes beyond the underwhelming processing power of personal digital assistants (PDAs) and BlackBerry-style devices.
"Epocrates, one of the best-known of the medical and drug software developers, was on hand to present its application at Apple's recent press conference premiering its software development kit (SDK). The Epocrates program features drug dosing information, retail pricing updates, and up-to-the-minute adverse reaction reporting."
Link: The iPhone as a Physician Resource
iPhone to Get Tactile Feedback, Sort of
Register Hardware's James Sherwood reports:
"Haptics - the ability to give users feedback through the sense of touch - aren't officially available for the iPhone yet, but one add-on manufacturer claims a plastic touchscreen overlay is just as good."
Link: iPhone to Get Haptic Feedback, Sort of
iPhone Camera Review
About.com's Michael Carr reports:
"This Apple iPhone camera review covers the usefulness and quality of the camera features on the Apple iPhone. The Apple iPhone camera is great for viewing and sharing photos, but it has some issues when it comes to the most important thing: taking pictures."
Link: Apple iPhone Camera Review
Jailbreak Any iPhone or iPod touch in 45 Seconds
Lifehacker says:
"If you've been waiting for Apple to officially open the iPhone and iPod touch for development, you may have been disappointed to find out that you won't get third-party applications until June. That means that if you've been aching for those killer third-party apps already available to folks with jailbroken iPhones or iPod touches, you've still got a few more months of waiting to go. However, by downloading and running one simple application, you could be up and running with a jailbroken iPhone or iPod touch in just under a minute. Sound appealing? Here's how it works."
Link: Jailbreak Any iPhone or iPod touch in 45 Seconds
Apple Orders 10 Million 3G iPhones?
Macworld UK's Jonny Evans reports:
"Apple has ordered the manufacture of ten million 3G-capable second-generation iPhones, according to Gartner analyst Ken Dulaney.
"Dulaney cites sources in Asia that told the analyst of the news. He suggests the order for ten million units of the new model handset to be in addition to the ten million V1 iPhones Apple has ordered."
Link: Apple Orders 10m 3G iPhones - Report
Karl Rove Praises iPhone and MacBook Air
NewsBusters's Matthew Sheffield has posted a rambling interview with conservative eminence grise Karl Rove. Some snippets:
"Are liberal Democrats less likely to have social lives than conservatives?
"According to Karl Rove, the answer to that question is yes. The Republican guru all but made that argument explaining why he thought liberals are more likely to be on the web than conservatives....
"Still, Rove said that he would like to see more righties on YouTube and elsewhere, counteracting what he said was a greater emphasis on public relations on the part of Democrats....
"We also talked a bit of personal tech as Rove waxed rhapsodic about his new Apple iPhone. Looks like Rush Limbaugh is going to have to make room for another famous conservative who likes Apple products.
"NB: All right, I've got just one more quick question for you. Last time I saw you, you'd just gotten an iPhone. How's that working out for you?
"ROVE: I love it. My life has changed. I have a shred of coolness. I've got my 3,500 people in my addressbook on the phone, I can sync my calendar. I keep track of my modest little stock investments. I can check the weather of my house in Washington, my house in Florida, my boy at school, my hunt-lease in south Texas. I can surf the web, I'm just - I get part of my email there....
"NB: All right. Well it sounds like Steve Jobs should call you up as a spokesman.
ROVE: There we go, there we go. And not only that, I also have the Mac Book Air which is really cool. Even my wife is jealous of my MacBook Air."
Link: Karl Rove Slams Lefty Blogosphere, Talks Media, Praises iPhone and MacBook Air
iPod News, Reviews, & Opinion
iPod touch: Apple's Sleeper Device
BusinessWeek's Arik Hesseldahl says:
"The new flagship of the iPod line could be the harbinger of new products that blur the line between computers and consumer electronics.
"Since it first unveiled the iPhone more than a year ago, Apple has been heading down a new path. Having developed a version of the OS X operating system that runs not only on a Macintosh but also on a device that fits in your pocket, Apple has blurred the distinction between what we know of as a 'computer' and what we think of as a 'consumer electronics' device."
Link: The iPod touch: Apple's Sleeper Device
Artificial Muscle Can Power Your iPod
The Inquirer's Sylvie Barak reports:
"Boffins in California have developed a self-repairing artificial muscle that can generate enough electricity to charge an iPod.
"The top boffin in charge of the research, a scientist at the University of California, Los Angeles, named Qibing Pei, told the Discovery Channel that the artificial muscle was made up of flexible carbon nanotubes, which acted as electrodes. This is quite an improvement on previous artificial muscle models which tended to be metal based and have frequent failure rates with reuse. Pei reckons: 'We've made an artificial muscle that, when you apply electricity to it, expands more than 200 percent'.
"The way it works, is that as the artificial muscle material contracts after expanding, the carbon nanotubes rearrange themselves, causing a small electric current to generate, which can then be captured and stored in a battery."
Link: Artificial Muscle Can Power Your iPod
Apple TV News, Reviews, & Opinion
Apple TV Now a True Multimedia Device
Computerworld's Ryan Faas reports:
"Although the Apple TV first shipped on March 21, 2007, it didn't get an overhaul for almost a year. During that year, the device, which promised to bring digital media (music, photos and video) from the computer to the living room, tried to establish itself in a marketplace rife with competitors. Systems such as Microsoft's Xbox 360 and Netgear's EVA series, not to mention TiVo, are all striving to dominate that elusive space.
"Introduced at Macworld in January, this second iteration of Apple TV (which some call Apple TV Take 2) is a response to many of the initial criticisms of its predecessor as a media device that lacked direct access to online content. Users can now search and buy content from the iTunes Store directly on the Apple TV, including music, TV shows and movie rentals (which were introduced at Macworld)."
Link: The New Apple TV: a True Multimedia Device
iPhone Add-ons
Proporta USB Sync-Charge Cradle for iPhone
PR: The USB Sync-Charge Cradle allows you to make a little home for your PDA on your desktop in the office or at homeandard USB port and includes AC power input with LED indicator for fast charging using your standard AC power supply (not included with this product).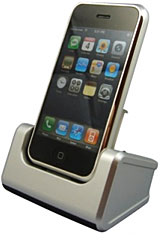 TIP: If you're running out of USB ports, consider our 4 Port USB Compact Hub. Also, consider our Sync-Charge Cable and Retractable Sync-Charge Cable as a more portable alternative to a cradle - but check the notes* below before you decide.
* USB Sync-Charge Cables and USB Retractable Sync-Charge Cables charge your device a little more slowly than an AC Travel Charger (with USB Socket) and, if your device battery is completely dead, you may need to use an AC power supply to 'kick start' the charging process. The advantage of a Sync-Charge Cable is that it is smaller and more portable than a cradle and supplies power without the need for a bulky AC power supply (transformer). Note that you can use the Proporta USB Sync-Charge CRADLE to synchronise your data without the AC power supply connected but, unlike a Sync-Charge CABLE, it will not charge the device without AC power attached.
Key Features
Charge your device via USB
Device dock securely in cradle
$24.95
Link: Proporta USB Sync-Charge Cradle (Apple iPhone Series)
USB Fever Releases 3 New iPhone Accessories
PR: iPhone Earphone Adapter
Functions:
Dedicated for iPhone's narrow insert
With this one, you can connect your iPhone to your any 3.5mm earphones.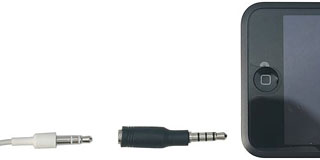 Specifications:
Output: 3.5 mm Stereo Socket
This accessory is specially designed for iPhone, but also compatible with:
iPod touch
iPod Classic
iPod Video (5 Gen)
iPod photo (4 Gen)
iPod nano 3rd Gen
iPod nano 2nd Gen
iPod nano 1st Gne
PDAs / SmartPhones
MP3
Color: Black
$3.99
Link: iPhone Earphone Adapter
Dock Connector and Click wheel Assembly for iPhone
$29.99
Link: Dock Connector and Click wheel Assembly for iPhone
iPhone/iPod touch Replacement Click Wheel
$6.99
Link: iPhone/iPod touch Replacement Click Wheel
Shipping to Worldwide destinations at US$2.99/order
iPhoneNotes: View, Edit, Add, Remove Your iPhone Notes on Your Mac
PR: Requires Jailbroken iPhone 1.1.3 or later
iPhoneNotes; View, edit, add and remove your iPhone notes on your Mac.
New in version 0.3:
Long notes are now displayed correctly
Bonjour ip-resolving problem fixed
Version 0.2:
Sparkle update engine
Bonjour browser
iPhoneNotes is now Universal
Date was +1 day on the iPhone
Other small bugfixes and performance optimizations
System requirements: Mac OS X 10.5, Jailbroken iPhone 1.1.3 or later.
System Support: PPC/Intel
Free
Link: iPhoneNotes
iPod Add-ons
iPod Shuffle Reset Utility 1.0.3 for Mac
Use iPod Reset Utility to restore the following iPod models back to their factory settings, when iTunes is unable to do so:
iPod shuffle (1st Generation)
iPod shuffle (2nd Generation)
The restore process completely erases all music and data on your iPod, and installs current iPod software on it.
For detailed information on this Update, visit this website: http://docs.info.apple.com/article.html?artnum=305204
Note: iPod Reset Utility is intended for use only with the iPod models listed above; other iPods are not supported. If you are not sure which iPod you have, see more...
System requirements: Mac OS X 10.3.9 or later, iPod Shuffle (1st or 2nd generation).
System Support: PPC/Intel
Free
Link: iPod Shuffle Reset Utility 1.0.3 for Mac
iPodEditor 0.1 Released
PR: iPodEditor brings the Mac to the power of editing the iPod's interface. Everything from text to pictures you can now edit with iPodEditor. iPodEditor supports a wide variety of iPods: 1-5.5G iPod, 1G iPod nano, and 1-2G iPod mini. iPodEditor uses iPodEdit as it core tool for extracting/writing resource to/from firmware and ImageMagick for converting images so, you can edit them with Photoshop or any other picture editing software you have. iPodEditor supports a wide variety of images thanks to ImageMagick: bmp, gif, pdf, pict, png, psd, sgi, and tga.
System requirements: Mac OS X 10.4 or later.
System Support: PPC/Intel
Free
Link: iPodEditor
Ladies Get Ready to Shine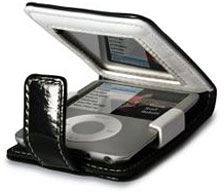 PR: Proporta Shine iPod nano Case is one for the ladies...
When you buy the Proporta Shine Case for the 3G iPod nano, you could be in with the chance to win some make up . . . go on, read on, it's a pretty cool offer.
Before Christmas Proporta added a new accessory to its collection - The Shine, available for the Apple 3G iPod nano. If that side of 2008 is a little bit of a blur, here's a recap with details of their latest special offer to celebrate its success.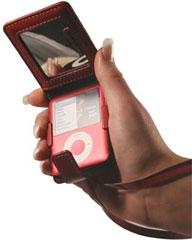 Dress to impress
The Shine (Apple 3G iPod nano 4GB and 8GB) is available in a choice of two colours (black or red) and made from high-quality patent leather, complete with a fully removable lanyard. It also features an internal mirror, meaning you could almost look as good as your iPod nano surely will, and is the ideal accessory to complete any outfit as well as protecting your precious device against scratches and scuffs from everyday use.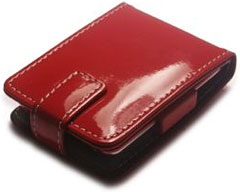 If you order a Shine Case now, you may be in with a chance to win a whole range of beauty products ranging from L'Oreal eye shadow kits to an exclusive Lanc™me gift set including a stylish maroon handbag. Available while stocks last.
So girls, get your Shine cases at the ready because some free beauty products could be coming your way.
The Shine (Apple 3G iPod nano 4GB and 8GB) sells for $ 39.95.
Link: The Shine
Join us on Facebook, follow us on Twitter or Google+, or subscribe to our RSS news feed
Links for the Day
Mac of the Day: Lisa, introduced 1983.01.19. The ancestor of the Macintosh had a mouse, a graphical interface, and a $10,000 price tag.
Recent Content
Custom Search
Follow Low End Mac on Twitter
Join Low End Mac on Facebook
Favorite Sites
MacSurfer
Cult of Mac
Shrine of Apple
MacInTouch
MyAppleMenu
InfoMac
The Mac Observer
Accelerate Your Mac
RetroMacCast
The Vintage Mac Museum
Deal Brothers
DealMac
Mac2Sell
Mac Driver Museum
JAG's House
System 6 Heaven
System 7 Today
the pickle's Low-End Mac FAQ
Affiliates
Amazon.com
The iTunes Store
PC Connection Express
Macgo Blu-ray Player
Parallels Desktop for Mac
eBay

Advertise