Racetrack Memory Could Mean 2 TB iPod/iPhone, iPhone Killing the 'Net, iPod Tops Survey, and More
This Week's iPhone, iPod, and Apple TV News
Compiled by Charles Moore and edited by Dan Knight - 2008.04.18
Mac notebook and other portable computing is covered in The 'Book Review, and general Mac news is in Mac News Review.
All prices are in US dollars unless otherwise noted.
Tech Trends
iPhone News, Reviews, & Opinion
iPod News, Reviews, & Opinion
For iPods and iPhones
For the iPhone
For iPods
For Apple TV
iPod and iPhone Deals
Tech Trends
'Racetrack Memory' Could Lead to 2 TB iPod
The Times' Jonathan Richards says:
"A new storage technology will pave the way for MP3 players and other gadgets to store a hundred times more information.
"Mobile phones, iPods and other consumer devices may soon be able to hold a hundred times more information than they do at present thanks to a breakthrough in storage technology.
"Scientists at IBM say they have developed a new type of digital storage which would enable a device such as an MP3 player to store about half a million songs - or 3,500 films - and cost far less to produce.
"In a paper published in the current issue of Science, a team at the company's research centre in San Jose, California, said that devices which use the new technology would require much less power, would run on a single battery charge for 'weeks at a time', and would last for decades.
"So-called 'racetrack' memory uses the 'spin' of an electron to store data, and can operate far more quickly than regular hard drives."
"Unlike flash, however, it can 'write data' - or store information - extremely quickly, and does not have the 'wear out' mechanism that means flash memory drives can only be used a few thousand times before they wear out."
"IBM said the technology was still 'exploratory' at this stage, but that it expected devices which used it to be on the market within ten years."
Link: The New Chip That Will Let an iPod Store 500,000 Songs
iPhone News, Reviews, & Opinion
iPhone Doesn't Get Good Housekeeping Seal of Approval
Ars Technica's Chris Foresman reports:

"The Good Housekeeping Research Institute, bestower of the famed Good Housekeeping Seal of Approval, recently compared numerous cell phones with QWERTY keyboards to test their texting mettle. While GHRI and its consumer panel found the iPhone to be intuitive and easy to use, they weren't so thrilled about its touchscreen-based soft keyboard."
Link: iPhone Doesn't Get Good Housekeeping's Seal of Approval
Is the iPhone Killing the 'Net?
Network World's Carolyn Duffy Marsan says:
"Is the iPhone killing the 'Net? That's the question posed by Oxford University Professor Jonathan Zittrain in his new book, The Future of the Internet and How to Stop It....
"Zittrain argues that today's Internet appliances such as the iPhone and Xbox hamper innovation. That's because these locked-down devices prohibit the kind of tinkering by end users that made PCs and the Internet such a force of economic, political and artistic change."
Link: How the iPhone is Killing the 'Net
3G iPhone to Be Priced from $399
TGDaily's Richard Felton reports:
"We just came across a few more interesting 3G iPhone details. Industry sources told TG Daily that the device in fact will launch at WWDC 2008, in two or possible three different configurations, and prices starting at $399. There are a few other tweaks, which, however, may be less than you would expect from a next-gen iPhone.
"We aren't quite sure about the reasons why we are suddenly getting a lot more information about Apple products than we used to in the past and whether these are intentional leaks or just leaks that Apple just has to deal with as it is growing into a much larger entity than it was a few years ago."
Link: Apple's 3G iPhone to Be Priced from $399
iPod News, Reviews, & Opinion
Turn Your iPod touch into a Phone
Lifehacker says:
"The iPhone and iPod touch are almost indistinguishable devices except for one major difference - you can make calls from your iPhone, and you can't from your iPod touch. For the privilege of making phone calls with your iPhone, you have to pay $100 more upfront to Apple for the device itself, plus a minimum of $60/month to AT&T for the next two years. Let's say you didn't need that kind of firepower from your iPod touch, but that you would like to use it make a phone call every now and then. You can, and today I'm going to show you how to make VOIP phone calls from your iPod touch or iPhone using a freeware application called SIP-VOIP."
Link: Turn Your iPod touch into an iPhone
The iPod touch: Apple's Sleeper Device
BusinessWeek's Arik Hesseldahl says:
"The new flagship of the iPod line could be the harbinger of new products that blur the line between computers and consumer electronics
"Since it first unveiled the iPhone more than a year ago, Apple has been heading down a new path. Having developed a version of the OS X operating system that runs not only on a Macintosh but also on a device that fits in your pocket, Apple has blurred the distinction between what we know of as a 'computer' and what we think of as a 'consumer electronics' device."
Link: The iPod touch: Apple's Sleeper Device
Apple Tops MP3 Player Brand Survey
PR: Apple scored top marks in the 2008 Brandjunkie survey last week, but shoppers' reviews from the online consumer review site reevoo.com tell a different story. Apple's popular iPod range didn't make the top three in a poll of 293 MP3 players, as rated by genuine purchasers on independent review website, Reevoo, who analysed over 4,000 MP3 player customer reviews.
Unfortunately for Apple, this MP3 player race was dominated* by Sony with the Sony NWE016BC just nudging the Sony NWZA816 into second place. Third was the Hitachi DMP20 2 GB, followed by the new green iPod nano 8 GB in fourth and the Black Samsung YP-P2JCB 8 GB in fifth.
Apple's position in the market for superior design was challenged by shoppers who gave the Sony NWE016BC a perfect 10/10 for design, compared to a relatively disappointing 9.3/10 for the iPod.
Overall, the Sony NWE016BC was rated 9.8/10 while the iPod lagged behind with 9.2/10. One customer nicely summed up the Sony player as "very easy to use, excellent sound quality, very quick battery charge-up, lightweight & attractive to look at".
Poor battery life is a constant disappointment in Apple products and the nano was no exception. Reviewers were given eight categories in which to rate their MP3 players, and it was no surprise that battery life was the most poorly rated category for the iPod.
Shoppers also complained that the iPod was only compatible with iTunes, and Glen from Kent felt that "a protective cover . . . should come as standard rather than being an expensive accessory".
When shoppers buy goods online from any of Reevoo's 52 retail partners, including Woolworths, Currys, Dixons, and the Carphone Warehouse, they are asked to rate their purchases. Their comments - good, bad, or indifferent - are then published on both the e-tailers' websites and on reevoo.com.
Shoppers can also keep up-to-date on the latest consumer news and reviews on Reevoo's blog.
Top Five MP3 Players
Sony NWE016BC - 9.8/10
Sony NWZA816 - 9.7/10
Hitachi DMP20 2 GB Black - 9.4/10
New Apple iPod nano 8 GB Green - 9.2/10
Samsung YP-P2JCB 8 GB Black - 9.2/10
Reevoo's website is the place to decide what to buy, with impartial reviews, product images, features, and price comparison. We work with around 50 retailers including Comet, Dixons, Vodafone, Woolworths, and dozens of other High Street and Pure Play retailers. Because we only publish reviews that have been written by our retail partners' customers, we know that they are all genuine and unbiased. All of our reviews are available at reevoo.com.
*Editor's note: As we publish this news roundup, the top-rated Sony NWZA816 player has 4 user reviews and rates 9.7, the second place Hitachi DMP20 has 6 and rates 9.4, and the fourth place Samsung YP-P2JCB, 3 averaging 9.2. By comparison, the currently third ranked green iPod nano (yes, Revoo does differentiate between colors, despite the fact that they are identical in all other respects) has 32 reviews (29 under one heading with an average score of 9.2, 3 under another, where it averages 9.1), silver has 53 reviews, and blue 214 (plus 66 under a separate heading).
You have to question the methodology that (a) separates the same model based on color, (b) sometimes has two separate listings for exactly the same model, and (c) rates the feedback of 3-6 users as equally valid to the opinions of dozens or hundreds of iPod users. dk
Link: MP3 Player Reviews
For iPods and iPhones
Wayfinder Power Search Web Application for iPhone and iPod touch
PR: Wayfinder has announced the launch of a web application that makes its award winning Power Search technology available to iPhone and iPod touch users. The technology is accessed via the Safari browser and allows the searching of a multitude of databases, through one unified search field, that cover up to 100 million local search records around the world.
A user can enter a phone number, a person's name or a company name and the Wayfinder Power Search web application will return relevant search results. Through agreements with several database providers around the world the user receives relevant answers for the specific country where the search is being made. The search engine is based on Tele Atlas digital map data, to which information from a number of other premium databases is added. For a limited time premium travel content from Wcities will be searchable as well.
"We are pleased to have developed a powerful web application for iPhone and iPod touch," said Magnus Nilsson, CEO of Wayfinder. "We're also excited for the opportunity to use the iPhone OS SDK to develop compelling location and search native applications for these revolutionary devices that we expect to deliver going forward."
"Accurate digital maps and related content are the foundation of powerful location-based services and applications. With our data and Wayfinder's Power Search application, the vibrant community of iPhone and iPod touch users can get an even more personalized experience from their devices," says Jack Reinelt, COO EMEA, Tele Atlas.
Wayfinder is the leading supplier of innovative location and navigation services for mobile phones. User-friendliness, the core attribute of all Wayfinder's applications and services, makes it easy for consumers to take advantage of innovations for both business and leisure use. Our clients include major global mobile handset manufacturers and operators. Wayfinder's base of unique users is growing steadily, and now exceeds 1.5 million users, from India to North America. Wayfinder has offices in Sweden, Finland, Romania, and France. Wayfinder Systems AB is listed on the NGM Equity Stock Exchange in Sweden
Link: Wayfinder
Jenny Hadfield Designs 'Gateway to 8K' for Podrunner: Intervals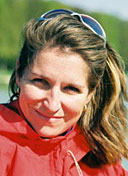 PR: Renowned fitness coach Jenny Hadfield has created the curriculum for "Gateway to 8K," the second set of workout-music mixes from hit Podrunner: Intervals series of free, downloadable workout music mixes for varied-tempo training. The new Gateway to 8K series is designed to take runners from their current 5K (or 30-minute) run to an 8K (or 50-minute) run. Coach Jenny will also lend her expertise to provide a "tip of the week" after every workout in the series.
Internationally acclaimed running and fitness coach Jenny Hadfield has created the curriculum for the next set of workout-music mixes from the hit Podrunner: Intervals series for varied-tempo training. Debuting April 10, Coach Jenny's 10-week Gateway to 8K follows on the heels of the First Day to 5K series that guides beginning runners from Day One to a full 5K run in nine weeks. The new Gateway to 8K series is designed to take runners from their current 5K (or 30-minute) run to an 8K (or 50-minute) run. Coach Jenny will also lend her expertise to provide a "tip of the week" after every workout in the series.

A spinoff from the phenomenally popular Podrunner series of fixed-BPM workout-music mixes, Podrunner: Intervals is a series of free, downloadable music mixes for interval training. The mixes are geared toward beginning, intermediate, and experienced athletes seeking varied-tempo workouts to improve conditioning and stamina. Podrunner: Intervals launched in February 2008 and became iTunes' #1 music podcast within a week.
"I used to train students with metronomes, but with Podrunner they can work on pace with great music," says coach Jenny Hadfield, best-selling author of Running for Mortals. "The opportunity to add my fitness experience to the mix was too good to miss." The running and fitness expert's advice appears in Health Magazine, runnersworld.com, and active.com.
"This is the perfect follow-up to Podrunner: Intervals' introductory First Day to 5K series," says Steve Boyett, Podrunner creator and DJ. "We're honored by Jenny's involvement, and enormously excited to present a series designed by one of the most respected names in the running community." Boyett produces Podrunner: Intervals, which is mixed and hosted by Adrian Smith, aka DJ Beatsmith.
About Podrunner and Podrunner: Intervals
Podrunner and Podrunner: Intervals are free, downloadable music mixes for runners, power walkers, indoor cyclists, or anyone who needs a tempo-based workout. The two series have become the world's most popular workout music, consistently ranked in iTunes' Top 10 Music podcasts, and in the Top 100 overall. Both series provide nonstop, high-energy, dance music mixes produced by Los Angeles DJ Steve Boyett. They are available free from iTunes, the Zune marketplace, or directly from the Podrunner website.
"Coach Jenny" is the author of Running for Mortals, Marathoning for Mortals, and the recently published Training for Mortals. Her expert advice appears in Health Magazine, runnersworld.com, and active.com. She co-owns Chicago Endurance Sports, Chicago's largest multi-sport company, and as a personal trainer she's helped thousands of athletes reach their exercise goals. She recently returned from crewing a marathon in Antarctica.
Soft-Touch Stylus for iPhone & iPod touch
PR: The Soft-Touch Stylus for Apple iPhone and iPod touch lets you type, tap and scroll effortlessly on your iPhone or iPod touch. We all know typing on the iPhone or iPod touch can be frustrating at times. The Soft-Touch Stylus is the perfect solution as it lets you type with precision and tap or scroll with ease. Soft-touch tip won't scratch your screen.
Stylus lets you type with precision
Soft-touch tip won't scratch your screen
Enables easy tapping, double-tapping and scrolling
Built-in shirt clip
Lightweight aluminum body with soft-touch rubber tip
Measures 10 cm (4 inches) long
Works with Apple iPhone and iPod touch touchscreens
Soft-Touch Stylus for Apple iPhone & iPod touch, Blue: $12.99
Qualifies for free shipping within U.S.
Link: Soft-Touch Stylus for iPhone & iPod touch
Big Book of Apple Hacks: Tips and Tools for Unlocking Your Apple Devices
PR: When you get a new Macintosh computer, iPhone, or iPod, the device comes preconfigured in the way Apple feels will be the most useful to the greatest number of their customers. But what if you want your exciting new gear to conform to your wishes and requirements rather than Apple's preferences?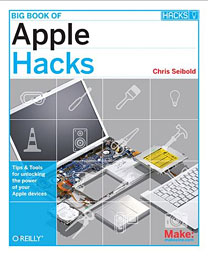 If you long to individualize your gadgets and make them your own, just consult the latest release from the folks who bring you Make magazine - "The Big Book of Apple Hacks" (O'Reilly, $34.99). Bigger in size, longer in length, and broader in scope, author Chris Seibold's new collection of tips, tricks, and hacks helps you to get the most out of Mac OS X, your iPhone, the new line of iPods, and Apple TV.
Into the weather? With a few tools Seibold shows you how you can turn your Mac into a weather-monitoring beast. Got an old MacBook? Seibold can help you soup it up. Got Leopard? Find out how to gain control over your widgets with three simple tricks.
"Most of the hacks in the book are answers to questions or problems people have had when using their Apple products," says Seibold. With wit and style, Seibold takes you under the hood with complete and clearly illustrated step-by-step instructions to help you personalize your stuff.
"One of my favorite hacks is from a contributor (Rich Lefko). After he left a job he wanted to keep his work data (he used a PC at work) without having to buy a Windows PC. Rich's hack was brilliant. He discovered a way to swap out the hard drive of the MacBook and install the hard drive from work and boot into Windows. So now, on the rare occasions he wants a Windows machine, he just switches out the drive in his MacBook."
Indeed, by tinkering in ways Apple never envisioned, you'll learn how to:
Optimize your operating system, whether you have Mac OS X Leopard or Tiger
Customize the applications that come with Mac OS X, including Mail, Safari, Dashboard, and the iLife suite
Tweak system and device settings in minutes with Quick Hacks
Perfect your peripherals with hacks that hone your hardware, from Apple TV to the new iPod touch
Protect your data with backups and keep your secrets by tightening security
Open up the iPhone and iPod to all kinds of possibilities
Run Windows and other operating systems on your Mac
Indeed, with help from the "Big Book of Apple Hacks," you can truly be the unbending overlord of all your Apple gadgets and systems!
Chris Seibold is a senior writer for Apple Matters and spends his non-writing time surrounded by Macs in various states of disassembly. Chris has never broken a Mac, but there are several that have been in pieces for an inordinately long time. Naturally, he streams his music with AirPort Express, watches TV with an Apple TV, and uses an iPhone exclusively for telephone communication.
Big Book of Apple Hacks
Chris Seibold
ISBN: 9780596529826
$34.99 US
order@oreilly.com
1-800-998-9938
1-707-827-7000
http://www.oreilly.com
Link: Big Book of Apple Hacks (currently available from Amazon.com for $23.09)
For the iPhone
Minimize TDMA Interference with iPhone Dock Extender
The Apple Core's Jason D. O'Grady says:
"Getting tired of the GSM interference from iPhone any time it's near a pair of speakers? Me too.
"It's called 'TDMA Interference' and it's an unavoidable side effect of how GSM phones work. It doesn't happen with CDMA phones (i.e. Verizon), but nearly all GSM phones including AT&T and T-Mobile are susceptible to it.
"TDMA Interference happens any time the phone communicates with the cellular tower, and is part of why the iPhone doesn't work with all the dock-connector speakers that standard iPods use....
"RadTech has a unique solution to TDMA interference - move the offending device (the iPhone) away from the speakers. Their iPhone Dock Extender does just that by extending the iPhone two feet (64cm) away from the speaker. It's a Apple Dock 30-pin Male to 30-pin Female cable that retails for US$39.95."
Link: Minimize TDMA Interference with iPhone Dock Extender
Buddy Beacon Available for iPhone
PR: Publisher of mobile location based applications, uLocate Communications, today announced that an iPhone specific version of its popular Buddy Beacon application is now available. With Buddy Beacon, iPhone users can easily share their location and interact with friends across multiple carriers and online social networking sites.
Publisher of mobile location based applications, uLocate Communications, today announced that an iPhone specific version of its popular Buddy Beacon™ application is now available. With Buddy Beacon, iPhone users can easily share their location with friends, as well as see the locations of friends on the iPhone's map application.
Buddy Beacon also gives users the option of connecting with friends directly through the application and updating their status across a variety of online social networking sites, including Facebook.
Buddy Beacon for iPhone provides users with essential functions and features that have made the application so popular with users of other mobile devices across virtually all North American carriers. Users are in complete control of the Buddy Beacon experience and can choose when they want to share their location.
Buddy Beacon also allows users to easily grow their buddy network by inviting new friends to join, 'nudge' friends to update their location and status from within the application, and more. These features combine with Buddy Beacon's seamless integration with Facebook to provide iPhone users the ultimate friend finding experience.
"Buddy Beacon is a revolutionary application that offers users a new way to connect with their friends and family," said Walt Doyle, CEO of uLocate Communications. "We are delighted to provide iPhone users with the most advanced, and useful, friend finding application available."
Buddy Beacon for iPhone is available as a free download to all iPhone users by accessing their website from the iPhone's Safari web browser. For more information on Buddy Beacon, please visit their website.
iLiberty+: Jailbreak, Activate, and Unlock Your iPhone
PR: iLiberty+ is the OS X version of iLiberty, an incredible app built to jailbreak, activate, and unlock your iPhone. It works with 1.0.2 and up, and is extremely easy to use.
System requirements: Apple iPhone.
System Support: PPC/Intel
Free
Link: iLiberty+
For iPods
iHome Lamps a Bright Idea for iPod Users
PR: Checkolite International Inc. has announced that the company has launched a full line of iHome branded iPod connectable lamps that play and charge your iPod while illuminating your workspace.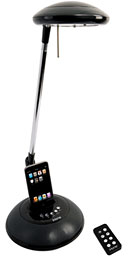 The line of iHome lamps consists of halogen desk lamps in a variety of styles. All of the lamps have a universal dock that accommodates all dockable iPods, including 30 GB and 60 GB iPods, as well as nanos and minis. Superior speaker technology with added bass features provides distortion-free audio with astounding depth, clarity, and power.
"This line of iHome branded 'Made for iPod' desk lamps are perfect for your work or home office desk. The iPod charges while you work and listen to music. It is also great for students' dorm rooms," said Lawrence Bibi, President, Checkolite International Inc.
iHome lamps retail for $49.99 and up and are available at Lowe's, Amazon.com, Costco, and other retailers nationwide.
Link: iHome Lamps
GizMac Accessories Ships DuraSport iPod nano Case
PR: DuraSport Case Released for the Apple 3rd Generation iPod nano. DuraSport iPod cases are constructed from durable silicone. A tough, clear polycarbonate shield clips onto the front of the silicone case. The combination of the silicone and polycarbonate provide improved iPod protection for the nano
GizMac Accessories, designer and manufacturer of innovative products for the Apple iPod and iPhone, begin shipping their DuraSport case for the Apple 3rd generation iPod nano.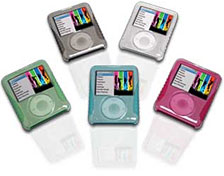 DuraSport iPod cases are constructed from durable silicone. A tough, clear polycarbonate shield clips onto the front of the silicone case. The combination of the silicone and polycarbonate provide improved iPod protection for the Nano.
Screen and click wheel of the iPod nano are protected by the DuraSport case. The screen protector of the DuraSport is part of the polycarbonate front cover and provides full screen protection for Nano iPod. The click wheel protection is part of the DuraSports' silicone case and it protects the Nano while allowing the click wheel controls to function smoothly.
Attachments for the DuraSport iPod nano case include an armband, a quick change lanyard and a carabiner clip. DuraSport's fabric armband is designed for sports and work out activities. The DuraSport lanyard is a thin and light, yet strong and secure way to carry the iPod nano. The carabiner clip provides an additional way to wear or carry the DuraSport Nano case.
"The DuraSport silicone iPod case gives GizMac one more unique Nano case," explained Ken Vitto, Marketing Director for GizMac Accessories, "We continue our goal to provide a great overall value to our customers and the DuraSport is no exception."
GizMac has made choosing the color of DuraSport Nano iPod case easy by including two different colors of cases in every package. The additional iPod case can be used to match your changes in style or can be given to someone else. GizMac will even customize your order with two of the same color DuraSports when purchasing from their web site directly.
The DuraSport iPod nano cases are available in translucent shades of smoke, white, blue, pink and green. Retail price for the DuraSport two case pack is $29.99 U.S. and can be purchased through authorized GizMac resellers or from the GizMac website.
Link: DuraSport iPod nano Case
Limited Edition Shine iPod nano Case in Denim Blue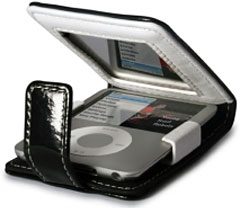 PR: For a limited time only, Proporta are offering the Shine Case (Apple 3G iPod nano 4 GB and 8 GB) in Denim Blue.
Made from high-quality patent leather, the Shine Case also features an internal mirror and fully removable lanyard. Not only does this stylish case offer you the protection you'd expect from Proporta, it allows you to accessorise your iPod nano in the outfit it so rightly deserves.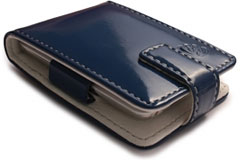 And for those keen to look as good as your iPod nano surely will, order a Shine Case now (also available in red or black) and you'll be in with a chance to win a whole range of beauty products ranging from L'Oreal eye shadow kits to an exclusive Lanc™me gift set including a stylish maroon handbag.
Available while stocks last.
Link: Shine Case (Apple 3G iPod nano 4 GB and 8 GB)
For Apple TV
Skobos Personal Television Software for Macs
PR: Skobos have released their new flagship personal television program called 'Skobos'. The program is currently available for OS X operating systems and runs as a Universal program on both PPC and Intel built microprocessors.
Skobos - the first major broadband, all digital, software television for the Mac has arrived. The time of TV entertainment being delivered to your computer is here and it's going to allow you to travel the world, one channel at a time.
This is not Video-On-Demand where you receive broadcasts that you must preselect in order to view. This is real TV in every sense of the word. The differences between Skobos and the television you have in your home is that Skobos is software based and the only hardware you need is your computer.
"The time for the acceptance of a software television by the public-at-large is fast approaching and we (Skobos) are going to be in the lead when it arrives. For a few years now IPTV, made mostly available for Microsoft operating systems have created a huge lead among the personal usage of IPTV, up until now that is." says Chuck Grieves, owner of Skobos.
While the term of 'Personal Television' conjures up memories of a small B&W 5" battery operated television, this software is far advanced from that technology.
"We wanted the Skobos program to be as interactive as possible with each users personality in mind. From the see-through windows that matchup seamlessly for any desktop background image, to the opportunity to control via real-time voting; what channels are kept and what ones are excluded from the next bimonthly update. It becomes pure user interactivity in every sense of the word."
"As for Social Networking, the act of conversing with people half-a-world-away that may be watching the same channel you are in real-time, is amazing and offers as yet untapped opportunities that Skobos is uniquely poised for. The future of Internet Television is here and now."
Skobos is a software television that allows the user to view preset and updateable channels via a high-speed Internet connection on a Mac computer. The software has been in development for the past few years (beginning with the Widget Television VF1 through VF3) and is now a stand-alone package. The television programming design of Skobos, was written in its entirety in AppleScript using Apple's Xcode environment, AppleScript Studio.
The program's viewing capabilities relies on the user's installation of the top three (free) video players, available over the Internet. The channels are encoded using one of several technologies and then are broadcast over the Internet using specific video codecs.
The availability of these channels to the enduser depends on the user having the three players, QuickTime, RealPlayer, and Windows Media Player, installed on the computer that Skobos is installed on. The players are free to the enduser and can be downloaded from the sites detailed here.
Skobos is designed completely with the enduser in mind. From the ease of channel selection, volume control, and full-screen viewing, to the ability to set favorites, channel voting, and instant messaging, Skobos will fast become a program favorite for any user.
Skobos is currently under development in four versions. Details concerning version one (v1) which is now available from this website, can be found under the top heading of 'Products'.
Version two (v2) is intended for most educational institutions and commercial business's. It includes not only our Skobos viewer but also live event programming for class usage. If combined with a class or auditorium projector, Skobos makes a great tool for event scheduling and live 'chat with the Presenter' additions coded into the software.
Version three (v3) is a combination of the first two and includes everything they have to offer individually, plus V3 also gives any registered user the ability to broadcast any live event to all other registered user's 'Live' specific channels.
Version four (v4) is the creme of the crop and includes everything that previous versions have plus v4 is a maintenance version that has several built-in system tools for the Mac savvy person. It also includes a browser, a notes section, PDF output from notes, and several other items for the experienced Mac user.
Please be aware that at this time, only Version 1 (V1) is currently available for purchase and download.
The current 160+ channels of the Skobos program (version 1.0.1) links to the broadcasts of everything from 24 hour News, Music, & Variety shows, to live broadcasts streaming from around the world. Watch Television from Russia to Iraq, China to someplace in Hometown USA, or Lebanon to Czechia at the speed of a mouse click.
The Skobos program offers its users a friendly, interactive, and low-cost effective way to travel the world, one channel at a time.
Link: Skobos
Join us on Facebook, follow us on Twitter or Google+, or subscribe to our RSS news feed
Links for the Day
Mac of the Day: MacBook Core Duo, introduced 2006.05.16. The iBook's replacement has a 13" widescreen display and a 1.83-2.0 GHz Intel Core Duo CPU.
Recent Content
Custom Search
Follow Low End Mac on Twitter
Join Low End Mac on Facebook
Favorite Sites
MacSurfer
Cult of Mac
Shrine of Apple
MacInTouch
MyAppleMenu
InfoMac
The Mac Observer
Accelerate Your Mac
RetroMacCast
The Vintage Mac Museum
Deal Brothers
DealMac
Mac2Sell
Mac Driver Museum
JAG's House
System 6 Heaven
System 7 Today
the pickle's Low-End Mac FAQ
Affiliates
Amazon.com
The iTunes Store
PC Connection Express
Macgo Blu-ray Player
Parallels Desktop for Mac
eBay

Advertise