Apple Buys Chip Designer, Fixing Send Mail on iPhone and iPod Touch, Portable iPhone Power, and More
This Week's iPhone, iPod, and Apple TV News
Compiled by Charles Moore and edited by Dan Knight - 2008.04.25
Mac notebook and other portable computing is covered in The 'Book Review, and general Mac news is in Mac News Review.
All prices are in US dollars unless otherwise noted.
News, Reviews, & Opinion
New Products
iPod and iPhone Deals
News, Reviews, & Opinion
Apple Buys Chip Designer
Forbes' Erika Brown, Elizabeth Corcoran and Brian Caulfield report:
"Late Tuesday, in response to questions from Forbes.com, an Apple spokesman said Apple has agreed to buy a boutique microprocessor design company called PA Semi. The company, which is known for its design of sophisticated, low-power chips, could spell a new future for Apple's flagship iPhone, and possibly iPod products as well.
"The 150-person chip company, P.A. Semi, was founded in 2003 by Dan Dobberpuhl, who was a lead designer for the well-regarded Alpha and StrongARM microprocessors developed by Digital Equipment in the 1990s....
"Apple's choice is a blow for chip maker Intel (nasdaq: INTC - news - people ), which has been trying to convince Cupertino, Calif.-based Apple to rely on Intel's chips - particularly its latest low-power line up, called Atom....
"In February 2007, P.A. Semi debuted a 64-bit dual core microprocessor which the company asserted was 300% more efficient than any comparable chips. It consumes only 5 to 13 watts running at 2 gigahertz...."
Link: Apple Buys Chip Designer
If Send Mail Does Not Work on iPhone and iPod touch
A new Apple Knowledge Base article says:
"Email on iPhone and iPod touch works with most industry standard IMAP and POP3 email systems, and includes preset email configurations for many of the most popular email services such as Yahoo!, Gmail, .Mac, and AOL. In most cases sending email just works. However, if you are having an issue sending email see the suggestions below. For best results, make sure you are using the most recent iPhone and iPod touch Software. See this document for information on how to check for software updates.
"You can also learn what settings you need to enter on iPhone and iPod touch for many popular email accounts using the Mail Setup Assistant."
Link: iPhone and iPod touch: If Send Mail Does Not Work
New Products
SuperSync 2.3 Released with New TiVo MP3 Server
PR: SuperSync is shipping SuperSync 2.3, an application for iTunes and iPod users to keep their music libraries synchronized across multiple Mac and Windows computers. Version 2.3 adds a basic TiVo media server to allow users to browse and play their MP3 music collection over their home theater.
SuperSync's new TiVo media server lets users share access their iTunes libraries in a familiar way - with just the click of a settings checkbox. TiVo access immediately shows up as a service on any series 2 or series 3 TiVo in house, and viewers can use the TiVo IR remote control to browse playlists, genres, artists, and albums. Once the MP3 file is selected, it is played over the owner's home theater stereo or television.
SuperSync's core product feature is the ability to move iTunes content between multiple computers. SuperSync lets you see the contents of a second media library overlaid on top of your own library. Tracks not already in both libraries can be selected for synchronization - moving the files from one library into the other.
SuperSync 2.3 added a number of product enhancements, including:
A new help system - searchable and also online
Improved transfer statistics
Made iTunes playlist transfer more intuitive
Added compatibility for access by other DAAP music players such as Rhythmbox
Improved ease-of-use of some features (such as the filter table.)
SuperSync lets users synchronize their iTunes libraries between multiple computers over a home network or the Internet. With SuperSync, music fans can retrieve songs from a laptop, play or download songs from a home computer while at the office, upload new music from the road, or back-up their entire music library to another computer or disk drive.
When the SuperSync application is started, the user is presented with a list of tracks that are currently in their iTunes library. When a second "remote" library is opened, those tracks are overlaid on the main screen. The user can than select tracks to upload to the remote library, or download to their own library. As this two-way synchronization takes place, the new tracks are automatically added to iTunes with your ratings and played counts restored.
A short 3 minute introduction flash movie is available.
SuperSync is available today on both Mac OS X and Windows, with at least 512M RAM recommended. For Internet WAN access, a UPnP-enabled router is recommended for automatic port-forwarding setup.
For an individual synchronizing or remotely accessing their personal music libraries, a copy of SuperSync is required for each computer. SuperSync is priced at US$29 for a 2-machine license. Family licenses are available for $39 per 5-pack, and $59 per 10-pack. Registered users can download a free upgrade by running SuperSync and checking for a product upgrade in the Tools menu.
Licenses can be used interchangeably between Mac OS X and Windows machines. All licensed copies of SuperSync include unlimited library sizes, advanced library rescan, a basic music player, and free product updates. Additional information, including the SuperSync demo is available from the SuperSync website.
Link: SuperSync
USB Fever iPhone Portable Power Station
PR: If you are long away from office or home, how you can give juice to your mobile/cell phone? It is easy, either bring a second battery with your or have a portable charger.
However, if you mobile phone/cellphone is an iPhone, how can you rejuice it? The only way probably is to bring a portable charger with you. However, that is too bulky.
Here we have an alternative for you, to have a portable power station for your iPhone. Yes it is bulky, but it is the only alternative and still handy.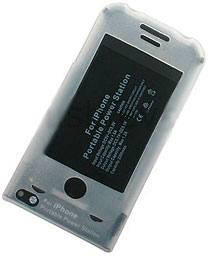 Features:
Recharge your iPhone in a convenient way
Still access to key buttons and ports.
As a docking for your iPhone (the power station could be flip 90 degree to make iPhone on stage)
LED indicator when power is on
Specifications:
Input Voltage: DC5V ~ 5.5V
Input Capacity: Max. 1.8A
Output Voltage: DC5.1V ~ 5.5V
Output Capacity: Max. 1.2A
Capacity: 2200mAh
Li-Polymer
Package Includes:
iPhone Portable Power Station x 1
Silicone case for the iPhone Portable Power Station x 1
Note: For iPhone only.
$41.99
Link: USB Fever iPhone Portable Power Station
USB Fever iPhone Portable Power Station 2
PR: If the Portable Power is too bulky, and you cannot take photos while charging, this iPhone charging battery probably is what you need.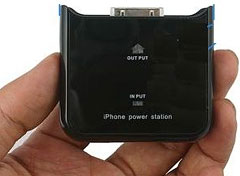 Features:
Completely integrated as a part of iPhone
Plug-N-Play
Portable and Pocketable
Compact and lightweight
Additionally dock port for charging the battery directly while charging iPhone
Charging:
Specifications:
Capacity: 800mAh
Input: 5V, 500mA
Output: 5V 400mA (max.)
Color: Black
Note: It is said that a standard iPhone built-in battery is a 1400mAh one, which means this battery is just an emergency one rather than one that can charge your iPhone to full.
$27.99
Link: USB Fever iPhone Portable Power Station 2
Apple Shaped Hard Case for 3G iPod nano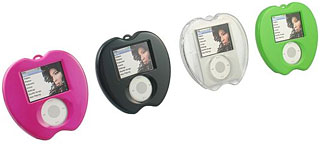 PR: Do you want a special case for your Nano 3rd?
Do you wan a photo frame on your desktop?
Do you want to wear your Nano 3rd as a necklace?
Here you've got a way to.
Features:
As a photo frame (you can turn your Nano 3rd to Slide Show Mode and put this one as a digital Photo Frame on your desk)
Unique ergonomic design
Protected from bumps and scratches
Light weight
Perfectly fit
Easy access to all ports, buttons and sockets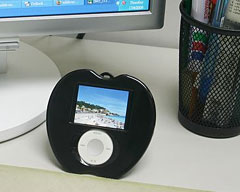 Options : Colors
Solid Black (Default Color to be shipped)
Pink
Crystal Clear
Apple Green
Price: $13.99
Link: Nano 3rd Kick Stand Photo Frame Hard Case
GizMac DuraSport iPod nano Case
PR: DuraSport Case Released for the Apple 3rd Generation iPod nano.
DuraSport iPod cases are constructed from durable silicone. A tough, clear polycarbonate shield clips onto the front of the silicone case. The combination of the silicone and polycarbonate provide improved iPod protection for the nano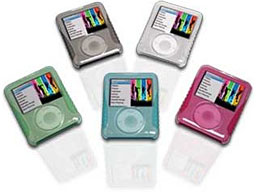 GizMac Accessories, designer and manufacturer of innovative products for the Apple iPod and iPhone, begin shipping their DuraSport case for the Apple 3rd generation iPod nano.
DuraSport iPod cases are constructed from durable silicone. A tough, clear polycarbonate shield clips onto the front of the silicone case. The combination of the silicone and polycarbonate provide improved iPod protection for the Nano.
Screen and click wheel of the iPod nano are protected by the DuraSport case. The screen protector of the DuraSport is part of the polycarbonate front cover and provides full screen protection for Nano iPod. The click wheel protection is part of the DuraSports's silicone case and it protects the Nano while allowing the click wheel controls to function smoothly.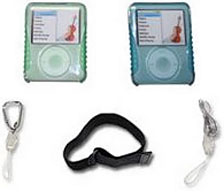 Attachments for the DuraSport iPod nano case include an armband, a quick change lanyard and a carabiner clip. DuraSport's fabric armband is designed for sports and work out activities. The DuraSport lanyard is a thin and light, yet strong and secure way to carry the iPod nano. The carabiner clip provides an additional way to wear or carry the DuraSport Nano case.
"The DuraSport silicone iPod case gives GizMac one more unique Nano case," explained Ken Vitto, Marketing Director for GizMac Accessories, "We continue our goal to provide a great overall value to our customers and the DuraSport is no exception."
GizMac has made choosing the color of DuraSport Nano iPod case easy by including two different colors of cases in every package. The additional iPod case can be used to match your changes in style or can be given to someone else. GizMac will even customize your order with two of the same color DuraSports when purchasing from their web site directly.
The DuraSport iPod nano cases are available in translucent shades of smoke, white, blue, pink and green. Retail price for the DuraSport two case pack is $29.99 and can be purchased through authorized GizMac resellers or from the GizMac website.
Link: DuraSport iPod nano Case
Join us on Facebook, follow us on Twitter or Google+, or subscribe to our RSS news feed
Links for the Day
Mac of the Day: Macintosh 512K Fat Mac, introduced 1984.09.10. The first Mac with enough memory for serious work.
Recent Content
Custom Search
Follow Low End Mac on Twitter
Join Low End Mac on Facebook
Favorite Sites
MacSurfer
Cult of Mac
Shrine of Apple
MacInTouch
MyAppleMenu
InfoMac
The Mac Observer
Accelerate Your Mac
RetroMacCast
The Vintage Mac Museum
Deal Brothers
DealMac
Mac2Sell
Mac Driver Museum
JAG's House
System 6 Heaven
System 7 Today
the pickle's Low-End Mac FAQ
Affiliates
Amazon.com
The iTunes Store
PC Connection Express
Macgo Blu-ray Player
Parallels Desktop for Mac
eBay

Advertise