Old iPhone Options, 3G Connectivity Underperforming, iPhone 'OK for Business', and More
This Week's iPhone, iPod, and Apple TV News
Compiled by Charles Moore and edited by Dan Knight - 2008.08.15
Mac notebook and other portable computing is covered in The 'Book Review, and general Mac news is in Mac News Review.
All prices are in US dollars unless otherwise noted.
News, Reviews, & Opinion
For iPods and iPhones
iPod and iPhone Deals
These price trackers are updated regularly.
News, Reviews, & Opinion
Original iPhone Owners Have Upgrade Options
newsfactor's Patricia Resende says:
"Early adopters waited in lines overnight to buy Apple's first-generation iPhone when it became available. And now they're looking for ways to swap it for Apple's latest iPhone 3G with GPS capability.
"David Chen, founder of NextWorth Solutions in Massachusetts, is ready to buy the old iPhones for as much as the new iPhone 3G costs while also helping the environment. 'There is a huge demand for the first-generation iPhones because the battery for the older iPhones is stronger,' Chen told us."
Link: Original iPhone Owners Have Options to Upgrade
What to Do With That Old iPhone?
MacNewsWorld's Chris Maxcer says:
"Those who have an original, first-generation iPhone may be tempted to buy the new iPhone 3G. When someone does that, what's the best way to put the old model out to pasture? There are plenty of options, depending on what your situation is. You can give it away, sell it to an eager buyer, or de-phone it and use it as an iPod touch."
Link: What to Do With That Old iPhone?
5 Reasons Not to Upgrade to the iPhone 3G
Seeking Alpha's Thomas Hawk says:
"I've had my new 3G Apple iPhone for about a month now and I thought I'd take a few minutes to write some of my thoughts and reflections on the experience for people who might be considering upgrading to the new 3G iPhone.
"...My experience with the new phone so far is that it is very similar to old phone. But for people with a working first generation iPhone I do not feel that upgrading is worth it after a month of hands on experience and here are my reasons why...."
Link: 5 Reasons Not to Upgrade to the New iPhone 3G
3G Connection on iPhone Not Up to Expectations
The Register's Bill Ray reports:
"Eager punters cooing over their 3G iPhones are finding the third generation connectivity not quite what they had hoped, and according to some reports Apple's super-phone is failing to meet the requirements of the 3G standard.
"Apple took a lot of stick when the original iPhone lacked 3G, a decision that forced UK operator O2 to deploy an EDGE network just to support the 2.5G technology the iPhone did have. The new version does support WCDMA (Wideband Code Division Multiple Access - the 3G standard used by GSM networks) but it seems the quality of that support isn't up to much.
"At first the networks looked to be at fault, but the global nature of the problem belies that, and T-Mobile Netherlands has gone so far as to post information on the subject squarely blaming Apple's handset for the problems."
Link: iPhone 3G Isn't Necessarily
3G iPhone Connection Problems Chip-Related?
GigaOM's Stacey Higginbotham says:
"Om has complained about his frustration with the 3G iPhone, which has poor reception and forces him to spend more time on the 2.5G EDGE network than he thought, but the issue may be with Infineon's 3G chip, according to Richard Windsor, an analyst with Nomura Securities. In a research note today, he said: 'We believe that these issues are typical of an immature chipset and radio protocol stack where we are almost certain Infineon is the 3G supplier.' That comment might cheer AT&T, but it's bad news for Infineon, and perhaps a warning to the chip industry about quality control."
Link: 3G iPhone Connection Problems Chip-Related?
iPhone's Mobile Internet Isn't Always On
Jupiter Research's IanFogg says:
"Mobile Internet and Mobile Broadband is not an always-on experience and this isn't going to change soon. Near term, there will always be places or situations where the cellular data network doesn't reach or where only a poor slow 2G signal is present (+). Product managers must design around it.
"The best current mobile applications and devices understand this, and download what content/messages they can as soon as they can. SMS works this way: messages are delivered direct to the handset. Blackberry push email's main benefit is that when a user opens their email, there is no wait while messages download....
"But Apple has made a strategic decision with the iPhone to target always-on behaviours."
Link: iPhone Achilles Heel - Mobile Internet Is not Always-On
Gartner OKs iPhone for Business (with Some Reservations)
InformationWeek's Antone Gonsalves reports:
"The Apple iPhone meets the minimum requirements for use on a corporate network, but companies that deploy the device will need to take a number of steps to prepare it for business use, IT research firm Gartner said this week.
"The iPhone can be safely used for a narrow set of applications, such as voice, e-mail, personal information manager and Web browsing, Gartner said in a report. However, the firm advised businesses to deploy the iPhone slowly and assess trade-offs in hardware design and functionality relative to other options in use, such as Research In Motion's BlackBerry or devices running Microsoft's Windows Mobile."
Link: Gartner OKs iPhone for Business, with Some Reservations
Jobs Confirms iPhone App Blacklist Feature
Cnet's Jonathan Skillings reports:
"Straight from the horse's mouth: Apple's iPhones do indeed have the capability to check for, and potentially defang, software that Apple deems unfit for the iPhone.
"Apple CEO Steve Jobs confirmed the existence of the so-called 'kill switch' capability, following last week's ruckus over early reports of just such a function. The word from Jobs was tucked at the bottom of a story in The Wall Street Journal about Apple's hot-as-a-pistol first month of sales at its App Store."
Link: Jobs Confirms iPhone App Blacklist Feature
Is the iPhone Sexist?
CenterNetworks' Hank Williams says:
"For those of you who have been following along, my mom was seduced by Steve Jobs' iPhone. This was and is an astonishing thing, since my mom is very far away from being a techie.
"On the day of the iPhone launch, she waited in line at an AT&T store (and I waited with her) to get her new phone.
"My mom loves her phone, but one issue came up which triggered an interesting thought. She had a hard time using the phone initially because of her fingernails....
"Now in reality, my mom clipped her nails and everything was fine. But I guess my question is whether that is a reasonable expectation in the product design. Were there any women on the product team? We're there any *girly* women on the product team - women that like the idea of painted fingernails that extend a bit beyond the fingertip?"
Link: Is the iPhone Sexist?
Why Cell Phone Health Concerns Persist
Sci-Tech Today's Jay Yarow reports:
"People use their cell phones in ways that make them hard to study. We make phone calls on the go, from the grocery store or in our cars. That makes it difficult to reap the precise details important to scientific study, like how long we used the phone or which side of the head it was pressed against. The topic also falls between areas of scientific study.
"Why can't we get a definitive answer about cell phones and health?"
Editor's note: Good question. cm
Link: Why Cell-Phone Health Concerns Persist
Vendor Ships Hardware-based iPhone 3G Unlock
iPhone Atlas reports:
"While a software-based unlock (allowing use on unauthorized carriers) for the iPhone 3G has yet to materialize, one recognized vendor says it plans to ship a hardware-based SIM unlock for the device on August 20th.
"USB Fever, which offers a number of cases, cables and other accessories for various iPhone and iPod models, says it will ship a SIM unlock made of a very thin piece of FPC (0.10mm) with a mounted micro-controller that fits between an an operators SIM card and the phone's SIM socket."
Link: Vendor Ships Hardware-based iPhone 3G Unlock
Easy iPhone 3G Unlocking for $30?
Register Hardware's James Sherwood reports:
"Brando already sells a SIM card gadget that's claimed to unlock the original iPhone for use on any network, but now the online retailer's launched an iPhone 3G version.
"This card unlocks your iPhone 3G, it's claimed
"Yes, that's right, according to Brando this little plastic SIM card sized device unties the iPhone 3G from O2 in the UK, or whichever carrier you're tied into elsewhere."
Link: Easy iPhone 3G Unlocking for $30?
What's the Point of the iPhone?
NewWest.Net's Jonathan Weber says:
"I have confession to make: I couldn't give a hoot about the iPhone.
"As a technology pundit and entrepreneur, I'm not supposed to say that. On the contrary, I'm supposed to be 1) wowed by Steve Jobs' brilliance; 2) awed by the iPhone's cool technology and sleek packaging; 3) eagerly analysing how the device is going to change the world; 4) racing to make my own web business mobile-friendly (read: iPhone-friendly); 5) tut-tutting about Apple's command-and-control approach the business, just to keep by critical credentials up; and, of course, 6) rushing out to get one of my own.
"But I don't care about the iPhone...."
Link: What's the Point of the iPhone?
Call It Apple's iEverything
The Courier-Journal's Ric Manning says:
"A story last week in a trade magazine for the consumer electronics industry said manufacturers of portable devices such as music and video players, game machines and handheld GPS units are concerned that the Apple iPhone is poised to cut into their business.
"They have good reason to worry. Not long after Apple opened the iPhone platform to let third-party developers build new software, the list of new applications and games jumped to more than 1,000.
"The iPhone is steadily morphing into a pocket computer that just happens to include a phone.
"After spending the past few weeks in the company of Apple's newest iPhone 3G, I decided that Apple picked the wrong name for the device.
"It should have been the iComputer or maybe the iTool."
Link: What Phone? Call It Apple's iEverything
Get Ready for the iPhone nano
9 To 5 Mac's Andy Space says:
"True or false, this year or next, whatever - the rumoured iPhone nano story just won't go away, and now it looks like at least one third party developer's working away at products custom-built for such a device.
"The Daily Mail this week broke news that Apple plans to introduce a smaller, less well-featured iPhone nano, proposing this would appear in time for Christmas and would be made available to O2's pay-as-you-go customers...."
Link: Get Ready for the iPhone nano
For iPods and iPhones
Olive Tree Brings a Decent Bible App to the iPhone
This Lamp's Rick Mansfield reports:
"With the advent of iPhone 2.0 software last month, we were finally able to obtain true third party applications on our iPhones. But as I had previously written, I had been enormously underwhelmed by initial offerings because they were either lackluster or required internet connectivity to function.
"Yesterday, Olive Tree launched its first offerings for the iPhone: its BibleReader and ESV Study Bundle for Bible Reader.
"The BibleReader by itself is free and the ESV Study Bundle costs $24.99. In the past, Olive Tree has always offered its BibleReader software for free as a standalone product for hosting various modules available for purchase. The iPhone BibleReader comes with nine versions of the Bible included:
American Standard Version
Darby's New Translation
French Darby 1991
German Luther Bible 1912
Modern King James Version
New English Translation (without notes)
Spanish Reina Valera
Weymouth New Testament
Young's Literal Translation
"I was surprised to see that the basic 1611 King James Version was not included. The ESV Bundle includes the ESV (obviously), KJV, the Phillips NT, the nine Bibles listed above that are part of the basic package, the Matthew Henry Concise Commentary, the Jamieson-Fausset-Brown Commentary, and the Treasury of Scripture Knowledge."
DataCase Turns iPhone Into a Wireless Storage Unit and File Accessor
PR: DataCase turns an iPhone into a storage device that can be accessed by any other device that is connected to the same WiFi network.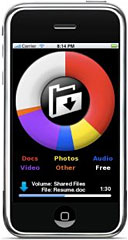 Browse, view, upload, and download your files from finder on a Mac or from your favorite web browser on a PC. You can even save files to your iPhone or iPod touch using industry standard FTP. DataCase has you covered, no matter what kind of computer you use.
Save Your Data
The iPhone and iPod touch keep your media close, but what about the rest of your data? DataCase keeps your files close by turning your iPhone or iPod touch into a hand held wireless drive. Keep your data with you wherever you go and access it when and where you need, on any available computer (Mac, PC, Linux), no upload program or server configuration necessary.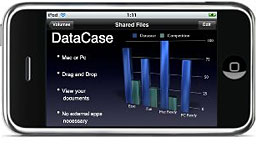 Uploader apps are limiting and server configurations are painful. That's why DataCase works directly with Finder and Bonjour to make saving files to your iPhone easy. Start DataCase and your Mac already knows that it's there. Drag and drop files just like it was another hard drive. File transfer made easy: just drag and drop.
View Your Files
No computer available? Why not view your files on your iPhone! DataCase makes it easy to view your Documents, Audio, Video, and Photos. Sneak a peak at your PowerPoint Document, reread your Word Document, Review that PDF, Check your Excel spreadsheet. View your files, no computer necessary.
Mac or PC: Nothing to Install
DataCase works with any computer that has wireless capabilities or is connected to a wireless network. Browse, view, upload, and download your files from finder on a Mac or from your favorite web browser on a PC. You can even save files to your iPhone or iPod touch using industry standard FTP. DataCase has you covered, no matter what kind of computer you use.
Speaks Your Language
DataCase is fully internationalized for English, French, German, Chinese, and Korean, with more languages on the way. File and folder names are fully UTF-8 compliant, so even if DataCase doesn't speak your native language yet, your files can be named in any language you want.
Control Access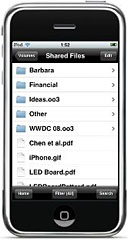 DataCase allows you to create multiple volumes to separate your data any way you like. Each volume is independent and allows you to define how it can be accessed. You can set read, write, and browse permissions for each, or even make it invisible to anyone but you. Volumes can also be set up to alert you before allowing a connection over the network. With DataCase, you're in control of your data.
Mac OS X: Connect the iPhone to a wireless network you can access from your Mac and launch DataCase. You should see your iPhone appear in the list of shared computers in the finder toolbar (for 10.4 and 10.3 users you will need to browse the list of network servers to find your iPhone). Once connected, click on the volume you wish to browse, accept the connection, and use as a normal hard drive.
Windows: From Windows you will need to go to windows explorer (not to be confused with Internet Explorer, if in doubt double click on "My Computer" and it should take you to windows explorer), in the path field at the top of the window were it has the path to the displayed folder you should put the URL on the DataCase UI that starts with "ftp://" and press enter. This should let you browse your files and upload/download as expected.
Main Features
Store your files on your iPhone
View stored files on your iPhone
Browse and Delete your files from the iPhone
Network Support
Support for Apple File Protocol (AFP) file transfers on Mac OS X 10.3 and later
Supports Bonjour zero-configuration networking for AFP connections
Supports FTP
Supports HTTP for browsing and download
File Browser
Browse by directory
Browse by File Types:
Documents
Audio
Video
Photos
Text search for file names
Delete Files
Rotatable Interface helps with long file names
Visualize
Capacity bar breaks down memory usage by file type
File transfers represented graphically
Volumes
Up to 16 individually configurable volumes
Per volume configuration for:
Volume Visibility
Volume Browse Access (Show Volume Contents)
File Read Access
File Write Access
Pre-Connect Confirmation
Backing up to iTunes on sync
System requirements:
Phone or iPod touch with Version 2.0 OS
A computer (Mac, Windows, Linux, Other) with a web browser
Mac OS 10.3+ for AFP integration
A wireless network connection
System support: Intel
Price - $6.99
Link: DataCase can only be purchased through the iTunes App Store
PhoneView - Use Your iPhone for File Storage
PR: PhoneView (formerly MegaPhone) is the desktop companion for iPhone and iPod touch. This Mac OS X application which lets you use your iPhone or iPod touch for file storage, provides note adding and editing, and easy access to your iTunes, iPhoto and notes, SMS, contacts and call history data. Convert your text, Word or PDF files into iPhone notes. It features drag and drop, making it fast and easy to move files back and forth between the Mac and iPhone.
Features:
Simple interface.
Store any type of files.
Access music, videos, podcasts and photos.
Instant access to Notes.
Easily create new Notes.
Export iPhone SMS and recent calls.
Use your iPhone for backup.
Bring your data between home and office.
MegaPhone is now PhoneView
With PhoneView on your Mac, you can:
Use your iPhone as a Disk
Access, Edit and Create Notes
Access Music and Movies
View and Export Call History
View and Export SMS
View Synched Photos
Download Camera Photos
Access Contacts
Just a few more things your iPhone does. Use your iPhone or iPod touch for file storage, ensuring that you always have your important data backed up.
Send text files, PDFs, or Word files to the iPhone Notes application for reading and editing on the go.
PhoneView also provides easy access to your iTunes media, photos, notes, SMS messages, call history and contacts. Drag and drop music, videos, notes and phone data from the iPhone to your desktop or just double-click to copy.
File Storage Made Easy
PhoneView's familiar Mac OS X interface makes it simple to transfer files between your Mac and your iPhone. Use your iPhone's unused storage space as a disk drive to backup data or transfer between Macs.
Note: Files stored on the iPhone using PhoneView cannot be viewed on the iPhone screen.
Play Your iPhone's Music on any Mac
Simply double-click music stored on the iPhone or iPod touch to play it on your Mac To add the song to iTunes with the click of one button.
Powerful Notes Access
PhoneView is the easiest and quickest way to add, view and edit your iPhone's Notes on your Mac desktop. Simply connect any iPhone and view your existing notes, or drag new notes right onto your iPhone or iPod touch.
Export SMS Messages and Recent Calls
Need access to the call history or your SMS messages stored on your iPhone? Simply drag it from PhoneView to your desktop. The information can be viewed in your favorite text editor or spreadsheet program.
Recover from Disaster
In the event of a Mac disk crash, if your music, photos and contacts are safely stored on your phone, PhoneView is the easiest path to recovery.
New in version 2.0.4:
Adds improved SMS mode view.
Adds support for accessing screenshots in Camera mode.
Fixes an issue where photos with an unknown date would be listed with today's date.
Increases timeout for data retrieval.
Fixes a possible error -4210 when adding notes after upgrading to iPhone OS 2.0.
Changed default font for Notes mode display to Helvetica.
Other minor fixes and enhancements.
System requirements:
iPhone or iPod touch,
Mac OS X 10.4.11 or later
iTunes 7.3 or later
System support: PPC/Intel
$19.95 demoware
Link: PhoneView
Free iOnce Application - 'a Personal Assistant 2.0'
PR: Since June launch Pageonce member accounts have grown 500% to over 300,000 accounts
Pageonce, the first Personal Internet Assistant, released a fully mobile version of its free iPhone application, iOnce. iOnce version 2.0 offers significant security enhancements, for use in the event that the mobile devices become lost or stolen, and enables consumers to register with Pageonce, and add and manage all accounts directly from their iPhone or iPod touch. iOnce by Pageonce, is a new free, easy and secure consumer utility that allows users to access and view all of their personal online accounts from a single mobile service.
Within 10 days of launch in the Apple App Store, the first version of Pageonce's iOnce Personal Assistant application ranked in the top 3 applications in the Productivity category. Closely ranked with other iPhone applications, such as Yelp, Twitter, Last.fm and PayPal, the iOnce Personal Assistant also ranked in the top 50 in the Popularity category out of all free iPhone applications.
"We are very pleased with the growth we have seen since the launch of our free iPhone application a few weeks ago," said Guy Goldstein, CEO and Cofounder of Pageonce. "We have grown our accounts by 500% since our launch just two months ago and we continue to see very strong growth on a daily basis. We have heard from customers that our application is truly addictive and have some users who check their data over 10 times a day."
iOnce version 2.0 offers significant enhancements from a security perspective with its mobile destruct feature that instantly deletes all account information upon activation if an iPhone or iPod touch is lost or stolen. Additionally, version 2.0 enables users to register their device by serial number, allowing that device and that device alone access to their Pageonce account data. The most anticipated of the version 2.0 features, which Pageonce is pleased to announce has now been implemented, is the ability for users to register, add accounts and fully manage their Pageonce account directly from their iPhone or iPod touch.
Why a Mobile Personal Internet Assistant is a MUST HAVE
Managing all one's personal online accounts on the computer is time-consuming and tedious. However, it's next to impossible to perform these necessary tasks via your iPhone or iPod touch - with the incessant scrolling, clicking, and on-the-go password memorization you have to do on your mobile, the process that takes 15 minutes at home or in the office can take forever when on the move. This is why Pageonce has created the new fully mobile iOnce Personal Assistant, a free iPhone application designed to help ease the pain of managing your online life on your mobile.
"Because our service is so broad, our free iPhone application works equally well for those looking for an iPhone finance application, for example, as those looking for an iPhone travel application," said Ahikam Kaufman, cofounder and COO of Pageonce. "The beauty of Pageonce is that, in addition to the two categories I just mentioned, users can also access email, social, shopping and utilities all in one app."
iOnce by Pageonce provides access to thousands of Internet accounts from the following categories: email, finance, social networking, utilities, travel, and shopping. Users also have the option to receive timely notifications via the mobile app or email alerts when important changes occur in their accounts - new travel itineraries, mileage points earned, flight status updates, approaching cell minute limits, package delivery dates and important balance changes - all without ever having to surf multiple websites, login or remember various passwords. Pageonce employs military-level security and is certified by TRUSTe, McAfee Hacker Safe and VeriSign. With Pageonce, users can actually increase their Internet and mobile security by assigning different user names and passwords to each of their accounts and simply managing them all directly from Pageonce.
Pageonce, the first Personal Internet Assistant, provides a new fast, free and easy consumer service that allows users to access, view and manage all of their personal online accounts from a single secure web page and via an Apple application for the iPhone and iPod touch. Founded in 2007 in Palo Alto, California, Pageonce is led by industry veterans from HP and Mercury Interactive. The company has attracted funding from former Ariba and CommerceOne rivals Bobby Lent and Liron Petrushka. The Pageonce core technology operates at military-level security and is certified by TRUSTe, McAfee Hacker Safe, and VeriSign.
Link: Pageonce (iOnce can only be purchased through the iTunes App Store)
iPDA Transfers PIM Data to iPod
PR: Who needs a PDA when you have an iPod? iPDA can transfer your PIM data to your iPod so it's available whenever you need it; iPDA supports transferring information from Entourage, Gmail, Stickies, Mail, Address Book and iCal (including Google calendars)
Who needs a PDA when you have an iPod? iPDA is the perfect companion to the iPod by serving as a replacement PDA. Word, PDF, Apple Pages, RTF or text documents may be easily transferred to iPod so data is available for quick access, any time. Download RSS feeds, weather forecasts, driving directions and news headlines directly to the iPod. iPDA supports transferring information from Entourage, Stickies, Mail, Address Book and iCal, making it simple to put the information users need on their iPods.
Note that iPDA does not support the iPhone or iPod touch.
Features
Transfer all or a subset of your Entourage events, contacts, messages, notes and tasks to your iPod.
Select Entourage information by category (or folder for messages).
Transfer all or a subset of your Stickies, Mail messages, Address Book contacts, and iCal calendars and To Do's. With Leopard (OS X 10.5), transfer Mail Notes and To Do's.
Download your Google calendars (or any web based calendaring system that supports the iCal standard) directly to your iPod.
Download your Gmail conversations and contacts to your iPod.
Automatically backup folders from your Mac to your iPod to ensure that your most important files are always up-to-date and on your iPod.
Transfer Word, PDF, Pages, RTF and text documents for reading on your iPod.
Download RSS feeds. iPDA ensures that only unread articles are transferred to your iPod.
Download weather forecasts, driving directions and news.
Subscribe to Internet published iCals for direct download and transfer to your iPod.
Includes all of your Calendar and Contact information. Fields not supported by the iPod (e.g. meeting locations and IM addresses) are included within the event/contact notes.
Advanced filtering to control the information that gets transferred. Examples include date ranges for events, flagged contacts, unread (and/or flagged) messages and tasks based on whether or not they have been completed.
Supports all iPod versions:
Messages, notes/stickies, tasks, news and weather forecasts can be transferred into your iPod's Notes. The information is organized by type and category to allow for easy navigation to all of your information. Notes longer than 4 KB are split into multiple notes. Notes are organized and linked to allow for easy navigation while reading.
Events, tasks, weather forecasts and iCals can be transferred into your iPod's Calendar. Your calendar information will be organized into separate calendars based on category. Tasks can also be transferred to the To Do list.
For older iPods, iCal To Do items can be transferred as entries in a "To Do" calendar.
For original iPods, contacts, messages, notes, tasks, news and weather forecasts appear as Contact entries. Long entries are logically split into multiple contacts.
Sync all (or a subset) of your information to your iPod with a single click. Uses your filter settings to determine what information gets synched.
Automate the synching of your information by selecting automatic synching on launch and automatic exit following a sync. Use iPod Launcher and connecting your iPod is all you'll ever have to do!
Provides for manual transferring of information if you need more control over what gets transferred to your iPod.
Locates your iPod and transfers information to the correct location within your iPod without asking you where it should go.
Clean your iPod of all information within given iPDA categories.
New in version 4.1.4:
This release updates Driving Directions to work with Google's new mapping features.
System requirements: Mac OS X 10.4 or later, Apple iPod.
Shareware - $19.95
Link: iPDA
BdTranslator for iPhone and iPod touch
PR: Bad Dog Apps, is a Mac OS X Software house with over 10 years experience with the Mac OS X and precursor NeXTstep/OpenStep technologies, today are announcing the availability of BdTranslator for the iPhone on Apple's App Store and extend our already shipping productivity menu bar based applications BdContacts, BdCalendar and BdTranslator, to include our first of many new iPhone applications.
BdTranslator is the perfect companion utility for all your holiday and business trips abroad. Translate your own sentences or modify one of the 250 stored common sentences that are categorized for quick browsing and searching. In addition you can store any translation for future use by creating your own favorites list.
BdTranslator works in both portrait and landscape mode and includes a translation viewer to easily show the translation to someone in large text. Using the custom settings you can adjust font sizes for both text and tables, which make seeing your translations a snap, even without your glasses.
Easy navigation includes intelligent one touch translations for common sentences and favorite phrases. This software includes features that allow the user to swap languages and change the in or out translation languages. BdTranslator can work natively in English, French, German, Italian, Japanese, Portuguese and Spanish.
BdTranslator supports 16 languages for two way translation: English, Croatian, Danish, Dutch, Finnish, French, German, Greek, Italian, Japanese, Norwegian, Polish, Portuguese, Romanian, Spanish and Swedish.
Note: Warning a WiFi or Cell 3G connection is required to run BdTranslator, also the Japanese and Greek languages have some restrictions on their language translations.
Link: BdTranslator can only be purchased through the iTunes App Store
GTS World Racing for iPhone
PR: Handmark has announced the release of GTS World Racing for iPhone and iPod touch users. It is immediately available through the Apple App Store.
GTS World Racing offers a unique mobile gaming experience utilizing the iPhone built-in accelerometer feature. Players can accelerate, brake and steer the car by moving and turning the device itself. The game includes 64 track layouts and offers a choice of multiple car types and difficulty levels, as well as 4 exciting play modes - Single Race, Challenge Cup, Grand Tour, and Championship.
"We are excited to continue releasing the finest in mobile content, taking advantage of the unique capabilities of our partners like Apple," said Paul Reddick, Handmark CEO. "We bring the highest quality mobile applications to the market for our partners and endusers, making the mobile experience both fun and productive."
In addition to the unique interface and use of the accelerometer feature, GTS World Racing offers players a choice of music options. Users can select the exhilarating music soundtrack or use the music from their iPod to create their own customized racing soundtrack.
GTS World Racing was jointly developed by Astraware, the Handmark Game Studio, and Pazzazz Games.
"We have a long-standing relationship with Pazzazz Games and are delighted to bring GTS World Racing to the App Store," said Howard Tomlinson, Director of Game Development, Astraware. "I love that I can control the game holding and turning my iPhone just like a steering wheel, which really shows off how well the device's accelerometer works. This is classic arcade racing fun!"
GTS World Racing is available exclusively from Handmark through the App Store for a one-time purchase of $7.99.
Link: GTS World Racing can only be purchased through the iTunes App Store
Apple Says Yes to FMTouch
FMWebschool Inc., announced the availability of FMTouch. FMTouch enables you to deploy FileMaker Pro on your iPhone or your iPod touch. FMTouch runs locally on your iPhone and does not require internet connection. FMTouch is available in the Business section of the App Store.
In the Olympics, steroids are definitely a bad idea. However when used in the context of an incredible software application we think that enhanced performance is what everyone needs. FMTouch replaces an old athlete (FileMaker Mobile) that as of last year was retired by FileMaker Inc. FileMaker Mobile could only handle a single non relational flat file. You could say that it had problems with relationships and in today's world relational data is key. This is where the power house FMTouch stepped in to more than fill its predecessor's shoes.
For those of you that have never heard of FileMaker Mobile, you may be wondering just what is it that FMTouch can do for me? I applaud your curiosity. If you use FileMaker Pro and you have an Apple iPhone or iPod touch you can transfer that fully relational database to your iPhone or iPod. Yes you can run FileMaker locally on your iPhone.
FMTouch supports multiple databases. Imagine having your contacts database, your inventory database, all with you on your iPhone. You can access your data anywhere and never have to worry about internet connections. While everyone else is suffering from the "no bars" crisis, you can be the hero by having all of your FileMaker data running locally on your iPhone. If you add, edit or delete records from your FMTouch database, you can easily sync to your main FileMaker database on your local or served file with our secure sync plugin. FMTouch works equally well on both Macintosh and Windows.
The great thing is you never have to worry about not having your FileMaker data with you. It's like having FileMaker in your pocket. FMTouch includes a beautiful design interface and is rich with features only available on the iPhone or iTouch. Simply tapping a phone number in a field and it automatically dials the phone, or tapping an email address and you are instantly presented with your email application.
FMTouch supports multiple related tables, layouts, portals and value lists. You can add records, edit records, delete records, delete found sets, sort records, edit portal rows, search, find all records and even use FileMaker generated runtimes.
FMTouch requires FileMaker 8 or FileMaker 9. FileMaker Advanced is needed to generate a one-time report to transfer the layout objects and table data to the iPhone. If you don't have FileMaker Advanced, don't worry! FMWebschool is providing an automated way to upload your database files and generate the DDR for you.
If you want the ability to harvest the power of FileMaker from anywhere in the world in an instant, then FMTouch is what you need. You can rely on FMTouch to help you win gold in the FileMaker Arena.
Link: FMTouch can only be purchased through the iTunes App Store
iPhoneNotes - View, Edit, Add, Remove Your iPhone Notes on Your Mac
PR: Requires Jailbroken iPhone
iPhoneNotes; View, edit, add, and remove your iPhone notes on your Mac.
New in version 0.8:
Firmware 2.0 compatibility (still only with jailbreak)
1.1.2 and older compatibility upload/download problem fixed
System requirements:
Mac OS 10.5,
Jailbroken iPhone
System Support: PPC/Intel
Free
Link: iPhoneNotes
Join us on Facebook, follow us on Twitter or Google+, or subscribe to our RSS news feed
Links for the Day
Mac of the Day: MacBook Core Duo, introduced 2006.05.16. The iBook's replacement has a 13" widescreen display and a 1.83-2.0 GHz Intel Core Duo CPU.
Recent Content
Custom Search
Follow Low End Mac on Twitter
Join Low End Mac on Facebook
Favorite Sites
MacSurfer
Cult of Mac
Shrine of Apple
MacInTouch
MyAppleMenu
InfoMac
The Mac Observer
Accelerate Your Mac
RetroMacCast
The Vintage Mac Museum
Deal Brothers
DealMac
Mac2Sell
Mac Driver Museum
JAG's House
System 6 Heaven
System 7 Today
the pickle's Low-End Mac FAQ
Affiliates
Amazon.com
The iTunes Store
PC Connection Express
Macgo Blu-ray Player
Parallels Desktop for Mac
eBay

Advertise