Apple Drops iPhone NDA, Defecting to Android, Auto Performance Apps for the iPhone, and More
This Week's iPhone, iPod, and Apple TV News
Compiled by Charles Moore and edited by Dan Knight - 2008.10.03
Mac notebook and other portable computing is covered in The 'Book Review, and general Mac news is in Mac News Review.
All prices are in US dollars unless otherwise noted.
News, Reviews, & Opinion
Apps
Accessories
iPod and iPhone Deals
These price trackers are updated regularly.
News, Reviews, & Opinion
Cell Phones and Cancer: More Research Needed
BusinessWeek's Olga Kharif reports:
"On Sept. 25, while many legislators on Capitol Hill were debating how best to confront potential dangers of the financial crisis, a handful of lawmakers and physicians were airing concerns over a different would-be danger: prolonged use of cell phones. Their conclusion is that more research is needed, especially when it comes to kids.
"During a hearing before the House subcommittee on domestic policy, Ronald Herberman, director of the University of Pittsburgh Cancer Institute, used visual aids to drive his point home. Herberman held up model brains, one of an adult and another of a 5-year-old, each with a cell phone held to a corresponding ear.
"Cell-phone radiation travels about two inches into an adult brain, but penetrates beyond the center of a child's brain, Herberman explained. 'I cannot tell this committee that cell phones are dangerous, but I certainly can't tell you they are safe,' said Herberman, who in July issued a memo (BusinessWeek.com, 8/5/08) urging his 3,000 staffers to limit cell-phone use among themselves and their children...."
Link: Cell Phones and Cancer: More Research Needed
US Congress Debates Cellphone Cancer Risk
The Register's Bill Ray reports:
"The House Subcommittee on Domestic Policy has been hearing from cancer researchers - and the wife of a cancer-sufferer - about the dangers of uncontrolled mobile phone use and how more research is needed.
"Citing the usual comparison with tobacco - everyone thought it was safe but it really was causing cancer - researchers from the University of Albany and the University of Pittsburgh Cancer Institute called for more research and warnings to the public that using mobile phones might be unsafe....
"Dr. David Carpenter of the University of Albany being most stark in his warnings:
"'The evidence available now poses the frightening strong possibility [sic] that we are facing an epidemic of brain cancer and other cancers in the future as a result of the uncontrolled use of cell phones.'"
Link: US Congress Debates Cellphone Cancer Risk
Apple Drops NDA Requirement for App Store Developers
A message posted on Apple's iPhone developer site says:
"To Our Developers
"We have decided to drop the non-disclosure agreement (NDA) for released iPhone software.
"We put the NDA in place because the iPhone OS includes many Apple inventions and innovations that we would like to protect, so that others don't steal our work. It has happened before. While we have filed for hundreds of patents on iPhone technology, the NDA added yet another level of protection. We put it in place as one more way to help protect the iPhone from being ripped off by others.
"However, the NDA has created too much of a burden on developers, authors and others interested in helping further the iPhone's success, so we are dropping it for released software. Developers will receive a new agreement without an NDA covering released software within a week or so. Please note that unreleased software and features will remain under NDA until they are released.
"Thanks to everyone who provided us constructive feedback on this matter."
Link: Apple Drops NDA Requirement for App Store Developers
Your Next Computer May Be a Smartphone
TechNewsWorld's Rob Enderle says:
"The next big technology battle is looming, and it's going to be Google vs. Microsoft, writes columnist Rob Enderle. Google is gearing up with its Android smartphone platform and its Chrome browser to take on the big kid from Redmond. It's even using some of Microsoft's own tricks against it.
"With the launch of the G1 from Google, the coming introduction of the BlackBerry Bold and the maturation of the iPhone, more and more of us will be living off this new mobile platform. A recent study by ABI research is predicting the crossover between notebooks and smartphones will happen in 2013 - or 5 years from now, which agrees with my own projections. This will mean a significant shift. The last shift like this was when we moved from mainframes to PCs and IBM was replaced by Microsoft at the top of the IT pile....
"By the way, we have two concepts running at each other: The smartphone, led by the G1, Blackberry and iPhone on one side, and the netbook running at it from the other. Smartphones are drifting larger and netbooks smaller, and we may be waiting for the ideal middle ground."
Link: Your Next Computer May Be a Smartphone
Automotive Performance Apps for the iPhone
Macworld's Rob Griffiths reports:
"The iPhone 3G, with its accelerometers and GPS chip, has spawned a unique category of programs in the App Store: automobile performance measurement tools. These programs use the iPhone's GPS chip to measure your vehicle's acceleration and speed (and via this data, horsepower), and the accelerometers to measure the g-forces applied while turning and braking or accelerating. If you're an auto enthusiast, the opportunity to measure these things using your iPhone and a relatively cheap piece of software is quite appealing - dedicated performance monitoring tools can be quite expensive. Since there are now quite a few programs in this niche, varying in both cost and feature sets, I set out to find the best of the best."
Link: Profile: Automotive Performance Apps for the iPhone
iPhone Developers Should Defect to Android
Cnet's Don Reisinger says:
"Quite a bit has been made lately over Apple's treatment of developers who want to create apps for the iPhone and iPod touch. The company has consistently played games with developers by keeping them in the dark and ensuring that each time an app is rejected they're given as little information as possible.
"Of course, this doesn't come as a surprise to those of us who have followed Apple all these years. The company has always been suspect of third-party developers and has consistently failed to do the right thing even when it's faced with a PR firestorm. After all, if the mainstream doesn't pay attention, who cares?
"But it's that kind of mentality that could get Apple into trouble. Sure, it worked fine for the company with Mac OS X and it has every right in the world to stop apps from getting into its store if they're undesirable, but that doesn't stop the onslaught of complaints that Apple is acting in a way that's more than a little 'wrong.'
"Let's see if I can capture the main points...."
Link: Why iPhone Developers Should Defect to Android
Apple's iPhone Is Closed. Google's G1 Is Open. Which Is Better?
Slate's Farhad Manjoo says:
"In August, a programmer named Alex Sokirynsky wrote a clever app to let iPhone users stream or download podcasts straight from their phones. (Ordinarily, the iPhone can play only the podcasts you've downloaded through your computer.) Sokirynsky submitted the program, called Podcaster, for inclusion in Apple's iPhone App Store the only way for third-party developers to distribute their programs to iPhone users. Weeks passed; Sokirynsky heard nothing from Apple. Then, on Sept. 11, the company sent him a note. Apple had rejected Podcaster because 'it duplicates the functionality of the podcast section of iTunes,' an Apple rep told Sokirynsky.
"Apple's explanation didn't make any sense. The iPhone App Store carries many programs - for instance, calculators and instant-messenger apps - that mimic desktop software. And anyway, why is 'duplicating functionality' so bad - isn't that the soul of competition? Sokirynsky's program didn't seem to violate any written guidelines that Apple had put out for iPhone apps. So why was Apple banning Podcaster?"
Link: Apple's iPhone Is Closed. Google's G1 Is Open. Which Is Better?
Kelby Training Announces iPhone Photo Contest
PR: Kelby Training has announced that it will be launching an iPhone Photo Contest to celebrate the upcoming release of the second edition of The iPhone Book.
You could win a $500 Apple Store Gift Card or a $100 iTunes Gift Card along with a copy of the new iPhone Book, Second Edition! Enter up to 3 photos choosing from 5 categories: Friends, Pets, Family, Fine Art, and Office.
Contest Runs: October 1-24, Public voting: October 28-30, Winners Announced November 3rd.
JPEG (.jpg) only. 1Mb or less. 1600 pixels max.
Prizes Courtesy of Kelby Training
One grand prize winner will receive a $500 Apple Store Gift Card and a copy of The iPhone Book, Second Edition
Five winners (one from each category) will receive a $100 iTunes Gift Card and a copy of The iPhone Book Second Edition
Winners will be notified on November 3 by email.
Link: Kelby Training Announces iPhone Photo Contest
Apps
New Air Sharing File-Sharing App from Avatron Software
PR: With 1 million downloads, Air Sharing App fills "gap" in iPhone functionality; Avatron's next update to include eight more languages
iPhone users recently discovered another use for the mobile-computing device, and at least one in 10 of them now plans to view everyday documents on their phones and use them as external hard drives to store files, according to Avatron Software, developers of software for the device.
A new file-sharing program in the iPhone App Store's productivity category, Air Sharing(TM) from startup Avatron Software, was downloaded by more than 1 million users in its first two weeks at the store - from Sept. 8 to Sept. 22, according to the company's president and CEO, Dave Howell, who received the numbers from Apple as an App Store developer. Reviews of the app are at http://www.avatron.com/mw/
Howell, a former Apple software engineering manager, said the iPhone isn't set up for users to view documents in common file types such as Word or Excel or to transfer files, including videos or music, between the device and their computers. The new Air Sharing app effectively retrofits the iPhone and iPod touch to perform the tasks.
"It was basically a gap in functionality for what is - from a developer standpoint - a groundbreaking platform that's clearly evolving," Howell said.
The workaround, he said, for millions of iPhone users is essentially to e-mail files to themselves and view them while they're at the top of their abridged inbox on the handheld - or to search the App Store library for file-sharing programs.
Air Sharing was introduced as a free application in the App Store and was the store's most downloaded app 10 days in a row. The app has remained a top seller since it began life as a paid program for $6.99 and was named Apple's App Store Pick of the Week on Sept. 24.
iPhone users have downloaded Air Sharing to view documents such as recipes, presentations, travel itineraries and lecture notes and to share their creative portfolios, Howell said.
Howell and his team of "veteran" Mac OS X programmers developed Air Sharing to "introduce ourselves to the community by filling an immediate user need," he said.
"Apple has really opened up a whole new feature set and design-aesthetic standard for software developers to explore and build on, and, for us, the possibilities are extremely exciting," Howell said.
The Air Sharing app allows iPhone and iPod touch users to view documents and operate their devices as wireless hard drives or thumb drives to store and transfer files.
Users wirelessly connect their devices to their computers as an external drive and drag and drop files between the machines.
Reviews of Air Sharing at the App Store and elsewhere online, including the blogosphere, have been positive.
The app was termed a "godsend" and a "must-download" with "an unparalleled set of instructions" in a five-star review by Michael Simon at MacLife.com.
The reviews editor at iPodObserver.com, Bob LeVitus, also gave Air Sharing an "outstanding" five-earphone rating this month.
Avatron plans to offer Air Sharing in eight languages as part of its next upgrade to the app. The languages will include French, Italian, Spanish, German, Korean, Japanese, Traditional Chinese and Simplified Chinese.
"This is really just the beginning for us, so stay tuned," Howell said.
Air Sharing is compatible with any Mac OS X (Tiger and Leopard), Windows (XP and Vista) or Linux (GNOME and KDE) operating system and any Web browser.
Features:
The app's key features include a familiar Finder-like file browser, prominent display of available space, use of Bonjour and WebDAV (like iDisk) for easy connection, optional password protection, public folder for guest access, extensive inline Help with detailed and simple instructions, controls to prevent, or to delay, iPhone auto-lock, Mac OS X applications displayed with their own icons in file browser and color-coded formatting of source code files, fast-scrolling features and pinch-to-zoom ability in the file browser to reveal more or less file information.
Viewable Formats:
Air Sharing can view files in the following formats: iWork (Pages, Numbers and Keynote), full resolution if saved with preview; Microsoft Office (Word, Excel and PowerPoint), with limited support for XML formats; Web Archive (webpage downloads packaged by Safari); Web page; PDF; HTML; RTF (Rich Text Format); RTFD (TextEdit documents with embedded images); Plain text (many different file extensions), with Unicode support; Source code (C/C++, Objective C/C++, C#, Java, JavaScript, XML, shell scripts, Perl, Ruby, Python and more), with color-coded formatting; Movie (standard iPhone formats: H.264, MPEG-4, 3GPP, etc.); Audio (standard iPhone formats: MP3 VBR, AAC, Audible, Apple Lossless, AIFF, WAV, CAF, etc.) and Image (standard iPhone formats: GIF, PNG, JPG, TIFF, etc.).
Avatron Software, Inc. is based in the Silicon Forest in Vancouver, Wash.
Link: Air Sharing (only available through the Apple App Store)
6 BibleReader for iPhone Apps from Olive Tree Bible Software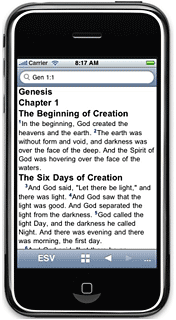 PR: Olive Tree Software announces that there are now six BibleReader for iPhone products available on iTunes. (You must have iTunes installed to follow these links.)
NAB Bible for BibleReader NEW!
Amplified Bible for BibleReader NEW!
NKJV Bible for BibleReader NEW!
ESV Study Bundle - 12 Bible translations, plus Bible study tools
ESV Bible For BibleReader NEW!
BibleReader - 9 Bible translations - Free
And Olive Tree have recently submitted 2 more titles to Apple. Pending Apple's approval, the New International Version Bible (NIV) and the NIV Family Bundle, including the NIV, Today's New International Version (TNIV), and New International Reader's Version (NIrV), will appear for sale on iTunes.
Visit Apple iTunes to see all Olive Tree Applications for iPhone. Like all iPhone Applications, BibleReader™ for iPhone can only be purchased through Apple iTunes. To learn more about BibleReader on iPhone, check out Olive Tree's iPhone webpage. You'll find a clear comparison of BibleReader features and functionality on iPhone versus other platforms.
Remember, you can only purchase iPhone titles from Apple iTunes. Titles purchased at OliveTree.com are not compatible with iPhone.
Link: mobile BibleReader for iPhone (only available through the Apple App Store)
Free AirMe App Creates iPhone Link to Picasa, Facebook, and Flickr
PR: AirMe, an innovative, free, mobile photo sharing application that premiered alongside the opening of Apple's App Store, now enables all iPhone users to instantly send their photos live to Picasa, Facebook, and Flickr. All photos are auto-tagged with location, time, weather and any user customized information. AirMe also provides an easy auto-post to Twitter.
Wired Blog Network called AirMe "a great iPhone app for parents," and "so far . . . the best app I've found to snap pictures and automatically upload them..."
PC World included AirMe in their Top List as an "app you need right now," while Macworld called AirMe a "cool upload utility."
"With this new release, iPhone users can now choose to have their photos instantly captured, tagged and sent live to their Picasa account, instead of taking the time and effort to figure it out later," said Mark Haverkate, AirMe CEO. "AirMe has also just streamlined the user sign-up process, so getting started with AirMe is now as easy as using it."
In its first two months, AirMe has already been used in more than 90 countries. Users have already auto-uploaded approximately a quarter million photos from just the iPhone alone. Upcoming AirMe releases will include photo and video versions for Sony Ericsson, Nokia and Blackberry mobile phones, and auto-links to many other popular sites.
Link: AirMe (only available through the Apple App Store)
Findley Designs Releases iPod Access Photo 1.6 with 4G nano Support
PR: Findley Designs, Inc. announces the immediate availability of iPod Access Photo 1.6 for Mac OS X and Windows Vista/XP. iPod Access Photo is the complete solution to viewing and retrieving photos stored on iPod players. New features in v1.6 include Support for Nano 4G, improved photo cropping, improved photo resolution stats display, faster application load times and numerous bug fixes.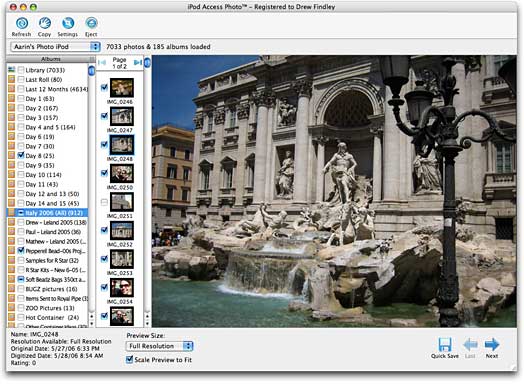 Findley Designs, Inc. announces the immediate availability of iPod Access Photo v1.6 for Mac OS X and Windows Vista/XP. iPod Access Photo is the complete solution to viewing and retrieving photos stored on iPod players. New features in v1.6 include Support for Nano 4G, improved photo cropping, improved photo resolution stats display, faster application load times and numerous bug fixes.
Features include:
Support For Mac OS X 10.3.9 or higher (Universal Binary)
Support for 10.5 (Leopard)
Support for Windows Vista and Windows XP
Works with all iPods that support photos
Works with iPhone and iPod touch
Disable iTunes Photo Sync
Automatically uses highest resolution available
View Photos by Album
Full Size preview in application
Copy all your photos with one click
Easy to use interface
Ability to override photo names
Support for Multiple iPods
Need to get photos off your iPod and back onto your computer? If so you have probably realized that the iPod stores photos in files with a "ithmb" extension. These files contain all the photo data for your iPod but cannot be read by regular photo programs. iPod Access Photo solves this problem by allowing you to select individual photos and albums to be moved back onto your computer or to an external hard drive.
When iTunes transfers photos to the iPod it creates each photo in multiple sizes. The iPod uses these different size photos to display thumbnails, full screen images and television formatted images. iPod Access Photo always selects the highest resolution file available on the iPod. If the "full resolution" option was selected in iTunes then iPod Access Photo will use those files by default.
iPod Access Photo v1 is the perfect companion to iPod Access v4. With both programs installed on your computer you have complete control over all the media on your iPod that is important to you.
BigOven Releases Free Recipe Search for iPhone Users
PR: BigOven.com, a rapidly growing social network about food with 150,000+ members from around the world, announced the immediate availability of free recipe search for iPhone users. People can post their favorite recipes and photos to the website for free, then access them Now, if you're at the grocery store, and don't know what ingredients you need to make Chicken Cacciatore, simply visit BigOven.com from anywhere - including the grocery store and their own kitchen. Now, if you're at the grocery store, and don't know what ingredients you need to make Chicken Cacciatore, simply visit BigOven.com.
BigOven.com, a rapidly growing social network about food with 150,000+ members from around the world, announced the immediate availability of free recipe search for iPhone users. People can post their favorite recipes and photos to the site for free, and access them from anywhere.
"Now, if you're at the grocery store, and don't know what ingredients you need to make Chicken Cacciatore, simply visit BigOven.com. "You can enter general search terms like 'easy breakfast eggs' or ingredients from your fridge, and get some great suggestions". BigOven for iPhone has specially tailored the interface to be clear and uncluttered for smaller cellphone displays.
Publish Your Favorites, Carry Them With You
It's free to join BigOven.com, and members can easily build "Try Soon" and "Favorite" lists from a PC or Mac, then access them from their iPhone, Blackberry or web-enabled cellphone at the address http://www.bigoven.com/m.
Seattle-based BigOven.com is a rapidly growing social network about food, with over 160,000+ recipes and about 150,000 members from around the world. Cooks can post recipes, photos, how-to cooking videos, and tips for free and search recipes in a variety of ways, including "what's fresh", "leftover wizard", flavor tags and more.
First released in 2004, BigOven.com now serves nearly 1.5 million unique visitors every month, up more than fourfold over last year. The founder, Steve Murch, has over three decades of experience in the personal computing industry, including executive-level experience at both Microsoft Corporation and Expedia, Inc.
Link: BigOven.com
Apartment Guide Launches App on Apple App Store
PR: Apartment Guide, a leading apartment resource for searching apartment communities nationwide, today announced that its application that allows users to search, view, call and e-mail apartment listings directly from their iPhones or iPod touch, is available on the Apple App Store. This launch stands as an apartment industry-first.
"Using their iPhone or iPod touch, people searching for an apartment have immediate access to quality listing information, no matter where they are," said Arlene Mayfield, president, Apartment Guide. "We believe that these revolutionary devices, combined with the rich media of our apartment app, will drive valuable interactions between apartment shoppers and property managers."
Now users can search ApartmentGuide.com listings from their iPhone and iPod touch based on city and state, and zip code or use the location feature to pull listings from the surrounding area. Users can also save results to their favorites and continue the apartment search from where they last left off, scroll through photos, map specific locations and get driving directions, call or e-mail a listing agent for the property directly from the application, and sort based on criteria like pricing that helps zero-in on apartments best suited to a user's taste or preference.
"Providing relevant, localized information to consumers through these mediums as they search for an apartment demonstrates our commitment to helping renters find a place to live," said John DeLatte, vice president, ApartmentGuide.com. "Future updates of the application will include new home, property rentals and foreclosure data feeds. The plan is to evolve the application to pull content across our other real estate assets, NewHomeGuide.com and Rentals.com. We have a significant amount of data to leverage that will help deliver a seamless user experience and leads to our customers."
The Apartment Guide application is free to download from Apple's App Store on iPhone and iPod touch or at www.itunes.com/appstore/. Visitors to www.ApartmentGuide.com will also be directed to a link to quickly and easily initiate the download.
Thirty-three years old, Apartment Guide is the flagship product for and division of Consumer Source Inc., a wholly owned subsidiary of PRIMEDIA Inc. Apartment Guide delivers rental information to consumers via print, Internet and mobile devices. Apartments for rent are displayed and distributed in 77 publications in 74 markets and through ApartmentGuide.com, which is available nationwide. The Printernet (print and online) blended media product provided by Apartment Guide is the consumer's primary apartment search resource, offering renters content-rich apartment listings.
Link: Apartment Guide (only available through the Apple App Store)
Uclick Delivers USA Today Crosswords on the iPhone
PR: America's #1 national newspaper, USA Today, is home to one of the most popular word games, the daily USA Today Crossword. USA Today Crossword for the iPhone is a brand-new application available for download directly on the iTunes App Store. Uclick is the #1 provider of word and number puzzles on the web and on mobile.
The new iPhone version of the USA Today Crossword features the same 15x15 puzzles highlighted every weekday in print and online editions of USA Today. The new mobile application features an easy-to-use interface designed specifically for the iPhone and automatically downloads new puzzles daily, with puzzles becoming more challenging as the week progresses. Users can also search hundreds of archived daily puzzles and download, save, and play anytime offline.
The iTunes download includes a special two-for-one bonus with the Uclick-created Quick Cross, a fast-action crossword designed for players on the run. Quick Cross players are given eight clues to solve a 4x4 grid in which every answer is a four-letter word, acronym, name, prefix or abbreviation. A timer encourages puzzle players to beat their best times and improve on top scores.
In USA Today Crossword and Quick Cross, iPhone users get a one-two punch of puzzle-solving fun featuring two of the most popular word games from America's most widely read newspaper.
USA Today Crossword and Quick Cross for iPhone features include:
Solve the same puzzles that appear in USA Today
Intuitive and easy-to-use interface
Tilt screen sideways to display clues in the right or left margin
Track progress with organized list views by date or when last played
Track Quick Cross scores and number of moves it takes to complete
Sort, read and solve puzzle clues while keeping eyes on the grid
Access networked calendar archives with hundreds of puzzles
Save and play puzzles offline
Beautiful, uncluttered layout with letter and full word hints
Puzzle-loving iPhone users can download the USA Today Crossword with Quick Cross directly on the iPhone App Store for $4.99.
"Uclick puzzle creators and editors work with USA Today to bring the absolute best daily play to word games in print, online, and now to the iPhone," said Uclick CEO Douglas Edwards. "The iPhone is a fabulous device for this experience, and with both classic crosswords and Quick Cross anyone can play anytime."
Link: Uclick (only available through the Apple App Store)
Zones for iPhone and iPod touch Controls Sonos Music Systems
PR: Kupuk has announced the release of Zones 1.2, their Sonos remote control utility for iPhone and iPod touch. Designed exclusively to leverage the iPhone's unique abilities and interface, Zones is a remote control for the Sonos multi-room music system. By using the iPhone WiFi connection, Zones lets anyone control their music from every room of the house and offers a convenient way to change songs, pause or adjust the volume. Version 1.2 includes a host of new features and improvements.
Kupuk has released Zones 1.2, an update to their Sonos remote control utility for iPhone and iPod touch. Designed exclusively to leverage the iPhone's unique abilities and interface, Zones is a remote control for the Sonos multi-room music system.
Zones uses the open standard UPnP over a WiFi network to discover and control Sonos players. Zones lets anyone control their music from every room of the house. Wherever you are, Zones offers a convenient way to change songs, pause or adjust the volume.
Version 1.2 sports many new features. Users can now browse and play their favorite list of internet Radio stations. Zones also adds support for Playlists, and displays album art while playing. Simply select the Playlist that fits any mood. Whether 2,000 songs or 20,000, easily scroll through music with a flick of the finger as Zones catalogs a complete collection.
Additionally, Zones includes support for selecting Line-In to take advantage of other equipment, such as DVD players and computers, that may be connected to Sonos players.
Feature highlights include:
Uses UPnP over a local WiFi network
Browse music by Artist, Album and Song
Play, Pause, move to Next and Previous Tracks
Control Volume in each Zone
View the Queue of upcoming Songs
Play Internet Radio Stations
Select Playlists
Switch Line-In sources
Supported Languages: US English
System Requirements: iPhone or iPod touch 2.0
Zones 1.2 is priced at $14.99 and available exclusively through Apple's App Store.
Link: Zones (only available through the Apple App Store)
Accessories
Macally Powers Up iPhone and iPod with 3 Unique Products
PR: Macally has announced the availability of three innovative products - the Macally PowerLink, PowerPal and JboxMini - all of which extend iPhone and iPod battery life and improve these devices' functionality through unique design features.
"With the multiple features now found on iPods and iPhones, the batteries are being taxed more than ever, and consumers are looking for new power options," said Andrew Saldana, vice president of sales and marketing, Macally. "Our new PowerLink, PowerPal and JboxMini are not only fulfilling that need but are also offering out-of-the-box functionality for storage, international travel and improved portability."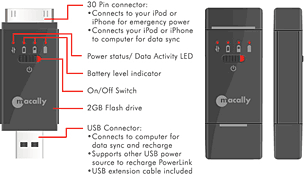 These new innovative accessories for the iPod and iPhone devices include the following:
PowerLink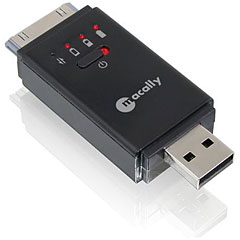 This exceptionally functional device is the ultimate goto gadget for iPhone and iPod customers. It has a standard 30-pin dock connector and can act as a mobile emergency external battery pack for an iPod or iPhone. It also adds a critical 1 hour of talk time to an iPhone that's been completely drained. It can be used as a synching and charging device for an iPod or iPhone via a connection to a computer while also recharging the PowerLink itself. The PowerLink is also a fully functional 2 GB flash drive, so iPod and iPhone users can conveniently store and transport files while synching and charging.
A USB extension cable is included. The Manufacturer's Suggested Retail Price for the PowerLink is $49.99. The device is shipping now.
PowerPal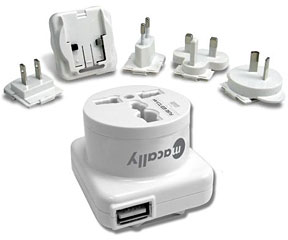 A must-have product for international travelers, the PowerPal is a combination USB, AC charger and universal power adapter that can charging virtually any USB device such as an iPhone, iPod, camera and PDA. It provides interchangeable plugs for North and South America, Taiwan, Japan, Europe, China, Middle East, Russia, United Kingdom, Singapore, Hang Kong, Africa, Australia and New Zealand. It also offers a fuse compartment (including and extra fuse) and a Universal pass through outlet - so users still have access to a plug, even when the adapter plugged into an outlet. It comes with a standard iPod 30-pin to USB charging cable and a carrying pouch. The MSRP for the PowerPal is $29.99. The device is shipping now.
JBoxMini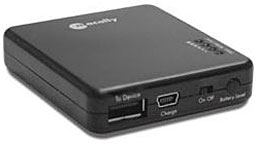 Compact and portable, the JBoxMini is an external high capacity Li-Ion battery for iPod and iPhones, ideal for long flights, outdoor activities, or anywhere these devices might be used long enough to run out of power. The compact device not only increases the usage time of iPhone and iPod by up to four hours, it can also power other USB-based portable devices while on the go. Features include a built-in battery tester button, a battery level LED indicator and a power on/off switch to save the battery power when not in use.
Recommended for: iPod nano 2nd generation, iPod nano 1st generation, iPod 5G, iPod photo, iPod with color display, iPod 4G, iPod mini, iPod shuffle 1G, iPod nano 3G, iPod classic, iPod touch, iPhone, cell phone, PDA and MP3 with USB charging capability or any products that can be charged with USB ports.
Features:
Ideal for long flights, outdoor activities, or anytime your devices might run out of power
High capacity Li-Ion battery cell increases devices usage time approx. 3-4 hrs
Supports most portable devices with USB charging capability such as iPod, Cell Phone, PDA and MP3 player
Compact size
Standard USB ports and ON/OFF switch
Recharge from computer's USB port conveniently with included cable
Built-in battery tester button with battery level LED indicator
Power On/Off switch to save battery when not in use
Includes one USB A to mini B male cable
Warranty: 1 year warranty
Specifications:
Output Voltage: DC 5V
Output Current: 1000 mA max.
The MSRP for the JBoxMini is $29.99. The device is shipping now.
iPhone 3G Docks Easily in Your Vehicle with iPhone Holder from ProClip USA
PR: Consumer installable mounting solutions make iPhone 3G easier to view, access, charge and connect to your stereo while in the car
ProClip USA, Inc. has announced the launch of a new device holder with tilt swivel and pass-through connector designed to securely mount iPhones to car, truck and SUV dashboards and consoles. The pass-through connector creates a docking station to which you can connect your stereo cable, charging cable or any other 30 pin dock connector cable.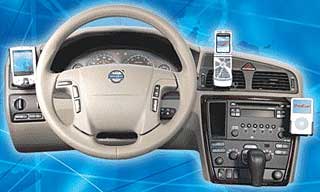 These holders, designed and manufactured by Brodit AB in Sweden, are custom made for the new iPhone 3G and attach to vehicle specific ProClip dashboard mounts. Once this two part solution (Device Holder plus Vehicle Mount) is attached, to the vehicle dashboard, the solution provides better viewing and easier access. ProClip holders may also be attached to other manufacturers' vehicle mounts or any other flat surface.
"Securely and conveniently mounting handheld devices like the iPhone, without damaging a vehicle's interior, is what we do best," says Bjorn Spilling, president of ProClip USA. "We offer mounting solutions that are custom designed for virtually every car in the world, and all popular handheld devices."
The Holder with Tilt Swivel and Pass-Through Connector will make docking and undocking, your iPhone, easier and more convenient. Attach your stereo cable, charging cable or other iPhone dock connector cable, to the bottom of the Holder, to create a docking station for your iPhone. You no longer need to plug and unplug the cable each time. Your iPhone is conveniently on the dash within easy reach and slides in and out of the holder with one hand. The holder is custom made with a neat and discreet design. It tilts 15 degrees in any direction for optimal viewing.
The ProClip Vehicle Mount is the only vehicle specific, consumer installable mounting bracket in today's global market. The mount clips into the dashboard seams, providing a very sturdy and tight fit. Average installation time is 2 minutes. No dismantling of the dashboard is required and there is no damage to the vehicle's interior.
Other holders are also available for first generation iPhones and iPods.
Link: ProClip USA
Join us on Facebook, follow us on Twitter or Google+, or subscribe to our RSS news feed
Links for the Day
Mac of the Day: 20th Anniversary Mac, introduced 1996.03.20. Honoring Apple's 20th anniversary, the TAM was the first flat panel desktop Mac and had a unique design.
Recent Content
Custom Search
Follow Low End Mac on Twitter
Join Low End Mac on Facebook
Favorite Sites
MacSurfer
Cult of Mac
Shrine of Apple
MacInTouch
MyAppleMenu
InfoMac
The Mac Observer
Accelerate Your Mac
RetroMacCast
The Vintage Mac Museum
Deal Brothers
DealMac
Mac2Sell
Mac Driver Museum
JAG's House
System 6 Heaven
System 7 Today
the pickle's Low-End Mac FAQ
Affiliates
Amazon.com
The iTunes Store
PC Connection Express
Macgo Blu-ray Player
Parallels Desktop for Mac
eBay

Advertise