Use a New iPod with an Old Mac, Convert WMA to MP3, Prepurchase iPhone Account Setup, and More
This Week's iPhone, iPod, and Apple TV News
Compiled by Charles Moore and edited by Dan Knight - 2008.10.28
Mac notebook and other portable computing is covered in The 'Book Review, and general Mac news is in Mac News Review.
All prices are in US dollars unless otherwise noted.
News, Reviews, & Opinion
Apps & Services
Accessories
Protection
iPod and iPhone Deals
These price trackers are updated regularly.
News, Reviews, & Opinion
AT&T Adds Online Account Setup for iPhone 3G Customers
PR: AT&T Inc. has announced that its iPhone 3G customers can set up accounts online before heading to the nearest store to activate and complete the purchase, reducing in-store wait times as the busy holiday shopping season approaches.
New customers can perform a pre-qualifying credit check and determine eligibility to port an existing phone number to AT&T in advance by visiting <http://www.att.com/iphone>. Existing AT&T customers can also determine eligibility to add a new line for iPhone.
The new AT&T online service joins Apple's existing offering to give customers the fastest way to get up and running with their new iPhone 3G by starting the setup process online and finishing in the store. For more information, please visit <http://www.apple.com/iphone/buy>.
iPhone 3G combines all the revolutionary features of iPhone plus 3G networking that is twice as fast(1) on the nation's fastest 3G network, built- in GPS for expanded location-based mobile services and iPhone 2.0 software, which includes support for Microsoft Exchange ActiveSync and runs thousands of third-party applications that are available through the Apple App Store.
(1) Based on 3G and EDGE testing. Actual speeds vary by site conditions.
Link: AT&T
How to Use a New iPod with an Old Mac
An anonymous contributor to Mac OS X Hints reports:
"The newest generation of iPods requires iTunes 8 or higher. iTunes 8 requires Windows XP service pack 2 or higher, or Mac OS X 10.4.9 or higher. So what do you do if you have an older Mac which can not run, or otherwise is not running OS X 10.4.9 or later? Or perhaps you just don't want to upgrade your entire OS just to use a new iPod. Here is one possible solution..."
Link: How to Use a New iPod with an Old Mac
How to Convert Protected WMA to MP3 for iPod
ComputerUser's dudude answers this reader question:
"'The majority of my albums are in my Windows Media Player and I would like to transfer those albums to my iPod. Now I don't know how to. All I know is that WMA is not compatible with Apple iPod. So how do I rescue my songs? I tried to use Limewire to download free music but it is a mess.'
"If you meet the same problem, you got the right place! The following tutorial details how to put both protected and unprotected WMA (Windows Media Audio) music files to iPod...."
Link: How to Convert Protected WMA to MP3 for iPod
Nickel in Many Cellphones May Give You a Rash
CTV.ca reports:
"Cellphone addicts, beware. Using your phone for long periods of time may cause a rash to develop on your face and ears, doctors warn.
"The British Association of Dermatologists (BAD) has identified a skin disorder called mobile phone dermatitis, which is an allergic reaction to a cellphone's nickel surface.
"The Association cited published case studies of patients who had unexplained rashes that were later linked to the nickel in phone buttons and casings....
"This will not likely be a problem for iPhone users, given the Apple phone's lack of nickel-plated buttons and trim."
Link: Too Much Cellphone Time May Give You a Rash
Google's Android Phone May Make iPhone Fans Take Notice
AP technology writer Rachel Metz reports:
"Given Google Inc.'s reputation as a trend setter on the web, I expected great things from its first mobile phone - especially since it is emerging more than a year after Apple Inc. launched the enormously popular iPhone.
"And while it's far from perfect, the G1 powered by Google's Android operating system is packed with plenty of consumer-oriented features that may even make iPhone fans take notice....
"I was more impressed with the speed of T-Mobile's 3G network than I have been with AT&T's, and noticed applications and songs downloaded fairly quickly and easily. This could change, though, as the network is still quite new and there are not many phones running on it yet...."
Link: Google's New Phone May Even Make iPhone Fans Take Notice
Apps & Services
A.I.Disk Brings MobileMe iDisk Connectivity to the iPhone
PR: Readdle has announced the release of A.I.Disk, a new and much needed iPhone application that lets MobileMe subscribers access documents on the iDisk online storage service and save them to their iPhone and iPod touch. A.I.Disk allows people to view saved files and documents on the go and even email friends and colleagues.
"MobileMe iDisk is a popular way to backup important data or share information among several different devices. To do that effectively and efficiently it should be accessible from any computer or mobile phone that the individual uses. Therefore, lack of MobileMe iDisk support is still one of the major iPhone flaws. A.I.Disk brings iDisk connectivity to the iPhone and iPod touch making these great devices even more useful and functional for MobileMe subscribers", notes Alexander Tyagulsky, Readdle CMO.
A.I.Disk has a built-in file viewer that supports a number of formats including MS Office and iWork documents, PDF, TXT, HTML and others making A.I.Disk extremely versatile. Only one tap on a file is needed to copy it to the iPhone or iPod touch file storage allowing the user to enjoy reading it anywhere at anytime. Also, any document that is stored in A.I.Disk can be sent by email to anyone in the world. It is as practical as it is useful and really bridges the gap in accessing and sharing a wide range of files.
For those who use more than one iDisk account or would like to be able to access documents from shared folders of their friends or business partners; A.I.Disk supports the ability to add as many MobileMe iDisk accounts as they need. Also, the application enables people to browse documents from any WebDAV enabled online file storages thus further expanding the usage of the device.
Link: A.I.Disk (only available through the Apple App Store)
Hey Mac Software Delivers Briefcase for iPhone
PR: New file transfer app offers iPhone to iPhone file transfer and the most streamlined workflow for moving files between the Mac and iPhone
Hey Mac Software announced today that its Briefcase file transfer software is now available at both the US and Canadian iPhone App Store. It is expected to be available in Apple's European app stores later this week and in their Asian app stores by the end of November.
This highly anticipated product offers iPhone to iPhone file transfer and delivers a much simpler, iPhone-centric workflow than other file transfer apps. As such, it requires no cables, no client software, no switching back and forth between the iPhone and Mac, no network set up, and no typing of an IP address. Briefcase is priced at $4.99 and is available in 10 languages. Concurrent with the launch of Briefcase is the release of Briefcase Lite: a free version of the software that gives users access to all of the most common features and functionality of Briefcase.
"We've had a lot of tremendous feedback from our beta testers and reviewers: people are really excited about the simplicity of the workflow and the high degree of interactivity Briefcase gives them with the Mac they are connected to," says Mike Taylor, president of Hey Mac Software. "Plus, with iPhone to iPhone file transfer capabilities and high-quality file viewing, Briefcase really stands out from the crowd."
Briefcase Workflow: Connection and Downloading
The Briefcase UI and workflow are extremely intuitive. Using Bonjour technology, Briefcase enables users to quickly locate, connect to and browse local machines that have Remote Login enabled. Remote machines with their own internet address can also be accessed: both WiFi and 3G networks are supported. The app's bookmark system enables users to manually add bookmarks for remote machines and key chain support means they can save passwords for computers they commonly login to.
Once they are connected, Briefcase enables users to quickly select and download files as well as entire directories and bundles (directories that appear as files on a Mac). Downloads that are interrupted by the user quitting Briefcase will be automatically resumed the next time the software is running and the source Mac is available.
Viewing Files
Downloaded files and directories are listed in alphabetical order with an appropriate icon next to their name. Files downloaded from a Mac running Leopard display a thumbnail of the file using Leopard's QuickLook technology.
Briefcase enables users to view documents (Pages, Numbers, Keynote, Word, Excel, MP3, M4V, PDF files, etc.) and images (TIFF, JPEG, GIF, PNG and BMP) stored on their iPhone, while video and audio files can be opened using the iPhone media viewer. Full screen viewing and viewing from all orientations are supported in both the image and document viewers: enabling users to take full advantage of their iPhone screen real estate.
Briefcase's image viewer delivers excellent performance. This is due to the fact that it does not use the web browser for viewing images, but rather its own streamlined image viewer. Supported image files can be viewed and added to the iPhone photo library.
Briefcase also offers a number of features that make it easier for users to read books and other large documents on their iPhone. A document slider, for example, lets Briefcase users quickly scroll through a large document. The document viewer will remember the user's last location in a specific document (before closing the file) and the next time the file is opened, go automatically to that location.
File Upload
With Briefcase, users can securely upload stored files to one of the most common areas of the Mac they are connected to - Downloads, Desktop, Documents (or Movies or Pictures, depending on the file type) - with just a single tap. Other upload destinations can also be chosen and saved; plus, users can perform their upload in conjunction with an action: Open File, Add to iPhoto, Add to iTunes, etc. Power users and system administrators can use Briefcase to install a simple installer package, add Mac apps to the Applications directory, as well as upload and mount disk image files on the Mac they are connected to.
While uploading (or downloading) files/directories, the tab bar icon for Activity displays a highly visible red badge with the number of operations that are in progress at any given time: reminding the user that uploads/downloads are in progress. The Activity view gives users a list of current download/upload operations. It includes a progress widget, that informs the user of the status of the operation, and a Cancel button - available for each operation.
Internationalized UI
The Briefcase UI can be displayed in English, Spanish, French, Italian, German, Dutch, Korean, Simplified Chinese, Japanese and Russian. The user documentation is available in all of these languages with the exception of Russian.
Briefcase Lite
The free Briefcase Lite app offers most of the functionality of Briefcase with a few notable exceptions:
Briefcase Lite users can connect to and browse machines on a local network only.
Briefcase Lite users cannot download directories.
With Briefcase Lite, users cannot upload files to another iPhone. They can, however, receive files from other iPhone users.
Applications and installer packages can be uploaded to another machine, but users do not have the option to perform the related action (i.e. install).
Link: Briefcase for iPhone (only available through the Apple App Store)
MyWeather Mobile Has Sunny Future on iPhone
PR: MyWeather, developer of digital weather and traffic content, recently released MyWeather Mobile, a groundbreaking weather application for the iPhone and iPod touch. This week, MyWeather announced that after over three months in the Apple's app store and several significant updates, MyWeather Mobile remains in the top 2% of all paid apps and has been a fixture in Apple's top 100.
MyWeather Mobile features the iPhone's first full-screen, interactive radar. By combining these high quality radar loops with Microsoft Virtual Earth technology, the application lets you view weather conditions at your specific location - or any other location around the country. Turning the phone horizontally truly puts you in control by displaying full-screen radar, allowing you to pinch, flick, zoom, and double tap the map down to the street level, exactly as a broadcast meteorologist would. This precision also allows you to view golf courses, schools, stadiums, or any other key points of interest and view the radar at that exact location.
"From the very beginning of this project, our goal has been to provide a robust, user friendly application to our customers," said Terry Kelly, CEO of MyWeather, LLC and sister company, Weather Central, Inc. "Customer response has been tremendous, and their feedback has been instrumental in shaping future MyWeather Mobile updates."
In addition to the interactive radar, MyWeather Mobile also offers accurate and robust weather data including current conditions, temperature, precipitation, wind speed, and 12-hour trends. GPS technology allows you to automatically receive the current conditions and forecast for your exact location, and you can store multiple locations on your device to quickly check 3 or 6 day forecasts for the places that matter to you most.
MyWeather Mobile is available now in Apple's App Store. For more information on MyWeather Mobile, visit our website.
Link: MyWeather Mobile (only available through the Apple App Store)
Let Your iPhone Do the Searching While You Do the Shopping
PR: Slifter announced today that iPhone users can now download the Slifter application, the first local product search tool available in the App Store that allows consumers to search and share products and promotions at local retailers.
Slifter enables users to search over 350 million products at more than 200,000 retail stores across the country, and makes real-world shopping as interactive as the iPhone:
SEARCH local store inventory for products, Hot Deals, and promos (including 40 million circular offers)
SORT products by price or distance
SEE product information, images and maps
SAVE products and promotions into a mobile Shopping List
SHARE finds with friends and family
Additionally, iPhone users enjoy Slifter Gift Guides, Rich integration with Google Maps, and Integrated GPS
"Slifter's aim was to create an excellent user experience while utilizing the iPhone's top features," said Alex Muller, CEO of Slifter. "Slifter is truly specialized for the on-the-go shopping experience - featuring local product search, geo-targeted Hot Deals and Shopping Lists."
Slifter is available now in the iPhone App Store for free under the Lifestyle section.
Link: Slifter (only available through the Apple App Store)
My Apple Space Announces iPhone Support
PR: My Apple Space announces support for iPhone on the popular social networking website for Apple enthusiasts. On My Apple Space developers are meeting reviewers and customers, media is finding new readers, gamers are setting up tournaments and switchers are finding new Apple friends to help them make the important leap to the fantastic world of Apple. With iPhone support you can take all this with you in your pocket.
My Apple Space announces support for iPhone on the popular social networking website for Apple enthusiasts. On My Apple Space developers are meeting reviewers and customers, media is finding new readers, gamers are setting up tournaments and switchers are finding new Apple friends to help them make the important leap to the fantastic world of Apple. With iPhone support you can take all this with you in your pocket.
"You simply ad /m to MyAppleSpace.com", states Floe, "and now you can stay in touch with the Apple community on the road. This is very exciting to deliver their favorite Apple party online to all iPhone users"
My Apple Space is designed by Apple users for Apple users. iPhotos, iMovies, GarageBand, and Blogging are all available including one click integration with today's popular social networks like Facebook, My Space and 15 other social networks. Share photos like on alternative networks, but with the security of Facebook for private photos, as well as sharing Apple related photos that go into a collective photo album for all to enjoy.
And likewise with iMovies. Upload movies and choose them to be "private" so only your friends can view them. It's a great way for members to show off their homespun movies with other Mac enthusiasts. Members meet at My Apple Space for live chat at 9 p.m. according to their own time zone around the globe, every night, 7 days a week.
My Apple Space also endears to help switchers get to know their Macs by answering common questions and solving problems. As new software releases become available, My Apple Space provides press releases to their members as well. My Apple Space groups have a unique opportunity to embed within their own groups from other social networks. This feature is available for the average Apple user to the software vendor, game developers, and more.
Zhiing Launched for iPhone
PR: The Zhiing (LBS) mobile location messaging utility was released to the Apple iPhone application store for immediate download for iPhone users. Zhiing is a free Location Based Service for sending real-time messages with map and driving directions to and from mobile phones and to the automotive GPS system, Dash. zhiings can be sent from mobile device to mobile device and from computer to mobile device.
Santa Barbara, California - the free Zhiing (LBS) mobile location messaging utility was released to the Apple iPhone application store for immediate download for iPhone users.
Blackberry 8800 Series, Pearl and Curve users can download the Zhiing utility by visiting the companies website. In addition, the software can be downloaded when receiving a Zhiing for the first time. Mobile device platforms currently under development are Symbian, Windows and Android, with more to come.
The Zhiing application and services are free. Standard data and messaging charges from the receiver's mobile carrier will apply. Mobile devices that are not currently supported will receive multiple SMS messages with turn-by-turn directions if they reply to the incoming Zhiing with their current location.
Zhiing is designed to be a cross-platform and non-device-specific location messaging utility that will function internationally. Zhiing is not to be confused with closed networks or device-specific, membership-only services. Like email, Zhiing is designed to be an open global market utility.
The Zhiing utility ensures user privacy. The sender will only let others know their current location by sending a Zhiing and a recipient's location is not shared unless they choose to send a Zhiing in response.
Examples of using the Zhiing (LBS) mobile messaging utility:
A friend zhiinged another friend's mobile phone from a new restaurant inviting them to lunch. The friend received the invitation with a map and turn-by-turn directions of how to get there from their current location and replied that they would arrive in ten minutes.
With the Zhiing browser add-on installed, a Realtor using Zhiing sends a Zhiing location message to themselves and their client from their computer with information regarding what time an interesting property is available for preview. Both receive the location message with the destination address of the property to preview. A Zhiing is now stored on their mobile device with driving directions to the property from their current location.
A Zhiing user is in need of roadside assistance. They send a Zhiing message with their location requesting assistance.
For additional information on the Zhiing (LBS) mobile location messaging utility for mobile devices please visit the company's website.
Link: Zhiing (only available through the Apple App Store)
99Games Releases Chess for iPhone and iPod touch
PR: 99Games has made its debut with the games Chess Lite and Chess Pro for the iPhone and the iPod touch.
Chess Lite is for beginners and those players who want to hone their chess skills by learning a few tricks and Chess rules. This edition contains medium level complexity, a 2D theme and a demo game played by the iPhone, thus grooming the user to becoming a pro player.
Chess Pro is for seasoned Chess players who know the rules of the game and want to be challenged with three levels of complexity and three variants such as Regular, Suicide and Losers. This edition has the option to choose 3D themes for the coins and boards.
Both editions make use of a professional strength Chess engine with playing strength over 2750 ELO. Intuitive controls make the user-experience a lot more electrifying thus gripping the user to the game totally! Highlighting previous move, next move and legal move hints are user-friendly; while options like save, load and resume allows users to play the game on-the-go or during their spare time.
System Requirements: Compatible with iPhone and iPod touch, requires iPhone software v2.0 update.
Chess Lite is priced at $0.99 and Chess Pro at $3.99; they can be downloaded from the App Store.
Link: Chess for iPhone and iPod touch (only available through the Apple App Store)
Trapster Launches Speed Trap Alert System on iPhone and BlackBerry
PR: Trapster went live on the iPhone App Store, marking another significant extension of a powerful and useful mobile application that already runs on a wide variety of mobile phones, plus navigation devices such as Dash and Garmin. In just four days, this new version is running on more than 22,000 iPhones.
There is also a new version of Trapster for BlackBerry and J2ME devices that can be downloaded at <http://www.trapster.com>. Trapster is provided at no cost.
Trapster is the first and only real-time speed trap sharing system, the modern day equivalent of flashing headlights at other drivers. Trap reports are updated instantly so users can share where police traps actually are, not just where they might be. It takes advantage of user input and the power of the community to provide not only the trap information, but also to arbitrate the veracity of that information. Trapster is now over 100,000 users, with more than 50,000 traps, speed camera, and red-light camera alerts in the system.
"This is what a location-based application is supposed to look like," said Trapster President Pete Tenereillo. "Our users have been providing feedback about how we can make Trapster easier to use right from the phone, and for the first time built-in, real-time GPS capabilities in the iPhone and BlackBerry make Trapster functionality one touch away."
Both the iPhone and BlackBerry/J2ME applications use Trapster's new Virtual Radar(TM) technology, which automatically follows the user's position on a map, and provides an animated visual representation of traps as the user approaches them along with corresponding audio alerts.
Before, user contributions were one way (people entering new traps). But success depends on consistent, accurate data. Now you can rate others' traps on the spot or as soon as you get out of the car. Traps that are down-rated are removed from the system.
Trapster also has a new private messaging system to allow users to communicate about the traps they report, and Trusted Groups feature that allows car clubs or other organizations to create private speed trap sharing communities.
Link: Trapster (only available through the Apple App Store)
Accessories
Charge Anywhere, Recharge Anything Including 4G iPod nano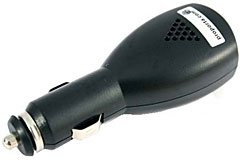 PR: Although the new 4G iPod nano is exceptionally pleasing on the eye, its battery life is rumoured to have a lot to live up to. Proporta have the perfect accessory that you can take with you wherever you go, meaning you need never be without a spring in your step again.
The Mobile Device Charger - Micro packs an impressive 1700mAh of power so you can charge it from any convenient USB port and in turn power your Apple 4G iPod nano up to two and a half times longer. Measuring in at a mere 88 x 50 x 14.5mm, the Mobile Device Charger - Micro comes complete with a USB to Mini USB cable as well as a retractable cable with adaptors enabling you to charge and recharge your iPod, Nokia, Micro USB, PSP, Samsung or Sony Ericsson device anywhere. And because the Mobile Device Charger - Micro outputs to a standard USB port, it will charge anything that can be charged from USB (you can use your normal cable).
For the travellers among us, Proporta also recommend their Car Power Supply with USB Socket and AC Travel Charger (with USB Socket) for use in Europe, USA, Asia, Australia, New Zealand, the Middle East and elsewhere, as well as a handy little drawstring bag to keep it all in.
Link: Mobile Device Charger - Micro
PassPort Lets Older FireWire Dock Chargers Support New iPods
PR: Scosche Industries announces the availability of its new PassPort iPod/iPhone car integration system. The PassPort utilizes a female pass-through connector to attach to any in-car iPod integration system to charge all iPhone and iPod models, including the iPhone 3G and the recently introduced nano 4G and touch 2G. With over 28 years of advanced mobile electronics and aftermarket accessory experience and knowledge, Scosche worked closely with Apple to develop the PassPort to ensure its compatibility and function for both OEM and aftermarket automotive products.
"The PassPort provides a seamless solution for anyone that wants to listen to their new iPhone or iPod in their car through their integrated audio system," said Kas Alves, vice president, sales and marketing, Scosche Industries. "Scosche engineers developed a highly sophisticated product that maintains all functionality including audio, video and data of the iPhone 3G and new iPod models."
With its superior knowledge in both the automotive aftermarket and home accessory categories, Scosche continues to develop and bring to market products for iPhone and iPod models. Scosche is currently developing a similar product for home use that will also allow consumers to use their home accessories including speakers, alarms and docking stations with the iPhone 3G and new iPod models.
The PassPort is priced at $29.99 MSRP.
Link: PassPort
Protection
Mini Maya Pouch from Proporta
PR: The Maya Case is one of the most popular members of the Proporta family to date and we have a sneaking suspicion that its smaller sibling may very well follow in the Maya Case's footsteps.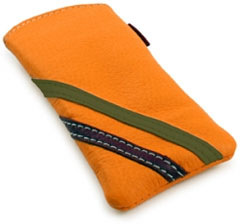 The beautifully crafted Mini Maya Pouch has been designed specifically to keep your Apple 4G iPod nano safe as houses. Just like his bigger brother, the Mini Maya Pouch is available in enough colours to make a rainbow jealous and will ensure that your device is kept safe from everyday knocks and bumps.
As if that wasn't enough, Proporta are offering all their lovely customers a rather lovely deal to boot. Simply purchase any Mini Maya Pouch (Apple 4G iPod nano) from Proporta (usual price £11.95/$20.95) and you can get a second case for a total price of £15.95/$15.95.
Proporta believe that it's always better to be safe than sorry and have designed an Advanced Screen Protector (Apple 4G iPod nano). Made from a ultrahigh clarity plastic, Proporta have managed to improve the quality without increasing the thickness. They can also be washed and replaced (that's the screen protectors, not Proporta).
Link: Mini Maya Pouch
Colorful PixelSkin Cases for iPod nano 4G and iPod touch 2G
PR: Speck's popular PixelSkin case, known for its deliciously vivid colors and textured tiled pattern, is now available in new colors and custom-fit designs for the iPod nano 4G and iPod touch 2G. The new PixelSkins' sleek design perfectly compliments the two new iPod's thin tapered form.
"The PixelSkin design was created to encompass both style and protection and we're excited to offer this extremely popular design for Apple's newest line of iPods," says Irene Baran, CEO of Speck. "With PixelSkin's new rainbow of colors, customers can mix and match with all the iPod nano colors, as well as add some new flair and texture to the iPod touch 2G."
PixelSkin's lightweight, form-fit design with slightly thicker corners helps protect your iPod from bumps and scrapes, while the textured tile pattern provides a comfortable, tactile sensation in your hand and a no-slip grip. The case offers access to all ports, controls and sensors for convenience, while the front raised ridge detail recesses the screen to protect it while faced down.
The PixelSkin for iPod nano 4G is available in Licorice Black, FD&C Blue #1, Key Lime Green, Candy Pink, Wildberry Blue, Marshmallow White, Lemon Drop Yellow, Frosted Sugar, Mango Orange and Fruit Punch Red.
The PixelSkin for iPod touch 2G will be available in Licorice Black, Blueberry Blue, Sherbet Pink, Huckelberry Purple, Marshmallow White, Spearmint Green and Corncob Yellow.
The Speck PixelSkin for iPod nano 4G and iPod touch 2G are available at Apple retail stores, online, and apple.com for $19.95 and $24.95.
Speck Designers Bring New Fashion, Style to iPhone 3G with 'Fitted'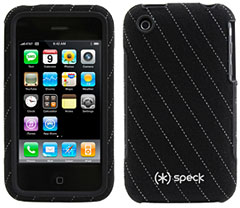 PR: Speck unveiled the never before seen case design for the iPhone 3G, the "Fitted." Available today in three stylish fabrics, Fitted provides the opportunity for iPhone owners to show off their own signature style and personality.
"Fitted was designed with one question in mind: How can we make the case as appealing as the phone?" said Bryan Hynecek, Lead Designer at Speck. "In the design of Fitted, our team asked how we could really make a fashion statement with a case and make it as elegant as any other personal style choice. Why wouldn't people shop for cases like they would for a watch, shoes or some other fashion accessory? With Fitted, we're giving iPhone users that opportunity."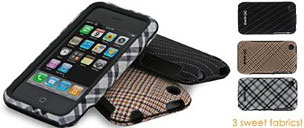 Available in a stylish assortment of original fabrics, patterns and colors, the Fitted case series brings an authentic, custom apparel look to the iPhone 3G. The case's formfitting, two-piece snap together design creates a personalized and tailored appearance that, combined with its interior soft-touch polycarbonate hard-shell lining, offers real protection from the bumps and scrapes of everyday activities. The Fitted feels soft to the touch, while also offering custom-fit contours and openings that allow complete access to all controls and ports. Fitted is the perfect way to showcase individual style and will initially be released in tan houndstooth check, black-and-white plaid, and black herringbone with pinstripes, each at $29.95. Additional styles and patterns will be announced seasonally.
Link: Speck iPhone cases
Marware Eco-Runner for iPod nano 4G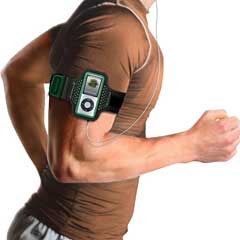 PR: Marware Inc. announces the Eco-Runner for the iPod nano 4G is now shipping. The Eco-Runner is our first environmentally friendly iPod carrying solution. Replacing neoprene with a special eco-friendly material, this wrist/armband case is designed to accommodate the new 4G nano and the Nike+ Sport Kit receiver.
Utilizing a revolutionary environmentally friendly material, this sport case is all-around 'Green' both in design and construction. The armband extension strap allows this case to be worn either on your wrist or your upper arm. The Eco-Runner also comes with Marware's Lifetime Warranty.
Features:
Eco-friendly materials help the environment
Wrist/armband case gives 2-in-1 solution and flexible wearing options
Accommodates the iPod nano 4G and Nike + Receiver (optional)
Clear vinyl cover protects nano screen and Click Wheel
Smooth high quality armband material provides personal comfort and durable protection
INCLUDES: Eco-friendly sleeve with attached wristband, and armband extension
Marware's Lifetime Warranty
The Eco-Runner is made of eco-friendly materials and is available in gray with green contrast. It retails for $34.99 and is now shipping. Please visit Marware online for more information. Marware is a leading provider of software and accessory solutions for Apple iPhones, iPods, and Notebooks.
Link: Eco-Runner for iPod nano 4G
Marware Sport Grip for iPod touch 2G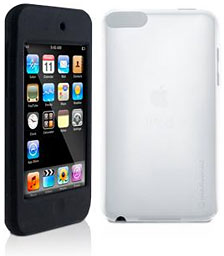 PR: Marware Inc. announces the Sport Grip for the iPod touch 2G. The Sport Grip is consistently one of the top-rated skin cases for Apple products, offering direct access to all iPod touch features. With an open face, the Sport Grip protects the sides, back, top and bottom of your iPod. The docking port is protected by an easily accessible silicone slot until needed.
Features:
Rugged but soft silicone protection
Contains antimicrobial additive
Easy access to all iPod buttons and screen
Easy-to-open docking port protection
INCLUDES: silicone skin, clear film protector, and microfiber cleaning cloth
Marware's Lifetime Warranty
The Sport Grip for the Apple iPod touch 2G is available in smooth black, white, and frosted silicone. It retails for $19.99 and is available now for order online. Please visit Marware online for more information. Marware is a leading provider of software and accessory solutions for Apple iPhones, iPods, and Notebooks.
Join us on Facebook, follow us on Twitter or Google+, or subscribe to our RSS news feed
Links for the Day
Mac of the Day: MacBook Core Duo, introduced 2006.05.16. The iBook's replacement has a 13" widescreen display and a 1.83-2.0 GHz Intel Core Duo CPU.
Recent Content
Custom Search
Follow Low End Mac on Twitter
Join Low End Mac on Facebook
Favorite Sites
MacSurfer
Cult of Mac
Shrine of Apple
MacInTouch
MyAppleMenu
InfoMac
The Mac Observer
Accelerate Your Mac
RetroMacCast
The Vintage Mac Museum
Deal Brothers
DealMac
Mac2Sell
Mac Driver Museum
JAG's House
System 6 Heaven
System 7 Today
the pickle's Low-End Mac FAQ
Affiliates
Amazon.com
The iTunes Store
PC Connection Express
Macgo Blu-ray Player
Parallels Desktop for Mac
eBay

Advertise