Free iPhone WiFi from AT&T, Google Earth on the iPhone, iPod: The Missing Manual Updated, and More
This Week's iPhone, iPod, and Apple TV News
Compiled by Charles Moore and edited by Dan Knight - 2008.10.31
Mac notebook and other portable computing is covered in The 'Book Review, and general Mac news is in Mac News Review.
All prices are in US dollars unless otherwise noted.
News, Reviews, & Opinion
Apps & Services
Books
Presentation
Protection
iPod and iPhone Deals
These price trackers are updated regularly.
News, Reviews, & Opinion
AT&T Provides Free WiFi Access for iPhone Users
AppleInsider's Katie Marsal reports:
"After several false starts, AT&T on Wednesday began sending SMS messages to iPhone owners announcing that they can now access free of charge the carrier's nation-leading WiFi network of more than 17,000 hotspots...
"Of those 17,000 hotspots, more than 8000 are located in restaurants or Starbucks locations, 700+ in bookstores, and another 50+ can be found in supermarkets. The network is also accessible at 12 airports, 31 hotels, 23 universities, 18 convention centers, and 5 sport complexes."
Link: AT&T Announces Free WiFi Access for iPhone Users (Again)
Apple Rejects Opera Mini on iPhone
OSNews' David Adams reports:
"An interesting NYT Bits blog entry covers Opera's mobile browser. Buried in the middle of the article is this quote: 'Opera's engineers have developed a version of Opera Mini that can run on an Apple iPhone, but Apple won't let the company release it because it competes with Apple's own Safari browser.'"
Link: Apple Not Accepting Opera Mini on iPhone
The Latest on Wireless and Your Health
InternetNews.com's Brian T. Horowitz reports:
"As we mark the 25th anniversary of the first cell phone call in 1983, the handsets, along with technologies such as WiFi, are as ubiquitous as ever for IT workers and consumers. But are we getting cooked by the radio waves entering our brains?
"Although current research shows no clear evidence of health risks from cell phones, Bluetooth or WiFi devices, as a precaution, you may want to avoid extended use and passing the phones to young children while the jury is still out.
"Based on information from the National Cancer Institute (NCI), FDA, FCC and other government agencies, little risk exists as far as ailments such as brain tumors - at least within 10 years of use, the NCI reports.
"However, studies are ongoing for terms of more than 10 years and the effects of wireless radio waves on children, who, due to their smaller amounts of brain tissue, may be more susceptible to the amount of radiation in wireless devices, according to the NCI....
"The NCI also has a helpful fact sheet on its site...."
Link: What's the Latest on Wireless and Your Health?
Hyundai Concept Car for the Ultimate Apple Lifestyle
t3.com says:
"Call yourself an Apple fanboy? You have to claim to that title unless you've got one of these....
"RIDES Magazine held nothing back when they transformed the interior of a Hyundai Genesis sedan into an Apple-inspired, gadget grotto for the upcoming 2008 Speciality Equipment Market Association (SEMA) show.
"RIDES' Genesis, despite having a rather plain and ordinary exterior, looks like Tim Westwood and an Apple Fanboy have had a Pimp-My-Ride battle to the death, filling the Hyundai with Apple products in a sometimes over-the-top, slightly pointless and less than practical manner...."
Link: Hyundai Concept Car for the Ultimate Apple Lifestyle
Apps & Services
Google Earth Comes to the iPhone
ReadWriteWeb's Frederic Lardinois reports:
"Google just released an iPhone version (iTunes link) of its popular Google Earth desktop mapping application. We have seen a wide range of interesting iPhone applications lately, but few have been as impressive as Google Earth on the iPhone. Google has taken the basics of the Google Earth interface and brought them to the iPhone. The app feels highly responsive and effectively mimics the desktop application on the iPhone.
"There is no denying it, Google Earth on the iPhone is a gorgeous application and thanks to the multitouch interface, it's extremely easy to use...."
Link: Google Earth Comes to the iPhone
Box.net Brings Cloud Storage to the iPhone
Cnet's Josh Lowensohn reports:
"If you're done playing around with Google Earth for the iPhone, you might be interested in checking out something with some everyday utility. Last week Box.net dropped its iPhone application on the App Store. Just like the mobile Safari-friendly version of yore, this lets you access your cloud-stored files on the go, including documents, music, and movies.
"The big difference is that this new version takes advantage of your phone's hardware, letting you upload snapped photos and keep an eye on any updates."
Link: Box.net Brings Cloud Storage to the iPhone
Hebrew & Greek Biblical Texts on the iPhone
This Lamp reports:
"Frequent readers of This Lamp will know that I've lamented the loss of original language biblical texts "in my pocket" ever since switching from my Palm Treo to the iPhone last year. After a long wait, Olive Tree comes through with the promise a full replacement, and I have to admit that the texts look much better here than they ever did on my former device.
"As you would expect, these texts are fully downloaded to the iPhone and do not require an internet connection for repeated access.
"While I've got your attention, let me show you a couple of other things Olive Tree is working on for their Bible Reader...."
Link: First Look: Hebrew & Greek Biblical Texts on the iPhone (only available through the Apple App Store)
QuickVoice Recorder for iPod touch
PR: Rhode Island based nFinity Inc. announces that its award-winning QuickVoice Recorder is now available for the 2nd generation iPod touch, adding to its already existing line of voice recording software for the iPhone, Mac, and Windows PCs. And as a special promotion, anyone can purchase QuickVoice for just 99¢ simply by making their purchase through Apple's iTunes (This is a limited time $15 bonus value).
QuickVoice is a professionally designed "touch & speak" recorder, offering many high-end features typically found only in dedicated hardware voice recorders. It is a powerful tool and ideal for business people, educators, students, musicians, and casual users alike. Conveniently record voice notes, reminders, dictation, meetings, interviews, shopping lists, to-do lists, and even entire lectures and multisession seminars.
For iPhone users, QuickVoice iP (for the iPhone) synchs its recordings with QuickVoice PC on the personal computer (Mac or Windows) at which point recordings can be voice emailed, added to iTunes, edited, and a whole lot more. "What we provide that's different from all others is a complete iPhone-iPod / personal computer recording solution. Nothing else even comes close to providing all this capability and value!" says Kerrie-Lynn Corcoran, Business Manager for nFinity.
QuickVoice is a "Macworld Best Software Under $40" product. Whether users own an iPhone or iPod touch or not they can purchase the PC version for just 99¢ simply by purchasing through iTunes and then sending an email to nFinity to obtain their bonus PC (Mac or Windows) software.
Link: QuickVoice (only available through the Apple App Store)
MileBug Lite for iPhone/iPod touch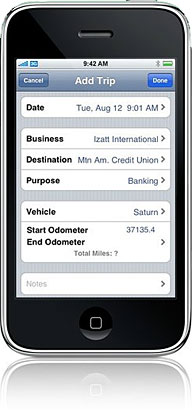 PR: iZatt has released MileBug Lite, a lite version of the most popular miles tracking app for the iPhone and iPod touch. MileBug Lite is fully functional and available for $2.99. The only difference is a restriction to 10 trips recorded before a report must be sent and the trip log reset. Then record 10 more. Repeat. MileBug Lite provides the option to track miles or kilometers, enter custom rates, and include foreign characters in the reports. MileBug Lite also supports Spanish.
MileBug Lite, a lite version of the premier iPhone mileage log application, is now available for only $2.99 (compared with $6.99 for Standard). MileBug Lite helps those driving their own vehicles for business, charity, medical, or other reasons receive their reimbursement and/or tax deduction. In the US, IRS business rates are up to 58.5 cents/mile. MileBug Lite for the iPhone/iPod touch helps people track their miles and provides emailed reports for easy submission to employers, accountants, and the IRS.
What's New?
Option for kilometers vs. miles (General Settings)
Custom deduction rates
Define multiple business rates (reimbursement vs. deduction)
"Other" business category for percentage tax filers
Foreign and other special characters supported in reports
Notes included in reports
Spanish version
MileBug Lite answers the call from the many international customers. Inside the General Settings is now an option to select kilometers instead of miles. From within the Presets, users can define custom rates for business, charity, medical, and other categories. If you get one rate from your employer for reimbursement, and another rate from the IRS for your side business, you simply create two different business rates.
As an added bonus, MileBug Lite supports Spanish. Simply select Spanish as the language of your iPhone or iPod touch in the General Settings - > International area and restart MileBug Lite. Bienvenido a MileBug!
Link: MileBug Lite for iPhone/iPod touch (only available through the Apple App Store)
The LivingSocial iPhone Application
PR: LivingSocial, an interest-based social discovery network for sharing reviews of books, music, movies, games, restaurants, albums and beer, today announced the launch of its application for the iPhone. Now, LivingSocial's 6.8 million users will have access to more than 98 million catalogued items on the go, and be able to publish reviews and photos instantly through their iPhones.
Just in time for the holiday shopping season, LivingSocial for the iPhone is a free, comprehensive mobile resource for gift-givers to get personalized hints about the books, movies, games, and music most desired by friends and family.
LivingSocial's iPhone application was developed in collaboration with BrowserMedia and features most of the same functionality available on LivingSocial.com, including access to friends, reviews and recommendations, with the added ability to catalogue items, and publish reviews and photos while shopping or dining.
The LivingSocial iPhone application features:
Real time reviewing: publish book, album, or gaming reviews from anywhere
Upload photos of delicious dishes or favorite beers from restaurants and bars
Access friends' profiles and catalogued items while shopping to get gift ideas for the holidays, weddings or special occasions
"The debut of LivingSocial's iPhone application is a natural extension of our viral community, which grew organically on Facebook," says Tim O'Shaughnessy, CEO and cofounder of LivingSocial. "Whether you're at a restaurant or shopping for the holidays, we want to make it as easy as possible for users to access reviews and lists of family and friends, or even take photos of their experiences to enhance our user-managed database."
The LivingSocial iPhone application is now available for download in the Apple iPhone App store, and has been welcomed with positive reviews, achieving a 4.5/5 star rating in its first week. Additional LivingSocial iPhone features will be added in coming weeks.
Once posted on LivingSocial through iPhone or LivingSocial.com, users' catalogued items and reviews are seamlessly integrated and easily accessed across top social networks, including Facebook, MySpace, Bebo, Orkut and hi5.
Link: LivingSocial (only available through the Apple App Store)
London Gets the iPhone Treatment
PR: UK iPhone developers Coolgorilla today launched their London Travel Guide, billed as the world's most sophisticated and advanced travel guide it sports an impressive array of useful features. The London Travel Guide neatly packs a host of impressive features such as ground and aerial video footage, embedded maps and touch-to-dial telephone links, together with a 200 page travel guide in one, easy-to-use download.
Available from Apple's iTunes and App Store portals, the application is travel friendly in every aspect. For example, the guide doesn't require an internet connection which means that users can access the guide whilst on London's underground system or when travelling to London by air. There are options for the end user to make use of the iPhone's connectivity with hundreds of Google Map and web links all of which are entirely optional and clearly marked out.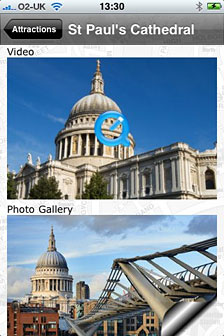 Editorially, the London Travel Guide covers over 50 of London's major attractions along with restaurant reviews, event listings and transport information. There's even a section on cockney rhyming slang!
The London Travel Guide is available to download from iTunes at the bargain price of just $1.99 and Coolgorilla are already working on similar travel guides for a number of other destinations due for release later this year and in 2009.
Coolgorilla is a successful developer of applications for the iPod, iPhone, and mobile phones. The company has created a variety of travel related applications including their hugely successful lastminute.com Talking Phrase Books which have already received over 1 million downloads since their release in July.
Link: London Travel Guide (only available through the Apple App Store)
Recycler iPhone App Makes Recycling Fun and Portable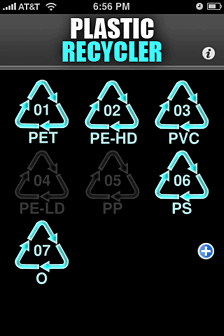 PR: Siavash Ghamaty introduces Recycler, the first recycling-friendly iPhone application for free download. "Recycler", by developer Siavash Ghamaty, untangles those complicated and seemingly arbitrary PEC plastic codes on the bottom of your recyclables. Acceptable plastic recycling codes vary from location to location. Recycler allows users to add their location's codes into an attractive interface that makes a green-conscious lifestyle easy.
"I created this application to remind myself of what items I can throw into my recycling and which just don't go," Ghamaty says, "After using this application for a couple of weeks, I ended up memorizing the plastic codes and hope other users do the same. It's a win for the land fills and environmentalists either way."
When asked how this excels over use of a standard notes application to store this information, Ghamaty replied, "It's not just a Post-It note or reminder on your fridge that triggers memory, especially for the Mac-friendly user. Everything must look as good as the iPhone, visually appeasing and an overall nice experience. I feel I nailed this on a certain level and hope the audience agrees. Mainly, I just want people to recycle more."
The App Store features other environmentally friendly tools such as Green Meter which focuses on fuel consumption. Ghamaty's application is the first of its kind, blending answers to everyday recycling challenges with the convenience of the iPhone.
Link: Recycler (only available through the Apple App Store)
Books
iPod: The Missing Manual, 7th Edition
PR: Got a new iPod? This new, up-to-the-nanosecond 7th edition of iPod: The Missing Manual (O'Reilly, $19.99) can help you get your new iPod out of the box and into your ears in 15 minutes.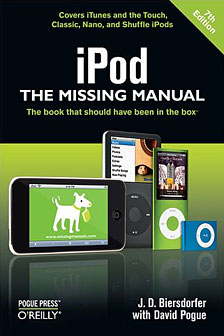 "You'll learn a bit about your particular iPod model and how to get it whistling sweet tunes in your ear in a minimal amount of time," notes author J.D. Biersdorfer, who also pens the technology Q & A column for the New York Times. "If you want more information on in-depth iPodding or getting the most out iTunes, you can find that stuff in chapters farther down the road."
Written by Biersdorfer and David Pogue, the New York Times' award-winning tech columnist, iPod: The Missing Manual is as stylish and satisfying as its subject. Each custom-designed page sports easy-to-follow graphics, crystal-clear explanations, and guidance on the most useful things your iPod can do.
Coverage includes:
Out of the box and into your ears. Learn how to install iTunes, load music on your iPod, and master the basic moves you need to get anywhere - and find anything - on your pocket player. Bopping around the iPod. Whether you've got a tiny Shuffle, a Nano, a Classic, or the iPod touch, you'll learn everything from turning your iPod on and off tobooming its sound all over the house. Special tidbit for iPod owners with trickster friends: How to reset the iPod's menus to English if they've been changed to, say, Greek. In tune with iTunes. iTunes can do far more than your father's jukebox. Learn how to use the brand-new Genius feature to make instant, inspired playlists, how to move your sacred iTunes Folder to a bigger hard drive, and how to add album covers to your collection. The power of the 'Pod. Download movies and iPod touch applications, play photo slideshows and games, find cool podcasts, and more: this book shows you how to unleash all your iPod's power.
Even if you don't buy one of the new iPod models, this Missing Manual has plenty of information on the latest version of iTunes, the App Store and a whole lot more about Apple's incredible device.
For more information about how to get the most from your new iPod, see J.D. Biersdorfer's tips and tricks at <http://missingmanuals.com/ipod_7_biersdorfer_tips2.csp>.
J.D. Biersdorfer is the author of iPod: The Missing Manual and The iPod Shuffle Fan Book, and is co-author of The Internet: The Missing Manual and the second edition of Google: The Missing Manual. She has been writing the weekly computer Q&A column for the Circuits section of The New York Times since 1998.
David Pogue is the weekly personal-technology columnist for the New York Times and an Emmy award-winning tech correspondent for CBS News. With 3 million books in print, he is also one of the world's best-selling how-to authors. In 1999, he launched his own series of complete, funny computer books called Missing Manuals, which now includes more than 30 titles.
iPod: The Missing Manual, Seventh Edition
J.D. Biersdorfer , David Pogue
ISBN: 9780596522124,
300 pages,
Book Price: $19.99 , £12.50
PDF Price: $19.99
order@oreilly.com
1-800-998-9938
1-707-827-7000
Link: Amazon.com is currently selling iPod: The Missing Manual, 7th Ed, for $13.59
Safari Books Online Introduces Apple Mobile Integration with Safari Bookbag
PR: Safari Books Online, the leading provider of an on-demand digital library including books and videos for technology and business professionals, today announced Safari Bookbag, allowing the download of chapter and full book PDFs to the iPhone and iPod touch. Safari Bookbag can be installed via the Apple App Store for no additional cost. Safari Books Online is the first online publisher to open their entire library to iPhone and iPod touch users.
Safari Books Online chose to integrate with Apple devices as its first mobile platforms after conducting a survey of its users. Among the respondents, 50 percent indicated the iPhone or iPod touch was the mobile device they used. The company plans to continue rapid expansion of its mobile strategy with other devices and readers in the months to come.
Bookbag users can sync their Apple devices with the "My Downloads" section of their Safari Books Online accounts, which houses PDF versions of books that have been downloaded. To access titles on the iPhone or iPod touch, users can select the chapter of the book they want to download by simply tapping on the title of the book. With the Bookbag application, any iPod touch or iPhone with Internet access (Edge, WiFi, 3G) can automatically transfer chapters of books from the Safari library. Once the books are downloaded, the PDFs can be read and accessed at any time, even without an Internet connection.
"The Safari Bookbag project represented an exciting programming challenge," said Erica Sadun, lead developer on Safari Bookbag and author, co-author and contributor to almost two dozen books about technology. "The iPhone mixes Internet-connectivity with the realities of palmtop access. We succeeded in making Safari Books Online's Bookbag intuitively accessible. Between the simple Coverflow-based book selection screen to the tap-to-download chapters list and the friendly network access screens, Bookbag brings Safari Books Online into a native reader that takes Apple's design philosophy to heart."
"As the popularity of portable eBook readers increases, more and more of the people accessing our digital library are requesting Safari Books Online content on the go," said Dennis Kilian, vice president at Safari Books Online. "The technology and design community - a significant portion of our customer base - are often Apple enthusiasts, and already use the iPhone and iPod touch on a daily basis. We created Safari Bookbag to offer another channel for the vast array of materials in our library, allowing people to create their own portable readers without having to purchase an additional device."
Link: Safari Bookbag (only available through the Apple App Store)
Presentation
Cardboard iPod Speaker Dock Folds Flat, Sounds Surprisingly Good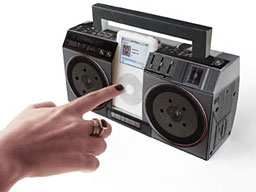 PR: Back in the days before the iPod was even a glint in anyone's eye, the Boombox was the height of fashion. Despite being ugly, power hungry, and pretty large, Boomboxes could be carried around, pumping out tunes on streets, in parks, at picnics and parties. With the advent of iPods, the Boombox pretty much fell by the wayside, but now the past has been reinvented with this cardboard iPod speaker dock in Boombox style.
Flatpacked, it's easy to assemble, has fully working stereo speakers, batteries included - it works, and despite its cardboard construction, this fold-it-yourself iPod speaker dock sounds surprisingly good. More eco friendly than plastic alternatives, it has a recessed bay for your MP3 player. It's perfect for parties, rain free picnics, desktops, bedrooms, the beach - you name it. Great to take on holiday or travelling.
Note: currently out of stock until Mid-November.
To avoid missing out when they're back in, you can preorder.
Price: £19.99 incl. VAT
This product usually ships within 24 hours. Standard UK delivery cost is £3.95.
Product dimensions (width, height, depth): 235 x 150 x 65mm
Product dimensions in pack: 250 x 300 x 28mm
Works with all iPods including iTouch, iPhone, Nano etc.
Link: Cardboard iPod Speaker Dock
Just Mobile Xtand for iPhone
PR: Just Mobile Xtand holds the iPhone vertically or horizontally, and rotates 360º so that you have your choice of viewing angles.
Extremely solid aluminum construction, Xtand provides you to access to all iPhone's features and helps control cable clutter while plugging in USB cable for charging and synchronization.
Features
All solid aluminum construction
360 degrees rotation
Adjustable viewing angle
Cable management
Non-slip feet
Link: Just Mobile Xtand for iPhone
Protection
TopSkin for 4th Generation iPod nano
PR: Protect your 4th generation iPod nano with a stylish and protective PDO TopSkin.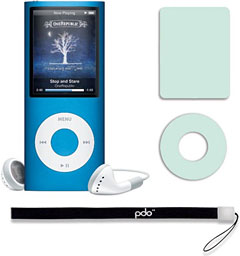 Product Features:
Stylish and protective
Open access to the clickwheel
Easy access to the dock connector and earphone jack
Sides of the TopSkin have a micro-texture pattern to provide extra grip
A screen protector, clickwheel protector, and black wrist lanyard are included.
TopSkin for 3rd generation iPod nano was highly rated by iLounge. This new TopSkin for 4th generation iPod nano is similarly designed.
Retail Price: $14.99
Our Price: $9.99
You Save $5 (33%)
Link: TopSkin for 4th Generation iPod nano
Grantwood Technology Tuneband for 4G iPod nano
PR: Grantwood Technology, LLC has announced the release of the tuneband for the 4th generation iPod nano, an armband product designed to comfortably secure the iPod nano 4th generation in place during exercise, including Nike+iPod compatibility.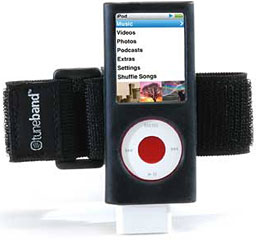 Each tuneband consists of a comfortable and flexible armband strap that can accommodate both large and small arms, a durable silicone skin that allows access to all ports on the iPod nano, and a low-tack, cut-and-peel screen protector that helps guard against smudges, moisture, and daily wear-and-tear. The silicone skin of the tuneband was specifically designed for runners and walkers fully covering the bottom corners of the iPod, securely holding it in place, yet allowing access to the USB port and headphone jack. The silicone skin also does not cover the click wheel to allow it to be used without interference.
"By using the best design features of our previous tuneband products," states Michael Banks, cofounder and CEO of Grantwood Technology, LLC, "we made this the best iPod armband for the 4th generation iPod available at a very competitive price," states Michael Banks, CEO of Grantwood Technology.
The tuneband is fully compatible with the Nike+iPod Sport Kit, allowing runners and walkers to enjoy this workout companion.
The tuneband is available in nine colors: black, clear, gray, navy blue, neon green, pink, purple, red, and teal blue. The colors (except clear) match those of the Shoe Pouch, another product from Grantwood Technology that allows runners and walkers to attach the sensor from the Nike+iPod Sport Kit to the outside of their favorite shoe.
The tuneband retails for $12.99 is available at their website. A special bundle comprised of the tuneband and Shoe Pouch is also available.
Link: Tuneband for iPod
Join us on Facebook, follow us on Twitter or Google+, or subscribe to our RSS news feed
Links for the Day
Mac of the Day: 17" iMac G4 (Mid 2002), introduced 2002.07.17. The iMac grows up with a 17" 1440 x 900 display.
Recent Content
Custom Search
Follow Low End Mac on Twitter
Join Low End Mac on Facebook
Favorite Sites
MacSurfer
Cult of Mac
Shrine of Apple
MacInTouch
MyAppleMenu
InfoMac
The Mac Observer
Accelerate Your Mac
RetroMacCast
The Vintage Mac Museum
Deal Brothers
DealMac
Mac2Sell
Mac Driver Museum
JAG's House
System 6 Heaven
System 7 Today
the pickle's Low-End Mac FAQ
Affiliates
Amazon.com
The iTunes Store
PC Connection Express
Macgo Blu-ray Player
Parallels Desktop for Mac
eBay

Advertise