iPhone More Reliable than Blackberry or Treo, When to Restore Your iPhone, FourTrack Recording, and More
This Week's iPhone, iPod, and Apple TV News
Compiled by Charles Moore and edited by Dan Knight - 2008.11.14
Mac notebook and other portable computing is covered in The 'Book Review, and general Mac news is in Mac News Review.
All prices are in US dollars unless otherwise noted.
News, Reviews, & Opinion
Apps & Services
Accessories
Presentation
Protection
iPod and iPhone Deals
These price trackers are updated regularly.
News, Reviews, & Opinion
iPhone Ranks Highest in Business Wireless Smartphone Customer Satisfaction
PR: iPhone manufacturer Apple ranks highest in overall customer satisfaction among business wireless smartphone users, according to the J.D. Power and Associates 2008 Business Wireless Smartphone Customer Satisfaction Study(SM) released Thursday.
The study, now in its second year, measures business customer satisfaction with wireless smartphones - defined as mobile phones offering advanced capabilities and personal computer-like functionality - such as a BlackBerry or Treo. Overall satisfaction is measured across five key factors. In order of importance, they are: ease of operation (27%); operating system (24%); physical design (21%); handset features (18%); and battery aspects (10%).
Apple ranks highest in overall smartphone customer satisfaction with a score of 778 on a 1,000-point scale, performing particularly well in the ease of operation, physical design and handset feature factors. BlackBerry manufacturer RIM (703) and Samsung (701) follow Apple in the rankings.
"With the introduction of the iPhone in 2007, Apple has clearly differentiated itself from the competition in areas that are most important to business smartphone users," said Kirk Parsons, senior director of wireless services for J.D. Power and Associates. "By making basic applications and features easy to use and providing functionality in a thin, lightweight device, Apple has performed well in exceeding customer expectations."
The study finds that one-fourth of users report experiencing at least one software-related issue or problem with their current smartphone device. The software-related issues reported most often include the need to reboot the phone, application malfunction/freeze and issues related to touch screen malfunction. Among those owners who have experienced a software problem, 44 percent report having to reboot their device at least once on a weekly basis during the past 12 months, while 34 percent report experiencing either an application malfunction or application freeze at least once per week.
"Given that smartphones are actual mini-computers, it's not unexpected that users experience software-related issues," said Parsons. "However, with the increasing number of features and applications that can be used on these devices, both the devices and software platforms will need to be more reliable if market penetration of smartphones is to increase over time. It's critical for manufacturers to offer a complete package of functionality that is easy to use and has minimal operation malfunctions."
The study also finds the following key smartphone business wireless usage patterns:
Sixty-nine percent of business smartphone users own a handsfree headset, and 74 percent of those owners use a wireless headset device. Motorola owners report a higher incidence of using wireless headsets (86%), while only 60 percent of Apple iPhone owners report using a wireless headset device.
Among smartphone users, 37 percent would like GPS (global positioning system) capabilities on their device, 25 percent would like WiFi capabilities, 23 percent want touch screen and 15 percent would like to have voice recognition command for automatic dialing.
The average reported purchase price of a smartphone device is $216, compared with an average reported purchase price of $261 in 2007. Apple owners report the highest average purchase price at $337, while Motorola owners report the lowest device pricing at $169.
The top five reasons given for choosing a smartphone brand are: Internet capability (45%), ability to use e-mail account (41%), overall design/style (39%), Bluetooth capabilities (37%) and keyboard style (e.g., QWERTY) (37%).
Thirty-four percent of smartphone owners say they download third-party software. Popular software downloads among business users include games (49%), business applications such as Microsoft Word and Excel (43%) and travel-related programs (36%).
The 2008 Business Wireless Smartphone Customer Satisfaction Study is based on responses from 1,388 business wireless customers who currently own a smartphone device. The study was fielded between August and September 2008.
Link: J.D. Power and Associates
iPhone More Reliable than Blackberry or Treo
Cult of Mac's Lonnie Lazar reports:
"iPhones are more than twice as reliable as Blackberry smartphones after one year of operation, according to a study by Square Trade research. Square Trade, a company that sells add-on warranties covering electronic devices beyond their manufacturer warranty periods, looked at the failure rates of 15,000 phones covered under its plans. According to their data, the malfunction rate for iPhones after one year is 5.6 percent, compared to 11.2 percent for the Blackberry and 16.2 percent for the Treo."
Link: Study Says iPhone Is More Reliable than Blackberry or Treo
iPhone Reliable but Accident-Prone
Internet News's Judy Mottl reports:
"Apple's iPhone is proving more reliable than the BlackBerry or Palm Treo - though it is the most prone to accidents, according to a new study that examined accident rates and dependability among the three smartphones.
"iPhone users reported a malfunction rate of just 5.6 percent during their first year of ownership, compared to 16.2 percent of Palm Treo owners and 11.9 percent of BlackBerry users, according to the study from SquareTrade."
Link: Survey: iPhone More Reliable but Accident-Prone
Link: SquareTrade
4 Signs That It's Time to Restore Your iPhone
The Apple Core's Jason D. O'Grady says:
"Does your iPhone exhibit any of the following symptoms?:
Laggy access to the Text/SMS application
Longer that five second delay to get a live image in the Camera application
Long pause before being able to scroll in Contacts
Delay when clicking on the letter shortcuts in Contacts
"It if does, you may be suffering from Molasses iPhone Syndrome and the only cure it is to nuke and pave."
Link: 4 Signs That It's Time to Restore Your iPhone
Using Your iPhone as a Trackpad
The Apple Blog's David Appleyard says:
"There has been a huge amount of speculation about whether Apple would release a laptop with a trackpad resembling an iPhone or iPod touch screen. While this always seemed unlikely, there's no doubt that the iPhone has the perfect sized screen to function as an (albeit very over-featured) trackpad. Snatch is an application for the iPhone which allows you to do just that - use the device as a wireless trackpad for your Mac...."
Link: Using Your iPhone as a Trackpad
Apps & Services
TheFind: Where to Shop Gives Holiday Shoppers More Choice to Find the Best Price
PR: TheFind, Inc., a shopping search engine for discovering lifestyle goods, is making it easier for consumers to complete their shopping lists this holiday season with TheFind: Where to Shop, a new application that gives consumers the ability to leverage TheFind's powerful shopping search capabilities and comprehensive local store data from anywhere, via the Apple iPhone.
"The economic challenges that the US and global markets have experienced over the last couple of months are expected to impact retail sales this holiday season, with price likely to become the defining factor in product purchases, followed by breadth of product selection," said Siva Kumar, cofounder and CEO of TheFind. "In introducing TheFind: Where to Shop, we hope to ease some of the 'pocketbook' pain consumers are feeling, by helping them find products in their local neighborhoods and compare online prices while on the go. With TheFind's Where to Shop, consumers can find the best deals on their holiday purchases, without running all over town or having to sit at their computer to conduct their online research. Our comprehensive approach to finding products also ensures that those consumers will find even the most unique items in a snap."
Last month, the National Retail Federation (NRF) issued its 2008 Holiday Consumer Intentions and Actions Survey, conducted by BIGresearch, which projects that US consumers will "spend an average of $832.36 on holiday-related shopping, up a paltry 1.9 percent over last year's $816.6, and representing the lowest increase in planned consumer spending since the survey began in 2002." The report went on to state that "consumers say one factor will play the biggest role in buying decisions this year: price." According to the survey, 40.0 percent of shoppers cite sales or promotions as the largest factor when determining where to shop, while another 12.6 percent claim that everyday low prices sway their decision. Other consumers rated selection (21.5%) as the primary factor.
TheFind: Where to Shop bridges the gap between online research and offline purchases, enabling shoppers to compare products and pricing - while out and about - and ensuring that they find exactly what they're searching for, quickly and easily within reach. With a comprehensive index of more than 250 million products covering 200,000 store locations, TheFind's iPhone application aims to be the best resource for savvy shoppers.
With TheFind: Where to Shop consumers are able to:
Carry" online shopping research - product searches, prices, store locations and sales information - with them anywhere they go. Consumers no longer have to sit at their desks in front of the computer before leaving home to do their Holiday Shopping - they can have it all with them wherever they go.
Quickly and easily determine which retail outlets selling the desired items are closest in proximity. For every search, TheFind: Where to Shop graphically maps the locations of local brick-and-mortar stores whose websites have the item, and also gives phone numbers and directions to those stores. Consumers can use the map to determine which location is the closest to them, or call ahead to get more information or reserve the product - saving time, money and gas.
Check in-store availability. Through integration with inventory look up capabilities offered by NearbyNow and Krillion, TheFind's iPhone application enables shoppers to actually check the inventories of participating, nearby stores to see if a particular item is in stock. Additionally, all listings for local retailers have phone numbers listed so the busy shopper can call to check in-stock status before venturing out.
Compare online and local pricing and obtain the very best deal. TheFind: Where to Shop puts a wealth of information at one's fingertips, enabling a shopper at a store to assess prices from other retailers, to make sure they are getting the best deal. TheFind's application alerts shoppers to various considerations such as items on sale and driving distance of retail outlets, so they can make purchasing decisions based on their individual preferences and criteria.
Local search is one of the fastest-growing areas of search engine technology, and integration with brick and mortar stores, and location-specific data to facilitate in-store purchases is viewed as the "last mile" in search. An October 2008 report by Nielsen Research entitled "Research Now . . . Buy Later? How consumers balance an online and offline multi-channel world" found that "shoppers who browsed for products both on- and off-line at Wal-Mart, for example, spent 38% more than the store's average customers." The study goes further to show that "nearly two-thirds (64%) of consumers who purchased electronics in brick-and-mortar stores first researched the products they bought online."
"Mobile represents a real opportunity for retailers in the near term, as well as a bridge between the Internet and local stores," said Greg Sterling, analyst, Sterling Market Intelligence and Local Mobile Search. "As the audiences grow and the technology matures, mobile promises targeting, tracking and consumer loyalty opportunities not even available on online."
TheFind: Where to Shop is available now from the iTunes App Store. TheFind plans to release TheFind: Where to Shop for other popular mobile platforms with standard browsers, 3G and location services.
Link: TheFind (only available through the Apple App Store)
Gas Cubby for iPhone and iPod touch
PR: App Cubby introduces Gas Cubby 1.0, their gas mileage and vehicle maintenance app for the iPhone and iPod touch. Whether a hyper-miler or just need a reminder to change the oil, Gas Cubby will save money and help keep any vehicle operating at its peak. Featuring easy-to-use service reminders and beautiful, full-screen charts, it's the ultimate tool for tracking gas mileage and vehicle maintenance. Keeping tabs on your vehicle has never been so easy.
With a focus on ease-of-use, Gas Cubby supports multiple vehicles, and offers excellent charts for miles-per-gallon (MPG), gas price, gas expenses, as well as service expenses. Advanced searching and filtering allow for in depth analysis and will automatically generate new charts based on the filtered data. Users may store vehicle data, such as VIN, license plate, and insurance policy. Among Gas Cubby's most helpful features are its customizable service reminders.
Data fields can be turned on an off, allowing the user to enter as much or as little information as necessary. Customizable tags allow grouping or categorization of records. If further visualization or analysis is needed, a few quick taps will create an Excel-compatible (CSV) report. Once a report has been generated, it can be emailed to anyone as an attachment using App Cubby's secure, custom mail service.
Feature highlights include:
Tracks gas mileage and vehicle maintenance
Charts: MPG, gas price, gas expenses, service expenses
Charts update as data is filtered
Customizable service reminders
Supports multiple vehicles
Store vehicle data: VIN, License Plate, and Insurance Policy
Turn data fields on and off
Excel compatible email reports (CSV attachment)
Easily search, sort, and filter records
Customizable tags
Number Pad or Odometer style entry
If data entry is interrupted by a phone call, the data will be stored and retrieved on next launch
System requirements: iPhone or iPod touch 2.1 or later
Gas Cubby 1.0 for iPhone is only $4.99 and available exclusively through Apple's App Store.
Link: Gas Cubby (only available through the Apple App Store)
MileBug Lite Free for Limited Time
PR: MileBug Lite, a lite version of the premier iPhone mileage log application, is now available for FREE for a limited time only. MileBug Lite helps those driving their own vehicles for business, charity, medical, or other reasons receive their reimbursement and/or tax deduction. In the US, IRS business rates are up to 58.5 cents/mile. MileBug Lite for the iPhone/iPod touch helps people track their miles and provides emailed reports for easy submission to employers, accountants, and the IRS.
What's New?
Option for kilometers vs. miles (General Settings)
Custom deduction rates
Define multiple business rates (reimbursement vs. deduction)
"Other" business category for percentage tax filers
Foreign and other special characters supported in reports
Notes included in reports
Spanish version
MileBug Lite answers the call from the many international customers. Inside the General Settings is now an option to select kilometers instead of miles. From within the Presets, users can define custom rates for business, charity, medical, and other categories. If you get one rate from your employer for reimbursement, and another rate from the IRS for your side business, you simply create two different business rates.
As an added bonus, MileBug Lite supports Spanish. Simply select Spanish as the language of your iPhone or iPod touch in the General Settings - > International area and restart MileBug Lite. Bienvenido a MileBug!
Link: MileBug Lite (only available through the Apple App Store)
FourTrack iPhone Application
Sonoma Wire Works announces the launch of FourTrack, a multitrack audio recorder for the iPhone and iPod touch (2nd Generation). FourTrack is a songwriting and practice tool for singers, guitar players, piano players and other musicians who want to capture musical ideas and record songs on their iPhone. Plug in a microphone, arm a track, record, and repeat. FourTrack works with the iPhone built-in microphone, a headset mic, or an iPod touch with a third-party mic and headphones.
WiFi sync allows FourTrack recordings to be downloaded to any desktop computer with a browser. Tracks can then be loaded into any recording software (DAW) to continue working on songs. FourTrack is developed by Sonoma Wire Works, makers of RiffWorks guitar recording software, and by The Retronyms, makers of Recorder, the top selling (single track) recording application for the iPhone. Introductory price: $9.99.
FourTrack Features:
Track Count: 4
Track Length: unlimited
Recording Quality: 16 bit, 44.1 kHz
Calibrated Meters: accurately monitor record and playback levels
Recording Clip Lights: ensure input levels do not cause distortion
Calibrated Faders: accurately adjust playback level of each track
Pan Control: move tracks from left to right
Time Line: seek to anywhere in your song instantly
Shuttle Wheel: accurately move within your song
Slide-to-Record: prevents overwriting your tracks
Latency Compensation: accurate to within 1ms
Compressor-Limiter: automatically fattens sound of the output mix
Song List: unlimited song count
WiFi Sync: copy recordings to a desktop computer
Requirements:
Compatible with iPhone and iPod touch (2nd Generation).
Requires iPhone 2.0 software update.
iPod touch requires a third party microphone (see developer website for recommendations).
What is a Four Track Recorder?
Stereo tape recorders record two tracks at a time on a cassette. A four-track recorder allows you to record one track at a time while listening to the other three. This allows you to record a guitar part, then add a vocal part, then add a harmony, and so on. The Beatles recorded several albums using only four tracks. Four-track cassette recorders were the first affordable multitrack recorders for home musicians. Multitrack recording software, like GarageBand and Pro Tools, allow you to record many tracks, but the principle is the same. FourTrack (the iPhone app) gives you the simplicity of the old-school cassette four-track in an affordable and convenient package. With FourTrack in your pocket, you can record music anywhere at the moment of inspiration.
Link: FourTrack (only available through the Apple App Store)
iSpinning, First Heart Rate and Fitness App for iPhone and iPod touch
PR: Spinning, a leader in indoor group cycling, today introduced the new iSpinning fitness application available on the Apple iPhone App Store.
iSpinning, free for a limited time only, is an innovative new cardio and cycling application that compiles real-time data for fitness tracking. iSpinning is the first of a suite of health and fitness apps enabled by iTMP Technology, a pioneering developer of smartphone hardware and software applications.
For iPhone and iPod touch users interested in cutting edge fitness applications, and for Spinning enthusiasts eager to integrate their fitness data with Apple's mobile computing platforms, the new iSpinning iPhone application is a breakthrough in fitness tracking.
iSpinning is an iPhone-based Spinning computer and cardio fitness system that is compatible with leading fitness heart rate transmitters and a growing list of other fitness sensors. In addition to heart-related data, iSpinning receives speed, cadence, and power data from cycling sensors so users can track cycling metrics from their road and mountain bikes too.
"For years the fitness industry has struggled with the complexities of tracking and displaying fitness data in ways that are appealing to the end user. iTMP has raised the bar with their suite of iPhone apps that collect data from body and equipment sensors to track and present it in a simple and usable format," said John Baudhuin, CEO of Mad Dogg Athletics, Inc., creators of the Spinning indoor cycling program.
"While there are a handful of fitness apps for the iPhone, until now none of them have incorporated real-time user data in their calculations. With our wireless virtual bridge, SMHEART LINK, we connect distributed health and fitness sensors to Apple's iPhone and iPod touch. In other words, we enable Apple's incredible mobile computers to double as heart monitors and cycling computers," said Michael Williams, founder and CEO of iTMP.
The iSpinning application will run with simulated data so users can see how the application will monitor and manage cardio fitness metrics. Additional hardware, including iTMP's SMHEART LINK, will be required to allow the app to "listen" to your heart and your Spinner bikes or outdoor bikes. SMHEART LINK stores an entire workout's worth of data, compiling information even while the iPhone app is interrupted by a call or if the iPhone is not present. The result is an uninterrupted workout profile that can be reviewed real-time during or after a workout.
iTMP's SMHEART LINK has a suggested retail price of $149.95 and will be available for the holiday and resolution seasons online, where users can also find additional product information, accessories, and receive updates. Spinning's website will also carry SMHEART LINK and Spinning's cadence sensor.
Link: iSpinning (only available through the Apple App Store)
Merge Healthcare Announces New Merge Mobile for the iPhone
PR: Merge Healthcare, a leading medical imaging solutions provider, announced mobile technology that enables patients and healthcare professionals to view digital medical images such as CT, MRI, X-ray, and other images on an Apple iPhone or iPod touch. A demonstration of Merge Mobile for the iPhone is available free of charge from the iPhone App Store.
Merge Mobile is breakthrough technology intended to help health organizations and clinicians improve quality of care, reduce costs and improve responsiveness to patients. Today, radiologists and physicians have access to patient medical images from computers connected to their practice management or PAC (picture archiving and communications) systems. Applications(a) built upon Merge Mobile technology will enable radiologists to view emergency cases directly from their iPhone or iPod touch, consult with colleagues and, when necessary, forward critical findings directly and securely to a patient's referring physician.
"Merge Healthcare will usher in a new era of mobile healthcare by bringing advanced medical imaging information to the fingertips of physicians," said Justin Dearborn, Merge Healthcare Chief Executive Officer. "Merge Mobile leverages the rapid convergence of mobile and medical technology development to empower new approaches in healthcare delivery and coordination."
Merge Mobile technology will enable the development of applications to retrieve CT, MRI, X-ray and other images wirelessly, and to perform standard radiologic manipulations to guide decision-making, much like computer-based solutions such as PACS. Few solutions of this kind exist today, and most experience download delays associated with medical imaging's large data sets. Merge Mobile incorporates advanced remote rendering techniques, including multi-planar reconstruction (MPR), which eliminate downloading of large data quantities to the mobile device and enable near-immediate access to images. Features include remote stack viewing using the iPhone multitouch interface, scroll, contrast adjustment, zoom and pan. A secure communication protocol addresses privacy.
Merge Healthcare provides sample images and data via a demonstration server with the free Merge Mobile download.
Link: Merge Mobile (only available through the Apple App Store)
Smule Ocarina iPhone Musical Instrument
PR: Smule introduces Ocarina, the first and only app that transforms the iPhone into an expressive musical wind instrument. It's available now on Apple's App Store for 99¢.
See it in action here:
http://www.youtube.com/watch?v=2XUw6Hy4Tzk
You Tube "Stairway" video:
http://www.youtube.com/watch?v=kfrONZjakRY
You Tube "Zelda" video:
http://www.youtube.com/watch?v=RhCJq7EAJJA
The Ocarina synthesizes sound in real-time, just like a regular instrument, based on actual gestures including wind input, tilt, and finger placement over the four holes overlaid on the multitouch pad. Unlike other iPhone audio apps, the sound is not precompiled but is generated by the notes, gestures and nuance of the individual performer. As a result, it allows an iPhone user to explore and master the musical sounds of an entirely iPhone-native version of an ancient flute-like instrument.
Smule's audio engine (CHiP) and the Smule Sonic Network make it possible to hear live performances around the world. With the globe view, you can hear performances, and see the origin of that performance.
This is the fourth in a series of innovative applications from Smule, based on the developer's innovative mobile audio platform.
Dr. Ge Wang, founder and CTO of Smule is also a Stanford professor at the Center for Computer Research in Music and Acoustics (CCRMA) and director of the Stanford Laptop Orchestra, and the author of the Chuck audio programming language.
Link: Smule Ocarina (only available through the Apple App Store)
ReaddleDocs Connects iPhone to Popular Online File Storages
PR: Readdle announces the release of its new version of the popular document and file management solution ReaddleDocs 1.1.1. Now users can copy files from MobileMe iDisk, Box.Net, MyDisk.se, Filesanywhere and other online file storages that support WebDAV access protocol to their iPhones and view them offline.
ReaddleDocs is a complete document and file management solution for the iPhone and iPod touch. It allows users to transfer documents to their devices, view them on the go and even share with others in a simple way. Thousands of people use ReaddleDocs to save files from their Mac, Windows or Linux computers, world wide web, online file storages and even email attachments to their iPhones and iPod touches.
Online file storage is a popular and efficient way to backup important data or share information among several devices. ReaddleDocs v1.1.1 enables users to browse documents from WebDAV enabled file storages, copy them to the iPhone, view offline and email to colleagues and partners. ReaddleDocs makes documents and files accessible from any computer or mobile phone that individual uses.
"The internet is a great source of information that is why saving and accessing information from the web is one of biggest necessities that any iPhone and iPod touch owner encounters. ReaddleDocs is the only application that covers it completely by saving web pages, files from the web servers and with the new version from MobileMe iDisk, Box.Net, MyDisk.se and FilesAnywhere file storages", notes Alexander Tyagulsky, Readdle.com CMO.
ReaddleDocs v1.1.1 adds other notable enhancements including support of popular e-book Plucker and FB2 formats that makes ReaddleDocs most flexible e-book reader application on the platform. Also, version 1.1 can process ZIP document archives that are very popular way of compressing documents before sending them as e-mail attachments or placing in the web.
Pricing and Availability: ReaddleDocs is available for $14.99 at the App Store.
Link: ReaddleDocs (only available through the Apple App Store)
Raisix ColorMatch Helps iPhone Users Find Complementary Clothing, Decorating Colors
PR: Raisix, Inc. has announced ColorMatch, the ideal way to take the guesswork out of matching dress shirts, neckties, dresses, accessories, upholstery, wall or house paint and much more. Available through the Apple iTunes store, ColorMatch is an inexpensive iPhone application for professionals and nonprofessionals alike that instantly finds perfect color matches at home, in a store, or on location in a customer's home.
ColorMatch is simple enough for anyone to use. Thanks to the application's easy finger-touch slider bars, users can quickly create the color they have in mind onscreen. Once the color is found, ColorMatch instantly provides five complementary colors that will inspire perfect matches for clothing items like scarves, ties, shirts and blouses; home decorating accessories like pillows and sheets; or even color schemes for brochures, invitations, company logos and Web pages.
Users can set ColorMatch's Boldness Level to reflect their own personal tastes and preferences, ranging from conservative/traditional to bolder, more contemporary color scheme choices.
"Virtually everyone would like help from time to time selecting colors with the confidence of a professional stylist or decorator. For just $4.99, ColorMatch puts that kind of power in your pocket, ready for whenever you need it," said Yaron Sinai, founder and chief executive officer of Raisix, Inc. "You can match and store the color of a living room sofa while at home, then recall the color for use at the paint store. Or use ColorMatch to create a palette of colors, then use it as a shopping guide for an entire season's worth of clothing. The uses are endless."
ColorMatch's three onscreen color sliders - red, blue and green - are used in combination to help users create virtually any color they see or can imagine. To make the application even more convenient, ColorMatch displays swatches big enough for matching with upholstery, clothing or swatches.
ColorMatch is now available for download from the Apple iTunes App Store.
Link: Raisix ColorMatch (only available through the Apple App Store)
OEM 3G iPhone Glass and Digitizer Kits Now Available at Mission Repair
PR: Mission Repair in Kansas City, a specialist in iPod and iPhone full-service repairs. has begun to offer parts to the public, in particular, 3G iPhone Glass/Digitizer Assemblies for those customers who prefer to perform the repair themselves in the comfort of their own location. The 3G iPhone screens are fragile and many customers currently use Mission Repair as their repair center of choice.
However many customers are willing to perform iPhone repairs on their own, and Mission Repair has begun to assist customers with such projects. If you're a tech-savvy customer that likes to tinker and wants to save time and money by performing their own iPhone 3G Glass/Digitizer Repair, now you can buy a brand new 3G iPhone Glass/Digitizer Assembly that comes with a 1 year warranty.
Mission Repair provides a full-lineup of services and upgrades- iPod Repairs, iPhone Repairs, MacBook Repairs, MacBook Pro Repairs, PowerBook Repairs and iBook Repairs! They offer many flat-rate services, repair liquid damaged units and offer brand new parts in their repairs.
"Bar none, we have the BEST way to install a new LCD Digitizer into a 3G iPhone." Said Ryan Arter, President "We are proud to be the only company to offer the 3G iPhone Glass/Digitizer Assemblies with the appropriate adhesive strips to install it into your iPhone frame. These adhesive strips are by far the only way to properly install the digitizer into the frame of your iPhone. Other companies use epoxy or superglue to install digitizers. Any type of glue can seep into your home button and ruin your phone. We've seen superglue outgas and ruin LCD screens. Our laser-cut adhesive strips are top quality and a perfect fit. We use them in every iPhone 3G Glass/Digitizer installation performed at Mission Repair."
Mission Repair provides several shipping options (including FedEx ground and overnight) on each of their services and parts offered. If you're local to Kansas City, they also accept walk-ins with no appointment necessary during normal business hours.
Dealer Alert: Mission Repair is currently taking orders for bulk quantities. Call 1-866-638-8402 for bulk pricing on the adhesive strips.
Mission Repair also buy used customer units and are currently purchasing all versions of the iPod, iPhone, Macintosh Portables, Gaming Systems, and Cell Phones. Rather than adding to a landfill, you can sell your unwanted items (in most cases) directly on their website, working or not. Mission Repair is a "Green" business that disposes of eWaste correctly.
Mission Repair's company policy is to never charge a restocking fee if an item is returned within their 30-day return period. This applies to every item they sell. This is a great benefit and gives customers the peace of mind that they are making the right decision and can have confidence that the service is being done correctly.
Dealers also take advantage of Mission Repair's services by outsourcing their repairs directly to the Mission Repair facility in Kansas City. Contact Mission Repair directly for dealer pricing on depot repairs or parts sales.
Mission Repair is your choice for full-service iPod, MacBook and Cell Phone Repair Services. Mission Repair currently offers repair services for iPods, iPhones, Apple Laptop Computers (including MacBook Air, MacBook Pro, MacBook, PowerBook and iBook), gaming consoles (including PSP), Cell Phones with new programs coming online often.
Mission Repair is Accredited though the Greater Kansas City Better Business Bureau and is a Proud Member of the Olathe, Kansas Chamber of Commerce. Their technicians are Apple Certified Macintosh Technicians.
With a 100% customer service mentality, www.missionrepair.com is your one-stop repair service center with support for all makes and models of iPods, iPhones and Macintosh Portable Systems, Cell Phones & Gaming Consoles.
Mission Repair
19953 West 162nd Street
Olathe, Kansas 66062
866-638-8402
Link: Mission Repair
Accessories
RichardSolo 1800 Backup Battery for iPhone
PR: Introducing the newest iPhone backup battery, using Apple's proprietary connector: the rechargeable RichardSolo 1800 Battery - just snap it on and it begins to charge instantly
"I love my iPhone 3G! It is the best personal gadget I've ever owned. However, my battery begins to run out, towards the end of the day. And you can run out of juice if you are traveling, or in an airport.
Introducing the newest iPhone backup battery, using Apple's proprietary connector: the rechargeable RichardSolo 1800 Battery - just snap it on and it begins to charge instantly. It is certified both "Works with iPhone" and "Made for iPod", and for both the original iPhone and the iPhone 3G.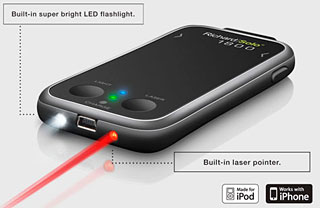 There's nothing quite like it. It has 1800 mAh of capacity, which is enough to completely charge your iPhone, and have reserve power left over. It is the only battery available that actually "latches" onto your iPhone, and a support brace is included to make it super secure.
In the kit, you get a complimentary 110-240 volt AC Wall charger, and also a dual-USB car charger, and a retractable USB cable. So you can charge it at the wall, in your car, from your computer, and you can charge them both at the same time. Connect the RichardSolo to the iPhone, then connect the RichardSolo to the charger, and charge both with one charger.
At night, snap the battery and iPhone together, and charge them both overnight with our charger. You'll wake up in the morning with both fully charged. When you travel, you don't need the Apple charger. Just take this one.
Of course, it works for all models of iPhone and iPod, including the 3G, except for iPod shuffle.
This is a great accessory to keep with you all the time. There are three color LED lights to show you the status of the charge. And if all that were not enough, enjoy the built-in ultra-bright LED flashlight, and also the built-in laser pointer; your cat will be entertained for hours!" - Richard
Free US and Canada shipping and no tax outside California. GST does apply to Canadian orders.
$69.95
Link: RichardSolo 1800 Backup Battery for iPhone
Griffin PowerDock - Multiple Charging Bases for iPod and iPhone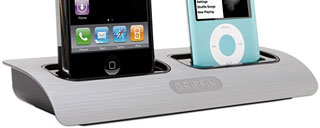 PR: Does your family own a family of iPod or iPhone models? Can you only find one charger when all of you need to recharge? Call a cease-fire with PowerDock, a charging base where every iPod and iPhone in the house can get together to charge its batteries.
Just slip your iPod or iPhone into place to safely charge. Models available with two or four Apple Universal Docks built into a single charging base. Substantial brushed aluminum with a grippy rubber base stays put on countertops and desktops. Includes a collection of Universal Dock insert adapters to ensure that every iPod and iPhone in the house gets a place at the table.
PowerDock comes boxed with a set of Universal Dock adapters to fit all compatible iPods, but initial shipping units do not have a 3G universal dock adapter included. To get one, click "Buy Now," where they are available for $1.99. At retail stores, PowerDock units listed as iPhone 3G compatible will have the 3G adapter included.
Features
Charging base plugs into standard 120VAC wall outlet
Sturdy brushed metal base stays put on your desk
Charges any combination of iPod models
8 Universal Dock inserts included to fit iPod models that charge by Dock Connector
Certified by Apple as a "Works with iPhone" product
Certified by Apple as a "Made for iPod" product
Technical Specifications
Power input: 110-240V AC @50-60 Hz
Power output: 5V DV @ 1.2 Amps
AC Power supply: 6' (1.8m)
8 Universal Dock inserts included to fit iPod models that charge by Dock Connector
$49.99 - $69.99
Link: Griffin PowerDock
iGo Compatible everywhereMAX and wallMAX Multi-device Chargers
PR: iGo, Inc. has unveiled their new chargers. The most compatible multi-device chargers ever, they allow users to charge their laptop computers, and mobile devices such as mobile phones, Bluetooth headsets, smartphones/PDAs, MP3 players, portable gaming devices, digital cameras, and more with one single, stylish charger.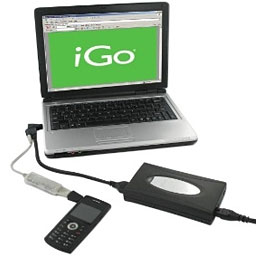 "Every year, laptops and electronic devices get faster, smarter, and smaller - advancements that encourage users to take them everywhere," said Michael D. Heil, president and chief executive officer of iGo. "With the iGo MAX chargers, the consumer is presented with one simple product for all their charging needs."
iGo everywhereMAX (MSRP $139.99) allows users to charge their laptops from a wall outlet, an auto outlet or even an airplane seat. Designed with the consumer's needs in mind, the everywhereMAX is sleek and slim, has an easy-to-pack carrying case and weighs less than a pound. While the laptop charges, iGo's dualpower accessory simultaneously charges an additional mobile device such as an iPod, mobile phone, BlackBerry, Bluetooth headset or digital camera. Thousands of devices can be charged from one charger, thanks to iGo's interchangeable power tips.
iGo wallMAX (MSRP $99.99) offers much of the same functionality as the everywhereMAX, but for users who only need a wall charger. This is an ideal solution for a replacement charger or an additional charger for those who prefer to keep one at home and one at the office.
Now, instead of packing and tracking more than a half dozen chargers, only one is needed. Both the everywhereMAX and wallMAX are available for purchase online now at www.iGo.com and are available for purchase at other retailers such as Radio Shack nationwide.
The MAX series of chargers is compatible with today's most popular laptops and devices from brands such as Apple, Dell, Compaq/HP, LG, Motorola, Nokia, Palm, Samsung, Sony, Toshiba and more. For the latest compatibility list, visit the company's newly redesigned online store at:
iGo's products are available at www.iGo.com as well as through leading resellers and retailers.
Link: iGo
Etymotic hf5 Earphones for iPod, Other Players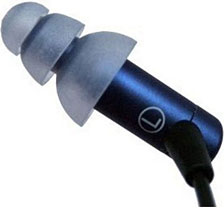 PR: Etymotic Research, the inventor and world leader of in-the-ear, high-fidelity earphones, announced its fifth generation of noise-isolating, high-fidelity earphones: the hf5 earphones, designed for iPod and other MP3 music players.
The hf5 earphones are the same high-fidelity, noise-isolating earphones as those contained in Etymotic's hf2 headset for iPhone devices, except without the microphone. The hf2 headset received two Best of Show awards at the 2008 Macworld Expo, and editors' choice awards from Mac|Life, Macworld UK, PC Magazine and PC News Weekly. In a recent review of the hf5 earphones, CNET Editor Jasmine France concluded: "The Etymotic hf5 earphones are an excellent option for those who want the highest level of sound isolation without sacrificing sound quality, portability or style."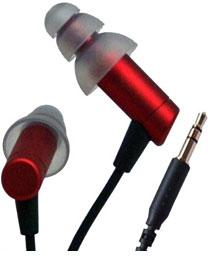 According to Mead Killion, Ph.D., founder and president of Etymotic Research, "The hf5 earphones continue Etymotic's tradition of providing legendary sound quality to musicians as well as users of iPod and other music devices. With their unsurpassed noise isolation, the hf5 earphones deliver a near-perfect music experience: total sound immersion whether performing or listening to music."
The hf5 earphones use Etymotic Research's acclaimed tuned acoustic-insert technology for the clearest, truest sound available. Sealing in the ear, the hf5 earphones allow listeners to hear the full dynamic range of recordings without having to play them at unnaturally high - and unsafe - volume levels.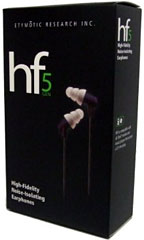 Additional new eartips give the hf5 earphones even greater fitting flexibility, ensuring comfortable listening for people with ear canals of all shapes and sizes. The subtle yet stylish hf5 earphones come in three colors: cobalt blue, ruby red and black.
Available exclusively at Amazon.com, the Etymotic hf5 earphones carry a retail price of $149. The earphones are compatible with all iPod models, as well as with music players and monitors that accept a 3.5mm plug.
Link: Etymotic
Presentation
iSimple Introduces New Automotive iPod Docking Solutions
PR: iSimple has announced the availability of two new interface solutions that provide a direct, hardwired connection between any model of iPod and most aftermarket or factory sound systems. The iSimple RCA iPod Audio Connector (IS75) and iSimple RCA iPod Audio/Video Connector (IS76) allow consumers to enjoy 100% crystal-clear music from any model iPod or iPhone through any factory or after-factory head unit that features RCA inputs. The easy-to-install IS75 and IS76 (MSRP: $49.95) are available through dealers and retailers in the US and Canada.
iSimple offers true hardwired interface solutions that allow car owners to directly interface their iPod or other portable audio source directly into their vehicle?s factory-installed entertainment system, providing crystal clear, static-free sound and unparalleled ease of use.
The IS75 is designed for the busy music enthusiast, and offers an iPod docking cable and a 3.5mm headphone-style audio input for other portable audio devices like handheld GPS, portable satellite tuners or other MP3 players. The IS76 does not offer the additional audio input, but it does give consumers the option of enjoying both music and video from any iPod through their in-car entertainment systems. Both the IS75 and IS76 also provide battery charging for all iPod and iPhone models, including the iPhone 3G, and new versions of the iPod nano and iPod touch.
iSimple offers true hardwired integration solutions that allow car owners to directly wire their portable audio equipment into their automotive audio systems, providing unparalleled ease of use, sound quality and efficiency.
Link: iSimple
Protection
Once Again, Ivyskin Sets the Standard in iPhone Protection and Design
PR: Ivyskin has done it again. Following in the footsteps of the breakthrough product, the Xylo T3 Touch-Thru case, the much anticipated Quattro line introduces some one of a kind concepts never before seen in the sea of endless cases and armor, all promising durability and the highest level of protection for the iPhone 3G.
Perhaps the most intriguing aspect of the new Quattro design is the use of real Touch-Thru Glass as the screen protector in the T2, T3, and T4 models. The patent pending Xylo Glass technology has the absolute best tactile sensitive, Touch-Thru on the market, guaranteed. It also provides protection for the sensitive screen of the 3G. There are no more static issues to deal with or annoying bubbles on the screen. The result is a crystal clear screen and the ultimate Touch-Thru experience.
The Quattro T1 case is a high-quality polysilicon case that fully wraps the phone, including the home button and external controls. It also features integrated port protectors . There are two additional clear polycarbonate components that protect the sensor area in front of the phone and the distinct Apple logo on the back. The T1 comes in several bright, stylish color combinations that are sure to please any iPhone enthusiast. The ivySkin Quattro-T1 is offered in four designer choices: Alpine white, Jet black, Royal blue, Raz red and retails for 34.99.
The Quattro T2 case is truly unique. It boasts an unprecedented 4 layers of protection for the iPhone 3G. The innermost layer, is a polysilicon skin that encases the phone, similar to the T1. It also includes the integrated port protectors to protect against dust, moisture, etc. The second layer is the unique Xylo Glass® Touch-Thru screen that fits over the screen and allows for touch through use of the screen. The outermost layer is a hard polycarbonate shell that snaps into place over the silicon skin. It features a built-in, high shine, polished aluminum faceplate for added protection and style without excess bulk. Several different color combinations are available for the Quattro T2. The ivySkin Quattro-T2 is offered in three designer choices: Jet black, Royal blue, Raz red and retails for 39.99.
The Quattro T3 case is the sleekest member of this family. It combines the soft and smooth feel of our polysilicon, with the durability and strength of hard polycarbonate. The result is the sleek yet tough Quattro T3. The genius behind this design is silicon treated polycarbonate. It creates the smooth feel but provides rigid, solid protection for the iPhone 3G. There are 2 separate pieces that come together in a clean snap. The T4 also features the Xylo Glass® Touch-Thru screen to finish off the look. A bonus feature of this case is the 'dockability' of the phone while the case is in use. The iPhone can be docked without taking the whole case off. A detachable port protector is also included for use when the phone is not docked. The ivySkin Quattro-T3 is offered in four designer choices: Alpine white, Jet black, Royal blue, Raz red and retails for 44.99.
The upcoming Quattro T4 is similar to the T3, but with a twist. The bottom piece of the case that snaps into place actually contains a built-in extended battery. It allows for 'on the go' charging and provides 6 extended hours of talk time as well as 7 hours on Wi-Fi internet and 350 hours of stand by. The ivySkin Quattro T4 will be available on the 2nd week of December 2008.
The Quattro line of products are currently available online at ivyskin.com, J&R Music World, Amazon.com, NewEgg, and will soon be available through a worldwide range of retailers.
Link: Ivyskin
Marware's Nuance for 4G iPod nano
PR: Marware Inc. announces the colorful Nuance for the iPod nano 4G. A convenient, removable lanyard adds extra versatility for hanging on a purse, belt loop or even your wrist. The Nuance includes a lanyard and a microfiber cleaning cloth. It's everything you need to enjoy your new nano in style.
Features:
Durable, colorful leather construction
Removable carrying strap
Slim profile adds style to the iPod nano 4G
Perfect for pocket, purse or just holding in your hand
Includes: leather sleeve, lanyard, clear film protector, and microfiber cleaning cloth
Marware's Lifetime Warranty
The Nuance is available in black, pink, blue, and yellow leather. It retails for $24.99 and is available now for pre-order online. Please visit Marware online for updated shipping dates. Marware is a leading provider of software and accessory solutions for Apple iPhones, iPods, and Notebooks.
Link: Nuance for 4G iPod nano
Join us on Facebook, follow us on Twitter or Google+, or subscribe to our RSS news feed
Links for the Day
Mac of the Day: 20th Anniversary Mac, introduced 1996.03.20. Honoring Apple's 20th anniversary, the TAM was the first flat panel desktop Mac and had a unique design.
Recent Content
Custom Search
Follow Low End Mac on Twitter
Join Low End Mac on Facebook
Favorite Sites
MacSurfer
Cult of Mac
Shrine of Apple
MacInTouch
MyAppleMenu
InfoMac
The Mac Observer
Accelerate Your Mac
RetroMacCast
The Vintage Mac Museum
Deal Brothers
DealMac
Mac2Sell
Mac Driver Museum
JAG's House
System 6 Heaven
System 7 Today
the pickle's Low-End Mac FAQ
Affiliates
Amazon.com
The iTunes Store
PC Connection Express
Macgo Blu-ray Player
Parallels Desktop for Mac
eBay

Advertise