Large Form iPod Coming?, Touch Screens a 'Huge Mistake', EarBud Yo-Yo, and More
This Week's iPhone, iPod, and Apple TV News
Compiled by Charles Moore and edited by Dan Knight - 2009.01.05
Mac notebook and other portable computing is covered in The 'Book Review, and general Mac news is in Mac News Review.
All prices are in US dollars unless otherwise noted.
News, Reviews, & Opinion
Apps & Services
Accessories
iPod and iPhone Deals
These price trackers are updated regularly.
News, Reviews, & Opinion
Walmart Announces Availability of iPhone 3G
PR: Bentonville, Ark., Dec. 26, 2008 - Walmart is excited to announce the availability of the iPhone 3G at nearly 2,500 Walmart stores beginning Sunday, December 28, 2008.
The retailer will offer the black 8 GB iPhone 3G model with the every day price of $197 and the 16 GB black or white model for $297, with a new two-year service agreement from AT&T or qualified upgrade. As America's price leader, Walmart's price match policy also allows stores to match the price of any local competitor's advertised store price on the same item within the same promotional period.
"We are delighted to bring customers this groundbreaking mobile technology," said Gary Severson, senior vice president, Entertainment, Walmart. "Our electronics associates have been preparing for many weeks for the arrival of iPhone 3G. We are excited to now help new customers learn more about the features and services that make the iPhone unique."
The new iPhone 3G combines all the revolutionary features of iPhone plus 3G networking that is twice as fast*, built-in GPS for expanded location-based mobile services, and iPhone 2.2 software which includes support for Microsoft Exchange ActiveSync and runs over 10,000 third party applications available through the new App Store.
Customers can find more information and assistance at the Apple iPhone 3G kiosks located at the Walmart Connection Center in the Home Entertainment department. Electronics associates are ready to assist customers with purchase questions, demonstrations and activation.
*Based on 3G and EDGE testing. Actual speeds vary by site conditions.
Link: Walmart
Why Wal-Mart Is Key to iPhone Domination
CNET's Don Reisinger says:
"As the world's largest retailer (and company), Wal-Mart commands a significant amount of respect. In fact, I think the company is the most important retailer to any company in any industry, let alone Apple and the tech industry.
"But Friday's announcement that the iPhone will be coming to Wal-Mart store shelves on Sunday has changed the face of the cell phone industry. In effect, it means that Apple, one of the most important hardware companies in the space, will see its popular mobile phone be made available to millions of more customers. It also means that Research In Motion and every other company in the market that's trying desperately to compete with Apple simply won't be able to do it...."
Link: Why Wal-Mart Is Key to iPhone Domination
Can Apple Make Wal-Mart Cool?
The Motley Fool's Rick Aristotle Munarriz says:
"It's official. Wal-Mart will begin selling Apple's 3G iPhones over the weekend. The popular smartphone will be available at the country's leading retailer on Sunday....
"Will sales of the iconic phone be brisk? Probably not. Since the iPhones are tethered to costly two-year AT&T data plans, they are likely out of reach for the typical Wal-Mart shopper. The real allure here is that Wal-Mart will earn plenty of style points.
Link: Can Apple Make Wal-Mart Cool?
Large Form iPod touch in Fall '09?
TechCrunch's Michael Arrington says:
"We've got this from three independent sources close to Apple: expect a large screen iPod touch device to be released in the Fall of '09, with a 7 or 9 inch screen. Prototypes have been seen and handled by one of our sources, and Apple is talking to OEMs in Asia now about mass production."
Link: Large Form iPod touch to Launch in Fall '09?
iPhone Not a Netbook, But 7" or 9" iPod touch Could Be
Laptop Mag's K. T. Bradford says:
"First it was rumored that Apple would showcase a netbook at microSD, but that seemed to be all based on analyst speculation that they would have to. Apple never feels they have to do anything, though. I'm more hopeful that the TechCrunch rumor of a large-form iPod touch are true. They claim someone they know has touched a prototype, and considering Steve Jobs contention that an iPhone is like a netbook, it seems pretty likely that this is the direction Apple could go instead of a mini MacBook...."
Link: iPhone Still Not a Netbook, But 7-9-inch iPod touch Could Be
Touch Screens a 'Huge Mistake'
PCMag's Sascha Segan says:
"'If Apple does it, it must be right.' That's the refrain of lemming-like mobile companies, all desperately trying to follow the iPhone's touch-screen lead. The touch-screen fad isn't just in mobile, of course; as you read here on PCMag.com often, it seems that everyone is thinking of throwing away their keyboards and mice for big glass panels that go bump in the night.
"Huge mistake.
"The problem isn't touch screens; touch screens have existed for years. It's the pernicious idea that touch-screen-only interfaces will gobble up all other input devices. It's painful to watch folks at Microsoft's mobile division throw away all their non-touch-screen devices and obsessively chase the iPhone, for instance. Because touch screens - at least the way they work today - are actually less tactile than keyboards...."
Link: Why I Hate Touch Screens
iPhone Trounces BlackBerry Storm in Satisfaction Rating Survey
Computerworld's Gregg Keizer reports:
"First reactions from buyers of Research in Motion's newest BlackBerry Storm smart phone have been 'lukewarm,' and nowhere near the satisfaction ratings of Apple's iPhone, a market research analyst said Tuesday.
"'It's not that the BlackBerry Storm is a bad phone,' said Paul Carton, research director at ChangeWave Research. 'It's just that the initial launch has glitches which have resulted in a mediocre satisfaction rating, while consumers are already trained to expect the very highest standards from their BlackBerries.'"
Link: iPhone Trounces BlackBerry Storm in Satisfaction Rating Survey
Is the iPhone Really a Bad Phone?
Cult of Mac's Lonnie Lazar says:
"Writing Monday for the eWeek blog, AppleWatch, Joe Wilcox gave the iPhone a D in telephony and a C for battery life, saying he simply could not recommend the device as a phone. Despite singing the praises of Apple's mobile platform he gave it an overall grade of B- and seemed mighty pleased to announce that everyone in his family has rejected the iPhone in favor of an iPod touch + some other cell phone.
"I find Wilcox's assessment curious and wonder how many of the other 8 - 10 million iPhone owners feel their device is so disappointing from the telephony and usability standpoints that they'd actually prefer to carry two devices around instead of one. Follow me after the jump to learn what Wilcox thinks is so bad about iPhone and where my own assessment takes me in response."
Link: Is the iPhone Really a Bad Phone?
Speaker Made from Old iPods
HackedGadgets' Alan Parekh says:
"Jordan Horwich wanted to have some unique speakers. He sure pulled it off when he took some iPod shells and stuffed them with some speakers and electronics which now look right at home beside his Apple laptop...."
Link: Speaker Made from Old iPods
Free Music-on-the-go Coming to Mobile Devices
The Canadian Press reports:
"If streaming music on your computer for free appeals to you, consider this: in the near future, you might be able to do the same thing on your smartphone or other portable device.
"A growing number of companies are rushing to offer free streaming music on their websites. Just type in the name of a song and it starts playing. No need to buy it beforehand or rip it from your CD library.
"The idea is fine as long as you're attached to a computer. The next frontier, however, is making that same music widely available on handheld devices like the iPhone and BlackBerry...."
Link: Free Music-on-the-go Coming to Mobile Devices
Apps & Services
Macvide iPod Converter 2.1: Video mp4 Conversion is Easy
Macvide announces iPod Converter 2.1, their video to iPod mp4 conversion utility for Mac OS X. Developed specifically for Mac users, iPod Converter allows conversion of video files to mp4 iPod video. All of the most popular formats are supported, and helps bridge the gap between many video standards. iPod Converter offers an easy-to-use interface that guides the user through the conversion process.
MacVide announces iPod Converter 2.1, their video to mp4 conversion utility for Mac OS X. With a focus on ease-of-use, iPod Converter allows conversion of the most popular video files to mp4 iPod video. It fully integrates the process into the Mac experience by allowing human interaction on the content during conversion.
All of the most popular formats are supported, including MOV, 3GP, MPEG, AVI and helps bridge the gap between many video standards. iPod Converter is a great tool for using with Apple's iTunes.
MacVide iPod Converter provides powerful functions to set different settings for your video files. It allows you to select crop video area, the bit rate, frame rate, video resolution. Video preview with "rangebar" allows you to choose the exact video footage you want, anywhere between the first and last frames. With MacVide iPod Converter you will able to convert your entire movie to .MP4 and watch it anywhere and anytime. It's very easy to use and it supports most portable MP4 devices.
New in version 2.1:
Enhanced support for AppleScript and Automator actions.
Feature highlights include:
Input format supported: all popular Video formats including AVI, WMV, MOV, MPG, ASF, DivX, etc.
Playback on multiple players including iPod, iPhone, PSP and Apple TV, Creative Zen, Archos, etc.
Crop your video area to remove the black video sides.
Powerful video/audio output settings
Allows to set video resolution and frame rate
Allows to set video and audio bitrate.
Customizable dimensions for exported video
Auto Determination of Movie length
Enhanced support for AppleScript and Automator actions.
User can control Movie over Capturing
Minimum Requirements:
Mac OS X Version 10.4 Tiger or 10.5 Leopard
Universal Binary for PowerPC and Intel
19.4 MB Hard Drive space
iPod Converter 2.1 is available for only $29.95 for a Single License, and may be downloaded directly from the MacVide website.
Link: MacVide iPod Converter
ShapeWriter Publishes Award Winning Software on iPhone
PR: Available for download, ShapeWriter Inc launches its revolutionary text entry products on Windows Mobile, Android, and Windows XP/Vista. The company also simultaneously announces major upgrades to its popular WritingPad 1.0 software on iPhone. Now called ShapeWriter 2.0, this enhanced version is available at the Apple iTunes App Store.
ShapeWriter's award winning technology elevates touch screen devices to new levels of usability. Instead of "hunting and pecking" letters, single gestures on a touch keyboard produce an entire word. For example: a stroke that roughly connects the w, o, r and d keys is recognized by ShapeWriter's intelligent algorithms as the word "word". Experienced users can write much faster on ShapeWriter than on a conventional keyboard. All ShapeWriter products run in real time on mobile devices and feature advanced editing, automatic formatting and capitalization, error tolerance, misspelling correction, and gesture commands.
ShapeWriter 1.0 on Android, a winner of Google's Android Developer Challenge, has been specifically customized for T-Mobile's G1. It supports note taking, email, SMS and a fun practice game.
ShapeWriter 1.0 on Windows Mobile is a systemwide input method supporting all standard software applications on Windows Mobile and Pocket PC 2003. It works on phones from manufacturers such as HTC, Samsung, and Sony Ericsson.
ShapeWriter 1.0 on Windows XP/Vista is suited for Tablet PCs, HP Touch Smart computers, UMPCs, and any PC connected with a Wacom tablet.
ShapeWriter 2.0 is a major upgrade from WritingPad 1.0, named by Time.com as one of iPhone's top 11 must have applications. Version 2.0 incorporates many new features requested by early users.
ShapeWriter is a breakthrough text input technology developed for nearly a decade by scientists at IBM Almaden Research Center. Under the code name SHARK, its early version was made publicly available from IBM AlphaWorks in 2004 and received enthusiastic reviews from technology critics and the media such as The New York Times, BBC News, San Jose Mercury News, New Scientist, and the Economist.
Link: ShapeWriter (available through the Apple App Store)
Accessories
Earbud Yo-Yo Organizes the Ear Buds You Already Own
PR: Finally a Simple solution to tangled ear buds. Covington Creations Introduces the Earbud Yo-Yo on January 6, 2009 at the Consumer Electronics Show in Las Vegas. Covington Enters Earbud Yo-Yo in the CNET Best of CES Awards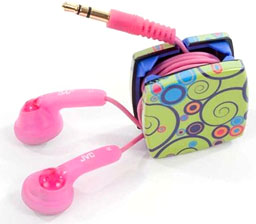 On January 6th at CES Unveiled, Covington Creations will introduce the Earbud Yo-Yo, its latest gadget, to the media. CES Unveiled is a venue designed to bring consumer products companies in direct contact with the media attending and covering the events of the Consumer Electronics Show. It is a venue for the media to see the newest and latest products before the show opens.
The Company has entered this gadget in the CNET Best of CES Awards and will display this product in the South Hall 4 of the Las Vegas Convention Center on January 8-11th.
The Earbud Yo-Yo is an audio cable organizer invented by Julie Johnson Barkley to organize the earbuds supplied with iPod's, MP3 Players and Smart Phones. When asked about her invention she said, "Earbuds are wonderful audio accessories that are absolutely essential to listen to music or to view movies, but everyone knows the earbuds are difficult to stow when not in use because they tangle easily."
It is this tangling and untangling process that frustrated Julie to the point where she was motivated to find a solution. She invented the Earbud Yo-Yo as her solution to the problem of stowing the earbuds. In her words, "the Earbud Yo-Yo is finally a simple solution to tangled earbuds."
Covington Creations LLC, located in Houston, Texas has an exclusive license to manufacture and sell the Earbud Yo-Yo. The Company has inked a deal with Grand Dynasty Industrial Co. of Taipei, Taiwan to make and package the Earbud Yo-Yo. Regarding sales, the Company expects to receive the first shipment of Earbud Yo-Yo's in early January 2009 and it is also in discussions with several product distribution companies regarding fulfillment.
Link: The Earbud Yo-Yo
Join us on Facebook, follow us on Twitter or Google+, or subscribe to our RSS news feed
Links for the Day
Mac of the Day: Macintosh 512K Fat Mac, introduced 1984.09.10. The first Mac with enough memory for serious work.
Recent Content
Custom Search
Follow Low End Mac on Twitter
Join Low End Mac on Facebook
Favorite Sites
MacSurfer
Cult of Mac
Shrine of Apple
MacInTouch
MyAppleMenu
InfoMac
The Mac Observer
Accelerate Your Mac
RetroMacCast
The Vintage Mac Museum
Deal Brothers
DealMac
Mac2Sell
Mac Driver Museum
JAG's House
System 6 Heaven
System 7 Today
the pickle's Low-End Mac FAQ
Affiliates
Amazon.com
The iTunes Store
PC Connection Express
Macgo Blu-ray Player
Parallels Desktop for Mac
eBay

Advertise