iPhone Reaches Vermont, 15 iPhone Tips, Apple's iGlove, First Editable Office App for iPhone, and More
This Week's iPhone, iPod, and Apple TV News
Compiled by Charles Moore and edited by Dan Knight - 2009.01.09
Mac notebook and other portable computing is covered in The 'Book Review, and general Mac news is in Mac News Review.
All prices are in US dollars unless otherwise noted.
News, Reviews, & Opinion
Apps & Services
Accessories
Presentation
Protection
iPod and iPhone Deals
These price trackers are updated regularly.
News, Reviews, & Opinion
iPhone Finally Coming to Vermont
Cnet's Kent German reports:
"Vermont may have gorgeous scenery, maple syrup and civil unions, but up until now it hasn't had the iPhone. Since the Green Mountain State is one of the few states to lack native AT&T service, Vermonters have been left out of the iPhone classic and iPhone 3G scramble. Sure, they could buy it somewhere else and use it in Vermont, but it wasn't quite the same.
"But as the Burlington Free Press reported recently, AT&T's acquisition of Unicel will bring Apple's phone to the state...."
Link: The iPhone: Coming Soon to Vermont
15 Secret iPhone Tips and Tricks
mac.elated.com says:
"Happy New Year!
"I've been using my iPhone 3G for a few months now. Along the way I've discovered a few 'less-than-obvious' tricks and shortcuts that save me a fair bit of time, and I thought I'd share them. While most of these are in the iPhone User Guide if you dig around, I'd say they're useful enough to deserve a mention in their own right.
"(By the way, most of these tips also work on the iPod touch.)"
Link: 15 Secret iPhone Tips and Tricks
Apple Files for Patent on Winter-friendly iPhone Gloves
AppleInsider's Aidan Malley reports:
"Addressing the complaints of nearly every iPhone owner in a northern climate, Apple has filed for a patent that would cover a means of using a multi-touch device with gloves.
"The US Patent Office application notes that capacitive touchscreens like those on the iPhone and iPod touch are problematic in colder weather. As they depend on the electrical response from a user's fingertips, which is often blocked off when wearing insulated gloves, the screens either force users to take off their gloves or else sit tight until they return indoors."
Link: Apple Files for Patent on Winter-friendly iPhone Gloves
Apple's Latest Patent Brilliance: the iGlove
The Register's Rik Myslewski says:
"The US Patent and Trademark Office yesterday released Apple's most recent application, in which the company files for patent protection for . . . wait for it . . . a glove.
"No, not a Power Glove. Patent #20090000010 is for what Apple calls a High tactility glove system designed to aid users in operating their multi-touch devices - think iPhones - in frigid weather.
"'I love patent #20090000010. It's so bad!'"
Link: Apple's Latest Patent Brilliance: the iGlove
Cisco WebEx Lets You Collaborate from the iPhone 3G
eWeek's Clint Boulton reports:
"Cisco and Apple band together to release a Cisco WebEx Meeting Center application for Apple's iPhone 3G. The move could be a springboard for greater Web conferencing collaboration from the world's most popular smart phone and a boon for corporate road warriors craving mobile enterprise applications. This will be crucial to cementing the iPhone as a reliable alternative to RIM Blackberries and Nokia Symbian devices in the enterprise mobile and wireless space."
Link: Cisco WebEx Now Lets You Collaborate from the Apple iPhone 3G
Apps & Services
Quickoffice Unveils First Editable Office App for the iPhone
PR: Quickoffice, Inc. has announced the release of MobileFiles Pro, the first application to include editable Office functionality for the iPhone and iPod touch. The latest upgrade brings comprehensive editing and saving of Microsoft Office Excel files in the .xls format, WiFi file transfer to and from a desktop (Mac and PC), and the ability to access and synchronize with Apple MobileMe accounts.
Offering increased functionality for the mobile professional, MobileFiles Pro has extensive .xls editing features including support for over 125 functions, robust format options ranging from font style and cell color choice to inserting and resizing rows and columns. Users can easily switch between sheets in a workbook, revise inputs and recalculate and undo / redo changes.
In addition, MobileFiles Pro features enhanced desktop file access and transfer functionality combined with MobileMe iDisk account access to easily transfer and store files to and from their iPhone. Using the new WiFi feature, users can transfer files directly from any desktop to an iPhone or from an iPhone to the desktop. MobileFiles Pro also provides remote access to MobileMe iDisk files, synchronizes changes and uploads new files to iDisk and provides local passcode protection of the entire application, ensuring all account information and data is secure.
"Quickoffice is taking an important first step in providing business users with useful applications that allow them to easily create and edit Excel files, much like they do on their desktop," said Michael Gartenberg, vice president of mobile strategy at Jupitermedia/mobiledevicestoday.com. "The iPhone is changing the mobile industry and with help of high-quality third party applications, it will continue to branch out from the consumer space, appealing to a growing number of business professionals."
"We are very pleased to launch MobileFiles Pro, the first iPhone application with the ability to access and view almost any file including iWork files, plus Excel editing and saving directly on the iPhone," said Paul Moreton, vice president of product management at Quickoffice. "This launch reinforces our commitment to deliver our award-winning software across leading smartphone platforms to allow more users to stay connected to all of their content and to improve productivity when on the go. We look forward to providing more upgrades to our iPhone application in 2009."
MobileFiles Pro is now available in the Productivity section of the Apple Store for $9.99.
Link: MobileFiles Pro (available through the Apple App Store)
BibleReader 4.0 Library for iPhone and BlackBerry
PR: As 2009 begins, Olive Tree Software says that one of their most significant achievements this year was the release of BibleReader 4.0. This new program brings the features and flexibility of BibleReader to the newest and most powerful mobile devices of 2008 - the iPhone, and the BlackBerry Curve, Bold, and more. BibleReader 4.0 is a completely new program architecture, developed to ensure BibleReader's functionality across many different mobile platforms, and to provide the framework for adding more features to BibleReader in the future, for both new and existing mobile devices.
What to expect from Olive Tree in 2009?
Planned development for BibleReader 4.0 is far from finished. Look for the following new programs, features, and resources in 2009:
BibleReader 4.0 for new devices, including Google Android, BlackBerry Storm, Windows Mobile/Pocket PC and Windows Mobile Smartphone Greek and Hebrew fonts and resources for iPhone hundreds of titles to expand the current BibleReader 4.0 library
Olive Tree Titles Available for BibleReader 4.0
Bible Translations and Study Bibles
Albanian Bible
American Standard Version - ASV
Amplified Bible - AMP
Bible in Basic English - E
Common Version: Webster's Revision to the KJV
Complete Jewish Bible, by David H. Stern
Darby's New Translation
Dutch Bible: Groot Nieuws Bijbel 1996 - GNB
Dutch Bible: NBG 1951
Easy-to-Read Version - ERV
English Standard Version - ESV
Esperanto Bible
ESV Study Bible Notes with ESV Bible text
Finnish Bible: 1776 Translation
French Bible: Darby 1991
French Bible: Martin - 1744
German Bible: Luther 1912
German Bible: Elberfelder 1905 and 1985
German Bible: Hoffnung für alle
German Bible: Luther 1984
GOD'S WORD Translation
Hawai'i Pidgin New Testament - Da Jesus Book
Holman Christian Standard Bible
International Standard Version - ISV
Italian Bible: Giovanni Diodati - 1649
JPS 1917
King James Version - KJV
21st Century King James Version - KJ21
Latin Vulgate
Literal Translation of the Holy Bible - LITV
The Message, by Eugene Peterson
Modern King James Version - MKJV
New American Bible - NAB, for Catholics
New American Standard Bible - NASB 1977
New Century Version - NCV
New English Translation - NET Bible - Limited Notes
New International Reader's Version - NIrV
New International Version - NIV
New King James Version - NKJV
New Living Translation, Second Edition - NLTse
New Revised Standard Version - NRSV
New Testament in Modern English, by J.B. Phillips
NIV Family Pack (including NIV, TNIV, and NIrV)
Portuguese Bible: Nova Traducao na Linguagem de Hoje - NTLH
Revised Standard Version - RSV
Revised Version - RV
Ryrie Study Bible Notes
Spanish Bible: Palabra de Dios para Todos - PDT
Spanish Bible: Reina Valera 1909
Tagalog Bible: Ang Dating Biblia (1905)
Tanakh
Today's New International Version - TNIV
Tyndale Bible, translated by William Tyndale
Weymouth New Testament
World English Bible - WEB
Wuest - The New Testament: An Expanded Translation
Wycliffe Bible, translated by John Wycliffe
Young's Literal Translation of the Holy Bible - YLT
Commentaries and Cross References
Bible Knowledge Commentary - BKC
C.A. Coates Commentary and Articles
Genesis, by John Calvin
Gray's Commentary
Hebrews, by John Owen
Ironside Expository Commentaries
Jamieson, Fausset, and Brown Commentary
Jewish NT Commentary, by David H. Stern
John, by John Calvin
Jude, by Thomas Manton
MacArthur New Testament Commentary - Bundle
Matthew Henry's Concise Commentary
Treasury of Scriptural Knowledge - TSK
eBooks and Other Resources
Abraham or The Obedience of Faith, by F. B. Meyer
Absolute Surrender, by Andrew Murray
Alfred Edersheim's Bible History of the Old Testament
All of Grace, by C.H. Spurgeon
The Battle is the Lord's, by Tony Evans
The Best is Yet to Come, by Tony Evans
Charles Simeon: We Must Not Mind a Little Suffering, by John Piper
Charles Spurgeon: Preaching Through Adversity, by John Piper
Christ In Isaiah, by F. B. Meyer
Complete Gathered Gold, by John Blanchard
Contending For Our All, by John Piper
David Brainerd's Life and Ministry, by John Piper
David: Shepherd, Psalmist, King, by F. B. Meyer
Don't Waste Your Life, by John Piper
Elijah and the Secret of his Power, by F. B. Meyer
The Essentials of Prayer, by E.M. Bounds
Fifty Reasons Why Jesus Came to Die, by John Piper
George Mueller's Strategy for Showing God, by John Piper
God is the Gospel, by John Piper
God's Glorious Church, by Tony Evans
God's Passion for His Glory, by John Piper
The Hidden Smile of God, by John Piper
How To Pray, by R. A. Torrey
A Hunger For God, by John Piper
Israel: A Prince with God, by F. B. Meyer
Jeremiah: Priest and Prophet, by F. B. Meyer
John Bunyan: Suffering and Service, by John Piper
John Calvin: The Divine Majesty of the Word, by John Piper
John Newton: Tough Roots of his Tenderness, by John Piper
John Owen: Reflections on the Life and Thought, by John Piper
Jonathan Edwards: The Pastor as Theologian, by John Piper
Joseph: Beloved, Hated, Exalted, by F. B. Meyer
Joshua and the Land of Promise, by F. B. Meyer
Knowing Scripture, by R. C. Sproul
Life and Ministry of Athanasius, by John Piper
Life As a Vapor, by John Piper
Martin Luther: Lessons from His Life, by John Piper
The Necessity of Prayer, by E.M. Bounds
New American Standard Bible - NASB
The New Life, by Andrew Murray
The Origin of the Bible, edited by Philip Comfort
Our God is Awesome, by Tony Evans
Paul: A Servant of Jesus Christ, by F.B. Meyer
Peter: Fisherman, Disciple, Apostle, by F. B. Meyer Pierced by the Word, by John Piper
The Pilgrim's Progress, by John Bunyan
Power through Prayer, by E.M. Bounds
Practice of the Presence of God, by Brother Lawrence
Prayer and Praying Men, by E.M. Bounds
Preaching the Cross, by Mark Dever
The Promise, by Tony Evans
Purpose in Prayer, by E.M. Bounds
Reality of Prayer, by E.M. Bounds
Revised Common Lectionary, Year B
Samuel: The Prophet, by F. B. Meyer
Seeing and Savoring Jesus Christ, by John Piper
St. Augustine: The Life and Thought, by John Piper Taste And See, by John Piper
The Five Love Languages, by Gary Chapman
Totally Saved, by Tony Evans
The Transforming Word of God, by Tony Evans
The Value of Learning History, by John Piper
The Weapon of Prayer, by E.M. Bounds
When I Don't Desire God, by John Piper
Who is This King of Glory? by Tony Evans
William Cowper: Reflections on the Life, by John Piper
William Tyndale: Why he Lived and Died, by John Piper
William Wilberforce: Reflections on the Life, by John Piper
With Christ in the School of Prayer, by Andrew Murray
Over 140 titles are currently available, and Olive Tree will be adding more each week throughout 2009.
Follow Olive Tree on Twitter to learn about software updates as soon as they are posted. You'll be among the first to find out when a production build of BibleReader for iPhone (or Blackberry Storm) is ready for users!
Featured Releases
Knowing Scripture - Now Available for iPhone and BlackBerry
This classic by R.C. Sproul is one of his most important and influential books. In it, he makes a case for in-depth personal Bible study, and offers guidance to his readers in how to go about this task.
While Sproul believes passionately that the Bible is the inspired and inerrant word of God, he does not make light of the questions of interpretation that each reader encounters when studying the Bible. Instead, Sproul shows how the Bible can be read closely and carefully, using practical guidelines anyone can learn. He also addresses the important question of culture, and how the Bible, written in a time and place quite different from our own, can be interpreted meaningfully today by modern (or postmodern!) readers.
Knowing Scripture is an excellent introduction to the process of coming to know scripture more deeply, and is useful for both experienced students of the Bible and for Christian beginners.
To get an inside perspective on life at Olive Tree, meet different Olive Tree employees, read educational articles about Olive Tree software, and hear important announcements in between newsletter, check out the Olive Tree Blog.
Follow Olive Tree on Twitter at http://twitter.com/OliveTreeBible
Visit the forums at www.olivetree.com/help/forum
Click the name of your mobile device, and browse or search the discussion threads other users have started. Join in the discussion with questions or comments, or, if you don't find the information you're looking for, you can start a thread of your own. Forums are a place where users can interact with each other and with Olive Tree developers and offer important feedback. They are especially important for programs that are still in beta testing.
Olive Tree Bible Software
P.O. Box 48271
Spokane, Washington 99228
US
Link: Olive Tree Software (available through the Apple App Store)
Accessories
Kensington Hands-Free Visor Car Kit: Simplest Calling for Smartest Driving
PR: Kensington Computer Products Group today introduced a handsfree car kit that clips to the car visor and offers crystal-clear speaker sound and one-touch speed dialing of three favorite numbers without removing phones from pocket or purse. Since many states already have enacted strict laws about driving and talking on mobile phones, the new handsfree support helps users drive and talk not only conveniently and safely - but also legally.
Kensington research shows that 95% of people call the same three numbers while driving, so this "favorite three" feature should greatly simplify their ability to more securely keep in touch with friends, family, and colleagues while on the road. The handsfree speaker device also pairs with up to 3 different Bluetooth phones, allowing 3 different users to speed dial their top 3 favorite numbers switching between phones in only a few seconds with just the push of a button.
Kensington's incorporation of a high end, patented noise canceling technology has resulted in a product which has such excellent sound that early users have defined it as being similar to a high quality headset, yet with all the simplicity of a one touch speaker device that clips to the car visor. Many people dislike carrying headsets which can be uncomfortable and distracting, can easily get misplaced, and which lack the convenience of the "favorite three" speed dialing capability. A swappable battery provides approximately 10 hours of talk time.
"The Kensington processes are so simple that people's attention can stay focused on driving just as their eyes can stay glued to the road," said Orlantha Boeker, Regional Product Marketing Manager, Kensington. "And while they offer ultimate convenience, even more importantly, they offer crystal-clear sound quality. People try them and say they sound more like a headset than a speaker phone, which is due to the high end noise canceling technology. So people can have great conversations along with a safer journey."
Key Features of the Kensington Hands-Free Visor Car Kit for iPhone and Bluetooth Phones Include:
One Touch for Top Three - Program three frequently dialed numbers to call your favorite people with a single touch while driving.
Multi-Driver Friendly - Press the user swap button and the car kit will automatically disconnect from your phone to link to a second or third driver's programmed phone - each with their own three speed dial presets, for up to nine numbers in one vehicle.
Clear Conversation - The high-quality speaker, microphone, and patented noise canceling technology offer flawless voice transmission for all communications needed while driving.
Easy and Convenient Access - Keep within reach at all times by clipping the Hands-Free Visor Car Kit to your vehicle's sun visor.
Talk for Hours - The Hands-Free Visor Car Kit includes two swappable, rechargeable battery packs for approximately 10 hours of talk time each to never worry about running out of power.
Kensington Hands-Free Visor Car Kit for iPhone and Bluetooth Phones (SKU K33440US): Keep your eyes on the road while still taking calls with the Kensington Hands-Free Visor Car Kit. Simply clip on your car's sun visor and pair with your iPhone or Bluetooth enabled phone for one-touch speed dialing of your three favorite numbers, crystal-clear conversation, and handsfree talking. Suggested Retail Price: $119.99
The Kensington Hands-Free Visor Car Kit for iPhone and Bluetooth Phones is available for pre-order at Amazon.com, Kensington.com and will be available by the end of the month at other major retailers.
Link: Kensington Hands-Free Visor Car Kit for iPhone and Bluetooth Phones
Portable Power Station with Cradle for iPhone 3G
PR: Want a cradle for your iPhone 3G?
Want a portable battery for your iPhone 3G?
Want an one-solution to your iPhone no matter you are at home/office or when you are out?
Here you are!
Features:
Cradle for Sync and charger your iPhone with your PC
Portable (external) battery for your iPhone 3G
LED light (External battery
Charging your iPhone and second battery simultaneously
Sleek surface and vivid color
This accessory is compatible with iPhone 3G
Specifications of the external battery
Charging thru Mini USB 5 pin
1000mAh
74g (a standard can coke is 355g!)
Options: Color
Black (default color to be shipped)
White
Package Contents:
Cradle for iPhone 3G x 1
USB Cable x 1
External battery x 1
$39.99
Link: Portable Power Station with Cradle for iPhone 3G
Travel Battery/Charger Set for iPhone/iPod
PR: When you are out, what need to be with your iPhone/iPod?
First of all, you need a charger when your internal battery runs out of power, you can make your use of iPhone/iPod uninterrupted.
Secondly, you need a short and portable USB - Dock cable for charging your iPhone, it should be short and small in size.
Thirdly, it should also could be rapidly rejuiced by the A/C power instead of relying on the USB port.
Finally, the battery should be nicely moulded, good hand feel, and pocketable.
If you are looking one as the conditions above, then this one should be an ideal solution to you.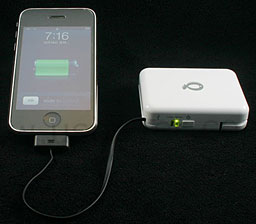 Features:
External battery for your iPod/iPhone
including a short USB - Dock cable for charging and hot-sync with your iPhone/iPod.
ON / OFF Switch
LED Light
Ideal for travelers
This accessory is compatible with iPhone 3G.
Specifications:
Input: AC100~240V 50/60Hz
Output: DC5.1V - 5.5V
Output Capacity: 650mA
Capacity: 1400mAh
Color: White
$25.99
Link: Travel Battery/Charger Set for iPhone/iPod
Presentation
AV Cable with USB for Charging for iPod/iPhone (Firmware 2.2)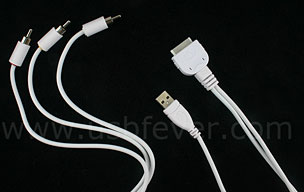 PR: Connect an iPod/iPhone to your TV with the composite AV Cable, gather up your friends, and watch videos or slideshows together on the big screen.
You can also connect the Composite AV Cable to your Stereo or powered speakers for a room-filling audio experience.
The composite AV Cable connects to your iPod/iPhone via the 30-pin dock connector and to your TV, home theater receiver, or stereo receiver via the composite video and Red-White analog audio ports. The cable also features a USB connector that you can plug into a power source, such as a computer or the included USB Power Adapter.
Features:
Direct Plug, no need to go thru any other media
Stereo
Plug and play
This accessory is compatible with:
iPhone 3G (or iPhone 2.0) (up to firmware 2.2)
iPhone 2G (or iPhone 1.0) (up to firmware 2.2)
iPod classic (6G)
iPod touch 1st (not iPod touch 2nd Generation, not iPod touch 1st Generation 32 GB)
iPod nano 3rd
iPod nano 4th
Specifications:
One end is Dock connector
Another end is RCA and USB Male connector
Total length: 160cm (6.5 Feet) approximately
Note:
The USB Connector is just compatible to charge iPod/iPhone, not for data synchronization, but is is sometimes a good idea because some time you just want to charge, you may not want data sync.
The USB connector may be at the RCA Side or at the Dock connector side.
This product is tested up to iPhone firmware 2.2.
The firmware version changed its compatibility from 2.0 to 2.2 on 10 Nov 2008.
$17.99
Link: AV Cable with USB for Charging for iPod/iPhone
Protection
Speck Pulls a One Out of the Design Kitchen: Candyshell Cases for iPhone 3G
PR: Speck has released a never before seen case design for iPhone 3G - the CandyShell.
"Pardon the pun, but these are some of the sweetest cases we've ever created," said Irene Baran, CEO of Speck. "When our team was able to combine a glossy hard shell exterior and a soft rubberized interior into a single case design, we knew we had created a very unique and special case that offers lots of style and great protection."
Never before has the flexibility and shock-absorption of a soft rubberized case been combined with the durability and scratch protection of a sleek hard shell in a seamless single-piece, easy-to-use design... until now. CandyShell's soft, colorful rubberized interior helps keep the iPhone 3G insulated from life's bumps and drops, while the shiny and sleek outer hard shell protects it from scratches and lets you slip it in and out of pockets easily. CandyShell has generous openings and access to all ports, controls and sensors, including soft-touch rubberized touch-thru power and volume control covers. The CandyShell can be docked with the iPhone 3G cable (included with device) through the bottom opening or it can be easily removed for charging with the Apple iPhone 3G dock. The case also includes a cleaning cloth and removable screen protector film for extra scratch protection.

CandyShell comes in four delicious color-contrasting flavors: Lemon Drop Liquorice (high-gloss black shell with bright yellow interior), Key Lime Jawbreaker (high-gloss dark grey shell with bright lime interior), Cranberry White Truffle (high-gloss white shell with cranberry red interior) and Watermelon Gumball (high-gloss light grey shell with pink salmon interior). CandyShell is available now at Apple Stores and online at www.apple.com and www.speckproducts.com for $34.95.
Link: CandyShell for iPhone 3G
Speck Kicks-off 2009 with Expanded Case Offerings
PR: Apple fans rejoice. Speck has hit the New Year running with more choices for more devices than ever before. No matter what Apple device you own, Speck has you covered.
"We are very proud of our support for the rapidly expanding Apple community," said Irene Baran, CEO of Speck. "We are now offering our widest selection of styles, materials and color choices in the company's history and we're very excited about the positive and enthusiastic responses we've received to our latest introductions."
Fitted Fabric-Wrapped Hard Shell Cases for iPod nano 4G and iPod touch 2G
Available today in a stylish assortment of original fabrics, patterns, and colors, the Fitted case series brings an authentic, custom apparel look to the latest generation of iPod. The case's formfitting, two-piece snap together design creates a personalized and tailored appearance that, combined with its interior soft-touch polycarbonate hard-shell lining, offers real protection from the bumps and scrapes of everyday activities. The Fitted feels soft to the touch, while also offering custom-fit contours and openings that allow complete access to all controls and ports. Fitted is the perfect way to showcase individual style and will initially be released in black herringbone with pinstripes at $29.95 MSRP. Additional styles and patterns will be announced seasonally.
ToughSkin Ultra-Rugged Rubberized Cases for iPod nano 4G and iPod touch 2G
Long the gold standard for protection, the ToughSkin now sports an all-new treaded texture for extra grip and comfort and features a tough, rubberized skin with slightly thicker corners for added protection from accidental bumps. The innovative hinged bottom can be pulled back for docking while in the case. The iPod nano edition ToughSkin sports a new clear hard shell front for extra-durable screen protection, plus a detachable swivel belt-clip for added convenience. ToughSkin for iPod touch includes a detachable combination holster and rotating belt-clip that has also been refreshed to offer an extra-secure, positive-lock on the case. Openings in the cases provide generous access to all controls and ports. ToughSkin for iPod nano 4G and iPod touch 2G is available for $29.95 and $34.95 MSRP respectively.
Join us on Facebook, follow us on Twitter or Google+, or subscribe to our RSS news feed
Links for the Day
Mac of the Day: Mac Pro, introduced 2006.08.07. The last Mac to go Intel, the Mac Pro has two dual-core Xeon CPUs at 2.0-3.0 GHz. 8-core option added in 2007.
Recent Content
Custom Search
Follow Low End Mac on Twitter
Join Low End Mac on Facebook
Favorite Sites
MacSurfer
Cult of Mac
Shrine of Apple
MacInTouch
MyAppleMenu
InfoMac
The Mac Observer
Accelerate Your Mac
RetroMacCast
The Vintage Mac Museum
Deal Brothers
DealMac
Mac2Sell
Mac Driver Museum
JAG's House
System 6 Heaven
System 7 Today
the pickle's Low-End Mac FAQ
Affiliates
Amazon.com
The iTunes Store
PC Connection Express
Macgo Blu-ray Player
Parallels Desktop for Mac
eBay

Advertise