iPhone Coming to White House, but Not to Bill Gates' House?, Kindle for iPhone, and More
This Week's iPhone, iPod, and Apple TV News
Compiled by Charles Moore and edited by Dan Knight - 2009.03.09
Mac notebook and other portable computing is covered in The 'Book Review, and general Mac news is in Mac News Review.
All prices are in US dollars unless otherwise noted.
News, Reviews, & Opinion
Apps & Services
Accessories
iPod and iPhone Deals
These price trackers are updated regularly.
News, Reviews, & Opinion
Could We See an iPhone in the White House Soon?
Cult of Mac's Lonnie Lazar says:
"It's no secret President Obama and much of his team are big Mac fans, or that some of their more publicized frustrations with the transition to power in DC have come with confronting the challenges posed by outdated Windows technology and requirements to meet legal guidelines for security and archiving of official communications.
"Perhaps readers will recall, as well, Obama's stated desire to continue using his Blackberry in office and the various and sundry security concerns that have arisen around that issue.
"News Wednesday is that Waltham, Mass.-based Onset Technologies may be working on technology that could allow the President to use an iPhone, should that desire strike the Commander in Chief...."
Link: Could We See an iPhone in the White House One Day Soon?
iPods and iPhones Forbidden at Gates Home
Macworld's Dan Moren reports:
"While we knew that Microsoft CEO Steve Ballmer had forbidden his offspring from using competitors' products like iPods and, yes, even Google, we always thought his predecessor, Bill Gates, hovered above the fray, unconcerned with such earthly matters. Alas, it seems our otherworldly faith in Mr. Microsoft might have been misplaced.
"Geeksugar reports that in an interview in this month's issue of Vogue, Bill's wife Melinda says that Apple products are among the persona non grata (objecta non grata?) in the heavily fortified Gates compound.
"'There are very few things that are on the banned list in our household. But iPods and iPhones are two things we don't get for our kids.'"
Link: iPods and iPhones Forbidden at Gates Home
Bill Gates Bans Progeny from iPhone Nation
The Register's Rik Myslewski says:
"Our hearts go out to little Jennifer, Rory, and Phoebe Gates. Their mom and dad won't let them have an iPod or iPhone.
"But before you iPhone haters start cheering, we're talking about choice. Shouldn't Bill and Melinda's kids have a say in what digital-music player or texting-about-that-cute-new-kid-in-class device they use?
"Apparently not.
"In an effusive article about mommy Gates, Vogue quotes Melinda as saying: 'There are very few things that are on the banned list in our household . . . But iPods and iPhones are two things we don't get for our kids.'"
Link: Bill Gates Bans Progeny from iPhone Nation
Melinda Gates: I Want Apple Products
The New York Post's Clemente Lisi reports:
"Microsoft founder Bill Gates has banned all Apple products from his home - but doesn't mean his wife doesn't still crave an iPhone.
"In an interview in the current issue of Vogue magazine, Melinda Gates said that there are 'very few things that are on the banned list in our household. But iPods and iPhones are two things we don't get for our kids.'
"She also admitted to be intrigued by the iPhone...
"'Every now and then I look at my friends and say, 'Ooh, I wouldn't mind having that iPhone',' she said...."
Link: Melinda Gates: I Want Apple Products
iPhone Surfs to Mobile Web Domination
The Register's Gavin Clarke reports:
"The iPhone dominated the market for mobile web surfing last month, and there were relatively healthy showings from Google's Android and Microsoft's Windows Mobile.
"Net Applications found Apple's handheld status symbol accounted for 66.61 per cent of mobile traffic browsing the web during February.
"The phone's nearest competitor was Microsoft's Windows Mobile, with 6.91 per cent of traffic...."
Link: iPhone Surfs to Mobile Web Domination
Setting the iPhone Free from AT&T
BusinessWeek's Olga Kharif reports:
"As the exclusive US carrier for the Apple iPhone, AT&T has had a lot to celebrate. Rivals hope to crash the party.
"A growing number of public interest groups want an end to the partnership that forces buyers of Apple's iPhone to buy their mobile-phone service only from AT&T. And they're taking their case to the highest levels of government.
"The Consumers Union, the New America Foundation, and the Electronic Frontier Foundation, as well as software provider Mozilla and small wireless carriers MetroPCS (PCS) and Leap Wireless International (LEAP), are lining up in opposition not only to the Apple-AT&T partnership, but to all manner of arrangements whereby mobile phones are tethered exclusively to a single wireless service provider.
"Consumer groups are reaching out to the Federal Communications Commission, the Copyright Office, the Federal Trade Commission, and congressional leaders, asking them to outlaw exclusive handset and software deals. Judging from the track record of Julius Genachowski, the newly nominated head of the FCC, petitioners may get a sympathetic hearing, at least at that agency...."
Link: Setting the iPhone Free from AT&T
Bad Dataplans Killing iPhone Adoption in Japan, Canada
Smart Mobs' Melanie McBride reports:
"Back in June of 2008, many tech writers speculated that the iPhone might not go big in Japan. For my part, I wondered if philosophical and cultural differences might constitute barriers to adoption. I reasoned that the challenges would be practical as well as aesthetic.
"Turns out the speculations were correct, though not for all the reasons we thought. Wired writer Brian X. Chen, explains in his 'Why The Japanese Hate the iPhone'....
"Bad pricing isn't unique to Japan. Here in Canada, the iPhone's data plan is prohibitive for many - including myself. As much as I appreciate the technical virtuosity and elegance of the iPhone, I'm alienated by an unreasonable cost of use...."
Link: Bad Dataplans Killing iPhone Adoption in Japan, Canada
Catholics Urged to Give Up Texting for Lent
The position of Associated Press (AP) is that you may not quote more than 5 words from any of its copyrighted articles without paying $12.50 or more for a "quotation license". Rather than pay this fee or risk the wrath of AP, we are removing all AP quotes from the site along with links to those articles.
We regret any inconvenience to our readers, but we will never pay for what is considered Fair Use under copyright law. We consider brief quotations in our news roundups to be Fair Use and a benefit to the site that we quoted from and linked to. (We adhere to the Open Link policy, and our Fair Use policy specifically allows quoting up to 50% or 300 words of our original content, whichever is less.)
Sync Your iPhone/iPod with Any Computer
The Apple Blog's Jenny Kortina says:
"One thing I have always wanted to do is be able to sync my iPhone or iPod with any computer. Lifehacker had an article a while back on doing this, but the software they used does not support the iPhone or iPod touch. So, I have developed a method to connect any iPod or iPhone to any computer to download the music or movies from that computer to the iPod or iPhone...."
Link: Sync Your iPhone/iPod with Any Computer
AirPhones Turns Your iPhone into a Wireless Music Receiver
Wired's Michael Calore reports:
"A new app for the iPhone and iPod touch lets you stream any audio from your Mac to your Apple mobile over a wi-fi connection.
"It's called AirPhones, and it basically turns any pair of headphones or speakers into a wireless sound station. Any audio source on your Mac desktop - be it an album in iTunes, a YouTube video or a podcast in Miro - can be streamed to the iPhone and played back through the handset's audio out jack...."
Link: AirPhones Turns Your iPhone into a Wireless Music Receiver
Coders Bring Mac System 7 to the iPhone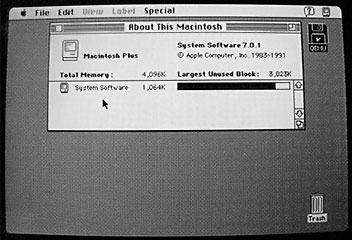 iLounge's Charles Starrett reports:
"A group of iPhone developers has succeeded in getting Mac OS System 7 to run on the device, and has posted a number of photos showing the software in action...."
Editor's note: The Mac Plus, which is being emulated here, uses a 512 x 342 pixel display. The iPhone's screen is 480 x 320 - a bit smaller, but it should still be practical for most apps. dk
Link: Coders Bring Mac OS 7 to iPhone
Apps & Services
Kindle for iPhone and iPod touch Free from Apple's App Store
PR: Amazon.com, Inc. has introduced "Kindle for iPhone and iPod touch," a new application available for free from Apple's App Store that lets customers enjoy over 240,000 books, including 104 of 112 New York Times Bestsellers, on the iPhone and iPod touch using Apple's Multi-Touch user interface. Amazon's new Whispersync technology saves and synchronizes a customer's bookmark across their original Kindle, Kindle 2, iPhone and iPod touch, so customers always have their reading with them and never lose their place. Kindle customers can read a few pages on their iPhone or iPod touch and pick up right where they left off on their Kindle or Kindle 2.
"We are excited to bring the new Kindle application to Apple's App Store and think customers are going to love how easy and fun it is to read their Kindle books on the iPhone and iPod touch," said Ian Freed, vice president, Amazon Kindle. "Kindle for iPhone and iPod touch is a great way for customers to catch up on their current book wherever they are, like in line at the grocery store or between meetings."
The Kindle application for iPhone and iPod touch lets customers bring their Kindle books with them wherever they go and takes full advantage of Apple's Multi-Touch user interface. With the new Kindle for iPhone and iPod touch application, customers can:
Shop for hundreds of thousands of books on their Kindle or online at http://www.amazon.com/kindlestore , and wirelessly transfer the books to their iPhone or iPod touch
Access their entire library of previously purchased Kindle books stored on Amazon's servers
Adjust the text size of books
Add bookmarks and view notes and highlights
Periodicals such as newspapers, magazines, and blogs, and personal documents cannot be viewed on Kindle for iPhone.
System requirements: Kindle for iPhone can be used on any iPhone, iPhone 3G, or iPod touch with Firmware 2.0 or higher installed.
Link: Kindle for iPhone and iPod touch (available through the iPhone App Store)
Report and Increase Happiness with New iPhone App
PR: Representatives from happier.com, a website created to help users measure, track and improve their level of happiness, announced they have released a mobile application that can be downloaded directly to an iPhone or purchased through iTunes. Users of happier.com's gratitude journal are directed to make a daily entry of three positive events that happen each day. A simple 24 question assessment then informs the user of their happiness score. Users can track milestones and increase their happiness over time using the gratitude journal.
"It's so easy to focus on what goes wrong in our lives, but studies show when you focus on what's going right you live a happier, more fulfilling life," said Andrew J. Rosenthal, Vice President at happier.com. "With the new iPhone application a person can measure, build and sustain happiness in just a few minutes a day. All of the exercises and assessments at happier.com, including the gratitude journal, are created from more than 20 years of research on happiness and its sources. Research has proven that daily awareness and tracking of emotions is one of the first steps toward lasting, sustainable happiness."
The new mobile application includes an introduction by internationally-renowned happiness expert and University of Pennsylvania professor, Dr. Martin Seligman. "The way humans are wired, when things go well, we tend to forget them. When things go badly we remember them," says Dr. Seligman. "The more you pay attention to things going well, by writing them down as in the gratitude journal, the more positive emotions you'll experience."
The gratitude journal guides each user through features that measure current happiness, display the six most recent happiness scores and create a journal including a summary of happiness milestones and achievements. The application can be downloaded from the iTunes AppStore onto either an iPhone or iTouch device.
Happier.com goes beyond the books and uses research based tools to inspire people to feel happier and more resilient. Through assessments and exercises to measure, track and improve happiness, thousands of users have experienced a meaningful improvement. Easy-to-use applications, both online and for the iPhone, provide users with the tools they need to be happier. Focusing on what goes well, and why, helps you build your life around authentic sources of happiness.
Link: happier.com (available through the iPhone App Store)
'Supersize Me' App Puts Your Whole Media Library on Your iPhone
PR: Following a successful private trial, ZumoDrive became available to the public on the same day its "Supersize Me" iPhone application appeared on the Apple App Store. Now anyone can join the over 10,000 people who have supersized their netbooks, iPhones, Macs and PCs with ZumoDrive. Never again will consumers have to choose what to put on their 8-GB iPhones, 16-GB netbooks or other space-constrained devices.
ZumoDrive is the first service to give users the experience of having their entire media libraries with them on any device, and ZumoDrive's "Supersize Me" application makes this possible on the iPhone. It no longer matters that iPhones come with just 8 or 16 gigabytes of storage. Anyone can use "Supersize Me," along with the underlying ZumoDrive service, to enjoy all their music, photos and documents on their phones whether connected on WiFi, 3G or Edge.
ZumoDrive users can also put all their content on their portable computers, such as a 16-GB netbook, without any change in experience. They continue opening their documents from a file manager, playing songs in iTunes, and browsing images with their favorite photo programs. ZumoDrive looks and performs just like a local drive on their computers.
The team behind ZumoDrive built the service to address a frustrating problem that each of them faced personally; that is, their digital content kept growing, while they relied more and more on ultraportable, capacity-constrained devices. "I tend to carry around just a smart phone and a netbook," said David Zhao, Cofounder and CEO of Zecter, the company that built ZumoDrive. "Now, I get the convenience of these lightweight devices without any compromises, as ZumoDrive lets me easily put all my content on them."
ZumoDrive's "Supersize Me" iPhone application is available in the Music and Utilities categories of the Apple App Store. The regular price of "Supersize Me" is $4.99, but ZumoDrive is giving the application away free for a limited time as a special introductory offer.
Meanwhile, the primary ZumoDrive service is available for instant download on PCs and Macs at http://zumodrive.com. The service is free for up to 1 GB of space, and paid plans are available with more storage for a monthly subscription fee starting at $2.99.
ZumoDrive and the company behind it, Zecter, are funded by Tandem Entrepreneurs and Y-Combinator. "ZumoDrive extends cloud computing beyond its current state by working behind the scenes on your devices," said Doug Renert, a principal at Tandem Entrepreneurs. "We like to say that it puts the cloud in your pocket."
ZumoDrive is a service of Zecter, Inc., which was founded in May 2007 and is located in San Mateo, California. ZumoDrive delivers unlimited storage on computers and smart phones with its Hybrid Cloud technology.
Link: ZumoDrive (available through the iPhone App Store)
Turn an iPhone or iPod touch into a Shoot-Em-Up Gun
PR: Remember when you were a kid and played cops and robbers? Damabia, in association with RnSK Softronics, lets you experience it again in a whole new way with Bang!Bang!. Experience the sweet release you can only get from firing a finely crafted firearm - a firearm so smooth and well-balanced it feels like an extension of your own hand. And save money on ammunition - Bang!Bang! uses no actual bullets.
Jean-Paul Florencio, CEO of Damabia, is ecstatic about these new program. "What better fun can you have than to shoot all your friends, and not hurt them? With Bang!Bang!, you can play cops and robbers, even if you're grown up."
Feature Highlights:
Natural Motion-Controlled Firing and Reload Action
Beautiful Graphics and Smooth Animations
Cinema quality effects sourced from Oscar-Winning Sound Designers
Lefty flip so southpaws don't shoot themselves accidentally
Light weight - no heavier than an iPod touch or iPhone
Reduced recoil - just a comfortable vibration when fired
Optional silencer for stealth operation
Bang!Bang! Like Cops and Robbers . . . with style.
Languages: English
Requirements:
Compatible with iPhone and iPod touch v2
Requires iPhone 2.1 Software Update
Bang!Bang! is $1.99 and available exclusively through Apple's App Store.
Link: Bang!Bang! (available through the iPhone App Store)
Cortado Develops Business Solutions for iPhone
PR: Mobile solutions expert Cortado converts the iPhone to a business phone.
Cortado, a global leader in mobile applications, is announcing the development of practical business applications for the Apple iPhone. By providing the smartphone with classic PC functions, the solutions allow business users to effectively utilize the performance potential of the iPhone. A variety of new solutions will become available within the next six months.
Cortado's Exchange Hosting, a solution optimized for mobile devices, already offers an efficient and cost-effective communication solution for iPhones used by entrepreneurs, freelancers and small to medium-sized businesses.
Cortado now announces that it will also be offering its standard business solutions for the Apple iPhone. This means iPhone features will be augmented by classic PC functions such as printing, faxing, access to corporate networks, scanning and copying, database access and much more. The advantages of Cortado solutions are evident: The iPhone serves as a laptop substitute even more frequently, work processes are optimized, costs are reduced, and productivity is increased.
"Within the next six months, we will be offering a series of business applications through the Apple AppStore, and are expecting to have the 'Cortado Corporate Server for the iPhone' ready by summer," states Dirk Löwenberg, Business Director Cortado Services. "At the moment, the iPhone is developing into our second most important platform, just after BlackBerry smartphones."
A video offers a first overview over the numerous possibilities of the iPhone as business smartphone
More information about current business solutions can be found at cortado.com/enterprise. Comprehensive information about Cortado's hosting products is available online.
Link: Cortado (software available through the iPhone App Store)
Accessories
Hit the Road With Proporta's Panther Pack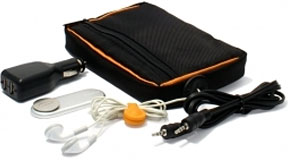 PR: The Panther Pack - Bundle is one of the newest additions to the Proporta product family, and is ideal for anyone who has to spend a lot of time on the road.
The Panther Pack - Bundle includes the Dual USB Car Charger, Magnetic Dashboard Mount, and Proporta 3.5 mm (1.8") Male to 3.5 mm Male Stereo Link Cable - everything you need for a trouble-free journey. Whether it's charging your mobile device on the go, or getting a break from the radio, the Panther Pack - Bundle has everything you require and stores it all neatly out of harm's way in the handy Panther Pack bag. This fantastic product also comes with a free cable tidy. Proporta truly have everything covered.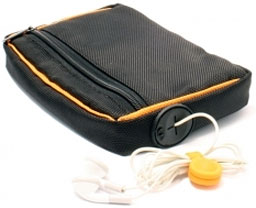 The Panther Pack - Bundle sells for $52.95.
P.S. Proporta understand what a great little product the Panther Pack bag is, and so have made it available to buy separately.
The Panther Pack will protect any of your mobile devices including iPods, MP3 players, mobile phones, digital cameras and PDAs, keeping them safe from the nasty surprises of everyday life and always close to hand.
The Panther Pack sells for $14.45
iPods Not Working Well Enough as 'We-Pods' Due to Cheap Speaker Systems
PR: Reviewers hit back at low quality speaker systems for iPods. iPod generation is losing touch with joys of collective listening due to substandard equipment
A generation of music fans brought up on a diet of personal listening via their MP3 players are losing touch with the joys of shared music due to the growing availability of cheap tinny speakers with inbuilt iPod docks. Manufacturers are jumping on the bandwagon and developing low-cost, low fidelity iPod accessories in a market estimated to be worth US$1.8 billion annually.
Despite the huge sums spent on iPods and MP3 players, many shoppers are buying low quality speaker systems. iPod-specific speakers frequently deliver poor quality sound, according to genuine customer reviews of speakers collated by Reevoo.com.

Sam Bostock, home entertainment category manager at Reevoo.com, said: "People are buying speakers for their iPods that offer high convenience, but often they sound no better than a clock radio."
Shoppers browsing for iPod speakers at Reevoo's network of 60 of the top UK online retailers outnumbered shoppers for stand-alone speakers by 2 to 1. But the ratings from genuine customer reviews collected by Reevoo were reversed. Stand-alone speakers scored 8.5/10 or more twice as often on average as iPod speakers. Reviewers commonly complained about hiss, interference and crackling in reviews of iPod speaker systems.
The average price of a pair of stand-alone speakers with a score of 8.5/10 or more was £122 versus £90 for the best performing iPod speakers. Despite the lower average cost of dedicated iPod speaker systems, they also fared worse on value for money, with an overall score of 8.4/10 versus 8.9/10 for stand-alone speakers.
According to Forrester Research, more than 160 million iPod devices have been sold since the iPod first launched in 2001. Critics of MP3 players and iPods have referenced the relative lack of emotional engagement that listeners experience when connected to their device. Reevoo argues that poor quality sound via cheap iPod speakers is doing little to introduce music fans to the pleasures of collective listening.
"Long gone are the days of listening to an album via a turntable on a hi-fi," said Sam Bostock. "The trouble is that when we do get together to listen to music, we're compromising the quality by listening through poor quality speakers."
"People are being seduced by the convenience of a plugin set of speakers or a unit with a dedicated iPod dock. The reality is that for a similar price, shoppers can buy a set of relatively high-end speakers that they can connect their iPod to via an amplifier and a low cost lead."
"The iPod generation of today run the risk of never experiencing the true quality of music, as we did with CDs and vinyl. People aren't experiencing music as collectively as people did a couple of decades ago; today it's much more about the personal experience but when music is opened up into a social setting, it seems people aren't making sound investments and instead going for cheaper, lower quality speakers to play their music."
Disappointed customers offered the following reviews of dedicated iPod speakers:
"A pronounced hiss can be heard when the volume is turned up above the low to mid range (general listening) level. There is also some 'fluctuation' of the sound at higher levels."
"The sound quality is shocking (even when wired up)."
"Hissing/interference noise that didn't go away."
"Terrible crackling when iPod plugged in, and a whistle when the iPod is charging and playing music at the same time."
"Sound quality is awful."
"Sound poor and lots of BUZZ."
"Bass isn't that strong (weaker than a decent 2.1)."
"The sound quality is very poor."
If quality of sound through iPod speakers is an emerging issue, quantity of sound stored on iPods isn't. iPods have enabled a new generation of music lovers to take an unprecedented amount of music with them. Today, iPods are capable of storing up to 160 GB, enough capacity to store 2,500 albums or more - or the equivalent of approaching half a tonne of vinyl.
The Top 5 Speakers, with sound quality rating (out of 10):
Bottom 5 Speakers:
Top 5 iPod Speaker Docks:
Bottom 5 iPod Speaker Docks:
Join us on Facebook, follow us on Twitter or Google+, or subscribe to our RSS news feed
Links for the Day
Mac of the Day: MacBook Core Duo, introduced 2006.05.16. The iBook's replacement has a 13" widescreen display and a 1.83-2.0 GHz Intel Core Duo CPU.
Recent Content
Custom Search
Follow Low End Mac on Twitter
Join Low End Mac on Facebook
Favorite Sites
MacSurfer
Cult of Mac
Shrine of Apple
MacInTouch
MyAppleMenu
InfoMac
The Mac Observer
Accelerate Your Mac
RetroMacCast
The Vintage Mac Museum
Deal Brothers
DealMac
Mac2Sell
Mac Driver Museum
JAG's House
System 6 Heaven
System 7 Today
the pickle's Low-End Mac FAQ
Affiliates
Amazon.com
The iTunes Store
PC Connection Express
Macgo Blu-ray Player
Parallels Desktop for Mac
eBay

Advertise