iPhone vs. Netbook for Typing, Disney World on the iPhone, Star Trek iPhone Case Mod, and More
This Week's iPhone, iPod, and Apple TV News
Compiled by Charles Moore and edited by Dan Knight - 2009.05.04
Mac notebook and other portable computing is covered in The 'Book Review, and general Mac news is in Mac News Review.
All prices are in US dollars unless otherwise noted.
News, Reviews, & Opinion
Apps & Services
Accessories
Protection
iPod and iPhone Deals
These price trackers are updated regularly.
News, Reviews, & Opinion
Typing Challenge: iPhone vs. Netbook
CNET UK's Rory Reid reports:
"When Crave UK gets bored, odd things happen. We'll fly RC planes through the streets, we'll dress up in costumes and expose our cleavages, hell, we'll even drag a big-ass 20-inch laptop through the London Underground - just for kicks.
"We think you'll agree our latest stunt continues this tradition of recklessness. In the video above, we decided to pit an iPhone against a Netbook to see which is the true king of mobile productivity. Rather than attempt this stunt on a train or in a coffee shop, we thought we'd do it in the back of a $1.47 million rally car. Yup, that's how we roll...."
Link: Xtreme Typing Challenge Pits iPhone vs. Netbook
Musician Dumps Instruments for iPhone
Register Hardware's James Sherwood reports:
"The days when musicians rocked up to gigs with trucks full of guitars, keyboards and drums are dead. Because one musician plans to entertain London's Wembley crowd with just one instrument . . . his iPhone...."
Link: Musician Dumps Instruments for iPhone
Star Trek iPhone Case Mod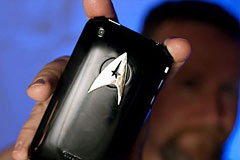 Macworld's David Dahlquist says:
"To those of you who've always wanted to mod your iPhone, but have been too afraid to take it apart either because you don't want to void the warranty or you're afraid of damaging the phone, this mod is for you - presuming you're a fan of Star Trek...."
Link: Star Trek iPhone Case Mod Is Pure Vulcan Logic
Get the Most Out of the iPhone Dev Center
The iPhone Dev Center provides access to technical resources and information to assist you in developing with the latest technologies in iPhone OS. Log in with your Registered iPhone Developer Apple ID and password, or sign-up as a free Registered iPhone Developer.
Getting Started Documents
Developers new to iPhone OS can read about the tools, frameworks, development best-practices, and design methods for creating innovative world-class iPhone applications.
iPhone Reference Library
Explore a collection of in-depth technical documentation, sample code, guides, and articles for iPhone development categorized by topic and frameworks.
Registered iPhone Developers can download iPhone SDK for iPhone OS 2.2.1 which includes the Xcode IDE, iPhone simulator, and a suite of additional tools for developing applications for iPhone and iPod touch.
Getting Started Videos
Watch Apple experts discuss everything from getting started with iPhone SDK, to the tools and technologies used to create iPhone applications.
Coding How-To's
Play a movie. Play a sound. Detect motion. Learn how to incorporate features of iPhone in your application.
The iPhone Developer Program offers a complete process for developing and distributing iPhone or iPod touch applications.
When you join the iPhone Developer Program, you also receive access to iPhone SDK 3.0 and iPhone OS 3.0 beta.
Standard Program $99
Enterprise Program $299
Link: Get the Most Out of the iPhone Dev Center
Apps & Services
Nationwide Insurance App Helps iPhone Users After an Accident
PR: Nationwide Insurance has announced that Nationwide Mobile, a free application for the iPhone, is now available on the Apple App Store. After a car accident, it can be difficult to think clearly and remember all of the details that need to be taken care of next. To make things easier, this app helps Nationwide customers find local resources, document the accident and submit claims information on the spot.
"The Nationwide Mobile app for iPhone is a great example of our commitment to developing innovative solutions that help simplify our customers' lives," said Susan McManus, associate vice president of interactive marketing for Nationwide. "We wanted to create an app that equips Nationwide customers with tools to help them take some of the appropriate next steps after an accident, and expedite getting back to normal. We plan to add more features in the future."
Find local resources
Nationwide Mobile makes it easy for users to quickly contact local authorities and emergency services following an accident. If you're a Nationwide customer, the application will also help you contact local towing services, Nationwide Blue RibbonSM Repair Service Facilities and Nationwide agents in your area who can help.
Document the accident
After an accident, it's critical to exchange all of the relevant information with the other driver to help with the claims process. Nationwide Mobile provides a simple interface for collecting and exchanging accident information all in one place. In addition to the other driver's insurance and contact information, users can also store photos of the accident taken with the iPhone's camera and automatically record the exact location of the accident using the iPhone's built-in GPS.
Submit claims information
If you're a Nationwide customer, Nationwide Mobile helps you start the claims process at the scene of the accident and allows you to easily share photos and other important information that could help expedite things. Users can even let Nationwide know when they would prefer to have a call center representative follow up with them.
Other features include a flashlight function and a tool to help non-customers locate a Nationwide agent in their area if they'd like to get a free auto insurance quote.
Nationwide Mobile is available for free from Apple's App Store.
Link: Nationwide Mobile (available through the iPhone App Store)
Truphone 3.0 for the iPhone Brings It All Together
PR: New Architecture Delivers Improved User Experience,
Simplified Management and Performance Boost
User experience now slicker and more intuitive than ever before
Account management outpaces anything else now on the market
Application faster than ever before - now native on the handset
Radically improved call quality to make it what we believe is the best in the market
Truphone has launched Truphone 3.0, a major new upgrade to its mobile VoIP application for the Apple iPhone™ that dramatically builds upon the success of previous versions of the iPhone's first ever VoIP application, enhancing users' instant messaging and account management experience, faster than ever before, and delivering a new standard for call quality.
Among the many improvements in Truphone 3.0 are increased ease of use, speed of function response, intuitiveness and simplicity - all designed to enhance the users' experience. Further, Truphone has improved voice quality making the app for the iPhone better than it's ever been before.
Using Truphone's integrated messaging tool that unifies all IM communities in a single place, users can now simply manage all their IM communication from a single page within the application, eliminating the need to constantly jockey between different applications or even different pages within an application. IM services currently supported include Skype, MSN Messenger, AIM, Yahoo! Messenger and Google Talk.
"Customers tell us they want three things: simplicity, quality and a good deal. Those principles drive our innovation, and Truphone 3.0 delivers on all three. We've dramatically improved our UI and account management tools. We've eliminated the need for compression by utilizing new advances in signal processing, making calls crystal clear. And, just as we always do, Truphone 3.0 sets a new benchmark in terms of quality and performance that competitors will have a tough time matching", said Geraldine Wilson, CEO Truphone.
"With these improvements, we believe Truphone 3.0 is the best application on mobile for our customers' international calling needs as well as staying in touch with all of their IM communities, in or out of WiFi."
Similar improvements to Truphone for the Apple iPod touch will be announced soon.
What Truphone already does:
Free calls when in WiFi to:
Other Truphone users
Skype and Google Talk users
Free Instant Messages when in WiFi to:
Skype
MSN Messenger
Google Talk
Yahoo! Messenger
AIM
Savings on calls to:
Call land lines and mobiles around the world at cheap rates
Most importantly all these communication opportunities are also available outside of WiFi by using Truphone Anywhere for calls (charged at a local rate in your home country and then routed over Truphone's network - not for use when roaming), and 3G for Instant Messaging.
Account Management:
See rates for calls before initiating a call
Display recent call history, showing the Truphone customer exactly how much a call just cost and how long it lasted with the ability to see a summary of calls made month by month
Top-up from within the application, without the need for web windows to open separately
Top-up in a variety of ways: credit card or PayPal
Change calling tariffs within the application
Link: Truphone (available through the iPhone App Store)
Walt Disney World Resort Now on the iPhone & iPod touch
PR: TimeStream Software announces the release of the powerful new "Walt Disney World" Notescast for the iPhone and iPod touch.
With over 200 pages of information, over 150 photos, and rich in-depth content, the new Walt Disney World Notescast is a comprehensive vacation planner and in-park guide covering nearly every aspect of the entire resort and all four theme parks, including the Magic Kingdom, Epcot, Disney's Animal Kingdom, Disney's Hollywood Studios and more.
Now available from the Apple App Store, the new Walt Disney World Notescast contains a wealth of categories, including
118 Walt Disney World Attractions
Walt Disney World Annual Events
Walt Disney World Explore the Magic
Walt Disney World Parades
Walt Disney World Resorts
Walt Disney World Tickets
Walt Disney World Phone Numbers
Walt Disney World Tips
Walt Disney World Tours
Walt Disney World Vacation Packages
Disney's Magical Express
How to Plan Your Vacation
Hidden Mickey Tours
The History of Walt Disney World
Find Disney Characters
Guests with Disabilities
Vacation Planning Tips
What's New
What's Coming
And much more!
"This Notescast contains a phenomenal amount of valuable information," said Mike Westby of TimeStream Software. "From in-depth descriptions of every attraction and the history of Walt Disney World, to phone numbers and even Hidden Mickey tours, I think users will be very pleased with the quality and value we included in this Notescast title."
The Walt Disney World Notescast for the iPhone and iPod touch is available at the App Store.
The Walt Disney World Notescast is also available for the iPod classic, 5G iPod, and iPod nano
Link: Notescasts.com (available through the iPhone App Store)
QuickVoice Pro Recorder with Bonus for the iPhone
PR: nFinity Inc., maker of award winning voice recorder apps for the iPhone, Mac, and Windows platforms today has announced the release of its new iPhone QuickVoice PRO Recorder w/Bonus. QuickVoice PRO features added capabilities over its "Free" version of QuickVoice including the capability to send voicemails up to 20 MB. It also comes with a free bonus copy of its award winning QuickVoice pC for Mac and Windows.
nFinity Inc., maker of award winning voice recorder apps for the iPhone, Mac, and Windows platforms today has announced the release of its new iPhone QuickVoice PRO Recorder w/Bonus at the introductory price of just 99 cents. QuickVoice PRO features added capabilities over its "Free" version of QuickVoice including the capability to send voicemails up to 20 MB! It also comes with a free bonus copy of its award winning QuickVoice pC for Mac and Windows. "This is an amazing value!" says Kerrie-Lynn Corcoran, business manager for nFinity. "Our QuickVoice pC (Mac & Wins) desktop app sells for $15 all day long so, to be able to get a free bonus copy with your 99 cents purchase of QuickVoice iP for the iPhone is an absolute steal!" says Corcoran.
QuickVoice iP is the premier voice recorder for the iPhone and as such has become the #1 voice recorder in more than 38 countries. QuickVoice pC for desktop and laptop computers has also received numerous accolades in its own rite including the prestigious "Macworld Best Software Under $40.' These two companion apps provide tremendous versatility to iPhone and computer users. Features include: 1-touch record and save, voice email, voice reminders, desktop voice stickies, audio editing, and more.
nFinity also wants to use this opportunity to tell its user base (which is approaching 1-million users) to look forward to another major announcement concerning these products early in May. "We're talking high tech!" says Corcoran. "It is a major, major feature that's simply going to blow iPhone users away. The new feature is being beta tested now and we are chomping at the bit let the word out!" she adds.
Link: QuickVoice iP for the iPhone (available through the iPhone App Store)
LittleSnapper for iPhone
PR: Snap, Tag and Share Your Photos Online
Take a photo, snap a webpage, or choose an existing image from your photo album and share it online via QuickSnapper.
Add tags, titles, descriptions, and ratings to your snaps before sharing them.
Link: LittleSnapper (available through the iPhone App Store)
ipadio - Broadcast Live to the Internet from Your Phone
PR: A new Internet application, ipadio, has talked its way into the hands of the public, bringing people an easy way of phonecasting to the web. Using any phone, from anywhere in the world, people can broadcast LIVE to the Internet, recorded for playback later.
The resultant recording can then be geo-located on a Google map, tagged, downloaded onto an MP3 player - anything that you can currently do with a sound file. All of this is made simple within ipadio itself.
Mark K Smith, CEO of Nemisys, ipadio's developer, said: "This is limited only by imagination: anywhere you can use a phone, you can use ipadio - fun, business, campaigning, publicity. It's a very simple concept. Talk into a phone and your voice comes out on the Internet live. If you can write it, you can say it, only quicker and sometimes in places where writing wouldn't be an option. ipadio is set to, literally, become the voice of the Internet."
ipadio is free for consumer use. (Note: phone operators may charge for the call at their normal call rates). Already available to the listening public are:
a series of hotel reviews by Suzy Bennett, freelance travel writer and photographer for the Daily Telegraph and Guardian who covers a range of memorable hotels, both infamous and unusual, from Edinburgh to Devon (www.ipadio.com/hotelreviews)
an interview of Beijing silver medalist Keri-Anne Payne by Steve Parry, the BBC's Swimming Commentator (www.ipadio.com/interviews)
a series of live reports from mid-Atlantic by keen amateur sailor Richard Sawle and his crew, directly from the yacht Infanta over a satellite phone (www.ipadio.com/sailing)
Other business applications are expected to include live reviews on places, products, or personalities, from countries to casinos, from books to banking, and data collection by field agents. For live media reports and reports on sporting events, the possibilities are endless.
It is already being used in several commercial contexts:
The Ministry of Justice is incorporating Ipadio into its Screenreader.net project;
Ipadio will be used in the collection and sharing of information within a DCSF-funded project, Plings (Places to Go, Things to Do);
Paralympics GB will use Ipadio to feature its athletes in the run up to London 2012;
England Athletics plans to collect broadcasts of club activities and post-event interviews to put onto its website;
The English Golf Union is aiming to broadcast post-match interviews with its players as they compete in worldwide events.
Link: ipadio (available through the iPhone App Store)
iStoryTime Turns iPhone into Library of Narrated Children's Books
PR: Series of $1.99 apps bring books to life on the iPhone for anytime, anywhere entertainment for kids (while buying a few minutes of time for mom or dad)
Automatic navigation and narration make it incredibly simple to use. First 3 stories in the library available today with more on the way
Thanks to the proliferation of iPhone Apps, the iPhone has become a number of things - a remote control, a gaming platform, a GPS device, an email platform, and more. Today, two dedicated fathers from Santa Barbara, CA turned the iPhone into something new - a library of children's books.
FrogDogMedia, LLC, the company dedicated to bringing children's books to life on the iPhone, has introduced iStoryTime, a series of illustrated and narrated children's book applications. The first three stories are now available for download on the iPhone App Store. Parents with an iPhone 3G, iPhone or iPod touch can now turn their favorite portable device into educational entertainment for the kids (ages 2-7) when they're on the go. iStoryTime books are available globally (English only) for $1.99 on the iPhone App Store in 80 countries.
iStoryTime is a self-navigating and self-narrating book application that is drop dead simple for anyone to use - especially a two-year old. Kids can choose between two narrators - an adult or child's voice - or read the book on their own. The app also automatically flips the pages of the book while the child follows along. The words to the story are also included onscreen so beginning readers can make associations between the words they hear and the words they see. iStoryTime books available beginning today include:
The Wiener Dog Magnet - The story of a monkey who buys a small dog magnet with disastrous and hilarious results. Thanks to his creativity, the little monkey makes the best of the situation and saves the day. Written and illustrated by Hayes Roberts and narrated by Jen Muench and Laci Schooner.
Shoe-per Duper Shoes - All kinds of grown up shoes come to life in this funny adventure. Written by Woody Sears. Illustrated by Zach Sather. Narrated by Jen Muench and Laci Schooner.
The Brave Monkey Pirate - The story of a monkey pirate who has to go to the hospital and get a shot, but finds something magical that helps him become brave. Written and illustrated by Hayes Roberts and narrated by Jen Muench and Laci Schooner.
"iStoryTime provides mind-enriching entertainment for the kids while making life a little easier for mom or dad," said Graham Farrar, founder of iStoryTime and FrogDogMedia. "Instead of having to resort to movies or video games to occupy your child when you need a few minutes to finish the grocery shopping, are out at a restaurant, or stuck in traffic, you can give them a story they'll will want to hear and see again and again."
iStoryTime will publish new apps in the near future, featuring a variety of stories from new and upcoming authors and illustrators. The next book in the iStoryTime library will be:
Binky the Pink Elephant - The story of an elephant whose journey teaches her that being different can also be admirable. Written by Sonowa Jackson. Illustrated by Jaclyn Mednicov and narrated by Jen Muench and Laci Schooner.
To download any of the iStoryTime apps, please visit the iPhone App Store.
Link: iStoryTime (available through the iPhone App Store)
Softalk Spreadsheet 2.0 for iPhone and iPod touch
PR: Softalk announces Spreadsheet 2.0, a major update to their spreadsheet creation tool for iPhone and iPod touch. Spreadsheet offers all the features you need to create a professional looking spreadsheet. It provides a scrollable zoomable view, along with cell formatting features and a host of standard spreadsheet functions. The application features a standard grid, which may be scrolled and zoomed. Text, numeric or date values or formulas may be entered into the selected cell through the formula bar at the top of the screen.
Version 2.0 now provides support for XLS format and multiple worksheets, making it possible to share files with Excel, Apple Numbers, NeoOffice and other popular desktop spreadsheet applications. Although Spreadsheet version 2.0 now uses XLS as its native format, it is also capable of importing files in XML Spreadsheet format and CSV format, giving its users more compatibility with their existing spreadsheet files.
The new version also includes improvements such as:
Cell Merging
Unlimited Rows and Columns
Faster transfer of workbooks between the desktop and the device
Improved Emailing of Spreadsheets
Several additions to the supported functions
System Requirements:
iPhone or iPod Touch 2.0 or later
Spreadsheet 2.0 for iPhone is $7.99 and available exclusively through Apple's App Store. For more information, visit Spreadsheet's website online.
Link: Spreadsheet for the iPhone (available through the iPhone App Store)
Accessories
Aliph Introduces Jawbone Prime Bluetooth Headset with EarCandy Colors
PR: Aliph has introduced Jawbone Prime with EarCandy colors. Jawbone Prime brings consumers even better audio quality, improved comfort and fresh, fun color choices. This release continues Aliph's tradition of marrying technology and design to deliver the best Bluetooth headset on the market. Jawbone Prime and its EarCandy colors are available today for pre-order at www.jawbone.com and will be sold in retail stores nationally starting May 2, 2009.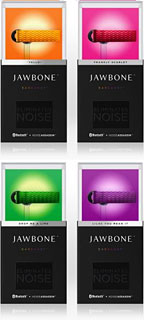 "We watched our customers closely and saw how they struggled to be heard in extreme noise environments. So, we focused our engineering team to go deeper on the tough problems like crying babies, pounding jackhammers, beeping elevators and the like," said Hosain Rahman, Aliph's CEO and cofounder. "As a result, we are excited to announce Jawbone Prime, with orders of magnitude better noise suppression, so our customers can continue their conversations wherever they happen to be."
NoiseAssassin 2.0 Sets New Audio Standard
With Jawbone Prime, Aliph has once again obsoleted itself with the latest in NoiseAssassin technology which delivers better noise elimination performance, an integrated digital approach to wind reduction, and a fail-safe solution if the Voice Activity Sensor (VAS) does not touch the user's face.
Jawbone Prime has even better background noise elimination than the previous generations. NoiseAssasin 2.0 delivers an order of magnitude improvement in the noisiest environments (6 to 9dB) extracting even more noise while keeping the user's voice natural.
Acoustic Voice Activity Detector (AVAD) provides a fail-safe mechanism when the Voice Activity Sensor (VAS) does not touch the user's face. If the VAS is not touching the face, Jawbone Prime performs as good as or better than any other noise cancelling headset. When the VAS touches the face, the user experiences a turbo-boost to the NoiseAssassin performance.
Jawbone Prime also includes Multipoint functionality and can be simultaneously connected to two Bluetooth enabled devices.
Jawbone Prime Works Beautifully in Wind
Aliph's world-class engineers are heavily focused on solving wind for users in every day usage scenarios by leveraging the physical advantages of the proprietary sensor coupled with new Digital Signal Processing (DSP) algorithms. Jawbone Prime handles wind up to 10 mph so users can have intelligible conversations while maintaining the natural sound of the user's voice. This innovation represents a critical step towards solving wind interference which has historically been a physical problem that has plagued the industry.
New Fit Options Customized for Every Ear
Every ear is unique, like a fingerprint. Jawbone Prime introduces a wide array of customization options, enabling the user to find the most comfortable fit. With three round Earbuds, three New Fit Earbuds and an optional earloop, the user can identify what works best for the individual ear. For the majority of users, the New Fit Earbuds render the earloop completely unnecessary.
Fresh and Attractive Earwear Brings Spring to Bluetooth Headsets
By combining fashion and youthful exuberance with unparalleled noise elimination, EarCandy will bring new users into the category by inspiring them to buy their first Bluetooth headset. The vivid range of EarCandy hues reflect the Spring 2009 fashion trends in which bright colors are made approachable and wearable, resonating with women and younger users who care about products that fit into their lifestyle.
"EarCandy is our summer color burst, to bring self-expression and a smile to our lineup," says designer Yves Behar. "The four colors represent great skin-tone complements and contrast, as well as personal style one cannot resist, this reinforces the basic notion that anything that the consumer wears makes a statement, and it should be designed as such . . . this is what we call EarCandy."
EarCandy builds on Aliph's design leadership. Jawbone is part of the collection at several prominent museums, including The Museum of Modern Art, New York.
Prior to launch, consumers can pre-order Jawbone Prime for $129.99 on www.jawbone.com. Starting May 2, 2009, Jawbone Prime will be available for purchase at the Apple Store, AT&T, Best Buy Mobile and Verizon Wireless stores nationwide. Jawbone Prime is also available internationally in the UK, France, Germany, Greece, Norway and Canada.
Jawbone Prime Specifications
Price: $129.99
Talk Time: Up to 4.5 hours
Standby Time: More than 8 days
Range: At least 33 feet (10 meters)
Charge: 80% charge in 35 minutes, 100% charge in < 1 hour
Weight: ~10 grams with Earbuds, ~ 9 grams without Earbuds
Colors:

Blah Blah Black, Coffee Talk and Going Platinum for Jawbone Prime.
EarCandy comes in four colors: Frankly Scarlet, 'Yello!, Drop Me A Lime and Purple Lilac You Mean It.

Supports Multipoint: Pairs with up to 8 devices, 2 simultaneous
Supports Bluetooth: 1.1, 1.2, 2.0, 2.1 + EDR
Link: Jawbone
Stylish Sports 4G iPod nano Armband from Proporta
PR: Whether you're a dedicated gym bunny, or someone with a bit more of a love-hate relationship with exercise, nothing makes a workout easier than a chance to listen to some good music whilst you sweat.
Fortunately, help is at hand, as Proporta bring you the Sports Armband (Apple 4G iPod nano).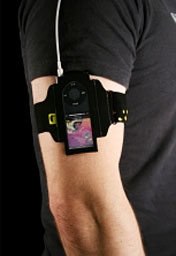 Made from elasticated neoprene to fit all arm sizes, the Sports Armband is super comfortable, and tailored to the exact specifications of your iPod nano to ensure a perfect fit. The armband is washable and water-resistant, protects your iPod nano against shocks, scratches, dust and dirt, and even features a pocket for your door key so that you never need go jogging with it tucked inside your sock again.
This handy little accessory also features a stylish armadillo print design, and will make sure that you've always got the best tunes to listen to, no matter where you are, or how strenuous the exercise. The only thing that's not included is the muscles...
Key Features
Adjustable, elasticated armband
Protection from impact shocks, scratches, sweat, dust and dirt
Includes pocket for your key
Water resistant
Washable
$12.95
Link: Sports 4G iPod nano Armband
Protection
Etsy Wood Custom Handmade Box for iPhone 3G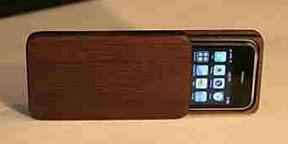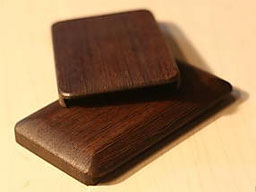 PR: Designer handmade wooden case for the iPhone 3G. This box is made out of wenge and finished with linseed oil. It is designed to add a natural aesthetic to your iPhone 3G, while protecting it from scratches when it is in your pocket, purse or bag. The contours are shaped and sanded to complement the curves of the iPhone and the interior is sized to hold it snugly. This one-of-a-kind case would make a wonderful gift for the iPhone user.
Visit the Etsy shop to view their other iPhone cases, cutting boards and counter tops.
$84.99
International shipping available. Item ships from: United States
ship to:
United States: $4.99
United Kingdom: $12.30
Everywhere Else: $12.30
Link: Etsy Wood iPhone Case
USB Fever Hard Crystal Case for iPhone 3G - Butterfly & Flower
PR: Features:
Unique ergonomic design
Printed with featured graphics - Butterfly / Rose
Fully Protected from bumps and scratches
Light weight
Perfectly fit
Anti-dust
Easy access to all ports, buttons and sockets
Notes: This is not for iPhone 2G, it is for iPhone 3G only.
US$16.99
Link: USB Fever Hard Crystal Case for iPhone 3G - Butterfly & Flower
USB Fever Hard Crystal Case for iPhone 3G - Flower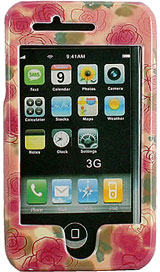 PR: Features:
Unique ergonomic design
Printed with featured graphics - Flowers / Rose
Fully Protected from bumps and scratches
Light weight
Perfectly fit
Anti-dust
Easy access to all ports, buttons and sockets
Notes: This is not for iPhone 2G, it is for iPhone 3G only.
US$16.99
Join us on Facebook, follow us on Twitter or Google+, or subscribe to our RSS news feed
Links for the Day
Mac of the Day: Lisa, introduced 1983.01.19. The ancestor of the Macintosh had a mouse, a graphical interface, and a $10,000 price tag.
Recent Content
Custom Search
Follow Low End Mac on Twitter
Join Low End Mac on Facebook
Favorite Sites
MacSurfer
Cult of Mac
Shrine of Apple
MacInTouch
MyAppleMenu
InfoMac
The Mac Observer
Accelerate Your Mac
RetroMacCast
The Vintage Mac Museum
Deal Brothers
DealMac
Mac2Sell
Mac Driver Museum
JAG's House
System 6 Heaven
System 7 Today
the pickle's Low-End Mac FAQ
Affiliates
Amazon.com
The iTunes Store
PC Connection Express
Macgo Blu-ray Player
Parallels Desktop for Mac
eBay

Advertise