6 Lessons from a Lost iPhone, DIY Solar iPod/iPhone Charger, Grakl Social Messaging App, and More
This Week's iPhone, iPod, and Apple TV News
Compiled by Charles Moore and edited by Dan Knight - 2009.05.11
Mac notebook and other portable computing is covered in The 'Book Review, and general Mac news is in Mac News Review.
All prices are in US dollars unless otherwise noted.
News, Reviews, & Opinion
Apps & Services
Accessories
iPod and iPhone Deals
These price trackers are updated regularly.
News, Reviews, & Opinion
6 Things I Learned from Losing My iPhone
TUAW's Steven Sande says:
"A couple of weeks ago, I was on a two-day business trip to Kansas City. As usual, the moment my plane landed I turned on my iPhone and gave my wife call to let her know that I had made it to my destination safely. I told her I'd text her as I got my rental car, and then call when I got to my hotel.
"Heading out the door of the terminal to catch the rental car shuttle, I reached into my pocket for my iPhone only to find that it was gone...
"Read on to see what I learned from this experience."
Link: Six Things I Learned from Losing My iPhone 3G
Apple Changes Wet iPhone Replacement Policy
Tidbits' Doug McLean reports:
"Apple has recently revised its replacement policy regarding water-damaged iPhones. The company still won't replace your damaged device for free if its Liquid Submersion Indicator has been activated (see 'Liquid Submersion Indicators Reveal Accidental Dips,' 2009-02-17), but you can now purchase a $199 replacement phone. While $199 isn't cheap, it's still $400 to $500 less than purchasing a new iPhone without a 2-year contract."
Link: Apple Refreshes Wet iPhone Replacement Policy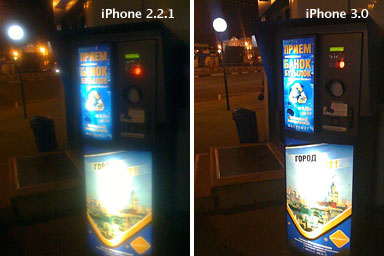 iPhone 2.2.1 vs. 3.0 beta low light image quality.
iPhone 3.0 Firmware Capable of Better Photos
MacNN reports:
"Apple has tweaked the developer iPhone 3.0 camera software to produce better images, claim two different sources. iPhones.ru notes that . . . [T]he clarity and overall quality of the v3.0 photos is better . . . A briefer test run by Gizmodo concentrates on dim lighting, and is described as showing not only clearer images but less murky shadow detail."
Link: iPhone 3.0 Firmware Capable of Better Photos?
DIY Solar-Powered iPhone or iPod Charger
Lifehacker's Adam Pash says:
"We've already shown you MintyBoost, a battery-powered USB charger built from an Altoids tin; now feast your eyes on MightyMintyBoost, a rechargeable, solar-powered MintyBoost charger . . . a USB charger that feeds off the power of the sun...."
Link: DIY Solar-Powered iPhone or iPod Charger
People Pay for Kraft iPhone App, Even Though It's An Ad
mocoNews' Tricia Duryee reports:
"The iPhone is emerging as one of the leading mobile advertising platforms because of its ability to display rich media applications, like video . . . leading consumers to download - and in some cases even buy - branded applications because they are not considered ads.
"Perhaps, the best example is Kraft's iFood Assistant application, which comes loaded with 7,000 recipes and allows users to create shopping lists. The application has made it into the top 100 applications - despite the fact that it costs 99 cents...."
Link: People Pay for Kraft iPhone App - Even Though It's An Ad
Using Your iPhone to Get Closer to God
The National Post's Sarah Efron says that while the iPhone is associated with music and games, it's actually an ideal tool to help believers follow their faiths, with more than 100 applications in Apple's App Store aimed at devout Christians, Jews, or Muslims.
Link: Using Your iPhone to Get Closer to God
iPhone Doormat for the True Apple Geek
Macworld's David Dahlquist says:
"You have the Apple T-shirt, bumper sticker, coffee mug, and your license plate spells 'MACDADDY', but nevertheless, something is missing. You still can't shake that nagging urge to prove your fondness for all things Apple. And then it hits you - what you need is a welcome mat! And not just one with a plain old Apple logo, either. You need a witty Apple doormat...."
Link: iPhone Doormat for the True Apple Geek
J.D. Power and Associates Finds Apple Ranks Highest Among Smartphone Users
PR: As customer satisfaction with feature-rich smartphones increases, satisfaction with traditional mobile phones remains steady with LG ranking highest among traditional mobile phone consumers
Apple ranks highest in customer satisfaction with smartphone manufacturers, while LG ranks highest among traditional mobile phone users, according to the J.D. Power and Associates 2009 Wireless Consumer Smartphone Customer Satisfaction StudySM - Volume 1 and the J.D. Power and Associates 2009 Wireless Traditional Mobile Phone Satisfaction StudySM - Volume 1 released today.
The studies measure customer satisfaction with traditional wireless handsets and smartphones across several key factors. In order of importance, key factors in examining traditional wireless handsets are operation (30%); physical design (30%); features (20%); and battery function (20%). Among residential smartphone owners, key factors are ease of operation (30%); operating system (22%); features (21%); physical design (18%); and battery function (9%).
Apple ranks highest among smartphone manufacturers with a score of 791 on a 1,000-point scale, performing particularly well in ease of operation, operating system, features and physical design. LG (772) and Samsung (759) follow Apple in the rankings.
Among traditional handsets, LG ranks highest in overall wireless customer satisfaction with a score of 733, performing well across all factors. Sony Ericsson follows with 712.
Wireless Consumer Smartphone Customer Satisfaction
Among smartphone users, overall satisfaction has increased considerably, compared with the US Wireless Mobile Phone Evaluation Study - Volume 2, released in November 2008. Smartphone users report sending and receiving an average of 17 emails per day on their phone, and 82% of smartphone owners report regularly using their phone's personal information management (PIM) capabilities - such as address books and to-do lists - to stay better organized.
"As consumers continuously upgrade to mobile phones that allow a full mobile-Web experience, advanced multimedia programs and 3G data downloads, overall handset satisfaction should continue to rise, as these devices tend to make our lives more convenient and prove entertaining," said Kirk Parsons, senior director of wireless services at J.D. Power and Associates. "It is crucial, however, that manufacturers ensure these features are intuitive and that wireless carriers educate customers to maximize their wireless experience. While manufacturers continue to develop advanced features, they must also continue to provide a high-quality calling experience for their users."
Wireless Traditional Mobile Phone Satisfaction
Overall satisfaction among traditional mobile phone owners has remained stable since November 2008, despite heightened awareness among traditional mobile phone owners of advanced features available on smartphones. On average, traditional handset owners pay $28 less per month for their wireless service, compared with smartphone owners. Traditional wireless users also pay $111 less when they initially purchase their mobile phone, compared with smartphone owners.
"Many owners of traditional handsets do not believe that the service cost associated with owning a smartphone is justified, as they indicate they would not take full advantage of the advanced features," said Parsons. "Given the current economic climate, consumers are very aware of the extra cost associated with owning a smartphone that they may not use for more than basic calling and texting."
The study also finds several key wireless handset usage patterns:
More than 40% of smartphone users report entirely replacing landline calling with mobile phone calling, while only 28% of traditional handset owners have done the same.
One-third of traditional mobile phone owners indicate they would like to have some type of GPS software or capability on their next phone.
42% of traditional mobile phones owners received their phone for free after rebates and discounts, compared with just 32% in the 2008 Volume 2 study.
The 2009 Wireless Consumer Smartphone Customer Satisfaction Study -Volume 1 and the 2009 Wireless Traditional Mobile Phone Evaluation Study - Volume 1 are based on experiences reported by 15,270 traditional mobile phone and 2,648 smartphone users who have owned their current mobile phone for less than two years. The studies were fielded between July and December 2008. Visit JDPower.com to read an article or view customer satisfaction ratings for wireless service and carrier performance, call quality, customer care, retail sales and mobile phone handsets.
Link: Wireless Consumer Smartphone Ratings (Volume 1)
RIM Unseats Apple in the NPD Group's Latest Smartphone Ranking
According to The NPD Group, a leader in wireless industry market research, an aggressive "buy-one-get-one" promotion by Verizon Wireless helped RIM's BlackBerry Curve move past Apple's iPhone to become the best-selling consumer smartphone in the US in the first quarter (Q1) of 2009. RIM's consumer smartphone market share increased 15% to nearly 50% of the smartphone market in Q1 2009 versus the prior quarter, as Apple's and Palm's share both declined 10% each.
Based on US consumer sales of smartphone handsets in NPD's "Smartphone Market Update" report, the first-quarter 2009 ranking of the top-five best-selling smartphones is as follows:
RIM BlackBerry Curve (all 83XX models)
Apple iPhone 3G (all models)
RIM BlackBerry Storm
RIM BlackBerry Pearl (all models, except flip)
T-Mobile G1
"Verizon Wireless's aggressive marketing of the BlackBerry Storm and its buy-one-get-one BlackBerry promotion to its large customer base contributed to RIM capturing three of the top five positions," said Ross Rubin, director of industry analysis at The NPD Group. "The more familiar, and less expensive, Curve benefited from these giveaways and was able to leapfrog the iPhone, due to its broader availability on the four major US national carriers."
Smartphones, which represented just 17% of handset sales volume in Q1 2008, now make up 23% of sales. "Even in this challenging economy, consumers are migrating toward Web-capable handsets and their supporting data plans to access more information and entertainment on the go." Rubin said.
Methodology: The NPD Group compiles and analyzes mobile device sales data based on more than 150,000 completed online consumer research surveys each month. Surveys are based on a nationally balanced and demographically representative sample, and results are projected to represent the entire population of US consumers. Note: Sales figures do not include corporate/enterprise mobile phone sales.
Link: RIM Unseats Apple in The NPD Group's Latest Smartphone Ranking
Apps & Services
Grackl 1.0, Social Mobile Messaging
PR: The Grackle. A bird known for its persistent squawk and profound gift for gab. It's also the namesake for Grackl, a totally unique group chat tool that delivers the power of social networking with the privacy of personal IM. Grackl is built on breakthrough mobile technology that connects whole groups. No CC'ing. No mass text messages and emails. No more public posts on social networking pages. Simply touch a button and start squawking with your flock and even send images with your comments.
Plus, Grackl lets you organize your fellow flock into private groups that reflect your real-life social networks. Blab with your softball buddies in one session. Yack with your classmates in another. Share only what you want with the people you want. Grackl puts control of the conversation in your hands. Grackl has a full set of cool features that let you stay in touch on the go in a new way:
Grackl Chat:
Simplify and socialize with an intuitive Grackl chat interface
Post photos to ongoing Grackl conversations
Keep fellow Gracklers close with one-touch access to a convenient address book
Catch up on the convo or go back to a previous comment with automatic conversation archiving
Group Grackl:
Contact and converse with whole groups at once - anytime, anywhere
Socialize selectively by chatting with different groups separately and privately
Mingle freely with seamless switching between ongoing conversations
Add as many - or as few - friends as you want to your conversations
Manage your conversations with privacy settings, invitations, and user blocking
Availability:
Grackl is available for free from the App Store.
Link: Grackl (available through the iPhone App Store)
Bento for iPhone and iPod touch Now Available
PR: FileMaker, Inc. has unveiled Bento for iPhone and iPod touch, the portable version of the popular personal database that's as easy to use as the iPhone or iPod touch. With Bento for iPhone and iPod touch, it's never been easier to organize all the details of a busy life - in one exciting new iPhone application. The new software is now available for download for just $4.99 from the Apple App Store.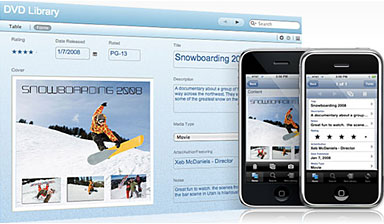 Start tackling any area of your busy business or personal life right away by adding information to any of the 25 built-in templates within Bento for iPhone and iPod touch:
For Business: Issue Tracking, Time Billing, Customers, Expenses, Products for Sale, Inventory, Projects, Event Planning, Items Sold, and Equipment.
Personal Uses: Contacts, To Dos, Diet Log, Expenses, Classes, Recipes, Digital Media, Vehicle Maintenance, Projects, Home Inventory, Event Planning, Membership Lists, Notes, and Donations.
The new iPhone App also includes a Blank template for creating an unlimited number of customized templates.
More than a bare-bones database or super to-do list organizer or even a replacement for your built-in iPhone Contacts, Bento for iPhone and iPod touch links together your contacts and keeps track of anything from business-related sales to digital media and recipes. You can keep client information with you, organize an event or party, and make changes right on your iPhone or iPod touch that can also be synchronized wirelessly with Bento 2.0v4 for Mac desktop software.
You can stay organized by creating "collections" (like playlists in iTunes) of records in any library. If you have a library of digital photos in Bento 2 for Mac, for example, you can create organized collections that store landscapes, animals or architecture favorites. If you have a library of tasks, you can create collections that store your work, personal and volunteer tasks.
Bento to Go
With Bento for iPhone and iPod touch, you can:
Start adding information into any of 25 predesigned, ready-to-use templates that can be quickly customized with a few taps. You can also create your own forms to organize virtually any data on an iPhone or iPod touch.
Tap to call a contact, view a Web site, send an email or display a map all while in a Bento library or collection.
Manage anything from contacts and club members to projects, parties, medical bills and vehicle maintenance.
View libraries and collections, create new records, edit details, sort data, modify forms - even use the iTunes-style search to find information quickly on the go.
Select from 15 field types including text, numbers, choice, checkbox, media, time, date, durations, currency, rating, address, phone number, email, URL and IM Account.
Wireless Synchronization between Bento for iPhone and iPod touch and Bento 2 for Mac
Bento for iPhone and iPod touch can be used as a standalone application, and it also synchronizes wirelessly with Bento 2.0v4 for Mac. The update allows users to automatically keep desktop and mobile devices up-to-date whether information is edited on the Mac or the mobile device.
Works with Existing Information and Applications
Bento for iPhone and iPod touch works with existing information and iPhone applications such as Contacts, Safari, Phone Dialing, Mail and Google Maps for a truly integrated iPhone experience.
Update for Bento 2 Desktop Software Now Available
Today, FileMaker is also releasing Bento 2.0v4, a free update to its desktop software that can be downloaded by all existing Bento 2 for Mac users. The new Bento 2.0v4 for Mac provides synchronization compatibility with Bento for iPhone and iPod, and addresses other issues.
Key Part of the FileMaker iPhone Strategy
FileMaker now offers iPhone users a choice of databases. In addition to the new Bento for iPhone and iPod touch for individual users, corporate workgroups can access and update critical business information live using their iPhones thanks to the FileMaker PHP iPhone Site Assistant offered with FileMaker Server 10 or FileMaker Server 10 Advanced. FileMaker Server PHP Site Assistant for iPhone can be used to distribute a wide variety of business data via the iPhone including schedules, service tickets, field data collection, images, sales leads, order histories, asset management, inventory status and more.
Link: Bento for iPhone (available through the iPhone App Store)
Quicken Online Mobile Now Available in Apple's App Store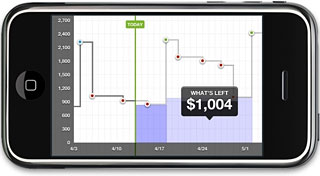 PR: Intuit Inc. has announced its Quicken Online Mobile application is available on the Apple App Store. This free personal finance app for iPhone and iPod touch works directly with the free Quicken Online service which helps more than 1 Million Americans automatically track their spending and helps them know where to save.
"We're excited to again lead the way with a completely unique and unmatched personal finance application available for the iPhone," said Todd Stanley, vice president and general manager of Quicken. "No one knows personal finance like Quicken. We're using our 25 years as the leader to again deliver the easiest way to keep tabs on your money. We believe our app for the iPhone and iPod touch sets a new bar for what people will expect of managing their money on the go."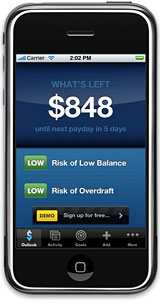 Quicken Online Mobile brings together a rich set of features to help people more easily manage their money from paycheck to paycheck and on the go, including:
A dynamic, "tilt and turn," Spending Money Forecaster provides users with a forward-looking visual representation of their cash so they know if they can spend what they want and still have enough to pay the bills.
Quicken Online Mobile makes it simple to track spending on the go. Users simply enter their cash or other transactions and they'll be updated real-time with Quicken Online so they have the most current view of their money.
Helps users avoid unwanted ATM fees with the built-in GPS-enabled ATM Finder. The app points users to the closest ATM from their own bank so they don't have to pay to withdraw money.
Used in conjunction with the free Quicken Online, Quicken Online Mobile gives consumers:
Updated balances from all of their accounts: Includes checking, savings, investments and loans - in one place from over 8,500 financial institutions.
Secure mobile access to their account information: Quicken Online goes beyond what's standard with an extra layer of security to keep personal finances personal.
The only personal finance application on the iPhone that gives consumers a forward-looking view of their money so they can avoid costly mistakes before they happen.
Easy Budgeting on the Go: Set budget goals so people can track how they're doing before they're at the register making a purchase.
The Quicken Online Mobile application is available for free from Apple's App Store on iPhone and iPod touch.
Link: Quicken Online Mobile (available through the iPhone App Store)
E*Trade Launches Mobile Pro App for iPhone and iPod touch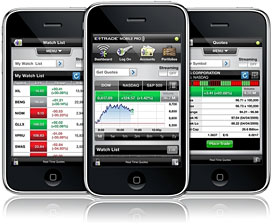 PR: E*Trade Financial Corp. has announced that E*Trade Securities LLC has introduced E*Trade Mobile Pro for Apple's iPhone and iPod touch, expanding customer access to on-the-go, real-time investment, market and account information. The application provides many of the same interface, security, trading and banking features available on etrade.com to customers via their iPhone or iPod touch. The application is available at no additional cost to all E*Trade Securities customers via the Apple App Store.
"Right now, consumers are especially concerned about the state of the markets. More and more, individual investors want regular and immediate access to market information," said Michael Curcio, President, E*Trade Securities LLC. "By extending the Mobile Pro application to iPhone and iPod touch, we continue to empower our customers to take advantage of leading technology to access their accounts and information that can help them stay on top of their investments."
Designed with streamlined navigation providing an experience similar to etrade.com, Mobile Pro reduces the steps needed to perform various tasks and provides customers with confirmation of transactions before they are completed.
Mobile Pro functionality for iPhone and iPod touch includes:
Access to bank and brokerage account details
New charting and enhanced watch list capabilities
Free real-time streaming stock and options quotes
Ability to trade stocks and options, including conditional orders
Ability to transfer funds between brokerage and bank accounts, including transfers from outside financial institutions
Live watch lists and portfolios
CompleteView of all E*Trade accounts on one screen
Secure transactions backed by the E*Trade Complete Protection Guarantee
Link: E*Trade Mobile Pro (available through the iPhone App Store)
Sad Scale 1.0 for iPhone and iPod touch
PR: Deep Pocket Series LLC introduces Sad Scale 1.0, their depression screening solution for iPhone and iPod touch. Designed to take advantage of the iPhone's unique abilities and interface, Sad Scale is created to help screen for depression in the General Population, Postpartum Depression and Geriatric depression.
The application has 3 screening test and it tracks your scores and graphs your results. The user then can email their Primary care doctor, OB/Gyn doctor or health care provider. The test can be taken multiple times and the user can track for depression. It also takes you to different online resources for additional help.
Sad Scale is an iPhone application to help your health care provider follow your care. It is not a substitute for seeing a health care provider. This application contains to self screening test. The Zung depression test, Geriatric Depression scale and the Edinburgh Postnatal Depression Scale are in this application. The application is easy to use and will store your scores on your iPhone.
This application should be used with your health care provider. It does not replace the judgment of a professional health care provider. Please discuss using this app with your health care provider. Dr. Castro states his goal is to increase awareness of depression. He hopes this app will cause patients to seek professional help and make a difference in someone's life.
System Requirements: iPhone or iPod touch 2.0 or later
Sad Scale 1.0 for iPhone is only 99¢ and available exclusively through Apple's App Store.
Link: Sad Scale for iPhone and iPod touch (available through the iPhone App Store)
Swine Flu Tracker for iPhone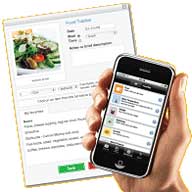 PR: TheCarrot provides tools to track health statistics in a calendar format and instantly integrates your data into a complete and clear report that you can share with whomever you like.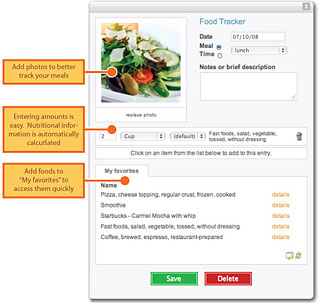 TheCarrot has trackers for most common health questions including diet, weight, exercise, and medicines. It also allows you to track vital statistics such as temperature, heart rate and blood pressure. But what makes The Carrot different is that it allows you to track and correlate multiple factors at the same time.
When you hit save, your data automatically saves to the calendar. If you need to change an entry, you can access it though the calendar or by calling up the food tracker again.
You can enter data from your iPhone. You can also snap a pic from your cell phone. The date and time stamp from your camera will make sure the photo goes in the right spot in your calendar.
TheCarrot's newest tracker is for Swine Flu. The federal government has declared a public health emergency in the United States as have governments in other countries. This tracker will help you keep track of your symptoms to share with your doctor, as well as give you a place to put in notes about where you've been and who you've been with so they can be contacted if you have a confirmed case.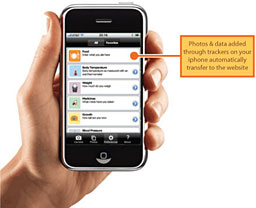 There is also a tracker for regular seasonal Flu. If you've started having flu symptoms, keep track of their severity. If you end up needing to see a doctor or health professional, having this accurate information will help make sure you get the best care.
Other TheCarrot Trackers
Energy Level - Feeling zippy? Or sluggish? Keep track of your energy levels and you can use the data to compare against other areas like your food and exercise to see where you want to make changes.
Exercise - Regular exercise plays a major role in good health. It improves your mood, helps you fight chronic diseases, helps you sleep better, and even puts the spark back in your sex life. Our Exercise database has thousands of activities to choose from so you can easily see how many calories you're burning.
Food - Breakfast. Lunch. Dinner. Snacks. This tracker is where you enter the food you eat each day. Our Food database has thousands of items to choose from, each with nutritional info like calorie and carb counts to eliminate the guesswork.
Job Satisfaction - Are you whistling while you work today or counting the hours until 5 p.m. Use this tracker to see how satisfying your job is.
Medication - If you take medications every day, this tracker makes it easy to stay on schedule. Search our powerful Meds database to add all of your medications to your Favorites list for easy entering.
Meditation - Whether you are at home or with a group, use this tracker to chart the time you spend in quiet contemplation.
Mood - Trying to figure out what's giving you the blues? Our mood tracker helps you see patterns you might otherwise miss, like how certain foods affect your mental state.
Notes - Looking to track something else? Use this tracker to record notes and a photo for anything you want
Sex - Though it may sound counterintuitive at first, keeping track of when you have sex might actually bring the spark back to your love life.
Sleep - A good night's sleep is one of the best ways to support healthy brain function and mood. Use this tracker to see how your sleep stacks up.
Smoking - Looking to quit smoking? Here's an easy way to keep track of your progress.
Symptoms - Sometimes getting healthy means you have to play the part of a detective. Here's the tracker to use to keep notes on all the symptoms you're experiencing so you and your health professional can hone in possible solutions.
TV - What did you watch?
Wake Ups - If you have trouble sleeping through the night, use this tracker to record your wake ups to help you pinpoint the problem.
Blood Pressure - Monitoring your blood pressure can help determine whether you really have high blood pressure-and if you do, whether your current treatment plan is working.
Heart Rate - Here's where you can keep track of your heart rate - after your morning run or a busy day at work.
Body Height - Keep track of your kid's growth spurts with this unsmudgeable version of the old-fashioned "pencil on the doorjamb" technique you used when you were growing up.
Body Temperature - Feeling a bit under the weather? Track your temperature using a standard oral thermometer and record it here.
Body Weight - Whether you're trying to lose, gain, or maintain your weight, use this tracker to keep your daily log.
Cholesterol - Keeping track of your cholesterol levels will help you see if your lifestyle changes and any medications that you're taking are working
HbA1c - Track your glucose management effectiveness over the previous few months with your glycosylated hemoglobin lab results.
Asthma - Monitor your peak flow and other asthma related symptoms with this easy to use tracker.
Diabetes - Keeping your blood glucose level (also called blood sugar) close to normal helps prevent or delay some diabetes problems such as kidney disease and nerve damage. Use this tracker to keep an easy-to-monitor log of your daily levels and your diabetes meds.
Hypertension - If you're worried about chronic high blood pressure (or hypertension), use this one tracker to keep tabs on your blood pressure and heart rate.
Menopause - Menopause is a natural part of growing older, but it still often brings up a complex set of emotions and physical responses in women. Use this tracker to track menopause symptoms to help you navigate the "change of life."
Menstrual Cycle - Keep track of all things related to your period: number of days, flow, mood, and symptoms.
Ovulation - Keeping track of your cycle can help you pinpoint the best days to try to conceive. This tracker gathers all of your info together in one easy place.
Pregnancy - Congratulations! The journey of pregnancy is fascinating, mysterious, and joyous. Keep track of all the exciting changes in your body and spirit along the way
Register for free.
Link: TheCarrot.com Trackers for iPhone (available through the iPhone App Store)
Arkansas First State to Launch Free iPhone App for Recovery Projects
PR: Arkansas.gov, the official Web site of the state of Arkansas, announced today the release of the free "Arkansas.gov Recovery Project Search" application, available immediately through the Apple iTunes Store. Arkansas is the first state government in the nation to develop and release an iPhone application with the ability to search projects funded with the American Recovery and Reinvestment Act (ARRA) stimulus funds.
The Arkansas.Gov application can be used with the iPhone or iPod touch and is available for download at www.recovery.arkansas.gov/iphone
Features of the Arkansas.Gov iPhone application include:
Keyword Lookup - Quickly find projects by keyword search. Displays project name and description information including location, total dollar allocation, project start date, total expenditure to date and the ability to track the project in a saved list.
Location Lookup - Easily search by county or city name to see projects in your area. Displays project information and also allows tracking for later retrieval.
Near Me - Uses iPhone GPS Location Services to find where you are and retrieve projects in the city and county you are currently located.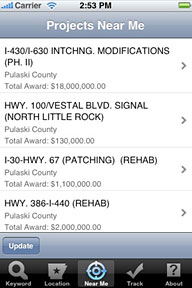 "We are very pleased to offer another way for Arkansans to find projects receiving funding in their community. This continues our support of Governor Mike Beebe's transparency directive for Recovery stimulus funds in Arkansas," said Chris Masingill, State Recovery Office.
"One of our goals with state technology efforts is to ensure we are easily accessible for all Arkansans. Through mobile technology, information will now be available on demand from your smart phone," said Claire Bailey, Arkansas's Chief Technology Officer.
The Arkansas.Gov application makes it easy to locate ARRA projects funded in Arkansas through a simple search interface, topical browsing or using the iPhone's GPS location services for projects funded in your community. The iPhone application is the newest addition to the www.Recovery.Arkansas.Gov Web site that also supports a mobile version and online mapping interface for viewing ARRA project information. The new iPhone application provides yet another gateway for citizens to interact with government.
Link: Arkansas.gov (available through the iPhone App Store)
RealSnowGlobe 1.0 - Gorgeous Snow Globes
PR: Hyperdevbox Japan announces the release of "RealSnowGlobe", a collection of gorgeous snow globe applications for iPhone and iPod touch. Now you can turn your iPhone and iPod touch into a very relaxing and entertaining Snow Globe using state of the art technology used in video game including ZBuffer occlusion, 3D particles and fluid physic simulation.
The whole collection is bringing a large set of different atmosphere you can choose from, be your mood be romantic, relaxing, preparing Xmas or already dreaming of vacation. Every single edition of "Real SnowGlobe" is a fully interactive animated Snow Globe which include a theme tune, a "sleep" timer (perfect for Mother who wants children to fall asleep) and a beautiful clock and calendar matching the theme (perfect for any Stand or Docking station at home or office desk).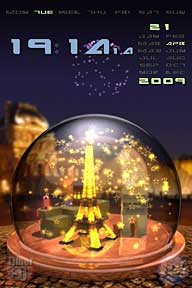 Feature Highlights:
Realistic smooth fluid physic
Interactive; shake, rotate, tilt, the snowflake will react as the real one
Gorgeous Photorealistic graphic with realtime reflection, tilt your device and look how the sun reflection on the Globe is changing
Auto Shake ON/OFF; perfect for Stand or Docking station
SnowGlobe Auto Rotation ON/OFF
Music ON/OFF; when set to OFF you can play any song from your iPod
Master Volume for sound effect and theme tune
Beautiful Clock and Calendar
Auto Sleep Timer; 15, 30 and 45 min
There are five editions available at the launch of the collection:
"Paris" edition, a trip to Paris, Eiffel Tower, Moulin Rouge and ... fireworks in the Parisian sky.
"Hawaii" edition, wonderful vacation, beach, sun and farniente.
"Sakura" edition, beautiful Cherry Blossom scene, peaceful serenity.
"Snow" edition, the classical one. Is Xmas coming or do you simply miss Xmas time? Here is the perfect little house in the mountain snow scene.
"Venice" edition, everybody dreams of an honeymoon in Venice, this is the most romantic edition, love , Italy, sunset, "o sole mio" and gondola.
Every single edition of "RealSnowGlobe" for iPhone/iPod touch is only 99¢ and available exclusively through Apple's App Store.
Link: RealSnowGlobe (available through the iPhone App Store)
HoloSnaps 1.0 for iPhone and iPod touch
PR: Embraceware Software announces HoloSnaps 1.0 for iPhone and iPod touch. Add a new angle to your photos with HoloSnaps. Select any 3 of your photos to create a holographic card that responds to tilting your iPhone or iPod touch. Cards are saved in a glass display case for later viewing. Tap on a card to have the robotic arm lift it out of the case for you.
iPhone users can utilize the built-in camera to take photos within HoloSnaps or select existing photos stored on the device. iPod touch users can select from existing photos. HoloSnaps utilizes the accelerometer built into the iPhone and iPod touch to achieve the response of tilting the device for the hologram card effect.
Feature Highlights:
Fully animated UI with sound effects
Simple 3 step work flow guides the process
Compatible with the iPhone camera
Drag to rearrange cards
Language Support: English, French, Spanish, German, Swedish, Finnish, Dutch, Czech, and Arabic
System Requirements: iPhone or iPod touch 2.2 or later
HoloSnaps 1.0 for iPhone is 99¢ and available exclusively through Apple's App Store. HoloSnaps can be found in the photography category and is available in all 70 countries. iTunes promo codes available upon request for product review purposes.
Link: HoloSnaps (available through the iPhone App Store)
miniMusic Releases Innovative Pianofly for iPhone and iPod touch
PR: miniMusic has released Pianofly, a music synthesizer and piano keyboard application for Apple's iPhone platform. Pianofly includes never before seen features like a scrolling, multitouch keyboard. Sound is generated by a powerful FM synthesizer, with an elegant interface allowing anyone to create and edit instrument sounds easily. Make quick adjustments while performing, altering sounds on the fly.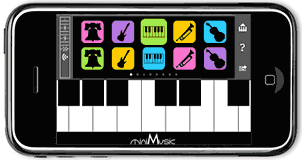 The first feature you notice in Pianofly is the keyboard. Other piano applications for the iPhone generally show just one octave of keys, then use tiny arrow buttons to shift up or down an octave. Hogwash. That's the kind of piano you'd use with a mouse. The keyboard in Pianofly moves with you, scrolling as you play; let your fingers fly up and down the full 88 key piano, This is how onscreen pianos always wanted to work, but didn't know how.
Then you notice the sounds. Eight pages full of customizable instrument icons. Just tap one and start playing. Want to design your own instrument timbre? Of course you do; double tap on an icon and the editor is revealed. You actually see the waves and adjust their lengths to set frequencies and change waveforms. Rewire the nodes for modulation. Double tap on a node and edit its ADSR envelope for smooth amplitude changes: give it a hard, fast attack or fade it in slowly, rising gently on the breeze. Don't forget to use any photo or image to make the perfect icon for your new instrument.
Pianofly can make a huge variety of sounds. You can play them alone, or jam with a song from your music library. A great way for DJs to add cool effects over their playlist or for students to practice. Come out of your musical cocoon; make music anywhere with Pianofly in your pocket.
Planned improvements include multitrack recording and additional wave types and effects like reverb or flange to design even more elaborate sounds. The sky is the limit for Pianofly (are you getting all of these puns?).
Pianofly is available now from the Apple App Store at an introductory price of $1.99. After the introductory period, the normal price will be $2.99 or higher as additional features are added.
Visit www.miniMusic.com for more information, video demonstrations, and documentation
Link: Pianofly (available through the iPhone App Store)
One Click Text Messaging and Dialing for Your Mac
PR: nova media has updated its Phone plugins software to version 2.3, offering an improved Bluetooth wizard and support for cell phones from LGE. Phone plugins will connect a Macintosh computer and a cell phone in one easy step to add text message and dialing functionality to the Mac OS X system. Phone plugins is compatible to more than 200 cell phone models, including LGE, Motorola, Nokia, Samsung and Sony Ericsson brands.
To use Phone plugins it is sufficient to select a number in any document or application and to choose either "Dial number" or "Send text message". There is no need to have to launch a dedicated program. When calling a number, Phone plugins will display the appropriate name and picture if the selected phone number is known to Address Book. When sending a text message, a new window will open on the screen to enter the message. The built-in error correction of Mac OS X can be activated and multipart messages are supported as well.
Phone plugins is available today for $9.95 (Euro 11.84 including VAT) on nova media's website. A demo version is provided online. The update to version 2.3 is free for current owners of a Phone plugins 2.0 license. Phone plugins requires Mac OS X 10.5.2 or higher and a compatible cell phone from LGE, Motorola, Nokia, Samsung, or Sony Ericsson.
Link: Phone Plugins
FMSmallBusiness Adds FileMaker 10's iPhone Web Interface
PR: CampSoftware has released version 1.3.1 of FMSmallBusiness (FMSB) which includes twenty five updates. The most exciting update is the use of the FileMaker 10 Server PHP Site Assistant which generates iPhone interfaces for FileMaker databases, like FMSmallBusiness. Videos and Screenshots of FMSB are available including screenshots of the updated iPhone interface. FMSmallBusiness is a FileMaker based database great for managing the contacts, calendars, invoice, and more for small businesses.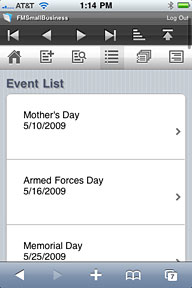 FMSB is a complete solution, specifically designed for small businesses. Now you can easily track and manage all your contacts as well as your entire calendar of events and activities. FMSB also integrates your documents, schedules, projects, letters, invoices, and more. FMSB is a cross platform database which runs on Mac and Windows using the award winning FileMaker Pro database platform.
An Agenda View in the Calendar module has been added which produces a list of events over any day, week, month, or any range of dates. Printable versions of the Agenda, Month, Week, and Day views are also now available. Each view containing events have also been colorized based on the event category color to make identifying events much easier. Also, access to To Do lists have been added to the Calendar module views as well as the Home module. A printable To Do List has also been added.
FMSmallBusiness utilizes several extensions which need to be installed before FMSB can be used. We now utilize two methods to install extensions. First, we use FileMaker Server 10's AutoUpdate feature. AutoUpdate will automatically download, install, and activate the extensions over the internet. It's fantastic. However, if internet access is not available, the extensions are installed semi-automatically using FMExtensionsInstaller (FMEI). FMEI extracts the extensions from the FMSB database, but this requires FileMaker to be quit and relaunched since the extensions cannot be activated automatically.
What is FMSmallBusiness?
FMSmallBusiness (FMSB) is a complete solution for running a small business that tracks Contacts, Calendars, Schedules, Activities, Projects, Documents, Letters, Products, Invoices, and more. Think of it as a CRM (customer relationship manager) with more power.
Can I access my data on Mac or Windows?
FMSmallBusiness is a cross platform solution built using the award winning FileMaker Pro database platform. You can run it on Mac, Windows, or a combination of both. We've designed it to work as either a single or multiple user solution on up to 250 workstations.
Do you have an iPhone?
FMSB also provides a web based iPhone interface to Contact and Calendar Events data. In addition, desktop and web based address books and calendars can be updated via vCards and vCal subscriptions also available for iPhone synching.
What are the benefits?
We developed FMSB to run our own business. In fact, we run the latest version ourselves as we believe in 'eating our own dog food'. Using this approach, we are able to make the product better simply by using it. We think FMSB is the best solution to run a small business. Here are a few benefits:
Customizable - FMSB is built on FileMaker Pro and developed from the start with individual customizing in mind. FMSB has a 'main' file and a 'custom' file. The custom file is designed in an open fashion so that anyone with FileMaker experience can make changes or even add functionality.
Shared Contacts - Access your Contacts in one centralized location. When you change the details for a contact, everyone in your company will benefit from the updated information.
Shared Calendar - Calendar events function in a similar manner as Contacts. Whenever an event is edited, the changes are automatically made for everyone in your company.
Projects & Activities - FMSB makes task management easy because it has the ability to store your activities with the option of assigning them to a project - Great when it's billing time. Projects and Activities can be assigned to a contact and staff member It can also include billable items, such as labor, attached for later invoicing.
Income Catching - Track your time and and stop loosing income by tracking your time and items using FMSB's built in Timers, Activities, and Events.
Invoices & Products - FMSB has built in Invoicing as well as a Products modules which can help with reordering levels.
Shared Documents - In many small businesses, you have documents that are related to your contacts and activities. FMSB has the same functionality. Each contact or activity can store as many documents and letters as you'd like - And they can be accessible to everyone in your company.
Mail/Email Merging - Track all correspondence with your contacts. We've created easy to use Document generation and Merging assistants to make document storage simple.
Data Availability - Access your data at your desk, on the road, or on your phone. Your data can be accessed via your computer anywhere in the world via the internet over a secure connection. Plus you can use your iPhone to access Contacts an Events.
Desktop Integration - Easily update your contact and calendar data to Mac OS X's Address Book and iCal. FMSB can create a vCard for your contacts and iCal subscriptions for your calendars. Any application that support vCard and vCal files can use the data.
FMSmallBusiness 1.3.1 is $295 per user, with discounts for multiple licenses. FMSmallBusiness requires FileMaker 10 which works on Mac and Windows. There's much, much more that has been added to this version. Details are listed the FM Small Business Version History page.
Link: FMSmallBusiness (available through the iPhone App Store)
Accessories
Privacy Film/Screen Protector for iPhone 3G
PR: Ever wonder how to keep prying eyes away, then check out the iPhone 3G Privacy Screen Protector. Its got everything you need to keep your portable device in-style and at the same time, it screens your phone from random people from checking out whatever it is you are doing. So rest at ease knowing that the next time you're looking at stocks, Facebook, emails, and bank accounts that no one is minding your business.
This privacy film can protect your privacy by having one 120&degr; (60&degr; in the upper, 60&degr; in the bottom side) visible and rule out the other people in the rest of 240&degr;.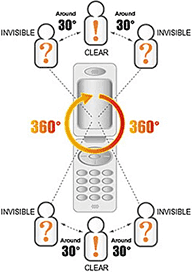 Features:
Unlike conventional screen protectors, this screen shields off audience vision from multiple angles. Unless user's peripherals are directly aimed toward the screen, image will cease to show up creating the ultimate discreet atmosphere for the user
±30&degr; tilt both horizontal and vertical
Customised to protect iPhone, no need for any cuttings and resizings.
Ultra-thin and highly durable
Anti-Finger print
No glue or adhesive is required for placement
Washable and reusable
Bubble free
Dust Free
Antiscrach
Resistance to erosion
$12.99
Link: iPhone 3G Privacy Screen Protector
Grantwood Technology Ships Updated QuickFlipCase for iPhone 3G
PR: Grantwood Technology, LLC has announced the release of an updated QuickFlipCase for iPhone 3G, a premium leather case designed to comfortably secure the iPhone in place on your belt or waist. The QuickFlipCase features a horizontally designed case with a smooth leather exterior with classic contrast stitching and a sturdy permanent belt clip.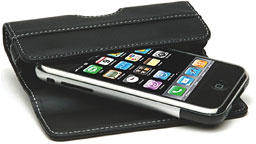 The belt clip now includes a metallic tip for durability and two internal rivets that attach the belt clip to the case. It also uses a secure magnetic enclosure for the lid, and simple center push-up hole to allow easy removal of your iPhone 3G. When the iPhone 3G is inside the QuickFlipCase, you can still access the headphone jack and sleep/wake button. Furthermore, the iPhone speakers are not covered when inside the QuickFlipCase to allow full speaker volume.
The sizing of the case not only allows easy removal of the iPhone 3G but it can accommodate an iPhone with a thin silicone skin or cover similar to our Tuneband products. The magnetic closure is strong but not overpowering and unlike Velcro, it quietly opens and will not wear out. Simply open the lid and slide out the iPhone with ease. Every aspect of the QuickFlipCase was designed for durability, comfort and style.
"Building on the success of our original QuickFlipCase for the iPhone," states Michael Banks, cofounder and CEO of Grantwood Technology, LLC, "we added specific enhancements to improve the durability and function of the QuickFlipCase for iPhone 3G."
The QuickFlipCase for the iPhone 3G is compatible with both iPhone 3G and the original iPhone, and retails for $14.99.
Join us on Facebook, follow us on Twitter or Google+, or subscribe to our RSS news feed
Links for the Day
Mac of the Day: 17" MacBook Pro Core Duo, introduced 2006.04.24. The top-end MacBook Pro has a 1680 x 1050, 2.16 GHz Core Duo CPU, and supports Apple's 30" Cinema Display.
Recent Content
Custom Search
Follow Low End Mac on Twitter
Join Low End Mac on Facebook
Favorite Sites
MacSurfer
Cult of Mac
Shrine of Apple
MacInTouch
MyAppleMenu
InfoMac
The Mac Observer
Accelerate Your Mac
RetroMacCast
The Vintage Mac Museum
Deal Brothers
DealMac
Mac2Sell
Mac Driver Museum
JAG's House
System 6 Heaven
System 7 Today
the pickle's Low-End Mac FAQ
Affiliates
Amazon.com
The iTunes Store
PC Connection Express
Macgo Blu-ray Player
Parallels Desktop for Mac
eBay

Advertise