J School to Require iPhone/iTouch, iPhone 3G Can't Take Heat, World Newspapers App, and More
This Week's iPhone, iPod, and Apple TV News
Compiled by Charles Moore and edited by Dan Knight - 2009.05.15
Mac notebook and other portable computing is covered in The 'Book Review, and general Mac news is in Mac News Review.
All prices are in US dollars unless otherwise noted.
News, Reviews, & Opinion
Apps & Services
iPod and iPhone Deals
These price trackers are updated regularly.
News, Reviews, & Opinion
Missouri School of Journalism to Require iPod touch, iPhone for Students
The Missourian's Beverly G. Rivera reports:
"Books, paper and pens are considered necessary school supplies. Now, so is an iPod touch or an iPhone for incoming freshmen at the MU School of Journalism.
"Brian Brooks, associate dean of the Journalism School, said the idea is to turn the music player into a learning device....
"Freshmen admitted into the School of Journalism and pre-journalism students will be sent a letter notifying them of the change. Students may buy either an iPod touch or iPhone in order to meet the new requirement. The iPod touch retails around $229 and the iPhone starts at $199, according to Apple's Web site...."
Link: School of Journalism to Require iPod touch, iPhone for Students
Slingplayer Mobile iPhone App Reviewed
TestFreaks' Tomas Ratas reports:
"One of the most anticipated apps since the announcement of the iPhone has been the Slingplayer Mobile. The mobile version of the Slingplayer software has been available for the Palm, Windows Mobile and Blackberry platforms for quite some time. What differentiates the iPhone version apart from these other devices is the larger viewing screen on the iPhone, making it an optimal platform for this type of app.
"However there is a big caveat with the iPhone version of the Slingplayer Mobile app - it only works with a WiFi connection. Apparently AT&T in their infinite wisdom decided that this app would eat too much of their digital bandwidth and decided to ban Sling from accessing the 3G network. To most this will seem disingenuous since Blackberry, WinMo and Palm users can access their Slingboxes via their 3G enabled devices using the same AT&T network."
Link: Slingplayer Mobile iPhone App Reviewed
AT&T's Official Statement on SlingPlayer Blackout for iPhone
Engadget's Chris Ziegler says:
"Sweating bullets over network saturation, are we? AT&T's obviously taking a good helping of heat today over Sling's rock-and-a-hard-place decision to remove 3G streaming capability from its SlingPlayer Mobile build for the iPhone - a decision that gets at the very heart of several hot-button issues plaguing AT&T and Apple alike...."
Link: AT&T Issues Official Statement on SlingPlayer's 3G Blackout for iPhone
No iPhone at WWDC? Really?
Digital Daily's John Paczkowski says:
"This morning we learned that Apple's Worldwide Developers Conference does not herald the return of CEO Steve Jobs. Now comes word that it may not herald the announcement of the company's next-generation iPhone either...."
Link: No iPhone at WWDC? Really?
7 Surprising Uses for the iPhone's Camera
Macworld's Kelly Turner says:
"These days, a 2-megapixel camera may not seem like much. But add Web access, a pocket-size Mac, and third-party apps to the mix, and presto! That humble camera is now a personal assistant and digital artist in one. Here are just a few of the ways you can extend your camera."
Link: 7 Surprising Uses for the iPhone's Camera
iPhone 3G Can't Take the Heat
Macworld's Aayush Arya reports:
"As someone who's spent the past few weeks in the sultry heat of New Delhi, I can attest to the fact that the iPhone is not very fond of direct sunlight....
"Perhaps after receiving several complaints from iPhone users living in areas with sweltering climates, Apple decided to make the iPhone 3G a little proactive in this department...."
Link: iPhone 3G Can't Take the Heat
Keeping iPhone 3G within Acceptable Operating Temperatures
A new Apple Knowledge Base article says:
"Operate iPhone 3G in a place where the temperature is between 0° and 35° C (32° to 95° F). Low- or high-temperature conditions might temporarily shorten battery life or cause iPhone 3G to temporarily stop working properly.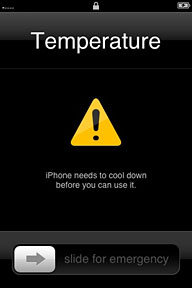 "Store iPhone 3G in a place where the temperature is between -20° and 45° C (-4° to 113° F). Don't leave iPhone 3G in your car, because temperatures in parked cars can exceed this range.
"If the interior temperature of iPhone 3G exceeds normal operating temperatures, you may experience the following as it attempts to regulate its temperature:
iPhone 3G stops charging
Display dims
Weak cellular signal
Temperature warning screen appears with the message "iPhone needs to cool down before you can use it" (see image below)
"This message appears when the operating temperature has become too hot. This is a safety mechanism that protects the components of your iPhone 3G. If this message appears, you should turn iPhone 3G off, move it to a cooler environment, and allow it to cool before resuming use.
"Note: When this message appears, iPhone 3G may still be able to make emergency calls.
"Some conditions and activities that may activate the Temperature warning message:
Leaving iPhone 3G in a car on a hot day.
Leaving it in direct sunlight for extended amounts of time.
Using certain applications in hot conditions or direct sunlight for long periods of time, such as GPS tracking in a car on a sunny day or listening to music while in direct sunlight."
Link: Keeping iPhone 3G within Acceptable Operating Temperatures
iPhones in Iraq - The US Army's New Weapon
The Independent's Kim Sengupta reports that Apple's iPods and iPhones, symbols of a modern urban lifestyle, are now in use in a very different setting - the front lines of Iraq and Afghanistan, described by US forces as ideal for the age of "network centric warfare", relatively easy to use, safe with secure software, and far cheaper than manufacturing a military version.
Link: iPhones in Iraq - The US Army's New Weapon
iPhone at War in iRaq
The Register's Rik Myslewski reports:
"The latest weapons in the US Global War on Terror Overseas Contingency Operation come from Cupertino: the iPhone and iPod touch.
"According to a report by The New Zealand Herald, US soldiers in Iraq and Afghanistan are using Apple's WiFi-equipped handhelds to better understand and communicate with the locals."
Link: iPhone at War in iRaq
Apps & Services
World Newspapers - News on Your iPhone or iPod touch
PR: Are you curious about the world around you? How do people in other communities see their nation and the world? This application provides a simple directory of almost 4000 newspapers with online editions in well over 100 countries around the world. Browse, explore, and support local news.
You can browse by country and region, then view, zoom, and follow newspaper links. You can also email links or open newspapers up in the full Safari Mobile browser after previewing.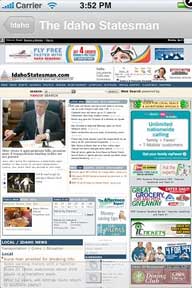 System Requirements:
Compatible with iPhone and iPod touch Requires iPhone 2.0 Software Update
A network connection is required.
Available in these editions
World Newspapers includes all editions
Newspapers United States
Newspapers Europe
News of the Americas
Middle East News
Newspapers Africa
Newspapers Asia
$2.99
Link: World Newspapers (available through the iPhone App Store)
PhotoUpLink for iPhone Enables Free Muti-Photo Email, FTP, Sharing, Sync
PR: PhotoUpLink for iPhone enables free muti-photo email, FTP and peer to peer photo sharing over WiFi networks. Generate an email quickly and easily by selecting the images and providing the email addresses. Photos are sent at full resolution via photouplink.net, eliminating the need to set up your own email server information. The FTP function works with most FTP servers, and WiShare lets you share photos with any PhotoUpLink enabled device running on the same WiFi network, or with iPhoto PhotoUpLink.
PhotoUpLink for iPhone functionality is grouped into four sections within the application. The first task for the user is to choose the photos for the operation. This is done using the Select button. The standard image picker appears, but you can select multiple images from it with PhotoUpLink just by touching each one. The total images selected appears next to the Select button title. To reset the image count, press Select again. Once images have been chosen, three operations are possible.
WiShare works with any other iPhone or iPod touch on the same WiFi network that is also running PhotoUpLink at the time. These devices will show up in a list once WiShare is pressed, tap the name of the device you want to send the images to. The images will then appear in the other device Camera Roll if it is an iPhone or into Saved Images if it is an iPod touch, without any blur or resizing. This feature also works with PhotoUpLink for iPhoto '09 - click Export -> PhotoUpLink -> iPhone and devices running PhotoUpLink for iPhone will be displayed as export targets.
FTP enables the upload of selected images to most FTP servers. Specify the FTP server destination and optional folder. That info, the username and password information are saved in application preferences for easy repeat use of the same FTP destination. Enter an email address if you want an email of links to the items on the FTP server sent after the transfer. As with all operations, the full resolution image is uploaded.
Emailing of multiple images is now freely available with PhotoUpLink for iPhone. Emails are sent using photouplink.net, so there is no need to set up mail server information, and the recipient should have photouplink.net on their allowed senders list. The generated email includes the full resolution image attachments, and an optional URL pointing to a map of the location where the images were sent from.
PhotoUpLink is also available as an export plugin for iPhoto, Aperture and Windows. It features FTP and SFTP uploading, exporting to an ODBC database and easy creation of Office X PowerPoint and Word documents from selected photos. Excel spreadsheets and FileMaker databases of photo metadata can also be created. QuickTime movies in the iPhoto library can be concatenated and panoramas made. PhotoUpLink functionality for desktop and mobile can be cobranded and integrated with 3rd party services on request.
Link: PhotoUpLink for iPhone (available through the iPhone App Store)
Mercury 1.5 for iPhone - Weather Anywhere
PR: Alex Roberts announces Mercury 1.5 for the iPhone, the latest version of the most visually distinct weather application for the iPhone. Mercury is a fully location aware weather app, perfect for people on the go. Displaying up to the minute temperature and conditions, forecasted temperatures, and precise sunrise and sunset information for anywhere in the world.
Mercury's innovative circular interface displays all the information you need in a large and easy to read format, getting out of your way and showing you exactly what you need to know. Layering current temperature in Celsius or Fahrenheit, a colored representation, and atmospheric conditions. Linked with WeatherBug's extensive online service, a quick tap of the details button will load up even more information about your current location's weather. No need to enter any location details, Mercury is fully automatic, and always shows you the most up to date weather information.
New for 1.5, an elegant sunrise, sunset, and progression interface. Using precise GPS coordinates, Mercury will calculate the nominal times, and approximate position of the sun and moon. All surrounding the central display.
Features:
Location aware weather
Atmospheric conditions feedback
Elegant user interface
Forecasted highs and lows
Precise sunrise and sunset information
Detailed weather display
System requirements:
iPhone with OS 2.2 or later
Mercury 1.5 is available exclusively through the iTunes App Store for $2.99 worldwide.
Link: Mercury (available through the iPhone App Store)
Optimized Kindle Store Seamlessly Integrates with 'Kindle for iPhone' App
PR: Amazon.com, Inc. has launched a Kindle Store optimized for the Safari Web browser on iPhone. Now when users of the Kindle for iPhone app click on "Get Books," the new Kindle Store tailored for the size and shape of the iPhone and iPod touch screens automatically opens in Safari. This optimized Kindle store offers iPhone and iPod touch app users quick and easy access to the Kindle Store's 280,000 books, including 106 of 112 New York Times Best Sellers and most New Releases that are available for $9.99 or less.
The Kindle for iPhone application was released on March 4 and within days became the most popular books app in the iPhone App Store. iPhone users can shop Kindle's massive selection of books on the iPhone and iPod touch using Apple's Multi-Touch user interface. Amazon's Whispersync technology saves and synchronizes Kindle customers' bookmarks across Kindle, iPhone and iPod touch, so you always have your reading with you and never lose your place. Kindle customers can read a few pages on their iPhone or iPod touch and pick up right where they left off on their Kindle.
"The response to Kindle for iPhone has been tremendous. Customers love the convenience of accessing their Kindle books whenever and wherever they want, plus the convenience of not having to remember or locate their last page read because Whispersync does that for them," said Ian Freed, vice president, Amazon Kindle. "The most common feedback we heard from customers was that they wanted a better experience for purchasing new Kindle books from their iPhones. We've been working hard to respond to that feedback with a new web site optimized for Safari on iPhone and we're excited to do that today."
About Kindle for iPhone
The Kindle application for iPhone and iPod touch lets customers bring their Kindle books with them wherever they go, purchase new books in a Kindle Store optimized for Safari, and takes full advantage of Apple's Multi-Touch user interface for browsing, purchasing, and read Kindle books. With the new Kindle for iPhone and iPod touch application, customers can:
Shop for hundreds of thousands of books directly from the Kindle Store using Safari. Customers can also purchase directly from their Kindle, or online at http://www.amazon.com/kindlestore
Access their entire library of previously purchased Kindle books stored on Amazon's servers
Adjust the text size of books
Add bookmarks and view notes and highlights
Kindle for iPhone and iPod touch is available for free from Apple's App Store.
Link: Kindle for iPhone (available through the iPhone App Store)
Lotus Notes 8.5.1 Beta Available with iPhone Support
PR: IBM announced the beta release of Lotus Notes and Domino 8.5.1 collaboration software, including plans to support Microsoft Exchange ActiveSync in version 8.5.1 of Lotus Notes Traveler. This capability will extend Lotus Domino automatic synching capabilities for e-mail and calendaring tools to the Apple iPhone.
ebizQ received the following:
"Providing Microsoft Exchange ActiveSync support via the Lotus Notes Traveler software is part of IBM's pledge to provide enterprises the choice and flexibility to select the mobile devices and carriers that best suit their needs," said Kevin Cavanaugh, vice president, Messaging and Collaboration. "This will allow employees 'on the go' to work smarter."
"I look forward to (Lotus Notes') Exchange ActiveSync support. Johnson Controls health care and education industry customers use Apple platforms, and we've begun to officially provide application support on those. Mobile messaging is considered a critical application," said Jim Marshall, Director of Global Architecture for Johnson Controls, Inc.
Although iPhone users can already access Notes e-mail via IBM Lotus iNotes ultralight client, today's ActiveSync support will mean push access to the popular software including the ability to view Notes mail, calendar and contacts data when not connected on the iPhone. "I look forward to Exchange ActiveSync support because it will allow me to use my iPhone for Notes contacts and calendar off-line," according to Professor Ludwig Nastansky at University of Padeborn in Germany.
IBM Lotus Notes Traveler software enables wireless push replication of Lotus Notes email, calendaring, and personal information management (PIM) data on select smart phones.
This capability will expand the reach of Lotus Notes and Domino software significantly because it will be make it easier to use on a wider variety devices. "Cardiff University supports a diverse user base across multiple operating systems. Many of our academic staff use Apple Macintosh products extensively and we already have a significant and growing number of iPhone users. Exchange ActiveSync support will allow us to deploy Lotus Notes to these iPhone users, allowing us to cater for the diverse mobile needs of our staff and students," Dr. R.K. Morgan, applications team leader, Information Services, Cardiff University in the UK.
IBM used an agile approach in developing Lotus Notes 8.5.1, leveraging social media such as blogs and Twitter to collect and make hundreds of refinements suggested by people who want to work smarter. They include enhancements to the way people edit messages, work with widgets and calendars, and new options for customizing search. These enhancements allow people to work smarter by spending more time on finding, creating and sharing valuable information and less time modifying the way that it is presented.
In addition, this beta version also incorporates the new 1.3 version of IBM's free Lotus Symphony document, spread sheet, and presentation software, and brings IBM XPages developer technology to the Lotus Notes client for off-line use.
IBM Business partners who make IT products that work along with Notes are also looking forward to the new technology. "BE Systems is very excited to get its hands on the latest beta version of Lotus Notes Traveler. With new features like Exchange ActiveSync support, mobile device compatibility is opened up like never before. This benefits our business and the business of the mobile user," said Paul Mooney, senior technical architect, IBM Business Partner BE Systems.
In recent months, leading mobile device producers, Nokia, Samsung, announced support for IBM Lotus Notes Traveler software enabling more than a billion smart phone customers around the world to manage their Lotus Notes email, calendars and address books anytime, anywhere. In addition, IBM has announced agreements with wireless carriers such as AT&T, Sprint, Verizon Wireless, and Orange in order to drive towards meeting the needs of an increasing wireless work force. IBM Lotus Notes and Domino 8.5.1 will be required to support this capability. For more information visit:
Link: Lotus Notes and Domino (available through the iPhone App Store)s
Emergency Radio 1.1 for iPhone and iPod touch
PR: EdgeRift, Inc., a leading developer of innovative Mac and iPhone software, has released Emergency Radio, an application that brings police scanner and emergency services frequencies to the iPhone and iPod touch. With a sleek interface and intuitive design, Emergency Radio delivers over 900 police, fire, and emergency services frequencies via WiFi and cellular network (iPhone only - data plan required). The application has received rave reviews from customers, and is currently one of the top paid applications on the iTunes App Store.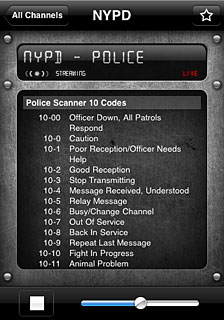 "A traditional police scanner can cost hundreds of dollars," said EdgeRift CEO Parker Minardo. "Emergency Radio brings the same functionality to many iPhone and iPod touch users in an affordable and convenient way."
Emergency Radio takes advantage of unique iPhone features, including Core Location. Users can locate cities/counties by name or search for nearby frequencies based on the user's current location. The application also offers a customizable favorites list, and a list of scanner codes to aid in listening.
End Users Love Emergency Radio
"I love this app!" remarks one App Store reviewer (username "Absinth Minded"). "I'm a firefighter-EMT and this app is a lot of fun to see what's going on in other cities."
"Unbelievable!" comments another App Store reviewer (username "iheartdogs55"). "This app is worth the measly 99 cents! You must buy this app!!!!"
"Five stars!!" says a third App Store reviewer (username "FebruaryXVI"). "I used to listen to a scanner years ago, but sadly it broke. I found this app by accident and got excited but didn't expect my city to be on the list, amazingly though it was! The audio is clear and the interface is nice. Thank you for this app!!!"
Emergency Radio is currently available on sale (for a limited time) from the App Store for $0.99. A lite version is also available at no cost with a limitation of 5 frequencies. Media licenses are available upon request for members of the press and blogging community.
Link: Emergency Radio (available through the iPhone App Store)
Police Scanner 1.1
PR: Juicy Development released the newest version of Police Scanner, the iPhone application that allows listeners to listen in (but not broadcast) on police, fire, and EMS activities across the country. Version 1.1 of Police Scanner now has an upgraded interface, allowing users to more easily navigate streams, as well as get streams faster and with more accuracy.
Instead of scrolling through all 1100 national and international EMS streams, Police Scanner now sorts streams by country and region, letting users pinpoint their favorite streams with just a few finger strokes. "Since many of our users are police and firefighters, we wanted to insure that they could pick up the stream that they need in a hurry," said David Kyle, project manager. Users may also bookmark their favorite streams for quick access.
In addition to being easier to navigate, Police Scanner has also improved database accessibility, making the streams faster to update and access. In order to give users real time information during use, Police Scanner can update the database without restarting the application. And more accurate GPS data has been attached to streams allowing for improved location by area.
Police Scanner has also improved its reliability on the Edge network, making it backwards compatible with older iPhones.
With the total number of EMS streams to Police Scanner reaching over 1100, Police Scanner is now the most far-reaching emergency stream application in the iTunes store. "Because our customers depend upon our application for up-to-date emergency information, it's crucial that we provide as much coverage as we possibly can," said David Kyle, project manager for Police Scanner.
Anyone who discovers a compatible stream can simply email the company or send a message through the company web page. New streams will usually be added within a few days. "If you send in a request saying add Detroit, we will get to it; if you go find a stream in Detroit and send us a link, we usually add those within a few hours." said Kyle.
As additional stations, counties, and cities are added, the database is automatically updated and the stream instantly becomes available to all Police Scanner users. Police Scanner uses the location-aware technology built into the iPhone to help users locate streams near them, or allows them to search through a list of all available streams from across the country.
Now with over 1100 EMS streams in the application, Police scanner is a must have for on-call volunteer fire fighters, news crews, emergency responders and hobbyist.
Not all areas broadcast an iPhone compatible stream. This is still a new technology for many police, fire, and dispatch centers. A stream from your local city may not yet be available.
Police Scanner is available now for the regular price of $2.99. Requires 2.0 software update and a network connection.
Link: Police Scanner (available through the iPhone App Store)
Smule Releases 'Leaf Trombone Lite & Free'
PR: Smule releases Leaf Trombone Lite & Free, a simplified version of Leaf Trombone World Stage that gives users the ability to play the instrument and experience the game's features before purchasing the full version. Available now for the iPhone and iPod touch, this new version of the massively multi-player musical game enables users to try the Leaf Trombone, learn a new song, and observe the happenings on the World Stage.
Leaf Trombone Lite & Free can be found at Apple's AppStore at: http://tinyurl.com/qrxc4b
Following up on the hugely popular Ocarina, Smule takes the "iPhone-as-instrument" concept to a whole new level with the Leaf Trombone, one of the broadest, deepest games now available on the iPhone platform. Using Leaf Trombone World Stage, users can learn an instrument, perform it for people around the world, judge their fellow players, and compose and publish their own work. This, new, free edition is designed for users who are interested in getting to know the Leaf Trombone before purchasing the product.
Here is the Leaf Trombone in action: "When the Saints go Marching In" video.
Leaf Trombone Lite & Free features include:
FREE PLAY: Play the leaf trombone, either by blowing air into your microphone or just sliding the leaf (our Touch mode).
PLAY GAME: Test out the game by practicing on the default track (that's right, only one default track because this is the free version). Just follow the floating leaves on the screen.
OBSERVE: Witness judging of actual performances by a live panel of judges by using the observe feature. If a Leaf Trombonist has Tweeted a performance update, Twitter followers can download the app and search on the performance ID to see how their friend did.
Once users see how much fun Leaf Trombone Lite & Free is, they can upgrade to the full version with Leaf Trombone World Stage, which currently retails for 99¢.
Link: Leaf Trombone (available through the iPhone App Store)
220 Software Releases NASCAR Ultimate 1.0 for the iPhone/iPod touch
PR: 220 Software has over a decade of software development experience, and has recently begun to focus on the iPhone platform. The company's first offering, "Baseball Fan" climbed to the #2 spot in the US App Store during it's first week after release. "We're all about providing focused, rich experiences for sports fans" says Vandervelde. "NASCAR, as one of the fastest growing sports on earth, has been horribly under represented on the iPhone platform. We have every intention of delivering a 'killer app' for NASCAR fans on this platform. Our release roadmap is very ambitious."
NASCAR Ultimate includes all the news, statistics, and realtime information that fans of the sport are looking for, but it's uniqueness lies in it's ties to the fan community. For each race, or each driver, users will be able to see previews, reviews, and video commentary created by other fans like themselves. "The fan experience is a social experience" says Vandervelde. "By connecting fans to each other, we can enhance each person's enjoyment of their chosen sport".
NASCAR Ultimate is available on the iTunes App Store for $3.99.
Link: NASCAR Ultimate (available through the iPhone App Store)
High Gloss Software Releases Sound Grenade 1.3.1 - Instant Crowd Control
PR: High Gloss Software has released Sound Grenade 1.3.1, the smash hit iPhone App that was downloaded over 2 million times is now available online. Sound Grenade, featured on the Wall Street Journal Digits blog for being one of the most annoying apps of all time, gives you instant crowd control, and universally irritates.
That party get a little bit out of control? Sound Grenade is the answer. Sound Grenade generates a really, really annoying, nauseating, and headache producing high pitched sound. Sound Grenade became the number one app in the App Store shortly after it's release. Since then it has been downloaded more than 2 million times on iPhone and iPod touch. It is also one of the most downloaded apps on the Android Marketplace.
The brand new Sound Grenade website gives users the opportunity to annoy their friends by sharing the website with them through email, Facebook, twitter, bebo or MySpace, without having to take the full blast themselves. Users get a chance to share the Sound Grenade experience with anyone, making the famous Sound Grenade frequency only a click away.
Minimum Requirements: iPhone and iPod touch 2.2 or later
Sound Grenade 1.3.1 for iPhone free and available exclusively through Apple's App Store. Sound Grenade Pro, the paid version of the application, is available on the App Store and features several additional grenades, each designed for maximum irritation.
Link: Sound Grenade (available through the iPhone App Store)
Join us on Facebook, follow us on Twitter or Google+, or subscribe to our RSS news feed
Links for the Day
Mac of the Day: Macintosh 512K Fat Mac, introduced 1984.09.10. The first Mac with enough memory for serious work.
Recent Content
Custom Search
Follow Low End Mac on Twitter
Join Low End Mac on Facebook
Favorite Sites
MacSurfer
Cult of Mac
Shrine of Apple
MacInTouch
MyAppleMenu
InfoMac
The Mac Observer
Accelerate Your Mac
RetroMacCast
The Vintage Mac Museum
Deal Brothers
DealMac
Mac2Sell
Mac Driver Museum
JAG's House
System 6 Heaven
System 7 Today
the pickle's Low-End Mac FAQ
Affiliates
Amazon.com
The iTunes Store
PC Connection Express
Macgo Blu-ray Player
Parallels Desktop for Mac
eBay

Advertise