iPhone 3GS and Palm Pre Teardowns, AutoStitch Panoramas on iPhone, Big Ben App, and More
This Week's iPhone, iPod, and Apple TV News
Compiled by Charles Moore and edited by Dan Knight - 2009.06.12
Mac notebook and other portable computing is covered in The 'Book Review, and general Mac news is in Mac News Review.
All prices are in US dollars unless otherwise noted.
News, Reviews, & Opinion
Apps & Services
Accessories
Protection
iPod and iPhone Deals
These price trackers are updated regularly.
News, Reviews, & Opinion
iPhone 3GS Hardware Exposed & Analyzed
AnandTech's Anand Lal Shimpi has posted a detailed analysis of the iPhone 3GS's hardware specs. One interesting tidbit: Both the iPhone 3GS and the Palm Pre use an ARM Cortex A8 CPU and a PowerVR GPU.
Comparing the CPUs in the iPhone 3G and 3GS, the new model's CPU clocks in at 45% faster, has twice as large L1 instruction and data caches, and includes a 256 KB L2 cache (the 3G has no L2 cache). Combined with twice the RAM, he sees no reason the 3GS shouldn't provide twice the overall performance of the iPhone 3G.
Shimpi's early assessment of the Palm Pre calls it "the closest thing to an iPhone since Apple first unveiled the product two summers ago."
Link: The iPhone 3GS Hardware Exposed & Analyzed
TidBITS on the iPhone 3GS
TidBITS Staff have posted a thorough and comprehensive report on the new iPhones:
"We don't think there's any connection to the Apple ][GS from 1986, whose letters referred to 'graphics and sound,' but Apple has appended an S to the iPhone 3G's name to indicate that the new iPhone has enhanced speed. Gotcha."
Link: New iPhone 3GS Boosts Power, Performance, and More
iPhone 3GS Features 3 Megapixel Camera
The improved camera in the iPhone 3GS addresses several complaints with a new 3 megapixel still image camera with autofocus, auto exposure, better low-light sensitivity, macro capability able to focus as close as to 3.9" (10 cm), the ability capture bar codes in focus, plus VGA resolution video capture (640 x 480 pixels) at 30 frames per second with auto focus, automatic white balance, and auto exposure.
Apple says:
"With a 3-megapixel autofocus camera and a photo application that makes it easy to share, iPhone 3GS is the most photo-friendly phone ever.
"iPhone snaps shots with a tap then saves them in the Camera Roll, where they're easy to enjoy. Rotate iPhone to see a photo in landscape. Zoom in or out with a pinch or a double-tap. Turn any photo into your iPhone wallpaper. iPhone even geotags your photos with information about where they were taken.
"Select photos you want to email and iPhone opens a new message for you. Send photos via MMS, too.* Or post everything directly to your MobileMe Gallery where friends and family can browse and download them.
"Autofocus keeps things sharp, and a macro lens takes great close-ups. But you can also tap the iPhone display to selectively focus on anything in the picture - a face in the background, for example.
"iPhone uses iTunes to sync the photos you have in iPhoto on a Mac or in Adobe Photoshop Elements and Adobe Photoshop Album on a PC. All the photos on your computer sync to your iPhone, so you can look at them - and share them - anywhere you go."
Link: iPhone 3GS Photos
How to Use an iPhone or iPod touch as Back Up
Mac 360's Jeffrey Mincey notes that the new MacBook Pro models (13" and 15") come with an SD Card slot, which is a perfect way to store four or eight gigabytes of files in a very portable device. Except there's one problem. It's not so easy to read or view any of the files on an SD card without a computer.
Unless you use an iPhone or iPod touch. No, they don't read the SD cards. Yet. But both devices are excellent places to store valuable files that need extreme portability.
Link: How to Use an iPhone or iPod touch as Back Up
iPhone Reigns at AppleDesign Awards
The Register's Rik Myslewski reports:
"WWDC The iPhone's ascent as a full-fledged development environment was in evidence Tuesday night when the 2009 AppleDesign Awards were announced at the company's annual Worldwide Developers Conference."
Link: iPhone Reigns at AppleDesign Awards
Palm Pre Teardown
iFixit has finished a detailed teardown and hardware analysis of the Palm Pre. At the same time, they also took apart the revolutionary new Touchstone Charger, which enables the Pre to charge without having to plug any cord into it
iFixit CEO Kyle Wiens writes:
"We just finished our detailed teardown and hardware analysis of the Palm Pre. At the same time, we also took apart the revolutionary new Touchstone Charger, which enables the Pre to charge without having to plug any cord into it. The Touchstone Charger comes as part of a kit that includes a new rear cover and the charging base to which the Pre adheres magnetically.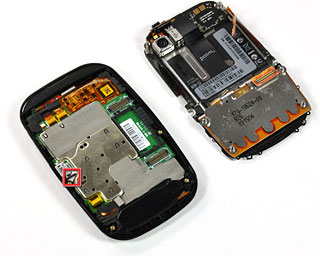 "We published both of the teardowns on our brand-new teardown platform that launched this week. Our platform allows anyone in the world to share their knowledge by giving them the power to write a teardown on anything they'd like."
"Here are some cool and interesting tidbits we learned about the Palm Pre:
In general, this Palm hardware reminds us a lot more of Apple's engineering style than any of hardware we've taken apart by other manufacturers (like Dell). * The Pre logic board is substantially smaller than the iPhone logic board, which is very impressive considering how renowned Apple's engineers are for shrinking hardware footprints.
We identified a liquid submersion sensor in the Pre, visible through the micro USB port.
Some parts of the software feel rushed. For example, the app store describes the price of free apps as "$Try now." It looks like an overeager programmer hardcoded that dollar sign. While certainly not a showstopper, we hope Palm gets a chance to tidy up the little things like this soon. * We tested out Sprint's 3G EVDO network on the road home and didn't notice any interruptions. Uploads and downloads were fast, and Pandora's application ran like a champ.
A prepaid plastic recycling envelope is included in the box, making it easy to recycle your newly obsolete phone.
The Pre's battery capacity is 1150 mAh, exactly the same as the iPhone 3G, though the Pre is reported to have slightly worse battery life due to its background process capability. The battery is user-replaceable, something the iPhone fails to offer.
The Palm Pre is the first phone to use Texas Instrument's new OMAP3 (Open Media Applications Processor) platform.
The processor is a 600 MHz ARM Cortex A8 + PowerVR SGX 530 GPU + 430 MHz C64x + DSP + ISP (Image Signal Processor)
The Pre is definitely not an easy phone to service. There are lots of fragile and tricky tabs that will make putting the phone back together challenging.
"We also wanted to comment a bit on usability when compared to the iPhone:
We love the feel of holding the Pre in our hands. In its closed position, it feels much more comfortable to hold than the iPhone.
Users who prefer physical keyboards will be satisfied, but iPhone veterans may be left disappointed by the lack of a software keyboard option.
The Pre is definitely thicker compared to the iPhone (17mm vs. 12mm). Not only does this allow the engineers more flexibility in designing the physical layout of components, but it also makes the Pre conform really well to our palm.
The Pre is "Inspired by and designed in California," while the iPhone is merely "Designed by Apple in California."
"Cheers,
-Kyle Wiens
iFixit CEO"
Link: Palm Pre Teardown
Link: Palm Touchstone Charger
Palm Pre Parts Analysis
Phone Wreck takes iFixit's teardown of the Palm Pre and does a thorough analysis of its internal components.
iFixit CEO Kyle Wiens writes:
"Hello again,
"Our good friends at Phone Wreck took our teardown of the Palm Pre and did a thorough analysis of what we found.
"We added their component diagram to the end of our teardown.
"Phone Wreck's observations:
There are some pretty interesting things that popped up on the Pre's PCB's.
This is the first production device we've seen on the OMAP3 (Open Media
"Applications Processor) platform. OMAP3 is powered by the 600 MHz ARM Cortex A8, PowerVR SGX 530 (GPU), 430 MHz C64x, DSP and ISP (Image Signal Processor) and was clearly designed to pack a punch - Dr. Wreck thinks we're going to see this processor popping up in future netbook endeavours.
"On the connections side we see the usual WiFi/Bluetooth combo going to Marvell and CSR with the W8686 and 63823 respectively. We also see the BaseBand win going to Qualcomm with the heavily integrated MSM6801A platform.
"The OMAP3 PMIC comes loaded with a USB transceiver and Audio codec which even further reduces the overall board density of this device. We're not fully sure - but it looks as if the Pre's cool new multi-touch Touch Screen Controller win went to Cypress Semiconductor with the CP6944BA device.
"They have added annotations to a number of our photos and posted them to their site.
"Cheers,
-Kyle Wiens
iFixit CEO"
Link: Palm Pre Teardown and Analysis
Apps & Services
977 Music Launches Streaming Radio App for iPhone and iTouch
PR: 977 Music, one of the largest independent online free radio providers, announces the launch of their free 977 Music online streaming radio application for the iPhone and iTouch handheld portable media devices. This small but robust app enables Apple customers everywhere to enjoy the best of 977 Music's online radio stations, just like on the PC.
Be the first on your block to download the new 977 Music application for your portable Apple device. Regardless of cell phone service, be it; Edge, 3G, Data Roaming or even listening directly from a Wireless network, it's all the same to 977music.com's iPhone and iTouch compatible application. Enjoy crystal clear HD stereo streams on any data network with full artist and title support built directly into the 977 Music's App. A quick glance will determine the current artist and track information. Want to listen to something new? Easily jump, skip or hop between many great free online radio stations with a touch to your screen. 977 Music's iPhone and iTouch App connects to all of the popular radio stations, including; The Hitz, The 80's, Classic Rock, Oldies, Country and more.
Finally, a simple and easy way to enjoy the best radio the internet has to offer while on the go. With 977 Music's App for the iPhone and iTouch offering perfect stereo quality radio streams - never miss a beat again.
Link: 977 Music (available through the iPhone App Store)
Big Ben Squeezes into the iPhone
The Register's Rik Myslewski reports that London's Big Ben town clock celebrates its 150th anniversary this year, and you can now equip your iPhone or iPod touch with a free clock app in commemoration of the big fella's sesquicentennial. Unfortunately, Myslewski says, Big Ben the iPhone app is decidedly less impressive than Big Ben, the Great Bell in the Great Clock in the equally great Clock Tower of the Palace of Westminster.
Link: Big Ben Squeezes into Your iPhone (app available through the iPhone App Store)
Benjamin Moore's iPhone App to Digitally Match Colors
PR: Benjamin Moore is wedding its color authority to the technology of iPhones.
The company, known for its premium paints and as the No. 1 color source for designers and architects, is debuting ben Color Capture, an iPhone application that, with the tap of a key, lets you snap a picture of any color inspiration, anywhere in the world, and instantly match it to one of the more than 3,300 hues that comprise Benjamin Moore's color system. And since color touches us every day, everywhere, ben Color Capture allows you to save your favorites for instant color coordination and comparison. What's more, the new ben app can access the iPhone's GPS system, locating the Benjamin Moore retailer nearest to wherever the user is at that very moment.
"Anyone interested in color must have the ben app - it's functional, fun and a sure way to capture color on the run," noted Carl Minchew, Benjamin Moore's director of color technology. "While Benjamin Moore offers an assortment of professional color tools for designers and architects, we wanted to extend the simplicity of identifying color you love in an instant. With the ben app, iPhone users have the world of color at their fingertips."
The Ben app is intuitive and easy-to-use. Simply glide a finger across the digital photo taken with the iPhone's built-in camera, zoom into a color, and tap the "match" key. In just seconds, a strip of colors will appear below the photo, with the closest paint match highlighted. A simple shake of the phone and ben will provide up to four coordinating colors, creating an entire harmonizing palette based on the original selection. Favorites can be saved and enlarged to the size of the iPhone screen for easier viewing. There's access, as well, to the full spectrum color wheel, which expands or contracts by fingertip control to focus on a color preference. That, too, can be translated into a Benjamin Moore color and saved as a favorite for future reference.
Available beginning June 8, the application is free and can be downloaded by visiting the AppStore website; search for ben and select to install.
Benjamin Moore & Co., a Berkshire Hathaway company, was founded in 1883 and this past year celebrated its 125th Anniversary. One of the country's leading manufacturers of premium quality residential, commercial and industrial maintenance coatings, its products are distributed via a network of independent paint and decorating retailers located throughout North America. Benjamin Moore has been a long-standing steward of the environment with a relentless commitment to sustainable manufacturing practices plus the ongoing development of the most eco-responsible formulations possible. Its portfolio of Green Promise products continues to grow and includes Aura, über-performance low-VOC paint; Natura Zero-VOC Interior Paint; and EcoSpec Zero-VOC Paint for commercial interiors.
Link: ben Color Capture is available through the iPhone App Store
Free iPhone Hard Drive Simulator Lets You See, Feel, and Hear Drives Crash and Burn
PR: DriveSavers, a specialist in data recovery services, introduces DriveSaver, the first iPhone application developed by a professional data recovery company. The free application is a hard drive simulator that educates users about hard drive data storage technology, best practices for protecting digital data, and data recovery solutions. This virtual environment demonstrates the mechanics of a working hard drive and simulates hard drive crashes. DriveSaver is fun, educational, and useful to anyone who ever wanted to see inside a hard drive or learn why drives fail.
The most popular feature of the simulator is Crash a Hard Drive. Users can actually see, hear and feel a hard drive crash and learn the reasons why it failed. The application simulates various types of hard drive failures, from watching the drive shatter into pieces to seeing a circuit board go up in smoke chip-by-chip. The Hard Drive Demo, using the iPhone touchscreen, enables users to explore the different parts of the drive and its uses. And, if data loss does occur, DriveSaver can help prevent catastrophic loss by providing do's and don'ts for data recovery.
"Initially, we developed this application as an internal reference tool for our partners. It is designed to educate IT professionals and their customers about hard drive storage technology and data recovery," said Scott Gaidano, president of DriveSavers. "It was so well received that we decided to release it to the public for free. Anyone with an iPhone can experience the disastrous feelings, sights and sounds of an actual hard drive crash."
DriveSaver application is currently available on iTunes and in the Utilities and Productivity categories of the iPhone App Store, and is compatible with any iPhone or iPod touch. To download DriveSaver iPhone application, click here DriveSaver.
To learn more about DriveSavers and the DriveSaver application, visit drivesavers.com or call 800.440.1904.
Link: DriveSavers (DriveSaver app available through the iPhone App Store)
AutoStitch iPhone Photos to Create Panoramas
PR: Cloudburst Research announces the immediate availability of AutoStitch iPhone. This app makes wide-angle photography a reality on the iPhone, allowing multiple images to be seamlessly combined into a panoramic mosaic, with no user input other than selecting the photos. This app significantly increases the fun factor of creating panoramas on the iPhone, with automatic recognition of overlapping images, and the ability to stitch with horizontal and vertical motion.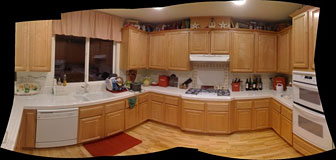 AutoStitch automatically identifies the overlapping portions of images and assembles them into a single seamless result. This means it isn't limited to the single sweep common in other panorama applications - AutoStitch can stitch any set of overlapping images that are taken from the same location. The user simply selects a set of images from the camera roll or photo albums, and AutoStitch does the rest.
The AutoStitch approach is based on cutting-edge university research in image recognition. The core technology for automated image matching was developed by the founders of Cloudburst Research, and further refined to suit the unique capabilities of the iPhone. AutoStitch is already popular among digital camera users, as evidenced by the large user community on photography sites such as Flickr. However, until now, automated stitching has not been possible on mobile platforms. AutoStitch iPhone now makes this possible - users can take photos and immediately stitch them directly on their iPhone.
Features of AutoStitch include:
A simple and intuitive interface. Just select images and touch "Stitch."
Images can be taken in portrait or landscape orientation with any order or layout
Images can overlap by any amount from 15% to 100%
Stitch any number from 2 to 20 or more images
Use your existing camera app to take the photos
System Requirements: Any iPhone with OS 2.0 or later
AutoStitch is available now for purchase for just $1.99. It is distributed exclusively through Apple's App Store. Review copies are available to the media upon request.
Link: AutoStitch iPhone (available through the iPhone App Store)
iGreets, the Portable Greeting Card Creator
PR: MagickBox, in partnership with Codefab LLC and Bad Dog Apps, has released iGreets - The Portable Greeting Card Creator. The new iPhone application was designed to be the answer to the sorely missed Apple iCards. iGreets allows users to create their own custom, personalized greeting cards and email them to friends and family straight out of the application. With over a hundred images, nearly 200 captions and the ability to write your own greetings, the options are limitless. You can also use your own photos from your photo library to create even more combinations.
Ever since Apple discontinued the beloved iCards, users have lamented the loss of the easy-to-use way to stay in touch with friends and family. Now with iGreets, users will have the same ease of use at their fingertips anytime, anywhere.
iGreets provides users with a turnkey way to keep in touch with friends and family. Said Rob Hollander, Principal at MagickBox, "It's the perfect way to remember your friends, family, coworkers, acquaintances, enemies, world leaders, evil dictators, pets and even inanimate objects."
Feature Highlights:
Attractive, easy-to-use interface with card preview
Over 100 images to choose from or use your own from your photo library
Nearly 200 captions to mix and match
Seven categories including Animals, Birthday, Anniversary, Flowers, Fun, Thinking of You and Occasions (i.e., President's Day, Valentine's Day, April Fool's, Mother's Day, Father's Day, New Year's, Cheer Up, Get Well, Sympathy and general silliness)
Create postcard with postmark and stamp
Write your own personal greeting
Choose card size, image placement (right or left side), font
Email to single recipient or create a group
SMTP functionality built into application
Requirements:
iPhone or iTouch, OS 2.2.1 or later
14.5 MB hard drive space
iGreets - The Portable Greeting Card Creator for iPhone and iTouch is now available for $1.99 exclusively through Apple's App Store.
Link: iGreets (available through the iPhone App Store)
Quickoffice Updates Mobile Office Suite for iPhone
PR: Quickoffice, Inc., provider of mobile office productivity software, has released additional features for its iPhone application, increasing Microsoft Office functionality while on the go. Quickoffice's latest 1.2.0 update adds important capabilities to all four of its applications, which include Quickoffice Mobile Office Suite, Quicksheet, Quickword and Quickoffice Files.
Quicksheet enables users to view and edit Excel documents. The increased functionality now allows landscape editing, direct double-tap cell editing in both landscape and portrait mode, copy and paste columns, rows and cells, faster and easier ways to build formulas, as well as the ability to add a new sheet within a worksheet. The Word editor, Quickword, adds autocorrect, auto-capitalization, find text, adjusting indentation level of bulleted/numbered lists and paragraphs, and double tapping space bar to enter a period. New features for Quickoffice Files include slideshow viewing of images in remote and local directories and the ability to bookmark last viewed position in documents.
"We've seen tremendous success with the first release of our application and received valuable insight from users about desired features for future upgrades," said David Halpin, vice president of engineering and product development at Quickoffice. "We listened to this feedback and have responded by providing our customers with a free update that incorporates many requested features within only 45 days of our first release. Our team is dedicated to developing the most robust mobile office suite for iPhone users. As such, we plan to issue frequent updates to all of our applications, ensuring we continue to provide the most advanced application available."
Quickoffice has a continued robust product roadmap and will be adding important new features such as editing support for Office 2007 files and the ability to access email attachments sent through the iPhone's email system.
Quickoffice Mobile Office Suite, Quickoffice Files, Quicksheet and Quickword will each receive the same applicable free updates. This allows consumers the ability to choose an individual functionality with the same feature set as the full suite. The updates to the separate applications were submitted to the App Store and are expected to be available soon.
Quickoffice is the world leader in providing mobile office productivity software and solutions for mobile devices. The company's robust product suite includes its flagship smartphone office suite, Quickoffice Premier, its Content Transformation Solution (CTS) infrastructure and the Bitflash Rich Media Engine. Quickoffice Premier is an award-winning smartphone application that provides native viewing and editing of Microsoft Office documents in over 47 languages. The software ships as an on-device solution on tens of millions of smartphone devices annually. The CTS client/server infrastructure offers network optimized, anytime, anywhere access to digital content and high-definition viewing of such content. The Bitflash Rich Media engine is the industry's highest rated SVG-T engine providing rich user experiences on over 300M mobile devices worldwide. Platforms supported by Quickoffice include Symbian, Palm , Blackberry, iPhone and Android. Privately held, Quickoffice Inc. is based in Dallas with offices in London, Ottawa, and St. Petersburg, Russia. More information is available at quickoffice.com.
Quickoffice is a trademark of Quickoffice, Inc. All other trademarks are property of their respective holders.
Link: Quickoffice (available through the iPhone App Store)
Over 230,000 Downloads of Apartment Guide App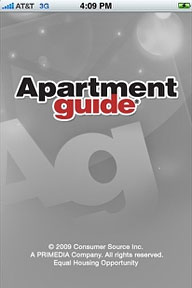 PR: Apartment Guide, a leading resource for apartment searches nationwide, today announced that its free iPhone application, which gives users the ability to search, view, call and e-mail apartment listings directly from their iPhone or iPod touch, has reached over 230,000 downloads. The initial launch, in October 2008, stood as an apartment industry first. Since that time, the Apartment Guide app has been listed as a top 20, free utility app and featured in one of Apple's iPhone television commercials.
"The number of times our Apartment Guide iPhone app has been downloaded is indicative of people wanting to be able to search for a place to live anytime, anywhere," said Arlene Mayfield, president, Apartment Guide. "As the first in our industry to launch an apartment app, we will continue to meet consumer demand and push innovation in mobile. Further, with our newly enhanced version of the app, it's easier than ever for consumers to research available apartments and local communities and view property photos while on-the-go."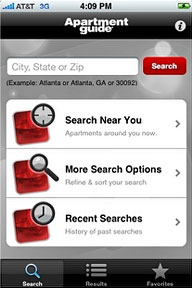 In March 2009, Apartment Guide released an enhanced version of its iPhone app with better search logic and an additional 30,000 apartment listings across the US. It continually monitors consumer feedback to improve user experience and plans to issue a completely updated app in June 2009 to include features requested from our users such as advance search, mapping and sorting functionality.
The Apartment Guide application is free to download from Apple's App Store on iPhone and iPod touch - enter the search term "apartments."
A 34-year apartment industry expert, Apartment Guide is the flagship product of Consumer Source Inc., a wholly-owned subsidiary of Primedia Inc. Apartment Guide helps millions of consumers nationwide find an apartment through innovative print, Internet and mobile solutions. A trusted brand, it is a primary apartment search resource, offering potential renters content-rich apartment listings and information. Apartments for rent are displayed and distributed in 77 publications in 74 markets and nationwide online.
LINK: Apartment Guide (available through the iPhone App Store)
Accessories
USB Fever Stereo In-ear Earphone for iPhone/iPod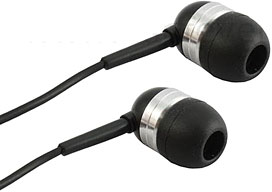 PR: Features:
Free your hands off
Microphone
In-ear style Stereo Earphones
No need for extra power
Lightweight
Operations (for calls/iPhone):
Press once to answer/reject/hand up calls
Operations (for Music Playback):-
Press once to play/pause/stop
Press twice shortly to NEXT
This accessory is compatible with the following:
iPhone 2G (classic or 1st Generation)
iPhone 3G
iPod Classic
iPod Touch 1st
iPod Touch 2nd
iPod Video
iPod Nano
iPod Shuffle
Color: Black
$15.99
Link: USB Fever Stereo In-ear Earphone for iPhone/iPod
Bezel Blaster iPhone Bezel Scratch Remover
PR: Bezel Blaster allows you to expertly remove the surface abrasions, scratching, and spotting, which tends to occur on highly polished bright and plated metal panels. Products like the Apple iPhone, Sony PSP, watches, jewelry, etc. can all benefit from the ease of use and power of Bezel Blaster.
Bezel Blaster quickly restores worn and damaged bright and plated metal surfaces to like new condition. A typical, moderately scuffed and scratched iPhone bezel can be fully restored in under two minutes. Kit can be used dozens of times, includes a genuine Optex polishing cloth and comes packed in a heavy-mil resealable poly storage pouch.
Features:
Easily remove surface abrasion, scratches & spotting
Excellent restorative solution for Apple iPhone bezel
Includes reusable 1500-grit refinishing pad and Optex polishing cloth
Bezel Blaster renews iPhone bezel in under two minutes
Handy resealable storage pouch included
Kit contents:
1 - 83x76mm Optex polishing cloth
1 - 69x55mm 1500-grit refinishing pad
1 - 6-mil resealable storage pouch
Weight: 0.5g/0.02 oz.
Product of USA
Price: $7.95
Link: Bezel Blaster
Protection
Belkin Brings 80s Fashion to Cases for iPod nano 4G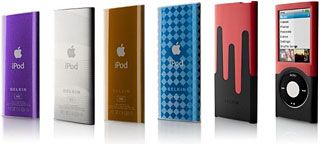 PR: Belkin meets consumer demand for cases that offer more than just protection. Micra Chex and Fuse Cases reflect the reemerging iconic checkerboard design and bold color trends of the '80s. Unlike most other iPod cases, Micra Cases' subtle graphical detail enhances your iPod without hiding the color of your nano
Belkin's new cases for the iPod nano 4G celebrate the vibrant colors of the nano with graphical and technological enhancements. Speaking to consumers' want for cases that act as an extension of their personal style, Belkin's Micra and Fuse Cases tell us that we don't have to hide the color of our iPod nano in order to protect it.
By targeting the lifestyle market, Belkin is bringing more fashion and style to cases with:
Enhancement with etched designs, checkered patterns, and sparkly touches and
Use of the playful, bold, bright colors of the '80s.
All cases (except Micra Flow) are currently available in the US, Europe, Middle East, Africa, Asia, and Australia.
Micra Flow Case is only available in Europe, Middle East, and Africa.
Micra Cases
Playing with pigment and texture, Micra Cases are clear with a subtle graphical detail. Typically a case tends to hide the color of your iPod nano. Micra, however, celebrates the beauty of your iPod nano while still adding a discreet flair to it. A ClearScreen™ Overlay is included to protect the screen of your iPod. Micra Cases are made of polycarbonate - a material much stronger, of higher quality, and more impact-resistant than acrylic. In fact, polycarbonate is often used in safety and bulletproof-glass applications.
Micra Glam (F8Z421-SPK) - $19.99 (Single), $24.99 (2-Pack)
As the first iPod case with sparkle, Micra Glam follows the trend of "blinged" cases that are adorned with Swarovski crystals or rhinestones. Micra Glam takes a more lasting approach by injecting the sparkle on the inside of the case so the "sparkle" doesn't rub off. Glass beads in the plastic case give off a subtle glamour and shine. It's an elegant, sophisticated way to add sparkle to your iPod without masking its natural color.
Micra Dusk (F8Z421-SMK) - $19.99 (Single), $24.99 (2-Pack)
Following the trend toward darkened colors, Dusk gives your nano a smoky charcoal tint. This smoked tint adds a different dimension to your iPod. For example, Dusk will darken the purple of your iPod, making it more of an eggplant color.
Micra Chex (F8Z421-019) - $19.99 (Single), $24.99 (2-Pack)
The iconic '80s checkerboard - from checkered Vans, "Fast Times at Ridgemont High," and the Rubik's Cube - is back, but this time on a very 2009 piece of technology. Chex layers a white checkerboard pattern on your nano without altering its color.
Micra Flow (F8Z421-CNT) - $19.99 (Single), $24.99 (2-Pack)
Flow features a graphic representing a sound wave that evokes motion. Tied into resonance, Flow captures technology and audio in its form.
Fuse Cases
Inspired by the bold, playful, bright colors of the '80s, Fuse tells us we don't have to give up color for protection. The influence of the '80s started in the snow and skate industries with the experimentation of bright colors on clothing and equipment. The 1980s further permeated into the hip-hop crowd through preppy shorts, polo shirts, and neon sneakers. And, now, Belkin brings the '80s' influence to iPod cases.
Fuse (F8Z423) - $24.99
Representing paint dripping on canvas, the case's two ends lock together, fusing two colors together. The top of the case is made of high-gloss polycarbonate, while the bottom is matte-finish polycarbonate. Parts interlock for a secure fit and maximum protection.
Colors: pink/black, yellow/black, red/black, clear/black, purple/black, blue/black
Join us on Facebook, follow us on Twitter or Google+, or subscribe to our RSS news feed
Links for the Day
Mac of the Day: iMac (Late 2006), introduced 2006.09.06. Apple introduced the biggest screen ever in an iMac with a 24" 2.16 GHz Core 2 Duo model.
Recent Content
Custom Search
Follow Low End Mac on Twitter
Join Low End Mac on Facebook
Favorite Sites
MacSurfer
Cult of Mac
Shrine of Apple
MacInTouch
MyAppleMenu
InfoMac
The Mac Observer
Accelerate Your Mac
RetroMacCast
The Vintage Mac Museum
Deal Brothers
DealMac
Mac2Sell
Mac Driver Museum
JAG's House
System 6 Heaven
System 7 Today
the pickle's Low-End Mac FAQ
Affiliates
Amazon.com
The iTunes Store
PC Connection Express
Macgo Blu-ray Player
Parallels Desktop for Mac
eBay

Advertise