iPhone 3GS Info, Multicore ARM Chips Coming for iPhone, MLB At-Bat Adds Live Streaming, and More
This Week's iPhone, iPod, and Apple TV News
Compiled by Charles Moore and edited by Dan Knight - 2009.06.19
Mac notebook and other portable computing is covered in The 'Book Review, and general Mac news is in Mac News Review.
All prices are in US dollars unless otherwise noted.
iPhone 3GS News
News, Reviews, & Opinion
Apps & Services
Accessories
iPod and iPhone Deals
These price trackers are updated regularly.
iPhone 3GS News
What You Need to Know About the iPhone 3GS
Macworld answers frequently asked questions about Apple's new iPhone.
Link: iPhone 3GS: What You Need to Know
Where Does the iPhone 3GS Get Its Speed?
Cnet's Brooke Crothers asks:
"So, where does the Apple iPhone 3GS get its claimed '2x faster' leap in speed? Rumors are rampant that Apple is using a new chip to crank up the performance."
Link: Where Does the iPhone 3GS Get Its Speed?
No More Greasy iPhone Screens?
MacFixIt says:
"Some of the camera enhancements for the new iPhone alone may be enough to entice people to buy it, such as autofocus, tap to focus, a built-in macro lens, and the capability for video, all of which will allow for more versatile ways of sending people you know images of your day. In addition to this, and also being a tenth of an ounce lighter than the previous model, the new iPhone's screen contains a much-desired fingerprint-resistant coating."
Link: No More Greasy iPhone Screens?
Apple's iPhone 3GS Sports 600 MHz Chip, Oleophobic Coating
AppleInsider's Sam Oliver reports:
"One of Apple's wireless partners is confirming Wednesday that the new iPhone 3GS indeed sports an embedded ARM processor that's 50 percent faster that the one employed by its predecessor. Meanwhile, Apple has provided its recommendations for cleaning the the handset, which is finished with an oleophobic coating."
Link: Apple's iPhone 3GS Sports 600 MHz Chip, Oleophobic Coating
Spotlight on iPhone 3.0's Spotlight Search
Macworld's Rob Griffiths reports:
"With the release of iPhone OS 3.0, Apple addressed some glaring feature omissions in the iPhone's operating system. Cut-copy-paste and MMS have been two of the often-discussed additions, but to me, the ability to search (using Spotlight) is perhaps the most-important hole that's been filled."
Link: Spotlight on iPhone 3.0's Spotlight Search
Apple iPhone 3.0 SDK Now Available via iTunes
Apple iPhone SDK: The iPhone Developer Program provides a complete and integrated process for developing, debugging, and distributing your free, commercial, or in-house applications for iPhone and iPod touch. Complete with development resources, real-world testing on iPhone, and distribution on the App Store, you have everything you need to go from code to customer. The iPhone SDK includes the Xcode IDE, Instruments, iPhone simulator, frameworks and samples, compilers, Shark analysis tool, and more.
To access iPhone SDK 3.0 and additional technical resources and information, log in with your Registered iPhone Developer Apple ID and password, or sign up as a free Registered iPhone Developer today.
iPhone SDK 3.0
Registered iPhone Developers can download iPhone SDK 3.0, which includes the Xcode IDE, iPhone simulator, and a suite of additional tools for developing applications for iPhone and iPod touch.
iPhone Developer Program Members, download the iPhone SDK 3.0 and follow the steps in the iPhone OS 3.0 Readiness Checklist. Log in
The iPhone Developer Program offers a complete process for developing and distributing iPhone or iPod touch applications. Learn More
Standard Program $99
Enterprise Program $299
With iPhone SDK 3.0 you can design applications to communicate with accessories connected through the 30-pin dock or wirelessly using Bluetooth.
System Requirements: Mac OS X 10.5.4 or later.
Free
Link: Apple iPhone 3.0 SDK
News, Reviews, & Opinion
New ARM Chips Headed for iPhone, Palm Pre?
Cnet's Brooke Crothers reports that ARM, the company that designs chips for the world's smartphones including the iPhone, said handset makers will deliver the first models using more than one processor core next year, as high-end mobile phones begin to mimic the hardware attributes of PCs.
Link: New ARM Chips Headed for iPhone, Palm Pre?
Multicore ARM Chips Bound for Next-gen iPhones
AppleInsider's Katie Marsal reports:
"Apple's new iPhone 3GS hasn't hit store shelves yet but already there's talk of next year's models, which are expected to leverage ARM's multi-core processor designs in giving the touchscreen handset a significant performance boost while simultaneously increasing battery life once again."
Link: Multi-core ARM Chips Bound for Apple's Next-gen iPhones
Share Your iPhone's Internet Connection with Your Computer
A new Apple Knowledge Base article says:
"Now you can share the fast 3G connection on your iPhone with your Mac or PC and connect to the Internet from just about anywhere - no WiFi required.
"Tethering is not currently offered in the US and some other countries. See your carrier for availability."
Editor's note: This could also be a great backup for your desktop computer when your broadband connection goes down. dk
Link: iPhone - Share Your Internet Connection with Your Laptop
iPhone Users Watch More Video and Are Older than You Think
Nielsen News reports:
"Upon Apple's announcement of a new iPhone - the iPhone 3GS, slated to be available June 19 - Nielsen takes a look at iPhone insights on its users and usage.
"As of April 2009, Nielsen estimates that there are 6.4 million active iPhone users in the US, up from 2.1 million a year prior....
"The iPhone audience is age-diverse: a device this powerful isn't just for kids. There are roughly as many iPhone users 55 and older as there are 13-24."
Link: iPhone Users Watch More Video . . . and Are Older than You Think
AT&T's iPhone MMS to Be Free
The Register's Rik Myslewski reports:
"AT&T has dribbled out a bit more information about its support for Apple's new iPhone 3.0 software. The good news is that MMS support will be free. The bad news is that Big Phone hasn't made any changes in their controversial iPhone 3GS early-upgrade pricing."
Link: AT&T's iPhone MMS to Be Free
Total Cost of Ownership: iPhone 3GS vs. Palm Pre vs. Android G1
BillShrink Guy says:
"With the recent release information on Apple's new iPhone 3GS and Palm's venture back into the market with their highly anticipated Pre, there are more legitimate smartphone options than ever. How will you decide on which device you will spend your hard earned money? Below is a comprehensive cost/benefit analysis of the latest mobile technologies, analyzing the comparative features of each, along with the actual price you will pay for the phone and service over the course of a two year contract."
Link: Total Cost of Ownership: iPhone 3GS versus Palm Pre versus Android G1
Rethinking the iPhone's Role in Computing
PCMag's Tim Bajarin asks
"Is the iPhone a personal computer that just happens to make phone calls, or a phone that just happens to run apps? And if it's really a PC that fits in your pocket, does that change how you use it?....
"Apple watchers and those in the smartphone market need to rethink what Apple is really doing. It's possible that what the company has built is not a smartphone but something very different altogether...."
Link: Rethinking the iPhone's Role in Computing
Israel Officially Gets the iPhone
9 To 5 Mac's Cleve Nettles reports:
"According to popular Israeli website nana10 (via MacBlogz), Israel will be getting the iPhone in short order. The tiny nation is chock full of technology companies and jailbroken iPhones are a dime a dozen there.
"But until now, Apple hasn't officially partnered with any of the telecoms...."
Link: Israel Officially Gets the iPhone
Wolfram Alpha Adds Dedicated iPhone Mobile Page
Macworld UK's Nick Spence reports:
"Wolfram|Alpha, the computational knowledge engine that draws on multiple sources to answer user queries, has launched a dedicated mobile page for iPhone and iPod touch users."
Link: Wolfram|Alpha Adds Dedicated iPhone Mobile Page
Apps & Services
MLB At-Bat to Add Live Video Streaming
iPodNN reports:
"The Major League Baseball At-Bat 2009 app for the iPhone is gaining live video streaming, its creators say. The upgrade is meant to coincide with today's iPhone 3.0 firmware release, and will allow people to watch complete MLB games over a WiFi or 3G connection. Intermixed with footage will be in-game highlight reels."
Link: MLB At-Bat to Add Live Video Streaming
Tweet on the Go: All Your Favourite TweetDeck Features on Your iPhone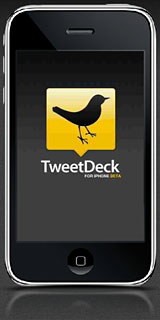 PR: TweetDeck is your mobile browser for staying in touch with what's happening now on Twitter from your iPhone or iPod touch. TweetDeck shows you everything you want to see at once, so you can stay organised and up to date no matter where you are.
Create groups, search Twitter, manage multiple accounts and easily post your tweets or share photos, link and much more. Plus sync your existing TweetDeck columns between your desktop and iPhone. Nice and easy.
TweetDeck is your personal browser for staying in touch with what's happening now, connecting you with your contacts across Twitter, Facebook and more. TweetDeck shows you everything you want to see at once, so you can stay organised and up to date.
With TweetDeck anyone can tweet like a Pro. Customise your Twitter experience with columns, groups, saved searches and automatic updates helping you to effortlessly stay updated with the people and topics you care about. See what people are saying about you and join the conversation by tweeting, sharing photos, videos or links directly from TweetDeck. We like to think of it as air traffic control for Twitter.
Connect with your Facebook friends directly from TweetDeck by updating your Facebook status, following what your friends are doing and seeing when they're available to chat.
TweetDeck is an Adobe Air desktop application and is currently in public beta.
Tweet directly from your iPhone or iPod touch.
Manage multiple Twitter accounts.
View notifications for new tweets received.
Use columns to create your personal dashboard.
Simply sync to setup
Continuously updates between your desktop and iPhone.
Create Groups to easily follow all your friends.
Follow topics in real-time with saved searches.
Reply to tweets and send direct messages.
Easily re-tweet messages.
Share photos with Twitpic and YFrog.
Shorten links with your favourite URL shortener.
Follow and un-follow people.
Shake your iPhone to refresh columns.
Tweet directly from TweetDeck and share photos or web links
Manage conversations with @replies and direct messages
Create Groups to easily follow friends, colleagues or other interest groups
Keep a finger on the pulse with Twitscoop and local trends.
Follow topics in real-time with saved searches
Update Facebook and view your friends' status updates
Preview short URLs from the comfort of TweetDeck
Manage multiple Twitter accounts easily
Keep your TweetDeck safe with sync and back-up
View photo thumbnails directly from TweetDeck
Record, share and watch video clips within TweetDeck
Avoid Twitter spam with TweetDeck's spam button
And many other Twitter favourites including Stocktwits and much more
Freeware
Link: TweetDeck for iPhone (available through the iPhone App Store)
Grocery Gadget Lite for iPhone and iPod touch
PR: Flixoft, the developers of Grocery Gadget unveil Grocery Gadget Lite, the free counterpart version to Grocery Gadget.
With all the grocery shopping list applications available on the market today, finding one that best suits your lifestyle can get costly. For many users, it becomes a question of desirable features. For others, it's a question of price. Flixoft, the developers of Grocery Gadget, have simplified the decision-making process with their recent launch of Grocery Gadget Lite; the free version of their high-ranking Grocery Gadget Shopping List application for iPhone and iPod touch.
Along with an appealing price tag, come a surprising number of similarities to Grocery Gadget. Although Grocery Gadget Lite offers management for just a single list, Flixoft developers chose to include the most valuable Grocery Gadget features: Automatic group sync, and online portal access at grocerygadgets.com.
"We wanted all users to experience the simplicity of the group sync feature and grocery portal we launched with the Grocery Gadget 1.6 release," says William Anllo, senior developer at Flixoft. "Anyone who's been curious about Grocery Gadget, can now download the Lite version for free."
But the available features for Grocery Gadget Lite don't stop there. As with Grocery Gadget, Grocery Gadget Lite learns product order in the aisles as you shop, and includes an improvement from Grocery Gadget 1.7; alphabetic and category sorting in prepare mode. Also available, are editable photos and multiple tax setting options. Grocery Gadget Lite for iPhone and iPod touch is truly a bargain.
With the new addition to the Grocery Gadget family, Flixoft continues to simplify the grocery shopping process for everyone. Their flagship application maintains top ranking within the iTunes productivity category, and with the free version of Grocery Gadget Lite, Flixoft is now able to offer cutting-edge shopping list application technology to a wider audience. Stay tuned for upcoming developments including recipe integration and intelligent coupons, as well as compatible versions for other smart phone devices.
Flixoft, Inc. is a US based developer of smart phone applications specializing in Internet based integrated solutions. For additional information contact support@flixoft.com
Link: Grocery Gadget (available through the iPhone App Store)
ReadSmart Edition Apps for the iPhone and iPod touch
PR: Language Technologies, Inc., a software developer specializing in reading technology, today announced the launch of its ReadSmart Edition applications designed for the iPhone and iPod touch at the iTunes App Store. The apps, available at the iTunes App Store via books.readsmart.com, are digital books for download that retain the look and design of a print book. The apps feature ReadSmart high-definition typography, which enhance text without changing the wording and - unlike other e-book formats - also preserve the fonts and typefaces of print editions while improving reading comprehension, speed, and enjoyment.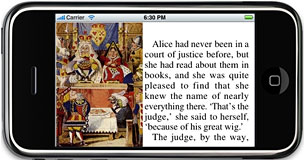 "Our suite of digital formatting technologies is designed to both improve the ergonomics of reading and offers publishers the opportunity to maintain the visual design elements of their work while delivering content to the iPhone and the iPod touch," said Lee Berendt, president and CEO of LTI. "We think our technology suite offers valuable enhancements for technology providers, the publishing and design communities, and especially to educators and individual readers."
ReadSmart Edition books available immediately for purchase and download include a selection of classic novels such as Jane Austen's Pride and Prejudice, Bram Stoker's Dracula, and Lewis Carroll's Alice's Adventures in Wonderland. Each ReadSmart Edition book is available as a standalone app and costs from $2.99 to $4.99, depending on the amount of internal artwork. LTI is also releasing a free app, ReadSmart Preview June 2009, which will include a sample chapter of each title being released, as well as The Curious Case of Benjamin Button by F. Scott Fitzgerald and Heart of Darkness by Joseph Conrad. The company plans to release additional book titles for sale monthly as well as a free monthly preview application.
ReadSmart technology converts typesetting files used by production designers to digital editions and customizes books for the iPhone and iPod touch by making intelligent, economical use of the display. As part of this customization, ReadSmart improves the composition of text by making subtle changes to word spacing, line endings and letter width. These patented and patent pending technologies are used together to create text that is read faster, better understood, and more enjoyable to read.
"Critically, once a digital book has been created using ReadSmart, it gives a reader the experience of a book, not of a generic electronic document, which enhances the overall reading experience. ReadSmart Edition is the only electronic platform that presents the book as the designer intended," said LTI's Chief Technology Officer John Maher. "Although generic e-books preserve content and facilitate distribution, they remove the unique typographical qualities of books, which designers carefully craft through typeface choices and other design elements."
ReadSmart high-definition typography is the result of more than thirty years of research and development by Thomas Bever, Ph.D., a central figure in the fields of cognitive science and psycholinguistics for more than 40 years. Dr. Bever, chairman and founder of LTI and inventor, leads ReadSmart's development team, which includes neuroscientist Christopher Nicholas, Ph.D. ReadSmart technology applies proven scientific research through patented software algorithms that optimize reading efficiency through the spacing of text into chunks of meaning most informative to the brain.
"Our ReadSmart Edition apps are a practical example of our intense commitment to improve reading. We focus on applying today's neurological, cognitive, linguistic and vision sciences to the enhancement of everyday reading. Technology today allows us to use reading science to bring text presentation to a new level, so that reading can be enjoyed and more productive," said Dr. Bever.
The efficacy of ReadSmart has been tested and proven in a variety of print media, including textbooks, newspapers, and direct-mail solicitations. Testing has been conducted in a variety of reading populations from grade school students to older adults, including English language learners. Laboratory and field tests have shown that ReadSmart improves reading speed by up to 10 percent, reading comprehension by up to 25 percent, and reading persuasiveness and enjoyment by more than 35 percent.
"Scientists have been studying reading for 75 years and have discovered many ways to make text easier to read. It's time to apply these discoveries to the formatting of text, especially now that many people, especially students, are reading more and more material in digital format," said Steven Pinker, Ph.D., Harvard College Professor and Johnstone Family Professor of Psychology at Harvard University and member of LTI's Scientific Advisory Board, a panel of leading experts on the science of reading.
Link: ReadSmart Edition (available through the iPhone App Store)
FOX Launches 'Freakin' Sweet' Family Guy App for iPhone
PR: FOX Mobile Entertainment (FME) has announced the launch of the Freakin' Sweet Family Guy iPhone® application, which gives fans of the popular FOX show the chance to view up to 20 show clips and create custom video mixes. The application also includes special features, such as "Stewie Pin-up" and "Peter Toss," which allow fans to have some fun with the show's popular cast of characters. The application utilizes Apple's 3.0 OS for the iPhone and enables fans to instantly purchase full episodes of Family Guy through an embedded link to iTunes.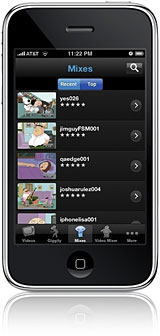 The Freakin' Sweet Family Guy iPhone application offers access to 20 video clips at any given time that allow fans to enjoy a wide variety of classic moments from past Family Guy episodes. The application also features a video mixer, which enables users to create their own custom Family Guy video montages. Users can share their original montages with friends and other fans via email or online at www.familyguy.com, and can also post them to personal pages on various social networks.
"We are excited to work with Apple to give Family Guy fans another great way to interact with this hilarious show and its characters," said Andrew Stalbow, senior vice president of Fox Mobile Entertainment. "With the addition of this application, there's no doubt that the iPhone just got a lot funnier, and we are proud to make 'Family Guy' our first, self-published, commercial app for the iPhone."
Prominent features of the new "Family Guy" iPhone application include:
Video Channels
Four different video channels - Best of Stewie, Brian's World, Peter's Life Lessons, and World According to Chris - each offering five classic Family Guy clips from previous seasons.
Video Mixer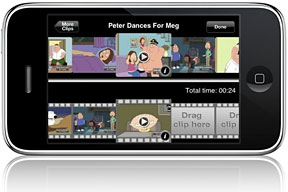 Users can build their own short video mixes by dragging individual clips and favorite quotes from the show into a timeline in the Mixer. Mixes can be shared with other users of the application or with online viewers at www.fox.com/familyguy/iphone.
Fox Mobile teamed with Rhythm NewMedia, a leader in developing and monetizing ad-supported mobile video applications, to create and serve the Family Guy app to iPhone and iPod touch users.
The Freakin' Sweet Family Guy iPhone® application is now available for purchase through the iTunes App Store for $1.99. The app is further supported by limited, interactive, pre-roll video advertising.
Link: Freakin' Sweet Family Guy iPhone App (available through the iPhone App Store)
iPhone VoiceSafe Can Just Be Opened by Owners' Voice
PR: A software company from Munich tells its customers: "Forget your passwords, it's more secure. Your voice is your passport." Now the iPhone VoiceSafe has been introduced to the iTunes AppStore. This mobile safe for personal secrets was developed by the technology leader for voice authentication VoiceTrust. A free-of-charge version has been available for testing the software within a four-weeks' period. As of now, the unlimited version of VoiceSafe for iPhones is offered for sale.
VoiceSafe stores PIN numbers of credit or debit cards, passwords for logins and simply secrets of all kinds on the iPhone - including the birthday surprise for your beloved one. When activating the VoiceSafe for the first time the user will be asked to record a sentence he/she would like to use as passphrase (e.g. "My voice is my passport"). The software then generates a voice profile to doubtlessly differentiate the iPhone's owner from third party. The personal secrets stored on the mobile device will be displayed only after the iPhone application has both recognized the voice and the passphrase.
VoiceTrust is the technology leader with regard to authentication solutions via voice verification. Having sold far more than 1,500,000 licenses, we have established ourselves as the global market leader in our industry. Day after day, VoiceTrust provides new impulses in the field of biometrics and new security standards. Our best-selling product, VoiceTrust Password Reset, has become an industry standard. Security, reliability, strength, profitability and powerful partners make VoiceTrust and its authentication solutions attractive to both large and medium-sized enterprises. In 2000, Michael Kramer (today the company's CEO) created the foundation for VoiceTrust. Kramer came up with the idea to bring a solution to market that uses voice biometrics to prevent the threat of identity theft. VT Technologies Inc. is the VoiceTrust sales organization for the USA and Canada.
Link: iPhone VoiceSafe (available through the iPhone App Store)
UDR's iPhone App Makes Finding an Apartment as Easy as Possible
PR: UDR, Inc. a leading multifamily real estate investment trust (REIT), announced today that it has made it easy to find an apartment anywhere and anyplace using your iPhone or iPod touch. UDR's new and free iPhone apartment search application is now available in Apples' iStore.
The most unique and best-in-class feature of UDR's apartment locator iPhone application is the ability to reserve and place a hold on an apartment from anywhere around the world. In a few taps on the iPhone screen, apartment searchers can choose their apartment home and reserve it until they visit the apartment for a tour.
In addition to UDR's iPhone apartment search app, UDR has a WAP and iPhone compatible website. UDR's mobile users during the December, 2008 to May, 2009 timeframe has shown that over 15,000 mobile apartment prospects are searching for apartments representing 34 countries. The top five countries looking for an apartment either on UDR's WAP website or UDR's iPhone compatible website are from the United States, Canada, United Kingdom, Netherlands, and Japan.
According to Steve Taraborelli, UDR's V.P. of sales and marketing, "UDR's apartment finder iPhone app is targeted to a growing smartphone audience that is replacing their landline and/or home PC because mobile users are realizing that smartphone's are basically minicomputers in their pocket." Taraborelli further adds, "The demographic and technographic data for the mobile market fits perfectly into UDR's mobile strategy to attract and retain apartment renters who are becoming more reliant on a mobile device and less reliant on their personal computers." He further adds, "Not only are we attracting apartment prospects within the United States, but from around the world now."
iPhone Apartment Finder App Features:
Search for UDR apartment locations by State, region, city, price, bedrooms and bathrooms
UDR apartment rental locations in WA, OR, CA, AZ, TX, FL, TN, VA, MD, DC
GPS activation - the apartment search app knows where the user is located
Put the apartment properties into your "Favorites" folder for easier access later on
A large assortment of apartment photos, amenities and four-color floor plans
Robust mapping and directions to favorite apartment communities
Reserve and place a hold on an apartment anytime and anywhere around the world
Check apartment pricing that is updated daily
Ability to call any apartment location 24/7
UDR is a leading multifamily real estate investment trust with a demonstrated performance history of delivering superior and dependable returns by successfully managing, buying, selling, developing and redeveloping attractive real estate properties in targeted US markets. As of March 31, 2009, UDR owned 44,571 apartment homes and had 2,046 homes under development and another 289 homes under contract for development in its presale program. For over 37 years, UDR has delivered long-term value to shareholders, the best standard of service to residents, and the highest quality experience for associates. Additional information can be found on the Company's website at:
Link: UDR (app available through the iPhone App Store)
FlowerPedia Flower Identification Engine
PR: Muli Mobile Ltd. has announced the release of innovative flower identification engine and encyclopedia, FlowerPedia 1.0.
Indulge Your Senses and Your Intellect
FlowerPedia presents 1,500 flower photos, organised by flower family and photo rating. View a slideshow of flowers like roses, lilies, orchids, hibiscus, tulips, daisies and many more.
Rate Photos
Users are given the option to rate each photo according to their own taste. In FlowerPedia's gallery view users can chose to browse everything, or just their Top Rated photos.
Flower Encyclopedia
Select a flower picture to see the flower names - common and scientific; its identifying features, and what family and genus it belongs to. Gardening tips and medicinal properties are coming soon. FlowerPedia contains information covering over 100,000 flowering plant species, including wildflowers, belonging to 500 genera in over 100 families.
Flower Identification - A World First
Use FlowerPedia's flower identification wizard to identify flowers based on their physical characteristics. The search covers 70-100% of any North American region's flowering plant species, and up to 90% in Europe, Asia and Australia.
Email and Set as Background
Each of the 1500 flower photos can be emailed or used as a background on the iPhone and iPod touch.
No Internet Connection Required
FlowerPedia does not require a network connection, so it can be used anywhere. It is designed for maximum availability even in low-signal areas, such as when hiking, bushwalking and trekking. All flower pictures are included in the application.
Minimum Requirements: iPhone or iPod touch 2.2 or later
Pricing and Availability: FlowerPedia 1.0 is available now on the iTunes App Store for a special launch price of $4.99.
Link: FlowerPedia (available through the iPhone App Store)
Inkiness: Flowing Ink Curves on the iPhone
PR: Inkiness is a notepad tool that gives you a supreme feeling as if you were writing with a top quality fountain pen. The script written with your finger will be transformed into smooth curves just like when writing with real ink. Inkiness can also be of great assistance when you have to take a note suddenly, such as while you are on the phone.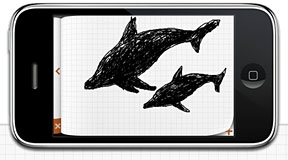 What makes Inkiness so special?
Flowing Ink Curves
Inkiness automatically modifies your writing naturally into smooth lines. It can read your writing patterns and draw natural pen-like curves.
Real Ink like Texture
Inkiness transforms your onscreen writing into natural ink pen quality. The program translates the essence of your touch into quality handwriting. That is why Inkiness lines are so expressive.
Supreme Feeling of Real Writing Tools
Inkiness gives you a supreme feeling as if you are taking a note with pen and paper. All sorts of features in detail for design, operation, and sounds are included.
Features
Write with your finger
Save/Edit max 80 pages of notes
Scheduled Updates
Undo
Colored Ink
Save to Camera rolls
The ability to attach to e-mails
Price: $2.99
Link: Inkiness (available through the iPhone App Store)
Accessories
My New iPhone from No Starch Press
PR: Getting a new iPhone or iPod touch is a treat - its glossy curves and beautiful graphics make it the envy of everyone. But that new iPhone often comes with a bit of worry: How do I use this thing?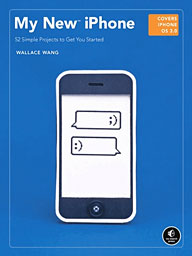 For those who have just purchased an iPhone or have been toting one around doing little more than making phone calls, No Starch Press offers My New iPhone (June 2009, 464 pp, $29.95, ISBN 9781593271954), an essential, project-based guide for newcomers to Apple's latest and greatest gizmo.
This isn't some dry manual that covers every little option and menu. Instead, My New iPhone guides readers through 52 simple and fun projects that show how to get the most out of their new toy. Readers learn how their iPhone works step-by-step, as they configure and manage multiple email accounts, transfer music, and sync their computer with their iPhone. After all, as Brian Chee stated in his review of the first title in No Starch Press's My New series, My New Mac, "People just learn better and faster by doing projects rather than trying to stay awake doing tedious lessons."
"The iPhone has a ton of sweet features," said No Starch Press founder Bill Pollock, "but the countless options can be overwhelming for new users. For all of our readers who want to get more from their iPhone with a minimum of hassle, we offer My New iPhone - a collection of 52 simple projects that get things done."
Building on the success of his best-selling My New Mac, in this new book author Wallace Wang shows readers how to harness the full power of their iPhone, including how to:
View weather predictions, traffic patterns, flight information, and stock quotes
Take notes, send text messages, and browse the web
Find and install the best new applications and games
Browse iTunes, listen to music, and watch YouTube videos
Use Skype to make long-distance calls for free
Create ringtones and download free podcasts and audiobooks
Troubleshoot the iPhone's most common errors, like bad network connections and application crashes
The iPhone is a lot more than just a phone. For those who want to get more out of this elegant and powerful device - painlessly - No Starch Press has the answer in My New iPhone.
For more information, to schedule an interview, or for a review copy of My New iPhone, please contact Travis Peterson at No Starch Press (nostarchpr@oreilly.com, +1.415.863.9900, x300).
Link: My New iPhone (currently available from Amazon.com for $19.77)
Composite AV Cable with Extra USB & Audio Sockets for iPhone/iPod (Firmware 2.2.1)
PR: Connect an iPod/iPhone to your TV with the composite AV Cable, gather up your friends, and watch videos or slideshows together on the big screen.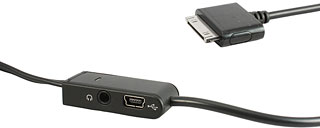 However, if your video is very long that out of your iPhone's capability of your built-in battery or sometimes you just want to watch the video without making any sound to others in the same place, what you can do?
This AV cable is designed for outputting your video/photos in your iPhone/iPod to a big screen while at the same time you can charge your iPhone/iPod, then you will have no worries about running out of battery, or in the case the you want to keep your video private or don't want to make any noise to others as it has a USB socket for charging and an audio 3.5mm out audio output
Features:
Direct Plug, no need to go thru any other media
Stereo
Plug and play
Extra USB socket for charging
Extra audio socket for earphones
This accessory is compatible with:
iPhone 3G (or iPhone 2.0) (up to to firmware 2.2.1)
iPhone 2G (or iPhone 1.0) (up to to firmware 2.2.1)
iPod classic (6G)
iPod touch 2nd
iPod touch 1st
iPod nano 3rd
iPod nano 4th
Specifications:
One end is Dock connector
Another end is RCA and USB Male connector
In the middle is the dock for Mini 5 pin connector and Audio 3.5mm socket
Total length: 180cm (6 Feet) approximately
Note:
Pls see the compatibility above
The USB Connector is for charging only
The Audio socket is not for answering calls
$19.99
Link: Composite AV Cable with Extra USB & Audio Sockets for iPhone/iPod (Firmware 2.2.1)
Join us on Facebook, follow us on Twitter or Google+, or subscribe to our RSS news feed
Links for the Day
Mac of the Day: 20th Anniversary Mac, introduced 1996.03.20. Honoring Apple's 20th anniversary, the TAM was the first flat panel desktop Mac and had a unique design.
Recent Content
Custom Search
Follow Low End Mac on Twitter
Join Low End Mac on Facebook
Favorite Sites
MacSurfer
Cult of Mac
Shrine of Apple
MacInTouch
MyAppleMenu
InfoMac
The Mac Observer
Accelerate Your Mac
RetroMacCast
The Vintage Mac Museum
Deal Brothers
DealMac
Mac2Sell
Mac Driver Museum
JAG's House
System 6 Heaven
System 7 Today
the pickle's Low-End Mac FAQ
Affiliates
Amazon.com
The iTunes Store
PC Connection Express
Macgo Blu-ray Player
Parallels Desktop for Mac
eBay

Advertise