Free Coffee with iPhone, 3GS Regret, iDrive Lite Spams Gmail Contacts, Best Apps Ebook, and More
This Week's iPhone, iPod, and Apple TV News
Compiled by Charles Moore and edited by Dan Knight - 2009.07.17
Mac notebook and other portable computing is covered in The 'Book Review, and general Mac news is in Mac News Review.
All prices are in US dollars unless otherwise noted.
News, Reviews, & Opinion
Apps & Services
Accessories
iPod Deals
These price trackers are updated regularly.
News, Reviews, & Opinion
Get Free Coffee with Your iPhone
Cult of Mac's Lonnie Lazar reports that if you download the free Barnes and Noble App for iPhone or iPod touch and for a limited time you can get a free Tall iced or hot coffee at any Barnes and Noble cafe, just by showing your device running the app to a cafe server.
Link: How to Get Free Coffee with Your iPhone
'I Should Not Have Bought the iPhone 3GS'
InfoWorld's Bill Snyder says that while it was love at first sight, his new black 3GS iPhone's spotty 3G coverage and poor battery life take the luster off and the roots of the problem are much deeper.
Link: Why I Should Not Have Bought the iPhone 3GS
$79 Refurb iPhone 3G from AT&T
The iPhone Blog's Jeremy Sikora says:
"It looks like AT&T is trying to push the iPhone 3G's out the door as they have just lowered the price of 8 GB and 16 GB phones to $79.99 and $129.99 respectively, with a two-year contract. Both white and black models are currently available while the discount lasts. Before you jump on this deal, keep in mind of the following...."
Link: $79 iPhone 3G! AT&T Discounting Refurbs (Again)
iPhone 3GS and Palm Pre Spearhead Soaring Demand for Smart Phones
ChangeWave's Paul Carton reports:
"Overall smart phone ownership continues to rise, according to a June 9-15 survey by ChangeWave research, with 37% of respondents now reporting they own a smart phone.
"Importantly, 14.4% say they plan on buying a smart phone in the next 90 days, the highest percentage ever recorded in a ChangeWave survey."
Link: Soaring Demand for Smart Phones - iPhone 3GS and Palm Pre Spearhead the Momentum
Battery Percentage Indicator for All iPhones
ZD Net's Jason D. O'Grady reports:
"Easily the most under-publicized new feature in the iPhone 3GS is the ability to view the amount of charge remaining in a numerical percentage in addition to the visual indicator that appears on the battery icon. To enable the feature, simply tap:
"Settings > General > Usage > Battery Percentage"
Link: Battery Percentage Indicator for All iPhones
iPhone 'Wrecking' Mobile Phone Industry
AppleInsider's Aidan Malley reports:
"While many iPhone owners hail Apple as saving them from greedy cellular carriers, an analyst now says the company has overturned AT&T and the entire wireless industry - and not always for the better."
Link: Apple's iPhone 'Wrecking' the Cell Industry
iDrive Lite Spams Your Gmail Contacts
The Consumerist's Chris Walters warns:
"Don't install the iPhone app iDrive Lite if you value the privacy of your contact list. Avi Muchnick, one of the developers behind the free, consumer-friendly online graphics suite Aviary, used iDrive to backup his Gmail contact list when switching to a new phone. The next day, he awoke to discover that iDrive's parent company, Pro Softnet Corp., had spammed every single entry in his contact list without his permission."
Link: Warning, iDrive Lite Spams All Your Gmail Contacts without Your Permission
iPhone 3.0's 'Mystery' Mail Bug
Macworld's Ted Landau says:
"iPhone OS 3.1 has already been seeded to developers. Expect a public release in the next month or so. You can also expect the update to squash bugs that have been identified in the 3.0 version. High up on my wish list is the eradication of the 'mystery mail' bug. Here's how it works...."
Link: iPhone 3.0's Mystery Mail Bug
Apple Will Not Suffer from Lack of 'Real' Keyboard on iPhone
Daring Fireball's John Gruber says:
"I missed it while I was at WWDC last month, but Tim Bray wrote a thoughtful piece regarding whether hardware keyboards are an important feature. Bray owns and very much likes an HTC Android G1, and writes:
"As of now, I will absolutely not consider using any such device that doesn't include a physical keyboard.
"I think the question boils down to whether Apple is making a mistake by not making an iPhone with a hardware keyboard. I'm convinced the answer is no that (a) there will never be an iPhone with a built-in hardware keyboard; and (b) Apple will not suffer for it."
Link: Mobile Phone Keyboards
iPod nano vs. Washing Machine
Wired's Charlie Sorrel says:
"This is not what you want to see when you open up the washing machine. I was expecting to be greeted with a load of clean, sparkling clothes and instead I saw my 2G iPod Nano, drenched but undoubtedly clean after its spin in the washer...."
Link: nano vs. Washing Machine
Apple Preps iPhone Face Recognition
The Register's Rik Myslewski reports:
"The US Patent and Trademark Office published 33 new Apple patent applications on Thursday, bringing the total filed in July to 55 - and we're not even a third of the way through the month....
"Two of the filings are directly camera-related. One focuses on object identification and the other on face recognition. The former is targeted specifically for handhelds, while the latter's reach extends both into your pocket and out to the entire universe of consumer electronics."
Link: Apple Preps iPhone Face Recognition
Sluggish Sales of 1.8" Drives May Signal End to iPod classic
AppleInsider's Neil Hughes reports:
"As flash memory and solid state drives become the new standard, Samsung and Toshiba have struggled to sell their latest high-capacity 1.8-inch hard disk drives, perhaps signaling that the end of an era is imminent for the iPod...."
Editor's note: Samsung just announced a 250 GB 1.8" hard drive with a built-in USB controller. Storage space per dollar spent, hard drives still beat SSDs. dk
Link: Sluggish Sales of 1.8-Inch Drives May Signal End to iPod classic
Samsung Introduces High-Capacity 250 GB 1.8" Hard Drives
PR: Strengthening its line up of portable 1.8" hard drives for external storage markets, Samsung Electronics Co., Ltd. today announced its 250 Gigabyte (GB) 1.8 inch hard disk drive, the Spinpoint N3U which incorporates a native USB controller on its printed circuit board. This optimized design results in a smaller foot print, less power consumption and optimized performance, which is ideal for portable external storage devices. The Spinpoint N3U stores up to 125 Gigabytes per platter for a total 250 GB data storage capacity.
Most external hard drives require the addition of a bridge circuit board to convert the hard drive's PATA interface into a USB interface. Samsung's N3U drive, however, uses a native USB interface and as such does not require this bridge board.
"The new high-capacity 1.8" 250 GB drive enhances Samsung's product offerings and is ideal for consumers who require a small form factor, high capacity data storage," said Choel-Hee Lee, vice president of marketing Storage System Division, Samsung Electronics. "It is easy to carry around and it is designed to withstand a free fall drop of up to 50 centimeters and be resistant to a maximum shock incident of up to 1500G."
As a native USB interface device, the Spinpoint N3U eliminates possible points of failure due to loose cable connections and optimizes performance by eliminating the interrupt service time for the bridge board to convert PATA to USB signals. And the N3U 1.8" drive also consumes about 40% less power than a 2.5" hard drive of an equivalent capacity.
Samsung now ships industry leading areal density levels for all of its hard disk form factor products with up to 1.5 Terabyte for 3.5" drives, 500 GB for 2.5" drives and 250 GB for 1.8" drives. The Spinpoint N3U comes in 120-, 160-, 200- and 250-GB capacities, the disk rotation speed is 3600 rpm, and it supports a USB 2.0 interface. The drives are equipped with an 8 MB cache memory. Initial shipments to OEMs are scheduled from mid-July with a MSRP at $199.
Apps & Services
Best iPhone Apps Book and Ebook
PR: With over 50,000 iPhone apps to choose from, there's a mind-boggling number of ways to make your favorite device do just about anything you can imagine - and almost certainly a few things you would never think of. While it's not hard to find apps for your iPhone or iPod touch, it's frustratingly difficult to find the best ones.
Fortunately, Best iPhone Apps: The Guide for Discriminating Downloaders (O'Reilly Media, $19.99) guides the way, shining the light on over 200 gee-whiz apps that delight, empower, and entertain. Author Josh Clark stress-tested thousands of titles from the App Store emporium to select apps that will make the biggest difference in every aspect of your life: at work, on the town, at play, at home, and on the road.
"I wrote this book to help you stay current," notes Clark. "Try as many of them as you can, play a little, and discover what your magical device can do. Informal testing here in the O'Reilly laboratories indicates that flipping through the book tends to triggers bouts of deliriously eager downloading."
Best iPhone Apps covers apps that help you:
Get stuff done
Connect with friends
Play games
Juggle documents
Explore what's nearby
Get in shape
Travel the world
Find new music
Dine out
Manage your money and much more!
Capitalize on your time with genius productivity apps, or fritter it away with wildly fun games. However you use your iPhone or iPod touch, Best iPhone Apps shows you how to unlock its full potential and make the most of your glossy gadget.
Read Josh Clark's tips for organizing your iPhone online.
The Ebook is available for sale now, and the print book will be available July 17.
More information about the book, including table of contents, index, author bios, and cover graphic online.
Josh Clark
ISBN: 9780596804275
239 pages
Book Price: $19.99, £14.99
Ebook Price: $15.99
1-800-998-9938
1-707-827-7000
New iPhone App, Designated Driver, Saves Lives
PR: Newly released "Designated Driver" iPhone App allows a text to be sent five or more friends with the push of a button to request a ride when too impaired to drive. Text message includes map of person's exact location to easily be located and picked up.
AppSolutions Inc. today announced that its new lifesaving, location-based application, Designated Driver, for the iPhone and iPod touch, is now available on Apple's AppStore.
Designed with simplicity in mind so that anyone who is impaired can quickly request help from their friends without a lot of effort.
iPhone and iPod touch users have a simple yet powerful tool at their disposal to help themselves or a friend whenever and wherever needed. It's like having an insurance policy on your iPhone to help you avoid the tragic consequences of a DUI
This unique iPhone app is one of the first such applications to allow a user to reach out to family, friends or a cab to request a ride when a designated driver becomes necessary. With a single push of a button on the iPhone screen you can send a text message to five or more of your friends simultaneously to request a ride.
Designated Driver takes advantage of the iPhone's built-in navigation capabilities to provide your current location with pinpoint accuracy. Friends will know exactly where to locate someone to bring them safely back home. The app includes the ability nationwide to text to a designated list of friends or even contact a local taxi company for a ride if necessary.
AppSolutions, Inc. partner Jason Ellis, commented, "We're very excited to introduce this socially responsible iPhone app to the market and we believe it has the potential to save lives and help individuals stay away from operating a motor vehicle while intoxicated."
Oliver Nam, another partner, stated, "We've designed this application with simplicity in mind so that anyone who is impaired can quickly request help from their friends without a lot of effort."
"iPhone and iPod touch users have a simple yet powerful tool at their disposal to help themselves or a friend whenever and wherever needed. It's like having an insurance policy on your iPhone to help you avoid the tragic consequences of a DUI," commented Glenn Neely, partner in the development of the Designated Driver application.
Designated Driver's features include:
Clear "push button" navigation screen resembling a stop light minimizes user confusion when they need help the most
Simple configuration screen allows text message contacts to be preprogrammed
Capability to text message five or more contacts simultaneously
Convenient Taxi button contacts local cab company as another option if friends are not available
Exact location provided through Google Maps
Designated Driver is available for download in the US, UK, and Canada for the iPhone and iPod touch at the App Store for $1.99.
Link: Designated Driver (available through the iPhone App Store)
ZeusDraw Mobile 2.0 for iPhone and iPod touch
PR: Chromatic Bytes, LLC has announced the release of version 2.0 of ZeusDraw Mobile, its versatile drawing and painting program for the iPhone/iPod touch. ZeusDraw Mobile 2.0 is a professional drawing program for the iPhone/iPod touch. It works for anything from doodling on a photo to serious drawing.
New in Version 2.0:
Complete undo/redo back to the beginning of the drawing. ZeusDraw Mobile remembers the undo's even if the drawing has been saved and reopened.
Email from within the program - you can email your drawing as png, jpeg or pdf, without leaving the program. When you email a drawing as pdf, the pdf retains the vector character of anything (lines, shapes, text) that was originally vector so you can make large prints without a loss of quality.
Support for copy and paste.
Revised zoom tool - the Zoom tool now works with a pinch (like the zoom in the photo library).
Additional shapes and brushes - including brushes that imitate the streaks from a brush's hairs.
ZeusDraw Mobile features:
Smoothed drawing - with many programs, if you move you finger quickly, your line turns into an unpleasant looking polygon. ZeusDraw Mobile's freehand tool can turn these into nice smooth curves or smoothly drawn filled areas for you. (You can control the degree of smoothing or turn it off if you like.)
Editing - it's hard to get things exactly right the first time - especially on a small gadget! Use the iPhone's multitouch capability to place, scale or rotate what you just drew.
Text - any font, any orientation. Tap to show where you want text to go or drag a line to show the size and orientation of your text, and then use the keyboard to enter your text.
Brushes - add texture or interesting effects to your drawing with ZeusDraw's brushes. Use them with transparent colors to get watercolor-like effects.
Color - customizable palette including transparent colors.
Eraser - any of the drawing tools, including text, can be used as an eraser. Erasures can be edited with multitouch just like drawn elements.
Picture in Picture - you can, of course, use one of your photos as a background, but you can also import pictures to use as elements in your drawing and place, scale and rotate them like any other drawing element.
Shapes - selection of predefined shapes.
Zoom - zoom in to at work at up to 3x.
Drawing album - you can save your drawings to ZeusDraw Mobile's drawing album. In the album you can change the orientation of a drawing, select it to continue work on it, email it, save it to to Saved Photos or delete it if you no longer need it.
System Requirements:
ZeusDraw Mobile 2.0 requires iPhone/iPod touch OS 3.0.
ZeusDraw Mobile for iPhone is only $9.99 and available exclusively through Apple's App Store.
Link: ZeusDraw Mobile (available through the iPhone App Store)
Major Update to GoodReader File Viewer for iPhone
PR: Good.iWare announces the launch of a major update to its GoodReader file viewer application for iPhone and iPod touch, with new features that enable it to easily manage large PDF and TXT files. The new version is a major leap forward from the previous versions of GoodReader and other available file viewer applications in the App Store.
"While there are many file sharing and management applications in the App Store, there are not that many true 'reader applications,'" says Yuri Selukoff, Good.iWare's CEO. "Every little detail that we have put into the development of the new GoodReader was designed to create the best reading experience. The difference between this version and the previous one is so dramatic, that many people consider this update as an entirely new application."
Good.iWare has created its own viewing engine for GoodReader, making it ideal for viewing:
very large PDFs (fast opening, password protected files, revolutionary 50x zoom)
very large TXT files (fast opening, no zooming or left/right scrolling required, user-selectable font and font-size, all text encodings known to iPhone OS)
high-resolution pictures, with an included slideshow mode
GoodReader now offers a revolutionary 50x PDF zoom, while maintaining sharpness and contrast, delivering the best way to read large PDF maps or technical drawings on an iPhone.
Other PDF viewing features that distinguish GoodReader from other viewer apps include true full-screen reading (no bars or buttons over the text), manual/automatic screen rotation, horizontal scroll lock, direct Web downloading of files, and an innovative Tap Zones feature whereby all scrolling is accomplished by tapping in special zones. It also offers optional password protection on application launch to add a layer of security.
The new version also offers the ability to send files from a computer to the iPhone via USB, a feature many customers had requested which will enable them to simply connect the USB cable and start transferring files rather than dealing with WiFi configurations or additional hardware.
GoodReader also offers a host of features that make it easier to navigate large files, including PDF and TXT text search and bookmarking, a "GoTo Page" feature for PDFs, and fast navigation in large TXT files with a navigation slider.
GoodReader can be purchased in Apple's App Store (iTunes Store) for $4.99.
Link: GoodReader (available through the iPhone App Store)
ReaddleDocs Improves Saving Email Attachments to iPhone
PR: Readdle has announced an update to Readdle Storage, their iPhone friendly cloud file storage solution, that improves saving email attachments to the service. The update brings support for more types of attachments and fixes several issues with popular email clients. This announcement further extends usage of Readdle Storage combined with ReaddleDocs, Readdle's popular document and file management solution for the iPhone, for saving email attachment to the iPhone.
The process of saving email attachment to the iPhone is pretty straightforward, individual forwards an email with attachments to his dedicated Readdle Storage email address. Readdle Storage processed the email and saves all attached documents to the users file storage. Once a document have been saved to Readdle Storage only few taps needed to download it to the iPhone using ReaddleDocs
ReaddleDocs is a file manager, web storage client, web browser, and powerful document viewer combined within a single iPhone business application. It allows people to transfer documents to their devices over WiFi and 3G in a number of ways, view them on the go, send by email and share with other iPhone users with ease. Combined with ReaddleDocs' ability to save email attachments, also highlighted by Walt Mossberg in The Wall Street Journal, it makes ReaddleDocs the best way to store and read email attachments on the iPhone.
"Capability to save email attachments using Readdle Storage service exists almost 2 years and large audience of iPhone business users relies on it. However there is many iPhone users who may benefit from this function and simply don't know about Readdle Storage," - explains Alexander Tyagulsky, Readdle.com CMO. "I hope this announcement will get their attention and even more iPhone users will be able to solve their email attachments problems."
Readdle Storage is available as a free service for all ReaddleDocs users. ReaddleDocs is available for the special price of $4.99 exclusively on the App Store.
Link: ReaddleDocs (available through the iPhone App Store)
Accessories
iPhone 3GS Mounts Easily in Your Vehicle with a iPhone Holders from ProClip USA
PR: ProClip USA, Inc. has announced a variety of device holders designed to securely mount the iPhone 3GS to car, truck and SUV dashboards and consoles.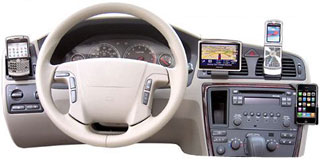 These holders, designed and manufactured by Brodit AB in Sweden, are custom made and attach to vehicle specific ProClip dashboard mounts. Once this two part solution (Device Holder plus Vehicle Mount) is attached, to the dashboard, the solution provides better viewing and easier access. ProClip holders may also be attached to other manufacturers' vehicle mounts or any other flat surface.
"Securely and conveniently mounting handheld devices like the new iPhone 3GS, without damaging a vehicle's interior, is what we do best," says Bjorn Spilling, president of ProClip USA. "We offer mounting solutions that are custom designed for virtually every car in the world, and all popular handheld devices."
The Padded Holder with Tilt Swivel is custom made with a neat and discreet design. It tilts 15 degrees in any direction for optimal viewing. Your iPhone 3GS easily slides in and out of the holder.
The Padded Holder with Tilt Swivel and Charging/USB Cable has a cable permanently attached to the base so when your device is slid into the holder it connects to the cable. Then the cable can either be plugged into your car's 12V power outlet or any female USB connection. You can easily slide your iPhone in and out of the holder. The Holder angles 15 degrees for optimal viewing.
The Holder with Tilt Swivel and Pass-Through Connector will make docking and undocking, your iPhone 3GS, easier and more convenient. Attach your stereo cable, charging cable or any other iPhone compatible cable, to the bottom of the holder, to create a docking station. Your iPhone 3GS is conveniently on the dash within easy reach and slides in and out of the holder with one hand. The holder is custom made with a neat and discreet design and tilts 15 degrees, in any direction, for optimal viewing.
The Adjustable Holder with Tilt Swivel and Pass-Through Connector has all the benefits of the above Holder with Tilt Swivel and Pass-Through Connector plus it is designed to accommodate your encased iPhone 3GS. This Adjustable Holder will adjust from a width of 2.3" (60mm) to 3.2" (82mm).
The ProClip Vehicle Mount provides the mounting platform to attach any of the ProClip holders. The ProClip Vehicle Mount is the only vehicle specific, consumer installable mounting bracket in today's global market. The mount clips into the dashboard seams, providing a very sturdy and tight fit. Average installation time is 2 minutes. No dismantling of the dashboard is required and there is no damage to the vehicle's interior.
Holders are also available for earlier generation iPhones.
Link: ProClip USA
EXOvault Solid Metal Machined iPhone Cases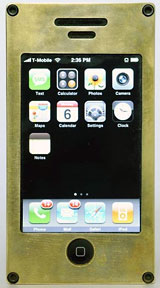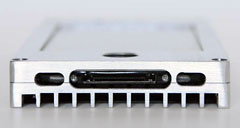 PR: Brooklyn, New York-based artists Jonathan Schipper and Amelia Biewald offer the EXOvault iPhone case.
The EXOvault case is machined from solid metal stock in two pieces. Providing you with a distinctive beautiful handcrafted object that sets itself apart from the average modern plastic world.
You have the choice of light aluminum, classic brass and aerospace grade titanium.
All the materials will age and patina beautifully through use.
All cases ship directly from the designer's factory in Brooklyn NYC.
Prices:
Aluminum $95
Brass $95
Titanium $300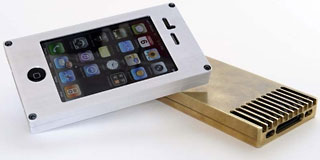 Custom versions are available - please email Exovault@gmail.com
Upon ordering, please specify which generation of the iPhone you have.
Cases are built to order. Most Orders will ship within a week.
Link: EXOvault
Join us on Facebook, follow us on Twitter or Google+, or subscribe to our RSS news feed
Links for the Day
Mac of the Day: Power Mac 8200, introduced 1996.04.22. The minitower version of 7200 was never sold in America.
Recent Content
Custom Search
Follow Low End Mac on Twitter
Join Low End Mac on Facebook
Favorite Sites
MacSurfer
Cult of Mac
Shrine of Apple
MacInTouch
MyAppleMenu
InfoMac
The Mac Observer
Accelerate Your Mac
RetroMacCast
The Vintage Mac Museum
Deal Brothers
DealMac
Mac2Sell
Mac Driver Museum
JAG's House
System 6 Heaven
System 7 Today
the pickle's Low-End Mac FAQ
Affiliates
Amazon.com
The iTunes Store
PC Connection Express
Macgo Blu-ray Player
Parallels Desktop for Mac
eBay

Advertise