Technology vs. Texting, Fixing iPhone Annoyances, Quitting the iPhone, Photo Speed Dialing, and More
This Week's iPhone, iPod, and Apple TV News
Compiled by Charles Moore and edited by Dan Knight - 2009.08.07
Mac notebook and other portable computing is covered in The 'Book Review, and general Mac news is in Mac News Review.
All prices are in US dollars unless otherwise noted.
News, Reviews, & Opinion
Apps & Services
Accessories
Protection
iPod Deals
These price trackers are updated regularly.
News, Reviews, & Opinion
Ban Texting? Require Smarter Cars and Trucks!
PC World's David Coursey says that better speech technology could make texting while driving more than dangerous - rather obsolete - obviating the necessity for drivers to read teensy words from a tiny screen or type using an undersized keyboard, both of which could be replaced by simply talking and listening....
Though not perfect, says Coursey, recent advances in speech technology make him think we could outlaw not just texting while driving, but also dialing or even looking at a cellular handset while in motion....
There are things we can do to reduce the danger, he notes, but short of entirely outlawing cellular usage while driving, significant risk is likely to remain (23.2x greater crash risk when texting behind the wheel according to a study out last week), adding that if we don't do everything we can to reduce that risk, the days of using phones while driving may be numbered.
Link: Ban Texting? Just Require Smarter Cars and Trucks
Top 10 iPhone Annoyances - and How to Fix Them
PC World's Jared Newman says:
"Even the greatest gadgets have flaws, and the iPhone is certainly no exception. Praise it all you want, but the 'Jesus phone' has plenty of little annoyances or nuisances that get under a user's skin. Fortunately, technology is all about workarounds to common problems. So we've not only put together a Top 10 list of iPhone annoyances to vent about, we're also offering solutions (where we can) to fix those pesky iPhone problems we hate so much...."
Link: Top 10 iPhone Annoyances - and How to Fix Them
iPod: The Next Generation
BusinessWeek's Arik Hesseldahl says:
"The iPod is starting to show its age. It has been nearly eight years since the world was introduced to the petite media player . . . iPod sales are starting to run out of juice: They fell 7%, to 10.2 million units, in the most recent quarter . . . the first year-on-year decline on record.
"...the company has been mum on what the next generation iPod will look like.
"Here's a hint. It will almost certainly be a souped-up iPod touch....
"This fall will likely bring a new model of the touch with new features and double the memory of the current model to 64 gigabytes. Apple could easily add a camera that shoots both still photos and video, something the iPhone already does...."
Link: iPod: The Next Generation
Apple Releases iPhone OS 3.0.1 Security Patch
A new Apple Knowledge Base article says:
"For the protection of our customers, Apple does not disclose, discuss, or confirm security issues until a full investigation has occurred and any necessary patches or releases are available. To learn more about Apple Product Security, see the Apple Product Security website.
"iPhone OS 3.0.1 available for: iPhone OS 1.0 through iPhone OS 3.0
"Impact: Receiving a maliciously crafted SMS message may lead to an unexpected service interruption or arbitrary code execution
"Description: A memory corruption issue exists in the decoding of SMS messages. Receiving a maliciously crafted SMS message may lead to an unexpected service interruption or arbitrary code execution. This update addresses the issue through improved error handling. Credit to Charlie Miller of Independent Security Evaluators, and Collin Mulliner of Technical University Berlin for reporting this issue."
Link: Apple Releases iPhone OS 3.0.1 Security Patch
I Quit the iPhone
Tech Crunch's Michael Arrington says:
"I have loved the iPhone, but now I am quitting the iPhone.
"This is not an easy decision....
"I've been an unabashed cheerleader for the device to all who'll listen. And I've scoffed at developers who said they'd abandon the platform.
"But I'm not going to upgrade to the iPhone 3GS. Instead, I'm abandoning the iPhone and AT&T. I will grudgingly pay the $175 AT&T termination fee and then I will move on to another device.
"What finally put me over the edge?"
Link: I Quit the iPhone
iPhone Haters Are Stick-Shifters in an Automatic World
Techdirt's Derek Kerton says:
"Every time we post a story at Techdirt about the iPhone, we see the comments rapidly bifurcating into a religious battle between the 'fanboy idiots who make excuses for the useless little iPhone like a beaten wife just because it's trendy and shiny' and the guys who 'whine because [the iPhone doesn't do] everything and cost nothing' ...
"I liken the whole debate to the stick-shift versus automatic transmission debate decades ago (still in the EU). True motoring aficionados could not accept the dumbed-down, lazy automatic transmission. They insisted on doing the work themselves. It was harder, but it was 'the only way to truly 'drive' the automobile'. Tough luck if it put driving out of the reach of some. By now, the mass market has decided that 'easier' trumps a religious argument about 'real feel for the road'. Good products take people to their destination as easily as possible. The market has spoken: Getting there is not half the fun...."
Link: iPhone Haters Are Stick-Shifters in an Automatic World
Apps & Services
LookItUp! Search Engine Utility for iPhone and iPod touch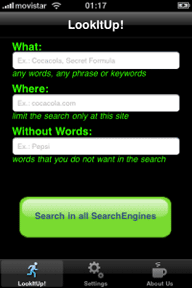 PR: idealius.com introduces LookItUp! 1.0, their new search engine utility for iPhone and iPod touch. Developed specifically to leverage the iPhone's unique abilities and interface, LookItUp! offers a radically improved approach for searching anything. LookItUp! aims to be the most comprehensive search engine of search engines.
From a single search, gain free, instant access to millions of pages from hundreds of search engines. Users can find exactly what they want by tapping into thousands of company websites, job boards, newspapers, images, audio, video, articles, blogs and associations. It's the perfect tool to drill down by keyword, site location as well as by filtered search.
"I was tired of having to jump around from one search engine to another, particularly from my iPhone" said Carlos G. Varela, CEO and founder of idealius.com "With LookItUp! in the palm of your hand, now anyone can search all these thousands of sites at the same time, on one simple search, returning last minutes info."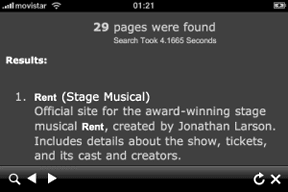 LookItUp! features hundred of relevant search engines, including A9, ABC, Accoona, AltaVista, Amazon, Ask, AskJolene, Atomfilms, FAST, Alltheweb Image, BBC News, CareerBuilder, CNN News, dmoz Open Directory, ezinearticles, Findarticles, FoxNews, goarticles, Google, Google Blog Search, Google Images, Google Video, MSN, MSN Images, PicSearch, Reuters, Technorati, Truveo, Yahoo!, Yahoo! Audio, Yahoo! Jobs, and Yahoo! News.
Feature Highlights:
Hundred of Relevant search engines
Effortlessly Filter results
Access thousands of sites from hundred of search engines in a single search
Access millions of filtered and rating pages
Supported Languages: US English and Spanish
System Requirements: iPhone or iPod touch 3.0 or later
LookItUp! 1.0 for iPhone is only 99¢ (0.79 Euro) and available exclusively through Apple's App Store.
Link: LookItUp!
iPhone Unlocking App Unlocks iPhone 3.0.1 Firmware
PR: iPhone Unlocking Ltd., within just days of the release of the latest firmware version 3.0.1 from Apple, have produced an innovative unlocking application which will enable all iPhone owners to free the network restriction caused by the latest update.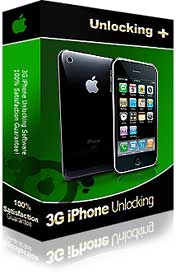 The 3G iPhone is fast becoming more and more popular as prices are starting to fall. The major downfall is the limited number of networks that are available and the expensive price plans. Several iPhone Unlocking services state that they have an unlocking solution for the iPhone 3G and 3GS, however most are unreliable and can damage your iPhone in the process.
iPhone Unlocking Ltd. was formed shortly after the release of the first generation iPhone and have successfully unlocked over 1 million iPhones worldwide. This is unparalleled by any other service in the industry. They have achieved this by combining a very simple solution with a fantastic customer service department that are available 24/7 through many forms of contact including telephone.
The iPhone itself is packed with a wide assortment of features and functions, but it is typically only available on expensive price plans and predetermined networks. This has created anger within the iPhone community as it is believed that the customer deserves the freedom to select their own network provider and price plan.
The wonderful feature of the iPhone Unlocking Software is that upon unlocking your iPhone you will not loose any of the great features and functionality of the iPhone. This provides the iPhone user absolute freedom over network choice and still have a complete fully functioning device.
The Unlock iPhone 3G and Unlock iPhone 3GS software comes with a full 30 day money back guarantee, lifetime updates and most important of all, lifetime support. If you require first class service at an affordable price, there is only one simple choice you have to make.
Link: iPhone Unlocking Ltd.
iPhone Hotel Reservations with Travelocity
PR: Top-selling travel app company Mobiata today announced the release of HotelPal, a new app enabling travelers to search, browse, and book from millions of hotel rooms while on the go. HotelPal is available free on the iPhone App Store and includes over a million hotel rooms, searchable by city, zip or current GPS location; detailed photos, amenities and descriptions; built-in Google Maps to compare hotel locations; real-time hotel availability and rates; and built-in hotel booking via the Travelocity Partner Network.
"HotelPal makes it easy and even enjoyable to find the right hotel in the right location at the right price," said Phil Baker, travel and technology columnist at the San Diego Transcript. "It's the app that Expedia or Orbitz should have released."
HotelPal is the latest app from Mobiata, whose FlightTrack and FlightTrack Pro apps have topped the iPhone Travel bestseller list for nearly nine months - virtually unheard of in the iPhone app industry.
"HotelPal's minimalist user interface for browsing and reserving hotels makes it easy to find the right hotel on the go, even from an airport lounge or taxi," said Ben Kazez, CEO of Mobiata. "It's perfect for last-minute plans, canceled flights, road trips, or just exploring future destinations."
Mobiata's other apps, FlightTrack and FlightTrack Pro, have topped the iPhone Travel bestseller list since their release nearly nine months ago, garnering rave reviews from the New York Times, Wall Street Journal, Forbes, Washington Post (TechCrunch), USA Today, Macworld, PC Magazine and others. Apple features FlightTrack in full-page ads in the New York Times and Wall Street Journal, as well as in iPhone television commercials. Mobiata also offers iPhone application design and development services, enabling third parties to drive their iPhone projects to success.
Link: HotelPal
PhoneFace Photo Speed-Dialing
PR: Electric Pocket is introducing its PhoneFace photo speed-dial application for the iPhone - the first of its kind to connect with Twitter to retrieve profile photos of frequently called contacts.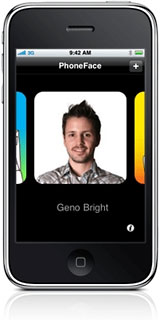 Electric Pocket is now introducing its PhoneFace photo speed-dial application for the iPhone - the first of its kind to connect with Twitter to retrieve profile photos of frequently called contacts. PhoneFace has been a very popular application among users of BlackBerry and Android smartphones.
PhoneFace is a light and breezy speed-dialer aimed at helping anyone reach out to their friends and family more quickly with their iPhone.
It's so much easier to look for a familiar face than sort through hundreds of names in a directory.
PhoneFace will launch phone calls, text messages and emails with a simple click on a contact's photo or avatar. The app also comes with a fun set of custom-designed avatars, including a number of friendly robots and other quirky characters, to represent friends with no photos available.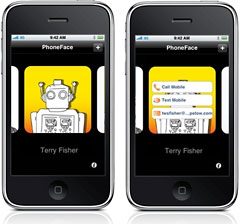 PhoneFace makes it simpler and quicker to find and launch a call, text or email with friends, family and coworkers. Rather than forcing users to scroll through hundreds of contacts in the Address Book of their iPhone, PhoneFace adds a twist to "speed dialing" by enabling them to flick through photos for their most commonly called contacts to quickly select the person they wish to call.
PhoneFace users can select any photo for their contacts, take a photo with the iPhone's camera or it can automatically locate and update the pictures of PhoneFace contacts with their most recent Twitter profile picture. This integration gives users a ready source of excellent photographs for their contacts - and uniquely, the speed-dial picture becomes a photograph chosen by the contact themselves.
"PhoneFace is a light and breezy speed-dialer aimed at helping anyone reach out to their friends and family more quickly with their iPhone," said Iain Barclay, Electric Pocket's cofounder and Chief Product Officer. "It's so much easier to look for a familiar face than sort through hundreds of names in a directory."
PhoneFace is available now from the iTunes App Store for with an introductory price of 99¢.
Link: PhoneFace
WriteRoom.iPhone 2.0
PR: Hog Bay Software releases WriteRoom.iPhone 2.0. For people who want to write and take notes on their iPhone. WriteRoom is a distraction free writing environment. Unlike Notes, WriteRoom provides a clean interface and tether free synching.
Full-screen editing
Sync to WriteRoom.ws (beta)
Share your documents over WiFi
Full-screen editing is a new WriteRoom.iPhone 2.0 feature. In full-screen mode toolbars and the status bar fade away, leaving you with a distraction free view of your text. Watch the screencast on WriteRoom.iPhone's home page to see this feature in action.
WriteRoom.ws is a new companion website for WriteRoom.iPhone. WriteRoom.ws stores your writing online so that it is always available, even when you don't have your iPhone. Unlike most iPhone sync solutions, WriteRoom.ws will intelligently merge multiple changes so that you won't lose data. The WriteRoom.iPhone sync protocol is efficient, saving you time and bandwidth.
The WiFi document sharing feature has a new text focused web UI. It includes keyboard shortcuts for quickly opening and saving files, and the text area now allows for entering tab characters.
Inspired by WriteRoom for OS X. When you purchase WriteRoom.iPhone, you'll get a $5 off coupon that can be used when purchasing the Mac OS X version of WriteRoom or TaskPaper.
System Requirements:
Requires iPhone 3.0 Software Update
Compatible with iPhone and iPod touch
WiFi support requires access to wireless network
WriteRoom.ws sync requires Google ID (Free) and network access
WriteRoom.iPhone 2.0 may be purchased from the iTunes App Store for $4.99. It's a free update for existing WriteRoom.iPhone 1.0 users.
Link: WriteRoom.iPhone
Comics by comiXology for iPhone and iPod touch
PR: Last week at the Comic-Con expo in San Diego, we launched Comics by comiXology, a first-of-its-kind digital comic store, library, and reader for iPhone and iPod touch. Out of the chute it is offering over 100 titles available from twenty popular comic publishers and many independent comic writers. Comics by comiXology not only lets you read your comics on your iPhone, but also enables you to locate and connect with your local comic book store to purchase the printed versions.
And the good news is that Apple has reversed course on allowing us to offer promo codes to reviewers (it comes with a 17+ rating because of the mature subject matter of a few of the comics). Would you like to give it a try?
Sincerely,
Kevin Doel
TalonPR, Inc.
Link: comiXology
iDay Deluxe 3.0 for iPhone and iPod touch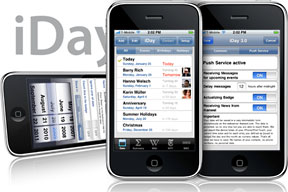 PR: iHanWel announces iDay Deluxe 3.0, an update to their popular day calendar and event utility for iPhone and iPod touch. Designed specifically to leverage the iPhone's unique capabilities and interface, iDay makes it easy to keep track of birthdays, anniversaries, holidays, or any special event.
Serving not only as an excellent reminder tool, iDay presents historic parallels associated with any event. Choose any entry and iDay will present useful, accompanying information, including numeric data, Western, Chinese, Native American, and Celtic Zodiacs, and the moon phase for that day. Alternatively, users can view them all together in a combined list, ordered by date. Additionally, iDay provides handy links to Wikipedia for that day, as well as the New York Times and BBC's "On This Day".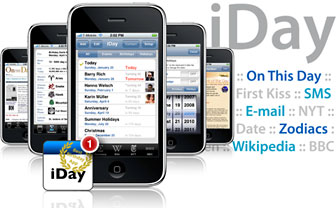 Version 3.0 now supports the Apple Push Notifications Service. iDay will automatically update its badge to display any event as well as any new upcoming events for today, all without starting the application.
"With the Push Notification Service, Apple gives us a great opportunity to never let our users forget any birthdays, anniversaries or other important date" says Karin Mueller, designer of iDay. "Just let them read from the contact database of your iPhone or use manually defined events and iDay will display a short alert with the badge on the home screen, and also a message if the event is upcoming. All without checking any dates in the app."
Supported Languages: US English, and German
System Requirements: iPhone or iPod touch 3.0 or later
iDay Deluxe 3.0 for iPhone is $4.99 and available exclusively through Apple's App Store. Push Service is available for a fee of 99¢ for six months.
Link: iDay Deluxe
Daily Tracker for the iPhone & iPod touch
PR: CVZ Productions has released Daily Tracker 2.3, an update to their innovative personal organizer for iPhone and iPod touch. Daily Tracker is a versatile organizer that allows you to track almost anything. Choose from an existing category such as calories, workouts, sleep, body weight or create your own. Entry types can be quantitative (numbers, stopwatch, clicker etc.) or qualitative (ratings, weather symbols or emoticons). Simply pick a name, entry type, units and start tracking whatever you are interested in.
A Tracker. A List Manager and an RSS Reader. In short, the go-to place for your personal data.
Daily Tracker is also a powerful list manager. Perfect for tracking to-do lists, notes, ideas, projects and more. Notes can be annotated with pictures and emailed with image attachments. Thanks to the integrated search feature you'll be able to find your notes in a snap (results appear as you type individual letters).
Last but not least, you can add RSS feeds to your lists and stay up-to-date on the latest news, favorite blogs or any other website that publishes updates using RSS. And, just to make your experience more delightful, you can change application theme by simply shaking your iPhone left and right.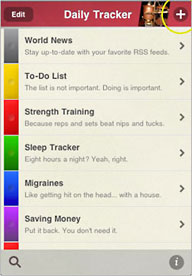 Feature Highlights:
Create and organize your own categories
Organize Lists of Entries (inc. checklists)
Multiple types of counters
Integrated RSS Reader
Multiple Themes
Add notes, see daily change history
In-App Email Support
Email notes with image attachments
Calendar view
Day, Week, Month and Year summaries
Trend charts (a.k.a. sparklines)
Switch between Line and Bar Charts
Large keyboard when you rotate the phone
Search notes (as easily as the web)
Email notes and entries (also in CSV format)
Protect access with a password
Version 2.3 features iPhone 3.0 support and sports many new improvements, including ability to add RSS Feeds to user defined lists and multiple themes.
Supported Languages: English, German, French, Japanese, Dutch, Italian and Spanish
System Requirements: iPhone or iPod touch 2.2 or later
Daily Tracker 2.3 for the iPhone and iPod touch is $2.99 and available exclusively through Apple's App Store.
Link: Daily Tracker
Accessories
New Kensington Mobile Device Accessories Do Double Duty as Home Helpers
PR: Kensington Computer Products Group today announced six cleverly designed new mobile device accessories that blend seamlessly and attractively into home environments while supporting their user's everyday computing practices. The contemporary product designs thoughtfully reflect the home environment standard of living for enhanced comfort, organization, simplicity, and accessibility.
A recent May 2009 CEA 11th Annual Household CE Ownership Study concludes that even in tumultuous financial times - products designed to enhance and improve our lives remain a priority. Kensington continues to create products that improve the daily user experience through its trademark smart made simple design. So, as the economy causes people to spend more time at home, they appreciate having accessories that work as well inside their living quarters as outside of it.
Home Is the Recharging Station
Home is the recharging station for the mind and body, and Kensington makes it an ideal place for technology to keep on working even as it is recharging. New members of Kensington's "power it" and "play it" lines include a smart nightstand charging dock for iPhone and iPod touch that tells the time and weather, and a charging dock for iPhone or iPod® that comes with an extra boost of backup power for on the go convenience. Kensington also is introducing additions to its "optimize it" line with four new soft, comfortable and easy-to-use notebook stands. Their smart made simple design conveniently folds up and down in a flash and their designer shapes and shades make them attractive accent accessories to keep around for quick and easy computing comfort in any and every room of the home.
Boost Battery Life at Home, Bring on the Go
Kensington Charging Dock with Mini Battery Pack for iPhone and iPod (SKU K33457US; SRP $69.99) is all the power you need and is never far away. The compact dock recharges your iPhone (including new iPhone 3GS) or iPod so you can leave home with it fully charged. The dock also charges the included Mini Battery Pack so you can take an extra boost of backup power with you on the go.
Dock simultaneously charges your iPhone or iPod and Mini Battery Pack
Includes detachable USB charging and synching cable, USB wall adapter, and iPhone 3G dock insert
Mini Battery Pack extends play time up to 30 hours of music*; 6 hours of video*; 3 hours of talk**
*iPod nano 3rd Generation ** iPhone
A Nightstand Can Recharge Your Batteries
Much more than just a charger, the Kensington Nightstand Charging Dock for iPhone (SKU K33458US; SRP $39.99) allows you to download, at no extra cost, an application that transforms your iPhone or iPod touch* into a bedside clock and weather center. Its small footprint reduces nightstand clutter and the charging dock powers and holds your iPhone or iPod touch in landscape mode using a kickstand to clearly display the time and weather.
Large, landscape display that doesn't go into sleep mode, with optional screen dimming
Includes charging cable
Download Kensington Rise&Shine Clock and Weather application for clock and weather (Visit www.riseandshine.kensington.com for more details)
*Application compatible with iPhone 3GS, iPhone 3G, iPhone, and iPod touch only
The Kensington products are available at select retail stores and both Amazon.com and Kensington.com.
Link: Kensington
Grantwood Technology RunWallet - an Arm Wallet for the iPod shuffle
PR: Grantwood Technology, LLC has announced the release of the RunWallet, an armband product designed to comfortably carry IDs, emergency contact information, bank cards, credit cards, car keys, car remotes, house keys, hotel keys, cash/coins during exercise, with the added ability to carry the iPod shuffle.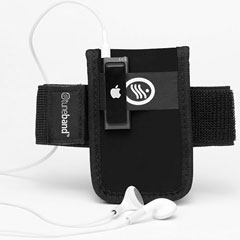 The RunWallet is a soft, neoprene arm wallet that can easily accommodate the above items in a secure Velcro closure. Each RunWallet consists of a comfortable and flexible armband strap that can accommodate both large and small arms. We also have extra large and extra small armbands available upon request. As a fitness wallet, the RunWallet can be attached to the supplied armband, or can easily be attached to your shoe, attached to a belt or simply placed in a pocket. Whether you seek a running wallet, fitness wallet, or arm wallet, the RunWallet will fit your needs.
The RunWallet also has an attachment band to allow items to be clipped to it, including the iPod shuffle.
The RunWallet's armband is made with the same material as our highly acclaimed tuneband for iPod and tuneband for iPhone. Therefore, you already own one of our tunebands for iPod or tunebands for iPhone or plan to purchase one, you can accommodate both items on the same armband.
"The RunWallet is a natural extension to our armband products," explained Michael Banks, MD, cofounder and CEO of Grantwood Technology, LLC. "There is no better way to carry items such as keys, cash or IDs when working out."
Link: RunWallet
Protection
Precision HSD Case for iPhone 3G and 3GS
PR: AGF, the design force behind many popular accessories for major mobile brands, today adds to its new retail line with the "Precision HSD" case/carry solution for iPhone 3G and 3GS. The Precision HSD product line features an ingenious case design that unites superior protection, quality construction and ease of use.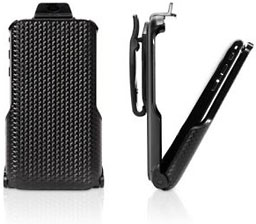 The Precision HSD for iPhone 3G and 3GS blends durability and style in a unique case and carry solution that safeguards both the front and back of the iPhone. The patented design will not scratch or rub the surface of the phone because of its innovative, easy to use, one-handed latch system. The unique case design does not attach directly to the phone and provides superior protection without wear to the phone's surface. The Precision HSD case is available in custom finishes, all with a premium look and feel that is competitively priced.
Features:
New, patented, innovative carry solution for additional safety and security
iPhone can be placed oriented with screen facing in or screen facing out
Engineered hinge to enhance use and durability
Soft microfiber lining
Protects Safeguards both sides of phone for extra protection and style
Easy- to- open door to view calls or phone status
Patented AGF long-life 180- degree swivel belt clip
AGF Precision HSD for iPhone 3G and 3GS is $34.95 MSRP.
Link: AGF Precision HSD for iPhone 3G and 3GS
Pop-Tart iPhone Sleeve
PR: This iPhone sleeve is great cold or hot. Don't put in your toaster though, or it may catch the house on fire.
Stop, drop, and roll.
$20
Link: Pop-Tart iPhone Sleeve
Join us on Facebook, follow us on Twitter or Google+, or subscribe to our RSS news feed
Links for the Day
Recent Content
Custom Search
Follow Low End Mac on Twitter
Join Low End Mac on Facebook
Favorite Sites
MacSurfer
Cult of Mac
Shrine of Apple
MacInTouch
MyAppleMenu
InfoMac
The Mac Observer
Accelerate Your Mac
RetroMacCast
The Vintage Mac Museum
Deal Brothers
DealMac
Mac2Sell
Mac Driver Museum
JAG's House
System 6 Heaven
System 7 Today
the pickle's Low-End Mac FAQ
Affiliates
Amazon.com
The iTunes Store
PC Connection Express
Macgo Blu-ray Player
Parallels Desktop for Mac
eBay

Advertise