iPhone Tops on Flickr, iPhone Putting Apple in Business Market, AAA Roadside Assistance App, and More
This Week's iPhone, iPod, and Apple TV News
Compiled by Charles Moore and edited by Dan Knight - 2009.08.21
Mac notebook and other portable computing is covered in The 'Book Review, and general Mac news is in Mac News Review.
All prices are in US dollars unless otherwise noted.
News, Reviews, & Opinion
Apps & Services
Accessories
Protection
iPod Deals
These price trackers are updated regularly.
News, Reviews, & Opinion
iPhone Most Popular Camera on Flickr
The Los Angeles Times reports:
"Here's a tidbit that's sure to irk Flickr's elitist photographers: The iPhone has just topped Canon's high-performance Digital Rebel XTi as the most popular camera on Yahoo's popular image-sharing site...."
Link: iPhone Passes Canon Rebel XTi as Most Popular Camera on Flickr
iPhone vs. Palm Pre Satisfaction Bake-off
Fortune's Philip Elmer-DeWitt says:
"Palm Pre owners love their smartphones, but not as much as owners of Apple's new 3GS iPhone love theirs."
Link: iPhone vs. Pre: Satisfaction Bakeoff
iPods 'Are Noise Pollution'
Courier Mail's Danny Rose and Bec Gill report:
"Listening to your iPod at full volume can be like taking a chainsaw to your eardrums, an Australian hearing expert says.
"Professor Harvey Dillon also believes personal MP3/MP4 players and other loud "leisure noise" activities will be a cause of rising rates of hearing loss."
Link: iPods 'Are Noise Pollution'
Apple Cracking into Business Market with iPhone
EE Times' Rick Merritt reports:
"Apple Inc. is leveraging its iPhone success as a Trojan horse to break into the market for business cellphones and computers that has long evaded the company, according to a research report released Wednesday (August 12)."
Link: Report: Apple Cracks into Business Market with iPhone
Build an iPhone Dock from an iPhone Box
TUAW's Dave Caolo says:
"As the product of frugal New England Yankees, I like items that multi-task. If said item is something that could typically get thrown away, even better. Check out this awesome iPhone 3GS dock made from its retail box."
Link: Build Your iPhone a Dock from Its Own Box
Apps & Services
Gmail Push Now Available on iPhone
PR: GPush, the Gmail push application for the iPhone, is available now through the Apple App Store. Instant or "push" Gmail has been accessible on most smartphones for years, but surprisingly has not been available on iPhone, until now. GPush, which is now available in the App Store, enables iPhone users to instantly receive Gmail notifications on their iPhone. Without GPush, iPhone users can sometimes wait up to an hour to be notified of a new email received in their Gmail inbox.
The GPush Application, which retails for 99¢ in the App store, gives iPhone users the ability to choose how they want to be notified of new email. GPush options include having the iPhone vibrate and ring and having the GPush icon display the number of unread messages received. GPush users also receive previews of incoming emails, displaying the sender's name and subject headings.
"The lack of push Gmail on my iPhone is the one feature that made me want to switch back to my Blackberry," said Eliran Sapir, Cofounder of Tiverias Apps. "With GPush, I can continue using my iPhone with no worries of when my next email will arrive." Yoni Gontownik, Cofounder, said, "with all that is going on with Google, Apple and the FCC, we are pleasantly surprised GPush was accepted into the App store."
Link: GPush (available through the iPhone App Store)
TomTom App for iPhone Now Available
PR: TomTom announces that the TomTom for iPhone navigation application can be purchased in the Apple iTunes App Store.
"With TomTom for iPhone, millions of iPhone users can now benefit from the same easy-to-use and intuitive interface, turn-by-turn spoken navigation and unique routing technology that our 30 million portable navigation device users rely on every day," said Corinne Vigreux, Managing Director of TomTom. "As the world's leading provider of navigation solutions and digital maps, TomTom is the most natural fit for an advanced navigation application on the iPhone."
The TomTom app for iPhone 3G and 3GS users includes a map of the US and Canada from Tele Atlas, and is available to download through http://www.tomtom.com/tomtom-app for 99.99.
TomTom app for iPhone key features
TomTom app for iPhone includes the exclusive IQ Routes™ technology*. Instead of using travel time assumptions, IQ Routes bases its routes on the actual experience of millions of TomTom drivers to calculate the fastest route and generate the most accurate arrival times in the industry. TomTom IQ Routes empowers drivers to reach their destination faster up to 35% of the time.
Additional TomTom app for iPhone features include:
Best routing and maps
Navigation software including fast route planning and clear voice instructions
Automatic rerouting if a turn is missed
Route demo or map of route when trip planning
Alternative route options if avoiding roadblocks, toll ways or looking for high occupancy vehicle (HOV) lanes along route
Latest Tele Atlas maps of the US, Canada, Europe, Australia, and New Zealand
6 million Points of Interest included
Easy to use and personalize
User interface fully optimized with iPhone.
Multiple display options including landscape and portrait navigation view
Night and day color mode for optimized screen visibility in varying light conditions
User interface available in 18 languages**
Change view settings (2D or 3D map display)
Easy to download from iTunes App Store
Complete phone and map integration
Multitouch gestures such as tap, swipe, pinch and zoom to operate the application and zoom in and out of the map
Navigation to contacts in address book
Points-of-interest search and call capabilities from iPhone
Pricing and Availability
The TomTom app for iPhone including full maps of the US and Canada will be available for $99.99 on the Apple App Store.
Compatibility with iPod touch and other iPhone models coming soon.
Requirements for use on the iPhone 3G or 3GS include phone installation of OS 3.0 and installation of iTunes on the PC or Mac.
* About TomTom IQ Routes: TomTom IQ Routes applies the historical travel time experience of millions of drivers to calculate the best route possible. The technology is based on historical speed measurements for every time of day, one for every road segment, from large motorways to small local roads. In up to 35% of all cases, the use of IQ Routes results in driving a faster route, saving significant travel time as well as money and fuel.
** Included user interface languages: Catalan, Czech, Dutch, Danish, English UK, English US, Finnish, French, German, Italian, Norwegian, Polish, Portuguese, Portuguese BR, Slovak, Spanish, Spanish LA, Swedish and Turkish.
Link: TomTom for iPhone (available through the iPhone App Store)
AAA App for iPhone Provides Location Info with Requests for Assistance
PR: AAA announced its AAA Roadside app for iPhone users is now available on the iTunes App Store. The free app provides AAA members with a way to use their iPhone, and its innovative location based services, to quickly send their vehicle location, description, specific vehicle problem and other detailed information directly to AAA for roadside assistance. The user always has the option to place a voice call, and once the request is submitted, the AAA member receives a confirmation that his/her information was received by AAA Roadside Assistance.
"Dealing with a breakdown can be a stressful situation for anyone, even more so when you're not familiar with your surroundings," said Marshall L. Doney, AAA Automotive vice president. "The AAA Roadside app for iPhone is another way AAA helps members get back on the road and onto their destinations. We think the AAA Roadside app is an invaluable tool for motorists, especially for those hitting the road this summer."
The app includes a While You Are Waiting feature, so members can search for nearby AAA Approved Auto Repair shops, Hertz rental locations offering AAA member discounts, AAA Approved accommodations, AAA offices and retail locations with discounts on auto parts and more. Each search displays key information for each location, such as the name, address, phone, distance from location,routing map, driving directions and a summary of the discount details. For those who are not AAA members, the app also has a Join AAA feature.
AAA Roadside is available for free from the iTunes App Store on iPhone or at www.itunes.com/appstore/. Please visit AAA.com/roadside for further details.
AAA's first app, AAA Discounts, launched in April 2009 and has been downloaded more than half a million times from the App Store. AAA Discounts displays Show Your Card & Save partners near the user's location.
As North America's largest motoring and leisure travel organization, AAA provides more than 51 million members with travel, insurance, financial and automotive-related services. Since its founding in 1902, the not-for-profit, fully taxpaying AAA has been a leader and advocate for the safety and security of all travelers. AAA clubs can be visited on the Internet at AAA.com.
Link: AAA.com (app available through the iPhone App Store)
i.TV Redefines the Universal Remote Control
PR: i.TV has announced the i.TV Remote Control Framework that gives third parties the ability to develop solutions to control external devices such as a television, an AV receiver, or DVR via i.TV on the iPhone and iPod touch.
The TiVo remote is the first integrated remote control on i.TV for TiVo subscribers with a broadband-connected TiVo DVR. "With i.TV, you can now use your iPhone or iPod touch as a remote control for televisions, DVRs and other home entertainment devices, said i.TV CEO, Brad Pelo. "By bringing together the television guide and remote control on a mobile device you carry in your pocket, i.TV will change how people discover and watch television shows and movies.! We are pleased that TiVo is the first of our partners to introduce remote control capabilities for their customers who use i.TV.
TiVo is about giving the user control of the television experience, said Jim Denney vice president of product marketing at TiVo Inc. Having the TiVo remote available through i.TV is another way TiVo customers can access the content they want, the way they want.
The i.TV Remote Control Framework gives development partners a flexible platform upon which to re-imagine the traditional remote control. For example, developers can make alphanumeric keypads for channel number entry optional and instead present users with a graphical user interface where they can tap on images or links to change channels on a television. Remote controls built upon the framework use scripts that dene user interface elements and key press behavior for controlling external home entertainment devices. Device discovery and communication between the iPhone or iPod touch and external hardware are handled via the Bonjour protocol or Apple's External Accessory Framework for Bluetooth accessories.
Also new in i.TV 2.0
New user interface - Streamlined and simplified UI and user experience, based on feedback and usage data from millions of i.TV users.
iTunes integration - From show detail screens, discover and instantly download download relevant television episodes, movies, and podcast content from iTunes.
Alerts - Using the iPhone OS push notification capabilities, i.TV now allows users to set alerts for specific, upcoming shows or simply ask for an alert anytime a new episode will air.
i.TV 2.0 with integrated TiVo remote control, iTunes integration and new user interface is free and will be available in August from the iTunes Store.
i.TV (pronounced eye-dot-TV) is an application for the iPhone and iPod touch that helps people discover, share and consume media. With i.TV, users can browse hundreds of thousands of up-to-date local TV and movie listings, as well as a catalog of hundreds of thousands of TV and movie titles available for download and DVD rental. i.TV also includes community features and allows people to write reviews, rate shows and recommend shows to friends via an e-mail alert. i.TV enables users to watch movie trailers and television previews, purchase movie tickets, manage their Netflix queues, and use their iPhone or iPod touch as a remote control. Founded in April 2008, i.TV is headquartered in Palo Alto, CA.
Link: i.TV (to be available through the iPhone App Store)
Edovia Introduces TouchPad 1.0 for iPhone and iPod touch
PR: Edovia announces its 7th app, TouchPad 1.0 for iPhone and iPod touch. TouchPad is a remote trackpad and keyboard package that lets you control any Mac remotely. Tired of having a keyboard and a mouse laying around in your living room? Get rid of that lousy setup with TouchPad! Use your iPhone or your iPod touch to remotely control you computer through WiFi. With TouchPad's intuitive use, you'll feel right at home if you have already used a track pad on a MacBook. It's almost like having a micro laptop in your hands/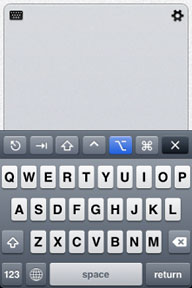 Feature Highlights:
Super-easy setup
Modifier keys (Ctrl, Option/Alt, Cmd, Shift)
Tab, Esc keys included
1 finger, 2 finger and 3 finger gestures
Vertical, horizontal scrolling
Swipe left or right with 3 fingers (Back and Forward)
Horizontal and vertical orientation supported
Pad still works while keyboard is visible
Easy to use Connection Manager
Requirements:
Supports with OS X 10.5 (Leopard), OS X 10.4 (Tiger)
Windows and Linux NOT supported
Connects through a WiFi connection and Bonjour
Screen Sharing or VNC server required
English keyboards supported
iPhone, iPhone 3G, 3GS, iPod touch (1st & 2nd gen)
TouchPad 1.0 is $3.99 and available exclusively through the App Store. Promo codes available upon request.
Link: TouchPad (available through the iPhone App Store)
Accessories
2-in-1 Stereo Speaker/Headphone System Goes from Private to Party
PR: Up until now, personal headphones meant an isolated experience, and for subway rides, visiting in-laws, and plane trips, that's a welcomed relief. But what happens when you want to turn a personal reverie into a portable party?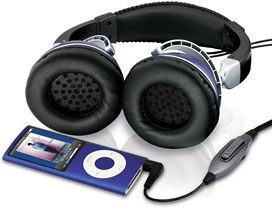 That solution is now here as iHome, a leading supplier of innovative iPod/iPhone speaker solutions, today introduced the iHMP5 2-in-1 Stereo Speaker/Headphone System. The first, over-the-ear headphone offering from iHome, the iHMP5 is unique among other headphones as it is fitted with an inline pre-amp that when activated can fill a room with stereo sound.
"At iHome, we continue to drive innovation throughout our product line by imagining new interpretations of product categories and applying creative design options to make them a reality," said Evan Stein, vice president of Marketing, iHome. "Our iHMP5 is a perfect example of this as we completely change the way people view headphones by allowing them to turn it into a portable speaker system."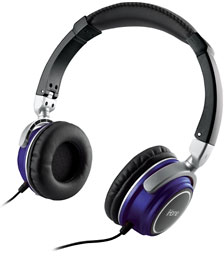 The iHMP5 allows users to configure the unit in two ways: as a personal set of headphone to listen to music privately, or as a speaker system to share the fun with friends. Available in three fashionable colors, the iHMP5 is outfitted with a lightweight, adjustable headband and full 360-degree padding on the ear-cups for noise isolation, making the private listening experience both comfortable and clear. However, for those times when sharing is a must, consumers can simply activate the battery powered amplifier and the stereo sound is there for everyone.
The iHMP5 is currently available for purchase at The Apple Online Store and on ihomeaudio.com for a suggested retail price of $59.99.
iHome supports its franchise with national print, broadcast and online advertising campaigns, and the company's products can be found worldwide in over 56 countries or on the Web.
The iHMP5 is currently available through Amazon.com:
Link: iHMP5
Micro Boombox Style Speaker for iPod/iPhone
PR: Most iPods don't have a speaker, although the iPod touch 2nd Gen and iPhone 3G (even iPhone 3Gs has a built-in speaker, it is still mono). Want a method to enhance your iPhone/iPod with a stereo speaker?
Here you are!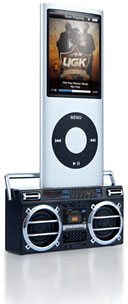 Features:
Battery Free, powered by iPod
Stereo output
Drag power directly from iPhone/iPod, no batteries required.
ideal to share music and video anywhere and anytime
Compact
Lightweight
Audio input: Apple Dock connector
Easy access to volume control
This accessory is compatible with:
iPhone 2G (or iPhone 1st Generation)
iPhone 3G ( or iPhone 2nd Generation)
iPhone 3GS
iPod touch 1st
iPod touch 2nd
iPod classic (6G)
iPod nano 4th, 3rd, 2nd & 1st
iPod mini
etc...
Specifications:
Weight 19g (approximately)
Dimensions: 62mm W x 15mm D x 30mm H
$31.99
Link: USB Fever Retro Cassette Stereo Mini Speaker for iPod/iPhone
RadTech Styloid v2.0 Stylus for Touch Screens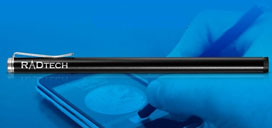 PR: Patterned after a fine writing instrument, Styloid allows precise control of both touch screen interfaces and the small buttons found on modern digital devices. Useful for users with large fingers or long nails who typically have difficulty manipulating small target screen elements and buttons. Even works while wearing gloves.
Styloid features a rugged, hard-anodized aluminum barrel with polished stainless steel accents and pocket clip. Striking in appearance, Styloid is finished in satin black, and is free of any sharp edges which could scratch the device being controlled.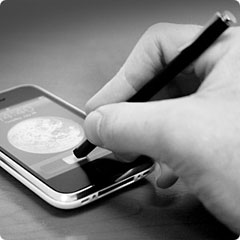 Features:
Finely-styled instrument for manipulating touch screens and/or small buttons
Perfect for users with large fingers, long nails or while wearing gloves
Provides precision control for for iPhone, iPod touch and others
Solidly constructed from anodized aluminum and polished stainless steel
Free of sharp edges which could damage or scratch touch screens
Features a secure, polished stainless pocket clip
Price: $14.95
Link: Styloid v2.0 Stylus
New iPod/iPhone Accessories for Charging, Playback, and Sync Flexibility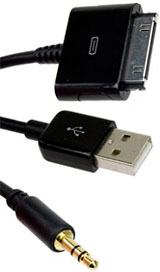 PR: Newer Technology, Inc. (NewerTech) has announced two new products in its iPod/iPhone accessories line: the NewerTech 3 in 1 Audio/Sync/Charging Cable and the NewerTech Auto Charger & USB Sync/Charging Cable. The two new accessories join an award winning line of other accessories to provide iPod and iPhone owners more functionality, flexibility, and enjoyment from their devices.
Available immediately for $14.99 MSRP in a choice of white or black color, the NewerTech 3 in 1 Audio/Sync/Charging Cable allows Dock Connector equipped iPod, iPhone, and iPhone 3G/3GS users to:
play music through any Auxiliary input equipped car stereo, computer, or portable speakers
update or download pictures, music, and/or videos via Mac, PC, or content portals like iTunes
charge via any Mac or PC USB port
Available immediately for $19.99 MSRP in a choice of white or black color, the NewerTech Auto Charger & USB Sync/Charging Cable allows Dock Connector equipped iPod, iPhone, and iPhone 3G/3GS users to:

charge via any vehicle's 12 volt Power Accessory outlet or any Mac or PC USB port
update or download pictures, music, and/or videos via Mac, PC, or content portals like iTunes
Link: NewerTech 3 in 1 Audio/Sync/Charging Cable
Link: NewerTech Auto Charger & USB Sync/Charging Cable
Protection
2 New iPhone 3G/3GS Cases from iPhone CAZE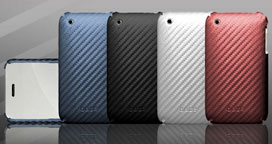 PR: iPhone CAZE has announced D Stripe and Color Shine, two new styles of its Leather series and Style series for iPhone 3G/3GS. D Stripe features distinctive diagonal stripe texture, perfect for matching with your stylish iPhone 3G/3GS. It is tough and durable, providing you with a good hand feeling.
Color Shine features 6 charming colors and is made out of top-quality plastic providing a soft, warm glow and good protection for your iPhone 3G/3GS.

In addition to D Stripe and Color Shine, CAZE also offers other high quality and stylish iPhone cases including Mirror Go/Metallic series and Slim Fit/Leather series. All products are well tested and packed in an aluminum foil bag and a gift box for shipment.
CAZE designs and manufactures high quality, fashionable and unique iPhone cases for iPhone 3G/3GS in a wide assortment of styles and colors. iPhone CAZE offers a variety of cases of different materials from leather, metallic, fabric, silicone to Swarovski crystal.
Starting from today till end of August, customers purchase any case from iPhone CAZE website will get special gifts that worth up to $35. Buy now to receive an extra iPhone case (value $20) or a Swarovski Crystal Apple logo (value $20). Also, a free Mirror Screen Protector (value $12.99) and a Mircofiber Cleaning Cloth (value $2) are included for free for every order.
This promotion ends on August 31st. Free shipment and online order tracking are available. Products will be shipped within 24 hours during weekday and 30 Days Money Back Guarantee is provided.
Link: iPhone CAZE
Marware CEO Premiere+ for iPhone 3G/3GS
PR: Marware Inc. has announced the CEO Premiere+ for the iPhone 3G/3GS. The CEO Premiere+ is Marware's latest eco-leather carrying solution for the iPhone. It includes a hard shell case, which protects the sides and back of the iPhone for an added layer of coverage.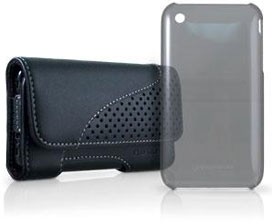 Try on this executive style, premium hip case for your iPhone 3G/3GS with a bonus hard shell included. Made from high quality eco-leather, the CEO Premiere+ is an environmentally friendly carrying solution. The durable Velcro™ flap keeps your iPhone secure and won't cause antenna interference like magnet style cases. The attached belt clip is so low profile and unobtrusive that you can easily slip the case into a pocket, purse, or briefcase. The included hard shell protects the sides and back of the iPhone for an added layer of coverage. The shell can be used alone or kept on your iPhone inside the hip case for maximum protection.
What's so great about eco-leather? The tanning process used to make this leather uses less toxins than traditional leather tanning. This minimizes toxic runoff into the ground and water tables. Throughout the entire process, the leather remains RoHS (Restriction of Hazardous Substances) compliant. No chlorine, no sulfuric acid, and no petroleum/chemical based dyes. This is real leather, without the environmental impact of standard tanning and dying processes.
The shell can be used alone, or kept on the iPhone while it's inside the hip case for added protection. The attached low profile belt clip adds no bulk and allows you to easily slip the case into a pocket, purse, or briefcase. The durable Velcro closure keeps the iPhone secure. The CEO Premiere+ also comes with Marware's Lifetime Warranty.
Features:
Eco-leather hip case with included hard shell
Built-in, slim belt clip for bag and belt attachment
Eco-leather minimizes harmful tanning chemicals and dyes
Includes: Eco-leather hip case, hard shell, clear screen protector, cleaning cloth and Marware's Lifetime Warranty.
The CEO Premiere+ is available in perforated, black eco-leather. It retails for $39.99 and is shipping now. To learn more about Marware's eco-friendly products, please visit Marware online. Marware is a leading provider of software and accessory solutions for Apple iPhones, iPods, and notebooks.
Link: CEO Premiere+ for iPhone 3G/3GS
Marware SportShell Convertible for iPhone 3G/3GS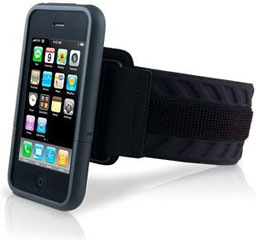 PR: Marware Inc. has announced the SportShell Convertible for the iPhone 3G/3GS is now shipping. With an added detachable armband and belt clip, the SportShell Convertible is a cleverly designed 3-in-1 carrying solution. It is a tough hard shell case, an armband case, and a belt clip case that provides the freedom to take the iPhone anywhere.
The armband allows the iPhone to rest securely and comfortably on your arm while you go for a walk, jog or the gym. Remove the armband and insert the belt clip, which doubles as a stand. Remove the clip and the SportShell Convertible easily slips into a pocket, purse or bag. The SportShell Convertible also comes with Marware's Lifetime Warranty.
Features:
Armband case, clip case, or slim pocket case - interchangeable parts
Quick release/attach armband design prevents perspiration from getting into iPhone
Securely clip to waistband, belt, or armband
Clip locks in place to become a stand
Interchangeable pieces offer maximum versatility
Includes: Hard shell case, clip, flat back piece, armband, clear screen protector and cleaning cloth
The SportShell Convertible is available in black and retails for $44.99 and is shipping now. Please visit Marware for additional information. Marware is a leading provider of software and accessory solutions for Apple iPhones, iPods, and notebooks.
Link: SportShell Convertible for iPhone 3G/3GS
Chinese Opera Face Pattern Plastic Hard Case for iPhone 3G/3GS
PR: Frank writes to say he's addicted to gadgets & gizmos and finds this Beijing Opera Mask Style iPhone 3G/ 3GS Case cool and creative. Frank elaborates:
"I've never really known anyone heavily or remotely into Beijing opera, but if you are, this is the hard plastic case for you. It makes a statement about a unique artistic interest, and you're not blowing your money on a common version of protective cover for your iPhone 3G/ 3Gs. You can purchase it for $3.99 from Uxsight."
If you finally hold and own your precious iPhone 3G/ 3Gs, why don't dress it a little with this Chinese Beijing opera mask styled iPhone 3G cases?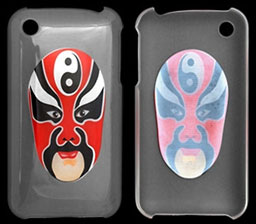 Description:
Chinese Opera Face Pattern Plastic Hard Case for iPhone 3G
iPhone 3G Hard Case with elegant and fashionable design, elegant Chinese opera face pattern inlaying it
This Opera Face 3G Case is made from high quality and durable plastic materials, protects your phone from dust, fingerprints, scratches and bumps.
Plastic Hard Case for 3G molds perfectly to the iPhone 3G's shape and highlight its beauty while providing full access to all controls.
This form fitting snap on iPhone 3G Plastic Case is designed to offer all-around external surface protection to your iPhone without compromising usability.
3G Cover provides the maximum protection available while allowing easy access to keypads, camera and side buttons port.
Easy to install, Snap-on. No tools needed.
Compatible with Apple iPhone 3G.
This is a non-OEM generic product.
Apple iPhone 3G is not included.
Weight: 16g
Price: $3.69
Shipping Fee:
$5.49 first item
$2.39 any additional item
Link: Chinese Opera Face Pattern Plastic Hard Case for iPhone 3G/3GS
Join us on Facebook, follow us on Twitter or Google+, or subscribe to our RSS news feed
Links for the Day
Mac of the Day: Macintosh 512K Fat Mac, introduced 1984.09.10. The first Mac with enough memory for serious work.
Recent Content
Custom Search
Follow Low End Mac on Twitter
Join Low End Mac on Facebook
Favorite Sites
MacSurfer
Cult of Mac
Shrine of Apple
MacInTouch
MyAppleMenu
InfoMac
The Mac Observer
Accelerate Your Mac
RetroMacCast
The Vintage Mac Museum
Deal Brothers
DealMac
Mac2Sell
Mac Driver Museum
JAG's House
System 6 Heaven
System 7 Today
the pickle's Low-End Mac FAQ
Affiliates
Amazon.com
The iTunes Store
PC Connection Express
Macgo Blu-ray Player
Parallels Desktop for Mac
eBay

Advertise