iPod Era Ending?, Case Reduces Cellphone Radiation, Free App Allows Free Calls, and More
This Week's iPhone, iPod, and Apple TV News
Compiled by Charles Moore and edited by Dan Knight - 2009.09.25
Mac notebook and other portable computing is covered in The 'Book Review, and general Mac news is in Mac News Review.
All prices are in US dollars unless otherwise noted.
News, Reviews, & Opinion
Apps & Services
Books
Accessories
Protection
iPod Deals
These price trackers are updated every month.
News, Reviews, & Opinion
End of the iPod Era?
The Guardian's Charles Arthur says that sales of Apple's music player are heading for a long-term decline that could affect digital music downloads, and he speculates as to whether connectivity - WiFi, mobile phone, Bluetooth, or all three - could alter that.
Arthur's article is a concise history of the digital music player phenomenon and muses that the idea that you might be able to do even more with the device - as the iPhone and iPod touch have demonstrated through Apple's online App Store - raises the bar
Link: End of the iPod Era? Have Sales Peaked?
Worried That Your Cellphone Is Harming You?
ZD Net's Adrian Kingsley-Hughes says he's been using cellphones for more than 15 years, but noticing that lately hardly a week goes by where he doesn't come across a study or report suggesting that using (or sometimes even just holding) a cellphone could be causing him harm.
Kingsley-Hughes's inference is that there's very little science behind much of what is being said, but adds that when there's any sort of widespread liability issue that even touches on big business, there's a vested interest in keeping everything as muddy and unclear as possible.
Link: Are You Worried That Your Cellphone Is Harming You?
Pong Radiation Shielding Case for iPhone 3G/3GS Reviewed
Test Freaks' Tomas Ratas has posted a thorough review of the Pong Research Pong Case for iPhone 3G/3GS, noting that:
"Radiation in the movies and comic books may seem cool as it may provide superpowers such as the Fantastic Four or the Hulk. In real life radiation and prolonged exposures is known to cause cancer. This past August saw the publishing of Cellphones and Brain Tumors: 15 Reasons for Concern; a document authored by forty leading scientists warning about the use of cell phones and their emission of radiation.
"Pong Research is a new company whose focus is on improving environmental health. This past week they released their first product the Pong Case for iPhone 3G/3GS. This is a protective case is designed to reduce the user's exposure to radiation emanating from the cell phone. It is a silicon case designed with proprietary technology that directs the phone radiation away from the user's head....
"In 2004, the FCC conducted an investigation of numerous products claiming to reduce cellphone radiation. All claims were found to have no scientific basis. Pong is the first product to meet international testing standards for SAR reduction and has been verified by industry leading laboratory Cetecom to reduce SAR for the iPhone 3GS in the WCDMA 1900 by over 60%."
Also see Pong iPhone Case Reduces Cell Phone Radiation by 60%.
Link: Pong Radiation Shielding Case for iPhone 3G/3GS Reviewed
Apps & Services
Free App Enables Millions of iPhone and iPod touch Users Worldwide to Make Free Calls
PR: Witel Corp. has announced that its application, Witel for iPhone, will be available on the Apple App Store beginning today. The app also adds Witel service to any second generation iPod touch with a compatible headset and microphone.
The Witel application transforms your iPhone or iPod touch into a global mobile phone that allows you do the following from anywhere in the world with a WiFi network:
Make Free Witel-to-Witel calls from any WiFi zone.
Make Calls to non-Witel phones in 48 countries for only $19.99 a month.
Receive calls to your Witel number anywhere in the world for Free.
The Witel application is a perfect addition for home users who want to save money on their phone bills, businessmen who travel often and are sick of paying roaming charges, or families who wish to keep in touch with their loved ones for free.
Witel users now have the choice of either buying a Witel Jetter for only $59.99 or downloading the Witel application to their iPhone or iPod touch.
"We are excited to be launching our iPhone application and placing Witel into the pockets of millions of people around the world who are carrying iPhone and iPod touch devices," said Gary Tsitron, Witel's Chief Executive Officer. "A Witel application for the iPhone has been the leading request from our users so we worked hard to deliver one in record time."
A Video demonstrating the Witel iPhone Application and its various uses can be viewed on our website at witel.com.
The Witel application for the iPhone or iPod touch will be available for free from Apple's App Store on both devices.
Link: Witel
Pioneer Unleashes the Power of Its In-Dash Navigation Systems with Free App
PR: Pioneer Electronics (USA) Inc. releases its first iPhone application created for use with Pioneer's new AVIC-U310BT and AVIC-Z110BT in-dash navigation systems. Pioneer's AVIC FEEDS App establishes a link between the Apple and Pioneer products, letting iPhone owners find points of interest or search for destinations ahead of time on their phone and easily access them via Bluetooth from their Pioneer navigation systems. This eliminates the need to jot down or manually enter address information into the Pioneer unit and allows drivers to receive convenient turn-by-turn voice guidance while still being able to use their iPhone for other purposes.
Through independent research, Pioneer discovered that a significant percentage - more than 22 percent - of registered Pioneer navigation system owners also own and use an Apple iPhone.
"We are continually looking for ways to enhance a driver's experience by providing high quality navigation and entertainment products that incorporate convenience and safety features," said Ted Cardenas, director of marketing for the mobile business group of Pioneer Electronics (USA) Inc. "After researching what technologies and consumer electronics products our registered owners embrace, we identified a natural opportunity to integrate the features and functions of our navigation systems with Apple's iPhone."
Ways to Navigate:
POI Search - Points of interest (POI) searched through Pioneer's AVIC FEEDS App can be selected by simply choosing the pin drop of the desired location
Take a Photo - Photos taken on an iPhone that are geotagged with geographical metadata such as location coordinates can be saved for future use as a POI
Saved Photos - Geotagged photos sent to users or photos from the Internet can be used as a POIs
Destinations created from a POI search or geotagged photos are converted as a phone contact to the navigation system via Bluetooth. Once the phone book is synchronized, the routable contacts are identified by a unique icon that appears next to the contact in the navigation system. By selecting that contact, Pioneer's navigation system will calculate a route and provide turn-by-turn guidance to that location.
Value of Convenience:
AVIC-U310BT and AVIC-Z110BT owners who want to take immediate advantage of these convenient features can download the Pioneer AVIC FEEDS App for free from their iPhone at pioneerelectronics.com or the iTunes store.
Consumers who have not yet invested in a navigation system or an iPhone can purchase these products for under $700 - the AVIC-U310BT ($599) and iPhone ($99), plus subscription and other fees associated with the Apple device. Pioneer's AVIC-U310BT is the best value in in-dash navigation, offering robust, full-featured route guidance, CD playback and the convenience of built-in Bluetooth for handsfree calling and iPod/ iPhone control.
The AVIC FEEDS App is also fully compatible with the AVIC-Z110BT ($1,599), Pioneer's flagship in-dash navigation AV receiver featuring DVD playback, built-in Bluetooth, voice recognition, text-to-speech guidance, an advanced touch screen interface and more.
Link: Pioneer Electronics
Earn-O-Meter iPhone App Offers Humorous Alternative to Economic Anxiety
PR: For many, any job is better than no job in a poor economy. The Earnometer iPhone application by Wry Apps is designed to help good employees endure unpleasant work situations.
The Earnometer allows users to track income as it is earned in real time, right down to the millionth of a dollar, while sitting through pointless meetings, dull conference calls and inane conversations with nitwits in the workplace. The Earnometer app is a humorous presentation of a common but unspoken reality - many people work because the money they earn outweighs the aggravation of their workplace.
EoMScreenShot.png
The brainchild of two technology industry veterans, the Earnometer was originally built as a way to alleviate anxiety from a brief consulting stint at a failing company. They needed comic relief.
Amid impending business failure at the company, the two came to the realization that their coworkers were staying aboard only because they needed the income. If they could humor themselves, they could better endure the deteriorating situation.
Thus the Earn-O-Meter was hatched. Initially built as an in-joke amongst a few office friends, the new Earnometer iPhone app calculates and displays user's income six digits to the right of the decimal point. Updating in real time down to the millionth of a dollar, figures whiz by almost faster than the human eye can perceive. The effect is as intended - Earnometer users visualize that a 20 minute meeting with an annoying coworker may be unpleasant, yet is also profitable. A mindless three hour conference call nets real money. Workday rough spots are mitigated when one can see daily earnings piling up with stopwatch quickness and accuracy.
"Work can be both satisfying and aggravating," says Wry Apps President Stephen Brown. "Almost everyone goes through experiences at work that challenge one's ability to remain sane. The Earnometer uses humor to defuse otherwise intolerable workplace moments," according to Brown.
More information about the Earnometer is on Twitter, YouTube, and Facebook.
Link: Earn-O-Meter
ICS Mobile Introduces Navy Patrol: Coastal Defense for iPhone and iPod touch
PR: ICS Mobile has announced that Navy Patrol: Coastal Defense is now available for the iPhone and iPod touch. Navy Patrol: Coastal Defense for iPhone and iPod touch is a hybrid application which brings several new layers to the Tower Defense genre by incorporating Role playing game (RPG) and real time strategy (RTS) elements into a highly realistic water based environment powered by ICS' AWS Fluid Simulation Engine.
The development process for Navy Patrol: Coastal Defense was a real challenge since we needed to simultaneously develop a fluid simulation engine, an open path tower defense game as well as a completely new RPG inspired experience points system
Our main objective was to reinvigorate the tower defense genre by bringing a more intense and engaging gaming atmosphere to players.
We wanted to provide players with a multitude of tactical elements which will give them the freedom to personalize their game strategy.
ICS Mobile announced today that Navy Patrol: Coastal Defense is now available for the iPhone and iPod touch. Navy Patrol: Coastal Defense for iPhone and iPod touch brings several new layers to the Tower Defense genre by incorporating RPG and RTS elements into a water based environment supported by the company's AWS Fluid Simulation Engine. Navy Patrol: Coastal Defense contains hundreds of hours of gameplay which will be prolonged by regular maps and specials updates. The studio also announced that as a special offer, Navy Patrol: Coastal Defense is available for the introductory price of $2.99 for the first 48 hours before it moves to its standard price of $4.99.
"The development process for Navy Patrol: Coastal Defense was a real challenge since we needed to simultaneously develop a fluid simulation engine, an open path tower defense game as well as a completely new RPG inspired experience points system," said Joe Bayen, CEO at ICS Mobile.
Navy Patrol: Coastal Defense for iPhone and iPod touch includes a variety of unique features such as a "Turret Targeting System" which gives players the freedom to micromanage each individual turret during gameplay as well as a "Skills Tree System" which unlocks a variety of weapon specials ranging from missile barrages,B52 air raids and Tsunami waves to the unique "Touch-guided" satellite laser attack and accelerometer-controlled storm special.
"Our main objective was to reinvigorate the tower defense genre by bringing a more intense and engaging gaming atmosphere to players", said Andrew Zeck lead programmer on Navy Patrol: Coastal Defense. "We wanted to provide players with a multitude of tactical elements which will give them the freedom to personalize their game strategy."
A social gaming environment was also embedded within the application with a full integration of Facebook Connect. Nonetheless, ICS Mobile will also remain fully engaged with its gaming community through the Navy Patrol game forum. The forum is designed to be an exchange platform where Navy Patrol enthusiast can share their gaming experience as well as game tips and scores. The game forum will also provide a direct connection to ICS Mobile's development team which welcomes feedback as well as suggestions for new maps and specials for upcoming game updates.
Navy Patrol: Coastal Defense is the first installment of the Navy Patrol series, the studio states that each upcoming titles will use the AWS engine as a core platform, however each game will possess its own distinctive strategic theme and gameplay.
Navy Patrol: Coastal Defense for the iPhone and iPod touch is now available worldwide via Apple's App Store for $2.99 for the first 48 hours and $4.99 thereafter.
Link: Navy Patrol: Coastal Defense
enthusem App Lets Users Take Photos with iPhone and Send Them as Greeting Card
PR: Haneke Design announced the enthusem iPhone application at the prestigious DEMOfall 09 software show in San Diego, CA. Haneke Design collaborated with ProspectSmarter, Inc., also based in Tampa, to mobilize the web application version of enthusem for the iPhone. ProspectSmarter, Inc.'s enthusem, which has attracted thousands of users during its beta release, makes it fast and easy to send real printed greeting cards that seamlessly integrate online content.
"We're very fortunate to have had the opportunity to work with Steve Tingiris and the ProspectSmarter team to mobilize the enthusem web application," said Jody Haneke, founder and president of Haneke Design. "They created a well-defined, open API that was so easy for us to work with. We completed our iPhone app a month ahead of schedule and it will be available in the AppStore for anyone to download and enjoy this month."
Enthusem cards contain a personal message and image, so the cards are printed one-at-a-time and mailed every business day that the postal service operates.
The printed greeting cards are mailed in a premium vellum envelope with first class postage speeding them along to just about any place in the world. There is no sign-up fee or monthly subscription for personal enthusem accounts. Users simply create an account and pay for cards as they send them or purchase credits in bulk at a discounted rate.
Haneke Design has extensive experience in mobilizing web applications in the form of installed iPhone applications as well as optimized mobile web sites. The firm's deep knowledge of Apple's technical requirements for iPhone applications has made them a go-to resource for some of the country's top brands. Additionally, Haneke Design has met the challenge of delivering web content to the vast majority of handsets in use today.
Link: Haneke Design
An Easier Way to Share iPhone Photos (WiFi and FTP)
PR: PhotoList version 2.0 brings more options for sharing your photo albums, including the ability to transfer pics to and from your computer via FTP. It's now even easier to save and share pictures from your iPhone.
Other new features include:
Email multiple pictures right from PhotoList
View pictures on the Web through any browser, via WiFi connection
Facebook integration
Screensaver which rotates through photo collection.
The app is still $1.99 and version 2.0 is available now in iTunes.
Link: PhotoList
Mariner Software Releases Mariner Calc 2.0 for iPhone
PR: Mariner Software, developers and publishers of professional and personal software, have announced the immediate availability from the App Store, Mariner Calc 2.0. Significant in this version is the systemwide cut, copy and paste, as well as the ability to email (outgoing) files. All of the new features in Mariner Calc 2.0 have been tested and function on the iPhone 3.0 and 3.1 operating system.
Whether an enterprise, small business or home user in need of access to Excel files on an iPhone or iPod touch, Mariner Calc is the perfect solution. View and edit native Excel files .xls Excel 97 and higher, supports multiple sheets and wirelessly transfers files. Mariner Calc for iPhone includes 24 math functions, 18 finance functions, 17 trig functions, 13 statistics functions, 14 lookup functions plus logic, date, text and info functions and more. It also supports splitting panes and freezing, as well as creating borders and changing fonts, colors and alignment. Landscape and portrait views are both available.
Other features included in 2.0:
Named range support
Find and replace
Sort ascending or descending
Password protected WiFi web based file server - Settings for User info
Settings for email options
Settings for startup behavior
New temp file system for quick saves of large files
Mariner Calc is now available for purchase from the App Store for $6.99. It is a free upgrade for all Mariner Calc customers who have purchased 1.X and requires iPhone OS 3.0 or later. For more information visit the Mariner Calc for iPhone product page at the Mariner Software web site.
Link: Mariner Calc for iPhone
BitWink Introduces Zoom Lens 1.0 for iPhone
PR: BitWink introduces Zoom Lens 1.0, their new digital camera zoom for iPhone. Offering precise pinch-to-zoom control of the real-time camera view, Zoom Lens 1.0 brings an 8x digital photo zoom to the iPhone with automatic sharpening of the resulting photo and full-resolution output.
Using a beautifully minimalist interface, Zoom Lens 1.0 offers a user experience that will be instantly familiar to iPhone photography enthusiasts. Presented with the familiar camera interface augmented with a retro-analog zoom indicator, the user simply pinches the live preview to set the level of desired zoom. 3GS users can continue to single-tap to set the focus point at any zoom level. When the shutter is pressed an automatically-sharpened preview is displayed for the user to pan and zoom across prior to saving.
"Zoom is a feature that every iPhone camera user wants. It's a bit of a mystery why Apple don't include it as standard." said Matt Farrugia, founder of BitWink. "There are alternatives available on the App Store but we could see from the reviews that users weren't satisfied with the experience being offered. We asked ourselves, if Apple did zoom, what would it look like? It seems obvious that pinch-to-zoom should be the metaphor, so that was our starting point, and we kept it very simple, very focused from there. It's not a bells and whistles app - just one thing, done really well."
Feature Highlights:
Offers precise pinch-to-zoom control of the real-time camera view
Provides up to 8x digital zoom
Saves in full-resolution output (e.g. 1536 x 2048 on the 3GS)
Automatically displays a sharpened image in the post-capture preview
System Requirements: Camera-enabled iPhone with iPhone OS 3.1 or later
Zoom Lens 1.0 for iPhone may be purchased now for an introductory price of $0.99 and is available exclusively through Apple's App Store.
Link: Zoom Lens for iPhone
Laridian PocketBible for iPhone
ZD Net's Matthew Miller reports:
"I go through quite a few mobile phones, but one of the main reasons I always have made sure I had a Windows Mobile device at hand was so that I could access and use Laridian's PocketBible application. Yes, an application has been so important to me personally that I have purchased and used devices just to be able to use that application. I have been beta testing an application that I am very excited about and am pleased to tell you all that PocketBible for the iPhone/iPod touch is now available in the App Store for FREE...."
Link: Review: Laridian PocketBible for the Apple iPhone
Pantone Turns iPhone into Color Studio on the Go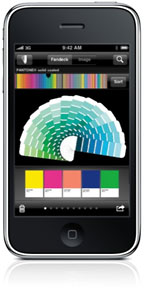 PR: Over the last several years, there has been a fundamental shift in the way designers work - projects have become more digital, and inspiration more spontaneous. Pantone LLC, an X-Rite company and the global authority on color and provider of professional color standards for the design industries, today announced myPantoneT, an iPhone application for the changing needs of today's designer. myPantone gives graphic, digital, multimedia, fashion, interior and industrial designers the freedom to capture, create and share Pantone Color Palettes - wherever they go and whenever they find inspiration.
"myPantone marries the power of the iPhone with the inspiration of Pantone Color Palettes, enabling designers to be creative whenever inspiration strikes them. Providing a digital, portable design studio and essential color tools at their fingertips, myPantone gives designers the freedom to access Pantone Colors anywhere, without the need to be in their office or carry around cumbersome guides," said Andy Hatkoff, vice president of technology licensing for Pantone. "Now with myPantone's Portable Color Memory™ in their pocket, designers no longer need to agonize trying to recall an exact color."
With myPantone, designers have access to all the Pantone Color Libraries, including the Pantone Matching System for coated, uncoated and matte stock; the Pantone Goe System for coated and uncoated stock; Pantone Pastels for coated and uncoated stock; and the Pantone Fashion + Home Smart Color System. The application also enables designers to easily create harmonious color palettes by finding complementary, analogous and triadic combinations for selected colors.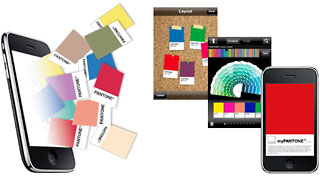 myPantone takes advantage of the iPhone's built-in camera to let designers capture whatever inspires them - from architecture and street scenes to fashion and nature. Colors can be extracted from any photo on the iPhone and then matched to the closest Pantone Colors.
Once created, users can share color palettes with other iPhone users and automatically post notification of new palettes to Facebook and Twitter, attaching text notes and voice annotations to palettes when posting. Color palettes can be emailed to colleagues and clients as color patches, or as application-ready swatch files for use in design applications including Adobe Creative Suite (.ase), CorelDraw and QuarkXPress. Designers can also share their color palettes with other designers by sending them to the Pantone-hosted Web site mypantone.com
Each color swatch in myPantone includes sRGB, HTML and L*a*b* values. Additionally, myPantone provides invaluable cross-referencing color capabilities to make it simple for users to find similar colors among the various Pantone Color Libraries. For example, users can identify the Pantone Goe Color that most closely matches a given Pantone Matching System Color.
Once you have created your color palettes you can then share them in a variety of ways:
E-mail an HTML image of your palette
E-mail color palettes that can be used in the Adobe
Creative Suite (.ase files), QuarkXPress® and CorelDraw
Upload to the myPantone.com palette sharing web site
Other features include:
Text and voice annotation of palettes
Post notifications of new palettes to Twitter and Facebook
GPS tagging of palettes
Requirements:
Compatible with the iPhone or iPod touch mobile digital devices
Requires iPhone OS 3.0
Pricing, Availability and System Information
myPantone is available for download at the Apple iPhone App Store for $9.99/€7.99/£6.99. myPantone is compatible with iPhone OS 3.0 or higher, and can be used on the iPhone or iPod touch.
Link: myPantone
The Tale of Peter Rabbit by Beatrix Potter Released for iPhone/iTouch
PR: Utility Warrior introduces The Tale of Peter Rabbit by Beatrix Potter, their new children's animated audiobook for iPhone and iPod touch. Designed specifically to leverage the iPhone's unique abilities and peerless interface, The Tale of Peter Rabbit is a moving audio book based on the classic children's story by Beatrix Potter. This is the first in a series of the company's "moving audio" range of audiobooks.
Peter is a naughty little rabbit who gets into trouble when he goes into Mr. McGregor's garden and eats some of his vegetables.
Whether keeping the little ones occupied on journeys, or helping them learn to read, The Tale of Peter Rabbit features a compelling narrated story, with beautifully illustrated images based on the originals by Beatrix Potter herself. Illustrations actually move around and zoom in and out of the screen while they listen to the narration, and offers a unique way to keep young children engaged. Additionally, the application contains the full book, so once it is downloaded there is no need for an Internet connection.
The story scrolls across the bottom of the screen with the current word highlighted as it is read, and the story can be paused and resumed at any time. The "Read to me" lets a child enjoy the timeless antics of Peter Rabbit. The "I'll read" mode lets a child read at their own pace. As they read the story for themselves, they just touch the word as they read it; the illustrations will change with each chapter but they will not be fully animated so that there is no visual distraction while they read.
Feature Highlights:
Compelling, animated Illustrations and story line
Serves to help enhance reading skills for young children, 3 thru 6
Two Modes for learning: "Read to me" and "I'll read"
Does not require an Internet connection
"Young children are under-represented with apps in the app store," said Adrian Nelson, founder of Utility Warrior. "Based on my experience with my own children, I know how important it is to stimulate a child to learn to read - which must be just about the most important life skill a parent can teach their child. In order to help children learn to read and associate word sounds with letters, I felt it important to highlight the word as they were being read in the narration and then give the child the option of trying to read it at their own pace as well without narration. So in the case of this audiobook, I wanted to learn how to synchronize narration and images in a fun multimedia type way - and the best way to learn something is to do it - and do it well."
System Requirements:
iPhone or iPod touch 2.2.1 or later
10.3 Mb
The Tale of Peter Rabbit by Beatrix Potter is $1.99 and available worldwide, exclusively through the App Store under the Books category.
Link: The Tale of Peter Rabbit
New Free Version of Comics by comiXology for iPhone
PR: comiXology has just released a free version of its Comics by comiXology app that includes all the free comics (30+). It's only if you wish to become a comics consumer that will you need to buy the version that offers in-app purchasing.
Link: Comics by comiXology for iPhone
Books
iPod: The Missing Manual, Eighth Edition Coming in November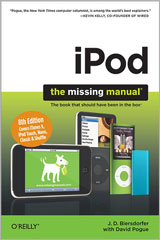 PR: Get the scoop on iTunes 9 and all of the newest iPods with this best-selling Missing Manual. Apple's gotten the world hooked on portable music, pictures, and videos with its amazing entertainment center, but one thing they haven't delivered is an easy guide for getting the most out of it. That's where this book comes in.
iPod: The Missing Manual, now in its 8th edition, provides a no-nonsense view of the latest iPod line, including the tiny Shuffle, the video-capable Nano, the high-capacity Classic, and the WiFi-enabled Touch. With crystal-clear explanations and easy-to-follow color graphics, the book provides expert guidance on all of the amazing things you can do:
Rev it up. Find out how to install iTunes and load music on your iPod. And get advice on buying copy-protection-free songs from stores like Amazon and Rhapsody
Rock around the 'Pod. Learn everything from turning it on and off to using the iPod Nano's nifty new video camera
Get in iTunes. Choose the files from your iTunes library to load onto your iPod, move your iTunes folder to a bigger hard drive, and add album covers to your collection
Play like a Genius. Let iTunes' Genius feature whip up smart playlists from your library, and suggest songs from the iTunes Store that fit with what you already own
Feel the power. Download movies and TV shows, and learn how you can begin to watch a show on your iPod and finish viewing it on your TV. Play photo slideshows, find hot podcasts, and more
Cruise the App Store. Soup up your iPod touch, from upgrading to the latest version of the iPhone OS to installing the iTunes Store's nifty new collection of programs, including games that turn the Touch into a pocket arcade
Even if you don't have one of the brand new iPods, this Missing Manual has plenty of information on iTunes 9, the App Store, and everything else you'll want to know. iPod: The Missing Manual is as useful, satisfying, and reliable as its subject.
By J.D. Biersdorfer, David Pogue
Available in November and for preorder now.
Purchase Link
The Best Camera Is the One That's With You: iPhone Photography by Chase Jarvis
PR: World-renowned photographer and director Chase Jarvis today announced the launch of an ecosystem - the first of its kind, including a new book, a new app, and even a new online community - centered around the idea that The Best Camera Is The One That's With You. With the new iPhone application "Best Camera App" now available on the App Store, an online photo-sharing community, and a book, this unique project encourages photographers, both amateur and professional, to explore and share their vision with the world. With only an iPhone 3GS in his pocket, Chase has an endless outlet for creative expression, inspiration, and photography at the click of one button. As more than 2 million visitors discovered (in just 72 hours), when Chase Jarvis published his first iPhone gallery, the iPhone is truly capable of creating and sharing interesting and intriguing images.
The App: Best Camera
The Best Camera App allows users to creatively edit and share iPhone images more simply than ever before. There's a unique set of filters and effects that can be applied at the touch of a button. Stack them. Mix them. Remix them. There are virtually infinite creative possibilities.
The Community: TheBestCamera.com
The Best Camera App also allows users to share their images directly with the world via Twitter, Facebook, e-mail, and www.thebestcamera.com, a new online community where iPhone users can contribute to a living, breathing gallery of iPhone photography from around the globe. This virtual exhibition displays images uploaded by Best Camera App users and lets them vote for the images they like.
The Book: The Best Camera Is The One That's With You
Chase has pulled a collection of his iPhone photography together into an amazing visual journal. Proving the phrase he inadvertently coined, The Best Camera Is The One That's With You, his new book released by New Riders, part of the Peachpit family of creative imprints, reveals what is possible with an iPhone camera. In The Best Camera Is The One That's With You, each page displays a beautiful image taken with his iPhone, with Chase sharing inspiring anecdotes.
"For me, this book has become a stake in the ground. With it, I hope to underscore - perhaps even legitimize - the idea that an image can come from any camera, even a mobile phone," said Chase Jarvis. "Inherently, we all know that an image isn't measured by its resolution, dynamic range, or anything technical. It's measured by the simple - sometimes profound, other times absurd or humorous or whimsical - effect that it can have upon us. If you can see it, it can move you. I am proud of the ecosystem we've created: this book, this app, and this community. Join us. I look forward to seeing your pictures."
The Best Camera App is available for $2.99 from the App Store.
The book, The Best Camera Is The One That's With You: iPhone Photography by Chase Jarvis, is now available at Peachpit.com, Amazon.com, Barnes & Noble, Borders, and other retailers worldwide.
Readers can learn more about the app, the site, and the book at TheBestCamera.com and by following Chase on Twitter, Facebook, YouTube, and via his blog, chasejarvis.com/blog
A beacon of creativity with boundless energy, Chase Jarvis is well known as a visionary photographer, director, and social artist. He is widely recognized for re-imagining, examining, and redefining the intersection of art and popular culture through still and moving pictures. While commercial work for brands like Nike, Pepsi, Volvo, Reebok, Apple, and Red Bull have earned him recognition from the International Photography Awards, The Advertising Photographers of America, Prix de la Photographie Paris, and numerous other industry buzz centers, his recent push into personal work and fine art has rapidly gained the attention of curators and art critics, mainstream audiences, and celebrity circles worldwide. The online hub for Jarvis and his work is at http://www.chasejarvis.com
Berkeley-based Peachpit has been publishing the industry's best-selling books on the latest in graphic design, desktop publishing, multimedia, Web design and development, digital video, digital lifestyle, and all-things Mac-related since 1986. Its award-winning books feature authors who are at the top of their field, pioneering new techniques and new approaches. It is the home of the internationally recognized Visual QuickStart Guide series, the design imprint New Riders and its highly popular Voices That Matter series, and is the publishing partner for Adobe Press, Kelby Training/NAPP, Apple Certified, and others. Peachpit is part of Pearson, the international media company. Pearson's primary operations also include the Financial Times Group and the Penguin Group.
Link: The Best Camera Is The One That's With You: iPhone Photography by Chase Jarvis
Purchase Link
Accessories
Kensington's Power-free, Sound Amplified Cradle Transforms Your iPhone into a Car Navigation System
PR: Kensington Computer Products Group has announced an innovative new car mount with amplified sound for use with any iPhone navigation application. The newest addition to the Kensington iPhone accessory line of products allows iPhone users to easily navigate while driving, as well as double the volume of turn-by-turn directions from navigation applications. As the mobile professional need for navigation capabilities increases, Kensington's new car mount combined with iPhone navigation applications offers users a cost-effective alternative to traditional Global Positioning Systems (GPS).
The Kensington Windshield/Vent Car Mount with Sound Amplified Cradle for iPhone acoustically increases speaker volume without additional battery drain to the iPhone, allowing drivers to easily navigate while keeping their eyes on the road. The sounds amplifying cradle mounts in seconds to a vehicle windshield or vent and holds an iPhone securely even on the roughest terrain. Compatible with any navigation application for iPhone, the cradle will be carried in all Apple stores beginning in early November 2009.
"Kensington is delighted to once again offer a simple and affordable solution that allows mobile professionals to turn their iPhone into a navigation device," said Kensington Global Product Manager, Frederic Frappeau. "According to Strategy Analytics research, worldwide GPS enabled smartphone shipments are expected to increase 34 percent, from 57 million units in 2008, to 77 million units this year. Kensington sees this trend as an opportunity to provide smart, personal accessories that can make mobile professional travel that much easier for a more productive lifestyle."
"Right positioning of the iPhone in the car is important for optimal GPS reception, so the Kensington mount makes a great addition to our app," said Gerhard Mayr, Vice President Worldwide Mobile Phones and New Markets at NAVIGON. "In addition, NAVIGON's sought after text-to-speech feature which clearly pronounces upcoming street names is a natural fit with Kensington's Windshield/Vent Car Mount with Sound Amplified Cradle for the iPhone."
Give your iPhone GPS, podcasts, and phone calls a sound boost. The built-in amplification system in the cradle doubles the volume coming from your iPhone speaker, making it easier to hear your turn-by-turn directions, calls and more. The cradle mounts in seconds to the windshield or vents and holds your iPhone securely even on the roughest terrain.
Key Features of the Kensington Windshield/Vent Car Mount with Sound Amplified Cradle for iPhone Include:
Amplified Sound - Amplifies iPhone speaker for twice the volume with no added battery drain for amplified turn-by-turn directions
iPhone Compatible - Includes 4 sets of swappable rubber inserts to fit iPhone 3GS, iPhone 3G and iPhone with or without a case
Navigation Application Agnostic - Works with any navigation application for iPhone (inclusive of Navigon , TomTom , and others)
Easy to Use and Driver Friendly - Insert or remove your iPhone from the cradle simply, with one hand
Convenient In-Car Access - Cradle pivots for vertical or landscape modes and includes both windshield and vent mounts for preferred proximity in vehicle
Use for Hours on the Road - Provides a safe, secure mount on even the roughest roads, and the flexible arms securely hold your iPhone - even when in a case
The Kensington Windshield/Vent Car Mount with Sound Amplified Cradle for iPhone will be available at all Apple stores beginning in early November 2009.
Link: Kensington Windshield/Vent Car Mount with Sound Amplified Cradle for iPhone
AT&T Releases 3G MicroCell
PR: AT&T 3G MicroCell acts like a mini cellular tower in your home or small business environment. It connects to AT&T's network via your existing broadband Internet service (such as DSL or cable) and is designed to support up to four simultaneous users in a home or small business setting. With AT&T 3G MicroCell, you receive improved cellular signal performance for both voice calls and cellular data applications like picture messaging and surfing the Web.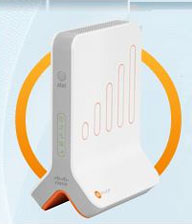 Device Features:
Enhanced coverage indoors - supports both voice and data up to 5000 square feet
Available unlimited minute plans - individual or FamilyTalk plans.
3G handset compatible - works with any AT&T 3G phone.
Supports up to four voice or data users at once.
Device is secure - cannot be accessed by unauthorized users, easy and secure online management of device settings
Seamless call hand-over - start calls on your 3G MicroCell and continue without interruption, even if you leave the building.
Device Requirements:
3G wireless phone/device
Broadband service over DSL or cable
Computer with Internet access for online registration
Additional Information:
Installing your device near a window is strongly recommended to ensure access to Global Positioning System (GPS). A GPS link is needed to verify the device location during the initial startup.
The 3G MicroCell device is portable. The device may be moved, provided the new location is within the AT&T authorized service area and properly registered online.
Link: AT&T 3G MicroCell
MoGo Talk for iPhone Bluetooth Headset Charges Phone
PR: MoGo Talk for iPhone is the first Bluetooth headset that can charge with your mobile phone and is capable of delivering superior audio quality in an ultra-thin (5mm) design.
Mogo Talk's folding earpiece lays completely flat, enabling it to store and charge on the back of a mobile phone or inside a laptop. The MoGo Talk earpiece is specifically designed to comfortably fit inside your ear, not around a clunky speaker like other Bluetooth headsets.
Mono headset
Size: 24mm X 50mm X 5mm
Weight: 9 grams
Thinness: 5mm
Talk time: Up to 4 hours
Standby time: Over one week
Range: Up to 10 meters (33 feet)
Bluetooth Version 2.0 with Easy pair
Echo Suppression
Active Noise compensation
Multiple eartips included
Multiple storage and charging solutions available
Price: $129
Available for preorder now.
Product Delivery Expected September 2009.
Link: MoGo Talk for iPhone
Protection
Pong iPhone Case Reduces Cell Phone Radiation by 60%
PR: Pong Research, a new research-driven company developing technologies to improve environmental health, has introduced the Pong iPhone Case, a protective case that reduces users' exposure to radiation from the phone's antenna. The Pong iPhone Case is a sleek silicone skin containing a proprietary technology module that redirects cell phone radiation away from the user's head.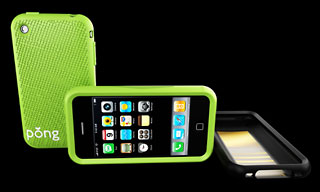 The Pong iPhone case is the first product proven by FCC-certified laboratories to reduce cell phone radiation. The case reduces the specific absorption rate (SAR, a mobile industry standard of measurement) by 60% and reduces intense 'hotspot' cell phone radiation (Electric Field Intensity) by 85%. The Pong iPhone case is immediately available for the iPhone 3G and iPhone 3GS, retailing for $59.95 through www.pongresearch.com. A BlackBerry model will be available later this year, with models for other devices to follow.
The Pong case merges high science and breakthrough technology with contemporary industrial design. Its patented technology module employs principles of antenna theory and physics to channel the emitted radiation into a 'chimney effect,' pulling the radiation up and away from the phone. Full signal strength is maintained, so that the phone's function and battery life are not compromised. For more information on the science of the Pong Effect, see 'How It Works' at: http://www.pongresearch.com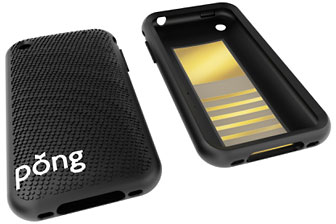 "Because of my concern about the effects of non-ionizing radiation on the human body, I arrived at the position that redirecting this energy was the best approach," said Dr. Alfred Wong, chief scientist of Pong Research, professor emeritus of physics at University of California Los Angeles and director of HIPAS Observatory in Alaska. "It took us a number of years of research into putting the correct antenna structure in the case itself so that the case would couple with the energy from the phone's internal antenna."
With the number of cell phone users worldwide growing from only four million in 1989 to over four billion in 2009, concerns about the link between cell phone radiation and cancer have steadily mounted. The French government in May banned the use of cell phones in elementary schools citing the 'principle of precaution' regarding children's vulnerability to cell phone radiation. In the United States, "Cell Phones and Brain Tumors: 15 Reasons for Concern," a landmark document signed by 40 leading scientists, was published in August.
"Similar to smoking a cigarette," said Dr. Wong, "one cigarette won't kill you, but over years of exposure, the effect is cumulative. Many people are concerned about cell phone radiation, but out of necessity they continue to tolerate their own heavy usage. I think it's a matter of balancing the fear against the need."
The Pong iPhone case is available now atpongresearch.com and retails for $59.95. The Pong for BlackBerry will be available late 2009.
Link: Pong Research
Case-Mate iPhone 3G/3GS ID Credit Card Cases
PR: Everyone knows less is more but less with more, that's a breakthrough. This stylish new iPhone 3G/3GS protective case features an ultra slim slot for bare necessities - ID, cash, debit or credit card. For heading into work or out to the club, give your wallet a break. Turns out sometimes, you can take it with you.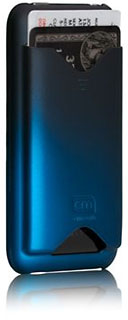 The iPhone 3G/3GS ID Case is the next wave in convenience for lifestyle engineers. This stylish new iPhone 3G/3GS protective case features an ultra slim slot for bare necessities - ID, cash, debit or credit card. For heading into work or out to the club, give your wallet a break. Turns out sometimes, you can take it with you.
ez-slide Film Application Instructions
Protect the back of your iPhone in 4 easy steps:
Peel the ez-slide film from the backing.
Line up the film to the back of your iPhone and apply the film to the center working your way to the edges.
Use the enclosed soft card to smooth out any air bubbles between the iPhone and the ez-slide film.
Once the ez-slide film has been applied, slide one side of your iPhone into the case-mate ID Case, followed by the other.
The magnetic strip of the credit card should be facing towards the phone when inserted into the ID Case. To remove a card, push up from bottom of the case or push up from the top of your credit card.
Features:
Easily fits 2 credit card size items of your choice
Only 2.5 mm thicker than our slim, award-winning Barely There case
ez-slide protective film included
Screen protection kit included protects your iPhone
Access to all ports and controls
$29.99
Link: Case-Mate iPhone 3G/3GS ID Credit Card Cases
CAZE Announces Argyle Love Shiny Case for iPhone 3G/3GS
PR: iPhone CAZE has released Argyle Love, a new style of its metallic series for iPhone 3G/3GS. iPhone case has become part of a fashion for iPhone users. In view of this, CAZE presents Argyle Love for iPhone users to dress up his/her iPhone in this season's Hot Hues & Styles. CAZE is creating new case styles by mixing colors and pattern. In this new product, CAZE adorned a semitransparent shiny case with decorative stitching in the traditional argyle pattern.
The Argyle Love features instantly-recognizable Argyle pattern and is available in Silver Black/Silver. (This is a true Limited Edition as only 250 cases of each color are available worldwide.) Traditional pattern on a shiny case gives a mix 'n' match fashion style and uniqueness possible.
Customers who buy any case from CAZE will get a Free Mirror Screen Protector. To show your personality and uniqueness, take your pick from the new series to fit your personality: Argyle Love/ Silver Black and Argyle Love/ Silver. This series is available in Premium version and will be released on 30th September.
iPhone CAZE designs and manufactures high quality, fashionable and unique iPhone cases for iPhone 3G/3GS in a wide assortment of styles and colors. iPhone CAZE offers a variety of cases of different materials from leather, metallic, fabric, silicone to Swarovski crystal. Products will be shipped within 24 hours during weekday and 30 Days Money Back Guarantee is provided.
Link: Argyle Love
Join us on Facebook, follow us on Twitter or Google+, or subscribe to our RSS news feed
Links for the Day
Mac of the Day: Lisa, introduced 1983.01.19. The ancestor of the Macintosh had a mouse, a graphical interface, and a $10,000 price tag.
Recent Content
Custom Search
Follow Low End Mac on Twitter
Join Low End Mac on Facebook
Favorite Sites
MacSurfer
Cult of Mac
Shrine of Apple
MacInTouch
MyAppleMenu
InfoMac
The Mac Observer
Accelerate Your Mac
RetroMacCast
The Vintage Mac Museum
Deal Brothers
DealMac
Mac2Sell
Mac Driver Museum
JAG's House
System 6 Heaven
System 7 Today
the pickle's Low-End Mac FAQ
Affiliates
Amazon.com
The iTunes Store
PC Connection Express
Macgo Blu-ray Player
Parallels Desktop for Mac
eBay

Advertise