Affordable iPhone/iTouch Warranty, Bluetooth Keyboard Driver, Photo Apps, and More
This Week's iPhone, iPod, and Apple TV News
Compiled by Charles Moore and edited by Dan Knight - 2009.12.24
This is the last iNews Review of 2009. We wish our readers a blessed Christmas and a safe New Year's holiday. Site updates will resume on Monday, January 4, 2010.
Mac notebook and other portable computing is covered in The 'Book Review, and general Mac news is in Mac News Review.
All prices are in US dollars unless otherwise noted.
News, Reviews, & Opinion
Apps & Services
Accessories
Protection
iPod Deals
These price trackers are updated every month.
News, Reviews, & Opinion
Maine Legislator Calls for Cancer Warning on Mobile Phones
The Register's Austin Modine reports:
"There's no consensus among scientists whether mobile phones actually slow-cook human brains, but one US legislator is hoping her state will be the first frightened enough to assume they do.
"Maine state legislator Andrea Boland plans to introduce a bill in the upcoming legislative session that would require mobile handsets in the state to carry warnings saying they might cause brain cancer."
Editor's note: Emphasis added. The FCC maintains that phones legally sold in the US are safe - dk
Link: US Politico Calls for Cancer Warning on Cell Phones
Apps & Services
Mission Repair Launches Affordable iPhone Repair Program
PR: Mission Repair, an award-winning repair center for popular consumer electronic products, announced a special two-year maintenance performance guarantee service for the popular iPhone. The new program goes above and beyond the iPhone extended warranty available from the manufacturer by including coverage for broken glass.
Ever wondered what you'd do if you dropped your iPhone?
"We are pleased to offer this maintenance performance guarantee coverage that allows iPhone users to protect their investment in the popular smartphone and not have to worry about the product failing or the dreaded cracked glass problem," said Ryan Arter, president of Mission Repair. "Our program has a 100 percent refund policy for the first 30 days, and we have been approved and fully backed by an established insurance company to give our customers even more peace of mind and confidence in the program."
Mission Repair's iPhone maintenance performance guarantee service includes full coverage for an iPhone for up to a two year period. Even if your iPhone is hit with a cracked digitizer, the program will cover it without any recurring monthly charges or deductibles. Customers that purchase the coverage also have the peace of mind that the skilled team of professionals at Mission Repair will make the necessary repairs onsite and it will not be outsourced to a different company.
"What makes this iPhone program different is that it's sold by Mission Repair and all service is handled by Mission Repair," Arter said. "Customers always want the experts advising in their repair situations and we have the best certified team available in the industry. We are extremely excited to offer the kind of iPhone protection that the market has been waiting for."
For more information on pricing and the coverage included in the Mission Repair iPhone maintenance performance guarantee service, please visit their website.
Prices for a one-year Maintenance Performance Guarantee on your iPhone or iPod touch range from $19.99 to $54.99. For two years, prices range from $29.99 to $79.99.
Mission Repair is an award-winning service provider that offers a full-lineup of repair services and upgrades for many portable electronics including iPods, iPhones, Cell Phones, MacBooks, MacBook Pros, PowerBooks, and iBooks. They offer many flat-rate services, repair liquid damaged units, and always offer brand new parts in repairs. They also buy used customer units.
Mission Repair is accredited though the Greater Kansas City Better Business Bureau and is a Proud Member of the Olathe, Kansas Chamber of Commerce. Their technicians are Apple Certified Macintosh Technicians.
For more information on Mission Repair, including pricing on their repair services and the brand new maintenance performance guarantee service for iPhones, visit them online.
Link: Mission Repair
Self Timer 1.0 Camera Timer Application for iPhone
PR: Apimac has recently announced the availability of the brand new camera timer application for iPhone which allows you to delay the shutter release, giving you time between pushing the button and taking the actual photo. Once you push the button, a beeping sound is emitted which becomes faster as the moment of the shot approaches.
Imagine it's 16:27 and the sun is about to disappear behind the Matterhorn. Your ski instructor just broke his leg and you and your snow buddies are stranded in the Swiss Alps. Now, who is going to take that picture for your Facebook page? Self Timer to the rescue! Push, pose, beep, smile :)
Whatever your adventure, photography buffs will appreciate that the time delayed shutter release reduces camera shake on long exposure photographs. Self Timer allows a delay of 2, 10 or 15 seconds. An Internet connection is not necessary to use the program but it requires iPhone Software 3.1 or higher. With Self Timer in your first aid kit you'll always get the perfect shot!
Device Requirements: iPhone 3.1 or later
Apimac Self Timer 1.0 is 99¢ and available worldwide exclusively through the App Store in the Photography category. Review copies are available upon request.
Link: Apimac Self Timer (download link)
Camera Plus Pro: Advanced Camera App for iPhone
PR: Global Delight, developers and publishers of the popular free camera app on the App Store - Camera Plus - have released a Pro version of the app, Camera Plus Pro, for the iPhone. Camera Plus Pro aims at making the iPhone the default camera for any occasion with its Capturing, Editing, Sharing, and Managing options. With features such as Point Zoom, Timed Capture, Burst Mode, Filters, Anti-Shake, Flash, Crop, and more, Camera Plus Pro provides the user with a lot of flexibility for capturing pictures and editing them.
"We set the bar pretty high when we released Camera Plus in October. With Camera Plus hitting close to 2 million downloads within a short span of time, we were inundated with fan mails and feature requests that got us working on a Pro version", said Mr. Rohith Bhat, CEO of Global Delight. "Now with this new release of Camera Plus Pro, we have once again set the bar pretty high", he added.
With the Point Zoom feature, users can zoom to a particular point on their screen with precision. Camera Plus Pro's Timed Capture function enables the users to set a countdown timer for up to 10 seconds, enabling them to be a part of the pictures as well. Burst mode function captures multiple photos continuously with a choice of 3 to 8 shots at a time, with only a second's difference between each shot.
Camera Plus Pro also provides a choice of 7 Filters; thus users can add that special touch to their captures. One can also get rid of blurry pictures with the Anti-Shake feature. Users can apply up to 3 varying degrees of Flash, which can also be selectively undone. Square and Circular Crop features enable the user to retain a portion of the capture that they want.
Device Requirements: iPhone 3.1 or later (Works only with iPhones)
Pricing and Availability: Camera Plus Pro 1.0 is $1.99 and available worldwide exclusively through the App Store in the Photography category.
Link: Camera Plus Pro (download link)
Free iPhone App Brings Inspiration to Job Seekers
PR: In this struggling economy, headline after headline echoes what many already know - finding work is an uphill climb. For those in the hunt, bills stack up and tensions rise with seemingly no relief on the horizon. It's a time of hopelessness for some and even depression for others. Employing Hope, the iPhone application from Biblica, provides encouragement and tips in an easy-to-read format for those out of work.
Employing Hope is a a no-cost iPhone application by Biblica, that looks to shine a ray of light into the lives affected by the faltering economy through thought-provoking, biblical insight as well as practical suggestions for improving employment prospects. With design by ImageStudios, the single-page devotionals are easy to leaf through and provide at-a-glance inspiration with a scriptural perspective on unemployment.
People need hope and encouragement to remain emotionally and spiritually strong in these tough times. Our hope is that they'll use these resources and . . . feel comfortable sharing them with others in similar circumstances.
"We are experiencing an economic crisis unlike anything most of us have been equipped to handle," says Biblica Outreach Director Sues Hyde. "People need hope and encouragement to remain emotionally and spiritually strong in these tough times. Our hope at Biblica is that they'll use these resources and find them helpful, and that they'll feel comfortable sharing them with others in similar circumstances."
Employing Hope is available for free download on iPhone, iTouch, or from the iTunes Store. The full-length devotionals are also available for download on Biblica's website.
Biblica (formerly International Bible Society) seeks to transform lives through God's Word by translating, producing, and distributing Bibles, Scripture materials, and other Christian resources through ministry, distribution, and retail channels so people around the world may become disciples of Jesus Christ. Biblica operates in 50 countries and is the sponsor and copyright holder of the New International Version family of contemporary-English Bible translations. For more information, visit: http://Biblica.com
Link: Employing Hope (download link)
iPhone Bluetooth Keyboard Driver
PR: The iPhone Bluetooth Keyboard driver allows to use a Bluetooth keyboard with the iPhone and iPod touch. Foldable, travel-friendly keyboards have been supported for at least a half of a decade by all smartphones, except by the iPhone. That is a shame, as the the iPhone is a compact computer you already carry around. Combined with a portable keyboard, it can replace your laptop for taking notes or writing emails at meetings or at your favorite coffee shop.
This iPhone Bluetooth keyboard driver fills this gap. It is based on the open-source BTstack project, a Bluetooth stack designed for embedded devices where resources are scarce.
The keyboard driver first activates the BTstack, and starts a device discovery. Note: you should make your keyboard discoverable - see keyboard manual for details.
When your keyboard appears in the device list, select it, and the pairing process will start.
Keyboard Selection
Not supported in v1.0
Apple Keyboard: quick auto-connect
Selection with Shift + Cursor
Copy/Cut/Paste
Cursor keys in MobileTerminal
Caps Lock key
Issues
Cursor up/down on iPhone OS 2.x devices triggers magnifying glass
Keyboard does not work in Springboard Search field
When your keyboard is successfully connected, the keyboard configuration screen appears. Here you can choose one of four supported keyboard layouts (English [US], French, German [Germany], German [Switzerland]), and test it.
Keyboard Configuration
Use the "Home" button to go back to the Springboard and enjoy the keyboard support in other applications. The badge "On" on the keyboard driver icon indicates that a keyboard is connected.
To disconnect, start the keyboard driver again, and press the "Disconnect" button.
To support intermittent keyboard usage, the connection is kept alive for 15 minutes after the iPhone is locked. After this timeout, Bluetooth is turned off to save energy.
Keyboard Automatic Disconnection
Features in v1.0
ESC and cursor keys supported in most applications
System Requirements:
This driver runs on the iPhone 3G(S) and all iPod touch devices with Bluetooth support. It is unclear yet, if it works properly on the iPhone 2G. It will be available via the Cydia Store soon.
Status Update: Incompatibility with iPhone OS 3.1.2 was resolved.
Link: BTstack Keyboard
Free AOL Radio App Delivers CD Quality Radio Streams
PR: AOL has announced that the AOL Radio App now has the ability to deliver radio streams in CD-quality and has also surpassed 6 million downloads from the App Store. The AOL Radio App offers free access to more than 400 online radio stations including 250+ AOL stations, programmed by the AOL Radio team, plus 150 local CBS Radio stations. The app also leverages Core Location features of the iPhone OS to detect a user's location and automatically display CBS Radio stations nearest to the user.
"In developing the AOL Radio App, we listened to our consumer's feedback and created an application that would engage them in a way they couldn't find anywhere else," said Lisa Namerow, general manager, AOL Radio, SHOUTcast and WinAmp. "Our partnership with CBS Radio has allowed AOL Radio to continue to grow, and having more than 6 million downloads and counting is further proof that AOL Radio continues to innovate in the Internet radio space. We are thrilled it's being so well received by consumers and is a testament that the hard work of the AOL Radio and Mobile teams is really paying off."
AOL Radio was one of the inaugural apps available from the App Store at launch and accolades include being awarded with a 2008 AppleDesign Award for the Best Entertainment Application, being named one of the iTunes Best of 2008 Top Free Music Apps, and being listed as one of Gizmodo's 50 Essential iPhone Apps.
The AOL Radio App is available for free from the App Store.
In addition to the AOL Radio App, AOL currently has more than 25 iPhone, iPod touch, and Web applications available including AOL.com, AIM, Moviefone, MapQuest4Mobile, and DailyFinance. AOL apps for iPhone and iPod touch have been downloaded over 30 million times.
AOL Radio is part of the AOL Radio Network, which includes AOL Radio, SHOUTcast and their product extensions within WinAmp. Globally, the AOL Radio Network is No. 1 in the Entertainment/Radio category according to comScore Media Metrix Worldwide October 2009 data.
Link: AOL Radio (download link)
FastBooking.com iPhone App Available for Free Download from the iTunes Store
bookingcomOniPhone.jpg
PR: FastBooking, a leading provider of advanced Internet booking systems and e-marketing services for the hospitality industry, announces that its iPhone application can be downloaded immediately, at no charge, from the iTunes Store.
The FastBooking.com mobile application is a native application built specifically for the iPhone.
It's a quick, free download
"It's a quick, free download," says Jean Robberecht, Vice President Marketing-Strategic Accounts. "No matter where an iPhone user travels, they'll have the best hotels at the best prices, right in their hands."
The FastBooking iPhone app gives users access to the 4,000 hotels in the FastBooking.com portfolio, independent hotels around the world which rely on the FastBooking Engine to manage their online bookings. Through the FastBooking app, iPhone users can reserve their rooms and other hotel amenities in real-time based on the most current information on each hotel's rates and availability.
Additional unique features are also built into the FastBooking iPhone application:
Sophisticated GPS functions help users locate all nearby hotels.
Google Maps is integrated into the application so there's no need to leave the booking process to see a street or satellite map.
Potential guests can see photos of the hotel's rooms, restaurant, lobby, spa, pool and other amenities.
Forms are automatically filled in using information from the iPhone address book.
Secured links handle payment information.
Once a reservation is confirmed, an automatic route plan shows the guest how to get to the hotel.
The FastBooking iPhone app is a native application developed specifically for the iPhone to make the most of the technological and ergonomic advantages the platform offers: the intuitive interface, swiping and tapping features, and performance speed. The company will roll out its mobile strategy during 2010 with hotel booking applications for the most popular mobile platforms.
Link: FastBooking.com
US Vital Records Information Now Available on iPhone and iPod touch
PR: Arizona-based Technical Made Easy announced Vital Records 1.0 for the iPhone and iPod touch. Now anyone can easily get information for any location in the United States on how to get Birth Certificates, Death Certificates, Marriage Licenses and Divorce Decrees. Vital Records provides a comprehensive state-by-state breakdown including fees, phone numbers and addresses, down to the county level.
Technical Made Easy announces the release of Vital Records for the iPhone and iPod touch. Vital Records puts all the information you need right at your fingertips for getting Birth Certificates, Death Records, Divorce Decrees and Marriage Licenses. This innovative application breaks down the barrier of spending hours looking for something as simple as a phone number or address to the Vital Records office closest to you. Every state is carefully broken down by category with detailed information.
Vital Records goes as far as giving you the actual fees for each location and type of record you need down to the county level. If you are an iPhone user, you can take advantage of one touch dialing connecting you directly to the nearest Vital Records office, or any other vital records office in the United States. This pocket database is a great reference to have for your own records or for helping friends and family across the USA. It is easy to use and gets directly to the point saving you time and frustration. Get your copy today!
Vital Records is now available in the iTunes App store for immediate download or for more information you can visit the company website using the URL listed below.
Device Requirements: iPhone or iPod touch 2.2.1 or later
Pricing and Availability: Vital Records 1.0 is 99¢ and available worldwide exclusively through the App Store in the Lifestyle category. For more information visit Technical Made Easy online.
Link: Vital Records for the iPhone and iPod touch (download link)
Sun Moon Foot Tai Chi HR Released for iPhone and iPod touch
PR: Happy, Healthy, New Year. D1Bru LLC announces Sun Moon Foot Tai Chi HR, the Healing Round, an update to their very popular mind-body exercise application for iPhone and iPod touch devices. Dynamic mind-body exercises improve wellness at all ages. Make a New Year's resolution to take a personal interest in sustainable healthcare reform.
Tai Chi effectively develops the balance and motor mechanisms in the body, however it is different from most mind-body exercises (like yoga) because it adds bodies in motion. Watching demonstrations of this art form are instructive but, often biomechanical requirements are difficult to discern. Even in slow motion, it can be challenging to identify key transitions in movement.
SMF Tai Chi HR helps solve the problem by pinpointing the orientational relationship between key body parts in a format that is easy to follow. Users will immediately understand balance by watching how to position and strengthen key anatomical elements. Designed specifically to take advantage of the iPhone's unique capabilities and touch interface, Sun Moon Foot Tai Chi reveals how to maximize the body's stability while in motion and presents a unique visual perspective that makes practice more productive.
Stability, power, speed and finesse are attained by controlling the momentum generated by the body's center of gravity as it moves through space. And like many sports, Tai Chi uses the core muscles to power and direct the limbs. Sun Moon Foot Tai Chi's animations illustrate this technique of propulsion by showing how the movement of the hips affect the weighting of the legs and positioning of the feet.
Each movement is broken-down into sequential segments with the waypoints of stability clearly identified. The 3D figures emphasize the anatomical alignment of the skeleton for each waypoint. The 2D aerial view highlights the flow of momentum and force from the body's center to the feet. Sun Moon Foot provides both a static and dynamic choreology of Tai Chi to help develop a new pattern for movement that is both agile and robust.
Feature Highlights:
Comfortable and simple User Interface
76 animated transitions
17 positions
146 movement of the hips and feet
"I started using Tai Chi about 15 years ago to rebuild and nourish my body. I grew up in the shadow of Mt Hood running and playing in the Cascades," said Don Brubaker, founder of Florida based D1Bru LLC. "I have always loved to race but it started taking a toll on my body during my senior seasons in college. Since settling in Florida, I found my racing fix in Triathlons. It is a thrill to exit the ocean in one piece. I believe Tai Chi improves my mental racing skills and helps me recover from the physical punishment of competition. Over the past several years my time racing has been decreasing and my involvement teaching Tai Chi increasing. Both activities allow me to clear my mind and have fun with good people."
"I am a software architect by trade. Back in 2002 I tried putting together a Tai Chi piece on an early smartphone, but no go. There just was not enough juice in the device." Don continues. "Time marched on and my 2002 sketchbook collected dust on the shelf. Shortly after starting D1Bru Vision Brewery, the iPhone opened up to developers. I decided to change my firm's course and enter the iPhone market. I wanted to add an in-house product, so I pulled down the 2002 sketchbook; this time it worked."
SMF Tai Chi's choreology illustrates proper control of the body's center of gravity. Sun Moon Foot derives its exercises from the Yang Short Form adapted by Grandmaster Cheng Man-ch'ing in the middle third of the last century. Perceive and move well to be in good stead for any situation.
Device Requirements: iPhone or iPod touch 3.0 or later
SMF Tai Chi HR is $4.99 and available worldwide exclusively through the App Store in the Healthcare & Fitness category. Review copies are available upon request.
Video: http://tinyurl.com/y9avlr7
Link: Sun Moon Foot Tai Chi HR (download links: Sun Moon Foot Tai Chi, Sun Moon Foot Tai Chi HR)
PRS Guitarbud: Guitar Interface for iPhone and iPod touch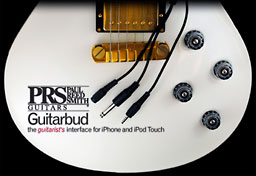 PR: This must-have accessory allows you to plug your guitar directly into your iPhone and 2G iPod touch (simultaneously with your headphones) for use with all guitar applications.
The guitarist's interface fuses your instrument with your iPhone. Now the possibilities are as endless as the apps on your phone. With the Guitarbud even the simple Voice Memos! app (that comes with your phone) can be used to record riffs or songs anywhere instantly email your track to your friends. All your apps become more powerful use your iPod tuner in a noisy crowded bar, record your next tune on the 4-track recorder that's as close as your iPhone.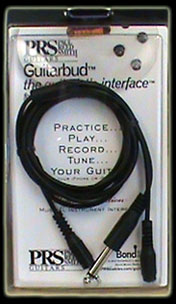 This powerful, portable guitarist's interface, is designed specifically for musicians by Bond Music Research in conjuction with PRS Guitars; makers of PRS Signature Series Cables Guitar Cables.
Guitarbud is lightweight, flexible, and easily fits in your pocket. More than a simple adaptor, this 6 foot special instrument cable allows freedom of movement when you play, and links your headphones with your instrument.
Guitarbud - the guitarist's interface™ Cable Features
Plug your guitar, bass or keyboard directly into iPhone / iPod touch along with headphones.
Works with Voice Memos™, StompVox™, 4-track™, Guitar Toolkit™, iStrobosoft™, and many others (trademarks are the property of their respective owners).
Guitarbud the guitarist's interface, basically replaces your iPhone's built in mic with the direct output of your guitar. Use your guitar with any app that your mic worked with.
Link: PRS Guitarbud
iPhone Bike Computer Based on Fuzzy Speed Logic
PR: Deliapps' latest biking application for the iPhone, deliBike, has been officially launched on Apple's iTunes Store. deliBike makes it easy to keep track of all bike ride related data for both casual and professional bikers.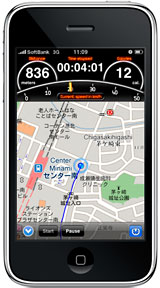 The application features accurate speed measurement by using the latest technology called Fuzzy Speed Logic (patent pending). Other outstanding features are odometer, calorie burn rate calculation, map orientation according to heading/compass and route tracking.
iPhone app interfaces are usually not well designed and overloaded, that's why we decided to take a different approach.
Our main goal was to improve the user experience compared to other bike apps by designing a stylish user interface free from all gadgets and unnecessary information, said Stefan Gerstmeier, chief executive officer, Deliapps. Our application is intuitive, easy to use and can be started up with just one touch. Still, it is fully loaded with intelligent technology, well hidden, but kicking in on demand and without much user interaction.
The next version of deliBike will likely see several new features such as buddy racing, which let's you keep an eye on the tour data of your training partner or racing competitor during bike rides, said Christian Wolf, chief technical officer, Deliapps.
The application comes in 9 different languages and is available worldwide on the iPhone App Store.
Link: deliBike (download link)
Notes Look Even Better with NoteMaster 3.0 for iPhone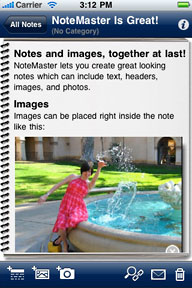 PR: California-based Kabuki Vision today released NoteMaster 3.0, an update to their popular note-taking app for iPhone and iPod touch. NoteMaster makes it easy to create great-looking notes by inserting images, photos, and headers right inside the text. Fonts and backgrounds can be selected for each note for a customized look. Version 3.0 adds the ability to customize notes with a choice of stunning backgrounds.
Kabuki Vision has just released NoteMaster 3.0, which adds the ability to customize notes with a choice of stunning backgrounds. NoteMaster, already well-known for its ability to create great-looking notes that contain text, images, and headers, now makes notes look even better with a variety of themed backgrounds to choose from. NoteMaster makes it easy to create great-looking notes by inserting images, photos, and headers right inside the text. Fonts and backgrounds can be selected for each note for a customized look.
"The ability to insert images directly into your notes opens up a world of possibilities", says Adam Shaw, founder of Kabuki Vision. "And now with the ability to choose from a variety of backgrounds, your notes can be fully customized to fit your style or mood."
Other NoteMaster features include categories, password-protection, hyperlink detection, full-text search, e-mail, and synching with Google Docs™. As the only notes app offering True Synching with the Google Docs service, NoteMaster makes it easy to sync your notes to the cloud, allowing one to read and edit them on the web.
System Requirements:
Any iPhone or iPod touch
OS 3.0 or greater
NoteMaster is $3.99 and is available exclusively through the App Store in the Productivity category. NoteMaster was recently featured by Apple as one of the "Staff Picks" of the US iTunes app store, and is currently one of the top-selling note apps in the store.
Link: NoteMaster (download links: NoteMaster Lite, NoteMaster)
iLinc: iPhone App Controls Insteon/X10 Home Automation Devices Remotely
PR: Now that you have your home automation all tricked out, and you got yourself an iPhone, how do you control your HA system from your God-phone?! Not to worry, iLinc is an iPhone/iPod touch app that lets you do just that.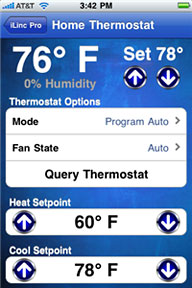 For example, you can control up to 1000 Insteon or X10 devices as well as up to 1000 scenes. You of course need some way to make your devices accessible to the Internet, and either the ISY-99i controller or the Insteon PowerLinc controller will do the trick.
There are 2 versions: iLinc Lite can only control one device, but it's enough to get you started testing. iLinc Pro will let you control all of your devices and also works with the USB/Serial PowerLinc.
By the way, this isn't the only iPhone app available to control your home automation devices.
Price:
iLinc Lite: Free
iLinc Pro: $19.99
Link: iLinc
The Guardian Releases iPhone App
PR: The Guardian iPhone app is the best way to access content on the move if you own an iPhone or iPod touch. The app has been optimised for Apple's mobile devices and offers a range of features to help you stay in touch with guardian.co.uk content.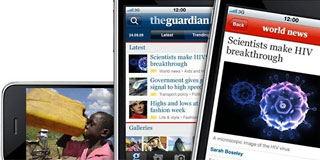 The app offers an offline mode which allows you to stay in touch even if you don't have a signal; easy access to audio and podcasts (including 'download for listening later'); elegant personalisation; a topic-based search engine; the ability to follow all your favourite Guardian authors and contributors, and superb picture galleries - all presented within an interface specifically designed for the iPhone and iPod touch.
The app is currently priced at £2.39.
At the moment you can use the app to read or listen to as much Guardian content as you like at no extra cost. The Guardian are committing to offering a core level of service for the one-off charge but that doesn't rule out the possibility of charging for extra functionality at some point in the future.
The Guardian iPhone app. is currently for sale in UK, US, and Ireland. More regions will follow in due course. Please note the current version is compatible with UK, US, and Ireland region formats only.
The Guardian iPhone app is sold exclusively through Apple's iTunes or AppStore, and will work on all iPhone and iPod touch devices with OS 3.0 onwards.
The app will check for the latest content every time it is opened or after every 15 minutes of use. That means you get the latest content at all times with no need to refresh.
Click on the customise icon in the top right hand side of the home screen to see the full list of content you can display on your start page. Simply drag items up or down to rearrange the content as you would like it.
To save/unsave an article or section, click on the star icon to save links for later or to save individual items of content to your favourites area. Click on the star icon again to remove items or links. You can store subject pages in your favourites so that you can quickly find out the latest on your football team, or topics that matter to you.
To see related stories from your home page or any other section front, simply click on the tag icon that sits beneath every story headline. This will launch a popup listing the top related subjects for that item. Click on one of the subjects for more on the topic, and click the star to save this subject to your favourites list.
The search engine allows you to find the latest stories for any of the subjects or contributors in our database. Click the search icon at the top left of the home screen, then type the name of a subject or contributor - "Climate change", say, or "Alexis Petridis" - to get the relevant latest content.
To download content for offline use, the app will start to download content as soon as it opens and will automatically work through the things you look at most first. To download specific areas of content, touch the 'offline reading' link at the bottom of your home screen and select the content you want; this is especially useful if you're about to lose data connection, for instance when entering a tunnel or travelling by air.
The app downloads pictures after text to ensure you get a better all-round experience. When using WiFi or 3G you should see pictures appearing instantly. If the connection speed is too slow, however, pictures will be prevented from loading altogether.
Bug Fix: If you are experiencing the Guardian iPhone app crashing after the start screen, please ensure your region format is set to UK/US/Ireland. We have a 1.01 update on its way to fix this issue. To change your region settings on your device, go to: settings > general > international > regionformat and select UK/US/Ireland.
Open an article and click on the icon in the lower left corner of your screen. That will give the option of sending a link to the article via email or Facebook (requires Facebook log-in).
Link: The Guardian iPhone App (download link)
Accessories
Zaggsparq, Versatile Mobile Battery for Consumer Devices
PR: Zagg Inc., maker of the popular invisibleSHIELD and Zaggaudio brands, introduces the Zaggsparq, a portable lithium polymer battery system that can provide multiple charges for any personal electronic device powered by a USB plug. The Zaggsparq is available for shipment from Zagg.com at the retail price of $129.99.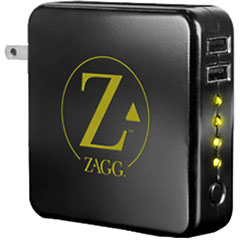 "The Zaggsparq carries multiple charges for any personal electronic device with you and fits easily in a pocket or bag, so it is perfect for everyone from travelers to businesspeople."
The Zaggsparq can provide a portable battery charge for any USB-charged device including cell phones, handheld gaming systems, and digital cameras. The Zaggsparq plugs into a standard wall outlet and provides two USB ports for charging mobile devices. Then, unplug the lithium polymer Zaggsparq and it carries multiple charges for any personal electronic device that can be powered by a USB plug - up to four complete recharges for a power-hungry Apple iPhone.
"The constant risk of low batteries is a significant concern for gadget users, in particular when traveling," said Brian Packer, Vice President of Marketing of Zagg. "The Zaggsparq carries multiple charges for any personal electronic device with you and fits easily in a pocket or bag, so it is perfect for everyone from travelers to businesspeople."
The 6,000 mAh lithium polymer cell of the Zaggsparq can be charged more than 2,000 times before significant drop-off in battery life, making it the world's most powerful portable battery for its size.
"This forward thinking technology allows the Zaggsparq to carry much larger and more potent charges than competing products," said Robert G. Pedersen II, President and CEO of Zagg. "The Zaggsparq really complements our line of existing products, and with thousands already sold in the first two weeks, we believe it will continue to be very popular with our innovative customer base."
Features:
Portable power: More than a simple extended battery, Zaggsparq carries multiple charges for any personal electronic device with you - including up to four recharges for a power-hungry Apple iPhone
On-the-go convenience: Zaggsparq fits easily in a pocket or bag, the perfect size for travelers and businesspeople
Very compatible: Zaggsparq works with any USB charged device, including cell phones, handheld gaming systems, and digital cameras (adapters for mini-USB to USB sold separately)
Charge multiple devices: When plugged into a standard outlet, Zaggsparq provides two USB ports for charging mobile devices.
Specs:
6,000 mAh Lithium Polymer
Has the power to charge an iPhone up to four times
4 yellow lights indicate power level, 25% - 50% - 75% - 100%
Has the ability to charge two USB devices simultaneously
Fixed output: 2x 1000 mA @ 5V
Power Source: AC 100-240 v/50/60 Hz
Physical Size: 3.5 x 3.5 x 1 inches
Weight: 0.54 lb.
Regular price: $129.99
Sale Price: $69.99
This item will ship in 1-2 business day(s).
Link: Zaggsparq
PosiMotion Helix Gaming Grip for iPod touch and iPhone
PR: PosiMotion is pleased to announce the Helix Gaming Grip accessory for the iPod touch and the iPhone. Helix will be making its first debut at CES 2010. Helix is a revolutionary gaming grip that vastly improves accelerometer-based gameplay. Both extremely light and portable, Helix offers a sleek aesthetic and ergonomic design for enhanced playing comfort and control.
PosiMotion's Helix can support iPhone and iPod touch games in both landscape and portrait mode.
Not only does the simplicity of Helix make it easy to travel with, but it allows the end user to play games in both landscape and portrait mode, said PosiMotion's President Olivier Hennessy.
Not only does the simplicity of the Helix make it easy to travel with, but it allows the end user to play games in both landscape and portrait mode.
In celebration of Helix's debut, the G-Fi VS will be on sale for $49.99 for a limited time, making it a perfect gift for the holiday season. The 2009 Innovations Award winner will be returning to CES to demonstrate it's unique ability to facilitate multiplayer mobile gaming anywhere on the planet at any time.
If you want to have a Texas Hold em tournament on the road with multiple devices, there's no way of connecting wirelessly in transit. We wanted to give the end user a mobile gaming hub that does just that and more, said PosiMotion's Vice President of Sales Brian Beighle.
The Helix will be available early next year and the G-Fi VS is available now on the product's website.
Both products along with an array of PosiMotion's other software and hardware will be featured in the South Hall 1 booth #20653.
Link: Helix Gaming Grip for iPod touch and iPhone
GenevaSound S Universal Dock for iPod and iPhone
PR: From the inventors of high fidelity for iPod comes the GenevaLab Sound System Model S - bringing great sound, style and simplicity to the bedroom, kitchen, office and more.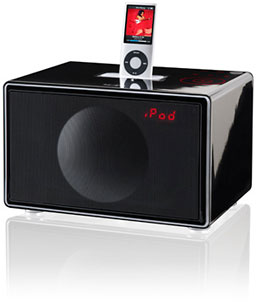 The GenevaSound S is a stereo clock radio with rotating iPod dock, crafted in a single cabinet made out of piano lacquered (high-density composite fibre). Considering its compact size, the sound performance is amazing. It is a very versatile system that plays all genres of music very well and can support a normal room size. Your music will sound better than ever.
GenevaSound S is an alarm clock that you can rely on. It can bridge a power loss for up to one hour and keep the exact time, and in case of no audio source, a built-in beeper will be activated.
GenevaSound S has a built-in FM radio with digital tuner and presets, and also features a rotating iPod dock, compatible with most of today's iPod models, and is charging the iPod while connected. All functions can be controlled with the included remote or with the touch-sensitive buttons. The touch panel offers also a scroll wheel, and a connected iPod™ can be browsed using the touch buttons.
GenevaSound S also connects to iPods™ and other MP3 players through the line input. The speakers are driven by a very high quality digital amplifier delivering 30 Watts of high-end digital stereo. It uses the same patented EmbracingSound™ professional sound technology as models M, L & XL. It has a LED Display visible under the front cover showing clock, audio input and control settings. This GenevaSound comes with rubber feet and an aluminium table stand.
GenevaLab Sound System Model S features:
iPod Universal Dock for iPod and iPhone
FM radio with digital tuner with presets
High fidelity 2-channel sound with digital signal processor, bass enhancement and EmbracingSound to enhance compressed audio
Powerful amplifier that is also award winning for energy efficiency
Clock with programmable alarm
Choice of color and table stand
For increased convenience and protection, GenevaLab Sound System Model S includes the new PowerDock connector and new TouchLight controls. TouchLight™ controls are invisible until a hand reaches for the cabinet. Not just eye-catching, it offers extensive control of the iPod menu. (Competitors have limited iPod controls.) When the iPod/iPhone is removed, the motorized PowerDock™ spins closed and the protruding iPod/iPhone 30-pin connector, a sensitive part, disappear into the cabinet, protecting it from damage and dust.
GenevaLab Sound System Model S also comes with a table stand, allowing the user the choice of elevating the system, so it takes up less space on a nightstand, a counter or a desk. The digital radio and programmable alarm make it the best-sounding, simplest iPod clock radio ever.
The cabinet measures, width 23.5 cm, height 15.6 cm with no stand, 22.0cm with stand, depth 17.6cm. It weighs 3.175 Kg. Available in white, red, or black.
GenevaSound S Technical Specifications
Technical Specifications
Design

Designed by the Geneva Lab in-house design team
Cabinet finish: Piano lacquered (high-density composite fibre)
Available in white, black and red color

Sound

Speaker system: 2 x 3" full-range woofer
Power Amplifier: Digital hi-fi amplifier (Class D) with 2 x 15 Watt output

Audio
iPod Universal Dock

Supported models: • iPhone, iPod touch, iPod Classic, iPod nano, iPod mini -
Not supported models: iPod 3G

FM Radio: digital tuner with 6 presets
External audio inputs
Line-in: 1/8 inch (3.5 mm) plug for external input sources like MP3 players and PC
Electrical requirements

Line voltage: 100-240V AC, 50-60 Hz *Power consumption: maximum 20W, standby 1.0W Size and weight
Width x height x depth: 9.25" x 5.55" x 7.28" (235mm x 141mm x 185 mm)
Weight: 7.4 lb (3.35 kg)

Included accessories

Remote control
FM antenna
iPhone adapter
AC power cable
User manual
Overview: Somehow there's always something funny (yet cute) about having an iPod nano docked to a big speaker, and that's probably the allure of the GenevaSound iPod dock (aside from its sound quality, of course). Of course, smaller in this case also means, cheaper, so you'll only have to shell out $300 for it instead of $1,450 for its bigger brother.
The new Geneva Sound System is now available in the US.
$299.95
Link: GenevaSound S
Protection
Marware Accent for iPod touch 2G
PR: Marware Inc. has announced the Accent carrying case for iPod touch 2G is now shipping. The sturdy, patent leather construction allows you to carry your iPod touch in a purse, bag, or pocket with confidence. The subtle pattern on the front is decorative, without being overly flashy. When closed, the Accent is a slim, stylish flip case protecting the iPod touch. Use the volume buttons, or listen to your music when the case is open or closed. The Accent protects and provides total functionality, all with the glossy look and style of an expensive fashion accessory. The Accent also comes with Marware's Lifetime Warranty.
Features:
Glossy patent-leather with decorative, colorful cover
Front flap totally encloses and protects the iPod touch when closed
Elastic siding ensures a secure fit
Easy in-case access to all functionality and buttons
Includes: Patent-leather flip case, clear screen protector, cleaning cloth, and Marware's Lifetime Warranty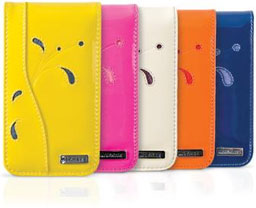 The Accent is available in blueberry, bubble gum, lemon ice, orange sorbet, and vanilla. The Accent retails for $29.99 and is now shipping. Please visit Marware online for additional information. Marware is a leading provider of software and eco-concious accessory solutions for Apple iPhones, iPods, and Notebooks.
Link: Marware Accent for iPod touch 2G
Speck Limited Edition Case Collaboration with Artsprojekt Gives Artists New Platform for Creativity
PR: Critically acclaimed fitted cases provide new canvas for known and not-so-known independent artists. Outfit your iPhone 3G or iPhone 3GS in exclusive form-fit fashion with our Limited Edition Artsprojekt Fitted case, First release in collaboration with Artsprojekt Global Creative Network includes three authorized reproductions of continuous-tone original artwork, each available in an extremely limited edition of 250. This durable, lightweight snap-together case makes your iPhone an instant masterpiece. Soft fabric provides extra comfort and grip in hand. Custom-fit contours and openings allow access to all ports, sensors and controls.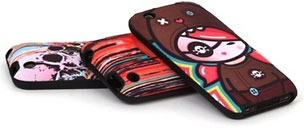 Speck, designer and manufacturer of cases and bags for popular consumer electronics, has teamed up with Artsprojekt Global Creative Network, a community-based online product platform, to turn some of the world's most renowned and up and coming independent artists loose to remix the Speck Fitted case, taking one of the best-selling iPhone 3G/3GS case designs to a new level of functionality and personal style. The first three artist designs in the Speck Fitted Artsprojekt Collection will be available in an extremely limited edition of 250 each worldwide. For images of the new cases, please visit http://www.speckproducts.com/content/fitted-artsprojekt
Speck's loyal following, worldwide reach and focus on creativity makes them a dream partner.
Speck and Artsprojekt will be exhibiting the initial three designs and revealing six additional cases at the Consumer Electronics Show Booth #30659 in the Las Vegas Convention Center South Hall 3 on January 7-10, 2010.
The Artsprojekt x Speck Fitted Authorized Editions Case Collection was formed as a natural extension of both companies passions for art and product design, and it represents Artsprojekt's core values of innovation, collaboration and inspiration, said Andy Howell, founder of Artsprojekt. Speck's loyal following, worldwide reach and focus on creativity makes them a dream partner.
Speck's Fitted form-fit hard shell cases for iPhone 3G/3GS, iPod touch 2G and iPod nano 4G are the industry standard for protection, versatility, and styling with a simple, custom-fit, snap-together design that allows full access to touch screen, controls, ports and plugs. Through the collaboration, Artsprojekt artists contribute original artwork to these products for a fresh, authentic edge. Each case has a limited edition designation on the inside and includes a special collectors card about the art and artist. Zazzle will also serve the collaboration via patented printing techniques and tech-embellished materials to give the cases full-color graphic applications ranging from simple hand drawn patterns to complex full-color illustrations, and everything in between.
"This is an amazing collaboration of like-minded people seeking to bring art, fashion and technology all together into one medium," said Irene Baran, CEO of Speck." Fitted's commercial success has been tied to a strong demand from consumers for its unique and original genuine designs. This collaboration further demonstrates the capabilities of the case and its ability to remain relevant to today's discerning customer.
Artsprojekt.com, a global community-based creative platform, was founded by Andy Howell, a gallery and museum artist, entrepreneur, brand creator, author, former pro skateboarder, and innovator of creative youth culture for over twenty years. Fusing immediate cultural relevancy, the cutting edge of art and design, and the most powerful made-to-order product technology in the world, Artsprojekt empowers artists and brands to manifest and share their ideas instantly as products and retail collections.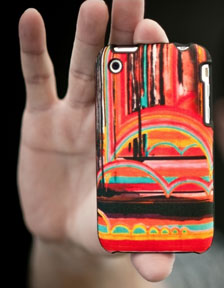 The Artsprojekt x Speck Fitted Authorized Editions for iPhone 3G and 3GS are available for $39.95 and available from:
Case Art and Artists:
Artist: Andy Howell / San Francisco, USA
Artwork: Love After Death (right)
Original: India ink and gouache on paper 36 x72
Artist: Noumeda Carbon / Florence, Italy
Artwork: Disease #2
Original: 140 cm x 120 cm. felt-tip pen, mixed media.
Artist: Tesha Beaudry Okolowsky / the cute institute / Montreal, Canada
Artwork: Cutie Pie
Original: Digital vector artwork.
About Artsprojekt
Finally the artist wins. Artsprojekt is an interactive and culturally relevant online community enabling artists, brands and consumers to connect instantly, and on-demand. Artsprojekt provides artist management, exhibition, and e-commerce assistance to emerging and established artists in all fine art and commercial genres. The company develops careers, connects artists with galleries and potential clients, as well as promotes and sells art and products online and offline. Artsprojekt empowers artists to create full time, and sell original art as well as limited or open edition products on its site, partner sites, the artists own sites, and other online networks. Launched in August 2008, Artsprojekt is a unit of Zazzle.
The Fitted case has a hard shell inside that's custom fit with cool fabric stretched seamlessly around the outside. It gives your iPhone 3G or iPhone 3GS hard-shell protection but feels nice and soft in your hand.
This case fits on the iPhone 3G or iPhone 3GS, it does not fit on the older "original" model iPhone, or other cell phones or iPods.
Features:
Exclusively crafted for iPhone 3G & 3GS
Original, limited edition artwork - only 250 of each!
Own an original work of art created by artists from around the world
Form-fit fabric-wrapped hard shell adds protection and creates a tailored appearance
Comfortable and lightweight - protects without adding bulk
Complete access to all ports, controls and sensors
Special edition packaging includes collectors card with information about the artwork and artist
Limited edition - once they're gone, they're gone!
Specs:
Length: 2.75"
Width: 0.75"
Height: 4.75"
Weight: 2.3 oz.
Link: Artsprojekt
Join us on Facebook, follow us on Twitter or Google+, or subscribe to our RSS news feed
Links for the Day
Mac of the Day: Unitron Mac512, introduced 1985. Unauthorized Brazilian clone of the Mac 512K.
Recent Content
Custom Search
Follow Low End Mac on Twitter
Join Low End Mac on Facebook
Favorite Sites
MacSurfer
Cult of Mac
Shrine of Apple
MacInTouch
MyAppleMenu
InfoMac
The Mac Observer
Accelerate Your Mac
RetroMacCast
The Vintage Mac Museum
Deal Brothers
DealMac
Mac2Sell
Mac Driver Museum
JAG's House
System 6 Heaven
System 7 Today
the pickle's Low-End Mac FAQ
Affiliates
Amazon.com
The iTunes Store
PC Connection Express
Macgo Blu-ray Player
Parallels Desktop for Mac
eBay

Advertise