RIM PlayBook Introduced, Texting Bans Increase Crashes?, Smaller iPad Ready for Launch?, and More
This Week's iPad, iPhone, iPod, and Apple TV News
Compiled by Charles Moore and edited by Dan Knight - 2010.10.04
RIM introduced the BlackBerry PlayBook, it's "iPad killer", one week ago, and those iPad folio cases with built-in keyboards, which all appear to have identical designs, are now available from Solid Line, Padacs, and Kensington.
Mac notebook and other portable computing is covered in The 'Book Review, and general Mac news is in Mac News Review.
All prices are in US dollars unless otherwise noted.
BlackBerry PlayBook News
News, Reviews, & Opinion
Apps & Services
Accessories
iPod Deals
These price trackers are updated every month.
BlackBerry PlayBook News
RIM Unveils BlackBerry PlayBook 'Professional-Grade' Tablet Computer
PR: Research In Motion (RIM) on Monday unveiled its new "professional-grade" BlackBerry PlayBook™ tablet and BlackBerry Tablet OS.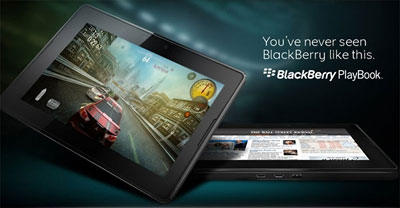 Touted as perfect for either large organizations or an "army of one", RIM says the BlackBerry PlayBook is designed to give users what they want, including uncompromised web browsing, true multitasking, and high performance multimedia, while also providing advanced security features, out-of-the-box enterprise support, and a breakthrough development platform for IT departments and developers.
"RIM set out to engineer the best professional-grade tablet in the industry with cutting-edge hardware features and one of the world's most robust and flexible operating systems," said Mike Lazaridis, RIM President and co-CEO. "The BlackBerry PlayBook solidly hits the mark with industry leading power, true multitasking, uncompromised web browsing and high performance multimedia."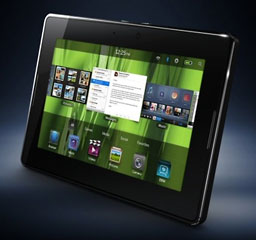 The 7" PlayBook is ultra portable and ultra thin, measuring less than half an inch thick and weighing less than a pound.
In a dig against the Apple iPad's nonsupport of true multitasking, RIM pitches the BlackBerry PlayBook as a "multitasking powerhouse," with its 1 GHz dual-core processor and RIM's new BlackBerry Tablet OS which supports true symmetric multiprocessing, claiming that together, the abundant processing power and highly sophisticated OS enable the BlackBerry PlayBook to provide users with true multitasking and a highly-responsive and fluid touch screen experience for apps and content services.
Uncompromised Web Browsing
Zeroing in on another iPad shortcoming, RIM emphasizes the PlayBook's support for Adobe Flash Player 10.1, Adobe Mobile AIR and HTML5, providing users with an uncompromised, high-fidelity web experience and the ability to enjoy all of the sites, games and media on the web, noting that for more than a decade, the mobile industry has worked to bridge the gap between the "real web" and mobile devices through various apps and technologies and, in fact, a significant number of mobile apps today still simply serve as a proxy for web content that already exists on the web. They say the BlackBerry PlayBook closes that gap and brings the real, full web experience to mobile users while also opening new and more exciting opportunities for developers and content publishers.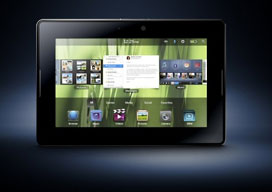 The BlackBerry PlayBook also features premium multimedia features to support high-quality mobile experiences such as dual HD cameras for video capture and video conferencing that can both record HD video at the same time, and an HDMI-out port for presenting creations on external displays, plus rich stereo sound and a media player that RIM claims rivals the best in the industry.
For BlackBerry PlayBook users who also carry a BlackBerry smartphone, it will also be possible to pair their tablet and smartphone using a secure Bluetooth connection, which means they can opt to use the larger tablet display to seamlessly and securely view any of the email, BBM, calendar, tasks, documents and other content that resides on (or is accessible through) their smartphone. They will also be able use their tablet and smartphone interchangeably without worrying about syncing or duplicating data. This secure integration of BlackBerry tablets and smartphones will be particularly appreciated by business users who want to leave their laptops behind.
Thanks to support for seamless and secure Bluetooth pairing and the highly secure underlying OS architecture, the BlackBerry PlayBook is enterprise ready and compatible (out-of-the-box) with BlackBerry Enterprise Server. When connected over Bluetooth, the smartphone content is viewable on the tablet, but the content actually remains stored on the BlackBerry smartphone and is only temporarily cached on the tablet (and subject to IT policy controls). With this approach to information security, IT departments can deploy the BlackBerry PlayBook to employees out-of-the-box without worrying about security and manageability issues that arise when corporate data is stored on yet another device.
The BlackBerry Tablet OS is built on the QNX Neutrino microkernel architecture it acquired when RIM bought QNX last April for $200 million, and which RIM characterizes as one of the most reliable, secure and robust operating system architectures in the world. QNX software is undeniably professional-grade, and used to control music and media features in BMW and Porsche automobiles, as well as in control systems for nuclear power plants and the US Army's unmanned Crusher armored vehicle. RIM notes that Neutrino has been field hardened for years and is being used to support mission-critical applications in everything from planes, trains and automobiles to medical equipment and the largest core routers that run the Internet. The new BlackBerry Tablet OS leverages and builds upon the many proven strengths of this QNX Neutrino architecture to support a professional grade tablet experience and to redefine the possibilities for mobile computing.
The Neutrino-based microkernel architecture in the BlackBerry Tablet OS delivers exceptional performance, high scalability, Common Criteria EAL 4+ security, and support for industry standard tools that are already familiar to hundreds of thousands of developers. The OS is fully POSIX compliant enabling easy portability of C-based code, supports Open GL for 2D and 3D graphics intensive applications like gaming, and will run applications built in Adobe Mobile AIR as well as the new BlackBerry WebWorks™ app platform announced today (which will allow apps to be written to run on BlackBerry PlayBook tablets as well as BlackBerry smartphones with BlackBerry 6). The BlackBerry Tablet OS will also support Java enabling developers to easily bring their existing BlackBerry 6 Java applications to the BlackBerry Tablet OS environment.
Key Features and Specifications of the BlackBerry PlayBook:
7" LCD, 1024 x 600, WSVGA, capacitive touch screen with full multitouch and gesture support
BlackBerry Tablet OS with support for symmetric multiprocessing
1 GHz dual-core processor
1 GB RAM
Dual HD cameras (3 MP front facing, 5 MP rear facing), supports 1080p HD video recording
Video playback: 1080p HD Video, H.264, MPEG, DivX, WMV
Audio playback: MP3, AAC, WMA
HDMI video output
WiFi - 802.11 a/b/g/n
Bluetooth 2.1 + EDR
Connectors: microHDMI, microUSB, charging contacts
Open, flexible application platform with support for WebKit/HTML5, Adobe Flash Player 10.1, Adobe Mobile AIR, Adobe Reader, POSIX, OpenGL, Java
Ultra thin and portable:
Measures 5.1" x 7.6" x 0.4" (130mm x 193mm x 10mm)
Weighs less than a pound (approximately 0.9 lb. or 400g)
RIM says that additional features and specifications of the BlackBerry PlayBook will be shared on or before the date this product is launched in retail outlets in early 2011, and that RIM intends to also offer 3G and 4G models in the future.
RIM will begin working with developers and select corporate customers next month to begin development and early testing efforts.
The BlackBerry Tablet OS SDK is planned for release in the coming weeks, and developers can register for early access.
* Bluetooth support required.
Link: BlackBerry PlayBook
Link: BlackBerry Tablet OS SDK
Can RIM's PlayBook Take on Apple's iPad?
Days before RIM announced its PlayBook, TGDaily's Trent Nouveau asked:
"Can RIM's enterprise-oriented "BlackPad" challenge the iPad's dominance in Corporate America?
"Well, analyst Jack Gold believes RIM's upcoming tablet push won't turn into the 'disaster' that many predict."
Link: Mobile Wars: Can RIM's BlackPad Take on Apple's iPad?
Apple vs. RIM: Canucks Solidly In RIM's Corner
Canadian television network CTV's news site posed the question: "In the battle of Apple vs. RIM, who do you support?"
Loyalty to the home team (Blackberry-maker Research In Motion, based in Waterloo, Ontario) was overwhelmingly lopsided, with 72% backing RIM as opposed to 28% favoring Apple.
That's even though the new RIM BlackBerry PlayBook tablet computer unveiled this week will be offered on the US market probably some months before Canadians can get their hands on it.
Link: Poll Results
More BlackBerry PlayBook Specifications Announced
Supplementary to initial reports on RIM's BlackBerry PlayBook announcement this week, CVT News tech blogger Kris Abel has posted some additional PlayBook specs that have been released, including (hooray!) a USB port.
7" Multitouch LCD Display, 1024 x 600 resolution
5.1" x 7.6" 0.4" in size
0.9 lb. in weight
Built-in micro-USB connector
WiFi 802.11 a/b/g/n
Runs on BlackBerry Tablet Operating System, QNX-based software
On-screen keyboard
Multitasking
Stereo sound
3 MP forward-facing HD camera
5 MP rear-facing HD camera
Support for media playback, creation, and video calling
Micro-USB, Micro-HDMI, and DLNA streaming
1080p HD video, H.264, MPEG, WMV HDMI video output
Can be paired with Bluetooth with BlackBerry device for full access to Push Technology, Email, Calendar, BBM, tasks, documents, and more.
Out-of-the-box compatibility with BlackBerry Enterprise Server
3G access via existing BlackBerry smartphone service plan
Corporate data access
Kris Abel's full report includes several images.
Link: RIM Reveals Mobile Tablet Device, the BlackBerry PlayBook
News, Reviews, & Opinion
Texting Bans Don't Reduce Crashes, Bring About Slight Crash Increases
PR: It's illegal to text while driving in most US states. Yet a new study by researchers at the Highway Loss Data Institute (HLDI) finds no reductions in crashes after laws take effect that ban texting by all drivers. In fact, such bans are associated with a slight increase in the frequency of insurance claims filed under collision coverage for damage to vehicles in crashes. This finding is based on comparisons of claims in four states before and after texting ban, compared with patterns of claims in nearby states.
The new findings, released at the annual meeting of the Governors Highway Safety Association, are consistent with those of a previous HLDI study, which found that banning handheld phone use while driving doesn't cut crashes. HLDI is an affiliate of the Insurance Institute for Highway Safety.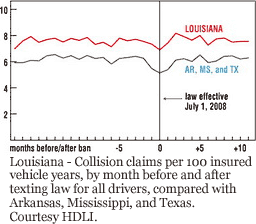 HLDI researchers calculated rates of collision claims for vehicles up to 9 years old during the months immediately before and after driver texting was banned in California (January 2009), Louisiana (July 2008), Minnesota (August 2008), and Washington (January 2008). Comparable data were collected in nearby states where texting laws weren't substantially changed during the time span of the study. This controlled for possible changes in collision claim rates unrelated to the bans - changes in the number of miles driven due to the economy, seasonal changes in driving patterns, etc.
"Texting bans haven't reduced crashes at all. In a perverse twist, crashes increased in 3 of the 4 states we studied after bans were enacted. It's an indication that texting bans might even increase the risk of texting for drivers who continue to do so despite the laws," says Adrian Lund, president of both HLDI and the Insurance Institute for Highway Safety.
HLDI's new findings about texting, together with the organization's previous finding that handheld phone bans didn't reduce crashes, "call into question the way policymakers are trying to address the problem of distracted driving crashes," Lund adds.
"They're focusing on a single manifestation of distracted driving and banning it. This ignores the endless sources of distraction and relies on banning one source or another to solve the whole problem."
Month-to-month fluctuations in the rates of collision claims in HLDI's 4 study states with texting bans for all drivers didn't change much from before to after the bans were enacted. Nor did the patterns differ much from those in nearby states that didn't ban texting for all drivers during the study period. To the extent that the crash patterns did change in the study states, they went up, not down, after the bans took effect. Increases varied from 1% more crashes in Washington to about 9% more in Minnesota (the result in Washington isn't statistically significant).
Young motorists are more likely than older people to text while driving. In all four of the study states, crashes increased among drivers younger than 25 after the all-driver bans took effect. In California, Louisiana, and Washington, the increases for young drivers were greater than for drivers 25 and older. The largest crash increase of all (12%) following enactment of a texting ban was among young drivers in California.
"The point of texting bans is to reduce crashes, and by this essential measure the laws are ineffective," Lund points out. He cautions that "finding no reduction in crashes, or even a small increase, doesn't mean it's safe to text and drive, though. There's a crash risk associated with doing this. It's just that bans aren't reducing this crash risk."
An Insurance Institute for Highway Safety study that relied on driver phone records found a 4-fold increase in the risk of injury crashes associated with phoning. A study in Canada found a 4-fold increase in the risk of crashes involving property damage. The crash risk associated with texting hasn't been quantified as precisely, but it may be comparable, if not greater, than the risk associated with phoning.
"Neither texting bans nor bans on handheld phone use have reduced crash risk," Lund says.
Noncompliance is a likely reason texting bans aren't reducing crashes. Survey results indicate that many drivers, especially younger ones, shrug off these bans. Among 18-24 year-olds, the group most likely to text, 45 percent reported doing so anyway in states that bar all drivers from texting. This is just shy of the 48 percent of drivers who reported texting in states without bans. Many respondents who knew it was illegal to text said they didn't think police were strongly enforcing the bans.
"But this doesn't explain why crashes increased after texting bans," Lund points out. "If drivers were disregarding the bans, then the crash patterns should have remained steady. So clearly drivers did respond to the bans somehow, and what they might have been doing was moving their phones down and out of sight when they texted, in recognition that what they were doing was illegal. This could exacerbate the risk of texting by taking drivers' eyes further from the road and for a longer time."
Using a driving simulator, researchers at the University of Glasgow found a sharp decrease in crash likelihood when participants switched from head-down to head-up displays. This suggests that it might be more hazardous for a driver to text from a device that's hidden from view on the lap or vehicle seat.
Texting in general is on the increase. Wireless phone subscriptions numbered 286 million as of December 2009, up 47 percent from 194 million in June 2005. Text messaging is increasing, too. It went up by about 60 percent in 1 year alone, from 1 trillion messages in 2008 to 1.6 trillion in 2009.
The District of Columbia was the first US jurisdiction to ban all motorists from texting. This was in 2004, and since then 30 states have followed suit. Nearly half of these bans have been enacted in 2010.
A jurisdiction-wide ban on driving while talking on a handheld cellphone is in place in 9 states (California, Connecticut, Delaware, Maryland, New Jersey, New York, Oregon, Utah, and Washington) and the District of Columbia. Utah has named the offense careless driving. Under the Utah law, no one commits an offense when speaking on a cellphone unless they are also committing some other moving violation other than speeding.
Local jurisdictions may or may not need specific state statutory authority to ban cellphones or text messaging. Several of the many localities that have enacted restrictions on cellphone use include: Oahu, HI; Chicago, IL; Brookline, MA; Detroit, MI; Santa Fe, NM; Brooklyn, North Olmstead, and Walton Hills, OH; Conshohocken, Lebanon, and West Conshohocken, PA; Waupaca County, WI; and Cheyenne, WY.
The use of all cellphones while driving a school bus is prohibited in 19 states and the District of Columbia.
The use of all cellphones by novice drivers is restricted in 28 states and the District of Columbia.
Text messaging is banned for all drivers in 30 states and the District of Columbia. In addition, novice drivers are banned from texting in 8 states (Alabama, Indiana, Maine, Mississippi, Missouri, Oklahoma, Texas, and West Virginia) and school bus drivers are banned from text messaging in 2 states (Oklahoma and Texas).
Editor's note: The goal of many laws is long-term behavioral change. Driving while drunk, high, or distracted isn't going to stop because a law has been passed. However, over time their rates should decrease due not only to possible legal penalties but also social pressure. This study shows that collision rates declined for several months before the texting bans took effect - even in neighboring states - and then increased after focus was taken off the new law. dk
Link: Highway Loss Data Institute: "Texting Bans Don't Reduce Crashes"
Link: Cellphone Laws
iFixit: 2G Apple TV Teardown
iFixit's Kyle Wiens reports:
"The Apple TV is the least expensive iOS device Apple has ever shipped. The set-top box continues the trend of cost-cutting that we saw in the iPad, even sharing several parts with its tablet cousin.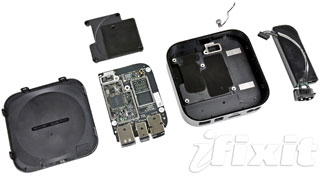 "The big news: we uncovered a Samsung NAND flash chip and found it has a whopping 8 GB of flash storage! The A4 processor has 256 MB of integrated RAM, the same as the iPad.
"Apple's current HD movies generally run less than 4 GB, but Apple needs around 512 MB for the OS and likely wants to leave room for video quality improvements over time.
"This is the easiest to service new Apple product we've seen recently. We awarded it a coveted Repairability Score of 8 / 10. The ease of repairing this device, integrated high-efficiency power supply, low 6-watt power consumption, and efficient standby mode lead us to believe this may be the most eco-friendly set-top box of all time."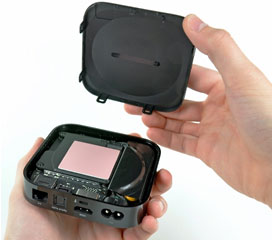 The teardown:
The Apple TV has 256 RAM, just like the 4th Generation iPod Touch and the iPad. The key marking of interest on the A4 processor package is "K4X2G643GE," which is identical to the marking found on the iPad.
We found Samsung K9LCG08U1M 8 GB NAND flash chip inside the Apple TV! It's the same chip we found when taking apart the iPad. This is a pretty remarkable amount of storage for a $99 device.
We are pretty sure the flash memory is used to cache your favorite shows while they're being streamed.
There is an empty spot right next to the Samsung NAND flash that looks to be the perfect size for putting another Samsung NAND flash chip. Could Apple be planning a higher capacity Apple TV in the future?
WiFi board brought to you courtesy of Panasonic! This is the first time we've seen a WiFi board from Panasonic in an Apple device. A different division of Panasonic usually supplies the optical drives for Apple's laptops.
The Panasonic WiFi board contains a Broadcom BCM4329XKUBG 802.11n WiFi/Bluetooth/FM, exactly the same as the one we found on the iPad.
The solder pads near the side of the logic board look to be a perfect match for a dock connector! This Apple TV seems to be a couple of features shy of a full-on computer. Perhaps this logic board will be used in future iPads?
Apple is continuing its theme of hiding power supplies inside their devices. It's especially impressive here, considering that the Apple TV is only slightly larger than a 60 watt MacBook AC adapter.
The sticker on the power supply has this rating: 3.4V @ 1.75A. We'll save you the multiplication: that's just 5.95 watts!
Apple brags that when in standby mode, the Apple TV uses less power than a night light. We don't suggest trying to use the status LED to illuminate your dark hallways, though.
"This was a fun disassembly! We're more excited about the potential of this device now than we were going into the teardown. Please let me know if you have any questions or comments regarding the Apple TV, and I'll do my best to get your answers."
Link: Apple TV 2nd Generation Teardown
Chromium OS Squeezed onto iPad
Thinq reports:
"Pouring some additional shine to the iPad's already tantalizing looks, Hexxeh, the chap responsible for your daily dose of Chromium OS builds, has stuck Chromium OS on the Apple tablet.
"Hexxeh is a good ol' Mac boy who works on Chromium OS development as well as doing some nifty trick apps for the Mac. He's also someone who knows his hardware so he it seems he's managed to sneak one past Apple."
Link: Chromium OS Squeezed onto iPad
Ted Landau: 'Five Things I Didn't Expect' from the iPad
The Mac Observer's Ted Landau says:
"Before the iPad went on sale, well before I had a chance even to touch one of the devices, I predicted the iPad would be a big success, an 'Inside the Park Home Run.'
"I was right....
"I was similarly on target with my expectations as to how the iPad would fit within Apple's line-up of computers and iOS devices....
"However, not all of my pre-launch expectations have been met. In fact, I've been quite surprised by the way a few things have turned out. Here are five examples...."
Landau goes on to elaborate how the news-reading, gaming, movie, and bookstore experiences with the iPad have all been pleasantly better than he had expected, but his supposition that he would be able to use the iPad to get some serious work done when on the road - with a real keyboard and sufficiently well-design apps - has proved overly optimistic. He notes that the iPad's productivity apps (such as Pages) are not yet good enough to meet even his minimalist writing needs (such as inserting hyperlinks in an article, for example), while actions that require the touchscreen, such as copy-and-paste, are simply too slow and awkward for production work. He also observes along with vast numbers of other critics that file sharing between Mac and iPad is lame and inconvenient.
Link: iPad: Five Things I Didn't Expect
Love the iPad, Hate the OS
Computerworld's Scot Finnie says that months later, his ardor has cooled over the iPad since his initial addiction, and he's finally figured out why - he's just not that jazzed about iOS. He says he still loves the iPad's industrial design - and especially the touchscreen - but while it's fine on the iPhone, because the tiny screen of the iPhone limits you anyway, it seems intentionally hobbled on the iPad with so many things it can't do. He's also unenchanted with the apps designed to word process or perform any business-oriented function on the tablet.
In short, the iPad/iOS are not designed for content-creation activities. It's essentially a media consumption device, and attempts at grafting in serious content creation functionality will involve third-party utility kludges, other workarounds, and a lot of virtue of necessity rationalization. Finnie says he's a more impressed by what the iOS operating system can't do than what it can on the iPad, and that is very frustrating.
Link: iPad and iOS: Anatomy of a Love-Hate Relationship
7" iPad Ready for Production?
PCWorld's Tony Bradley reports that new rumors from Chinese sources are fueling speculative flames about a smaller, 7" iPad model rumored to be completely developed and ready to start manufacturing en masse, according to report from Chinese tech blog Shanzai.com, which he cites, stating: "Yes there will be a 7-inch tablet, yes it's well underway in terms of product development and in fact it's a finished product."
Link: Apple 7-Inch iPad Reportedly Ready for Production
Chinese Site Claims 7" iPad Design Is Finished
AppleInsider's Sam Oliver reports that rumors of a 7-inch iPad from Apple continue to crop up, with a new report from Shanzai.com alleging the device is now a "finished product."
Link: Chinese Site Claims Design of Apple's 7-inch iPad Is 'Finished'
Samsung Boss Hints at 10" Galaxy Tab
Cnet Crave's Rich Trenholm reports that Samsung has offered a strong hint that a 10" version of the Android-powered Galaxy Tab is in the pipeline, noting that when discussing the availability of the Tab in Ireland, local Samsung exec Gary Twohig appeared to confirm that there would be different sizes.
Link: Samsung Boss Hints at 10-inch Galaxy Tab
How to Make the iPad Useful
TCGeeks says:
"A few weeks ago we wrote an article about the iPad being mainly a consumption device. Laptops are also consumption devices. The difference, however, is that people defer to their laptops to create things. It could be the form factor, the storage, the software, or any number of factors, but the fact is laptops are [sic] desktops are useful. Can the iPad be useful?"
"Here is the reality. The iPad and anything else that came before it or after it will never be useful until you decide that its [sic] useful and find a need for it."
Link: How to Make the iPad Useful
Target Offers iPad at Stores Nationwide
PR: Target has announced it will carry iPad in 1,743 Target stores nationwide beginning Oct. 3, 2010. Target guests can select from a range of iPad models, including the 16 GB WiFi model starting at $499.99, the 32 GB and 64 GB WiFi and the WiFi+3G models.
iPad allows users to connect with their apps and content in a more intimate, intuitive and fun way than ever before. Users can browse the web, read and send e-mail, enjoy and share photos, watch HD videos, listen to music or play games, and read e-books, all using iPad's revolutionary Multi-Touch™ interface. iPad with WiFi+3G models are just 0.5 inches thick and weigh just 1.6 pounds - thinner and lighter than any laptop or netbook - and deliver up to 10 hours of battery life for surfing the web on WiFi, watching videos or listening to music, and up to nine hours of surfing the web using a 3G data network. (Battery life depends on device settings, usage, and other factors. Actual results vary.)
A selection of accessories, including cases, iBook and iTunes gift cards, chargers, and more, will be available in the electronics department at Target along with iPad.
Link: Target
Apps & Services
StartTalking Addresses Distracted Driving with First True Eyes- and Hands-Free Text Messaging App
PR: A study conducted by the Highway Loss Data Institute (above) shows that state laws banning texting while driving have not reduced car crashes, and may have actually increased the number of accidents in some areas of the country. Clearly, Americans still choose to text and drive despite the government's attempts to curb this controversial obsession with technology.
Is there a solution? Enter StartTalking, the completely hands- and eyes-free smartphone application that allows users to compose, receive, and send texts without the visual and physical distractions associated with text messaging. The StartTalking app is free and currently available on Android handsets; it will be iPhone and BlackBerry compatible in the coming weeks.
AdelaVoice launched StartTalking, the world's first smartphone application that lets motorists keep their eyes on the road and hands upon the wheel. StartTalking addresses the issue of distracted driving throughout the entire process of composing, sending, and receiving text messages, removing the visual and physical distractions normally associated with text messaging.
StartTalking is different from any other solution because it is truly hands- and eyes-free, eliminating any touching or looking at the mobile phone. Today's existing text messaging applications offer certain handsfree features, but ultimately require visual or physical interaction to initiate, compose, review, edit, or send text messages. StartTalking eliminates those interactions. In fact, StartTalking operates with the mobile phone's display screen off, further reducing distractions while enhancing battery life.
StartTalking is entirely voice-controlled. Users simply speak commands, dictate messages and listen to messages without having to touch a single button or look at a screen. StartTalking users speak their phone's pre-assigned name, which "wakes up" the handset and initiates a dialog through which the user dictates and sends text messages.
Currently in open beta, StartTalking works with smartphones running Android 2.0 or later and is now available for download from the Android Market or by using an Android phone's browser to visit http://m.starttalking.com
Visitors to the StartTalking website using personal computers can also send an SMS download link to their Android phone. StartTalking works with wired headsets or the Android handset's speakerphone function.
"We created StartTalking to minimize the physical and visual interactions normally associated with creating, sending, and receiving text messages," said Chris Hassett, AdelaVoice CEO. "We believe that it is every driver's responsibility to stay alert and minimize distractions while driving. When used properly, StartTalking can be an excellent tool to help drivers meet these responsibilities."
In addition to sending traditional text messages, StartTalking supports creating audio recordings in a user's voice and sends them through AdelaVoice's Short Voice Service (SVS) to any mobile smartphone. The recipient hears the message in the sender's own voice. SVS messages represent a very personal way to extend text messaging and, by definition, are always 100% accurate.
Shiv Bakhshi, founder and principal analyst of Mobile Perspectives, said: "The distractions that mobile phones can cause drivers are fairly well understood and have prompted formal restrictions in several states. Any technology or solution that helps minimize such distraction should find a welcome audience."
Link: StartTalking
TrueKeyboard for iPad, iPhone, and iPod
PR: Koren Projects' TrueKeyboard app claims to incorporate the best crafted keyboard in the whole App Store.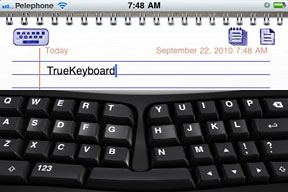 TrueKeyboard is the upgraded alternative to Apple's basic "notes" app., based on the perception that 99% of us grew up using the familiar PC keyboard and at the very least deserve the option to choose. When building the TrueKeyboard app, uncompromising attention was paid to The user experience, in every parameter possible.
The application is universal, and supports iOS 4, iPad, iPhone 4 retina display, iPhone 3G, 3GS, and iPod touch
The result is a combination of the "Apple" writing method, like the magnifying glass method, etc. and additional features that come from the plastic keyboard, like the four directional arrows that are so lacking,
the option to arrange the number keys in a row or in a calculator arrangement (again, like on the right hand side of the PC keyboard), plus:
real ergometric division,
structured and 3D animation of the keys when pressed, relative to light and shadow in every position.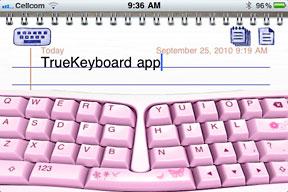 Four different keyboard colors are available:
The classic black and white,
Dramatic "midnight" blue,
And a real girls' pink keyboard with "space" and "enter" keys custom designed for this keyboard only, with flowers and butterflies.
Many additional colors will be integrated with the next version upgrade.
This first version application fully supports six languages with a special keyboard layout for each language, letters, and necessary symbols, etc.
English
French
German
Dutch
Italian
Spanish
In addition to that, it is already possible to write in many languages with this system, when using the method of a long hold on a desired key or symbol, which will open a pop-over window with all the possible options of that key, in all the existing languages.
Developers already working on additional languages that will be fully integrated in the next version upgrades.
You have the option of three sounds: an old plastic keyboard, a new one, and silent.
where the regular keys, the space bar and the "enter" key, have unique sounds recorded and assimilated for each one of them, in the most realistic way possible.
Writing text is done on a familiar spiral notebook, with active icons for different functions that appear as doodles in the margins of the page. The three buttons on the top of the page operate an index to browse and Select documents that have already been written and saved, To create a new page and to show and hide the keyboard. On the bottom of the page there are arrows for manual browsing, forward and backwards through the recent documents, automatically sending selected text by email, deleting text, a "settings" button, and an SMS sending key that exists only in the iPhone version.
Another unique mechanism is for changing the font size to your choice out of three options. When this is done, the whole line layout is altered, the sentence lengths are adjusted accordingly, etc. There are many surprising additional things that you will simply have to search for on your own,
$1.99
Link: TrueKeyboard (download link)
Children's Bible 2.0: Free iPad Version for the Bestseller Bible Comic Ebook
PR: BCNmultimedia announces the release of Children's Bible 2.0, updating their internationally successful free app for iPhone OS so that it works with iPad. Each week, the app provides you free access to a different full-color Children's Bible comic book, presenting a classic story from the Old or New Testament. Published in seven languages, it has ranked in the top 50 of the most downloaded books in the US App Store from the first day of its release in 2009. Premium content is also available as an in-app purchase.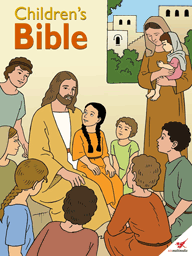 Children's Bible contains comic books on the Bible for children between ages 3 and 13. The content of Children's Bible covers the most important passages of Sacred History and the Gospels. BCNmultimedia has designed an app that offers a free comic book changing every Monday, so that teachers in Sunday Schools and catechists can plan their lessons around them. Each free comic book presents 30 full color pages, taken from the company's library of paid comic books: The Genesis, The Exodus, Kings and Prophets, Birth of Jesus, Parables and Miracles, Passion of Jesus Christ, Old Testament (compilation), and New Testament (compilation).
The app, colorful and easy to navigate, has garnered over 175,000 downloads in the past nine months, and supports the following languages: English, French, German, Italian, Portuguese, Spanish, and Catalan. The comic books themselves have received widespread acclaim for their clear writing, brilliant color, realism and drama.
The latest version features the new iPad comic reader to enjoy the comics in full page mode or scene mode. Users can read the comic books in their iPhone, iPod or iPad. The new version 2.0 introduces the sharing feature for favorite scenes. Users can share their favorite pictures of the Bible by e-mail, Twitter and Facebook.
Feature Highlights:
Children's Bible 2.0 is a free universal app for iPad, iPhone or iPod touch
New: Full page mode for iPad and scene mode for iPhone and iPad
New: Share your favorite frames by email, Twitter, and Facebook
Every Monday a new 30 page full color comic is available for free
Children ages 3 - 13 will enjoy reading and viewing these timeless stories
Top 50 of the most downloaded books in the US App Store from the first day of its release in 2009
European Top 50 of the most downloaded ebooks: France, Italy, Spain, Germany, Switzerland and Portugal
More than 175.000 downloads!
Premium contents available as an in-app purchase
Auto notification when new comics are available
New, fast and reliable downloading on 3G or WiFi
Full page edition of comics available
Due to their overwhelming popularity with young children, the nine Children's Bible comic books are now available in iBookstores of USA, United Kingdom, France, and Germany, with additional stores added monthly. Also available are versions for Kindle, Blackberry, Windows, and Macintosh.
"As a child grows up, there are no stories more important or more powerful than the timeless lessons of The Bible," says Publishing Manager Toni Matas. "Our writers and artists are overjoyed with our success, particularly in the ever-growing field of electronic media."
Device Requirements:
iPhone, iPod touch, or iPad
4.0 MB
Children's Bible 2.0 is free of charge and available worldwide exclusively through the App Store in the Books category. Premium content is available as an in-app purchase, and is priced from $1.99 to $4.99 (or equivalent in other currencies). The full page iBooks are also available for iPad in the iBookstores. Review copies are available upon request.
Link: Children's Bible (download link)
PickupTrucks.com Launches Free Truck Shopping App
PR: PickupTrucks.com now offers a free iPhone app to help pickup truck shoppers search dealer and private-party pickup truck listings so they can easily locate the vehicle they want while on the go. The app, which also works on the iPod Touch and iPad, is free and can be downloaded from the App Store on iTunes.
"The new iPhone app will offer pickup truck shoppers the best of PickupTrucks.com so the growing number of iPhone users can access pertinent information about buying their next truck whenever and wherever they want," says PickupTrucks.com senior editor Mike Levine.
The PickupTrucks.com app gives shoppers the ability to search millions of new, used and certified vehicles based on make/model, distance and maximum price preferences; save specific dealerships and listings, along with notes and additional photos, to a favorites list for future access; and locate nearby dealerships to contact them by email or phone, visit the store, view their complete inventory or access their traditional Internet site.
The new app also allows truck shoppers to sort listings search results based on distance, mileage, price and model year and access affordability and payment calculators.
"PickupTrucks.com's new iPhone app is just another enhancement we are making to better reach mobile consumers," said Mitch Golub, president of Cars.com, parent company of PickupTrucks.com. "Mobile continues to be one of the fastest growing areas for traditional websites like ours and now accounts for 10 percent of our current visits and projected to be 20 percent by 2011. We're bringing a whole new level of value to consumers, who can now access our site directly from a dealer lot, and to advertisers, who are able to reach an incremental audience over and above what we are delivering."
Automotive advertisers are also taking note of the opportunity to reach in-market car shoppers through mobile. The new PickupTrucks.com iPhone app is sponsored by the Chevy Silverado.
PickupTrucks.com is a website dedicated to the distinct needs of pickup truck buyers and owners. In addition to thousands of new- and used-truck listings, PickupTrucks.com offers relevant information and powerful tools so that truck buyers can make the right decision on what to buy, where to buy, how much to pay and how to outfit their vehicles. The site features expert truck reviews, the latest truck news, a pickup truck configurator, pricing calculators, user generated ratings and more.
Link: PickupTrucks.com (download link)
Locayta Launches Search Engine for iPad and iPhone Platform
PR: Locayta, provider of online merchandising and site search solutions, has made its Enterprise-level search software available on the iOS platform as a Beta release for iOS software developers to incorporate within their iOS apps.
Locayta Search, which is currently deployed on some of the UK's largest search sites and on more than one hundred online retail and publishing sites, provides the foundation for a successful mobile edition of the search engine for the iOS platform. Its intelligent architecture enables fast, accurate full-text search and retrieval on a local device such as an iPhone or iPad.
Locayta Search Mobile comes with many intelligent capabilities including; word-stemming, automatic spell correction, Boolean operators, field weighting, sorting, filtering, synonyms, facet generation, stop words, 'more like this', threshold cutoffs and Locayta's unique Balance Factor technology.
Locayta's Balance Factor allows search results to be skewed by other metrics such as popularity rather than just pure text relevancy, enabling the app developer to control the sequencing of search results within their apps, to boost certain items to the top of the search results list where required.
Because Locayta Search Mobile enables data to be written, indexed and searched locally to the device, it has already started to attract interest from software app developers, where the app is anticipated to be used in environments where an Internet connection is not available or cannot be guaranteed.
The software library is available for both commercial and noncommercial use.
Andre Brown, CEO, Locayta explains, "The iPhone and iPad have changed the way publishers present their data and how consumers receive it. Locayta Search Mobile offers online publishers a competitive advantage by providing a complete search engine library- not just a web service, to better serve their customer search queries and overall online shopping experience".
Link: Locayta
Accessories
Designer iPhone 4 Victorian Filigree Swirl Case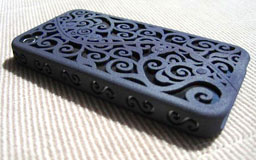 PR: Reminiscent of Victorian filigree, this unique Designer iPhone 4 case is a very durable and stylish alternative to mass produced cases on the market today. Designed by C Westbrook Designs in San Francisco and produced by Shapeways in the Netherlands.
The sunlit photos of the case in black highlight the unique texture of this strong and flexible 3D printed material (a.k.a. laser sintered polyamide a.k.a. nylon) which in addition to adding an extra layer of interest also adds traction to keep that coveted phone in your grip.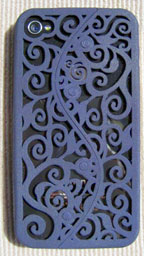 Currently available in charcoal black, snowy white, rose pink,fiery red, rusty red, royal violet and denim blue.
Magenta, Green and Sky Blue are for the moment only available until the end of the month and can be ordered using this link if you don't require the extra protective coating.
It is also possible to have each half of the design (divided by the wave in the center) a different color. More designs coming soon.
This case has been tested on an iPhone 4, fits very snugly, and has withstood abuse immaculately - designed for easy access to all buttons, ports, and controls.

This piece is made of Selective-Laser-Sintered 3D printed nylon in a process that is the ideal balance of craft and technology. Due to this process it has a jean-like texture. It is extremely durable, lightweight and also a bit flexible. After being hand-dyed a coat of nontoxic clear varnish is added to protect the color.
Each case is made to order and takes between 3-5 weeks to fulfill.
Insurance is included in shipping within the US.
Returns on a case by case basis within 5 business days of receiving item and must be undamaged. Buyer pays return shipping.
$59.99
Link: Designer iPhone 4 Victorian Filigree Swirl Case (color options)
Leather iPhone 4 Case with Flip Cover for $3.69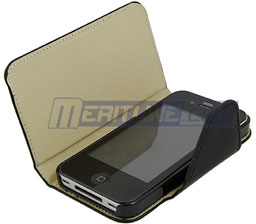 PR: Leather iPhone 4 Case with Flip Cover
Protect your cell phone against scratches and bumps.
Premium Quality Silicon Rubber Material.
Silky smooth material for ultimate feel and comfort.
Cutouts holes for charger and handsfree and speaker.
Screen is not covered for easy viewing.
Sale price: $3.69
Free standard shipping from China warehouse. Most customers receive in 2-3 weeks.
Link: Leather iPhone 4 Case with Flip Cover
Solid Line Begins Shipping All-in-One Leather Case & Bluetooth Keyboard for iPad
PR: Solid Line Products, LLC) has announced that the company is taking orders for its new, all-in-one leather case & Bluetooth keyboard for the iPad for shipment this week. The Bluetooth 2.0 silicone keyboard is built into a leather folio case designed to protect the iPad from nicks, scratches, and scuffs.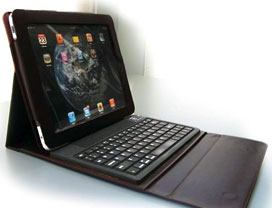 Designed for users who find the iPad's soft keyboard impractical for any serious typing, the built-in keyboard pairs seamlessly to the iPad with three simple steps. The case allows for easy positioning of the iPad at an optimum angle for viewing a horizontal screen and typing. Put another way, Solid Line's case allows consumers to use their iPad as they would a laptop as needed.
"The iPad is indeed a revolutionary product," says founder and CEO Henry Lo. "Unfortunately, we humans can't undo 30 years of keyboard conditioning overnight. This new product makes the iPad more practical for emails, note taking, or even for posting Facebook status updates."
The keyboard uses a micro-USB cable for charging. When fully charged, which takes 4 to 4.5 hours, the keyboard provides 90 hours of continuous use.
The case measures 9.75" x 8" x 1" with the iPad inside. An inner flap holds the iPad securely in place, and a magnetic clasp on the outer flap adds secondary protection.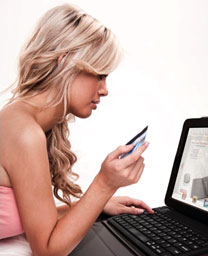 Priced at $119, Solid Line is taking preorders and will begin shipping units this week for early October delivery. The case is available in either black or brown.
Solid Line Products, LLC is headquartered in San Francisco. The all-in-one keyboard is the first in a line of products for the iPad that the company will be bringing to market in the coming months.
Features:
Easily connects to your iPad
Elegant, slim case offers strong protection for the iPad
Broadcom 2042 Main Control Chip with 2.0 Bluetooth Interface
The Solid Line keyboard doesn't need the iPad Dock to work, you can keep that 30-pin connector on your iPad for other devices
Continuous use time: 90 hours
The all-in-one leather case & keyboard from Solid Line Products will begin shipping on or before September 27. Orders will be filled based on a first-come, first served basis.
Free Shipping to 48 Continental United States.
Link: All-in-One Leather Case & Bluetooth Keyboard for iPad
New Padacs iPad Case Comes with Built-in Keyboard
PR: Australian iPad accessories brand Padacs announces the $69.95 Toccata, a stylish iPad case that offers the convenience of a built-in Bluetooth keyboard.
The Padacs Toccata Bluetooth Keyboard Case is pitched as the ideal accessory for the heavy duty iPad user, with its integrated Bluetooth keyboard that making it easy for iPad users to type emails and play games or just avoid using the iPad's touchscreen keyboard.
The Toccata's 9.25" X 5.31" QWERTY keyboard is large enough to type on comfortably without adding to the iPad case size. Charged by an included USB cable, the Lithium battery-powered keyboard runs for as long as 45 hours.
As well as the iPad, the Bluetooth 2.0 keyboard works with a range of devices including iPhone 4 and iPhone 3GS (with iOS 4) and Bluetooth-enabled devices running Windows, Mac or Linux.
As a limited-time incentive, Padacs is offering free shipping for its US customers to celebrate the launch of Padacs in North America.
Padacs founder Raaj Menon says the Toccata Bluetooth Keyboard Case both looks good and works well. "The case's modern design combines a professional look with great functionality at an affordable price," he observes. "You can fold the case into the laptop position to use the keyboard, angling the iPad screen for ideal viewing, or fold the keyboard back out of sight when you don't need it. Its sturdy construction protects your iPad while magnets on the front cover keep the case closed when you're not using the iPad."
The Toccata Bluetooth Keyboard Case is compatible with Windows, Mac, Linux and Apple iOS 4. The keyboard is claimed to pair easily with devices, going into auto-sleep mode after 10 minutes of inactivity and automatically reconnecting when it is switched on.
Its built-in 450 mAh Lithium battery lasts for as long as 45 hours per charge with continuous standby for 100 days. Running on the ISM 2402-2480 MHz band, the keyboard has a 30' operating distance.
For the curious, Toccata is from the Italian word toccare "to touch", describing a composition for the piano, organ or other keyboard instrument that's intended to show off the player's technique.
Padacs currently ships its products throughout the US, Canada, and Australia.
Link: Toccata Bluetooth Keyboard Case
Kensington KeyFolio and Folio Cases for iPad
PR: Kensington has announced two cool new iPad accessories - the Kensington KeyFolio and Folio Cases that give iPad users the ability to stay protected, connected, and productive with their iPad everywhere they go.
Kensington KeyFolio Bluetooth Keyboard and Case for iPad (K39294US; SRP $99.99)
The Kensington KeyFolio not only protects your iPad when on the road but also provides a handy wireless Bluetooth keyboard and handsfree stand when you reach your destination, turning the iPad into a near-netbook. The rubberized keys were specially designed to cushion your iPad screen from bumps and scratches when the folio is closed.
Features:
Durable synthetic leather cover protects your iPad in style
Provides full access to all iPad controls and 30-pin connector
Rubberized keys are spill-proof and also protect iPad screen from scratching when closed
Bluetooth keyboard delivers wireless operation and includes iPad specific keys
Adjustable stand securely holds your iPad in landscape mode
Uninterrupted working time: 90 hours
Magnet-free folio case ensures uninterrupted operation of the iPad's digital compass
Link: Kensington KeyFolio Bluetooth Keyboard and Case for iPad
Kensington Folio Case for iPad (K39296US; SRP $39.99)
Protect your iPad in style while also gaining a handsfree stand with the Kensington Folio Case for iPad. The padded interior protects your iPad from bumps and bruises while on the road, and is remarkably thin. And when you reach your destination, the folio case with adjustable stand makes it easy to watch videos, surf the web and more.
Features:
Durable synthetic leather cover protects your iPad in style
Provides full access to all iPad controls and 30-pin connector
Padded interior delivers ultra-thin cushioning
Adjustable stand securely holds your iPad in landscape mode and offers multiple viewing positions
Magnet-free folio case ensures uninterrupted operation of the iPad's digital compass
Join us on Facebook, follow us on Twitter or Google+, or subscribe to our RSS news feed
Links for the Day
Mac of the Day: Macintosh 512K Fat Mac, introduced 1984.09.10. The first Mac with enough memory for serious work.
Recent Content
Custom Search
Follow Low End Mac on Twitter
Join Low End Mac on Facebook
Favorite Sites
MacSurfer
Cult of Mac
Shrine of Apple
MacInTouch
MyAppleMenu
InfoMac
The Mac Observer
Accelerate Your Mac
RetroMacCast
The Vintage Mac Museum
Deal Brothers
DealMac
Mac2Sell
Mac Driver Museum
JAG's House
System 6 Heaven
System 7 Today
the pickle's Low-End Mac FAQ
Affiliates
Amazon.com
The iTunes Store
PC Connection Express
Macgo Blu-ray Player
Parallels Desktop for Mac
eBay

Advertise