1st Million iPhones, iPod touch Crippled, Best Ever Screens for iPod nano and classic, and More
This Week's iPhone, iPod, and Apple TV News
Compiled by Charles Moore and edited by Dan Knight - 2007.09.13
Mac notebook and other portable computing is covered in The 'Book Review, and general Mac news is in Mac News Review.
All prices are in US dollars unless otherwise noted.
iPhone News & Views
iPod News & Views
iPhone Accessories
iPod Accessories
iPod and iPhone Deals
iPhone News & Views
Apple Sells One Millionth iPhone
PR: Apple announced Monday that it sold its one millionth iPhone last weekend, just 74 days after its introduction on June 29. iPhone combines three devices into one - a mobile phone, a widescreen iPod, and the best mobile Internet device ever - all based on Apple's revolutionary multi-touch interface and pioneering software that allows users to control iPhone with just a tap, flick or pinch of their fingers.
"One million iPhones in 74 days - it took almost two years to achieve this milestone with iPod," said Steve Jobs, Apple's CEO. "We can't wait to get this revolutionary product into the hands of even more customers this holiday season."
iPhone Unlock Goes on Sale
Computerworld reports:
"Several resellers started taking orders today for software that unlocks Apple Inc.'s iPhone.
"The one US dealer handling iPhoneSIMFree's unlock - which lets iPhone owners swap out SIM cards so that the device can make calls on cellular networks other than AT&T's - listed the hack for $99. According to a sales representative who answered the phone at New York-based Wireless Imports, the reseller is waiting on iPhoneSIMFree to deliver the licenses. Preorders taken today are supposed be filled within 48 hours."
Link: iPhone Unlock Goes on Sale
Canadians May Have to Wait for iPhone
Bloomberg's Chris Fournier reports:
"Rogers Communications Inc., operator of the only wireless network in Canada that uses the same technology as Apple Inc.'s iPhone, said consumers may have a while to wait before the handset goes on sale there.
"While Rogers would 'love' to sell the device, Apple hasn't set a release date in Canada, Rogers Chief Operating Officer Nadir Mohamed said at a conference in Toronto today."
Link: Rogers Says Canadians May Have to Wait for iPhone
iTunes 7.4.1 Breaks Free Ringtone Conversion
The entertainment capital of your world. For Mac + PC.
Note: Reportedly, the only substantive difference between iTunes 7.4.1 and iTunes 7.4 is that the former is deliberately crippled to block users from converting for free current AAC tracks as ringtones to the iPhone using a hack described in Trick for turning any track into an iPhone ringtone and syncing it from iTunes.
However, if you've already upgraded to version 7.4.1, there is still hope - a slightly more involved process that does work under iTunes 7.4.1.
You can read about it in How to sync ringtones for free under iTunes 7.4.1.
Buy music, movies, TV shows, and audiobooks, or download free podcasts from the iTunes Store 24 hours a day, 7 days a week. Organize and play everything on your Mac or PC. Then sync it to your iPod or iPhone and bring it along. Anywhere.
New in iTunes
Ringtones - Turn songs from the iTunes Store into custom ringtones for your iPhone.
iTunes WiFi Music Store - Download music from the iTunes WiFi Music Store on your iPod touch or iPhone.
Starbucks - Walk into Starbucks and buy what's playing from your laptop, iPod touch, or iPhone.
Shop the iTunes Store
Link: iTunes 7.4.1
3G Version of iPhone Imminent
EE Times Europe's John Walko reports:
"There is no doubt a 3G version of Apple's iPhone is in the wings and it could be announced soon, according to wireless chip and DSP sector analyst Will Strauss of Forward Concepts.
"There is also speculation that Apple will announce the Wideband-CDMA 3G capable version of the phone when it finally reveals which operators it has chosen for the European launch of the handset.
"An announcement is expected imminently, and could come as soon as this week."
Link: 3G Version of the iPhone Imminent, Says Analyst
Take Detailed Close-up Photos with Your iPhone
Wired How To's says:
"The Apple iPhone sports a nice two megapixel camera with a CMOS sensor - better than what you get with most mobile devices. But the cheap, tiny lens means that the iPhone is pretty lousy at capturing clear, detailed photos taken at ranges closer than about eight inches. In photo speak, this is called 'macrophotography.'
"Here's a simple and cheap hack you can employ to take incredibly sharp and detailed close-ups with your iPhone. It also works with just about any mobile phone with a built-in camera. Your results will vary, but the trick should improve the quality of your macro photos no matter what your device.
"This technique was originally popularized by Flickr user (and iPhone owner) curiously. You can see some of his macro iPhone images in his Flickr stream."
Link: Take Detailed Close-up Photos with Your iPhone
Many iPhone Owners Relish Being First
AP Technology Writer May Wong reports:
"They're the guinea pigs willing to pay top dollar for cutting-edge gizmos, whether the gadgets are half-baked, potentially doomed or harbingers of a revolution.
"The customers who bought Apple Inc.'s new iPhone know the pain and the pleasure. They're early adopters. And in many cases, the group can play a pivotal role in a product's fate.
"Early adopters know the prices of tech products usually fall over time. But Apple, which historically has enjoyed premium pricing on account of its brand and innovation, angered even some of its most loyal customers by lopping $200 off the $599 iPhone, a 33 percent reduction, less than 10 weeks after the gizmo went on sale June 29....
"But for many, money is not and never was an issue. They were after the gratification of knowing they were among the first owners of something that is cool and, for those who agreed with Apple, revolutionary."
Link: Many iPhone Owners Relish Being First
Hitting 1 Billion Page Views, Opera Mini Targets iPhone
InformationWeek's Richard Martin reports:
"Driving the mobile Web experience onto mid- and low-end cell phones, Opera Software is expected to announce this week that its Opera Mini Web browser has hit the 1 billion monthly page views milestone. Opera Mini is designed to automatically reformat conventional Web pages for display on any Java-enabled mobile device.
"With its improved usability and rapid downloads, Opera Mini 4.0 (recently released in beta version) is being explicitly touted as a free alternative to the rich Internet capability of the costly iPhone from Apple."
Link: Hitting 1 Billion Page Views, Opera Mini Targets iPhone
iPod News & Views
iPod touch Calendar Can't Add Appointments: What's Else Is Being Crippled?
Gizmodo's Jesus Diaz says:
"According to support discussions and their own description pages, Apple has removed the ability to add events in the iPod touch's calendar, even while it uses the same operating system and application frameworks as the iPhone.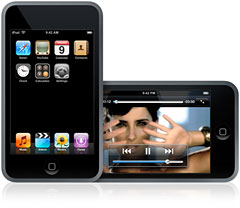 "After a lengthy discussion in Apple's support boards about an image published in iLounge's 'The Beat is On' galleries, the company has removed the words 'entering calendar events' from its US features page....
"After apparently pulling Bluetooth functionality at the last second, it seems like Apple is trying to further create distinctions between the two devices, positioning the iPhone as a productivity platform and the touch as an entertainment device. Fortunately, if the move is confirmed in the final release of the product, the hackers will come later to the rescue."
Link: Apple iPod touch Calendar Can't 'Add' Appointments: Why, and What's Else Is Being Crippled?
Apple 'Loses' iPod Calendar
The Register's Andrew Orlowski reports:
"Our analysis of the prospects and possibilities for the new iPod touch got readers very excited. Not a single reader used the words 'locked-down, overpriced PDA', which would have been a natural retort. But not one person could get excited about YouTube, either.
"And you also sent in some excellent suggestions for trouserware too. The best of your thoughts tomorrow.
"Now recall that some enthusiasts noticed that early versions of publicity material for Touch featured Bluetooth, which didn't make it into the finished product. Is it losing yet more?"
Link: Apple 'Loses' iPod Calendar
iPod touch Less Than a Phoneless iPhone or PDA
BusinessWeek's Stephen Wildstrom reports:
"So exactly what sort of beast is the iPod touch going to be when it surfaces later this month? When he unveiled it last week, Steve Jobs made it sound like an phoneless iPhone, but it now appears it will be rather less than that, more like an iPod with a browser but in any event, a new category of device.
"In addition to the phone itself, the Touch lacks Bluetooth....
"The good news is that, as the iPhone has already proved, Apple's efforts to lock down the Touch will quickly be defeated by hackers. The bad news is that this approach makes it much, much harder for non-techie users to get the full benefit of a product whose capabilities appear to exceed what Apple is willing to let it do."
Link: The iPod touch - Phoneless iPhone, PDA, or What?
New iPods Do Component Video Out, iPhone Apparently Will Too
Ars Technica's David Chartier reports:
"Leave it to Apple to glaze over yet another cool feature of the new iPods and, if an updated product page is right, even the iPhone. Apparently the holiday-friendly gadgets support sending component video out with a new cable the Apple Store is selling. While the iPhone likely doesn't do this just yet, the feature could easily be included in the promised firmware update that will bring the iTunes WiFi Store before the month's end."
Link: New iPods Do Component Video Out, iPhone Apparently Will Too
Existing Third-party Video-out Peripherals May Not Work with New iPods
If you've invested in third-party video-out peripheral accessories and connectors for your fourth or fifth generation video iPod, be forewarned that they may not work with the new iPods released last week.

Reportedly, Apple has locked the TV-out feature on the latest models so that video output to a TV set will not work. This is apparently in aid of limiting video output to devices that contain Apple authentication chips, which are only available in Apple-branded peripheral products and those of a few Apple licensed third-party developers.

According to iLounge's Editor-in-Chief, Jeremy Horwitz, Apple's Universal Dock and iPod Hi-Fi will both unlock the TV Out feature currently, and new Apple video cables are in the works that will work with the new iPods, but sell for a whopping $49, and Engadget's Paul Miller notes that "a select few products with the 'spensive Apple authentication chips built-in do allow you to turn on TV out, like Apple's Universal Dock, iPod Hi-Fi (which doesn't have video output anyways) and the $600 Zeppelin from Bowers and Wilkins, but if you've sprung for products such as the Memorex iFlip and Sonic Impact Video-55 in the past, you're out of luck for the time being."
Why would Apple do this? To appease the entertainment-biz suppliers of iTunes video and movie content?
Boo, hiss.
Not a class act.
Interim Workaround for Panther Support in iPod classic
Apple has cut OS X 10.3 "Panther" users loose with the release of the new 6th generation iPod classic and 3rd generation iPod nano, which are the first iPods to be incompatible with Panther. This means, among other things, that a music library can't be synched from a Panther machine to one of the new iPods.
However, there is a workaround.
Ric says:
"So, you have rushed out and bought the lovely new iPod classic (or Nano). You have also downloaded iTunes 7.4 because the guy in the shop said it was required. What you might not have done is read the fine print on the box or on the online Apple Store: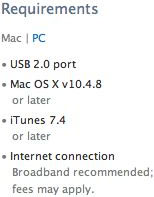 "Whoops
"You hope that this is merely a mistake and go ahead and plug it into your OS X 10.3.9 Mac; after all, if it runs iTunes 7.4, surely that is enough. Sadly no. You are greeted with this cold message:
"What now? There are a couple of options and none of them are ultimately satisfactory. Here's an Interim Workaround...."
Link: Interim workaround for iPod Classic & OS X 10.3.9 (in)compatibility
Toshiba Techs Ready Next-gen iPod Hard Drive
The Register's Tony Smith
"Toshiba has taken the wraps off a new hard drive recording technology it claims will dramatically increase the capacity of the 1.8in drives used in portable media players like Apple's newly announced iPod classic.
"Dubbed Discrete Track Recording (DTR), the technique, as its name suggests, separates out parallel magnetic data-storing domains much like an old LP or a new CD does. Unlike today's perpendicular recording drives, this separation - Toshiba calls the gap between tracks the 'groove' - reduces signal interference between adjacent data tracks."
Link: Toshiba Boffins Ready Next-gen iPod Hard Drive
Video on iPod nano 'Crisp and Brilliant'
PC Advisor has rated the 3rd Gen. iPod nano a "Best Buy":
"The first thing you'll notice about the third-generation Apple iPod nano is its 2in display. How can you not? The display occupies more than half of the device - fitting, considering that one of the big selling points of the nano is it can now play video in addition to music.

"The second thing you'll notice is its new shape: the nano's long, thin stick design has been replaced by a wider, stouter design that accommodates both the generous screen and Apple's signature scroll wheel. And it delivers all this in the same impressively thin profile - about a quarter of an inch thick - as the previous nano.
"The new nano impressed me more in the flesh than it did on paper. The brushed aluminum design - available in silver (4 GB and 8 GB), black, (Product) Red, metallic pastel blue and metallic pastel green - actually works quite well in practice. Whereas before I always found the nano unnaturally long for my taste, now I find the nano fits well in the contour of my small hand. This makes operating the player with one hand convenient and comfortable. The player remains super-lightweight at 49g, although it's slightly heavier than the second-generation model."
Link: Third-generation Apple iPod nano Review
iPod classic Has 'Expanded Color Reproduction'
PC World's Eric Dahl reports:

"Is this the final stage of refinement for the hard-drive-based media player Apple now calls the iPod classic? Judging by the tiny changes in this sixth generation, it very well could be. This latest update is all about capacity, with the $249 model jumping from 30 GB to 8 GB, while the $349 flagship model leaps from 80 GB to a whopping 160 GB.
"What would you do with all that space? Well, that is the question, isn't it? After spending some quality time with a 160 GB iPod classic, I have a few ideas. A standard-def video library or a music collection stored entirely in Apple Lossless compression would work, but either approach has its flaws. More on that later.
"I won't be trading in my 80 GB video iPod anytime soon, but I've really grown to like some of the minor tweaks Apple has made to the Classic's interface."
Link: First Look: Apple's 160 GB iPod classic
The iPod Gets a Makeover
Ars Technica's Clint Ecker and Jacqui Cheng report:
"iPods iPods iPods! That was the theme of Apple's September 5 event, titled 'The Beat Goes On.' And as expected, what came out of the event was all sorts of iPod news: the shuffles got new colors, the iPod touch (touchscreen iPod) made its debut, and Apple updated its old standbys, the iPod classic and iPod nano. This review focuses on the latter two in the list, because they both saw the same general changes to physical design and also use the same new UI.
"We will go over the physical differences of each iPod separately first and then address the UI as a whole."
Link: The iPod Gets a Makeover: A Review of the iPod nano and iPod classic
iPhone Accessories
Showcase for iPhone
PR: Contour Design has announced the release of the Showcase for iPhone - the newest edition of its line of dual-layered iPod cases and accessories. This new contoured crystal-clear and shock-absorbing rubber case is available immediately.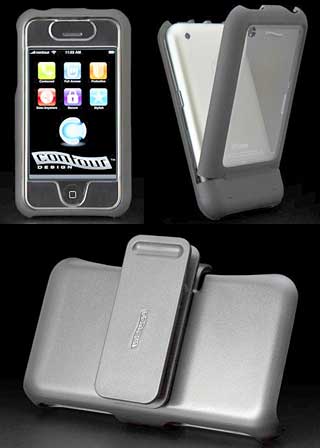 This Showcase is designed to protect and show off the iPhone, accenting the iPhone's sleek lines while also giving it superior two-layer protection.
The Showcase incorporates a hinged door into its construction, for increased versatility. Whether it is in or out of its holster, it offers complete accessibility to all connections and controls, including the touch screen. The case/holster combination allows the iPhone to sit in it forward, backward, horizontal or vertical positions.
By itself, the Showcase for iPhone allows easy insertion and removal. The layer of shock-absorbing rubber gives the added benefit of not sliding on smooth, flat surfaces and the shape of the case perfectly complements the shape of the iPhone.
"The Showcase is our flagship case, and we wanted it to perfectly complement the iPhone," said Mike Jackle of Contour Design. "This Showcase, like all others in this product line, uses the dual layers of rubber and polycarbonate to perfectly contour to the phone. We met our goal with a case that is strong and stylish."
Key Features
All-encompassing dual layer protection fused with full accessibility for the touch screen, sensors, ports, and antenna
Hinged, contoured case provides unmatched versatility and function
Perfectly contoured to match the iPhone's shape, accents the iPhone design
Shock absorbing rubber and ultra-clear polycarbonate construction
Low profile holster keeps iPhone protected and close
The Contour Showcase for iPhone is available now.
MSRP is $34.95.
Link: Contour Showcase for iPhone
Transfer Ringtones with MakeiPhoneRingtone
PR: Yesterday I posted about using Fission to create ringtones for the iPhone. Editing with Fission is straightforward, but getting the resulting files onto the iPhone is a bit tricky. The processes for both iTunes 7.4 and iTunes 7.4.1 work, but they're not simple.
So we thought, why not make this easier? Enter MakeiPhoneRingtone, a free download available right now. Simply drag and drop AAC ringtones (made with any editor, though we hope you'll use Fission) onto this tiny app, and they'll show up in the iPhone Ringtones tab. Sync your iPhone and they'll ready for use.
Apple may release iTunes 7.4.2 in the next few days and change how this works all over again. They were quick to update from version 7.4 to 7.4.1, and ultimately, if Apple wants to lock out home brewed ringtones, they can. That said, we'll do our best to keep MakeiPhoneRingtone working with iTunes updates. Further, if MakeiPhoneRingtone does turn out to be a tenable solution, we'll see about integrating it right into Fission.
For now though, check out Fission to create iPhone ringtones and then use the free MakeiPhoneRingtone to get them onto the iPhone! If you have any problems, issues or questions, email us directly so we can see what's up.
Update (9/11/07 1:30 PM): Apple has now turned on the Ringtones feature in the Store. Once you visit the store, you should see a Ringtones category in your Library (if not, open up Preferences and turn on the newly visible Ringtones checkbox in the General preferences). Now you can manage all the ringtone files that have been added to iTunes with MakeiPhoneRingtone!
System requirements: Apple iTunes 7.4.1.
System Support: PPC/Intel
Free
Link: Transfer Ringtones with MakeiPhoneRingtone 1.0
iPod Accessories
List of Belkin Accessories Compatible with new iPod nano, classic, and touch
PR: Belkin's existing line of iPod accessories includes devices that are compatible with the new iPod nano, iPod classic, and iPod touch.
Power and listen to your iPod in your car
Charging Kit for iPod (F8Z152) - $34.99
Dual USB Power Adapter (F8Z145) - $29.99
Power Adapter for iPod (F8Z121) - $24.99
TuneCast® Auto for iPod(a) (F8Z209) - $59.99
Listen to your iPod through your home stereo
Mini-Stereo Cable (F8Z181-06-GLD) - $19.99
Stereo Cable (F8Z180-07-GLD) - $14.99
Link: Belkin
New Belkin Cases Protect and Stylize iPod nano, classic, and touch
PR: Belkin announces the first cases on the market for the iPod nano, iPod classic, and iPod touch.
Availability
Early October 2007 in North America, Latin America, Europe, Asia, and Australia.
Chris McGugan, VP of Product Management: "Extending our line of iPod accessories, these unique cases embody the heart of Belkin design: true innovation. Keeping the user in mind, we strive to create compelling, functional, and unique accessories that exceed the expectations of the iPod user community. Through our material selection, fit, and styling, we enable all iPod owners, the option to express themselves with our case lines."
Sport Armband Plus for iPod nano (F8Z200-MBL), iPod classic (F8Z201-MBL), and iPod touch - $29.99
Breathable, water-wicking Coolmax material
Slim and lightweight to minimize bulk on your arm during workouts
Included Cable Capsule helps manage and store earphones
Hand-washable
Included pocket for key or earbud storage
Clear screen and navigation protector
Adjustable hook-fastening system for universal fit
Sport Armband for iPod nano (F8Z202-KG) and iPod classic (F8Z203-KG) - $19.99; iPod touch - $29.99
Slim, lightweight, and stretchable neoprene material
Included pocket for key or earbud storage
Water-resistant and hand-washable
Clear screen and navigation protector
Adjustable VELCRO® closure for universal fit
Remix Acrylic Case for iPod nano (F8Z215) - $24.99; iPod classic (F8Z212) and iPod touch - $29.99
True-sense click wheel provides full protection and functionality
Thin and compact
Made of clear polycarbonate
Remix Metal for iPod nano - $24.99; iPod classic - $29.99
True-sense click wheel provides full protection and functionality
Thin and compact
Machine-etched with graphical pattern throughout durable, aluminum, protective face cabinet
Available in silver, black, blue, and pink
Leather Sleeve for iPod nano (F8Z204) - $24.99; iPod classic (F8Z205) and iPod touch - $29.99
Unique one-seam design hugs your iPod, protecting it from everyday scratches and scuffs
Soft, durable leather with soft-suede lining
Secure VELCRO strap attachment
Access to hold switch and dock connector
Click-wheel and screen protector
Available in 3 colors: black, chocolate, and cameo pink
Leather Folio for iPod nano (F8Z206) - $24.99; iPod classic (F8Z207) and iPod touch - $29.99
Sleek, portable design made of soft, durable leather with soft-suede lining
Screen protector and magnetic closure
Access to hold switch and dock connector
Available in 3 colors: black/chocolate, pink/chocolate, persimmon/bone
Silicone for iPod nano (F8Z213) - $14.99; iPod classic (F8Z214) and iPod touch - $19.99
Form-fitting design that features a snug extra layer of rugged silicone
Secures your iPod nano with durable silicone
Available in 4 colors: black, pink, and blue
Link: Belkin
mStation Announces Redesigned Mophie Wraptor Case
PR: Just hours after the announcement of the new iPod and allowing customers worldwide to be involved in the design experience via playtoexperience.com, mStation is pleased to announce the new mophie wraptor Wraptor.
Just three days ago, mophie was acquired by California based mStation corporation, the fast response to Apple's new devices is an accomplishment that demonstrates that the strength of the combination of the two companies, showing their collective award winning style and attention to detail.
"We couldn't have hoped for a better kickoff for mStation + mophie. This new relationship allows team mophie to do what they do best, design and develop new products, and lets our team at mStation do what we do best, which is getting products to market," said Marc Salsberry, mStation's Creative Director.
The mophie Wraptor will be available in stores before the Holiday season. As a company known for its quick-to-market capabilities, mStation will be launching several new products in the coming months.
About the Wraptor: Combining a crystal clear, scratch-resistant polycarbonate shock-resistant outer shell with a popup soft rubber cord wrap, the new Wraptor Nano offers complete protection for your iPod and absolute cord wrap containment for your earbuds. The cord wrap pops up to allow you to wrap your earbuds and then neatly folds down over the back of your protected iPod to keep your earbuds securely managed.
The wraptor will be available for nano, classic, touch and iPhone in October for $30.
gpx2ipod Paperless Geocaching for iPod
PR: Mac-based paperless caching for people who own an iPod but not a PDA.
Batch-converts a pile of .gpx files to plain text for use with the iPod's "Notes" feature.
Super-fast - cut your geocaching prep time to a few minutes.
gpx2ipod handles both individual and Pocket Query (multiple-cache).gpx files.
Cache files will display alphabetically on the iPod for easy access in the field.
gpx2ipod can inject generated text files directly into your iPod (most users) or into a local "output" folder (you might not have an iPod but might still want the text files for other purposes).
gpx2ipod is a Terminal application (shell script), but can be run painlessly with a double-click - no shell experience required.
gpx2ipod is available either with or without the gpsbabel command-line binary bundled. gpsbabel is licensed under the GPL, and thus so is gpx2ipod. See LICENSE for info.
Who this is for
You're a Mac user who has an iPod but not a PDA.
You want to do paperless geocaching.
You want complete descriptions, log entries and hints while out on the trail.
Your iPod has this great "Notes" feature, but you haven't found any OS X software to get GPX files into a format you can read in the iPod's Notes reader. MacCaching is wonderful, but it outputs to the iPod's "Contacts" system, which means no logs and no choice of whether to encrypt hints. It also intermingles hundreds of geocache data files with your existing pile of Contacts - very messy. GPSBabel+ has a similar "Export to v-card feature" with similar problems. The iPod's "Notes" feature seems a much better choice to me.
System requirements: Mac OS X 10.3 or later.
System Support: PPC/Intel
Free
Link: gpx2ipod
Join us on Facebook, follow us on Twitter or Google+, or subscribe to our RSS news feed
Links for the Day
Mac of the Day: iMac (Late 2006), introduced 2006.09.06. Apple introduced the biggest screen ever in an iMac with a 24" 2.16 GHz Core 2 Duo model.
Recent Content
Custom Search
Follow Low End Mac on Twitter
Join Low End Mac on Facebook
Favorite Sites
MacSurfer
Cult of Mac
Shrine of Apple
MacInTouch
MyAppleMenu
InfoMac
The Mac Observer
Accelerate Your Mac
RetroMacCast
The Vintage Mac Museum
Deal Brothers
DealMac
Mac2Sell
Mac Driver Museum
JAG's House
System 6 Heaven
System 7 Today
the pickle's Low-End Mac FAQ
Affiliates
Amazon.com
The iTunes Store
PC Connection Express
Macgo Blu-ray Player
Parallels Desktop for Mac
eBay

Advertise