iPhone Proved Better, iPhone Mods Void Warranty, iPod Touch Screen Fault, Wireless Bicycle Speaker, and More
This Week's iPhone, iPod, and Apple TV News
Compiled by Charles Moore and edited by Dan Knight - 2007.09.27
Mac notebook and other portable computing is covered in The 'Book Review, and general Mac news is in Mac News Review.
All prices are in US dollars unless otherwise noted.
iPhone News, Reviews, & Opinion
iPod News, Reviews, & Opinion
iPhone Accessories
iPod Accessories
iPod and iPhone Deals
iPhone News, Reviews, & Opinion
Usability Data Proves iPhone Really Is Better
Blackfriars' Marketing's Carl Howe reports:
"I've been claiming that the iPhone's usability is the keystone of its market appeal for a while. Well, ComputerWorld now has some hard usability study data to back that claim up. They had Perceptive Science, a usability consulting firm, pit the iPhone against a Nokia N95 and the HTC Touch (which is a Windows Mobile 6.0 device) with 10 consumers:"
iPhone Unlocks May Irreparably Damage iPhone Software
CUPERTINO, Calif., Sept. 24 - Apple has discovered that many of the unauthorized iPhone unlocking programs available on the Internet cause irreparable damage to the iPhone's software, which will likely result in the modified iPhone becoming permanently inoperable when a future Apple-supplied iPhone software update is installed. Apple plans to release the next iPhone software update, containing many new features including the iTunes Wi-Fi Music Store, later this week.
Apple strongly discourages users from installing unauthorized unlocking programs on their iPhones. Users who make unauthorized modifications to the software on their iPhone violate their iPhone software license agreement and void their warranty. The permanent inability to use an iPhone due to installing unlocking software is not covered under the iPhone's warranty.
Apple, AT&T Voiding Warranties on Modified iPhones
BloggingStocks' Brian White reports:
"AT&T, Inc. is about to step into a 'vocal minority' land mine when it comes to interacting with customers using that expensive Apple, Inc. iPhone on its network. Let's put it this way: if you're a techno-tinkerer and have modified the software on that iPhone but need to bring it to AT&T (which probably sends it to Apple) or an Apple store for service, prepare to be disappointed: you may be turned away forever, even if your unit is under warranty.
"This situation sounds like a legal pickle of pretty big proportions. Apple iPhone purchasers 'buy' an iPhone and are free to do whatever they want with it - by law, right? The problem seems to arise when iPhone owners change the software on their phone, specifically using a 'hack' to make the iPhone usable on wireless carriers other than AT&T, among other things."
Link: Apple and AT&T Voiding Warranties on Modified iPhones
Apple Warns that Updates May Damage Modded iPhones
MarketWatch reports:
"Fans of Apple Inc. are always anxious to tout the inherent superiority of the company's hardware, software and even advertising.
"But apparently that's not stopping them from trying to unlock their cool new iPhones, so that the devices will work on other wireless networks besides that of AT&T Inc. A few weeks ago, some teenager posted instructions about how to do it on YouTube.
"Since then, other hacks have surfaced, and the issue has become serious enough that Apple had to issue a warning late Monday against such actions.
"The company's warning was as artfully designed as one of its machines."
Link: Apple Sends Customers an iSicilian Message
Regain Battery Life after Installing Third Party Apps
iPhoneAlley's Michael Johnston says:
"So you've just finished hacking your iPhone and installed every application you could find, but what the heck happened to your battery life? In the process of installing various things, you've likely installed OpenSSH, the tool which allows remote login to your iPhone from a computer. The problem is, SSH requires that a listener called SSHD constantly runs, waiting for a remote login attempt. This in turn drains your battery. The solution is to disable SSHD when you don't need it. Read on for the how-to.
"For most seasoned iPhone hackers, disabling SSHD is a piece of cake. Unfortunately, it's not very easy or convenient. Instead, us mortals need a simple tool."
Link: Regain Battery Life after Installing 3rd-party Applications
iPhone: Four Devices and More . . . in One
The Register's Tony Smith says:
"We've already reviewed Apple's iPhone, so why are we taking another look? There are several reasons. First, a different reviewer means a different opinion. That applies to any product, of course, but Apple's claim that the iPhone is 'revolutionary' perhaps justifies an alternative appraisal.
"Second, the first review was of a device limited by the shackles of AT&T's two-year subscription requirement. With an unlocked model, this reviewer is much less restricted. Thirdly - and this is the killer, really - having used the iPhone as my sole communications device for a time, I think it's bloody marvelous and I'd like to explain why."
Link: Apple iPhone - Four Devices and More . . . in One
iPhones and Politics in Iran
Cyber Persia's Reza Hashemi says:
"Smart people like smart things. When you like something you naturally want to own it. That is the reason all the Apple iPhone lovers around the world are so happy for 200$ price reduction, but the story of owning an Apple product in Iran is totally different.
"Most of the products are available in Iran after one or two weeks. You get higher price, higher risk , no trained Apple technicians, and no official support and service because there is no official Apple representative in Iran.
"Why? Politics!
"I mean US sanctions against Iran and US companies.
"Ok, You decide to have an iPhone and pay more. What's the problem?"
"If Apple contracts with all the mobile operators in the world, I'm sure there are some exceptions and those exceptions are mobile operators in Iran.
"Why? Politics!
"The current price for an unlocked iPhone in Iran is US$1,400....
"From Apple core values of innovation, design and customer respect, you get nothing.
"Why? Politics!
"This is how politics enters into everyday life of electronic products consumers and Apple fans inside Iran and makes Iran a high risk and high profit market...."
Link: iPhones in Iran!
iPod News, Reviews, & Opinion
iPod touch Screen Fault Due to Haste?
Macworld UK's Jonny Evans reports:
"Speaking to the Wall Street Journal, Apple has admitted to some problems with some units of the newly-shipped iPod touch.
"While Apple hasn't issued any explanation yet on why some units of the new device display dark areas of video in a way in which they look like photo negatives, a post on the company's own support forums may shed a little light.
"One poster there - who claims to be an engineer with experience in the LCD industry - believes the problem lies in the anti-reflective coating used, combined with Apple's desire to ship the product quickly."
Link: iPod touch Fault a Quality Control Matter?
iPhone and iPod touch 'Very Similar' Inside
DailyTech's Michael Hoffman & Jason Mick report:
"The iPod touch is virtually identical to the iPhone, according to a disassembly performed by repair firm iFixit, published in a blog detailing its disassembly and comparison with an iPhone.
"The first major change is that the battery in the iPod touch is able to take up more space since a large speaker or microphone is not necessary. The touch screen that allows users to navigate through the iPod controls is located immediately beneath the battery. The touch's battery measures 54 x 64 x 2.8 mm; the iPhone's battery is larger by volume but smaller by proportion, 43.6 x 50.5 x 5.4 mm.
"The rear lid has been improved by the addition of wireless contact points, allowing it to be removed faster and more efficiently. The headphone jack is built directly into one of the circuit boards, which could lead to more difficult repairs.
"The ARM processor and Samsung NAND memory in the iPod touch is virtually identical to the same components found in the Apple iPhone."
Take Notes on an iPod touch
Mac OS X Hints' rflorence says:
"Many users have complained about 'missing' features in the iPod touch, like an email application, the ability to add entries to the Calendar, and a note taking application. Until the iPod touch is 'hacked' to allow the installation of third-party apps, or for those who don't want to hack the iPod touch, it is possible - and not entirely inconvenient - to use the Contacts database to take notes that are then automatically uploaded to the home computer when the iPod touch is synced."
Link: Take Notes on an iPod touch
iPod touch 'Top of Our Christmas List'
Computeractive's Cliff Joseph says:
"Touch-screen, wireless networking: what can't the new iPod do?
"Yes, it's expensive, but the touch-controls and wireless internet put the Touch at the top of our Christmas list.
"From the moment Apple unveiled its iPhone a few months ago, it was clear that the phone's innovative touch-screen control system was going to appear in the iPod as well. And now, at the same time as the phone's UK launch, the iPod touch has appeared."
Link: Review: Apple iPod touch Portable Video Player
iPod classic: Timeless or Anachronistic?
tech.co.uk reports:
"Could this the the classic iPod's last hurrah?
"There's never been a better time to buy a classic iPod. It sounds good, build quality is excellent and it boasts huge amounts of storage. Just don't expect it to be cool anymore. It's passed that mantle on the iPod touch and iPhone
"What does the word 'classic' suggest to you? A timeless masterpiece, a nostalgic yearning for the past. Or something that's past its prime? The new / old Apple iPod classic is all these things and more. Let us explain . . . The arrival of the iPhone and iPod touch, and even the iPod nano have suddenly turned the iconic iPod into something of an anachronism....
"Does this feel like an end of an era, a last hurrah? Yes it does. Apple has probably done enough with its iPod refresh to keep it at number one in the sales chart this Christmas and it's great to go out on a high. Will we still be singing the classic's praises this time next year? Only time and Apple and tell."
Link: Apple iPod classic 80 GB Review
iPhone Accessories
Ringtonator Converts Music to Ringtones and Vice-Versa
Ringtonator Studio allows you to open and edit QuickTime clips, then export them into iTunes's ringtone format. It works by using QTKit to edit/export the M4A format, and then AtomicParsely to edit the exported song's metatags so that iTunes recognizes it as a ringtone. It also utilizes the open-source Cocoa add-on SMDoubleSlider.
Supports MP3s
To use: check 'edit manually' if you wish to crop your ringtone. Drag MP3 from Finder into the Ringtonator. This version only allows for 1 song to be edited at a time (no multiple-file drags for now, doing so will result in only the first file being edited). Edit the opened song to your desire, if you mess up, CMD-R reverts to saved state, while CMD-W closes the song (not the app!). Once you finish, press export. If the original file was not an M4A, it will take a minute to do, just give it some time. Now find the original file again in the finder. There should be a new file next to it called '"original file" Ringtone.m4r'.
New in version 1.5:
Added MP3 support, renamed files to .M4R to keep up with latest version of iTunes. Also added QTKit with threaded export and cropping capabilities. Removed progress bar for now, replaced with an indeterminate spinny thing.
System requirements: Mac OS X 10.4.10 or later, iTunes.
System Support: PPC/Intel
Free
Link: Ringtonator Std.
IceWear iPhone Silicone Case
IceWear iPhone is a strong and attractive silicone case for iPhone. Like all IceWear products, IceWear iPhone utilizes our patented rib technology for a strong grip. Made of the same high-density silicone used in diving masks, IceWear iPhone protects iPhone from accidental bumps and drops.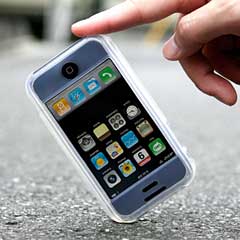 IceWear iPhone leaves the iPhone multi-touch display unobscured, allowing for complete control and viewing of the screen. We added embossed edges around the screen to help prevent scratching. TuneFilm, a clear protective film that covers the multi-touch display of the iPhone for extra protection, is included free with every IceWear iPhone.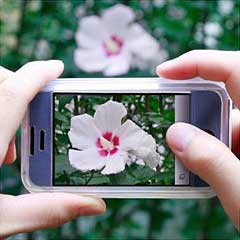 With IceWear iPhone, all ports on iPhone are open for easy access. The headphone jack, dock connector, camera lens, and buttons are easily accessible. You can attach and use the USB docking cable without the need to remove IceWear iPhone from your iPhone.
IceWear iPhone features
High-density transparent silicone
Easy to put on, easy to take off
Complete access to iPhone multi-touch display and connectors
Unobstructed view of the multi-touch display
Patented rib design grips in your hand and grips to almost any surface
Clear protective film TuneFilm included free
Washable with soap and water
$29.95
Coming Soon!
Link: IceWear iPhone Silicone Case Announced
iPhone Remote Lets You Remotely Access Your Mac from Your iPhone
Remotely access your Mac through a collection of mini Web apps on your phone
Features:
Stream music and videos from your computer
Screen capture with mouse click and basic typing support
Simple iTunes Remote control
Browse your files
Run AppleScript remotely
iSight image capture
Basic Spotlight search
Easily create and add more apps
Security Considerations
This is still a developer prototype and is intended only as a demo to get people started.
It will have the same access privileges as your user account
The login and password you specify will be stored on disk, so should be different, but as strong as your account password.
Don't leave it running if you aren't using it
Usage
Run iPhone Remote (Requires OS X 10.4)
Choose a web login/password
Open to https://<YOUR COMPUTER IP HERE>:5010 from your iPhone

° If you want to access your computer from outside of your local network, you may need to configure your router or firewall to support it.
System requirements: Mac OS X 10.4 or later.
System Support: PPC/Intel
Free
Link: iPhone Remote
iPod Accessories
Lowly Cassettes Return as Designer iPod nano Case
45 NANO CASES are made from reclaimed cassette tapes rebuilt to fit to your 1st and 2nd generation iPod nano. Choose from the 45 tapes currently available
Audio cassette tapes are making a pop culture comeback, this time as protective designer cases for iPod nanos by Contexture Design.
Known as '45 nano,' the cassette-cases follow January 2007's release of '45,' Contexture's limited-edition iPod cases custom-made from vinyl 7" records.
"Reusing an old music medium to protect technology that surpassed it really resonates with us as music fans and sustainable designers," says Trevor Coghill, Contexture Design cofounder.
"Before iTunes' playlists, people made mix tapes," says founding partner Nathan Lee of the similarities between cassettes and digital music players. "And like iPods and nanos, tapes were also a really portable music technology."
One side of the cassette-cases has been hollowed out to fit first- and second-generation iPod nanos, shielded by a clear plastic window that includes openings for access to the music player's controls, headphone jack and charging dock.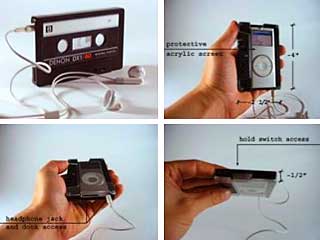 The cases' flipside has been retained and looks like a 'vintage' cassette. For added cushioning, the cassette-cases include foam padding and come enclosed in their original, clear plastic cases.
According to Contexture's philosophy of using recycled and repurposed materials, '45nano' has been designed and constructed sustainably using reclaimed tapes and foam padding.
Contexture has already begun working on similar cases for the recently released third-generation iPod nano.
'45' and '45 nano' are available online for the sticker price of $45. As a further incentive, Contexture still offers a $5 rebate to online buyers who participate in the street level poster campaign. To qualify for the rebate, participants hang concert style posters around their neighbourhood.
Compatible iPod nano Models and Sizes:
1st generation 1 GB, 2 GB, 4 GB
2nd generation 2 GB, 4 GB, 8 GB
3rd generation model currently under development
Link: Lowly Cassettes Return as Designer iPod nano Cases
First Wireless Bicycle Speaker for iPod
Turning up the volume on cycling safety combined with a unique listening experience, cy·fi makes its debut at the Interbike 2007 Expo in Las Vegas, Nevada, September 26th-28th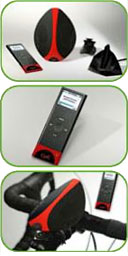 cy·fi, the world's first wireless bicycle speaker and ultimate iPod accessory, offering cycling professionals and enthusiasts a unique listening experience, will be unveiled next week at Interbike 2007 in Las Vegas.
Slightly larger than a deck of cards and weighing less than three ounces - cy·fi's incredibly compact design is the first revolutionary product of its kind to be introduced to the cycling world. Portable, and easily mounted on any bicycle mainframe, cy·fi enables users to enjoy all of their digital music, offering unprecedented sound quality and battery life, while eliminating the safety concerns associated with headphones or earbuds when riding.
Features:
iPod Compatible - Use cy·fi with your iPod or iPod nano
Superior Sound - Enjoy 100% lossless, CD-quality wireless audio via Kleer technology
Remote Controlled - Change the track, volume and playlists settings from your speaker
Bike Ready - Easily mount cy·fi on your bike frame with the provided attachment
Battery Life - under 6 hours
Wireless Range - 30 feet
Light and Portable - Pack cy·fi as a travel speaker - it weighs less than 3 ounces
Group Synching - Broadcast your favorite tunes to up to four cy·fi speakers
Patent-Pending Interface - Keep your hands on the bike . . . and cy·fi at your fingertips
The innovative speaker will be available in specialty retail and better bike stores starting in early 2008 and will retail at $149.95.
cy·fi is the brainchild of Jeff Lotman, CEO of Global Icons, a premier brand licensing agency, and an avid cyclist who recognized the need to provide a solution to the dangers of biking with headphones. "I wasn't aware of any other bikers or cars, or my environment," says Lotman. At the same time he knew he couldn't stomach giving up his music. "It's what motivates you and makes you want to exercise."
"As a product-first, it made sense", says Arnold Kamler, Chairman of the Board for Kent International, and Lotman's partner on the project. "The safety aspect was what really caught my attention at first, then adding the original and progressive nature of the product design process made it a very attractive proposition."
Impact Design Associates was tasked with developing the initial design. Product designer Max Beach contacted Rocky Gonzalez of 3D Mass to translate the cy·fi idea from concept to a fully functional prototype. Beach and Lotman agreed that the goal was to make it as lightweight as possible, and capable of delivering high performance sound quality.
That challenge was solved by using a pioneering wireless audio technology offered by Kleer that combines full CD quality sound with ultra low power consumption, to deliver 100% lossless performance. By using this low frequency technology, 3D Mass was able to create a customized amplification system encased in a compact speaker design with extended battery life. Delivering cutting edge technology with visual impact, cy·fi became "HI-FI".
"We're thrilled that Global Icons has recognized Kleer as the ideal technology for this exciting new application." says Ron Glibbery, VP of Marketing for Kleer. "In fact, this application is not viable with other technologies such as Bluetooth, as the speaker battery life would be shorter than most bicycle rides.
Link: cy·fi
Fabrix Custom Cushioned iPod Sleeves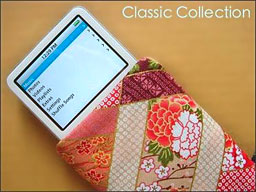 Featuring unique and fashionable fabrics
Cushioned with high-grade internal quilted paddings that provides your iPods with the optimum level of protection against scratches, light bumps and knocks, yet not compromising on the size and form factor.
Handsewn to precise dimensions to fit each iPod perfectly unlike mass produced cases which comes in generic sizings.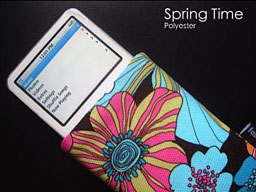 For "Custom Size", specify your exact device model followed by dimensions (w/o allowances) in cm :
Example : 11.3 x 5.9 x 2.3 cm
Shipping charges are priced at $1.00 per case
Link: Fabrix Custom Cushioned iPod Sleeves
Daylite Has Sync Capability for iPhone, iPod, BlackBerry, Palm, and More
Apple road warriors rejoice! Marketcircle takes advantage of Apple's Sync Services to extend Daylite productivity to the palm of your hand
Daylite 3.5, the newest version of Marketcircle Inc.'s Mac productivity management software, takes advantage of Apple's Sync Services to bring Daylite contacts, appointments, tasks, and reminders to iPhone, iPod, Blackberry, Palm, Windows Mobile devices and many popular cellphones.
Designed for the unique needs of Mac-based businesses of 1-50 people, Daylite 3.5 is the latest version of Marketcircle's award-winning productivity management software and the only Mac-based productivity management application that helps an organization at every stage of the business cycle. From identifying and qualifying opportunities to the delivery of projects, Daylite 3.5 is a powerful resource for tracking and managing business activities and outcomes.
"What we've been able to do with Apple's Sync Services is open up a new era of mobile productivity to the multi-user Mac business community," says Alykhan Jetha, CEO of Marketcircle Inc. "With Daylite 3.5 anyone can share business contacts and calendar items - even meetings - between Macs and iPhones or other handheld devices. It truly brings Daylite conveniences to the palm of your hand."
To protect personal privacy, Daylite 3.5's new syncing abilities allow users to select and sync distinct contact categories (prospects and customers, but not personal contacts, for example).
Daylite 3.5 also introduces more than 300 contextual help articles via Apple Help designed to expose little-known, but powerful Daylite features to more users, and to simplify the "getting started" process for new users.
In addition, Daylite 3.5 provides more than 100 enhancements including support for international time zones, and the ability to multi-select Daylite-enabled colleagues to set or revise appointments, tasks, projects and opportunities. A new multi-user trash system allows everyone in a Daylite workgroup to review or reinstate trashed items no matter who deleted them or how. Exporting now includes tab delimited as well as .csv formats.
To connect Daylite to regular phones, Daylite 3.5 users require iSync 2.4 or higher (in Mac OS X 10.4.9 or higher). For BlackBerry devices, they require Missing Sync for BlackBerry 1.0.1 or higher. For Palm devices, they require Missing Sync for Palm 6.0 or higher. For Windows Mobile devices, they require Missing Sync for Windows Mobile 4.0 or higher. See Apple's iSync compatibility page for a complete list of supported devices.
Daylite 3.5 is a free upgrade for Daylite 3.x users. Daylite 3.5 is included in the Daylite Productivity Suite that bundles Daylite 3 with Marketcircle's Daylite Mail Integration Module (DMI 2.0.5) for US $189. Sold separately, Daylite 3.5 retails for US $149 and DMI 2.0.5 retails for US $49. International pricing applies. New customers can try Daylite 3.5 free for 30 days.
Link: Daylite
Join us on Facebook, follow us on Twitter or Google+, or subscribe to our RSS news feed
Links for the Day
Mac of the Day: iMac (Late 2006), introduced 2006.09.06. Apple introduced the biggest screen ever in an iMac with a 24" 2.16 GHz Core 2 Duo model.
Recent Content
Custom Search
Follow Low End Mac on Twitter
Join Low End Mac on Facebook
Favorite Sites
MacSurfer
Cult of Mac
Shrine of Apple
MacInTouch
MyAppleMenu
InfoMac
The Mac Observer
Accelerate Your Mac
RetroMacCast
The Vintage Mac Museum
Deal Brothers
DealMac
Mac2Sell
Mac Driver Museum
JAG's House
System 6 Heaven
System 7 Today
the pickle's Low-End Mac FAQ
Affiliates
Amazon.com
The iTunes Store
PC Connection Express
Macgo Blu-ray Player
Parallels Desktop for Mac
eBay

Advertise