22 iPhone Tips, Greenpeace Admits iPhone Compliant, iPod 'Best Gadget Ever', Jailbreaking, and More
This Week's iPhone, iPod, and Apple TV News
Compiled by Charles Moore and edited by Dan Knight - 2007.10.18
The top story this past week has been Greenpeace's latest PR fiasco: damning the iPhone, only to have to sheepishly admit that it meets every aspect of RoHS legislation. One true oddity of the whole thing was pointing out that the iPhone's headphone contains phthalate compounds, which are not allowed in childcare products and toys for young children - certainly not the iPhone's market!
The iPhone should be coming to Canada via Rogers, but there's a holdup because Comwave owns the iPhone trademark there.
Apple received 6 trophies from the T3 Gadget Awards, including "Most Anticipated Gadget" for the iPhone and "Best Gadget of All Time" (among others) for the iPod.
The new tech word of the year is jailbreak, a term first applied to hacks that made it possible for users to access the iPhone's file system and now being applied to the iPod touch as well.
Mac notebook and other portable computing is covered in The 'Book Review, and general Mac news is in Mac News Review.
All prices are in US dollars unless otherwise noted.
iPhone News, Reviews, & Opinion
iPod News, Reviews, & Opinion
Apple TV News, Reviews, & Opinion
iPhone/iPod Add-ons
iPhone Add-ons
iPod Add-ons
iPod and iPhone Deals
iPhone News, Reviews, & Opinion
22 Tips to Get More from Your iPhone
Macworld's Christopher Breen, Dan Frakes, Jonathan Seff, Philip Michaels, and Jim Dalrymple report:
"As those of you who rush to buy it on November 9 will soon find out, you can do a lot with the Apple iPhone. Apple's gorgeous gadget lets you surf the internet, send and receive email, listen to music and watch videos with just a touch of a virtual button. And guess what? You can make phone calls too.
"The iPhone is a great toy. But dig a little deeper, and you can do even more. Now that we've had some time to live with the Apple iPhone, we've found a few tricks that help us get the most out of it."
Link: 22 Tips to Get More from Apple's iPhone
3 Weeks with the iPhone as My Primary Computer
InformationWeek's Mitch Wagner reports:
"I've been traveling the past three weeks, and during most of that time I used the iPhone as my main computer. I learned far more about the pluses and minuses of the iPhone during those 21 days than I did during the rest of the 14 weeks that I've owned the device. I still like the iPhone a lot, and remain amazed and in awe at some of the things it can do. But there's a lot about the iPhone that's frustrating....
"Even before my travels, I'd been making heavy use of the iPhone for Web access, and so there were few surprises there. The iPhone does a superlative job as a Web access device; you can use the iPhone to view well more than 90% of the pages you could access on a desktop computer. Apple has clearly worked hard to make sure its browser works well with the overwhelming majority of Web sites, without modification of those sites.
"During the trip, I used the iPhone to do some online banking, paying several bills through my bank's Web site. And my wife was able to use the iPhone browser to buy airline tickets; she researched the flights and paid for them with her credit card, all using the iPhone's Web browser. I knew the iPhone's browser was terrific, but didn't know it was that good."
Link: Review: Three Weeks with the iPhone as My Primary Computer
3% of Teens Own iPhones, More Plan to Buy
Ars Technica's Jacqui Cheng reports:
"Before the iPhone was released, market research firm Piper Jaffray released data saying that awareness of the device was exceptionally high among teenagers. The firm added that a quarter of teens expressed interested in purchasing it at $499 (the old price for the now-nonexistent 4 GB iPhone). Where, exactly, 25 percent of teens planned to get $500 to blow on an iPhone aside, the data showed the power of Apple's marketing to penetrate the highly-desired teen market.
"Now, Piper Jaffray is back with new, post-launch data, and says that the iPhone is indeed doing well with teens. Three percent of students surveyed already own an iPhone, according to analysts Gene Munster and Michael Olson, with another nine percent planning to buy one within six months. Additionally, 4.2 percent of the (admittedly-small group of 212) parents surveyed already owned iPhones."
Link: 3 Percent of Teens Already Own iPhones, with More Planning to Buy
Greenpeace Targets Apple's iPhone
Apple 2.0's Philip Elmer-DeWitt says:
"That green glow around Apple (AAPL) didn't last long. Only three days after the company gave over the front page of its website to proclaim itself 'bursting with pride' over boardmember Al Gore's Nobel, the environmental activists at Greenpeace have attacked Steve Jobs for failing to make his cellphone as green as his competitors'.
"In a slick video posted on YouTube (and pasted below the fold), the organization paints Jobs as a hypocrite for promising a 'greener Apple' but failing to take the minimal steps that Nokia and Sony Erikson took to earn a higher rating in Greenpeace's Guide to Greener Electronics...."
Link: Greenpeace Targets Apple's iPhone
Greenpeace Blasts Apple Over Toxic Materials in iPhone
Computerworld's Gregg Keizer reports:
"Greenpeace International, which has clashed with Apple Inc. over toxic chemicals in its products and criticized its post-sales electronics recycling programs, today slammed the company's iPhone, saying it includes hazardous materials that other cell phone makers have eliminated.
"An analysis done on a disassembled iPhone by an independent lab in the U.K. found toxic brominated compounds and hazardous PVC (polyvinyl chloride) in multiple components of the handsets. Bromine, a chemical used in fire-retardant compounds, was present in more than half of the 18 samples taken, Greenpeace claimed, while toxic phthalates made up 1.5% of the PVC coating of ear bud cables.
"In no instances, however, did any of the tested iPhone components - which included the four circuit boards, the battery casing and the internal case - appear to violate European Union regulations, Greenpeace acknowledged."
Link: Greenpeace Blasts Apple Over Toxic Materials in iPhone
Apple: 'iPhone Does Meet Eco Guidelines'
tech.co.uk's Anna Lagerkvist reports:
"The Apple iPhone does comply with the eco guidelines set out in the Restriction of Hazardous Substances directive, Apple has said in response to the damning Greenpeace report released yesterday.
"The Greenpeace report, Missed Call: iPhone's hazardous chemicals, criticises Apple for high levels of brominated fire retardants (BFRs) found in the Apple iPhone, as well as for plasticisers found in the headphones that have been banned for use in UK toys.
"Apple has now hit back against the Greenpeace claims. 'Like all Apple products worldwide, the Apple iPhone complies with RoHS [Restriction of Hazardous Substances], the world's toughest restrictions on toxic substances in electronics,' an Apple spokesperson told Macworld."
Link: Apple: 'iPhone Does Meet Eco Guidelines'
Greenpeace Admits iPhone 'Compliant' with Euro Chemicals Rules
The Register's Tony Smith reports:
"Greenpeace has laid into Apple's iPhone, alleging the device isn't eco-friendly enough - only to admit that the product not only meets the terms of Apple's own pledges on the use of certain hazardous chemicals but doesn't fall foul of European Reduction of Hazardous Substances (RoHS) legislation either.
"The NGO bases its claims on the analysis of a single US-sourced iPhone of which, it confessed, 'we were able to analyse only a small selection of the different components and materials'. It tested a 'selection' of 18 internal and external materials and components in a University of Exeter lab. Only two of those 18 elements were chosen for 'more specific and detailed chemical analysis'.
"'All components tested appear to be compliant with the requirements of the EU RoHS directive,' Greenpeace's 12-page write-up says. No cadmium was found. No mercury was found. The lead and chromium detected were present only 'in a small proportion of samples and at relatively low concentrations'. There was 'no evidence . . . of the most toxic and regulated form of chromium'."
Link: Greenpeace Admits iPhone 'Compliant' with Euro Chemicals Rules
iPhone Trademark Disputed in Canada
Macworld's Dan Moren reports:
"O Canada: we hear your pleas. You want the iPhone, we know. It galls you that you're so close to the source, yet you have to wait until after those European folks get theirs. What's the hold up? Well, besides the apparent lack of any agreement with a Canadian GSM carrier, there appears to be another stumbling block for Apple, and its name is Comwave.
"Who the heck is Comwave? They're the telecommunications company that owns the Canadian trademark on 'iPhone'. Yes, that's right; someone else owns the trademark in our great neighbor to the north...."
Link: iPhone's Trademark Appeal Disputed in Canada
The Real iPhone Holdup in Canada
The Globe and Mail's Jack Kapica reports: :
"The reason Rogers is tight-lipped about why it hasn't struck a deal to bring Apple's iPhone into Canada is because it would involve an embarrassing admission: To make the iPhone financially attractive, Rogers would have to cut the rates it charges its customers for data. And what company wants to cut its prices when there is no pressure on them to do so?
"Well, that pressure is beginning to rise.
"So far, Canadians are paying as much as three times what American customers are paying for data....
"This is the way the allegedly competitive service providers like it. They collect rates from customers largely ignorant of the dreadful prices they're paying....
"That is, until Apple's astonishing market clout started to create a demand for the iPhone.
"Rogers, Canada's only major service provider that could offer the GSM service (the iPhone, so far, works only on the GSM network), is faced with a decision: Lower its data rates to make the iPhone attractive or keep the data rates and watch iPhone customers stay away in droves.
"Canadians would have to pay $400 for the iPhone, and to use all the iPhone features, about $300 a month in voice and data fees (the iPhone is a heavy user of mobile data transfer). By comparison, AT&T, the sole company offering the iPhone in the United States, allows a plan for $100 that includes 1,350 minutes of voice calls, unlimited data, video voice mail, 200 text messages and unlimited use nights and weekends...."
Link: How to Get an iPhone
Should I Buy An iPhone?
2ADay says:
"Part I covered the 'extra' features of the iPhone - most not revolutionary and not even evolutionary but here's a strange concept to them apparently for cell phone manufacturers and mobile service providers . . . something really, really radical....
"A concept strange to them....
"EASY TO USE.
"What a strange concept.
"Anyone can throw 100 features into a room but if the lights are off - what's the point? How can you actually use them if you can't find or see them?
"That's where the iPhone is different."
Link: iPhone Buying Guide: Should I Buy An iPhone? Part II
iPod News, Reviews, & Opinion
iPod Named 'Best Gadget Ever'
The Sun's Jonathan Weinberg reports: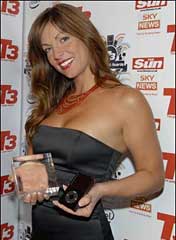 "Apple's iPod has been crowned the Best Gadget of All Time in the Oscars of the technology world.
"The digital music player was the runaway winner at the bash, taking the most-coveted gong, as voted for by readers of The Sun online.
"In total, the firm went home with six trophies from the T3 Gadget Awards including the other most prestigious one of the night - the Most Anticipated for 2008 for its iPhone, which is out [in the UK] next month.
"The iPod also won Best Commuter Gadget and Best Music Gadget, while iTunes was named Best Download Service. Apple's MacBook Pro laptop also took the coveted Drop Dead Gorgeous Award...."
Link: iPod Named Best Gadget Ever
Are Hard Drive iPod's Days Numbered?
BusinessWeek's Arik Hesseldahl says:
"When the first Apple iPod music player came to market about six years ago, it was unusual for a variety of reasons, but chief among them was the fact that it used a hard drive. Though the market for MP3 players was still in its infancy, most instead relied on flash memory chips rather than hard drives to store their music.
"Apple, of course, went on to change the music player business - and the music business itself - over the course of the next few years. iPod models multiplied, evolving into today's five-device lineup: the shuffle, nano, classic, touch, and iPhone.
"But now evidence is mounting that hard drive-based iPods may be on their way to extinction. At least that's one conclusion you might draw from an analysis of the components inside the latest iPod classic (the sixth iPod model to feature a hard drive) by market research firm iSuppli."
Link: Are iPod's Hard Drive Days Numbered?
Tiny Hard Drives in iPods & Notebooks Stemmed from Nobel Prize Discovery
Network World Staff reports:
"The 2007 Nobel Prize in Physics has been awarded to two researchers for their discovery of Giant Magnetoresistance (GMR), a sort of nanotechnology that enables more compact disks to be squeezed into laptops, iPods and other such devices.
"The discovery was made separately in 1988 by Albert Fert of France and Peter Grünberg of Germany, though the technology didn't really take hold until the late 1990s.
"GMR technology allows for data to be read from very compact disks...."
Link: iPods, Better Laptops Stemmed from Nobel Prize Discovery
iPod touch 'a Beauty of a Player Short on Battery Life'
abcnews.go.com says:
"In the hyper-competitive world of consumer electronics, it's highly unusual for one branded product to dominate its market for years on end. Yet, that's what Apple's iPod media player, now approaching its sixth anniversary, has managed to do. One reason is that it has been reinvented continuously.
"The latest iPod reinvention expands the line from three models to four, priced from $79 to $399, with capacities ranging from one gigabyte (roughly 240 songs) to 160 gigabytes (up to 40,000 songs.) And that doesn't count the iPhone, Apple's much-hyped cellphone, which also includes a full-blown iPod.
"I've been testing the newest member of the iPod family, the big-screen iPod touch....
"Like earlier iPods, the touch is elegant and capable, and works smoothly with Apple's free iTunes software for Windows and Macintosh PCs, as well as with its computer-based online iTunes Store, which sells far more downloaded songs and TV shows than any other legal outlet."
Link: Apple's iPod touch Is a Beauty of a Player Short on Battery Life
Apple TV News, Reviews, & Opinion
In-car Navigation System Built Around Apple TV
appletvsource.com/ says:
"Brandon Holland (of the wireless keyboard hack fame) is at it again. This time, he's managed to fit an Apple TV into his 1990 Eagle Talon and have it hooked it up to an LCD screen. Not only that, he also wrote a custom GPS plugin to use with his USB GPS unit."
Link: In-car Navigation System Courtesy of Apple TV
Integrating Apple TV with a New Computer
A new Apple Knowledge Base article says:
"The Migration Assistant that came with your new Macintosh is the best way to migrate your iTunes content to your new computer.
"However, the copy of iTunes installed on your new computer needs to obtain some information from your Apple TV to enable syncing services. To enable an existing Apple TV on a new computer, disable syncing on your Apple TV, then turn it back on and set it up again to resync your content. Remember that you'll need to open up iTunes on the new computer and authorize your iTunes Store content."
Link: Integrating Apple TV with a New Computer
iPhone/iPod Add-ons
USBFever iPod/iPhone FM Transmitter and Charger
PR: High Fidelity, Stereo, With Digital PLL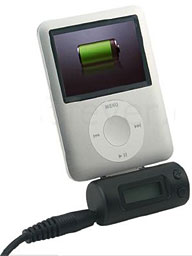 Features:
High Fidelity
Stereo
With Digital PLL, Signal transmission and reception will be minimized even under extreme whether
Full Frequency range (87.9 MHz ~ 107.9 MHz (interval 0.1 MHz)
Memory for last frequency
Powered by iPod / iPhone
Charging for iPod / iPhone with car adapter
Blue backlight
Compact
Plug-N-Play
Mode: Play or Play + Charging
Specifications:
Frequency response: 100 Hz ~ 15000 Hz
Separation: >=30dB
Operating current: 20+/-3mA
Transmission Range: 87.9 MHz 107.9 MHz (interval 0.1 MHz)
Compatible with: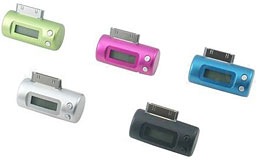 Option: Color
Black (default color to be shipped)
Blue
Green
Red
Silver
$23.99
Link: USBFever
USB Fever iPhone/iPod 8-in-1 FM Transmitter with Remote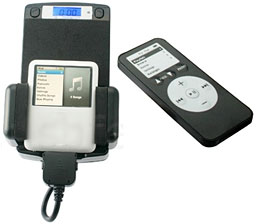 PR: Is this too far? Not sure! But definitely more functions will definitely be better.
Features:
Superb functions, 8-in-1
Remote Control
Dual Control: Control by Remote and the 2 buttons beside the display.
Charger for iPod / iPhone
iPod Music playback
MP3 Music Playback (thru 3.5mm line-in, included)
Frequency display on LCD with Backlight
The Main Unit is nearly 180° adjustable against Cigar Plug
High quality Stereo output
Powered by Car cigarette socket.
Plug-N-Play, just plug it into your car's cigarette lighter socket and connect it directly to your data/charging port on your iPod / iPhone.
Digital wireless radio transmitter. Wirelessly connects portable audio players to your car or home stereo quickly and easily.
TDTT: (Two Dimensional Tuning Technology), scans radio frequency quicker and more accurately rapidly switches from coarse tuning to fine tuning
10 preset memorized channels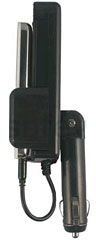 Specifications:
Arm width: min. 29cm to 79mm. Able to hold from Nano(Nano is 40mm in width) to video or even other wider electronic devices.
Output frequency: Full FM frequency (87.5M~108 MHz, 0.1 interval)
Functions of Remote control:
for iPod/iPhone:
Freq. Up
Freq. Down
Play/Pause
Next
Previous
*See notes below
*For FM Transmitter
Up (for frequency adjustment)
Down (for frequency adjustment)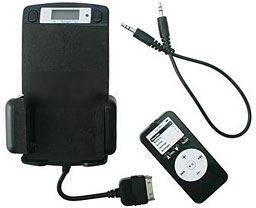 8-in-1 Functions:
FM Transmitter
Car Cradle
Remote
LCD Display
Car Charger
Timer (very simply, when power on)
Line in input
TDTT: (Two Dimensional Tuning Technology)
Compatible Models:
iPhone
iPod touch
iPod Video (see note below)
iPod nano 3G
iPod nano 2G
All other Music players (thru 3.5mm line-in cable)
Specifications:
Product Size: 121 x 69 x 60mm (Main Unit)
Audio Frequency: 20 Hz ~ 20 kHz
Separation: = 60dB
Work Current: 38mA ±10mA
Work Voltage: 9V ~ 15V (Car Power)
S/N: 60dB
Audio distortion: <=2% (mod 75 kHz, F=1 kHz)
THD: -35dB
Options:
iPod Black (default color be shipped)
iPod White
Package Contents:
FM Transmitter x 1
Remote Control x 1
3.5mm Cable Assembly for (MP3 Playback) x 1
Notes:
For iPhone, the display on the main unit will be blocked which may affect the transmitter of the infrared from Remote Control to the FM Transmitter
For iPod Video, there are just 2 functions in the Remote Control which is Frequency up / Frequency down).
The functions for the remote control is limited to the functions stated above, all other shown in the pictures are just for aesthetics, not perform any real functions.
The so-called 8-in-1 is just for its dedicated functions, may be not comparable to other so-called 5-in-1, 6-in-1... etc.
if you connect your iPhone / PDAs thru the 3.5mm connector, it does not support remote control.
For PDAs, Smartphone, Cellphones... or any other music players, you can just connect thru 3.5mm connector and Volume Up and Down may only rely on the Players itself instead of the Volume Up and Down beside the display.
$39.99
Accepting Pre-orders, to be shipped in early of November 2007.
Link: USB Fever with Remote
iPhoneDrive: File Storage on the iPhone & iPod Touch
PR: Keep your files on your phone; access your music and photos
Just one more thing your iPhone does. Use your iPhone or iPod touch for file storage, ensuring that you always have your important data backed up.
Additionally, iPhoneDrive provides easy access to your iPhone's iTunes and iPhoto media. Simply drag music and videos from the iPhone to your desktop, or send them directly to iTunes.
iPhoneDrive's familiar Mac OS X interface makes it simple to transfer files between your Mac and your iPhone. Just drag and drop files between the iPhoneDrive window and your desktop, or use the iPhoneDrive toolbar.
Storing files on your iPhone enables you to use your iPhone's unused storage space as a disk drive to backup data or transfer between Macs.
Note: The iPhone does not allow you to access files stored using iPhoneDrive.
Simple interface.
Store any type of data.
Access your music, videos, podcasts and photos.
Copy files and folders to and from the iPhone with a single drag.
Move files between work and home.
Back up important data to your iPhone.
Keep useful apps and installers with you at all times.
Free Demo.
New in version 1.2:
Adds music and photo downloading with iTunes and iPhoto integration.
Adds the ability to automatically launch iPhoneDrive when an iPhone or iPod touch is connected.
Adds progress bar and cancel button for transfers.
Adds renaming functionality. Now properly displays sizes for folders.
Adds an "Advanced Mode" for access to all files in the media partition.
File browsing speed has been improved. Adds better integration with iPod touch.
Fixes a problem with copying very large files.
Changes double-click behavior.
Numerous other fixes and enhancements.
iPhoneDrive v1.2 Demo resets the demo period, allowing users who tried earlier versions to have a new trial.
System requirements:
iPhone or iPod touch
Mac OS X 10.4.10 or later
iTunes 7.3 or later
System support: PPC/Intel
$9.95 Demoware
Link: iPhoneDrive
GelaSkins Covers for iPods, iPhones, and 'Books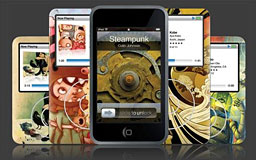 PR: GelaSkins are a very thin (< 2mm) protective cover for your iPhone, iPod, laptop and RAZR made with premium grade 3M vinyl and adhesive technology. Patented micro-channels within the adhesive allow for a bubble-free application. Each GelaSkin has an ultra-clear, scratch resistant coating for maximum durability and photo quality finish.
GelaSkins makes skins for a variety of devices and each one is slightly different.
Now Skinning...
iPods
The iPod Video GelaSkins fit the 30, 60 and 80 GB 5th generation iPods with video.
The 2nd Gen Nano GelaSkins fit the colorful iPod Nanos (2, 4, 8 GB).
The Original Nano GelaSkins fit the black & white iPod Nanos (1, 2, 4 GB).
The iPod mini GelaSkins fit all iPod Minis (2, 4, 6 GB).
The iPod 4th Gen. GelaSkins fit clickwheel iPods with or without a color display (15, 20, 30, 40, 60 GB)
Mobile Phones
Apple iPhone
Motorola RAZR V3 (V3c, V3m)
Motorola RAZR V3i (V3t, V3r)
There are also skins designed fit Apple computers(see below) but they also fit almost every size of PC laptop.
12" PowerBook and 12" PC Laptops
13" MacBook and 13" PC Laptops
14" iBook and 14" PC Laptops
15" MacBook Pro and 15" PC Laptops
17" MacBook Pro and 17" PC Laptops

Every iPod GelaSkin - with the exception of the iPod touch GelaSkins - comes with a GelaScreen display protector. GelaScreens are cut for a seamless fit within the GelaSkin to defend your iPod screen from scratches. Many GelaScreen users have noticed that some previous scratches on their display are no longer visible after applying the GelaScreen.
GelaSkins' residue-free adhesion means no harm will come to your electronic devices. The patented 3M removable adhesive technology makes the GelaSkin as easy to remove as it is to apply.
Your device will still fit perfectly in its dock. GelaSkins add almost zero bulk and will not interfere with the iTrip or most other accessories.
GelaSkins are designed for a single application, but if treated carefully, they may be removed, stored and applied again.
However, due to the special nature of the adhesive, it is necessary to put it back on its liner once removed and make sure it is pressed flat (people have found that storing them beneath a book works well). The material will remember curved surfaces, so it may be more difficult to flatten skins for the Mini, 4th Generation iPod and 2nd Gen Nano as they are a full wrap around style.
$14.95 plus shipping.
Link: GelaSkins
iPhone Add-ons
Peachpit Releases The iPhone Pocket Guide
PR: Peachpit has announced The iPhone Pocket Guide by Christopher Breen (ISBN 0-321-51008-9), the essential companion to Apple's iPhone.
The iPhone Pocket Guide shows the reader how to use all the iPhone features and complete the most common tasks. Snappy writing and eye-catching graphics demonstrate how to set up and start using the iPhone; sync calendar and contacts between the iPhone and the readers' Mac or Windows PC; listen to songs and watch movies and TV shows; and more.
Author Christopher Breen has been writing about Apple's technology since for over X years, for such publications as MacUser, MacWeek, and Macworld. He currently pens Macworld's Mac 911 tips and troubleshooting column and is also the author of The iPod & iTunes Pocket Guide.
Link: Peachpit
Readdle Familiarizes Plucker e-Books with iPhone
PR: Readdle.com announces major upgrade to Readdle, a service for reading books and documents on iPhone. Using Readdle people can view electronic books, text files and even business documents at any place using their iPhones. The upgrade adds capability to view e-Books in popular Plucker format, adding iPhone to the long list of other Plucker-compatible devices. Also, Readdle public library section is expanded with high quality William Shakespeare's texts provided by PlayShakespeare.com
Plucker *.pdb files support added in this Readdle update provides registered users with ability to upload and read thousands of e-Books. Users of Plucker-based reader for Palm handheld devices, Windows Mobile devices and handheld devices powered by Linux can upload their pre-converted files, keeping continuity of their mobile libraries. There are many other sources of Plucker e-books - mainly Project Gutenberg Library, which uses Plucker as de-facto mobile e-Book format. Existence of free Plucker Desktop software for Windows, Mac OS X and Linux makes e-Book converting really simple task for everyone.
Recognizing importance of public library section of readdle.com for its visitors, Readdle staff continually fills it with the best quality classics. Now all iPhone users can enjoy plays and poetry of the greatest writer of the English language and the world's preeminent dramatist, William Shakespeare, thanks to recently established Readdle partnership with the PlayShakespeare.com.
Readdle web service is free to use and provides 50 MB free space per account.
Founded in 2007, Reddle.com targets to provide iPhone users with high quality web applications missing in a standard application set. Flagship company offering is Readdle web service, that allows people viewing electronic books, text files and even business documents at any place using their iPhones.
Link: Readdle.com
iNdependence: Easy-to-use Interface for iPhone Jailbreak and More
PR: iNdependence is a Cocoa-based application for Mac OS X which provides an easy-to-use interface for jailbreak, activation, SSH installation, and ringtone/wallpaper/application installation on your iPhone. It's open source under the GNU v2 license.
The source code for interacting with the iPhone has been broken out into a library (libPhoneInteraction) so that it can be easily reused by other applications.
Please note that if you have used anySIM or other free SIM unlocking solutions (anything except for the iPhoneSimFree solution), and you upgrade to 1.1.1, it will wipe out the SIM unlock and render the phone and text message part of your phone inoperable. Everything else will work though.
New in this version:
OK, the long awaited version 1.2.2 is out. This version works with phone firmware 1.1.1, although the activation/jailbreak process is a bit more complicated now. The documentation has been moved from the README file into the Help menu within the application itself, so please read through that before asking questions. Enjoy...
The #1 Most Frequently Asked Question for Version 1.2.2
Q: I upgraded to 1.1.1, activated, and now iTunes reports that I only have 300 MB of disk space... wtf?
A: You didn't read the documentation thoroughly enough. You need to perform the "Post 1.1.1 Upgrade" step. See this issue report for details <http://code.google.com/p/independence/issues/detail?id=46>
Notes
This program does not work with the iPod touch
This program will not perform a SIM unlock
Starting with version 1.1.1 (and higher), iNdepdendence has been updated to work with iTunes 7.4. Do not use previous versions of iNdependence with iTunes 7.4 as it (in combination with a bad iTunes restore) could cause your phone to endlessly reboot!
Some people have asked about donating in appreciation for this software. Although it is not required, if you would like to donate something, you can send it via Pay Pal to operator@dialectro.com
Rest assured that I am not affiliated with the core iPhone dev team, and so I have not received any of the donation money sent to them. However, my work is built upon theirs and so I will send a portion of the donations I receive to them unless you specify otherwise in your donation (ie. you've already donated to them and want this to be separate).
Link: iNdependence
iPod Add-ons
Replug: Like MagSafe for Your Earphones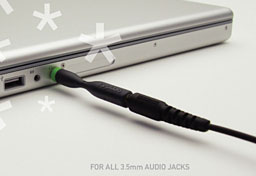 PR: Similar in concept to Apple's MagSafe™ notebook power adapter connector, Replug transforms any 3.5mm audio jack into a breakaway connection, protecting your audio jack from the rigors of daily use.
When too much force is applied, Replug simply detaches from itself, preventing catastrophic damage to your audio device. Simply reattach plug to tip and you're ready to go. Jack saved.
The Replug will be in stock and ready to ship this fall.
Link: Replug
i-F3 Portable iPod Speakers
PR: Built in Dock Station for iPod for playing and recharging all iPod and iPod mini models with docking capability Alarm Clock Function wakes up your iPod
Play non-docking iPod models and other MP3 devices through the 3.5mm stereo input
Six-button remote can control the unit from up to twenty feet away
Convenient port for downloading/transferring files from your computer
Powered by a premium three phase lithium ion rechargeable battery
Average battery life is a remarkable 15 hours - can also be powered or recharged using the included AC Adapter
Advanced digital amplifier and matched Neodymium speaker drivers with aluminum cones for the highest fidelity in portable sound
Made with a durable hard cover case that will store and protect your iPod and speaker system when traveling
For use with all iPod models including shuffle
Features:
All-in-One iPod Player
Sonic Impact Digital Amplifier
Advanced Neodymium Speakers
Extended Life Lithium Battery
AC Power Adapter
Infrared Remote Control
Protective Casing
$169.99
Link: i-F3 Portable iPod Speakers
Skinizi Online Shop for iPod Skins
PR: Skinizi is the best solution to give your iPod a personal touch and to protect it for every day use. Our artists have created some wonderful, whimsical designs for you. Please take a moment to browse these delightful iPod skins in our photo gallery! The new skins for the new iPods are coming ! To celebrate this event, new graphics by new artists will be available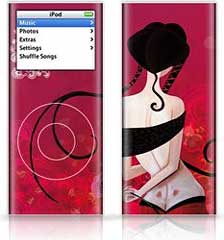 Easy to apply, easy to remove: Our high quality skins are easy to apply (with no air bubbles!) and are just as easy to remove. No residue.
Protecting your iPod: Our durable skins protect your iPod against scratches and UV-radiation.
Compatibility with other accessories: Our skins are less than 0.1mm thick, which makes them compatible with all iPod™ accessories.
Original design: With dozens of original designs available, you are sure to find the perfect theme to reflect your own personality.
Link: Skinizi
iJailBreak Automated Jailbreaker for iPod touch
PR: Free your iPod touch
iJailBreak is an automated jailbreaker for your iPod touch licensed under the GNU General Public License v2 written by 13-year-old AriX. The only user interaction required is for you to restart the iPod touch. Works on Macintel OS X Tiger. PPC version is in the works.
iJailBreak is heavily dependent on Niacin and Dre's awesome tiff hack, you can find them at toc2rta.com. They really started the whole iPod touch hacking scene. iJailBreak also makes heavy use of iPhuc, which you can find on Google Code.
Version 0.2.1 is out with a few bug fixes
System requirements: Mac OS X 10.4 or later, iPod iTouch.
System Support: PPC/Intel
Free
Link: iJailBreak
Join us on Facebook, follow us on Twitter or Google+, or subscribe to our RSS news feed
Links for the Day
Mac of the Day: iMac (Late 2006), introduced 2006.09.06. Apple introduced the biggest screen ever in an iMac with a 24" 2.16 GHz Core 2 Duo model.
Recent Content
Custom Search
Follow Low End Mac on Twitter
Join Low End Mac on Facebook
Favorite Sites
MacSurfer
Cult of Mac
Shrine of Apple
MacInTouch
MyAppleMenu
InfoMac
The Mac Observer
Accelerate Your Mac
RetroMacCast
The Vintage Mac Museum
Deal Brothers
DealMac
Mac2Sell
Mac Driver Museum
JAG's House
System 6 Heaven
System 7 Today
the pickle's Low-End Mac FAQ
Affiliates
Amazon.com
The iTunes Store
PC Connection Express
Macgo Blu-ray Player
Parallels Desktop for Mac
eBay

Advertise