Fixing Short iPhone Battery Life, Happy 6th iPod Birthday, iPodLinux, and More
This Week's iPhone, iPod, and Apple TV News
Compiled by Charles Moore and edited by Dan Knight - 2007.11.01
Mac notebook and other portable computing is covered in The 'Book Review, and general Mac news is in Mac News Review.
All prices are in US dollars unless otherwise noted.
iPhone News, Reviews, & Opinion
iPod News, Reviews, & Opinion
iPhone Add-ons
iPod Add-ons
iPod and iPhone Deals
iPhone News, Reviews, & Opinion
Fixing Short iPhone Battery Life
MacFixIt says:
"iPhones may exhibit abnormally short battery life for a variety of reasons including, but not limited to:
problematic software settings
software bugs that drain the battery faster than normal (possibly introduced by software/firmware updates)
hardware defects
improper charging
improperly calibrated batteries
"What's an abnormally short battery life-span? There's no easy answer. Apple's claims (8 hours of talk time, 6 hours of Internet use, 7 hours of video playback or 24 hours of audio playback, 250 hours more than 10 days of standby time) seem somewhat inflated based on in-house experience with iPhones that have (what we believe to be) healthy batteries. If your iPhone is getting significantly less - say 3-4 hours of talk time when not performing other functions - you may be experiencing battery issues.
"Our coverage of these issues in broken into the following areas:
Indicator may not be correct
Software fixes for abnormally short battery life
General tips for extending time between charges
Repair/Replacement
Reader reports"
Link: MacFixIt Special Report: Fixing Short iPhone Battery Life
Apple Opens iPhone Dev Center
The iPhone Dev Center is your single source of information for designing, coding, and optimizing web applications for iPhone and iPod touch. ADC Members can log in to access the iPhone Dev Center, if you're not an ADC Member, sign up for a free Online Membership today.
Web Development Guidelines
Learn the latest techniques on mobile browser-based user experience design, and ensure users of your web application the best experience on iPhone.
iPhone Tech Talk Videos
Watch iPhone engineers from the recent iPhone Tech Talks discuss everything from user interface design to optimizing your web applications and content for iPhone.
iPhone Development Introduction
iPhone User Interface Design
Managing Content and Synced Data for iPhone
Safari on iPhone Part I: Compatibility
Safari on iPhone Part II: Optimization
Safari on iPhone: Part III: iPhone Applications
Designing Web Content for iPhone
Sample Code
Choose from a range of Sample Code projects that provide development and user interface design techniques for interactive and standards-based design on iPhone.
iPhoneButtons
iPhoneListPatterns
iSudoku
makeiPhoneRef Movie
Puzzler
iPhone Reference Library
Browse the iPhone Reference Library for release notes, technical documentation and guides on developing and optimizing Web 2.0 applications and content for iPhone
Getting Started with iPhone
Exporting Movies for iPod, Apple TV and iPhone
Javascript Coding Guidelines for Mac OS X
Safari CSS Reference
Safari HTML Reference
Safari Release Notes for iPhone (1.1.1)
WebKit DOM Programming Topics
iPhone Human Interface Guidelines
Safari Web Content Guide for iPhone
Preparing Content for Safari 3 and WebKit
WebKit DOM Reference
iPhone Tech Talks
sWork with the experts to optimize your Web 2.0 application and content to take advantage of the features and capabilities of iPhone.
Safari Compatibility
Safari with the WebKit engine used by Safari, developers can create sophisticated web content and applications designed for iPhone.
Download Safari 3 Public Beta
Learn more about WebKit
iPhone Web Applications
iPhone Web Apps: Once your app is ready, submit it for possible listing in the Apple web apps library.
Submit your web application
Visit the iPhone web apps library
Accessories
Learn about developing accessories for iPhone and iPod.
Designing accessories that use the dock connector
Designing cases for iPhone and iPod
Link: iPhone Dev Center
iPhone Changes How AT&T Will Do Business
"Referring to Nokia's upcoming answer to the iPhone in Remember who said, 'Great artists steal'? counternotions.com's Russell Beattie says:
"Actually, let me say this definitively: Not only does Nokia have the more advanced device now, but it will take Apple several *years* to come up with a competing product that has anywhere near these level of features. Apple just doesn't have the mobile hardware chops to do it themselves. Until you easily can get things like GPS, 5 megapixel sensors and HSDPA 3G on the commodity market, Apple won't be launching a device with those features. They don't have the experience, know how or partnerships to get it done and still be profitable.
"Not understanding just what Apple products (perhaps iPhone more than any other) mean to users seems to be a professional punditry handicap. Is a mobile device a simple collection of its hardware components, as Beattie clearly lists above? More pixels and more speed equal utility and delight? If that were so, how did the iPhone ever become AT&T's top selling phone, the fourth top selling handset in the US market? AT&T spokesman Mark Siegel explains...."
Link: AT&T: iPhone Changes How We'll Do Business
Apple Pockets $432 from AT&T per iPhone Sold
The New York Times' Saul Hansell reports:
"Apple doesn't chat too much about the iPhone service fees AT&T shares with it. But the good folks at the Financial Accounting Standards Board (who make rules for how companies keep their books) have forced it to give us some clues. The accountants say that if someone promises to pay you money in the future (as AT&T does for each iPhone activated), you have to report this 'deferred revenue' to investors.
"All this makes Apple's financial statement into a rather complex algebra problem. Gene Munster, an analyst at Piper Jaffray, has tried to do the math.
"His bottom line is rather shocking: AT&T appears to be paying $18 a month, on average, to Apple for each iPhone activated on its network. That adds up to $432 over a two year contract. In other words, Apple will receive $831 for each iPhone it sells...."
Link: The $831 iPhone
Molson Leaks Canadian iPhone Launch?
The Globe and Mail's Catherine McLean reports:
"It looks like Apple Inc.'s iPhone may soon be headed to Canada.
"Or maybe not.
"Molson Export beer is giving away iPhones, valued at $800, as one of a number of prizes in a current marketing contest in Quebec. The rules noted the iPhones will only be available as of January 2008 on the wireless network of Rogers Communications Inc. While winners will get the cool new cellphones for free, they will need to pay for the service themselves.
"However, Molson said it made a mistake. The company has no idea when the iPhone will be launched in Canada and is only on a waiting list with Rogers for the device, according to spokeswoman Marie-Helene Lagace."
Link: Molson's Contest Leaks Canadian iPhone Launch - or Not?
iPod News, Reviews, & Opinion
Happy Birthday, iPod: 6 Years of Innovation
The iPod Observer's Jeff Gamet says:
"Apple released the original iPod six years ago on October 23, 2001. During its first six years, the iPod has gone from a 5 GB Mac-only music player to a cross-platform 160 GB music and video player and the most popular media player on the market. Happy birthday, iPod.
"The first iPod cost US$399 and measured 2.43 x 4.02 x .78-inches. In comparison, the 160 GB iPod classic - the model that most closely physically matches the original - costs $349, and measures 2.4 x 4.1 x .53-inches. Where the original was essentially just a music player, later models added the ability to play videos and even games."
Editor's note: I'm still happily using an original 5 GB iPod manufactured in October 2001. Aside from replacing the spavined original battery with a FastMac TruePower long life unit, it's been trouble-free and is still going strong. cm
iPhone Add-ons
CLIQK Transforms iPhone into Remote Control for Home
PR: As if having the latest über gadget is not enough, CLIQK, the New York based digital lifestyle services firm, announced today that its VIP members are being treated to specially customized iPhones. CLIQK's VIP member iPhones include a direct application that allows them to control and monitor all aspects of their homes from anywhere in the world. CLIQK's customizations even include specialized menus, applications and ringtones that are not available from Apple or to the general public.
"We've unlocked the true power of the iPhone, allowing people to use this remarkable tool to control their homes' security, lighting, temperature, shading, and even music -whether they're in sailing in St. Tropez or simply stuck at the office," said CLIQK founder Mark D. Hernandez. "The advantages of this accessibility cannot be overstated, whether it is used to enhance security or just comfort."
There are numerous reasons, both practical and fun, for giving clients remote access to their home automation systems. Already taking advantage of their Cliqk'd up iPhones, CLIQK's clients are using them to monitor security cameras, double check their locks, and be alerted when their loved ones have returned home.
Judge Kirby, a CLIQK client, highlights some of the more entertaining benefits of his CLIQK customized iPhone, "After a long evening, you can't imagine how good it feels to come home to the right music, temperature, and lighting - all regulated by me long before I get anywhere near my home."
"CLIQK thrives on innovation and using technology to enhance the varied lifestyles of our clients," adds Mr. Hernandez. "Customizing the iPhone is a great way to offer our clients some extra luxury as well as let them have even more fun with their CLIQK system. Plus, our clients love it when we keep them ahead of the pack of their technolusting peers."
Since opening for business in New York City in 2004, CLIQK has been the authority on unique home entertainment and automation systems for high-end, luxury residences. CLIQK is comprised of designers, engineers, researchers, and project managers whose goal is to transform the commonplace into seamless high-tech sensational spaces. CLIQK addresses each client individually, providing only the best that technology can offer in simple and convenient personalized systems.
Bluetooth sender dongle for iPod - BluStream TX
GEAR4, the leading UK audio accessories brand, today announces the BluStream TX, a Bluetooth sender dongle for iPod. There are so many Bluetooth products currently on the market, but your music is all trapped inside your iPod. Well, now you can free those tunes wirelessly for £39.99.
The BluStream TX automatically pairs to any of GEAR4's Bluetooth products as well as being able to connect to any A2DP compatible devices and features a blue LED to indicate its pairing status. Whether you want the freedom of wireless, Bluetooth headphones on the go, or a Bluetooth speaker at home, simply plug the dongle into the dock connector of your iPod to transmit your tunes wirelessly.
This device is powered by the iPod and therefore avoids the need for batteries. It has memory for up to 7 devices to enable quick pairing and all this capability is stored within a slim casing weighing just 29g.
Tom Dudderidge, CEO of GEAR4, commented: "Primarily we specialise in iPod accessories, however, as the iPod and mobile phone markets begin to overlap we need to provide users with the facilities for both. With our recent move to produce Bluetooth enabled products, we felt it was hugely important to give the iPod the one thing it lacks, A2DP. "
Features:
Automatically pairs with other GEAR4 Bluetooth devices
No need for batteries
Blue LED to show pairing status
Memory for up to 7 devices
The BluStream TX will be available from the GEAR4 web store and major retailers.
GEAR4 BluStream TX £39.99 incl. VAT
Link: BluStream TX
zCover iSA Care Dock zAdapter for iPhone
PR: With zAdapter Dock Kit, you can convert your Apple iPhone Dock Connector Cable, iPod Dock Connector to USB Port Cable, or even iPod Dock Connector to FireWire Port Cable into an iPhone Dock and gives you the freedom to dock your iPhone with iSAglove Silicone Protection Case. It's as simple as Plug & Play.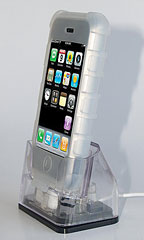 zCover Inc has announced the release of their functional add-up iSAglove Dockable Kit for Apple iPhone.
Are you using your iPhone constantly?
Do you want to dock your iPhone with case on?
Do you have extra iPod dock cable on hand?
zCover iSAglove Dockable Kit gives you the iSAglove protection, mobility with the 360 degree rotating removable Belt Clip, and zAdapter Dockable Kit. With zAdapter Dock Kit, you can convert your Apple iPhone Dock Connector Cable, iPod Dock Connector to USB Port Cable, or even iPod Dock Connector to FireWire Port Cable into an iPhone Dock and gives you the freedom to dock your iPhone with iSAglove Silicone Protection Case. It's as simple as Plug & Play.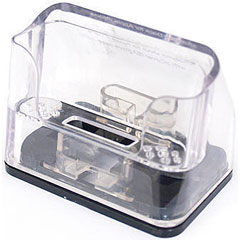 Crystal clear podium shows the beauty of Apple iPhone Dock. It is not a decoration, it is a perfect holder and support of the iPhone in Case. Podium is designed with the same angle of iPhone Dock Connector. It supports iPhone and shares weight from Dock Connector
zCover Care Dock Adapter is crafted from durable high-grade PC plastic. You can twist it, but you can not break it. Washable - you can wash it. Please make sure dry it out before cap it on.
Size A: docking 80 GB iPod classic in Original series cases
docking 30 GB iPod with Video in iSA 5G Original or Duet series cases
Size B: docking 160 GB iPod classic in Original series cases
docking 60 GB/80 GB iPod with Video in iSA 5G Original or Duet series cases
zCover Dock Adapter is designed to reduce iPod sway range during docking. Podium in the same angle of Dock connector. It supports iPod and shares weight from Dock Connector.
zCover protects and secures your investment.
Each zCover iSAglove Dockable Kit retail pack contains one iSAglove silicone protection case, one removable rotary zCover universal belt clip and one zAdapter Dock Kit
zCover iSAglove Dockable kit is compatible with:
iPhone iPod Dock Connector Cable
iPod Dock Connector to USB Port Cable
iPod Dock Connector to FireWire Port Cable.
$44.99
Link: zCover iSAglove Dockable Kit
iPod Add-ons
DLO Hipcase Family for New iPods
PR: Digital Lifestyle Outfitters (DLO has announced the immediate availability of the newest members of its HipCase product family. Available today are three new styles for the current iPod models - the HipCase leather folio for the iPod nano, iPod classic and iPod touch; and the HipCase nylon holster and HipCase leather sleeve for iPod touch. The new cases expand the popular HipCase family, which includes several previously announced models for the iPhone. Each features an integrated, covered belt clip for easy, handsfree transport in a stylish, protective package. Available now at national iPod retailers, as well as online, each new case is available for a suggested retail price of $29.99.
HipCase folio for iPod nano, iPod classic, and iPod touch
The HipCase folio for the iPod nano features a padded leather cover that flips open to reveal a clear, play-through window. Its sleek, leather-covered belt clip keeps the nano securely at your side - whether attached to your clothing or to a backpack or briefcase. The HipCase folios for iPod classic and iPod touch, like their nano counterpart, feature soft, high-quality leather and a padded flip-up cover. Unlike the nano's play-through window, the HipCases for iPod touch and classic provide open access to the click wheel and touchscreen. In addition, each includes a pocket on the inside flap, ideal for carrying an ID, cash or credit card. All three folios offer access to iPod controls, including the click wheel and headphone jack.
HipCase nylon for iPod touch
The modern and durable nylon HipCase for iPod touch combines tough protection with easy, convenient access to your iPod. Featuring a belt clip for horizontal placement, and a Velcro tab and center notch for quick, one-handed iPod access, the HipCase provides the most in comfort and accessibility. The HipCase features a nylon body and rubber accent on the padded flip-up cover, and contains no animal products - the perfect choice for those in the market for a vegan-friendly iPod case. The HipCase also features a hidden inside-pocket for your ID or credit card. Corner notches ensure unobstructed access to the iPod's earbud jack, allowing you to listen to music while keeping the iPod safely cradled in the HipCase.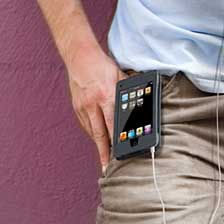 HipCase sleeve for iPod touch
The HipCase sleeve combines a protective leather case with a soft inner lining to keep your iPod touch safe and secure. Its open design offers full-time access to all iPod controls, including the dock connector, Home button, and display screen. While it features an open-face design, it also ships with a bonus DLO Surface Shield to protect the iPod touchscreen and keep it smudge-free. DLO Surface Shields are scratch- and smudge-resistant films that offer touchscreen protection without interfering with any controls. DLO Surface Shields are applied directly to the screen and can be used alone or with an accompanying case.
"Each new HipCase brings rich sophistication to the current iPod models and fits just as easily with blue jeans as with a business suit," said Andrew Green, DLO's vice president of marketing. "With integrated belt clips on each model, the HipCases are not only stylish, but they also offer many versatile ways to transport your music on the go."
All HipCase designs can be purchased immediately at dlo.com or at national iPod retailers. For more information on DLO's extensive line of iPod and iPhone cases, please click here.
Link: DLO Hipcase Family
DLO Action Jacket Sport Cases for New iPods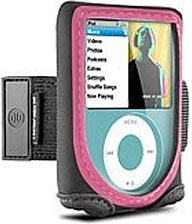 PR: Digital Lifestyle Outfitters (DLO) has announced the immediate availability of its newest line of Action Jacket sport-ready neoprene cases for the iPod. The DLO Action Jackets are now available for all recently announced iPods including the 3G iPod nano, the iPod classic and the iPod touch. A flagship product for the company, the Action Jacket was originally announced at DLO's inception in 2001, and has been a must-have accessory for the active iPod owner ever since. Available in black, white and select accent colors, each DLO Action Jacket protects your iPod on-the-go while still enabling easy access to all iPod controls. The DLO Action Jackets for iPod nano, iPod classic and iPod touch are available immediately from national iPod retailers, such as Best Buy, and at dlo.com for $29.99.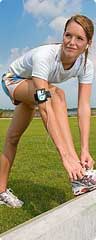 Whether you're headed to the gym, or just down the block, the Action Jacket provides all the style and protection you need. While competitive sport cases function merely as "armband-only" cases, the DLO Action Jackets provide the most in flexibility. Each cushioned neoprene Action Jacket comes equipped with both a rotating belt clip, as well as a secure, fully adjustable and removable Velcro armband. Clip it to your clothing or backpack for daily use, or add the armband when you're working out. The armband is machine washable and fits any size bicep - from a diminutive 6 inches, to an impressive 20 inches. And, while the case provides protection from sweat and the elements, it still allows full access to the Click Wheel (for nano and classic) and play-through access to the touch screen (for iPod touch), so skipping to the next song is effortless and intuitive. The Action Jacket is 'workout safe' and protects the player from scratches and dings at the gym, during a jog, or even on the street.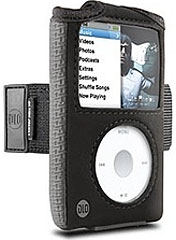 "Whether you're working out or just hanging out, DLO's new Action Jackets let you take your iPod along for the ride, " said Andrew Green, DLO's vice president of marketing. "Equally stylish in the gym or on your jeans, an Action Jackets provides all the style and protection your new iPod nano, classic or touch need. And, there's no wait - they are in stores and shipping today."
The DLO Action Jacket for iPod nano, iPod classic and iPod touch are available for 29.99 at iPod retailers nationwide and online.
Link: DLO Action Jacket
EZGear ezSkin MAX iPod Cases: Maximum iPod Protection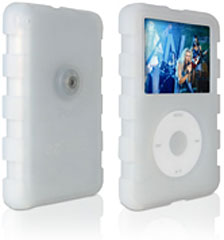 PR: The new ezSkin MAX offers unparalleled protection for your iPod while still offering the great features you expect from ezSkins. The ezSkin MAX uses special silicon rubber to provide extra shock and drop protection.
Each corner of the case is reinforced with extra padding without adding too much bulk. The screen protector is a hard clear plastic. The case comes with the requisite ezSKin belt Clip and neck strap. The clickwheel cover protects dirt from getting in while not interfering with the performance or sensitivity of the controls.
Available in black and white, there is an ezSkin MAX for your 80 GB or 160 GB iPod Classic.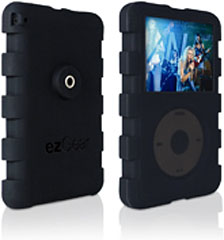 Features
Made of ultra-durable high-grade silicone rubber
Precision molded case to fit your iPod
Opening on top for access to the hold button and earphones
Openings on bottom for access to the dock connector
Clickwheel cover keeps dirt out without interfering with the performance of iPod controls
Includes clear screen protector to protect the iPod Classic screen
Includes removable belt clip and removable belt clip post
Includes removable neck strap
Provides complete protection of ALL surfaces of your iPod
Available in Onyx Black or Frost White
Price
ezSkin MAX ONYX Black 80 GB - $34.99
ezSkin MAX Frost White 80 GB - $34.99
ezSkin MAX ONYX Black 160 GB - $34.99
ezSkin MAX Frost White 160 GB - $34.99
For more information, visit:
Link: ezSkin MAX
Brighten Up Your World with a Proporta Alu-Leather Sheepskin iPod Case
PR: Now in its third generation, Apple's iPod nano gets a substantial redesign to accommodate games and video playback. Despite all the changes, the iPod nano is still one of the smallest, thinnest and most exquisitely designed MP3 players on the market. Thus Proporta have emulated Apple's exquisite design, given the nano what they think it deserves to keep its funky image, and released an Alu-Leather Sheepskin case in some vibrant new colours.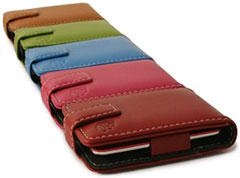 The Alu-Leather Sheepskin Case (Apple 3G iPod nano 4 GB and 8 GB) comes in a variety of colours, including red, pink, blue, green and tan. These fun cases are beautifully hand crafted to meet the exact specifications of your nano, made from extremely soft leather, offering supreme protection by using Proporta's trademark 'Screen Saver System'. This uses a sheet of lightweight, rigid aluminium which lines the case protecting your precious screen from crushing and impact shocks.
Since they come in a range of colours, the Alu-Leather Sheepskin Case allows you to have both personalised style and protection for your device.
Proporta also make sure that you never need to remove the device from the case as cut outs give access to all the necessary ports and controls.
$34.95
Link: Proporta Alu-Leather Sheepskin iPod Case
iPresent It 2.0 Converts PowerPoint, Keynote, etc. to iPod photo
PR: Who needs a laptop to give a presentation?
Make your next pitch using your iPod. With iPresent It you can convert your PowerPoint and PDF presentations into slideshows that are synced with your iPod. Never carry a laptop into a presentation again; it's all on your iPod!
Features
Works with any iPod with a color screen. Note that the iPod nano does not support video output.
Optimizes slideshows for viewing via an iPod or Apple TV. iPresent It will automatically detect your presentation resolution and ensure that it is formatted correctly for display in standard or widescreen formats.
Optionally optimize for iPod viewing. This generates slides that use the entire iPod screen to ensure the best possible viewing on any iPod. In addition, the slide resolution is maximized to ensure effective zooming when viewing the slides on an iPhone, iPod touch or PSP.
Create slideshow images from any of your PowerPoint or PDF presentations.
Saves presentations as subfolders of a folder (such as the folder being used to sync to your iPod via iTunes).
Easily update your slideshows whenever you make changes to a presentation. With built-in tracking to indicate which presentations need updating you'll never be caught without your latest changes.
Full drag and drop support for adding presentations.
Easily remove slideshows when they are no longer needed. Removing them from iPresent It ensures they will be removed from your iPod the next time you sync.
Preview slides as they're converted into a slideshow.
Also works with digital cameras and projectors that support USB flash drives (see the FAQ for details).
Mac Specific
Saves presentations as albums in iPhoto.
Create slideshow images from any of your Keynote presentations.
Keynote support includes full build extraction, each build step is converted into a unique image for displaying via your iPod.
Use the OS X print dialog's Save As PDF button to create slideshow images for any document.
Drag and drop presentations onto the application for one-time slideshow creation.
New in version 2.0:
Adds the ability to optimize for iPod viewing. This generates slides that use the entire iPod screen to ensure the best possible viewing on any iPod.
In addition, the slide resolution is maximized to ensure effective zooming when viewing the slides on an iPhone, iPod touch or PSP.
Leopard compatibility.
System requirements:
Mac OS X 10.3 or later
Windows XP or Vista version 2.0 (608 KB)
requires .Net 2.0 (installer will initiate a download)
System Support: PPC/Intel
17.95 Shareware
Link: iPresent It
iPodLinux
PR: The iPodLinux Project (http://sourceforge.net/projects/ipodlinux/) is an open source venture into porting Linux onto the iPod. So far, we have successfully ported a customized uClinux (http://www.uclinux.org) kernel to the iPod, and written a simple user interface for it dubbed podzilla. Additional applications and modules have been written, adding many capabilities not found in Apple's firmware.
iPodLinux is currently safe to install on 1st, 2nd, and 3rd generation iPods. Development is currently on-going on later generations of iPod, including the fourth generation click wheel, mini, U2, Photo/Color, Nano, and Video. Donations always help when it comes to supporting new hardware. Progress can be tracked on the Project Status page or the blog (http://www.ipodlinux.org/blog). We are unable to provide support for these newer iPods.
Link: iPodLinux
Join us on Facebook, follow us on Twitter or Google+, or subscribe to our RSS news feed
Links for the Day
Mac of the Day: Lisa, introduced 1983.01.19. The ancestor of the Macintosh had a mouse, a graphical interface, and a $10,000 price tag.
Recent Content
Custom Search
Follow Low End Mac on Twitter
Join Low End Mac on Facebook
Favorite Sites
MacSurfer
Cult of Mac
Shrine of Apple
MacInTouch
MyAppleMenu
InfoMac
The Mac Observer
Accelerate Your Mac
RetroMacCast
The Vintage Mac Museum
Deal Brothers
DealMac
Mac2Sell
Mac Driver Museum
JAG's House
System 6 Heaven
System 7 Today
the pickle's Low-End Mac FAQ
Affiliates
Amazon.com
The iTunes Store
PC Connection Express
Macgo Blu-ray Player
Parallels Desktop for Mac
eBay

Advertise