AT&T's $39 iPhone Exchange Fee, Juice Pack Double's iPhone Time, Unlocked iPhones, and More
This Week's iPhone, iPod, and Apple TV News
Compiled by Charles Moore and edited by Dan Knight - 2007.12.06
Mac notebook and other portable computing is covered in The 'Book Review, and general Mac news is in Mac News Review.
All prices are in US dollars unless otherwise noted.
iPhone News, Reviews, & Opinion
iPhone/iPod/Apple TV Add-ons
iPod and iPhone Deals
iPhone News, Reviews, & Opinion
AT&T's $39 Charge to Exchange a Defective iPhone
consumerist.com reports:
"Apple has a 10% restocking fee on opened non-defective products, but AT&T seems to think that this applies to iPhones that are defective right out of the box."
Link: AT&T: There's a $39 Charge to Exchange Your Defective iPhone
iPhone 'Full of Contradictions'
PC Magazine's Sascha Segan and Tim Gideon say:
"It's the best portable media player ever. It's possibly the most fun we've ever had with a handheld device. It browses the Web like a champ. Yet as a voice phone and a messaging device, it's a loser. The iPhone is full of contradictions."
Link: Apple iPhone
Canadians Need Not Be Denied iPhone Experience
CanWest News Service's Basem Boshra says:
"Succumbing to the hype and buying one of the most buzzed-about consumer products in ages - from a corporate titan like Apple, no less - doesn't exactly scream 'Stick it to the man!' yet I've been feeling like a bit of a rebel since buying my iPhone.
"'Wait a minute,' you might be saying to yourself, 'I thought they weren't selling the iPhone in Canada yet?'
"True enough. But if you simply can't wait until Rogers (the only wireless carrier in Canada whose network supports the iPhone's technology) starts selling it here - and it still hasn't announced when or even if that might be - there's no reason that, with a little resourcefulness, you can't get your hands on the most highly coveted high-tech gift of the year."
Link: Canadians Need Not Be Denied iPhone Experience
Orange to Offer Unlocked iPhones for €749
Register Hardware's Tony Smith reports:
"Updated Orange France will sell Apple's iPhone to consumers who don't want to be tied to the carrier, provided they cough up €749 for the handset - €250 less than T-Mobile Germany's unlocked iPhones cost.
"Orange said it will offer four iPhone-oriented price plans ranging from €49 to €119 per month. Data usage is capped at 500 MB a month, and the carrier admitted that 'modem access, VoIP, P2P and [bizarrely] newsgroup usage is strictly forbidden', though that's over Edge connections rather than the handset's built-in Wi-Fi link."
Link: Orange to Offer Unlocked iPhones for €749
iPhone/iPod/Apple TV Add-ons
iPhone Juice Pack Doubles Standby, Music, and Talk Time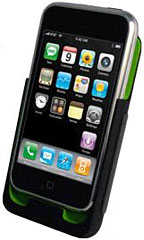 PR: The All-New Mophie 'Juice Pack' is designed to extend the time you can rock, talk, surf, and send with your first generation iPhone
The juice pack is a rechargeable lithium polymer battery in the form of a non-slip, soft grip case. It extends the time that you can use your iPhone in these ways (additional hours):
Standby Time - Up to 250 hours
Audio Playback - Up to 24 hours
Talk Time - Up to 8 hours
Video Playback - Up to 7 hours
Internet Use - Up to 6 hours
All juiced up and ready to go . . . straight out of the box!
Features
Save the hassle and double the power! The Mophie Juice Pack comes all charged up and ready to go straight out of the box!
Never experience the downtime with your iPhone - Simply plug in your iPhone to the fully pre-charged Juice Pack and doubles the time to rock, talk, surf and send!
Save the hassle and additional costs to exchange the battery through manufacturer. With Juice Pack, you can charge your battery anytime as needed.
Convenient Holder and Cool Design
Rubber inserts and soft-touch finishes inside out offer comfort grip
Integrated iPhone holder and rechargeable battery in one cool pack gives your iPhone extra protection
Smart Power Management System
Charging - You could use your iPhone adaptor or any iPod connector to charge the Juice Pack without your iPhone or with your iPhone simultaneously
Intelligent Power Distribution - Smart Battery Technology instructs the iPhone to always drain out the Juice Pack first. When you're done with Juice Pack, simply detach it and you still have a fully charged iPhone
Powerful and Safe Battery Cell
Safety first - The Juice Pack utilizes a very safe and advanced rechargeable lithium-polymer battery cell. There is a build-in circuit to prevent the Juice Pack from being shorting, over charge and misbehaving under extreme weather conditions.
Hi Energy Cell - The battery cell is highly condensed and is able to store and deliver very high energy in a small and compact package.
4 Light LED Battery Status Indicator
There are 4 light LEDs on the back of the Juice Pack. Simply press the test button and it will tell you how much power is left with the Juice Pack. The LED lights also indicate the charging status and the charging progress.
Product Details
Product Dimensions: 2.5 x 4.75 x .75 inches ; 3 ounces
Shipping Weight: 1 pounds (View shipping rates and policies)
Shipping: Currently, item can be shipped only within the US
Product Category: Cell Phone - External Battery
Product Compatibility: Apple iPhone
Product Specifications
Standby Time - Up to additional 250 hours
Audio Playback - Up to additional 24 hours
Talk Time - Up to additional 8 hours
Video Playback - Up to additional 7 hours
Internet Use - Up to additional 6 hours
$99.95
Link: iPhone Juice Pack
V-MODA's Alluring New Colors for Earphones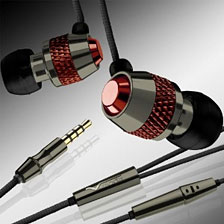 PR: Music lifestyle brand V-MODA has announced the addition of five colors to its popular VIBE Duo, VIBE and Bass Fréq modaphone lines. VIBE Duo, the dual-use headphone/headset for the iPhone, is now available in new Chrome and Gunmetal Rouge. VIBE, V-MODA's luxury earphone line, is available in new Midnight Blue, and the award-winning Bass Fréq collection debuts Jaded and Rouge to match the new green and (PRODUCT) Red Special Edition iPod nano and shuffle.
According to Val Kolton, CEO and founder of V-MODA, the brand is heeding the call from consumers to continuously introduce fashion-forward colors that complement the latest MP3 players and other technology.
"Fashion and design epitomize both the V-MODA brand and our products, so it's only natural that we regularly update our earphone colors to appeal to a variety of tastes as well as to complement the latest technology," Kolton said. "Earphones have quickly become the quintessential accessory for everyday life. There's a whole new world out there beyond the ubiquitous white earphone, and we're happy we can provide our discerning consumers a choice in the type of earphone they choose, as well as the color that best matches their personality and technology."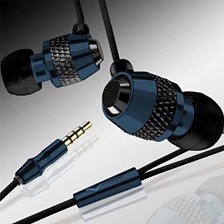 V-MODA's VIBE Duo is a noise-isolating dual-use headphone/headset designed to accessorize the Apple iPhone. The VIBE Duo, which features control-playback functionality, features a discreet microphone with a call button, allowing users to take calls and control the music functions of the iPhone with handsfree convenience. Durable black fabric cables and a minimalist all-metal design round-out the mix of premium features. In addition to Chrome and Gunmetal Rouge, VIBE Duo is also available in Nero.
The VIBE line of luxury modaphones features all-metal craftsmanship and an array of colors, from Flashblack Chrome to Red Roxx to the new Midnight Blue. Like VIBE Duo, the style and sophistication of VIBE earphones are on par with high-fashion jewelry and boast a lightweight, unobtrusive design.
Built for the modern, active lifestyle, Bass Fréq earphones offer a comfortable, lightweight and secure fit during any activity. The earphones received CNet's prestigious Editor's Choice Award for their overall sound quality and consumer-friendly price point. In addition to Jaded and Rouge, Bass Fréq is available in several colors including That's Hot Pink, Blue Steel and Rocker Red.
All of V-MODA's in-ear headphones feature BLISS (Bass Level Isolating Soft Silicon) technology, which reduces outside noise to produce a precise and rich bass response (frequency 12 Hz to 22 Hz). The V-MODA modaphones come with three sizes of soft silicon fittings to ensure a perfect fit and help block out unwanted sound.
VIBE Duo headphone/headsets and VIBE luxury earphones are available now for $99.99 and can be found in the US at the Apple Store, and in Europe at the Apple Europe Store and John Lewis stores. They can also be found online at Apple.com, Amazon.com, and Shop V-MODA.
Bass Fréq earphones are available for $39.99 and can be found at a variety of online retailers, including Amazon.com, Target.com, and Shop V-MODA.
All V-MODA products are backed by a 100 percent risk-free satisfaction guarantee, and free shipping in the US is available for a limited time only. Visit v-moda.com for more information on pricing and retail availability.
Link: V-MODA
GizMac's Titan Clear iPhone Case with Holster
PR: Titan Clear iPhone Case with Holster Combines Many Features Into One iPhone Product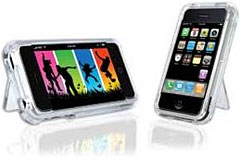 GizMac Accessories, designer and manufacturer of innovative products for the iPod and iPhone, announce their upcoming Titan Clear iPhone case with holster. Building on the success of the Titan product line, GizMac has once again designed a creative solution that should exceed customer expectations. GizMac's Titan Clear for iPhone is a protective case that can be used alone or combined with the included quick release holster.
"We wanted the Titan Clear for iPhone to have the best form, function and value" explained Mark Kirtner, Creative Director for GizMac Accessories, "So we delayed our release until the Titan Clear had the best over all look, usability and price for our customers." Well planned engineering from GizMac has produced an iPhone case that will protect as well as impress.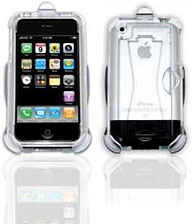 The Titan Clear case protects the iPhone with its tough, crystal clear polycarbonate shell, but still allows the Apple iPhone's striking appearance to show through. The addition of a thin film screen protector completes the Titan Clear case protection by keeping the iPhone screen safe. Retractable horizontal and vertical kickstands are built into the Titan Clear iPhone case. These innovative kickstands can be used to adjust the horizontal and vertical angles of the case for optimum iPhone viewing. Movies, videos, calls, messages and more can be better viewed when the angle of the screen is adjusted for personal preference.
The rotating belt clip holster for the Titan Clear iPhone case is versatile and has great style. Not only does the Titan Clear iPhone holster securely hold the case face out, but also face inward for added protection of the iPhone screen. The Titan iPhone holster is made of lightly frosted clear polycarbonate for a sleek look that compliments the Titan case.
The Titan Clear for iPhone will retail for $34.99 US and will be available in early December.
Additional details can be obtained on the GizMac Accessories website
Link: GizMac Accessories
iPhoneDrive 1.3 Lets You Use Your iPhone for File Storage
PR: Keep your files on your phone, access your music, photos and notes
Just a few more things your iPhone does. Use your iPhone or iPod Touch for file storage, ensuring that you always have your important data backed up.
Additionally, iPhoneDrive provides easy access to your iTunes media, iPhoto albums and notes. Simply drag music, videos and notes from the iPhone or iPod Touch to your desktop or simply double-click to copy.
File Storage Made Easy - iPhoneDrive's familiar Mac OS X interface makes it simple to transfer files between your Mac and your iPhone. Just drag and drop files between the iPhoneDrive window and your desktop, or use the iPhoneDrive toolbar.
Storing files on your iPhone enables you to use your iPhone's unused storage space as a disk drive to backup data or transfer between Macs.
Note: The iPhone does not allow you to access files stored using iPhoneDrive.
Simple Notes Access - iPhoneDrive is the easiest and quickest way to access your iPhone's Notes on your Mac desktop. Simply connect any iPhone and double-click notes to open them in your favorite text editor.
Recover From Disaster - In the event of a Mac disk crash, if your music and photos are safely stored on your phone, iPhoneDrive is the easiest path to recovery.
Features:
Simple interface.
Store any type of data.
Access music, videos, podcasts and photos.
Instant access to iPhone Notes from your Mac.
Use your iPhone for backup.
Bring your data between home and office.
Full compatibility with all iPhone and iPod Touch firmware.
New in version 1.3:
Adds notes access. Advanced mode will now show hidden files.
Fixes a photo access issue that could cause photos to show up as "Unknown" on some iPhones.
Other minor fixes and enhancements.
iPhoneDrive v1.3 Demo resets the demo period, allowing users who tried earlier versions to have a new trial.
System requirements:
iPhone or iPod Touch,
Mac OS X 10.4.10 or later,
iTunes 7.3 or later
System support: PPC/Intel
$9.95 Demoware
Link: iPhoneDrive
iParrot Translation Software for iPod/iPhone/Apple TV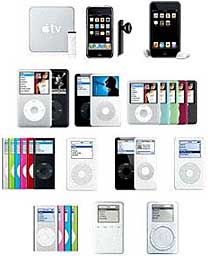 PR: Turn your iPod/iPhone/Apple TV into a translator. iParrot sets a new standard for instant multi-language translation software. Designed for the iPod, iPhone and Apple TV, it's stocked with over 20 kinds of perfectly pronounced oral language for instant use
The newest version of iParrot is released. Now iParrot support all iPod (except iPod shuffle), iPhone and Apple TV. User can use iParrot in two ways: "Music Mode" and "Notes Mode". The "Music Mode" support all device, the "Notes Mode" support iPods that have Notes Reader feature.
iParrot sets a new standard for instant multi-language translation software. Designed for the iPod, iPhone and Apple TV, it's stocked with over 20 kinds of perfectly pronounced oral language for instant use. iParrot is organized into categories such as: Greetings, Transportation, Shopping, and Asking for helping etc. So it is enough for you to find the sentences you need instantly. Organized for instant access and ease, it is especially useful while traveling abroad. Virtual fluency available in Chinese, English, Japanese, Russian, French, German, Spanish, Italian, Korean, Portuguese, Thai and Vietnamese.
System Requirements:
iPod (Except iPod shuffle) or iPhone or Apple TV
60 MB free space on the device
iTunes 6.0 and above
Mac OS X 10.3.9 and above
Price: $14.95
Link: vAccessory.com
Join us on Facebook, follow us on Twitter or Google+, or subscribe to our RSS news feed
Links for the Day
Mac of the Day: 17" MacBook Pro Core Duo, introduced 2006.04.24. The top-end MacBook Pro has a 1680 x 1050, 2.16 GHz Core Duo CPU, and supports Apple's 30" Cinema Display.
Recent Content
Custom Search
Follow Low End Mac on Twitter
Join Low End Mac on Facebook
Favorite Sites
MacSurfer
Cult of Mac
Shrine of Apple
MacInTouch
MyAppleMenu
InfoMac
The Mac Observer
Accelerate Your Mac
RetroMacCast
The Vintage Mac Museum
Deal Brothers
DealMac
Mac2Sell
Mac Driver Museum
JAG's House
System 6 Heaven
System 7 Today
the pickle's Low-End Mac FAQ
Affiliates
Amazon.com
The iTunes Store
PC Connection Express
Macgo Blu-ray Player
Parallels Desktop for Mac
eBay

Advertise