Land Rover LRX Integrates iPhone, Sell Your Old iPod, Take Control of Your iPhone, and More
This Week's iPhone, iPod, and Apple TV News
Compiled by Charles Moore and edited by Dan Knight - 2007.12.21
Mac notebook and other portable computing is covered in The 'Book Review, and general Mac news is in Mac News Review.
This is the last iNews Review of the year - Low End Mac will be closed from Christmas through New Year's Day. We'll be back with more iPhone, iPod, and Apple TV news in two weeks. We wish you and yours a joyous Christmas and a blessed 2008.
All prices are in US dollars unless otherwise noted.
iPhone News, Reviews, & Opinion
iPod News, Reviews, & Opinion
iPhone Add-ons
iPod Add-ons
iPod iPhone Deals
iPhone News, Reviews, & Opinion
Land Rover LRX Concept Using iPhone for More than Just Audio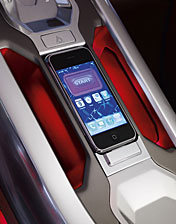 MyTablet.com's James Allan Brady says:
"Sure, there are 2 iPhone docks inside this concept vehicle, on in the center console next to the driver, and one in the removable speakers in the rear, but I'd be willing to wager that by the time this thing hits production one or more of them will be missing. But, the coolest feature, the iPhone when placed in the center console can be used as a key to start the car."
Link: Land Rover LRX Concept Using iPhone for More than Just Audio
iPod News, Reviews, & Opinion
Recycle Your iPod or Game Console and Get Cash
PR: Brett Mosley's BuyMyTronics.com (formerly BuyMyBrokeniPod.com) offers a fast, easy, and eco-friendly way to get cash for broken, new, and used iPods, iPhones, Zunes, and game consoles (including Nintendo Wii, Microsoft X-Box 360, PlayStation 3, PSP, and older models).
BuyMyTronics.com also recycle cell phones, started buying Zunes and iPhones recently and have launched a gaming subsite.
When your electronic gadget breaks or is no longer used, there is a place to get cash for it.
The website has increased the types of products it purchases and revamped its website. The new website buys your used, broken, or otherwise unwanted iPods, iPhones, Zunes, and game consoles of all types, in any condition, for top dollar.
BuyMyTronics.com is green-minded, recycling your electronics and keeping harmful materials out of landfills while filling your pockets with cash.
Consumers looking to sell old, broken, used, new, damaged, or otherwise unwanted electronic devices can now get top dollar via check or Pay Pal within 48 hours of receipt. It's the easiest way to get paid for unwanted consumer electronics at better prices than those found on sites like eBay, Craigslist, or other buy/sell sites.
The user-friendly website and customer service help make the usually challenging process of unloading electronics more convenient.
BuyMyTronics.com provides a second life for unused electronics by recycling, repairing, or reselling the products they receive. They also offer a way to dispose of older models of game consoles such as PlayStation 1 and Super Nintendo in an environmentally safe manner by offering free recycling. The eco-friendly nature of this site is the real deal. BuyMyTronics.com reuses packaging and keeps its offices near shipping facilities to minimize the need for transportation.
By selling electronics to BuyMyTronics.com, consumers can keep unwanted electronics, and the heavy metals and leads they contain, out of landfills while putting cash in their pockets. Types of gadgets currently purchased by BuyMyTronics.com include: iPhone, iPod Touch, iPod Classic, iPod Video, iPod photo, iPod nano, iPod mini, iPod 4th -1st Generation, iPod Shuffle; Microsoft Zune, Nintendo Wii, Game Cube, Super Nintendo, Nintendo DS Lite and GameBoy Advance; Microsoft X-Box 360 Elite, Premium, Arcade, Core, and Microsoft X-Box Original; Sony PlayStation 3 (PS3), 2 (PS2), 1 (PS1) and PSP.
It doesn't matter if you have a sad faced iPod Video, or an X-Box with a disk read error, BuyMyTronics.com claims to offer the most money, fastest payment, and simplest web interface.
Founded in 2006 and privately owned, the company has headquarters in Denver, CO. Brett Mosley says the company intends to expand its market to include other electronics such as laptop computers and cell phones in the near future. "We are excited about the success of the site and are thrilled we can already offer these new services to our customers," Mosley says. "Check back soon and often for information on new changes!"
Link: BuyMyTronics.com
iPhone Add-ons
Zannel Launches Next Generation Mobile Website for iPhone
PR: Zannel, Inc., the mobile industry's first Instant Media Messaging service that allows people to instantly update their friends and start real-time conversations by sharing video, picture, and text updates from mobile phones, has created a mobile website with sophisticated technology optimized for the iPhone.
"The success of the iPhone demonstrates that the next wave of mobile communication has arrived, and the ecosystem is ready for true mobile web applications like ours," said Braxton Woodham, CTO at Zannel. "We're excited about moving beyond the simple list formats inherent to WAP and creating a mobile website that a device like the iPhone deserves."
Unlike traditional WAP sites, Zannel's iPhone mobile web interface retains sophisticated design elements commonly found on the Web, such as persistent navigation and seamless transitions between sharing, viewing and discussing content. Beyond the application's elegant design, Zannel combines the active messaging and always-on presence of mobile with the rich media experience commonly found on the Web to bring a more compelling communication experience to users.
To get the service on your iPhone, simply type Zannel.com into the phone's browser. The service requires no download and launches instantly.
Founded by the team that built the largest mobile media storefronts in the US, the Zannel platform supports a variety of messaging formats including both SMS and MMS, and leverages these to share rich video, picture and text messages for instant updates and messaging. Zannel's media capabilities include a best-in-class mobile video transcoding system that supports the native video codecs for more than 500 US and European handsets. When a user views media with Zannel, the system automatically selects the best quality format for the particular handset and network in use. For the iPhone, Zannel optimizes the video formats for WiFi and EDGE connections. Beyond mobile phones, Zannel allows users to communicate through custom widgets that are available for MySpace, Facebook and other social networking sites and blogs.
Link: Zannel
Take Control of Your iPhone
PR: Get the most out of your iPhone! Avoid trouble, solve problems, and use your iPhone like a pro. Save $5 with our intro offer through December!
The iPhone shoehorns a lot of snazzy features into a shiny package, but if you want to feel more in control of core features like synching to your computer, setting up Mail accounts, and connecting to wireless networks, Take Control of Your iPhone explains what's happening under the hood so you can use your iPhone more effectively and with less hassle. If, for instance, you have questions about activating your iPhone, the nuances of the touchscreen and virtual keyboard, or customizing the settings for applications, this book has the answers.
Written by best-selling Mac troubleshooting author Ted Landau, where this title especially shines, where it outdistances what's found in competing books, is in its coverage of solving problems. Should your iPhone experience be less than stellar, you'll benefit from Ted's many years of experience, whether you're suffering a synching feeling, having trouble getting a charge out of a battery, or need to resuscitate a dead iPhone. The ebook walks you through dozens of step-by-step problem-solving procedures, while offering tips for smart ways to use the iPhone along the way.
For the adventurous, Ted also covers iPhone hacking and how to deal with updating (or not updating) a hacked iPhone.
Link: Take Control of Your iPhone
USBFever iPhone Portable Power Station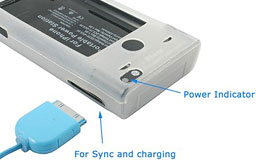 PR: If you are long away from office or home, how you can give juice to your mobile/cell phone, it is easy, either bring a second battery with your or have an portable charger.
However, if you mobile phone/cell phone is iPhone, how you rejuice it? The only way probably is to bring a portable charger with you. However, it is too bulky.
Here we have an alternative for you, to have a portable power station for you iPhone. Yes it is still bulky, but it is an alternative and hope it is a less bulky one.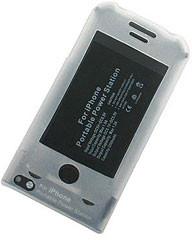 Features:
Recharge your iPhone in a convenient way
still access to key buttons and ports.
Specifications:
Input Voltage: DC 5V ~ 5.5V
Input Capacity: Max. 1.8A
Output Voltage: DC 5.1V ~ 5.5V
Output Capacity: Max. 1.2A
Capacity: 2200mAh
Li-Polymer
Package Includes:
iPhone Portable Power Station x 1
Silicone case for the iPhone Portable Power Station x 1
Note:
$44.99
Accepting pre-orders, to be shipped in 6 to 8 weeks (around end of Jan. 2008)
Link: USBFever iPhone Portable Power Station
Phone Wallpaper X Adds Integration with Address Book
PR: Polo Planet Software announces the release of Phone Wallpaper X version 1.1. The update adds integration with Apple Address Book, new Reflected Tile Core Image-based filters, ready-made wallpapers, Sparkle auto update functionality as well as improvements in user interface and fixing of minor bugs.
Integration with Apple Address Book allows using the contact photos in Photo Caller ID and Photo Call functions of mobile phones. Add fun effects to your digital photos with the latest Reflected Tile Core Image-based filters which are available in Leopard OS X. You can also upload ready-made wallpapers which fit the phones with the stated display resolution - it will make your first acquaintance with Phone Wallpaper X easy.
Pictures editing is easy due to the adaptable graphics editor that allows to crop images in accordance with the defined exact position and size. As soon as the wallpapers are ready, they can be placed in Wallpapers Gallery. Uploading to cell phones in batch mode is easy due to direct connection with the device thought Bluetooth. Wide range of devices is supported by providing USB connection ability. Information on acquiring with a device is saved in preferences - this allows to make the process easy and clear.
Changes in version 1.1:
Apple Address Book integration added;
New Reflected Tile Core Image-based filters added;
Flexible ready-made wallpapers added;
Sparkle auto update functionality;
Predefined display resolutions for popular phones;
Bluetooth connection fixed;
Current picture name is used when exporting;
Other improvements in user interface;
Fixing of minor bugs.
System requirements:
Mac OS X 10.4 or higher (Leopard OS X compatible);
At least 35 MB of free disk space.
Phone Wallpaper X is full functional shareware with trial watermark. Christmas offer price: $11.95
Link: Phone Wallpaper X
Titan Clear iPhone Case with Holster
PR: GizMac Accessories, designer and manufacturer of innovative products for the iPod and iPhone, announces that their Titan Clear iPhone case with holster has started shipping.
GizMac's Titan Clear for iPhone is a protective case that can be used alone or combined with the included quick release holster. The Titan Clear case protects the iPhone with its tough, crystal clear polycarbonate shell, but still allows the Apple iPhone's striking appearance to show through. The addition of a thin film screen protector completes the Titan Clear case protection by keeping the iPhone screen safe as well as clean. A unique approach for standing up the iPhone comes from retractable horizontal and vertical kickstands that are built into the Titan Clear iPhone case. These innovative kickstands can be used to adjust the horizontal and vertical angles of the case for optimum iPhone viewing. Movies, videos, calls, messages and more can be better viewed when the angle of the screen is finely adjusted for personal preference.
"GizMac set out to develop an Apple iPhone product that lives up to the high standards set for all our previous and future products" explains Ken Vitto, Director of Marketing for GizMac Accessories, "We believe the Titan Clear for iPhone exceeds the form, function and value criteria we engineer into our products for our customers."
The final piece to the Titan Clear for iPhone, the rotating belt clip holster, is also versatile and stylish. Not only does the Titan Clear iPhone holster securely hold the case face out, but also face inward for added iPhone screen protection. The Titan iPhone holster is made of lightly frosted clear polycarbonate for a sleek look that compliments the Titan case and does not cause a fashion distraction. The Titan Clear for iPhone has a US retail of $34.99 and can be purchased from authorized resellers or directly through the GizMac website.
Link: Titan Clear for iPhone
iNdependence iPhone Jailbreak Software
PR: iNdependence is a Cocoa-based application for Mac OS X which provides an easy-to-use interface for modifying your iPhone
iNdependence is a Cocoa-based application for Mac OS X which provides an easy-to-use interface for jailbreak, activation, SSH installation, and ringtone/wallpaper/application installation on your iPhone. It's open source under the GNU v2 license.
The source code for interacting with the iPhone has been broken out into a library (libPhoneInteraction) so that it can be easily reused by other applications.
Documentation is now available from the Help menu within the application itself. Please read all of it before you post an issue, email me, etc. I can guarantee that 99% of the problems you will encounter are answered there. The rest are likely well documented already in the issues section. So please also check for duplicate issues there before posting a new one. I just don't have the time to go through the multitude of issues there (many of which are duplicates or simply usage questions and not real issues).
News: Reports are coming in that iNdependence works with OTB 1.1.2 phones.
Notes: This program does not work with the iPod Touch
Link: iNdependence
iPod Add-ons
Shine with the Latest Apple 3G iPod nano Cases from Proporta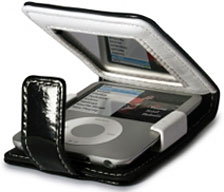 PR: If Santa didn't know what an iPod nano was a few months back, he sure does now. The world's most popular music player allows the lucky owner to enjoy movies and TV shows, not to mention music, on a two-inch display that's an impressive 65% brighter than its predecessor. Proporta know that something this sleek and colourful needs accessories to suit and are pleased to present their latest creations: The Shine (Apple 3G iPod nano 4 GB and 8 GB) and The Mini Mod (Apple 3G iPod nano 4 GB and 8 GB) are now available from Proporta.
Dress to Impress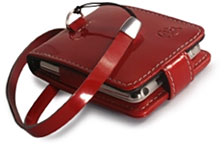 The Shine (Apple 3G iPod nano 4 GB and 8 GB) is available in a choice of two colours (black or red), is made from high-quality patent leather and comes complete with a fully removable lanyard. It also features an internal mirror, meaning you could almost look as good as your iPod nano surely will, and is the ideal accessory to complete any outfit as well as protecting your precious device against scratches and scuffs from everyday use.
Rock Your Pocket
The Mini Mod (Apple 3G iPod nano 4 GB and 8 GB) fits your Apple 3G iPod nano perfectly, offers maximum protection and is available in red or black with a stylish white stripe. As the name suggests, this case exudes style and trend at its best and with aluminium lined protection to save your screen from crushing and impact shocks, it's pretty tough too.
Rock on up toproporta.com and become part of the cool gang with these funky cases.
P.S. Worried that your 3G iPod nano might start to get a bit chilly this winter? Proporta's Mini Mobile Device Socks will keep your precious device as snug as a bug in a - you get the idea.
Join us on Facebook, follow us on Twitter or Google+, or subscribe to our RSS news feed
Links for the Day
Mac of the Day: Macintosh 128K, introduced 1984.01.24. 1984 wasn't going to be anything like 1984 thanks to the original Macintosh.
Recent Content
Custom Search
Follow Low End Mac on Twitter
Join Low End Mac on Facebook
Favorite Sites
MacSurfer
Cult of Mac
Shrine of Apple
MacInTouch
MyAppleMenu
InfoMac
The Mac Observer
Accelerate Your Mac
RetroMacCast
The Vintage Mac Museum
Deal Brothers
DealMac
Mac2Sell
Mac Driver Museum
JAG's House
System 6 Heaven
System 7 Today
the pickle's Low-End Mac FAQ
Affiliates
Amazon.com
The iTunes Store
PC Connection Express
Macgo Blu-ray Player
Parallels Desktop for Mac
eBay

Advertise