Mac Developers Ready for Macintel, Intel to Help Design Macintel Mobos?, Intel 'Leaps Ahead', and More
Compiled by Charles Moore and edited by Dan Knight - 2006.01.05
This Week's Macintel News
Apple's decision to switch to Intel CPUs means we live in very interesting times.
PowerBook, iBook, and other portable computing news is covered in The 'Book Review. General Apple and Mac desktop news is covered in The Mac News Review. iPod news is covered in The iNews Review.
Macintel News
Other Intel News
Macintel News
Apple Developers Ready for Intel, New Macs
Architosh Staff reports:
"Latest Evidence from Software Developers Shows They Are Ready for New Intel Machines
"While analysts and Mac aficionados ponder an early delivery for Intel-based Macintosh computers at Macworld Expo - to be held in the second week of January, 2006 - it appears from announcements made by Mac developers that this indeed is a real possibility. Several Mac developers have announced they are ready to support upcoming Intel Macs with current software products."
Link: Apple Developers Ready for Intel - Possible New Macs at Macworld Expo
Intel Goes Apple Polishing
Techweb's Alexander Wolfe reports:
"Looks like Intel may be jumping in to help Apple, by signing on to design the motherboards for Apple's upcoming Intel-based Macs, expected to launch in early 2006."
Link: Intel Goes Apple Polishing
Apple and Intel: Oil and Water?help design
Gene Steinberg, the Mac Night Owl, says:
"I still remember the scene at the WWDC keynote where Steve Jobs and Intel CEO Paul Otellini embraced. It was all show business of course, a symbol to show the spirit of cooperation between the two companies. It doesn't mean the two hang out Friday evenings at one of the local pubs in Cupertino or Mountain View to share a brew."
Link: The Apple/Intel Report: Oil and Water?
Mac OS X on Intel?
CIO Update's Steven Warren says:
"For as long as I can remember, there has been a battle of operating systems. Which operating system is better, Microsoft or Apple? The debate rages on but what we do know is this: Currently, your organization does not have the ability to dual-boot a Windows and an Apple operating system.
"Well, times are a changin' and new Intel machines are gearing up for Apple and its OS X operating system.
"In June 2005, Apple announced a brilliant strategy. They decided to abandon the IBM PowerPC processors to move to the Intel engine. Can you imagine the possibilities? We could live in a world where you could now buy a brand- name computer or clone and load Apple OS X Tiger on it or dual-boot your computer with OS X and Windows. You may even be able to run Windows on an Apple computer. Seriously."
Link: Mac OS X on Intel?!?
Yes, a Macintel Is Still a Mac
Gene Steinberg, the Mac Night Owl, says:
"Whenever you read a report about someone cracking Mac OS X for Intel and making it run on a plain, vanilla PC box, you have to wonder whether it's something you need to take seriously. Lest we forget, we're still talking about a beta operating system. You don't know what sort of software and hardware protections Apple will place on its new Macs to prevent such shenanigans."
Link: The Apple/Intel Report: Yes, it's Still a Mac!
What the Apple-Intel Deal Could Mean for PCs
Mac Observer says:
"TechNewsWorld columnist Rob Enderle on Monday published his thoughts on the technology business at the end of 2005. Among other things, he speculated on how Apple's new relationship with Intel could alter the overall PC business, given both companies' history of being difficult to work with.
"'When it comes to the company they are most frustrated with, the OEMs tend to switch between Microsoft and Intel,' Mr. Enderle wrote. Noting that he thinks Intel 'clearly has the lead right now in terms of aggravation,' the columnist said that the company's biggest problem is its tendency to make decisions without taking into account how they will affect its partners.
"Apple, of course, likes to dictate terms to its partners too. With AMD suing Intel for alleged anti-competitive business practices and the OEMs believing that Intel has 'cut two sweetheart deals with Apple,' Mr. Enderle expects 2006 to be 'a really interesting year' in the computer business. If AMD makes headway in its lawsuit and the OEMs dig up proof that Intel is treating Apple differently, the competitive landscape could change dramatically."
Link: What the Apple-Intel Deal Could Mean for PCs
Apple, Intel Others Working on HiDef TV Spec
Macsimum News' Dennis Sellers reports:
"Apple is working with Intel and companies to create a better link for connecting computers to high-definition televisions and other consumer devices, according to the Wall Street Journal.
"The spec is known as UDI (unified display interface). The need for an improved interface standard, addressing the unique requirements of non-CRT display technologies, is currently one of the major obstacles preventing the wider acceptance of such products as replacements for the traditional CRT-based monitor, according to B. Myers of HP in a paper written for the Society of Information Display.
"The goal is to replace VGA, a nondigital technology. Instead HDMI, for high-definition multimedia interface, would be used."
Link: Apple, Intel Others Working on UDI Spec
Other Intel News
Intel to Unveil 'Leap Ahead' Branding Strategy
The position of Associated Press (AP) is that you may not quote more than 5 words from any of its copyrighted articles without paying $12.50 or more for a "quotation license". Rather than pay this fee or risk the wrath of AP, we are removing all AP quotes from the site along with links to those articles.
We regret any inconvenience to our readers, but we will never pay for what is considered Fair Use under copyright law. We consider brief quotations in our news roundups to be Fair Use and a benefit to the site that we quoted from and linked to. (We adhere to the Open Link policy, and our Fair Use policy specifically allows quoting up to 50% or 300 words of our original content, whichever is less.)
Intel Confirms 'Core' Branding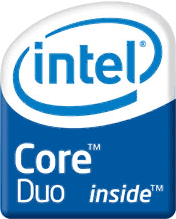 The Register's Tony Smith reports:
"Intel today made public the new processor branding scheme that leaked out of the company late last year.
"The launch confirms the company's plan to brand upcoming Centrino notebooks in 'Duo' and 'Solo' forms, to indicate dual- and single-core implementations of the platform. Where OEMs want to stress the CPU - for desktops and servers - there are 'Intel Core Duo' and 'Intel Core Solo' logos to suit."
Link: Intel Confirms 'Core' Branding
Intel's Site Unveils New Chips Before Official Introduction
eWeek's John G Spooner reports:
"Intel Corp. has unveiled new details about its 2006 chip lineup, which includes its first dual-core notebook chips, on its Web site ahead of their official introductions.
The chip maker, in an update of its online price sheet over the past weekend, unveiled new model numbers, speeds and pricing of its Core processor, a chip that's otherwise known as Yonah and that will replace its Pentium M. It did the same with its desktop Pentium D 900, otherwise known by the code name Presler."
Link: Intel's Site Tips Off New Chips
Intel Announces Prices for Dual, Single-core 'Yonah'
The Register's Tony Smith reports:
"Intel has started shipping its 65nm dual-core mobile Pentium processor, Yonah, along with Centrino bundles based on the new processor.
"As expected, the chips use Intel's new model-numbering scheme. The T2600, T2500, T2400 and T2300 are dual-core parts - hence the '2' - and are joined by one single-core chip, the T1300. The five processors are clocked at 2.16 GHz, 2 GHz, 1.83 GHz, 1.66 GHz and 1.66 GHz respectively, and operate on a 667 MHz frontside bus, connecting across a FCBGA6 or FCPGA6 pin-out. All processors sport 2 MB of L2 cache.
"Intel has also launched a pair of low-voltage dual-core Yonahs, the L2400 and L2300, clocked at 1.66 GHz and 1.5 GHz respectively. Both use a 667 MHz FSB, and are priced at $316 and $284 respectively. They debut alongside the 1.3 GHz ultra-low voltage Pentium M 733, which costs $273 in batches of 1,000 chips."
Link: Intel Prices Up 65nm Dual, Single-core 'Yonah'
Intel Unwraps 'Presler', 'Cedar Mill' CPUs
The Register's Tony Smith reports:
"Intel has debuted its latest dual-core desktop Pentium D processors, launching the chip family as the 9xx series.
"The chip giant this week added four models to its price list: the 920, 930, 940 and 950, all containing 4 MB of L2 cache split into two 2 MB chunks, one for each of the two cores in the chip package. All four operate on an 800 MHz frontside bus. The CPUs are clocked at 2.8 GHz, 3 GHz, 3.2 GHz and 3.4 GHz, respectively."
Link: Intel Unwraps 65nm 'Presler', 'Cedar Mill'
Intel Moves Release Date for Conroe Forward
The Register's Tony Smith reports:
"Intel is to align the launch of its next-generation desktop processor, 'Conroe', and its upcoming 965 family of chipsets, delaying the latter and bringing forward the former.
"So claim Taiwanese motherboard-maker sources cited by DigiTimes.
"Conroe is the first desktop processor to be based on Intel's next-generation architecture, the successor to today's NetBurst technology. Essentially, Conroe takes key NetBurst features and integrates them into a new core developed on the back of what the company learned when it created today's Pentium M chips."
Link: Intel to 'Bring Forward' Conroe Release Date
Intel Core Duo 'Yonah' Performance Preview
AnandTech's Anand Lal Shimpi reports:
"At the end of November, we finally did what we had been waiting to do for so long - provide the first performance benchmarks of Intel's Yonah processor, the dual core successor to the highly acclaimed Pentium M. However, our initial performance investigation was not without its flaws. Given the short amount of time that we had for benchmarking, we were forced to compare to older numbers from previous reviews, which unfortunately lacked updated gaming, encoding and 3D rendering tests.
"Despite the shortcomings of the initial article, we did manage to get a good look at the performance that we could expect from Yonah. Mainly, it was a fairly strong successor to the single core Pentium M and even more impressive was that it offered performance equal to that of AMD's Athlon 64 X2 without an on-die memory controller....
"So for this follow-up, we've done two important things. For starters, we've updated the benchmark suite considerably, including modern day games and a few professional-level applications hopefully to get a better perspective on Yonah's performance. We've also included an Athlon 64 X2 running at 2.0 GHz, but with each core having a full 1 MB L2 cache, making the Yonah vs. X2 comparison as close to even as possible (not mentioning the fact that AMD has twice the advantage in this round, with both a larger L1 cache and an on-die memory controller, but it should make things interesting)...."
Link: Intel Core Duo (Yonah) Performance Preview - Part II
64-Bit Power Struggle Heats Up
eWeek's Anne Chen reports:
"News Analysis: In 2005, vendors competed to provide ever-increasing processor power, with 64-bit chips and dual-core technology. Now AMD and Intel are shaping their multicore plans for 2006 and beyond."
Link: 64-Bit Power Struggle Heats Up
More Mac News
PowerBook, iBook, and other portable computing news is covered in The 'Book Review. General Apple and Mac desktop news is covered in The Mac News Review. iPod news is covered in The iNews Review.
Join us on Facebook, follow us on Twitter or Google+, or subscribe to our RSS news feed
Today's Links
Mac of the Day: iMac (Late 2006), introduced 2006.09.06. Apple introduced the biggest screen ever in an iMac with a 24" 2.16 GHz Core 2 Duo model.
Recent Content
Custom Search
Follow Low End Mac on Twitter
Join Low End Mac on Facebook
Favorite Sites
MacSurfer
Cult of Mac
Shrine of Apple
MacInTouch
MyAppleMenu
InfoMac
The Mac Observer
Accelerate Your Mac
RetroMacCast
The Vintage Mac Museum
Deal Brothers
DealMac
Mac2Sell
Mac Driver Museum
JAG's House
System 6 Heaven
System 7 Today
the pickle's Low-End Mac FAQ
Affiliates
Amazon.com
The iTunes Store
PC Connection Express
Macgo Blu-ray Player
Parallels Desktop for Mac
eBay

Advertise