Boot Camp: Apple Officially Supports Windows XP Booting on Macintel Hardware
Compiled by Charles Moore and edited by Dan Knight - 2006.04.06
This Week's Macintel News
After a couple weeks of independent programmers figuring out how to get Windows XP up and running on Macintel hardware, Apple has cut them off at the knees by making all of their work unnecessary. For the first time since the era of "DOS Compatible" Macs with x86 cards, Apple officially supports booting Windows on Mac hardware with Boot Camp.
Boot Camp is a free preview of technology that will be part of OS X 10.5 "Leopard" later this year. It allows a Macintel user to choose to boot into OS X or Windows XP SP2 at startup. It requires OS X 10.4.6 and a firmware update to the Macintel computer.
PowerBook, iBook, and other portable computing news is covered in The 'Book Review. General Apple and Mac desktop news is covered in The Mac News Review. iPod news is covered in The iNews Review.
Windows on Macintel
The Macintel Transition
Intel News
Windows on Macintel
Apple Getting Ready to Run Windows?
Engadget's Marc Perton says:
"Notable curmudgeon John Dvorak raised hackles last month when he suggested that an Intel-powered Apple would dump OS X and switch to Windows. Turns out he may have been right - sort of. Word is out now that Apple has joined BAPco, an industry group that does one thing and one thing only: create benchmarks for testing the performance of Windows-based PCs...."
Apple Joins Windows Benchmark Consortium
ExtremeTech reports:
"In a stunning move, BAPCo, the industry-standard Windows benchmarking consortium, announced that Apple Computer has joined up as a member. BAPCo is responsible for the SYSmark 2004SE and MobileMark benchmark suites used for testing PCs. BAPCo also produces the webserver test WEBmark.
"BAPCo members include AMD, Intel, Transmeta, ATI, Nvidia, Microsoft, Ziff Davis Media, CNET, Dell, HP, Toshiba, Seagate, VNU, Atheros, and ARCintuition. These heavy hitters cooperate on determining and developing testing methodologies, using industry standard programs like Microsoft Office, Adobe Creative Suite, and 3ds max. The SYSmark and MobileMark benchmarks are used as performance tests by media outlets, corporations, and government agencies worldwide."
Apple May Do Windows
Business 2.0 Magazine online editor Owen Thomas and Fortune reporter Oliver Ryan report:
"Ever since Apple declared it was switching to Intel chips last year, Mac fans have been looking forward to the prospect of running both Windows and Mac OS X on the same machine. But those who have tried to load Windows onto a Mac have kept running into unexpected technical roadblocks. Apple's stance on the matter? 'We won't stop you, but we won't help you.'
"That standoffishness may be coming to an end, however. The Gearlog blog reports that Apple has joined BAPCo, an organization that benchmarks the performance of systems that run Windows."
Mac mini Core Duo Running Windows XP
O'Reilly.net's Todd Ogasaware says:
"A friend brought over a dual-booting Mac mini Pro Duo with 2 GB RAM to show me. An Intel-based Mac running Microsoft Windows XP is not quite the sensation it might have been a couple of weeks ago. But, this was still the first time I saw a Mac mini Core Duo dual booting Mac OS X and Microsoft Windows XP and I have to admit I was impressed at the boot speed for both Mac OS X and Windows XP.
"I thought XP would boot slowly (still thinking emulation even though I know it is running natively) and was surprised to see how fast it came up to the point where the mouse and keyboard was usable on the Mac mini...."
Apple's Boot Camp Software Enables WinXP on Macintel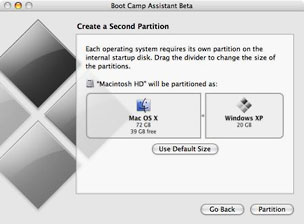 PR: Apple has introduced Boot Camp, public beta software that enables Intel-based Macs to run Windows XP. Available as a download beginning today, Boot Camp allows users with a Microsoft Windows XP installation disc to install Windows XP on an Intel-based Mac, and once installation is complete, users can restart their computer to run either Mac OS X or Windows XP. Boot Camp will be a feature in "Leopard," Apple's next major release of Mac OS X, that will be previewed at Apple's Worldwide Developer Conference in August.
"Apple has no desire or plan to sell or support Windows, but many customers have expressed their interest to run Windows on Apple's superior hardware now that we use Intel processors," said Philip Schiller, Apple's senior vice president of Worldwide Product Marketing. "We think Boot Camp makes the Mac even more appealing to Windows users considering making the switch."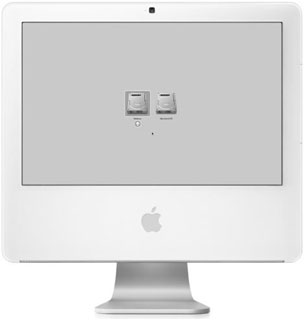 Boot Camp simplifies Windows installation on an Intel-based Mac by providing a simple graphical step-by-step assistant application to dynamically create a second partition on the hard drive for Windows, to burn a CD with all the necessary Windows drivers, and to install Windows from a Windows XP installation CD. After installation is complete, users can choose to run either Mac OS X or Windows when they restart their computer.
The public beta of Boot Camp is available immediately as a download at www.apple.com/macosx/bootcamp , and is preview software licensed for use on a trial basis for a limited time. The final version of Boot Camp will be available as a feature in the upcoming Mac OS X version 10.5 "Leopard." Apple does not provide support for installing or running Boot Camp and does not sell or support Microsoft Windows software. Apple welcomes user feedback on Boot Camp at bootcamp@apple.com
System Requirements
Boot Camp requires an Intel-based Mac with a USB keyboard and mouse, or a built-in keyboard and TrackPad; Mac OS X version 10.4.6 or later; the latest firmware update; at least 10GB of free space on the startup disk; a blank recordable CD or DVD; and single-disc version of Windows XP Home Edition or Professional with Service Pack 2 or later.
The Macintel Transition
Intel Transition Still Frustrates Mac Developers
eWeek reports:
"On the eve of its 30th anniversary, Apple Computer is in the middle of a major transition-moving its Mac hardware and operating system over to the Intel chip. But Apple isn't alone: this transition affects every developer of Mac software, including Apple itself.
"As Apple moves from IBM's and Freescale's PowerPC RISC architecture to Intel processors, developers must rebuild their products to support both platforms, into what Apple calls a UB (Universal Binary). And while Apple lists over 1,000 UB applications currently available, this process is challenging developers, especially those of some of the largest and most critical applications for the platform."
Intel News
Intel Launches 'Discover the PC' Initiative
Technologies Specifically Designed to Provide Greater Access to Personal Computing
PR: Intel Corporation has announced the "Discover the PC" initiative to make the benefits of PC technology more broadly available to people in developing nations. The initiative focuses on delivering products and technologies that are specifically designed to meet the unique needs of people in developing countries. The Discover the PC initiative supplements existing Intel programs in education, investments in local technology industry infrastructure and other ongoing efforts designed to encourage technology adoption around the world.
"Intel has long been working with local governments and organizations in developing countries to bring the benefits of personal computing to homes, schools and businesses," said Mark Beckford, general manager, Emerging Markets Platforms Group. "With Intel's focus on enabling the local PC industry infrastructure with tailored products, investments and partnerships, we believe we have been able to make a real difference in people's lives. The purpose of the Discover the PC initiative is to bring personal computing to citizens in developing countries that currently can't access or afford a personal computer."
As part of the initiative, Intel President and CEO Paul Otellini introduced today in Mexico a new fully-featured, high-quality, low-cost desktop PC platform available to first time computer users. The new PC design has an easy-to-use interface designed to introduce a new set of people to the world of technology for the first time. It is a small form-factor and energy efficient product suitable for dense living environments. It provides access to the full range of PC applications and experiences that allow people to find new ways to learn, communicate, work and play.
The PC will be available through governments and telecommunications companies that will work to deliver it to people who previously did not have access to a PC or the means to own one. Initially, Intel plans to make them available through government agencies and telecommunications companies in Mexico, Brazil, Egypt, Ghana and Nigeria, with expansion to other countries later in the year. By joining with government agencies and telecommunications partners that would provide Internet access, the computing platform will offer all the features of a PC available today while being sold significantly below typical PC prices. The prices will differ by country based on local PC prices and family incomes.
A second product that is part of the Discover the PC initiative was introduced earlier this week in India as the Intel-powered Community PC. The innovative PC was developed specifically to meet the Internet access needs of rural villages and communities. The PC was designed as a result of defining locally relevant computing solutions, and is equipped to operate in a group or community setting while accommodating the varying environmental conditions prevalent in rural areas.
The Community PC platform was defined by Intel after intensive ethnographic studies in rural India showed that a clear desire for technology access exists in remote rural communities where even a single PC can serve many people. Unfortunately, weather conditions (heat, dust, humidity) and unreliable power sources can compromise typical PCs used in such environments.
To address these issues, the Intel-powered Community PC platform was developed to be a fully functional, expandable and shared-access computing solution. It is a highly reliable, manageable system that supports remote diagnostics and control features under low power requirements. Included among the unique features are: a ruggedized chassis to withstand dusty conditions, varying temperatures and high humidity; a customized power supply unit that allows the PC to maintain continuous load power in the event of a power outage; and simple, one-button system recovery in case of PC failure.
Intel is actively working with industry partners to deploy the Community PC in Internet kiosks common in rural villages in India. The kiosks are operated by local entrepreneurs and provide neighboring communities with access to e-Government forms (e.g. land records and marriage licenses) and other services. Though initially designed for India, the platform has generated interest from other countries with similar environmental concerns, and is expected to be expanded to other countries in the near future.
Current plans for the Discover the PC initiative involve defining and developing additional products that address other unique requirements in the developing nations. For example, the company is currently developing a prototype of a small form factor laptop PC that incorporates unique software and hardware features to serve educational needs. The objective is to unleash the full value of PC technology for students and educators in primary and secondary schools by assisting in the learning process. Additional details for this and other future products will be announced at a later date.
Join us on Facebook, follow us on Twitter or Google+, or subscribe to our RSS news feed
Today's Links
Mac of the Day: 14" 600 MHz iBook G3, introduced 2002.01.07. The first 14" iBook ran at a comfortable 600 MHz.
Recent Content
Custom Search
Follow Low End Mac on Twitter
Join Low End Mac on Facebook
Favorite Sites
MacSurfer
Cult of Mac
Shrine of Apple
MacInTouch
MyAppleMenu
InfoMac
The Mac Observer
Accelerate Your Mac
RetroMacCast
The Vintage Mac Museum
Deal Brothers
DealMac
Mac2Sell
Mac Driver Museum
JAG's House
System 6 Heaven
System 7 Today
the pickle's Low-End Mac FAQ
Affiliates
Amazon.com
The iTunes Store
PC Connection Express
Macgo Blu-ray Player
Parallels Desktop for Mac
eBay

Advertise