Truth about iPod Batteries, iPod Upgrades, DecoDock, First iPod Shuffle T-shirt, and More
Compiled by Charles Moore and edited by Dan Knight - 2005.03.24
PowerBook, iBook, iPod, and other portable computing is covered in The 'Book Review, and general Apple and Mac desktop news is covered in The Mac News Review.
The Truth about iPod Batteries
NEWS: PC Mag's Lance Ulanoff says:
"How much do Apple's customers love the company? Let us count the ways. Apple's consumers defend their Macs and the Mac OS as if they were family members. They erect millions of Web sites and blogs to talk in enthusiastic and laudatory terms about how wonderful Apple products are and to smack down anyone who says otherwise. Hollywood is in love with Apple laptops, and the world is drooling over iPods. Other technology companies can only dream about such devotion to their products. It's a beautiful, happy, exemplary relationship - unless you count those who have nearly combusted over Apple's battery-replacement program.
"Yup, I have learned that there are Apple customers who are not feeling so cheerful about the 'little guy' company. And these folks are attacking Apple with the same kind of venom usually reserved for pro Wintellers who speak ill of Apple products (believe me, I know).
"Oddly enough, it seems that much of the anger stems from confusion and misinformation about a battery-replacement program that, at least from what I can tell, has been pretty transparent for years."
TechRestore Launches 24-Hour iPod Hard Drive Upgrade Program
PR: TechRestore, Inc. have announced that they have launched a new iPod hard drive upgrade program for owners of the world's most popular audio player.
The new service provides a fast and hassle-free method for iPod owners worldwide to increase their music and storage capacity in full-sized iPod models.
"iPod hard drive upgrades are frequent requests of clients that use our iPodRestore repair service," said Shannon Jean, Founder and President of TechRestore. "With our new and exclusive hard drive upgrade program, iPod owners can enjoy more music and store more data without having to purchase a replacement unit."
The TechRestore 24-Hour iPod Upgrade service is a complete, door-to-door overnight service for customers in the continental U.S. The upgrade is available for our international customers, via our Self-Restore service. Once an upgrade is scheduled, a RestoreBox is sent via overnight courier to the customers home, office or school where their iPod is picked up and brought back overnight to TechRestore. Within 24-hours of receipt, the upgrade is completed and the iPod is sent back to the customer's location via overnight courier.
The flat-rate iPod hard drive upgrade service starts at just $119 and includes all overnight shipping charges, parts and installation. The upgrade is performed in an antistatic and dust-free environment by a TechRestore Certified Technician.
"We're very excited to bring this new upgrade service to our customers and iPod owners throughout the world," said Jean, "the program extends the life of existing iPods and offers another unique solution that TechRestore has become known for."
DecoDock for iPod shuffle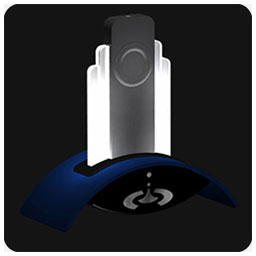 PR: Presenting DecoDock, the first stylish dock designed to complement and enhance the iPod shuffle. DecoDock provides an elegant solution for users who want a simple, artistic way to connect their iPod shuffle to their computer. For those users who think they'd rather hack through the tangle of cables sprouting from the back of their computer like Indiana Jones searching for The Lost USB Port, or are contemplating a USB extension cable for that classic shuffle-on-a-rope look, we hope you'll reconsider. For those daredevils gambling their shuffle will avoid being snapped off the side of their laptop like a dead twig, head for Vegas and buy a DecoDock for your shuffle's sake. And for those style-hungry souls, searching a wasteland of computer peripherals devoid of pleasing designs, welcome to Pressure Drop, and the Art-Techo movement.
Overview
Connect your shuffle to your computer in a convenient, elegant way.
Decorative illumination from the columns via white LEDs
Integrated cap holder securely keeps your shuffle's cap from getting lost
Available in a variety of colors (to be announced later)
Shipping in April - $28.99
Preorder now for $24.99
Only T-shirts Specifically Designed to Carry iPod shuffle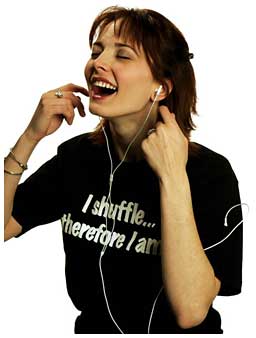 PR: ShuffleShirt.com is has to announced the availability of the only T-shirt line made to carry the Apple iPod shuffle. This simple pocket design provides easy access, storage and protection of the shuffle.
The iPod shuffle is about freedom. Freedom with abandon. Your music served up in harmonious spontaneity. So, why be bound by an armband or leashed by a lanyard? Slip your shuffle into your ShuffleShirt and shuffle on...
ShuffleShirt.com is the first company to bring you a T-shirt specifically designed for the iPod shuffle and the ShuffleCulture.
The shirts currently come in black and yellow. Each shirt carries a ShuffleCulture slogan such as "The Playlist is Dead," "Sorry... I can't hear you. I'm shuffling." and "I shuffle, therefore I am."
The shirts are $20 each and are available for ordering today.
iPod as Storage Cure-all
NEWS: silicon.com says:
"It's not just for teens - it's got IT managers' hearts beating fast too
"With Napster's recent revamp and Sony's poker-chip music-player launch, weak-stomached analysts have been getting the jitters and proclaiming that Apple's sky is teetering on the verge of falling in.
"Is it really? Of course not. The music player market, as borne out by new statistics, is set for ripe growth in the coming months. Will more and more new shoppers turn to Sony, Creative et al? Of course - but there's more than enough expanding market to go around. Steve Jobs needn't be going that little bit greyer over iPod competition for a while yet.
"Still, while the bandwagon jumpers are hoping to share in some of that Apple-style cool, it seems the Apple ecosystem is getting ready to turn the iPod into the business tool du jour.
"Beneath the teen-centric, volume-heavy, oh-so-cool veneer of the music player beats the heart of a storage-strapped IT manager's dream.
"The latest converts to the iPod-as-portable-storage gang are the UK police and military, one software maker revealed to silicon.com recently, with the lure of secure portable storage in a user-friendly format proving tempting for the boys in blue.
"The iPod's storage capacity also numbers radiologists among its unlikely fans, with Dr Osman Ratib, who developed a whole new medical imaging technology based around Mac OS X and using the iPod to store X-rays."
An Addictive Taste of iPod
NEWS: Motley Fool's Alyce Lomax says:
"It occurred to me last week, as I inserted the earbuds and cued up a trip to my own little world. Apple's iPod Shuffle is the musical equivalent of a gateway drug. It all starts out innocently and before you know it, you're hooked and searching for the next rush.
"Don't worry, I'm well aware that drugs are a terrible and debilitating habit. I allow myself to joke about this because iPod addiction is a far cleaner habit, the only side effects of which are depreciating assets in the ol' checking account or, possibly, hearing damage at some later point in life. (An addict, of course, generally overlooks these kinds of concerns.)"
iPod Leaves Classical Music Fans in a Lurch
NEWS: The Wall Street Journal's Robert J. Hughes says:
"Pity the classical-music fan. While lovers of pop, rock, jazz, folk and rap can surf the Web and easily download everything from Iggy Pop to 50 Cent, the digital age has left consumers with a taste for portable Tchaikovsky more or less in the lurch. Popular sites such as Napster, Yahoo Inc.'s MusicMatch and Microsoft Corp.'s MSN Music devote only 2 percent to 10 percent of their offerings to classical works, and the hunt for a specific track can be tough going, especially for classical fans with sophisticated tastes."
"Another gripe: When some longer pieces are imported into an iPod through iTunes, they are divided into tracks, resulting in audible gaps - sometimes a click - in music that should be seamless, fans say."
iPod photo Brings Slide Show into 21st Century
NEWS: The Saskatoon StarPhoenix's Murray Hill says:
"What's the best device for storing your precious tunes and photos all at the same time? Lots of manufacturers make this type of device but the current king of the hill is the Apple iPod Photo.
"Currently in 30 GB or 60 GB versions, the iPod photo has been around since last fall and has really changed the way people store their music and photos. Apple recently updated their iPod photo and the software that comes with it and the results are a winner."
iPod Troubleshooting Basics and Service FAQ
NEWS: An updated Apple Knowledge Base Article says:
"Having trouble with your iPod? This list of troubleshooting steps and service options will show you the smoothest path to resolving your issue. Be sure to perform the appropriate troubleshooting before submitting a service request.
"First, visit iPod Support to check out our new iPod Tutorials with step-by-step instructions to get the most out of your music player. If you have an issue with your iPod, click the top support topics, like iPod basics, for easy-to-follow suggestions that may resolve your issue without service, then review these topics."
How to Determine iPod's Hard Disk Format
NEWS: A new Apple Knowledge Base Article says:
"Learn how to tell if iPod is formatted for use with a Macintosh, or a Windows-compatible computer.
"An iPod or iPod mini can be formatted for Macintosh or Windows. iPod's hard disk format depends on which version of the software is installed. If the Macintosh version is installed, the disk format is Mac OS Extended (HFS Plus). If the Windows version is installed, the disk format is FAT32."
"You cannot use an iPod whose disk is formatted for Macintosh on a Windows-compatible computer."
Senuti 0.25 Transfers Songs from iPod to Computer
PR: Senuti is a simple utility that makes transferring songs from an iPod to your computer quick and easy. Features include:
iTunesDB. What? That's right, iTunesDB. Senuti reads a hidden file on your iPod in order to get all of the information quickly and accurately.
Playlists. Not only does Senuti show you the playlists on your iPod, but you can copy them back to your computer as well.
Listen. What was that song I wanted to copy? I know how it goes, but I don't know the title. Great! Listen to your music on your iPod right from Senuti. When you find the song, copy it!
Search. Senuti would be worthless if you couldn't find what you wanted to copy quickly, so searching is built in.
Organization. Senuti will organize your music as it gets copied back to your computer. That is only if you want it organized, of course.
iTunes Integration. Senuti shows you which songs are already in iTunes. It also allows you to add songs to iTunes after they're copied from your iPod. You can even choose the playlist to which you want to add them.
Simple Interface. Easy to learn OS X interface eases the learning curve of Senuti.
New in this version:
Minor interface fix.
A few new icons.
Fixed a major bug preventing copying in unique situations.
Fixed a major bug dealing with adding songs to iTunes.
Fixed minor bugs dealing with issues such as playback of songs and protected artwork.
Credited David Oberst within the application for patchwork.
Switched to 10.3 bindings and dropped 10.2 support.
System requirements: Mac OS X 10.3 or higher
Senuti is freeware.
MaxPod Version 1.0.1 Maximizes Use of Your iPod
PR: LAJ Design have announced the immediate availability of version 1.0.1 of MaxPod. MaxPod is a cross-platform application that helps you to maximize what your iPod can do.
"The iPod gives a great platform for music listening, but it can do so many other functions", says Luke Jackson, head programmer at LAJ Design. "With MaxPod, we are trying to automate as much of that functionality as possible. Right now it can sync files between your hard drive and iPod. It can download the news and weather into audio files that you can listen to on your iPod. It can organize your notes, your music, and get directions. I use it every day. I just set the auto mode to 5:50 AM and by the time I am ready to go, it has backed up and synced my files, downloaded the news and weather, which I listen to on the way to work."
Create your own unique podcast every day. Sync your files automatically everyday to a great backup device. Listen to the weather and news that you want every day.
Auto mode can automate file syncing between iPod and local drives Music mode lets you backup your music and can rename music Add/modify/backup notes, maps, and lyrics on your iPod
MaxPod is designed to maximize the use of your iPod. The iPod can serve great as an external hard drive. It can also display notes, which comes in very handy. MaxPod takes the core functions and adds a few more.
Download the news to audio files and listen on your iPod
Download the weather to an audio file and listen on your iPod
Backup your music files
Backup and sync your documents and folders using your iPod
Download directions as notes and save to audio files 6. Add/modify/backup notes, maps, and lyrics on your iPod
It also has an auto mode, which automates some of the tasks. So you can set it to sync your files, get the news and weather, and be ready to go when you leave in the morning.
The Registered version gives the following
Save multiple watermark setups
No Nag window
Excellent Support
New in this version:
Moved created files to Output files folder
Changed to delete from iTunes before copying the new daily files over.
Changed timer on windows
Added the more voices from Cepstral
Added version checking
System requirements: Mac OS X 10.3 or higher
MaxPod is $16.50 shareware.
A trial version of MaxPod is available for download from LAJ Design's website.
ezCharge Car Charger for iPod shuffle
PR: Audio Outfitters, LLC, a leading marketer of iPod accessories, announces the first car charger for the iPod Shuffle - the ezCharge Shuffle.

According to Charlie Bernstein, President of Audio Outfitters, LLC "The iPod shuffle is for people on the go and users shouldn't have to wait until they get home to recharge their iPod Shuffles." The ezCharge Shuffle comes in iPod white and includes a high quality coiled cable and a fuse protected car plug.
The suggested retail price for the ezCharge Shuffle is $24.98. The ezCharge Shuffle will be available in late March at various iPod resellers and distributors including MicroEnterprises and ezGear4u.com.
Dock400 FireWire 400 Connection for iPod
PR: The Dock400 FireWire cable allows you to connect your iPod to a Mac or PC's FireWire port, for charging and file transfers.
Apple's newest offerings of the iPod photo and iPod mini have added features, but omitted a FireWire cable.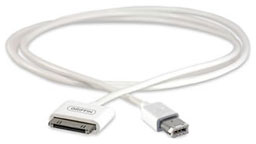 The Dock400 cable is 48" long, uses Apple-approved connectors, and is built with the quality that users have come to expect from Griffin. It can be used with Apple's iPod dock, or plugged directly into the iPod.
Now your iPod can also be in charge, and in Sync.
Made for:
iPod mini
iPod photo
4th Generation iPod with Click Wheel
3rd Generation iPod with touch wheel and buttons
$14.99
Dock800 FireWire 800 Cable for iPod
PR: Ever get short on FireWire connections? Have to unplug something every time you want to sync your iPod? Let a Dock800 cable ease your load.
Dock800 is an iPod Dock-to-FireWire 800 cable for communicating with and charging iPods. This allows flexibility in managing the use of FireWire ports.
Since FireWire 400 ports are at a premium, using the Dock800 cable is a smart way to use your FireWire ports. Grab one and give your iPod a unique connection to your computer.
Made for:
iPod mini
iPod photo
4th Generation iPod with Click Wheel
3rd Generation iPod with touch wheel and buttons
$19.99
iPod Frequently Asked Questions
NEWS: An updated Apple Knowledge Base Article contains frequently asked questions (FAQ) regarding iPod, with answers to those questions.
Is iPod compatible with my computer?
What music (jukebox) software do I need on my computer to use iPod?
How do I transfer music between my computer and iPod?
How long does it take to transfer my music collection to iPod?
I have a computer at home and one at work. Can I update my iPod music collection from more than one computer?
Can I update more than one iPod with my computer?
I have both a Mac and a PC. Will my iPod work on both?
Can I use my existing iPod for Mac on a PC, or my iPod for Windows on a Mac?
Can I use iPod while running, or doing other activities? Will my music skip?
How does iPod provide skip protection?
How much music does iPod hold?
What if my music collection exceeds the storage capacity of iPod?
Will music sound as good on my iPod as on my CD player?
What is the equalization (EQ) feature on iPod?
Can I standardize the volume for all the music tracks in my MP3 player?
What audio formats does iPod work with?
What is Audible?
Can I connect iPod to my home stereo?
Can I connect iPod to my car stereo?
How long does the battery last?
How do I charge iPod?
Can iPod charge while my computer is asleep?
How does the FireWire hard drive feature of iPod work?
Can I start up my computer using iPod?
Is there a clock on my iPod?
How do I add contacts to my iPod?
How do I update my calendar on my iPod?
How long does my iPod service warranty last?
How long is iPod complimentary telephone support?
Where do I find help for my iPod?
How do I clean iPod?
What iPod accessories can I purchase?
DVForge Releases Mounting Clips for iPod shuffle
PR: DVForge, Inc. has announced the April 6th shipping date of its new The Clips set of three different mounting clips for the iPod shuffle.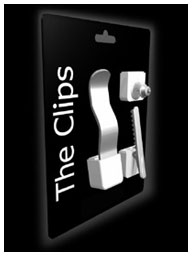 "The number one issue we have heard about from iPod shuffle owners is the frustrations involving using the string that Apple ships as the only way to secure the shuffle." said Jack Campbell, DVForge's President & CEO, "And, when we tried to decide what type of alternate clip we could produce that would be the most convenient for the most people, we ran into a problem: no one clip design was good enough to handle all situations. So, instead of choosing one, we have just built all three of our best designs, and have included them in one package."
The Clips is a set of three alternative carrying gadgets for the iPod shuffle music player. The set includes a belt clip, a gripper clip, and, a push pin clip. The new clips snap securely onto the USB plug end of the shuffle. All three clips are packaged together, and are made of durable white ABS plastic, stainless steel and galvanized steel to match the appearance of the iPod shuffle, and to be durable and reliable.
The Clips will begin shipping on April 6th at a MSRP of $14.99 and is available today for prepaid preorder from the DVForge website.
JamPod Guitar Amp Module for iPod
PR: DVForge, Inc. has announced the April 8th shipping date of its new JamPod plug-in guitar practice amp module for the iPod and iPod mini.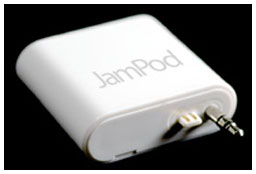 "We have talked with many of the millions of guitar and bass players who own iPods," said Chuck Leonard, DVForge's Executive Vice President, "And, a frequent request from these musicians has been to have a way to conveniently plug in their instrument, and play along with the music on their iPod or iPod mini. We have developed the JamPod as the perfect gadget for making that wish come true."
JamPod is a 1.6" x 1.6" x .5" gloss white module that plugs into the headphone jack and the remote port on top of any dock connector model iPod or iPod mini. The JamPod is powered by the iPod, so requires no batteries. Inside the JamPod is the same high quality miniature guitar amplifier circuitry used in our company's JamPlug product. There is a mixer circuit that is controlled by the top-mounted volume wheel to adjust the output level into the earbuds or headphones. A 48-inch white guitar cord is included for connecting a guitar or bass to the JamPod.
JamPod works with any electric guitar, electric bass, or other instrument that sends a guitar-level output signal through a 1/4-inch instrument jack. The product will begin shipping on April 8th at a MSRP of $29.99 and is available today for prepaid preorder from the DVForge website.
iPodder 2.0 Podcast Receiver
PR: "iPodder allows you to create your own custom online audio content from the thousands of audio sources on the Web. It helps you select and download shows and music and to play whenever you want on your iPod, portable digital media player, or your computer. It's all done automatically after you specify which music or shows you want."
"Want to listen to Internet audio programs but can't when they are scheduled? This program lets you create your own custom online audio anytime, anywhere. Really.
What is iPodder? If you want to listen to Internet audio programs (podcasts) but can't to when they are scheduled, this program is for you.
iPodder is the premier Podcasting application, allowing users to capture and listen to Internet audio programs anytime, anywhere.
It allows users to select and download shows and music and to play whenever they want on their iPods, portable digital media players, or computers automatically, after specifying which music or shows they want to listen to.
iPodder is freeware.
Customize Your iPod shuffle with a shuffletatu
NEWS: ipodlounge.com reports:
"The shuffletatu is a new product that "combines a durable, high-gloss Mylar covering with colorful designs to provide iPod shuffle owners with a non-permanent way to customize the look of the device, as well as protect it from scuffs and scratches." The initial release of shuffletatus will feature 33 different designs, including 12 national flags, an assortment of solid colors and stripes, and 10 shuffletatu designs from graphic designer Andres Conde of Digital Assault. The shuffletatus range in price from $2.49 to $3.49 each. Selected three packs and five packs are also available for $6.99 and $9.99, respectively."

Skittles.com's Star Wars iPod
NEWS: Engadget's Peter Rojas says:
"Can you believe that the official Star Wars-themed iPod skin that Skittles.com is giving away as part of their 'Hunt for Grievous' online game is even more hellaciously tacky than that flaming Star Wars Episode III iPod case that popped up a couple of weeks ago? The really sad part is that Skittles.com actually expects people to try and win these (dude, tribal font?). It could be worse - George Lucas could just decide to cash in with a little product placement and digitally insert this monstrosity into the original trilogy or something."
iPod Goes Wireless with icombi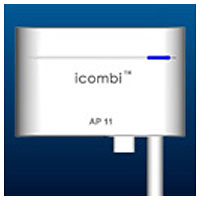 NEWS: www.t3.co.uk reports:
"Airlogic showcased its new icombi AP11 iPod accessory at the CeBIT 2005 show. This diddy Bluetooth transmitter measures less than 2-inches wide, clicking into the top of an iPod. It sucks its power from Apple's tunester, however no details have been revealed on how many minutes or hours of music playback it'll steal as a result. It beams high-fidelity digital stereo audio to wireless headphones and other Bluetooth-enabled kit."
Brush Your iPod for a Better Looking Back
NEWS: ExtremeiPod's Patrick Norton writes:
"Got an hour, a kitchen sponge with one of those green abrasive backs and some elbow grease? Then Australia's Adam Podnar has a permanent fix so the back of your iPod never shows fingerprints, tiny scratches or, as he puts it, 'the sweaty hand on the back of an expensive MP3 player look.' He says within and hour, you can give it a brushed finish. It looks cool, and Apple has promised him that it won't void your warranty."
iPod to Boost Apple's Desktop Share
NEWS: CNET News.com's Peter Judge reports:
"Apple Computer can look forward to gaining market share on the desktop as iPod users ditch their PCs in favor of Macs, according to a new survey.
"Analyst firm Morgan Stanley forecast Friday that the Mac, which currently makes up 3 three percent of all desktops, could win its way to 5 percent of desktop sales this year. This was based on a survey of 400 iPod users, 19 percent of whom expect to convert from PC to Macintosh. This conversion factor is double that previously expected by analysts.
"Statistics released by other analysts suggest the iPod may already be having a healthy effect on Apple's desktop business......."
iPod Deals
For current iPod prices from a variety of sources, see our Best iPod Deals.
Join us on Facebook, follow us on Twitter or Google+, or subscribe to our RSS news feed
Today's Links
Recent Content
Custom Search
Follow Low End Mac on Twitter
Join Low End Mac on Facebook
Favorite Sites
MacSurfer
Cult of Mac
Shrine of Apple
MacInTouch
MyAppleMenu
InfoMac
The Mac Observer
Accelerate Your Mac
RetroMacCast
The Vintage Mac Museum
Deal Brothers
DealMac
Mac2Sell
Mac Driver Museum
JAG's House
System 6 Heaven
System 7 Today
the pickle's Low-End Mac FAQ
Affiliates
Amazon.com
The iTunes Store
PC Connection Express
Macgo Blu-ray Player
Parallels Desktop for Mac
eBay

Advertise