'Ear Different', Rename Your iPod, iPod Case from Space, an iPod-Ready Chair, and More
Compiled by Charles Moore and edited by Dan Knight - 2005.03.31
PowerBook, iBook, iPod, and other portable computing is covered in The 'Book Review, and general Apple and Mac desktop news is covered in The Mac News Review.
News, Opinions, and Advice
New Products
News, Opinions, and Advice
Apple to iPod Users - "Ear Different"
NEWS: Macworld UK reports:
"Apple wants iPod In-Ear headphone users to ear different.
"A note on the company's technical support pages advises users to open up, their ear canals that is."
iPods Make the World Go Away
NEWS: Fortune's David Kirkpatrick says:
"While I've had my share of techno devices and toys (including an original iPod), it wasn't until someone gave me an iPod shuffle last week that I fully joined the new digitized masses. It's giving me new insight into how technology is changing our daily lives. What's different about the shuffle is that it's amazingly small and light. The player, which Apple describes as "about the size of a pack of gum," hangs from a little cord around your neck. Everywhere I go people stop me to ask what it is. And once I tell them that it's a music player, they marvel at its diminutive size.
"With the iPod shuffle, it's infinitely easier for me to live in a world of music. In the first five days that I've owned it, I've listened to about three times as much total music as I would have otherwise. I find that I take it off only when my eardrums start to ring. But most of the time, I barely realize that I'm using the shuffle.
"This is something the music industry seems not to have fully appreciated: We can now simply listen to more music. That's why downloading music has got to be an unalloyed good for the industry. The music companies probably have to figure out different pricing models, but there's no question in my mind that the industry's opportunities are growing, not diminishing, as people have easier access to music and listen to it more often."
Music and Video Downloading Moves Beyond P2P
NEWS: The Pew Internet & American Life Project reports:
"About 36 million Americans - or 27% of Internet users - say they download either music or video files and about half of them have found ways outside of traditional peer-to-peer networks or paid online services to swap their files, according to the most recent survey of the Pew Internet & American Life Project.
"The Project's national survey of 1,421 adult Internet users conducted between January 13 and February 9, 2005 shows that 19% of current music and video downloaders, or about 7 million adults, say they have downloaded files from someone else's iPod or MP3 player. About 28%, or 10 million people, say they get music and video files via email and instant messages. However, there is some overlap between these two groups; 9% of downloaders say they have used both of these sources. The survey has a margin of error of plus or minus 3 percent for results based on Internet users."
File Swappers Use iPods, Instant Messaging to Trade Tunes
NEWS: IDG News Service's Paul Roberts reports:
"Recording industry lawsuits against file swappers and P-to-P (peer-to-peer) software companies may be forcing Internet users onto informal networks to exchange songs and videos, according to a new study by the Pew Internet & American Life Project.
"A Pew survey of 1,421 U.S. adult Internet users found that informal file-sharing networks are used by 19 percent of music and video downloaders, with MP3 players, e-mail and IM (instant message) products popular mediums for transferring files between friends and family. The results of the survey suggest that legal action by the Recording Industry Association of America (RIAA) and others is shifting file swapping to other online avenues, even as file-sharing activity recovers from recent declines, Pew said."
How to Rename Your iPod
NEWS: An updated Apple Knowledge Base Article says:
There are two ways to rename your iPod.
In iTunes
Select the iPod in the Source list.
Click its name again. iPod's name is highlighted.
Type a new name.
Press Enter.
In the Mac OS X or Windows desktop
If you have enabled the iPod's disk mode, you can change the name of your iPod in the desktop (the Finder or My Computer) just like you would change the name of a hard disk.
Click the iPod icon on the desktop (Windows users click the iPod name). Mac OS X users, press Enter.
Type a new name.
Press Enter.
Using Your iPod as a Hard Disk
NEWS: An updated Apple Knowledge Base Article says:
"You can use your iPod as a hard disk to store and transfer data files on.
"Tip: To transfer music files to iPod, use iTunes. You can't see the songs iTunes copies to your iPod in the Finder or My Computer. If you copy music files to iPod using the Finder or an Explorer window, iPod won't be able to play them."
An Easier Way to Use the iPod shuffle in Disk Mode
NEWS: macosxhints.com says:
"Not sure if this is a 'hint' or a known feature, but I've found it very, very useful however. I want to use my Shuffle primarily to play music, and occasionally to transfer files (i.e. as a USB disk). I don't want to have to manually unmount the Shuffle each time I pull it out (which you have to do when enabled for disk use), nor do I want to continually have to check 'Enable disk use' when I want to transfer files. But it's easy to get the best of both worlds...."
iPod Camera Connector: Supported Devices
NEWS: A new Apple Knowledge Base article says:
"The iPod Camera Connector requires an iPod photo and a supported camera or media reader. Other iPods, including iPod mini, iPod (Click Wheel), and iPod shuffle, are not supported with the iPod Camera Connector.
"The iPod Camera Connector supports cameras with USB connectivity based on the following commonly used protocols:
PTP
Type 4 (or Normal)
Mass Storage
iPod Updater 2005-03-23
NEWS: iPod Updater 2005-03-23 includes new iPod Software 1.1 for iPod with color display. iPod Updater 2005-03-23 contains the same software versions as iPod Updater 2005-02-22 for all other iPod models.
System Requirements
Mac OS X 10.1.5 or later
Win2K, Win XP
New Products
The iPod Case from Space
PR: What do you do with a parachute from a space mission? Make a cool iPod case with a story.
Carry your iPod in a case featuring a piece of Soyuz space mission parachute - and with a certificate of authenticity signed by A. Kaleri, cosmonaut and flight engineer on the mission.
Everquest Design designs cool bags and accessories featuring pieces of adventure such as America's Cup sails, Mt. Everest Expedition tents, and Soyuz space mission parachutes. They also offer a Soyuz PowerBook bag to carry your gear in style.
PodGear Announces IceBox Protection for iPod mini and 20 GB iPod
PR: PodGear, an established UK brand of iPod accessories, today announced the launch of the IceBox for the iPod mini and iPod 20G.
The launch of the IceBox means that iPod users no longer have to risk scratching their beloved iPod for the sake of fashion. The crystal clear, super thin hard case enables iPod users to protect their iPod whilst still being able to show off it's iconic looks. The thoughtfully designed case features a lid that securely holds the iPod inside and gives it protection from every angle; it also features cutouts allowing easy access to all controls and ports.
Tom Dudderidge, managing director, Disruptive Technology Channels, commented: "Many iPod users choose not to use protective cases to avoid hiding their iPod's great looks. The IceBox allows those good looks to be clearly visible whilst offering an even greater degree of protection when compared to most other protective fascias; not only this, but as it is ultra thin, increased bulkiness is not an issue."
IceBox Mini - Crystal clear protective hard case for iPod mini allowing the mini's great looks to be shown off. The IceBox mini comes complete with belt clip and lanyard to make it easier for people to listen to their iPod on the move. IceBox mini allows full access to dock connector, headphone socket and remote output.
IceBox 20G - Exact specifications as above except for iPod 20G.
IceBox 20 - £19.99 inc VAT
IceBox mini- £19.99 inc VAT
The PodGear IceBox is available now and can be purchased at all PodGear online retailers and resellers. For a list of these, visit the PodGear website.
Mad Catz iKit
PR: The Mad Catz iKit is the perfect solution to compliment your iPod experience. The horizontal carry case with convenient belt clip and secure Velcro™ closure will enhance your iPod's portability. With its velvet like interior and elastic sides, the carrying case offers superior protection and style for 15, 20 & 40 gig iPods.
High performance RCA cable connects your iPod to your home stereo. The car adapter with 6 feet extension cable connects your iPod to your car's power source allowing continuous power on the go.
Features:
Car Adapter
6' extension cable
Use with car outlet or cigarette lighter
LED indicator
Sleek iPod look and feel
RCA Cable
High performance RCA cable
Connect your iPod to your stereo
Gold plated jacks for increased performance
Horizontal Case
Form fitted design
Velcro closure
Use with 15, 20, and 40 GB iPods
Secure belt clip
iKit for iPod mini
PR: The Mad Catz iKit for mini is the perfect solution to compliment your mini iPod experience. The elegant horizontal carry case with convenient belt clip and secure Velcro™ closure will enhance your mini iPod's portability. The coated exterior is stain proof and with its velvet like interior, the carrying case offers superior protection and style for the mini iPod.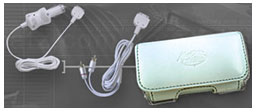 High performance RCA cable connects your iPod to your home stereo. The car adapter with 6 feet extension cable connects your iPod to your car's power source allowing continuous power on the go.
Features:
Car Adapter
6' extension cable
Use with car outlet or cigarette lighter
LED indicator
Colored tips matching your iPod
Sleek iPod look and feel
Horizontal Case:
Form fitted design
Velcro closure
Stitching matches your iPod color
Secure belt clip
RCA Cable:
High performance RCA cable
Connect your iPod to your stereo
Gold plated jacks for increased performance
FM Transmitter Adds More Features to All-in-One iPod Accessory
PR: Tekkeon gas announced myPower™ FM, a mobile FM transmitter for iPods that adds an FM transmitter feature to the company's myPower for iPod rechargeable battery/portable dock. myPower FM simply snaps on to myPower for iPod to provide an even more complete solution in one sleek package: a 32 hour battery, portable dock, and FM transmitter - all in one!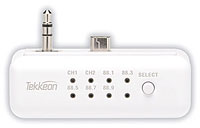 This tiny new module snaps on to myPower for iPod to let iPod users play iPod music on any FM radio. myPower FM is powered by myPower for iPod, so it doesn't drain the iPod battery. In fact, while myPower FM is on, myPower for iPod powers iPod rather than using the iPod battery at all.
To use myPower FM, iPod users simply press the one-touch channel tuner to choose from seven FM frequencies (87.7, 87.9, 88.1, 88.3, 88.5, 88.7, 88.9). When the same channel is selected on an FM radio or stereo within 15 feet of myPower FM, the music on the iPod can be played on the stereo via the wireless interface. LEDs on the front of myPower provide a visual indication of the selected channel.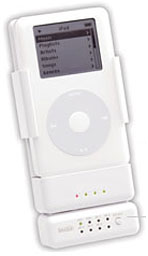 "With myPower FM, we wanted to ensure that the transmission to the FM stereo provided clear, high-quality sound," says Jerry Yang, Tekkeon's president. "That's why we designed myPower FM with a phase-lock loop transmission system and FM stereo modulation. Because these two elements combine to minimize interference, the result is optimal transmission from myPower FM.
myPower for iPod is a combination rechargeable battery and portable dock in a sleek case that complements the look of the iPod.
The lightweight, all-in-one device provides 4th generation (4G) iPod and iPod photo users with an extra 32 hours of extended play time, 3G iPod users with up to 20 additional hours, and iPod mini users with up to 42 (6 GB) or 28 (4 GB) additional hours. This sleek device also includes a high-speed FireWire port and a USB 2.0 port for synching, a line out port for connection of iPod to a stereo or external speakers, and a 5V charging output that lets users simultaneously charge a mobile phone, or any device that requires up to 5V, while powering iPod.
myPower FM and myPower for iPod are compatible with all iPods with dock connectors including iPod, iPod photo, iPod mini, and iPod for HP. myPower meets the requirements of FCC Part 15C.
The MSRP for myPower FM is $34.95.
myPower FM, which comes with a user guide and a one-year limited warranty, will be available in April in retail and on-line stores, including the Tekkeon store.
Ivy Ergonomic Chair Reveals iPod Feature
PR: The Ivy ergonomic office chair has a standard zippered pocket for storing your Apple iPod. The IVY is also the most environmentally friendly ergonomic office chair available and has earned ISO 14001:2004 certifications with 99% of the content being recyclable. Also 71% of the IVY chair is manufactured from recycled content, which is the highest in the industry. Additionally, with the use of the recycled poly fabric, the recycled content increases to well over 80%.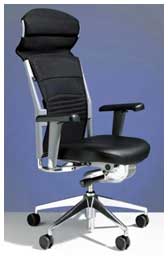 Rudd Seating pioneered the first generation of fully active ergonomic computer chairs almost 25 years ago with the Rudd Cyborg ergonomic chair. They now offer you the latest technological advances in ergonomic seating with their new IVY ergonomic computer chair.
Rudd has incorporated TechnoGel in the seat, which is an innovative material developed in Europe for the Healthcare industry by BAYER AG. The Rudd IVY with TechnoGel seat adapts to your anatomy in a three a dimensional way. It increases the bearing surface and achieves a balanced distribution of your body's weight thus optimizing the blood circulation and reducing the pressure points by 60%.
The Rudd IVY office chair also has a breathable mesh upholstery on the back to keep you cool. It takes an innovative ergonomic computer chair manufacturer like Rudd to make things gel! You can also add a coat hanger to the outside back.
No matter what upholstery color you select, the Rudd IVY desk chair will always be green - environmentally speaking.
ErgonomicHome.com is a leading Internet retailer specializing in advanced ergonomic products for office and home use. They have been awarded a Yahoo Store 5-star rating for excellent customer service.
El iPodo 1.1.2 Utility for iPod Browsing
PR: El iPodo is a small utility to let you browse your Apple's iPod and copy files to your hard disk.
The author writes: "Don't forget that this program as been created for "my own" needs, so don't complain if it don't have features of others shareware/freeware, but you can still send me your suggestions and maybe I will add them ;)"
Tested on iPod 1G, 2G, 3G, 4G, mini, and shuffle iPod.
New in this version: (CHG) Coding changes (preparing for next version)
System requirements:
El iPodo is freeware.
PodGuide Generator 0.0.8
PR: PodGuide Generator is a little app that allows you to fill in your PodGuide data (PodGuide name, track info, track pictures) and it then generates a PodGuide - a spoken tour guide - for you. Just add the MP3 files, zip it, and submit it to PodGuides.net.
New in this version:
Added the possibility of including longitude and latitude GPS coordinates.
Adjusted the template HTML file so that long PodGuides still display properly as a HTML.
System requirements: OS X 10.2 or higher
PodGuide Generator is freeware.
LoadPod Launches the LoadPod Affiliate Program
PR: LoadPod officially launched its Affiliate Program this week. Designed for publishers of iPod-related and music-related blogs and websites, the LoadPod Affiliate Program allows publishers to earn additional revenue simply by pasting affiliate code into their site and letting their readers do the rest.
Become a member of the LoadPod Affiliate Program today and earn a commission on all LoadPod services purchased by customers you refer to the LoadPod website. Place a LoadPod banner or text link on your site, and any purchase of LoadPod services resulting from a click-through will earn you a five percent commission. This applies to any customer who clicks through from your website to LoadPod.com, and then purchases our services at any time during the thirty days that follow. You can log in at any time in order to track your sales and accumulated commissions.
Sign up for the LoadPod Affiliate Program today and begin making money.
Nikkipod.com Unveils New iPod shuffle Cases
PR: ipodlounge.com's Larry Angell reports:
"Nikkipod.com has announced the availability of its handmade designer cases for the iPod shuffle. The cases are made of water-resistant vinyl and come in seven different materials, including textured gator, ostrich and snakeskin varieties in an assortment of colors. The cases are lanyard compatible, and feature a Velcro™ closure and built-in belt strap."
Capdase Intros iPod Armband, Remote Skin
"Capdase has introduced a new iPod armband and a silicone protector for Apple's iPod Remote."
iPod Deals
For current iPod prices from a variety of sources, see our Best iPod Deals.
Join us on Facebook, follow us on Twitter or Google+, or subscribe to our RSS news feed
Today's Links
Mac of the Day: MacBook Core Duo, introduced 2006.05.16. The iBook's replacement has a 13" widescreen display and a 1.83-2.0 GHz Intel Core Duo CPU.
Recent Content
Custom Search
Follow Low End Mac on Twitter
Join Low End Mac on Facebook
Favorite Sites
MacSurfer
Cult of Mac
Shrine of Apple
MacInTouch
MyAppleMenu
InfoMac
The Mac Observer
Accelerate Your Mac
RetroMacCast
The Vintage Mac Museum
Deal Brothers
DealMac
Mac2Sell
Mac Driver Museum
JAG's House
System 6 Heaven
System 7 Today
the pickle's Low-End Mac FAQ
Affiliates
Amazon.com
The iTunes Store
PC Connection Express
Macgo Blu-ray Player
Parallels Desktop for Mac
eBay

Advertise