iPodding in Your Car, HP Adds iPod photo, Mercedes of Headphones, PodQuest Driving Directions, and More
Compiled by Charles Moore and edited by Dan Knight - 2005.04.22
This Week's iPod News
PowerBook, iBook, iPod, and other portable computing is covered in The 'Book Review, and general Apple and Mac desktop news is covered in The Mac News Review.
News and Comment
Tips
Reviews
New Products
News and Comment
iPodding Everywhere: Music in the Car
m4music's Mike Hales reports:
"American cars are getting more digital music friendly and that's direct from the manufacturers. Never mind some of the brilliant work going on integrating Mac Minis, iPods and goodness what other pieces of hardware from some customisers. The latest is Swedish automaker Volvo, who said on Thursday 17 March that it will promote native Scandinavian musicians through a monthly playlist of songs from Scandinavian artists on Apple's iTunes Music Store. Beginning on March 23, the "nu: the sounds of new Scandinavia" promotion will include a Times Square launch event live concert featuring performances by Sahara Hotnights and The Ark, in addition to iTunes gift certificates tied to Volvo test drives and direct mail to Volvo owners. Volvo is offering a branded iPod connectivity kit for its entire line of 2005 model year vehicles.
"Mercedes has now joined the iPod-friendly car family....
"Mini Cooper is the latest to embrace the iPod, integrating player controls into new model steering wheels. Mini Cooper is owned by BMW, which helped to pioneer the concept with its "iPod Your BMW" campaign."
iPod Integrated into Mini Cooper
"The scene has yet another dream team - MINI, the nimble performer and fun machine from England and Apple's iPod, a sound machine at its best and a pocket digital music player holding up to 10,000 iTunes.
"Having already caused quite a stir in their own particular markets, the two have now teamed up to provide the greatest reality show ever experienced. After all, a 40 GB iPod weighing a mere 175.7 grams, placed inside the glove compartment, is definitely preferable to 39.5 kilos of CDs scattered on the rear seat.
"The MINI's steering wheel does the job of the Click Wheel on the iPod - thanks to the new interface, songs can be selected using buttons on the multifunction steering wheel."
iPods of the Rich and Famous
Mac 360's Tera Patricks says:
"A sharp-eyed reader blew the whistle on a media and web tactic that's gaining prominence these days. Competition bashing. Apple does it to Microsoft. Redmond copies Apple. Literally.
"The latest example comes from the web site WindowsMedia and the WindowsMedia section. About mid-way through the web page you'll see a close up of an Apple iPod.
"The headline below the iPod graphic says 'Piracy Crackdown' followed by 'Taking the offenders to court.'
"What's that look like to you? iPod users are thieves? People are using iPods to steal?"
When iPod Goes Collegiate
The Christian Science Monitor's Elizabeth Armstrong Moore says:
"When Kenneth Rogerson walked into his newspaper journalism class on the first day of the school year, the professor could barely contain his excitement.
"After a quick introduction he broke the big news: 'We got the grant,' he told his class. 'You all get iPods.'....
"The iPod's debut in college classrooms seems to be provoking an odd mix of euphoria and bafflement.
"There are many - faculty and students alike - who rave about the iPod's potential. But there are also a considerable number who scratch their heads and say that the excitement over use of the device in classrooms reminds them of the fable of the emperor's new (and nonexistent) clothes."
HP Introduces iPod photo Models
vnunet.com's Tom Sanders reports:
"HP has expanded its range of own-brand Apple iPod digital music players with the addition of two iPod photo models.
"Available with 30 GB and a 60 GB storage capacities, the devices feature a colour screen and mirror Apple's pricing at $349 and $449 respectively.
"The HP branded iPod was introduced in August last year. The models accounted for seven per cent of overall iPod sales in the fiscal quarter ending 31 December, according to data from Apple.
"Although the vendors sell the same hardware, HP offers a 12-month warranty versus 90 days from Apple...."
shuffle Makes a Splash
PCPro's Simon Aughton says:
"The iPod shuffle claimed 43 per cent of the worldwide flash player market in February, Apple said yesterday, quoting figures from NPD Techworld.
"Its success has boosted Apple's share of the market for all portable music players to around 70 per cent; over 90 per cent of all hard drive players sold are iPods."
BBC Radio Podcasts 20 More Shows
The BBC is making 20 more radio shows available for listeners to download onto their digital music players.
"People will be able to download shows, such as technology programme Go Digital and some Radio 1 audio, in a trial.
"The move extends the BBC's successful trial of the Radio Five Fighting Talk and Radio 4 In Our Time podcasts.
"Podcasts are essentially radio shows on demand. Listeners subscribe for free to a show, the latest of which is then sent automatically to music players."
The U2 iPod Bomb
"I was hoping the U2 iPod would be gone at this point. (Actually, I was hoping it would be gone by Christmas.) I'd bet U2 and Apple were thinking the same thing. But the last time I dropped by the Apple Temple, there was a pile of iU2Pods just sitting there. Sorry Apple, sorry U2, but this black and red and dead all over iPod would have been the most brilliant idea if it weren't also world class bad marketing.
"The pitch was great. Let's have a special iPod which isn't white. Let's follow the Stones lead and paint it black and associate it with the modern answer to the Rolling Stones: U2. Won't it be cool? A U2 iPod, with their undershaven faces on the box, signatures on the back, we'll make a limited number of them, release 'em before Christmas and alongside a new U2 disc - this is gonna rock!!!
"So why aren't we riding your wild horses Apple? Why is the U2 iPod running to stand still in an Apple retail store near you? Could it be that legions of U2 fans still haven't found what they're looking for? (Need another? Okay, but you asked for it!) Why are you stuck with so many of these angels of Harlem?
"5 WAYS TO DISMANTLE THIS U2 IPOD BOMB...."
iPod Goodness and Apple Idiocy
"I finally got my paws on an iPod, but not without running afoul of the idiocy of Apple's sales and marketing people. I find it interesting that Apple paid to get most department store catalogues to pimp their products when they refused to deliver said products to the stores in time for the catalogue run.
"The monkeys at Next Byte were their usual mindless selves and no help whatsoever. A run around town resulted in the same thing. Finally, a ring around of stores resulted in yet the same story. No iPods. No idea when they'll arrive. Apple won't part with information.
"There was the distinct feeling that Apple are not making themselves any friends with their retailers, several were more than happy to give tell me their woes. After having to tell customers that they don't have stock of the advertised product and have no idea when they will, I don't blame them."
Tips
iPod Car Audio Direct Connect
Bombay Digital's Trygve Isaacson says
"There are a couple of well-know ways to adapt an iPod or other portable music player to a car stereo without permanently hardwiring it in: the most common are an FM transmitter such as the Griffin iTrip or Monster iCarPlay or iRock, and cassette adapters made by Sony and Radio Shack. (The Monster iCar Play is nicer than the other FM transmitters because it provides power and charges the iPod.) But if you have a multi-disc CD changer in the car, you may be able to get a direct audio connection from the iPod to the stereo with very little effort and no permanent alteration to the car. The fidelity will be better than is possible via FM or a cassette adapter. Here's how I did it."
Use Your iPod to Help You Make the Switch
A new Apple Knowledge Base Article says:
"If you're ready to switch from PC to Mac, say hello to your new best friend: your iPod. You already know iPod as a fantastic music player. Did you know it also does double duty as an external hard drive that can help you transfer all your important files from your PC to your new Mac? Read on to learn more."
Which iPod Do I Have? Guide to iPod Differences
"With the popularity of the iPod, Apple has created a number of different kinds of iPods as well as different generations of iPods. While this is great for Apple, it can cause a significant amount of confusion for the consumer who is interested in buying accessories for their iPod.
"Fortunately, iPods can be lumped into a few major categories. iPod Accessory manufacturers classify their accessories based on which iPod categories they are compatible with.
"Here they are, just match your iPod up...."
How to Troubleshoot "Can't Lock iPod" Error Message
A new Apple Knowledge Base Article says:
"When you update or restore your iPod, you may see an alert that says:
"Can't lock iPod. Please check if any other applications are using iPod and try again." If you see this message, try any of the following troubleshooting steps to resolve the issue...."
Spot the Difference: iPod vs. hPod
"It has been a turbulent few months since the announcement of a partnership between HP and Apple, with the HP-branded iPods emerging shortly before the new colour display models were announced. Dubbed the 'Apple iPod from HP', sales were limited (presumably even the catchy title didn't stop people buying direct from Apple), then the iPod photo appeared anyway. Now, however, HP has announced two new iPod models, equipped with the high resolution colour display and available in 30 GB and 60 GB.
"That sounds great - bet you can't wait to get your hands on the new HP device (nicknamed the hPod), but what difference is there between it and the Apple iPod photo? Um, well, here it is...."
Short Delay for iPod Calendars to Appear
An updated Apple Knowledge Base Article says:
"Sometimes a calendar event may not immediately appear on your iPod screen when you select Extras > Calendars. This delay occurs when iPod is still loading calendars. This can happen with any iPod model (including iPod, iPod photo, and iPod mini) that has the Calendar feature, and can occur after you've synced iCal calendars to your iPod with iSync, or manually copied this information to your iPod.
"You may experience a short delay after you first copy or sync a large number of contacts and calendar events, or after you reset iPod. When iPod first loads a large number of contacts, it displays a progress indicator before displaying the contacts. However, iPod does not display a progress indicator when it loads a large number of calendar items. Instead, just wait about 10 seconds and then try to view your calendars again."
Unwritten Rules for New iPod Users
Blogger Mark Sahm says:
"I've had an iPod since November 2002, and it's been amazing to me how they've multiplied in the time since. Back when I got it, I rarely saw other people with them... at the time, I suppose it was still too advanced for general consumption. There wasn't even an iTunes Music Store yet.
"But times change, and like cell phones or PDA's before them, I now see the iPod in the hands of people everywhere when I walk the streets of Manhattan, or on the train. But like their technogadget predecessors, new users often are missing some unwritten rules of public iPod usage. So, here's a few tips...."
iPod photo: How to Add Music to Your Photo Albums in iPhoto 5
A new Apple Knowledge Base Article says:
"In iPhoto 5, you can associate a specific song or playlist in your music library with an iPhoto photo album. That music will then also be associated with the photo album on iPod photo once you sync it. Here's how to do this."
Transfer from iPod Using the 'Find' Command
A macosxhints.com contributor says:
"I have seen quite a few applications, etc. that transfer music from your iPod to your Mac. Rather use an application, I have found the following find command to do the same thing. There are two prerequisites you need. Both are defaults so you should have to do nothing...."
Reviews
iPod shuffle Reviewed
PowerPage's Jason D O'Grady says:
"When it was originally announced I panned the iPod shuffle's ugly design, which I still stand by today, but I have to admit to having a sweet spot in my heart for the shuffle despite its flaws.
"While far from perfect, the iPod shuffle is a great MP3 player for the gym and exercising - times when you don't want to lug around a portable hard drive on your belt. There's no question that its light weight is the shuffle's best attribute, you can bring it almost anywhere and you won't even know it's there. The sound kicks butt and is just as loud as my full-size iPod. It's sometimes hard to believe that such volume comes from such a tiny device."
iPod shuffle Doesn't Disappoint
The California Aggie's Tom Richards says:
"When a company achieves absolute success, arrogance can follow - and arrogance has a tendency destroy the successes that led to it. It was Nintendo's arrogance that led to the rise Sony's Playstation, Apple's arrogance brought upon its dismal computing market share, and Sony's arrogance allowed Apple to storm the world with its iPod line of music players.
"This time around, Apple does not seem to be making the mistakes one can usually expect of a company dominating the market like it currently does - perhaps they learned from last time. Apple is not sitting back and patting itself on the back, or treating business partners with the open disdain usually seen from a company in charge of a market....
"Apple continues to focus on the best way to design a product rather than trying to emulate and mildly improve upon what everyone else is doing. This approach has created the iPod Shuffle - a device that many wrote off as soon as it was announced due to its lack of similarity with products released by other companies."
Mercedes of iPod Headphones
Forbes' Arik Hesseldahl reports:
"As an early iPod customer, I was one the first of what a weekly alternative newspaper dubbed the 'iSnobs.' That is, people who arrogantly feel they can glide through each day without having to endure the grating sounds of daily life. They're easy to spot, the paper said, by the white wires dangling from their ears.
"Indeed I'm thankful - and maybe a little arrogant - for the tiny sound bubble Apple Computer's miraculous little music box provides every time some panhandler or would-be preacher decides to give an unwanted speech on my subway car. But like many iPod owners, I've upgraded from the tinny-sounding, uncomfortable headphones that come standard with the iPod for a set from Shure, of Niles, Ill."
Belkin iPod Digital Camera Link Review
The Register's Stuart Miles reports:
"You're a digital photographer, you're out in the field and you've just filled up your CompactFlash, SD card or whatever storage format you happen to be using. That's it, you can't take any more pictures unless you delete some first.
"The Belkin Digital Camera Link hopes to get you out of this bind by allowing you to transfer the pictures you've taken over to your iPod, with its 20-60 GB of storage capacity, freeing up the space on the digital camera."
Skin Tight Case for iPod Shuffle Reviewed
PowerPage's Jason D O'Grady reports:
"Speck Products Skin Tight iPod shuffle I'm the kind of person that likes to keep my electronics in pristine condition so I usually become a little obsessed with cases. I slap a case on everything, my phone, iPod and camera. Although the iPod shuffle barely needs any protection (it's so light that dropping it does little damage) it's still a good idea to protect it from the wear and tear of everyday use.
"That's where the Skin Tight case for the iPod shuffle from Speck Products comes in...."
Tekkeon: iPod Add-ons for Your iPod Add-ons
Surf-Bits' timv reports:
"If you find yourself needing a big battery boost for your iPod, check out an older article I did on the Tekkeon myPower battery pack for the iPod. My wife loves the myPower because it gives her weeks between charges and the added size profile is not a big problem for her....
"Tekkeon has the answer for her. myPower FM simply snaps on to myPower for iPod. Once myPower FM is connected, just tune to any of the seven pre-set channels to listen to music from iPod directly on your FM radio or stereo. This leaves the top of your iPod clear."
New Products
PodQuest 1.4 Downloads Driving Directions to Your iPod
PR: PodQuest is an application for Mac OS X that allows you to download driving directions to your iPod.
Once you have downloaded your driving directions to your iPod, you can conveniently access the driving direction any time of the day, thanks to the backlighted display on your iPod.
The current version of PodQuest supports driving directions from MapQuest and MapBlast.
New in this version: Added support for Google maps.
System requirements:
Mac OS X 10.2.8 or later
Safari 1.0 or later
iPod setup for "Disk usage".
PodQuest supports all model of iPods, except, for obvious reasons, the iPod Shuffle.
PodQuest is $9.95 shareware.
Three New DVForge iPod Products Now Shipping
PR: DVForge, Inc. has announced that three of its recently announced new products, The Clips, JamPod, and JamPlug FM are now in stock and are shipping from inventory.
The Clips is the most affordable option to the lanyard shipped with Apple's iPod shuffle, and provides three completely different clip-on mounts, for $14.99. JamPod plugs into the top of any dock connector style iPod or iPod mini, lets you play an electric guitar or bass guitar along with the songs on your iPod, and is $29.99. The JamPlug FM is an FM transmitter for electric guitar or bass players that plugs into the instrument, and lets you use any FM stereo radio as an impromptu amplifier... even your car stereo system. JamPlug FM sells for $49.99.
The Clips, JamPod, and JamPlug FM are all shipping from inventory starting today. Each is available from the DVForge website.
New Power Support iPod Accessories
PR: Hot from Japan!
• Silicone Jacket set for iPod shuffle
The Power Support Silicone Jacket for the Shuffle is the newest in the line of iPod cases.
• The "Kimono" Case
This beautifully designed iPod case is constructed of fine leather and cotton fabric. The refined attention to detail is noted not just in the selection of the unique fabric but in the operational ease of use.
• 3D Wheel Film
3D Wheel Film provides complete protection including the center button. This is accomplished without compromising the sensitivity or function of the click wheel.
• Crystal Jackets
Crystal Jackets for the 20 GB and 40 GB for immediate shipping. This great see-through Crystal Jacket protects the iPod from scratches and abrasions without hiding the sleek streamlined design of the player.
• Wheel Protection
Check out the colorful iPod wheel film- these were designed by contestants in a design competition in Japan. Each package contains 5 designs. Protect your iPod, gain extra traction and be unique. $11 - including domestic shipping. Also available clear wheel film for 4th generation iPod in packs of 2 $10 - including domestic shipping.
• Screen Film
Exclusive screen film in packages of 2 - it fits all iPods and protects the screen without added bulk. $11 - including domestic shipping.
4G Silicone Jackets
The response on this item has been tremendous in Japan and here in the States.
Incase Pouch, Wallet, and Journal Fashion Cases
iPodLounge's Jeremy Horwitz reports:
"Having released a number of popular leather and fabric iPod cases, Incase now is offering several new seasonal collections of fashion cases with youth-oriented two- or three-color patterns. These cases employ body designs that range from familiar to novel: the company's earlier Sleeves are now being called Pouches ($39.95-45.00), and are joined by Wallets ($60-75) and Journals ($75-90), each discussed in turn below.
"As is our tradition with fashion cases designed for the iPod, iPodLounge looks at the construction and protectiveness of each of these options, but doesn't rate them on fashion or value for the dollar. You'll either like how they look, or not, and be willing or unwilling to pay the prices asked."
iPod shuffle 'Wrappers' Available
iPodLounge's Larry Angell reports:
"imageWrappers are embroidered slip-on covers for the iPod shuffle that provide surface protection and easy access to the player's controls and ports. They're available in more than 40 different designs with prices starting at £8.00."
Marware MetroVue iPod mini case
differentdistrict.com reports:
"After the success of the TrailVue, Marware has come out with another, similar case. This case is the MetroVue. It is similar in construction, made out of a thinner nylon, and is slightly less sturdy than the TrailVue. The case comes in a three pack, with the option of the 'guys or girls pack.' The guys packs are gray or black with yellow, red, or blue stripes. The girls pack has gray or black with purple, light pink, or blue."
Portable Line-out/FireWire Adapter for Dockable iPods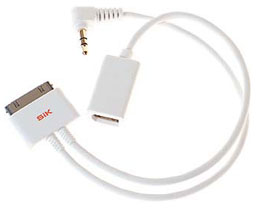 PR: Portable line-out and FireWire adapter for iPod and iPod mini. Line level audio output provided via right angle stereo mini plug. Perfect for connecting to portable headphone amplifiers or other equipment with line level input.
Features:
6-pin FireWire port (female) on 7-inch cable
line level audio output on 7-inch cable
gold plated right angle 1/8-inch [3.5mm] stereo plug
works with iPod, iPod photo, and iPod mini
Price: $21.95
Line Level Audio Plus Charging in Your Car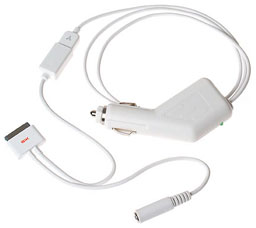 PR: imp provides unadulterated line level audio output and charging when used with iPod photo (5G), iPod with Click Wheel (4G), iPod with Dock Connector (3G) or iPod mini. imp's line level audio output functions whether or not power is supplied for those occasions when you would rather power a device other than iPod from your vehicle's cigarette lighter socket. A standard 6-pin FireWire connector is included for owners of previous generation iPods (with FireWire port on top.)
Features:
line level audio output (3.5mm stereo jack)* indicator LED diode protection
replaceable fuse
works with any iPod
(*) requires iPod with Dock Connector, iPod with Click Wheel or iPod mini
Price: $29.95
PocketDock with Line Out
PR: The new PocketDock with Line Out lets you connect the iPod's docking port to a standard 6-pin FireWire cable.
The original PocketDock made FireWire connections simple. But connecting your iPod to an external amplifier or stereo system still meant either carrying the bulky Dock, or compromising on sound quality by using the iPod's headphone jack. The new PocketDock with Line Out offers an industry-standard 3.5 mm (1/8") stereo jack (right next to the FireWire port) that connects directly to the iPod's line level circuitry - just like Apple's Dock, but in a tiny, easy-to-carry package.
The PocketDock Line Out Pack includes two 6 ft. ultralight and ultra-compact white audio cables: One with 3.5 mm (1/8") stereo plugs on both ends, one with stereo RCA and 3.5 mm plugs. They are slim enough to fit into the palm of your hand and come with detachable Velcro™ straps for convenient storage and cable management.
The PocketDock Line Out Pack costs $29.95
iPod Deals
For current iPod prices from a variety of sources, see our Best iPod Deals.
Join us on Facebook, follow us on Twitter or Google+, or subscribe to our RSS news feed
Today's Links
Mac of the Day: Unitron Mac512, introduced 1985. Unauthorized Brazilian clone of the Mac 512K.
Recent Content
Custom Search
Follow Low End Mac on Twitter
Join Low End Mac on Facebook
Favorite Sites
MacSurfer
Cult of Mac
Shrine of Apple
MacInTouch
MyAppleMenu
InfoMac
The Mac Observer
Accelerate Your Mac
RetroMacCast
The Vintage Mac Museum
Deal Brothers
DealMac
Mac2Sell
Mac Driver Museum
JAG's House
System 6 Heaven
System 7 Today
the pickle's Low-End Mac FAQ
Affiliates
Amazon.com
The iTunes Store
PC Connection Express
Macgo Blu-ray Player
Parallels Desktop for Mac
eBay

Advertise