iPod + Washing Machine = Disaster, Possible UK iPod Tax, Xbox 360 May be iPod Compatible, and More
Compiled by Charles Moore and edited by Dan Knight - 2005.05.20
This Week's iPod News
PowerBook, iBook, iPod, and other portable computing is covered in The 'Book Review, and general Apple and Mac desktop news is covered in The Mac News Review.
News and Comment
Tips
Products and Services
News and Comment
Bad Idea: iPod in Washing Machine
"Go figure, eh? An Australian teen left his iPod in the clothing hamper and it ended up in the wash. Not surprisingly, it did not function when it came out. In an apparent attempt to fix the unit, the boy tried to pry it open with a screwdriver, at which point the iPod exploded ('or more of a pop'), leaving a burn mark on the cover and emitting fumes. The boy was treated by paramedics for minor breathing difficulties after ingestng the fumes."
UK Threatened with iPod Tax
"Members of the UK music business are said to have given support to an iPod tax - a copyright levy that would be added to the price of every MP3 player sold, based on the assumption that some music on the device has not been paid for....
"The revenue gained from the levy would be passed on to music authors and rights holders.
"Some criticise the move, suggesting that this means music purchased legally is being bought twice. There is also a suggestion that by adding the tax to MP3 players, the music industry would be monetizing P2P trading and legitimizing the piracy."
iPod to Connect with Xbox 360?
BetaNews's Nate Mook reports:
"Microsoft may be battling the iPod on the digital music front, but on the gaming side Redmond has embraced its Apple rival. The Xbox 360 will enable users to connect a portable music player, including an iPod, to the system and browse or play back music through the console's interface while watching 50 visualizations."
Xbox 360 Could Be Compatible with Apple's iPod
Goldman Sachs said Microsoft hinted that its upcoming Xbox 360 gaming console may be able to connect with competitor products such as the PSP from Sony and the iPod from Apple Computer. Goldman said, 'Microsoft also emphasized that networking and multiplayer interactive capability of Xbox 360, offering a free base layer version of [online gaming] Xbox Live (Silver version) free of charge to all Xbox 360 users.'"
Second iPod Manufacturer Up and Running
Apple blog's Ina Fried reports:
"While Taiwanese contract manufacturers Inventec continues to crank out the bulk of all of Apple's hard drive-based iPods, a second company has joined the fray.
"Confirmation came this week via chipmaker PortalPlayer's quarterly filing with the Securities and Exchange Commission. In the document, the company notes that it is now shipping chips to a second, unnamed manufacturer that is building products for Apple."
Small California Company Aims Big with iPod Add-on
"Macintosh product maker Sonnet Technologies Inc. has kept the faith with Apple Computer Inc. through good times and bad.
"With the iPod now taking Apple's profits into the stratosphere, the 50-employee firm is hoping to hitch a ride to the big time.
"After serving the Macintosh community by offering processor upgrade products for nearly two decades, the Irvine, Calif.-based company aims to carve out a niche in the consumer electronics market.
"Sonnet's new pursuit started last year when it added a new product, PodFreq, to its lineup. PodFreq, which transmits FM frequencies, is an add-on device for the hugely popular iPod digital music player."
Tips
50 Fun Things to Do with Your iPod
"In the four years since its introduction, the iPod has proven to be a versatile little device. Despite a relatively closed architecture, hackers have found their way in. Content creators and software makers put information at your fingertips when you're on the go. Would-be designers have added to the fashionable stylings of the now-ubiquitous white ear buds. Hardware makers and enthusiasts have augmented the iPod with new add-on gadgets. Here are a few dozen things you can do with your iPod besides listen to music."
How to Determine if You Have an Apple or HP iPod
A new Apple Knowledge Base Article says:
'Learn how to determine if you have an Apple iPod + HP sold by Hewlett-Packard (HP). HP began selling a version of iPod in September, 2004.
Note: HP, not Apple, provides support and service for Hewlett-Packard iPods.
You have an Apple iPod + HP if it has an HP logo on the back...."
-36 error when Syncing iPod in iTunes
An updated Apple Knowledge Base article says:
"When you sync your iPod with iTunes, iTunes may display an error message that reads, 'An unknown error has occurred (-36).' This can happen with any iPod.
"-36 errors can occur anytime iTunes can't write information to the iPod. Here are some things that can cause this."
Reviews
Products and Services
PodUtil 2.6 Music Copier and Playlist Rebuilder
PR: PodUtil is an easy-to-use utility for viewing the songs on your iPod and copying them in a customisable organised manner to your computer, and will automatically add them to iTunes and rebuild your playlists if you wish.
PodUtil is compatible with Mac OS 9.x, Mac OS X, Windows 2000 and Windows XP.
Scanning
Once your iPod has been scanned by PodUtil (takes ~5-10 seconds) all your music will be presented to you in an easy-to-navigate list. Want to preview a song? Just double-click it and it'll play immediately, allowing you to scrub through the song to find out if it's really the song you want.
On the left of the main window, you'll see a list of all the playlists on your iPod. You can use this to just copy a specific playlist, or just view your music exactly as you like it. Want more information on a song? Just select it and choose "Get Info..." from the file menu, and it's all there.
Copying
Once you have browsed your music collection, PodUtil will copy it to your hard drive, organising it as it goes. In basic mode, you can organise by Artist, Album, both, or not at all. In advanced mode, you can organise your music by anything at all, and you can rename your music files in the process, based on song ID tags. Say goodbye to cryptic file names.
New in version 2.5, PodUtil can add your files back to iTunes and even rebuild all your playlists. This is all automatic, and works on Windows and Mac versions of iTunes as long as you have iTunes 4.5 or higher installed!
Graphical Feedback
Copying several gigabytes of music takes quite a while on any computer, and PodUtil gives you visual feedback on how it's doing. When a copy operation begins the main music list shows you all the music that will be copied, as well a small icon telling you the status of each song. Below this list, a progress area details how many songs will be copied and how many have already been done.
On Mac OS X, a progress bar appears in PodUtil's dock icon, so you can tell how it's doing whithout even interrupting your work flow.
Windows
PodUtil works just as well on Windows as it does on the Mac. However, for song previews to work you'll have to download the free Quicktime. Don't be fooled by all the Mac screenshots here - we just made this page on a Mac. PodUtil for Windows works just the same as the Mac version, and the interface is almost identical. Just greyer.
Due to the similarities of the Mac and PC versions, all documentation on PodUtil covers both Mac and PC versions. If you see a Mac screenshot, you can be sure that the PC counterpart will be the same.
New in this version:
New Features
Should PodUtil ever crash, a bug reporter kicks in and allows you to report what was happening and can *sometimes* recover from the problem.
There is now a "Mark All" button in the errors window that allows you to easily mark any songs that failed to copy.
You can now pause/resume copies. This allows you to disconnect an iPod halfway through copying for charging, etc.
If your iPod is disconnected, runs out of battery power or otherwise disappears, PodUtil will now display a window and wait until you reconnect it rather than quitting straight away. While it is waiting, you have the option to quit. Doesn't work while copying is in progress, but does when it is paused.
PodUtil now saves text typed into the Copy Settings window.
[Mac] You can now copy individual songs to your computer by dragging from PodUtil's music list to a Finder window/desktop.
When encountering duplicate songs when copying, the box asking what PodUtil should do now has a "Remember Choice" checkbox, which will prevent the box from appearing again.
Added iPod Shuffle to iPod Type menu in prefs.
Bug Fixes/Improvements
The duplicate songs dialog is no longer extremely long and thin on Windows.
When an error is encountered, PodUtil no longer marks all subsequent songs as errors as well.
Fixed copy errors caused by songs with whitespace at the end of their Title/Artist/Album tags.
Fixed copy errors due to certain characters in file names.
Improvements to the registration process.
Improved "Check for Updates" window.
Interface improvements.
[Mac] Confirmed compatibility with Mac OS X 10.4 (Tiger).
[Windows] iPod auto-detect now works properly, and the "iPod location" preference has been removed.
System requirements:
Mac OS X 10.1 or higher
iPod
PodUtil is £10 shareware.
iPod.iTunes Now Compatible with Tiger
PR: Unlike other iPod copy tools, iPod.iTunes checks which iPod tracks or playlists are not in the iTunes music library and only adds those seamlessly into the iTunes library. iPod.iTunes can also transfer song rating, date played and play count.
iPod.iTunes can be used to
Keep music and playlists on different Macs up to date
Do a full restore of tracks and playlists - i.e. after a hard disk failure
Revert accident deletion of tracks and/or playlists, if these are still on your iPod
Clone an iPod
Transfer an entire music library from one Mac to another via the iPod
Tracks and playlist entries can be synchronized together or separately. If the tracks on the iPod are already in the iTunes library and you only want the iPod playlists, you can use the playlist synchronization alone.
For every track synchronization iPod.iTunes creates a date&time stamped iTunes playlist containing the tracks which were transferred. This gives the option to easily add those tracks to existing playlists or to create new playlists from the transferred tracks.
New in this version: Compatibility for Mac OS 10.4.1 "Tiger".
Requirements
iPod.iTunes 2.8.3 supports:
Mac OS 10.2 up to 10.4.1
iTunes 3.0.1 up to 4.8
Mac/PC-formatted iPod with firmware 1.0 up to 4.1. Does currently not work with the iPod shuffle.
iPod2iTunes 1.8.1 supports:
Mac OS 10.1.2 up to 10.1.5
iTunes 2.0.4 up to 3.0.1
Mac-formatted iPod with firmware 1.0 up to 1.2.2. Does not work with the iPod shuffle.
iPod.iTunes is shareware.
iDiddy: Wearable, Tangle Free iPod Now Realized
PR: Pacific Rim Marketing has announced a new line of iDiddys, the marriage of fashion and technology combined into the first integrated earbud, lanyard (iLanyard), and leather case combination for the complete Apple iPod product line.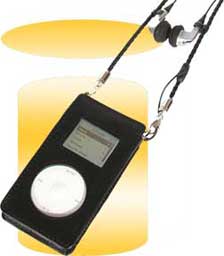 In development and user testing for over five months, the iDiddy is a "Wearable and Tangle Free" integrated iLanyard and leather case combination for the complete range of Appleís currently shipping iPod product line. They are in production and scheduled to ship to customers the end of May. The iDiddys are available in three colors, Onyx, Mocha and Snow.
These new and unique products are the first of their kind to be offered for Apple's complete and currently shipping iPod product line, including the Shuffle, iPod mini, iPod 20 gigabyte, the new iPod photo 30 gigabyte and the Apple iPod from H.P.. These products represent the state of the art in lanyard technology, completely integrating the earbuds into a synthetic leather iLanyard. When not in use, each individual earbud slides into a clip on the iLanyard to prevent tangles. In addition the iLanyard is adjustable to accommodate the differences in height of each individual wearer.
The earbuds that are integrated into the adjustable neck lanyard are quality products that are sold on an OEM basis to a number of "brand name" companies that offer earbuds with their well know MP3 and CD player, and cell phone products as well as in "branded" standalone aftermarket packaging.
The cases that attach to the iLanyard are dyed leather calfskin, sewn, hand finished and produced to exacting standards that you would expect from a quality leather accessory company. The hardware accessories that attach the case to the iLanyard are made of rhodium or gold plated jewelry grade brass that have each been designed and molded to perfectly match the attachment roll on the leather cases. The lightweight one touch clip that is used to lengthen or shorten the lanyard length is constructed of molded APS, and is plated with either Rhodium or 16K gold coordinated to the iLanyard.
Equally fashionable on Bourbon Street or Wall Street, the iDiddy has is designed to be worn with t-shirts or business suits. For those times when you would like to "hide" your iPod, the iLanyard is long enough to allow you to place your iPod in your shirt or jacket pocket, without having to remove the earbuds from your ears.
iDiddys are priced as follows:
Shuffle: U.S.$ 49.95
iPod mini: U.S.$ 59.95
iPod 20 Gig and iPod photo: U.S.$ 69.95
3G iPod 20 Gig U.S.$ 69.95
PodFreq Black Desgined for iPod U2 Special Edition
PR: Cut the wires - Sonnet's PodFreq wirelessly broadcasts your iPod's tunes to any nearby FM radio. Find a frequency on the FM dial with no stations, select the same frequency on PodFreq, and play your music - it's that simple. How does it sound? Superb. PodFreq's advanced audio design ensures superior music quality.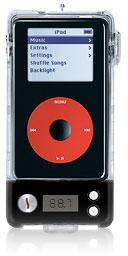 Operating the PodFreq could not be easier. There's no need to plug in cables, no software to install - just turn on your iPod and PodFreq, extend the antenna, and you're ready to Freq! Once you've tuned your radio and PodFreq to the same frequency, press play on your iPod and crank up the volume on your radio - share your music library without passing around the earbuds!
PodFreq's sound quality is a cut above the rest. Its smooth, extended frequency response and high signal to noise are achieved through the use of premium quality components designed specifically for FM music transmission. While other manufacturers' products are designed around parts made for wireless microphones, PodFreq is designed to be the best sounding FM transmitter available.
PodFreq requires no batteries and uses a very small amount of power from your iPod. Its durable latching case (with built-in swiveling stand) protects your iPod while leaving its controls accessible.
Antenna - Telescoping, 8.6" (21.8 cm) when fully extended
Power Requirements - No batteries or power cables; powered by the iPod
Frequency Modulation - 88.3 to 107.7 MHz
Tuning Type - Digital tuning, tunes in 0.1 MHz steps, last station recall
Stereo Separation - Greater than 40dB
Auto Level Control - Built-in to prevent sound distortion
Signal-to-Noise Ratio - Greater than 45dB (Stereo) 15 kHz LPF
Modulation Distortion - Less than 0.5%
Transmitter Range - 10-35 feet (30-10.7 m), depending on FM receiver/antenna
Frequency Response - 50 Hz to 15 kHz
Ports - 6-Pin FireWire and mini-USB 2.0
Dimension - 2.87"x5.46"x1.35" (7.3 x 13.9 x 3.4 cm)
Warranty - 1-year limited warranty -
What's Included
PodFreq Premium FM transmitter
Built-in dock substitute (FireWire/mini-USB 2.0 ports)
Soft Carrying Pouch
Car Charger - Works with any standard +12V cigarette lighter/auxillary power socket; plugs into PodFreq's FireWire® port to charge the iPod.
User's Guide
Digital Display
PodFreq's digital display is visible at a glance, so you don't have to fumble around in menus trying to find which frequency you've selected. With a few simple click of the frequency buttons you can select an optimal frequency in increments from 88.3 to 107.7 MHz.
PortsDock Substitute
Since PodFreq connects to your iPod through the dock connector, we decided to add FireWire and mini-USB 2.0 ports to PodFreq's case - you can charge and sync your iPod right inside it. No messing around with additional cables or docks. Everything is self-contained. Sync and transfer music and files and/or charge your iPod without removing it from PodFreq (FireWire or mini-USB 2.0 cable required, sold separately).
Accessible Jacks
PodFreq doesn't connect to the headphone jack, so we made the headphone jack accessible - you can plug in for private listening at any time. PodFreq will also continue broadcasting to a selected FM frequency for those looking to hear your tunes.
MSRP: $99.95
Wireless Remote and Cradle Bundle
PR: The wireless remote and cradle bundle is a great addition to your home stereo.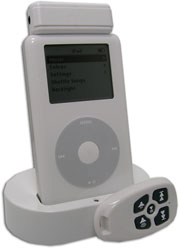 iCradle for iPod is an innovative cradle that allows Mini iPod, 3G ipod (10, 15 and 20 gig) and 4G (20gig) to dock and to transfer data seamlessly. The cradle has a USB 2.0 connection, E1394 Firewire connection and an audio jack on the back of the cradle.
The docking station is an convenient way to make syncing and charging your iPod or iPod mini easier than ever.
Simply set your iPod or iPod mini on the docking station and connect it to your home theater or system or for privacy use your headphones. You can now showcase your iPod at your party without ever worrying about connecting to your speakers.
Supports all iPods and iPod minis with docking connection (except 30GB & 40GB versions).
Free USB 2.0 cable included AND Firewire
Unit charges and Syncs all iPod minis through USB and Firewire
Cradle charges and syncs all compatible iPods through Firewire. Cradle Syncs all compatible iPods through USB
Main Features of the Wireless Remote
150+ ft RF Control Range
Signal travels around corners and through walls
Water Resistant Remote
User Friendly Design
Lifetime Warranty on Remote!
5 Button / 9 Function Remote
Receiver
Universal Audio Cable for Home Stereo Hook Up
Belt Clip for Remote
Remote Functions
Volume up / Volume down
Fast Forward / Fast reverse
Advance / Previous track
Play / Pause / Sleep
Additional Remote features
Lithium Batteries (seven year life span)
Recessed Remote Buttons to avoid accidental triggering when in pocket
FCC Approved
iPod photo
4th Generation iPod with Click Wheel
3rd Generation iPod with touch wheel and buttons
Add a Cube Travel Speaker to your bundle for $34.99 (regular $39.99).
Take Your iPod Underwater
BetaNews' Ed Oswald reports:
"On Tuesday H2O Audio announced the first commercially available waterproof case for full-size iPods. The company says the product is completely submersible - meaning surfers, water skiers and swimmers can listen to their iPod, even underwater. The case comes with specially designed earphones that are waterproof as well."
XtremeMac Airplay for iPod Shuffle Now Shipping
PR: XtremeMac has announced that its new Airplay FM transmitter for iPod shuffle is now shipping to retailers, distributors and customers who placed advance orders.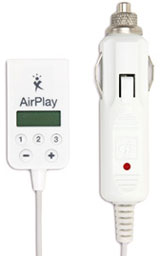 "Airplay has been very well received since its launch in January, so we are excited to extend the success and popularity of Airplay to iPod shuffle users," said Gary Bart, President and CEO of XtremeMac. "We believe Airplay will play a big role in the success of this new line of accessories for iPod shuffle users and will enhance the user experience for them."
Airplay is the headliner of XtremeMac's new line of accessories for iPod shuffle. During the past 30 days, XtremeMac has released a total of 12 new products designed specifically for iPod shuffle.
XtremeMac iPod shuffle accessories include:
AirPlay FM Transmitter: Play iPod shuffle through any car's FM stereo while charging it through the car's auxiliary power adapter. The AirPlay FM Transmitter for iPod shuffle retails for $49.95 U.S.
Car Charger: Connect iPod shuffle to the auxiliary power adapter in any car to charge it while on the go. The Car Charger for iPod shuffle retails for $24.95 U.S.
Bumperz: Protect iPod shuffle with a silicone band available in 15 vibrant colors. Packs of five Bumperz for iPod shuffle retail for $19.95 U.S.
SportWrap: Prevent moisture damage and secure iPod shuffle when getting active with this neoprene armband available in four sporty colors. SportWrap for iPod shuffle retails for $29.95 U.S.
Shieldz: Protect the face of iPod shuffle with a splash of color in nine vivid shades of translucent plastic. Packs of three Shieldz for iPod shuffle retail for $19.95 U.S.
TuffWrapz: Provide iPod shuffle with durable protection against scratches and nicks with a thickened silicone sleeve in nine blazing colors. Packs of three TuffWrapz for iPod shuffle retail for $24.95 U.S. each.
SuperHook: Hook iPod shuffle to almost anything including backpack straps, belt loops, key chains, and purse straps with a durable aluminum carabineer. SuperHook for iPod shuffle retails for $19.95 U.S.
SuperClip: Clip iPod shuffle to almost any strap or belt with a sleek white plastic clip. SuperClip for iPod shuffle retails for $14.95 U.S.
Audio Splitter: Convert iPod shuffle's single earbud connection to a double connection, allowing two people to listen to the same iPod shuffle. Audio Splitter for iPod shuffle retails for $12.95 U.S.
Audio Kit: Connect iPod shuffle to a car stereo, home stereo, cassette deck, computer speakers or auxiliary input jack, and charge the iPod shuffle with the components included in this kit. Audio Kit for iPod shuffle retails for $49.95 U.S.
Home Stereo Cable: Connect any iPod to standard home stereo RCA connectors for the highest fidelity sound reproduction with this ultra-compact cable. Home Stereo Cable retails for $12.95 U.S.
Auxiliary Audio Cable: Connect any iPod directly to computer or portable speakers, or a car stereo's auxiliary input jack for the highest fidelity sound reproduction with this ultra-compact cable. Auxiliary Audio Cable retails for $12.95 U.S.
PodMail 2.0.5 Sends Email to Your iPod
PR: Have all your recent emails in your pocket, wherever you go. PodMail supports .mac, IMAP, and local POP boxes. These emails are accessible from an index created in the 'Notes' section of the iPod with date and size information.
New in this version:
Tiger compatible.
Increased stability.
This version does not work in Panther.
System requirements:
Mac OS X 10.4
iPod Software 2.0 or higher
PodMail is freeware.
iPod Deals
For current iPod prices from a variety of sources, see our Best iPod Deals.
Join us on Facebook, follow us on Twitter or Google+, or subscribe to our RSS news feed
Today's Links
Mac of the Day: Mac Pro, introduced 2006.08.07. The last Mac to go Intel, the Mac Pro has two dual-core Xeon CPUs at 2.0-3.0 GHz. 8-core option added in 2007.
Recent Content
Custom Search
Follow Low End Mac on Twitter
Join Low End Mac on Facebook
Favorite Sites
MacSurfer
Cult of Mac
Shrine of Apple
MacInTouch
MyAppleMenu
InfoMac
The Mac Observer
Accelerate Your Mac
RetroMacCast
The Vintage Mac Museum
Deal Brothers
DealMac
Mac2Sell
Mac Driver Museum
JAG's House
System 6 Heaven
System 7 Today
the pickle's Low-End Mac FAQ
Affiliates
Amazon.com
The iTunes Store
PC Connection Express
Macgo Blu-ray Player
Parallels Desktop for Mac
eBay

Advertise