No Truly Free iPod, WinAmp Plugin Supports iPod, TuneStage Links iPod to Stereo, Wooden iPod Cases, and More
Compiled by Charles Moore and edited by Dan Knight - 2005.05.27
This Week's iPod News
PowerBook, iBook, iPod, and other portable computing is covered in The 'Book Review, and general Apple and Mac desktop news is covered in The Mac News Review.
News and Comment
Tips
Products and Services
News and Comment
Free iPod No Free Lunch
Bankrate.com's Larry Getlen says:
"Free product solicitations on the Internet are as pervasive as porn spam. The question is whether they're believable.
"Surprisingly, some offers are not rip-offs, and can land you a slew of free stuff. Unsurprisingly, others are just as dubious as they sound. As with anything else, the general rule is that buyers should beware, and that 'free' is never as free as you think.
"Still, there are sites out there offering free merchandise that actually deliver what they promise. If you have patience, perseverance and some willing friends, you can eventually load up on cool tech goodies including iPods, digital cameras and flat-screen TVs."
iPod the 'Only Device That Matters'
Macworld UK reports:
"Predicting that subscription-style services will have a long battle ahead as they try and win market from Apple, Jupiter Research analyst David Card said: 'There's only one device that matters, and you can't use it with Yahoo's music service.'"
WinAmp Plug-In Sets iPod Free
Wired's Katie Dean reports:
"iPod users are raving about a plug-in that makes the WinAmp digital jukebox a better way to manage the iPod than Apple's iTunes.
"The plug-in, called ml_iPod, allows iPod users to bypass iTunes and manage music collections in WinAmp instead. The iPod is supposed to work with iTunes only. A new version of the software was released Monday."
2006 Scion tC Offers iPod Connection
MacNN reports:
Toyota's Scion car division has announced its retail prices (MSRP) for the 2006 Scion tC, its top-rated sports coupe (in its segment in initial quality) and new iPod-integration option on all models. Due at Scion dealerships next week, The 2006 Scion sports coupe comes with additional interior standard equipment as well as a new audio upgrade. All tCs will now have a new three-spoke steering wheel with integrated audio controls and a redesigned Pioneer AM/FM/CD audio head unit as well as an optional iPod compatible audio upgrade from Pioneer that integrates the iPod with the car's sound system, including music navigation, power and display."
High School Graduates Get Free iPod Gear
Florida Today's Erika Pesantes reports:
"In a spiritual and spacious setting, 34 Merritt Island Christian School graduates, clad in navy blue gowns, filled the first four pews of the First Baptist Church of Merritt Island Friday night.
"The Rev. Byron Cutrer gave students practical advice and assured them they'd remember their commencement day always.
"Each student received a free 'iPod,' a pocket-sized digital jukebox.
"Cutrer defined 'iPod' as an acronym for 'individuality,' 'passion,' helping 'others' and a lifetime of 'doing.'"
iPods, Anthropologists, and Accretion Disks
typepad.com's tingilinde says:
"Walk into an AppleStore these days and you see a crowd of teenagers hanging around the iPod section foraging through iPod accessories. A bit of observation on the street shows the younger crowd is expressing themselves through their iPod belts, holders, modified jeans and jackets, armbands and headphones. During a recent walk through Chelsea in Manhattan I saw any number of exotic iPod holders and a store that offered products that would work with leather and chains to very distinctive holders for runners.
"I mentioned this to an anthropologist who works as a trend spotter. She said the iPod has become powerful enough that the accretion disk (she knows I have a physics background - I have no idea if anthropologists talk about accretion disks) of related products has become large. The trend setters are still using iPods, in fact more so than last year, but the player is not the center of their statement. They are making their statements through accessories and they can be creative or buy someone else's creativity. In many cases some of these things have become objects of lust (Prada cases, $250 custom milled stainless steel holsters, etc. . . . even the lowly Shuffle has accessories that cost more than it does)."
iPod Lights the Way for IT
ZD Net UK reports:
"General purpose computing is starting to get a bad name in IT circles as complexity gives way to dreams of Blackberrys and iPods
"What do the iPod and the BlackBerry have in common? Each has managed to succeed where general purpose handheld PCs have failed, even though there is nothing they can do - in theory at least - that a general purpose device cannot.
"General purpose handheld PCs can pick up your email. They can play music too. But after the excitement began in the late 90s with the promise of a handheld computing device that can organise your life, deliver your email and even play your funeral dirge, sales have lately been tailing off.
"Not so with BlackBerrys and iPods. What we are seeing here is the start of a move away from general purpose devices crammed with every conceivable application and towards devices that do one job supremely well."
The Next Round of iPod Accessories
Macsimum News reports:
"Now that so many vendors have added products for iPods of all varieties, we thought that it might be a good opportunity to have a fresh look at the best of the old and bring in the new with a roundup of some of the great products to dress up, protect and enhance your shuffle, photo, U2 or audio iPod.
"Saying that there is something for every taste, style, preference or need is an understatement when you consider the range of designs out there. Ultraconservative to ultra-freaky, if you want to personalize your iPod by adding some kind of protection to your peripheral, now is the time. Given the huge variety of products, we'll simply highlight a few notable items (for better or worse. If you aren't sure if it is for your model or style of iPod, each company has several offerings and it may only take a few moments to navigate around their web site to find what you want.
"Clearly, there are many more products available than those listed here. This is just a look at some of what caught our attention in the pursuit of the one (or more) perfect accessories for your iPod that combine interesting form and function."
DVForge Cancels PodBuddy Due to Threat from DLO
PR: DVForge, Inc. announces that it is not going to be able to launch and sell the previously announced PodBuddy product, because of a disagreement with DLO (Digital Lifestyle Outfitters) over a patent that they hold.
The CEO of DVForge, Inc., Jack Campbell, provided the following statement.
"We have been informed by DLO that they consider our PodBuddy to be an infringement of their company's U.S. patent #6,591,085, and, that they will file suit against us, if we launch the PodBuddy."
"We disagree with DLO's claim, and, we believe that our PodBuddy is so utterly different from their company's TransPod product that there can be no question of infringement. But, we are not able to fund the sort of protracted legal battle that would be required to prove our point in court. So, we are forced to kill the PodBuddy."
"I want to let the many thousands of customers who have contacted us since January about wanting a PodBuddy that I have asked Jeff Grady, the owner at DLO to produce the product for you. And, I have offered him all of our development work, prototypes, production tooling, intellectual property releases, several purchase orders we have here from national buyers, and, our entire list of email inquiries from folks like you. Our price to Jeff?... only the $23,000 we have invested in just the hard injection mold tooling. His answer?... No way. He is not interested."
"My statement to Jeff was that the PodBuddy would likely sell about five times as many units as his TransPod. And, that, if we can't build it, then he should build it. After all, he's the one using a patent to keep a better, more desirable competitive product off the market. It seems to make sense to just let the guy have it, if he's so scared of the PodBuddy walloping his TransPod in the marketplace. I would rather do that than have thousands of our customers disappointed, and, see such a terrific product just die."
"I suggest that anyone who thinks that the PodBuddy should be produced to contact Jeff Grady at DLO at their company email address at customerservice@everythingipod.com and express your opinion on this situation."
"At this stage, the only way that the PodBuddy will see the light of day, is if Jeff Grady chooses to manufacture the product. I cannot afford to fight his patent claims. And, it's obvious that he won't listen to me. Maybe he will listen to you."
Tips
44 Fun Things To Do with Your iPod
Lawtech Guru's Jeff Beard says:
"There's no question when it comes to portable music players: There are iPods, and then there are all others. In my humble opinion, no single line, not even the famed Sony Walkmans, have created an entire accessory economy coming even close to that still growing with iPod users. Just peruse iPodLounge's considerable listings and reviews if you need any convincing. The funny thing is that iPods aren't even the most fully featured devices, despite their good looks and nice interfaces. Like where's the built-in FM receiver? Naturally, this leads us to exploring additional ways to get what we want from them.
"So you have an iPod? Even if you've tried podcasting, whether just listening or even broadcasting, you've just scratched the surface. If you really want to push the envelope, check out "50 Fun Things To Do With Your iPod" (it's only 44, actually). The list ranges from the conventional (FM transmitters) to the highly creative, such as making a RAID array from Shuffles, or using your iPod as a universal remote via a clever sound-to-IR converter."
iPod shuffle Battery Tips
An updated Apple Knowledge Base Article says:
"If you're looking to get the most out of your iPod shuffle battery, here are some tips that can help optimize performance with each charge.
Update your software
Make sure that you have the latest iPod shuffle Software.
Turn iPod shuffle off
When you're not using iPod shuffle, turn it off instead of pausing. This will keep iPod shuffle from accidentally waking from sleep and playing songs if its buttons are pressed while in a pocket or bag.
Use iPod at room temperature
The battery works best when you use iPod shuffle at room temperature, generally around 68° F (20° C), but you can use iPod shuffle at temperatures anywhere between 32° to 95° F (0° to 35° C). If you've left iPod shuffle out in the cold, let it warm up to room temperature before waking it from sleep or turning it on. Otherwise, a low-battery indicator may appear when you check battery status, and the device won't wake from sleep until it warms up.
Charging
iPod shuffle fast-charges the battery to 80-percent capacity in 2 hours. However, it can take 4 hours to fully recharge the battery.
iPod: About Compatible Song Formats
An updated Apple Knowledge Base Article says:
Learn the different song formats (codecs) and sample rates that work with iPod.
Compatible codecs
iPod can play songs encoded with these codecs:
MP3 (from 32 Kbps to 320 Kbps)
MP3 Variable Bit Rate (VBR)
AIFF *
WAV (with no compression)
The following require iPod software 1.3 or later:

M4A AAC *
M4P AAC (Protected) *
M4B AAC (iTunes Music Store Spoken Word files) *

The following require iPod software 2.2 or later or iPod mini 1.1 or later:
* Requires iTunes 4 or iTunes 4 for Windows. AAC files also require the most recent update to the iPod software.
Compatible sample rates
iPod can play songs with the these sample rates, and with all compatible codecs:
8 KHz
11.025 KHz
16 KHz
22.050 KHz
32 KHz
44.1 KHz
Audible Spoken Word files
iPod Software 1.2 and later can play Audible spoken word files in formats 2, 3, and 4. These files have the filename extension, ".aa".
iTunes 4 and iTunes 4 for Windows work with Audible spoken word files.
iPod shuffle: Compatible Audio Formats
An updated Apple Knowledge Base Article says:
"iPod shuffle can support a variety of audio formats. Here's a list of compatible and incompatible formats.
"Compatible audio formats (codecs)
AAC (M4A, M4B, and M4P up to 320 Kbps)
MP3 (up to 320 Kbps)
MP3 Variable Bit Rate (VBR)
WAV
AA (Audible spoken word, formats 2, 3, and 4)
"A song encoded in AAC or MP3 format has near CD-quality sound, but takes up much less space than a song encoded in AIFF or WAV format. When you import music from a CD using iTunes, songs are converted to AAC format by default.
"Using iTunes for Windows, you can convert non-protected WMA files to AAC or MP3 format. This can be useful if you have a library of music encoded in WMA format."
Some Songs in Your iTunes Library Aren't Copied to Your iPod
An updated Apple Knowledge Base Article says:
If you have your iPod configured to be updated manually, there are several possible reasons you might not be able drag some songs from your iTunes library to your iPod:
Software needs to be updated
Download the latest version of the iPod Updater and then update the iPod.
After the update is complete, download and install the latest version of iTunes.
iPod can't play the type of file
If you're not sure what file types iPod can play, click here.
Song file can't be found
Double-click the song in your library and show iTunes where it is.
Song not authorized to play on your computer
Double-click the song in your library and enter your account name and password.
Too many accounts
There is already music from five other iTunes Music Store accounts on the iPod.
If your iPod is configured to be updated by iTunes automatically, songs may fail to be sent to the iPod for any of the reasons listed above. The latest version of iTunes explains most of the reasons why some song files aren't sent to the iPod when your iPod is updated automatically.
How to Manually Put iPod in Disk Mode
A new Apple Knowledge Base Article says:
"When troubleshooting an issue with your iPod, it's sometimes helpful to manually put it into Disk Mode. If you're not sure which iPod model you have, click here. After manually placing an iPod into Disk Mode, you will have to reset iPod in order to return it to its normal operating state."
Products and Services
TuneStage Connects iPod to Stereo via Bluetooth
Playlist's Peter Cohen reports:
"Belkin Corp.'s new TuneStage for iPod connects an Apple iPod to your stereo or home entertainment system wirelessly through Bluetooth. Coming in late July, 2005, the US$179.99 TuneStage consists of a Bluetooth transmitter that attaches to any iPod with a dock connector.
PodFreq mini Combine Most Popular Accessories in Sleek Package
PR: Sonnet Technologies has introduced PodFreq mini, the premium FM transmitter, integrated dock and protective case for iPod mini. PodFreq mini broadcasts tunes to any nearby car, home, or portable FM radio. It improves upon all the features and functionality of the original PodFreq, Macworld Magazine's 2004 Best iPod Accessory Eddy Award winner, and delivers them in a sleek, compact case. With the included car charger, car cradle, USB 2.0 cable and soft carrying pouch, buying PodFreq mini is the best way to get all the most popular iPod mini accessories in one package.

Designed for the audio enthusiast, PodFreq mini connects to iPod mini through its dock connector to take advantage of the consistent-level, line-out signal, and then feeds the audio through high-quality stereo broadcast components to produce noticeably better sound. With no software required, users can quickly tune and broadcast to any clear station between 88.1 and 107.9 MHz using up and down tuning buttons and the built-in, backlit display. Additionally, the telescoping antenna transmits a clear signal for a longer distance.
To create a dock, PodFreq mini includes a flip stand and integrates FireWire® and mini-USB 2.0 ports. Users can connect to their computer to sync and transfer files, and even charge their iPod mini without needing to remove it from PodFreq mini. The top half of PodFreq mini protects the display, leaving accessible the click wheel, hold switch, and headphone jack. Like the original PodFreq, the mini version requires no batteries, drawing a minute amount of power from iPod mini - it even turns on and off automatically. In the car, PodFreq mini can be conveniently located by attaching the included cradle to any car mount system. Just plug in the car charger and drive away.
"Sonnet engineers strived to create an elegant design that complements iPod mini's smart look," states Robert Farnsworth, Sonnet CEO. "When you see PodFreq mini, I believe you'll agree they succeeded." In addition to creating a product with great design and superior sound quality, Sonnet created more value for the iPod mini owner. "As its popularity has grown, the number of accessories bundled with iPod mini has been reduced," states Steve Garceau, Sonnet Product Manager. "To fully utilize iPod mini, enthusiasts are purchasing a case, dock, FM transmitter, car charger, and car cradle, which combined are fairly expensive - PodFreq mini changes all that - in one sleek package you get it all."
PodFreq mini is compatible with all iPod mini models.
PodFreq mini (Part number FMT-IPOD-MINI) will be available in July 2005 with a retail price of USD $99.95.
iPod Cases Made Using Old Hot Tub, Bike Parts
tuaw.com's Laurie Duncan reports: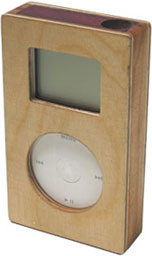 Check out these William Gibson-inspired designs by Peter Kinne. The Music Box iPod case is made from wood that's been recycled from old hot tubs and tables, and stainless steel from salvaged bikes. You can buy one for $40 + shipping, which is a pretty good deal, if you ask me. He also custom designs PowerBook cases, such as this PowerBook G4 built from oak, maple, and brass wooden laptop case [via Boing Boing].
Wooden iPod Cases
Gizmodo reports:
"This appeared up last week by we were too busy tearing up our hardwood floors and building our own wooden iPod case to post it. Our own, homebrew version looks like an orange crate with an iPod in it, but these are much better.
"Peter Kinne design makes wooden iPod and laptop cases out of discarded wood and polishes them up all purdy. Just don't start scrolling wheeling willy nilly, however. You'll get splinters."
Aluminium Clipwear for Shuffle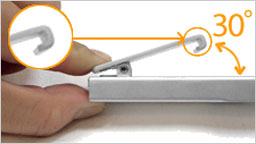 PR: Aluminium Clipwear for Shuffle is a beautiful, durable, and lightweight holder for iPod shuffle. Aluminium Clipwear for Shuffle also provides maximum protection for your iPod shuffle. It is a work of art, each carved out from a solid block of aluminum by computer programmed and guided drill, and laser etched with the Tunewear logo.
Aluminium Clipwear is simply elegant and rugged and provides protection for the iPod shuffle. It is so coooool you have to see it to believe it.
The clip opens up to a 30° angle, and can hug belts, pants, and bags. The hook on the end of the clip makes sure it does not slip off.
iPodBackup Backs Up Your Home Folder to Your iPod for Free
PR: iPodBackup is a shell-script-turned-application (via Platypus) that backs up your home folder to your iPod using the open source backup utility called rsync. You can back up to a plain folder to an encrypted disk image or a regular disk image.
You can also customize a list of items to be excluded. By default, the Music folder, as well as certain cache folders, are skipped in order to prevent duplicating your music and because caches are a kind of stupid thing to back up.
A note for first-time users: The first backup takes quite a while, especially if you use an encrypted disk image! If you think there's something wrong, open the log and see if progress is being made.
New in this version:
Now gives option to revert to the old rsync in the event of failure due to bugs in Tiger's rsync
Revamped preference handling system
Fixed bug in "manual_os_version" setting
Fixed mixed up buttons in compaction setting dialog
New in 1.5:
Confirmed to work on Tiger
Uses the system-supplied rsync on Tiger. This should fix the exploding log problem, and provide support for Tiger's metadata and ACLs.
Now offers a choice when multiple iPods are found, with an option to always prefer one particular iPod
Disk images now Journaled by default
Ownership is now automatically enabled on the destination volume
No longer forces you to redo the entire settings wizard when backing up to a new iPod
Better qualified for OS X 10.2
Slight speed improvements, code tweaks
Built with Platypus 3.1
Slick new icon by Kenichi Yoshida
System requirements: Mac OS X 10.2 or higher
iPodBackup is freeware.
PlayPod: Powerful, Easy to Use Mac Podcast Client
PR: PlayPod is a new Cocoa RSS-podcast client for browsing, listening, and downloading podcasts (the audio equivalent of blogs). It integrates with iTunes and .Mac accounts and offers basic RSS news feeds support. Podcasts are like TiVo for your iPod. The revolution is coming and use PlayPod to get on board. Download it and check it out!
Some Major Features:
Scheduled downloads
Feed Groups
Backup/Restore to .Mac
Integrated Directory
iTunes Integration
Convert files to bookmarkable AAC format
New in this version:
Improved parsing of some feeds
Improved refreshing of iTunes playlist on launch
Improved genre setting in iTunes
System requirements: Mac OS X 10.3 or higher
PlayPod is $16.99 shareware.
iBar 1.0: Bartending Tool for iPod
PR: iBar turns your iPod into the ultimate bartending tool. Bring your iPod anywhere you will be mixing a drink and impress with your bartending savvy! From mastering essential mixing techniques, to stocking your own bar, to learning the history of alcohols, to mixing over a thousand classic and contemporary drinks. iBar will surely make you the talk of the party or give you the knowledge to mix drinks professionally. From learning the history of Gin, to mixing an Alabama Slammer, to saying cheers in German ("Prost!"), iBar is as fun as it is entertaining.
The perfect drink
Each drink recipe comes with ingredients, instructions for mixing, proper garnishing and advice on which glass to use. Many drinks even come with a fun audio feature, where you can listen to anecdotes about the origin of the cocktail as well as instructions on how to mix it.
Organized
You can find drinks in a many ways. We have chosen our 450 favorite drinks and organized them by main ingredient, as well as by other fun categories such as "Ladies Night" for sweeter drinks, "Designated Driver" for nonalcoholic drinks or "Old School" for the classic standbys. And you can find drinks by ingredient as well as in the 1100 drink A-Z drink encyclopedia.
Tips, Tricks
iBar includes an extensive section on bar setup as well as discussions of bar lingo, definitions of different spirits and dozens of other tips to help you become a classy barkeep We have also included a measurement reference guide that teaches you essentials measurement techniques.
Histories and toasts
iBar fun audio recordings that include: the history of prohibition, the cocktail itself, Gin, Vodka, Whiskey, Scotch, Tequila, and many, many more. And with the press of the play button iBar also teaches you how to say cheers in languages from around the world.
System requirements:
Mac OS X 10.2 or later OR Windows 2000 or XP
iPod with dock connector on the bottom (including the iPod mini and the Click Wheel iPod).
Not compatible with the iPod shuffle or any iPod that was purchased before May 2003. This includes any iPod that has a wheel that physically moves or a direct FireWire connection on the top.
50 MB free space on the iPod
iTunes (version 4.7 or later required)
iBar is $29.95 shareware.
iPod It Personal Information Manager
PR: Who needs a PDA when you have an iPod?
Transfer your PIM data to your iPod or iPod mini so it's available whenever you need it; iPod It supports transferring information from Entourage, Stickies, Mail, Address Book, and iCal. You can even download weather forecasts and news headlines directly to your iPod.
Features
Transfer all or a subset of your Entourage events, contacts, messages, notes, and tasks to your iPod.
Select Entourage information by category (or folder for messages).
Transfer all or a subset of your Stickies, Mail messages, Address Book contacts, and iCal calendars.
Includes all of your Calendar and Contact information. Fields not supported by the iPod (e.g., meeting locations and IM addresses) are included within the event/contact notes.
Advanced filtering to control the information that gets transferred. Examples include date ranges for events, flagged contacts, unread (and/or flagged) messages and tasks based on whether or not they have a due date.
Download weather forecasts and news.
Subscribe to Internet published iCals for direct download and transfer to your iPod.
Supports all versions of iPod and iPod mini software:
For version 2.0 iPods messages, notes/stickies, tasks, news and weather forecasts can be transferred into your iPod's Notes. The information is organized by type and category to allow for easy navigation to all of your information. Notes longer than 4 KB are split into multiple notes. Notes are organized and linked to allow for easy navigation while reading.
Events, tasks, weather forecasts and iCals can be transferred into your iPod's Calendar. Your calendar information will be organized into separate calendars based on category. Tasks can also be transferred to the To Do list found on 2.0 iPods.
For version 1.x iPods, iCal To Do items can be transferred as entries in a "To Do" calendar.
For version 1.x iPods, Contacts, messages, notes, tasks, news and weather forecasts appear as Contact entries. Long entries are logically split into multiple contacts.
Sync all (or a subset) of your information to your iPod with a single click. Uses your filter settings to determine what information gets synced.
Automate the syncing of your information by selecting automatic syncing on launch and automatic exit following a sync. Use iPod Launcher and connecting your iPod is all you'll ever have to do!
Provides for manual exporting of information if you need more control over what gets transferred to your iPod.
Locates your iPod and transfers information to the correct location within your iPod without asking you where it should go.
Clean your iPod of all information within given iPod It categories.
System requirements: Requires Mac OS X 10.2 or greater
Download iPod It version 2.4.3 (588 KB)
iPod It is $14.95 shareware.
"World Tour" Charges iPods in over 150 Countries
iPod Den RSS Feed reports:
"PodGear today announced the launch of the FirePower World Tour, a new 110 - 240 volt AC iPod charger with lightweight international plug attachments. "The launch of the FirePower World Tour means that iPod users need not worry about the frustrating problem of keeping their iPod charged when traveling abroad," the company said. The device allows users to charge any dockable iPod in over 150 countries using its multi-plug attachment system. The package includes UK, US, European and Australian adaptor plugs, which are interchangeable with the push of a button. FirePower World Tour is available now from several UK retailers for the suggested retail price of £20."
Belkin TuneStage for iPod Wirelessly Connects iPod to Home Entertainment System
PR: Belkin Corporation announces TuneStage for iPod, a device that allows you to play the songs from your iPod through your home theater wirelessly via Bluetooth technology. With a transmitter connected to your iPod and a receiver hooked up via RCA or 3.5mm to your system, TuneStage offers reliable, high-quality sound without the clutter of cables. The TuneStage fits all-size iPod devices with a dock connector. It will begin shipping in North America in late July 2005.
TuneStage delivers pristine, high-quality sound through a home stereo environment. Using advanced Bluetooth v1.2 technology, TuneStage can transmit from up to 33 feet(a) away from your stereo, free of the barriers that limit traditional remotes - such as walls, ceilings, or windows.
Wirelessly connected through TuneStage, your iPod becomes the ultimate remote, giving you absolute control of your music. Since the unit draws power directly from the iPod, it needs no batteries or extra cables.
Benefits
Uses advanced Bluetooth v1.2 wireless technology
Connects to your home stereo via 3.5mm audio or RCA stereo outputs
Includes 7' Gold Series RCA stereo cable
Requires no batteries; automatically powers on or off with the iPod
Transmitter features low power consumption of less than 40mA
Requires no software installation - offers Plug-and-Play, out-of-the-box convenience
(a) 33' range is dependent upon environment, number of users, and other wireless devices within immediate proximity.
TuneStage for iPod (F8Z901): $179.99
Belkin products are available through Belkin's website as well as through a network of major distributors, resellers, and superstores
iPodder Cross-platform Podcast Receiver
PR: Want to listen to Internet audio programs but can't when they are scheduled? This program lets you create your own custom online audio anytime, anywhere. Really.
What is iPodder? If you want to listen to Internet audio programs (podcasts) but can't to when they are scheduled, this program is for you.
iPodder is the premier Podcasting application, allowing users to capture and listen to Internet audio programs anytime, anywhere.
It allows users to select and download shows and music and to play whenever they want on their iPods, portable digital media players, or computers automatically, after specifying which music or shows they want to listen to.
iPodder is Free Software licensed under the GPL. Donations will be transacted by Sourceforge, which hosts our open source project and many others. Any donation will automatically tip Sourceforge for their service.
Take Your iPod Underwater
PDA Live.com's jnolan says:
"H2O Audio has announced the first commercially available waterproof case for full-size iPods. The company says the product is completely submersible - meaning surfers, water skiers and swimmers can listen to their iPod, even underwater."
iPod Deals
For current iPod prices from a variety of sources, see our Best iPod Deals.
Join us on Facebook, follow us on Twitter or Google+, or subscribe to our RSS news feed
Today's Links
Mac of the Day: Unitron Mac512, introduced 1985. Unauthorized Brazilian clone of the Mac 512K.
Recent Content
Custom Search
Follow Low End Mac on Twitter
Join Low End Mac on Facebook
Favorite Sites
MacSurfer
Cult of Mac
Shrine of Apple
MacInTouch
MyAppleMenu
InfoMac
The Mac Observer
Accelerate Your Mac
RetroMacCast
The Vintage Mac Museum
Deal Brothers
DealMac
Mac2Sell
Mac Driver Museum
JAG's House
System 6 Heaven
System 7 Today
the pickle's Low-End Mac FAQ
Affiliates
Amazon.com
The iTunes Store
PC Connection Express
Macgo Blu-ray Player
Parallels Desktop for Mac
eBay

Advertise