4 GB iPod shuffle Coming, Clever Tape Adapter, Posable iGuy, Driving Directions on Your iPod, and More
Compiled by Charles Moore and edited by Dan Knight - 2005.06.03
This Week's iPod News
General Apple and Mac desktop news is covered in The Mac News Review. PowerBook, iBook, iPod, and other portable computing is covered in The 'Book Review.
News and Comment
Tips
Products and Services
News and Comment
2-4 GB iPod shuffle Coming
Xinhua News Agency reports:
"Apple Computer plans to bust out a 2 GB version of the iPod shuffle in June, with a 4 GB version to follow in August, the online Asian technology Web site DigiTimes reported Friday.
"DigiTimes reports, however, Samsung and Toshiba to be 'aggressively planning to ramp up their output of 8Gb NAND flash chips'. "
Flash Memory Prices Plummet, Apple Plans 4 GB shuffle
techsmec.com reports:
"The price of flash memory, in particular NAND flash, is set to fall sharply as DigiTimes reports that Samsung and Toshiba are 'aggressively planning to ramp up their output of 8Gb NAND flash chips'. In the meantime, the journal also reports that Apple will release a 2 GB version of the iPod shuffle in June, with a 4 GB version in August."
Samsung, Toshiba to Supply Flash Memory for 2 GB, 4 GB shuffle
DigiTimes' Hans Wu and Carrie Yu report:
"Samsung Electronics and Toshiba are aggressively planning to ramp up their output of 8Gbit NAND flash chips, as Apple Computer plans to roll out 2 GB and 4 GB versions of its iPod Shuffle this June and August, respectively, according to sources at NAND flash makers."
iPod shuffle Cassette Tape Adapter
Cult of Mac's Leander Kahney says:
"After fiddling about with several iPod FM transmitters, which are more trouble than they're worth, Roland's adapter looks refreshingly simple."
iPod to Catch Podcasts
The State's Frank Barnako says:
"Apple Computer's iPod is going to become more podcast-friendly.
"Chairman Steve Jobs said support for the radiolike programs downloaded from the Internet will be included in the next version of the iPod software, iTunes, due within 60 days."
iPod Users Bypassing iTunes for Windows
Gamer Lounge reports:
"iPod users are raving about a plug-in that makes the Winamp digital jukebox a better way to manage the iPod than Apple's iTunes.
"The plug-in, called ml_iPod, allows iPod users to bypass iTunes and manage music collections in Winamp instead. The iPod is supposed to work with iTunes only. A new version of the software was released Monday.
"Fisher and other developers programmed a slew of features, including the ability to sync multiple iPods with Winamp, create smart playlists and - the most useful option - the ability to copy songs from an iPod onto a hard drive."
Mercedes B-Class Supports iPod
CanWest News Service's Tony Whitney reports:
"I guess you'd have to be living on another planet not to know at least a little about the phenomenal success of Apple's iPod MP3 music player system. The iPod has become something of a modern-day talisman - a must-have for the young or the young at heart and a product that probably has won more media coverage than almost any device in the history of electronics....
"Several automakers have already offered models with some kind of iPod compatibility, but Mercedes-Benz is claiming the most advanced system yet is being made available with its upcoming B-Class models. I recently evaluated both the B-Class and its iPod interface and both came out looking very good indeed."
Altec Lansing's inMotion IM7 iPod Speakers
engadget's Peter Rojas reports:
"No official announcement yet, but Larry Angell from iPodlounge managed to dig up a placeholder product page for the inMotion IM7, Altec Lansing's new portable iPod speakers (you may also recall the inMotion iM3 and iM4; they may have skipped over the iM5 and iM6)."
Tips
Take Your iPod on the Road
The Washington Post's Michael Tedeschi says:
"Apple's iPod can take an entire music collection wherever life takes you. But if that journey includes playing DJ at a friend's house party or providing a soundtrack on the road, you'll need some help - most iPods don't include the hardware needed to plug into a home or car stereo.
"To bridge that gap, a variety of manufacturers now sell iPod-to-stereo adapters that usually work in one of two ways. Some transmit a low-powered FM signal that an adjacent radio can pick up, and others send an iPod's output through a cassette-tape-sized adapter that plays in any tape deck.
"We tested two FM transmitters - Belkin's TuneCast II, $40; and Griffin Technology's iTrip, $40 - and three cassette adapters - Belkin's Mobile Cassette Adapter, $25; Monster Cable's iCarPlay, $20; and a nameless generic model we had lying around."
Beginner's Guide to Compressing Your Tunes
iPodlounge reports:
"Digital music owes its popularity to one key technology: compression. Without compression - a way to make files smaller, more portable, and easier to transfer over a network - there would not yet have been a digital music revolution. Sure, you can transfer uncompressed music files, but their large size virtually requires broadband Internet access.
"One simple example: an uncompressed one-hour CD takes up about 616 MB of disk space. Even with most broadband connections, it would take more than 2 hours to download. Encoded with 'typical' iPod-friendly compression - as explained below - the same CD requires about 54 MB, less than one-tenth the size and one-tenth the time.
"But what is compression? And what are bit rates? What do these terms mean? Read on to find out how to choose the best way to import music to listen to on your iPod."
iPod photo: Album Artwork Missing after Upgrading to iTunes 4.7.1
An updated Apple Knowledge Base article says:
"If you upgrade to iTunes 4.7.1 and then find that all your album artwork is missing from your iPod photo, update to iTunes 4.8 or later to resolve this.
iPod: Frequently Asked Questions
Learn the answers to some of the frequently asked questions (FAQ) regarding iPod.
Is iPod compatible with my computer?
How do I tell which iPod I have?
What music (jukebox) software do I need on my computer to use iPod?
How do I transfer music between my computer and iPod?
How long does it take to transfer my music collection to iPod?
I have a computer at home and one at work. Can I update my iPod music collection from more than one computer?
Can I update more than one iPod with my computer?
I have both a Mac and a PC. Will my iPod work on both?
Can I use my existing iPod for Mac on a PC, or my iPod for Windows on a Mac?
Can I use iPod while running, or doing other activities? Will my music skip?
How does iPod provide skip protection?
How much music does iPod hold?
What if my music collection exceeds the storage capacity of iPod?
Will music sound as good on my iPod as on my CD player?
What is the equalization (EQ) feature on iPod?
Can I standardize the volume for all the music tracks in my MP3 player?
What audio formats does iPod work with?
What is Audible?
Can I connect iPod to my home stereo?
Can I connect iPod to my car stereo?
How long does the battery last?
How do I charge iPod?
Can iPod charge while my computer is asleep?
How does the hard drive feature of iPod work?
Can I start up my computer using iPod?
Is there a clock on my iPod?
How do I add contacts to my iPod?
How do I update my calendar on my iPod?
How long does my iPod service warranty last?
How long is iPod complimentary telephone support?
Where do I find help for my iPod?
How do I clean iPod?
What iPod accessories can I purchase?
Products and Services
iGuy, the First Toy for Your iPod
PR: Speck Products has announced its latest iPod accessory, iGuy. The first bendable, posable iPod "friend", iGuy is also fully functional, featuring rubberized protection, docking capability and scratch-resistant screen for the iPod and iPod Photo.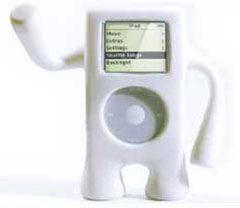 "Our new iGuy can be your iPod's best friend," said Tim Hickman, general manager of Speck Products. "iPod owners are incredibly passionate about their iPod and the iGuy enables them to not only customize their iPod, but actually give it a personality. This is the perfect gift for the iPod fanatic in your life."
iGuy's white, rubberized case features arms that bend to pose, and legs that fold and stretch outright to sit on the dock and recharge. The case includes a tough, removable screen protector, and enables full access to the control, headphone plug and hold switch.
The iGuy is designed to fit all 4G and Photo iPods, including 20, 30, 40 and 60 gig, and retails for $34.95. It will soon be available on retail shelves worldwide as well as online.
iGuy will be available in June, and will retail for $34.95
PodQuest Downloads Driving Directions to Your iPod.
PR: PodQuest is an application for Mac OS X that allows you to download driving directions to your iPod.
Once you have downloaded your driving directions to your iPod, you can conveniently access the driving direction any time of the day, thanks to the backlighted display on your iPod.
The current version of PodQuest supports the following map sites:
Google Maps (North America/UK)
Yahoo Maps (North America)
MapQuest (North America/Europe)
MapBlast (North America)
Mappy (Europe)
RandMcNally (USA)
WhereiS (Australia)
Krak (Denmark)
New in this version:
Fixed bug that in some cases caused strange characters to appear in directions stored on the iPod.
Added support for www.mappy.com, www.randmcnally.com, www.whereis.com
System requirements:
Mac OS X 10.3.9 or later
Safari 1.0 or later
iPod with disk usage enabled
PodQuest is $9.95 shareware.
iPodderX, the Ultimate iPodderClient and Podcast Receiver
PR: iPodderX is the world's very first media aggregator and makes it easy to get your news, podcasts, video logs, or anything else in a news feed!
iPodderX uses the power of RSS and Atom news feeds to bring fresh content to your desktop automatically. Just like a newspaper or a cable TV subscription, these feeds can contain different types of content. Depending on which feeds you subscribe to, iPodderX will deliver Audio, Movies, Images, Documents, and any other kind of file right to your computer. With iPodderX, you'll always have fresh content!
New in Version 3:
SmartSpace
Keep your hard drive from filling up with old podcasts with SmartSpace. Simply set the amount of space you'd like to use, and iPodderX automatically deletes old files. And if a file gets deleted that you want to keep, that's OK - iPodderX makes it a snap to re-download old files.
Playlist Builder
With Playlist Builder, you can quickly create iTunes Playlists or iPhoto Albums with your downloaded podcasts and images. Simply choose the files you want to use, click Create, and your Album or Playlist is created for you!
NewsCaster
Have the news read to you with NewsCaster. Any text-based news can be automatically turned into an audio podcast, ready for listening on your iPod or portable music device. It's a great way to get the news without having to sit in front of a computer!
System requirements: Mac OS X 10.3.5 or higher
iPodderX is:$19.95 shareware
Bose SoundDock Digital Music System
PR: Bose quality sound from your iPod or iPod mini. Simply dock and play to fill the room with vibrant, detailed sound that will revolutionize the way you experience your iPod.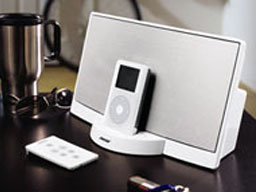 The Bose SoundDock digital music system was specifically designed to expand and enhance your enjoyment of the music stored on your iPod or iPod mini. Just slip it into the docking cradle for the Bose sound your favorite songs deserve. The iPod charges as it plays, so you enjoy music without interruption. Its sleek, slender design fits almost any room's decor. And the included remote lets you control the SoundDock system from across the room.
Bose performance meets your iPod
Enjoy the songs on your iPod or iPod mini like never before. The SoundDock system is designed to play your favorite tracks with crisp clarity - allowing you to discover subtleties in your music that used to simmer beneath the surface. A host of proprietary technologies adds vitality and realism to your tracks. With Bose proprietary acoustic design, you enjoy a full, rich sound that's greater than you'd expect from a system this small.
Easy to use. Easy on the eyes. Easy to love.
The SoundDock system is easy to operate. Just plug it in, pop in your iPod and play. Your iPod works as long as it has a dock connector on the bottom. There are no extra wires or adapters. The included remote allows you to control your music at the push of a button. And a stylish, sophisticated look means it can be the center of attention or blend in wherever you place it. The SoundDock system and your iPod share a commitment to simplicity, quality and above all, music. Now just introduce them and watch this pair become best friends.
Key Features
Bose proprietary acoustic design Rich, full sound from a relatively small enclosure.
Docking cradle Holds and automatically charges your iPod® or iPod mini whether it's playing or not.
Infrared remote control Controls the system and basic iPod® functions from across the room.
Free ground shipping in the continental US. Hear what happens today with our 30-day risk-free trial.
Price: $299
iPod Bags
Shiny Shiny's Gemma Cartwright reports:
"And there was me thinking I'd finally found a use for my pockets other than their being a place to stash tissues which I later forget to remove before washing. Alas, I was wrong. No longer can we put our iPods safely in coat or jeans pockets. Not now there's a perfectly good excuse to buy a new bag.
New Snakeskin Pattern Cases for iPod photo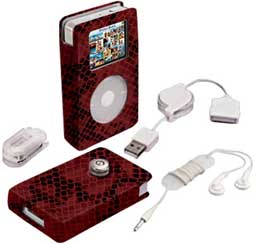 PR: The new iPodkitz expands the range of iPodkitz products to include the popular iPod photo 30 GB model.
The new additions to the range include the eye catching Red Viper & Purple Python models. Made from Snakeskin patterned leather, the cases offer a high fashion alternative to the myriad of standard leather cases currently available in the market.
Each iPodkitz contains a hard shell leather case with a cushioned interior & a detachable belt clip system. A retractable sync charge cable & the innovative Smartwrap for headphone cable management make the iPodkitz, a tempting package for only US$39.99.
The new iPodkitz are available for purchase & will be shipping from 30th May.
ezGear for iPod Shuffle
PR: ezGear introduces a whole new line of iPod shuffle accessories.
ezClip Shuffle - iPod Shuffle Clip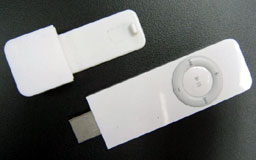 ez to use clip fits over the Shuffle's USB port
Strong spring and sturdy clip keeps your iPod Shuffle on your belt or sleeve
Color: iPod White
Price: $12.49
ezCharge Shuffle - Car Charger
Charge your iPod while using it in your car
Works with iPod Shuffle
Coiled Cable for easy organization in your car
Replaceable fuse protects your iPod
Color: iPod White
Price:$19.98
ezSkin Shuffle Tankini Two Piece Protective Case
Protect your iPod Shuffle & USB Cap
Five Stylish Colors - Add a flash of color
All come with Frost White ezSkin Shuffle
Price: $18.98
ezSkin Shuffle Bodysuit One Piece Protective Case
Protect your iPod Shuffle & USB Cap
Five Stylish Colors - Add a flash of color
All come with Frost White ezSkin Shuffle
Price: $18.98
PowerStick Shuffle - Battery Pack
Charge your iPod anywhere
Great for travel, airplanes, hiking, camping, biking, skiing
Works with iPod Shuffle
On/Off Switch
LED indicator
Color: iPod White
Price $22.98
Vaja Leather "Play-through" Case for iPod shuffle
The Unofficial Apple Weblog's Laurie Duncan says:
"Vaja has yet another new iPod case out. This one is the AP11 flip-top case for iPod shuffle. What's unique about this case is that the Argentine leather features 'play-through' access to the iPod's play/pause/forward/back/volume controls . . . the control icons are printed on the case itself so you don't have to fumble or guess if you're pressing your thumb in the right spot. As with other Vaja cases, the AP11 case is available in a variety of colors and several customization options are available...."
iPod shuffle Stickers
i4u.com reports:
"Similar to the new Creative Neeon, the stickers let consumers customize their MP3 player.
A Shufflesome outfit is a set of Teflon coated vinyl stickers tailored to cover the front, back and sides of the iPod shuffle, both for combination with the USB cap and the lanyard USB cap."
iPod Deals
For current iPod prices from a variety of sources, see our Best iPod Deals.
Join us on Facebook, follow us on Twitter or Google+, or subscribe to our RSS news feed
Today's Links
Custom Search
Follow Low End Mac on Twitter
Join Low End Mac on Facebook
Favorite Sites
MacSurfer
Cult of Mac
Shrine of Apple
MacInTouch
MyAppleMenu
InfoMac
The Mac Observer
Accelerate Your Mac
RetroMacCast
The Vintage Mac Museum
Deal Brothers
DealMac
Mac2Sell
Mac Driver Museum
JAG's House
System 6 Heaven
System 7 Today
the pickle's Low-End Mac FAQ
Affiliates
Amazon.com
The iTunes Store
PC Connection Express
Macgo Blu-ray Player
Parallels Desktop for Mac
eBay

Advertise