Royal iPod, Apple/Walmart Pact, Poor iPod Quality, Longest Lasting iPod Battery, and More
Compiled by Charles Moore and edited by Dan Knight - 2005.06.23
This Week's iPod News
PowerBook, iBook, iPod, and other portable computing is covered in The 'Book Review. General Apple and Mac desktop news is covered in The Mac News Review. News about Apple's transition to Intel CPUs and other Intel developments is covered in The Macintel Report.
All prices are in US dollars unless otherwise noted.
News and Comment
Reviews
Products and Services
News and Comment
iPod Gets Royal Nod from Queen Elizabeth
MSNBC reports:
"Britain's Queen Elizabeth II has reportedly joined the high-tech revolution and purchased the world's hottest new gadget - an Apple iPod.
"According to the United Kingdom's biggest-selling daily newspaper, The Sun, the 79-year-old British monarch is now the owner of a 6 GB silver iPod mini, purchased by a staffer for £169 ($309). While The Sun reported that the Royal iPod could hold up to 10,000 songs, Apple lists the capacity for the 6 GB model at a more common 1,500 songs"
Apple/Walmart iPod Pact Praised
CIO Today reports:
"Apple Computer's stock got a boost on Wednesday amid upbeat comments by a Morgan Stanley analyst, who said the computer maker's pact with retail giant Walmart Stores may be broader than some realize....
"Apple and the world's biggest retailer have been expanding their pact to sell versions of Apple's wildly popular digital music player from a test to a full partnership, marking a new development as of the last few months, according to Runkle.
"Sales of iPods at the Bentonville, Ark.-based retailer's locations could boost Apple's iPod sales by 100,000 units and add $20 million in revenue each quarter, according to the analyst's conservative estimates."
Belkin Acknowledges Power Pack Defect, Calls for Returns
iPodlounge's Larry Angell reports:
"Belkin has confirmed to iPodlounge that a manufacturing defect affects a portion of its Power Pack units for the iPod shuffle. The company said that while the Power Pack is providing the appropriate voltage, a connected iPod shuffle may not charge with either the AC or DC adapters even after hours of charging. "
iPod Love Affair Over? Music Player Plagued by Poor Quality
silicon.com says:
"The first signs have started to emerge this week that Apple's super-cool must-have iPod music players are, well, how can we put it - actually not that great.
"For Apple's legions of diehard fans we're sure we've just committed some unimaginable sin by uttering those words but let us look at the evidence.
"First up is Duke University, which, if you remember, leaped onto the iPod hype bandwagon last year by giving a free iPod to all new students. It cost the university $500,000 to kit out the 1,650 freshmen with the shiny white devices in the autumn. Was it worth it?...
"Next up is the questionable quality of the iPods - bearing in mind of course the premium you pay for those white ear buds. This is where silicon.com staffers can speak from personal experience."
Reviews
Put Linux on Your iPod
Macworld's Cyrus Farivar reports:
"Imagine using your iPod and a regular old microphone to record studio-quality audio. Or sitting on a commuter train and playing Othello, Pong, Tetris, or Asteroids. All this and more is possible when you install Linux on your third-generation or earlier iPod. Best of all, one soft reset, and you're back in Apple's iPod operating system, listening to your tunes.
"To get started, you need your iPod, the FireWire cable you use to attach your iPod to your Mac, and free software from the open-source iPod Linux Project. Currently, the software supports all third-generation and earlier iPods. Work is under way on adding the fourth-generation iPod, the iPod photo, and the iPod mini to that list. (Make sure your iPod is supported.) Download the iPod-Linux Installer. It will take up about 5 MB of your iPod's hard-disk space."
Products and Services
FastMac Announces Longest Lasting iPod Battery
PR: FastMac has announced an iPod battery upgrade that utilizes patented nanoparticle technology to dramatically extend battery life span. This upgrade is available for generation 1, 2, and 3 iPods and comes with an industry first 2-year warranty and 30 day money back guaranty.
The FastMac upgrade replaces the iPod's original internal Lithium-Polymer or Lithium-Ion battery with a larger capacity and longer lasting advanced power cell. The upgrade offers up to 70% more capacity than the original and up to 7.5 times as many charge cycles. This is accomplished through the use of patented nanoparticle technology code named "TruePower," which significantly slows the degradation of the battery.
"If you're spending more time recharging your iPod than you are actually using it, this upgrade is for you" said Michael Lowdermilk, Business Development Manager for FastMac Performance Upgrades. "This really is the last battery your iPod will ever need."
FastMac's TruePower technology protects and prevents damage to the battery's internal lithium crystal matrix caused by power spikes. These spikes occur when an iPod demands a sudden high current peak, for example to turn on the backlight or load the next few songs. Over time they decrease capacity, runtime, and battery life, eventually rendering the power cell unusable.
Through the use of TruePower technology the upgrade is able to smooth out these power spikes. This protects the battery and leads to a longer life cycle. Without the TruePower technology the power cells are left unprotected and would steadily decrease in capacity after each charge cycle.
By extending the battery's life the FastMac upgrade also helps the environment by curbing the depletion of materials used in battery products and reducing the number of waste batteries in landfills.
FastMac's iPod battery upgrade is available for the following iPod models:
Generation 1 and 2 $39.95
Generation 3 $29.95
All iPod battery upgrades come with a 2-year warranty and 30 day money back guaranty. Necessary tools and installation instructions are also included.
FastMac also offers an iPod upgrade program for an additional $49.95. Price includes prepaid 3-way shipping, professional installation, and 48-hour turnaround.
Independence Day DecoDock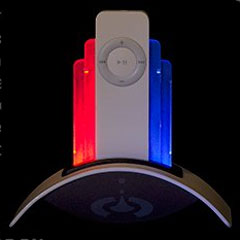 PR: Presenting DecoDock, the first stylish dock designed to complement and enhance the iPod shuffle. DecoDock provides an elegant solution for users who want a simple, artistic way to connect their iPod shuffle to their computer.
For those users who think they'd rather hack through the tangle of cables sprouting from the back of their computer like Indiana Jones searching for The Lost USB Port or are contemplating a USB extension cable for that classic shuffle-on-a-rope look, we hope you'll reconsider. For those daredevils gambling their shuffle will avoid being snapped off the side of their laptop like a dead twig, head for Vegas and buy a DecoDock for your shuffle's sake. And for those style-hungry souls, searching a wasteland of computer peripherals devoid of pleasing designs, welcome to Pressure Drop, and the Art-Techo movement.
Overview
Connect your shuffle to your computer in a convenient, elegant way.
Decorative illumination from the columns via white LEDs
Integrated cap holder securely keeps your shuffle's cap from getting lost
Available in a variety of colors to personalize your workspace
DecoDock - $28.99
Independence Day DecoDock - $31.99
Four Custom iPod mini Colors
PR: J&R offers New Mini iPod Colors

The engineers at Apple squeezed all the finest features of the celebrated iPod into an anodized aluminum case weighing just 3.6 ounces - smaller than any cell phone. This scratch proof, stain proof wonder provides over 25 minutes of skip protection and lasts up to 18 hours per battery charge - so, for once, you pay no penalty for miniaturization!
J&R Special - This iPod has been professionally finished in black, Ferrari Red, Lamborghini Yellow, or Smoke White by ColorWare
Special coating renders it stronger & more scratch-resistant than the original case, according to ColorWare
This custom painted iPod has a 1 Year ColorWare Warranty
Please Note: This custom painted iPod mini will not fit into the iPod mini Dock
Includes convenient clip character, so you can attach it to your belt, purse or backpack
Auto-Sync with Mac or Windows via incredible iTunes 4 Software
Hundreds of available audio books sync with your iPod mini as easily as music does
Also includes game, calendar, contacts & notes functions
Includes sleek, wide range earbud Headphones
FireWire & USB 2.0 Interface (USB 2.0 cable included)
Can be charged via USB 2.0
Optional accessories: iPod mini Dock, In-Ear Headphones, Armband, Wired Remote and more
Dimensions: 3.6" x 2.0 x 0.5 inches
Price: $249.88
Logitech Wireless Headphones for iPod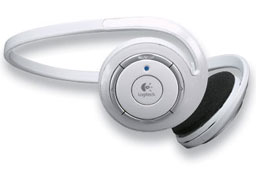 PR: Listen to your music in style - no wires attached! Logitech´s Wireless Headphones for iPod use advanced Bluetooth frequency hopping technology for interference free, crystal clear audio. Digital wireless technology provides over 30' of range, and rechargeable batteries can play up to eight hours per charge.
These headphones include a wireless adapter that snaps onto your iPod or iPod mini, plus integrated controls so you can adjust the volume, play, pause, or select tracks without touching your iPod.
The power of wireless audio is in your control with Logitech´s Wireless Headphones for iPod.
Features:
Stereo
Inline controls
iPod mini jack and Remote Connector
Wireless
Interference-free digital sound and advanced Bluetooth frequency hopping technology
Long range of up to 30 feet so you can move freely
Long battery life - up eight hours per charge - gives you plenty of airtime
Integrated iPod controls let you adjust volume, play, pause or select tracks and more
Ready to use with iPod or iPod mini &emdash; just charge, plug, and play
The wireless adapter connects directly to your iPod for Interference-free digital sound at a range of up to 30'.
System requirements:
iPod photo
iPod mini
iPod U2 Special Edition
4th Generation iPod with Click Wheel
3rd Generation iPod with touch wheel and buttons
Price: $149.99
ArtWizz HangPhones Create Less Bounce Per Ounce
PR: The new ArtWizz HangPhones provide a superior method for keeping the iPod mini secure while in use - and after being reviewed by the public, receive favorable feedback across the board for product innovation, price and durability.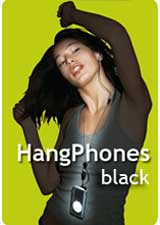 Users indicated the HangPhones lanyard was comfortable and durable. A majority of users indicated they did not realize at first glance that the strap included a composite metal construction ñ and were pleased. Nathan Williams, Marketing Director for Harmonic Inversion Technology said, ìI didn't think anyone would care that much about product design. I was wrong. Users loved [HangPhones and the iSee case] and asked why they weren't included with every new iPod Mini."
Since the debut of HangPhones, ArtWizz has become a superstar in the industry. HangPhones enable a user to attach their iPod securely to a strap around their neck while benefiting from an ergonomically designed set of ear buds providing perfect length for use during activities like walking, biking and commuting.
HangPhones have a suggested retail price of $29; the HangPhones and case combo retail for $55.
Targus Announces New Line of Accessories for iPod and iPod mini
PR: Targus Inc. has announced its entry into the Apple marketplace with the introduction of an iPod accessory line. Targus' new cases, wireless remote and sound enhancing amplifier enhance the portability and functionality of the iPod and iPod mini.
Targus' iPod accessory line - including Slide and Flip Cases, RemoteTunes wireless remote for iPod and SoundUP amplifier - meet the increasing demand in the marketplace for unique iPod accessories full of features, high quality and durability. Targus products are designed for people on-the-go who demand superior quality, style and function from their mobile products. Targus' iPod cases are uniquely styled combining both the durability of a hard shell and a classic design. RemoteTunes is perfect for any mobile user who wants easy and quick access to their iPod, whether the iPod is in their backpack or in another room. SoundUP takes the audio signal from the iPod, reprocesses it and provides the user with rich 3-D sound. Vocals and instruments that have been hidden by compression are revealed.
"Targus has a long history of offering innovative and durable mobile products that fill a niche in the mobile accessory space, whether its cases, mice or iPod remotes," said Steven Robert, Targus general manager. "Customers will find that our iPod accessories offer superior quality and features to extend the use and functionality of the iPod."
The stylish cases are designed to keep the iPod protected whether users are traveling or simply taking their iPod to and from work. The unique designs of the Flip and Slide cases snuggly fit the iPod and provide easy access to its controls and connectors. Both cases are made of premium quality leather.
"We have a 20 year history of offering protective, high-quality and feature-rich notebook cases," said Robert. "As a leading notebook computer case manufacturer it was a natural transition for Targus to create innovative cases to fit all iPod and iPod mini models."
RemoteTunes wireless remote extends the iPod's versatility allowing it to be controlled from rooms away. The remote is small, lightweight and allows users to control the volume and song selection from up to 150 feet, based on RF (radio frequency) technology.
"By offering a wireless remote that features a range twice as far as similar products, we are meeting the needs of the iPod user," Robert said. "Targus will continue to focus on the evolving iPod accessory space and continue to offer innovative solutions to meet the growing needs of our customers."
SoundUP high definition sound enhancer and amplifier utilizes Phantom Technologies' patented circuit and restores information lost when audio files are compressed - revealing instruments and voices that are trapped during compression and previously not heard. SoundUP is also a powered earphone splitter allowing the user to share their music without splitting the signal or volume. SoundUP is designed with a remote connector pass-through allowing it to be used in conjunction with RemoteTunes or Apple's wired remote.
Product Specifications
Slide Case for iPod and iPod mini (Model: AEB01US, AEB02US, AEB03US)
Slide Case, available in three sizes for the iPod mini, all versions of 3G, 4G Click Wheel and photo models, conveniently clips onto a belt or bag, allowing the MP3 player to be carried around during business or leisure. The case has two pieces - the iPod slides into the top piece, which slips into the piece that contains a belt clip. The case allows the iPod to face in or face out for easy access to controls and connectors. Made of premium quality leather with a soft, scratch-resistant lining, the case also features a sturdy belt clip and includes an iPod screen protector. Available in black, it has a classic, elegant, design. The case has a suggested retail price of $29.95 and it includes a limited lifetime warranty.
Flip Case for iPod and iPod mini (Model: AEB04US, AEB05US, AEB06US)
Flip Case, available in three sizes for the iPod mini, all versions of 3G, 4G Click Wheel and photo models, is designed for easy access to the iPods controls. It can be worn on a belt with the iPod completely protected, and conveniently flips down in the front for easy access to iPod controls. The case design allows access to iPod top and bottom connectors. Made of premium quality leather with a soft, scratch-resistant lining, it comes with a sturdy belt clip and iPod screen protector. The unique construction allows for durability and a secure fit for the iPod. Available in black, the cases have a suggested retail price of $29.95 and it includes a limited lifetime warranty.
RemoteTunes Wireless Remote for iPod (Model: AER0101US)
RemoteTunes is a wireless remote that uses RF technology to allow iPod users freedom to control their music at home, in the office or while on the go. With an open-air range of 150 feet, the remote more than doubles the range of competing products. While some competitive remotes require line of sight of function, Targus' wireless remote can be used through walls. Working with iPod and iPod minis, the remote functions include volume up/down, fast forward, fast reverse, advance/previous track, play and pause. The small, water-resistant remote can be attached to a belt or key chain for mobile use and comes with a tabletop stand and stereo cable for a complete home solution. It will go into "power save" mode when it doesn't receive a signal for 20 minutes. Once remote buttons are pressed it automatically powers back up. It can be used with headphones and speakers and is lightweight, compact and durable. The package contains a remote, receiver, belt clip, stereo cable and tabletop stand. It comes with a one-year warranty. The suggested retail price is $49.99.
SoundUP High Definition Sound Enhancer for iPod and iPod mini (Model: AEA01US, AEA02US)
SoundUP sound enhancer with amplifier is available in two sizes to accommodate the iPod and iPod mini. The sound enhancer improves the quality of the vocals and instruments creating a more full, crisp, rich sound. SoundUP is also a powered headphone splitter and includes a remote pass-through allowing RemoteTunes or Apples' wired remote to be used with it. The warranty is one year and the suggested retail price is $39.99.
Targus' iPod accessories are currently available online at Targus' website and at retailers nationwide. RemoteTunes and SoundUP are in compliance with the Apple "Made for iPod" program.
iPod Loading Company Finds Customers: Retirees
PR: RipIt Digital, a business specializing in iPod loading, CD conversions, and iPod tutoring services, has experienced a recent spike in sales from an unexpected, yet abundant demographic - retirees.
According to company founder, Greg Forst, the company's client database now includes a small but steadily growing number of retirees, a virtually untapped market in the world of digital music.
Although marketing to this demographic was not originally part of the company's business plan, the services that RipIt Digital offers appear to be a great fit for retirees looking to simplify their music collections.
"Retirees find our services to be very helpful because they are often intimidated by or challenged by new technology. We have found that they fit our customer profile really well because they travel extensively, they love music and they want things simplified," explains Forst.
"We take their CD collections, load them on their iPod or MP3 player, and then we show them how to use the devices. It is a one stop shop."
And based on the overwhelming consumer response (the company is currently converting between 1,000 and 1,500 CD's a week), RipIt Digital appears to be making it easier than ever for even the average consumer to join the digital music revolution.
PodFreq Premium FM Transmitter + Dock for iPod Now Shipping with Car Cradle
PR: Sonnet Technologies has announced that PodFreq, PodFreq black, and PodFreq photo now include a custom-designed car cradle, a $14.95 value, at no additional cost. This holder is designed for a secure, rattle-free fit and attaches to a vehicle mount (sold separately) with included hardware to create a parking space for PodFreq while you drive. The cradle features a soft liner that protects the back of PodFreq, and uses the standard AMPS/NEC mounting hole pattern (commonly used for cell phone mounts) that makes it compatible with a wide variety of vehicle mounts. Current PodFreq owners may also purchase a car cradle for an MSRP of $14.95.
For more information about the PodFreq cradle, please refer to the PodFreq website at:
Compatibility: The PodFreq cradle is compatible with all PodFreq models (except PodFreq mini).
Sonnet now offers four different PodFreq models, each made specifically for the various iPod digital music players with dock connector. Each PodFreq high-fidelity FM transmitter is capable of broadcasting tunes from an iPod to any nearby FM radio, freeing the user to listen to and share their playlists without the ear buds. PodFreq connects to the iPod through the dock connector to take advantage of the consistent-level line out signal, and then feeds the audio through high-quality stereo broadcast components to produce noticeably better sound. PodFreq can connect to a computer through its built-in mini-USB 2.0 or FireWire® ports, enabling the syncing and charging of iPod without the user having to remove it from PodFreq. PodFreq requires no batteries, there's no software to install, and it uses simple up and down tuning to make one-handed operation easy; true plug and play operation is always at hand. For extra convenience, PodFreq also includes a car charger that works in any standard +12V cigarette lighter/auxiliary power socket, and plugs into PodFreq's FireWire port to charge the iPod battery.
Availability: The PodFreq family is available at retail chains nationwide and online as well.
Speck Portfolio·Skin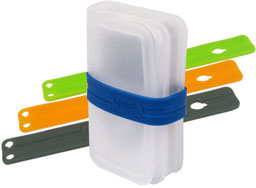 PR: Features:
comes with four colored straps to suit your moods or match your outfit
closes securely to protect screen and click wheel
access to bottom port for charging and synching
stylish and Protective
super soft, smooth feel
fits 20, 30, 40 and 60 GB click wheel and photo iPods
Insert iPod and choose strap color of your choice.
Price: $34.95
iPodder 2.1 Podcast Receiver
PR: iPodder is the premier Podcasting application, allowing users to capture and listen to Internet audio programs anytime, anywhere.
It allows users to select and download shows and music and to play whenever they want on their iPods, portable digital media players, or computers automatically, after specifying which music or shows they want to listen to.
Want to listen to Internet audio programs but can't when they are scheduled? This program lets you create your own custom online audio anytime, anywhere. Really.
Want a version of iPodder with preset subscriptions and your own logo on it? Easy. We can create one for download from your site.
Try your own luck and download the iPodder client.
iPodder is freeware.
Book2Pod 1.2.2 Puts Books, Long Documents on Your iPod
PR: Book2Pod is a utility to format large text documents so they can be read on an iPod using the built in Note Reader software. It supports documents larger than the 4 KB per note limit of Note Reader and makes the 1000 note limit easier to live with.
It also lets you organise your collection of electronic books and supports Services.
Changes in this version:
Fixed a timing crash when calculating the red page breaks in "Show file" drawer
Fixed bug when pressing eject button but iPod couldn't be ejected.
Fixed problem that could occur if alias manager needed to update an alias (crash when iPod plugged in or Book2Pod launched)
System requirements: Book2Pod 1.2.2 requires Mac OS X 10.3 and an iPod with firmware version 2.0 or higher (Dock connector or iPod Mini
Book2Pod is freeware.
iWorkout 2.0 Professional Exercise Routines on Your iPod
PR: Your New Workout Buddy - a Personal Trainer on Your iPod.
Could your workout routines be in better shape? Could you be in better shape? We all know the only true way to get healthy and look great is to exercise. With iWorkout, your iPod is given 42 different workout routines made by an ACE Certified Personal Trainer. Simple to install on any iPod (Excluding iPod Shuffle), iWorkout is the exercise companion for you. What's better than your music with your workout? iWorkout.
iPod, iPod mini, iPod U2 Edition: With iWorkout allows you to access the text-written and spoken routines from the "Notes" feature on your iPod. The associated illustrations are also included but cannot be viewed without an iPod photo. The exercises routines are the same as those from iWorkout on iPod photo. Start Exercising the smart way.
iPod photo: With iWorkout allows you to access the text-written and spoken routines as well as view the illustrations. The illustrations can be viewed directly on your iPod's screen. Simply goto the "Notes" feature of your iPod and click on iWorkout > The Desired Workout Category > Your desired exercise. From there you can view or hear the text-written routine or press the link to view the illustration(s).
New in this version:
Now has human spoken workout routines
Gym machines feature in full version
System requirements:
Macintosh or PC formatted iPod
iPod firmware 2.0 or later
3rd of 4th generation iPod, iPod photo, or iPod mini
iWorkout is $16.99 shareware.
Party-Pod Pro 4.0: Your iPod Party Companion
PR: Spice up your nightlife with Party-Pod Pro.
Give your iPod:
The 650 most used drink recipes
55 drinking games
A Bar Club database for every major U.S. city plus hotspots like Cancun, MX
Bartender 411 (Tips and Tricks)
100 pickup lines for both men & women
Post-party solutions
New In Version 4.0
Drink recipes with photos now included for top rated & most popular drinks
5 more US cities + 5 international cities added to the Bar Club database
Post-Party Solutions feature gives you hangover tips & remedies, cleaning services & more
Optimized for all Mac and PC formatted iPods
iPod, iPod mini, iPod U2 Edition: With Party-Pod Pro allows you to access all features from the "Notes" folder on your iPod. The illustrations of drinks and drinking glasses are also included but only viewable on an iPod photo. Party like a pro and be the envy of your friends the next time you want to have a good time. Party-Pod Pro - for a great time, anywhere you go
iPod photo: With Party-Pod Pro allows you to access all features from the "Notes" folder on your iPod. The illustrations of the top rated most popular drinks are included as well as pictures of common drinking glasses. All these can be viewed on the iPod Photo's screen. Party like a pro and be the envy of your friends the next time you want to have a good time. Party-Pod Pro - for a great time, anywhere you go.
System requirements:
Macintosh or PC formatted iPod
iPod firmware 2.0 or later
3rd of 4th generation iPod, iPod photo, or iPod mini
Party-Pod Pro is $9 shareware.
Ignitek Releases iPod Sound Systems
PR: Ignitek has released three iPod sound systems, the iCheer, the iCruiser, and the iCarrier.

iCarrier
Hi-Fidelity Home Sound System Compatible With All Apple iPods
3-Way Speaker System In A Sleek Tower Design
Small Footprint Occupies Less Than One Square Foot of Floor Space
Integrated Audio Input Supports Other Audio Sources (e.g. iPod shuffle)
Remote Control Included
iCruiser
Hi-Fidelity Home Sound System Compatible With All Apple iPods
3-Way Speaker System In a compact desktop design
Small Footprint Occupies Less Than One Square Foot
Integrated Audio Input Supports Other Audio Sources (e.g. iPod shuffle)
Remote Control Included
iCheer
Hi-Fidelity Home Sound System Compatible With Apple iPod Shuffle
2-Way Speaker System In a compact, portable design
Integrated Audio Input Supports Other Audio Sources
Link: Ignitek Releases iPod Sound Systems
iPod Deals
For current iPod prices from a variety of sources, see This Week's Best iPod Deals.
Join us on Facebook, follow us on Twitter or Google+, or subscribe to our RSS news feed
Today's Links
Mac of the Day: Macintosh 512K Fat Mac, introduced 1984.09.10. The first Mac with enough memory for serious work.
Recent Content
Custom Search
Follow Low End Mac on Twitter
Join Low End Mac on Facebook
Favorite Sites
MacSurfer
Cult of Mac
Shrine of Apple
MacInTouch
MyAppleMenu
InfoMac
The Mac Observer
Accelerate Your Mac
RetroMacCast
The Vintage Mac Museum
Deal Brothers
DealMac
Mac2Sell
Mac Driver Museum
JAG's House
System 6 Heaven
System 7 Today
the pickle's Low-End Mac FAQ
Affiliates
Amazon.com
The iTunes Store
PC Connection Express
Macgo Blu-ray Player
Parallels Desktop for Mac
eBay

Advertise