Aluminum shuffle Protection, Wild iPod Covers, Retractable Ear Buds, New Copy Software, and More
Compiled by Charles Moore and edited by Dan Knight - 2005.07.07
This Week's iPod News
PowerBook, iBook, iPod, and other portable computing is covered in The 'Book Review. General Apple and Mac desktop news is covered in The Mac News Review. News about Apple's transition to Intel CPUs and other Intel developments is covered in The Macintel Report.
All prices are in US dollars unless otherwise noted.
News
Commentary
Advice
Products and Services
Software
News
Back to School Promo: Buy a Mac, Get an iPod mini
College students - buy a qualifying Mac and get a free iPod mini after mail-in rebate.
Save up to $479 with your everyday student discount.
It's simple. Visit your campus computer store, the Apple Store online, or an Apple Store near you. Choose an iBook, PowerBook, iMac, or Power Mac, and then select your favorite 4 GB iPod mini. Or you can apply your $179 savings toward the purchase of a higher priced iPod. But act now. This offer is good only through September 24, 2005.
iBook from $949
PowerBook from $1399
iMac from $1199
Your everyday student discount works throughout the Apple Store, so you can find great deals on a huge collection of Apple software, hardware and accessories. And be sure to check out our special offers and buying guides to help kick off the school year right.
Download the rebate coupon for full terms and conditions.
HP Expands iPod Offerings
CNET News.com's Dinesh C. Sharma reports:
"Hewlett-Packard has bulked up its iPod lineup by adding the smallest of the Apple-designed music devices.
"The iPod shuffle has joined the other digital music players offered by HP, the company announced Friday. HP last month added the iPod mini to its stable, which also includes 20 GB and 60 GB Apple iPods.
"HP is now selling two versions of the shuffle: a 512 MB model for $99.99, which holds about 120 songs, and a 1 GB version for $129.99, which holds about 240. The music players are designed to work with the AutoFill feature of Apple Computer's iTunes music service."
Car Makers Tune in to iPod Craze
The Tampa Tribune's Richard Mullins reports:
"Each workday morning, Joel Lopez climbs into his silver Ford Taurus for an hour's commute from Wesley Chapel to Largo. His sole driving companion is an iPod digital music player.
"Attached to a small, $35 FM transmitter, his iPod can send music or audio books to his car stereo....
"Lopez is part of a small but growing segment of iPod loyalists who are helping Apple Computer Inc.'s wildly popular music technology make its mark in the automobile market."
Commentary
Drowning Out Reality and Hearing Loss
The New Zealand Herald's Chris Barton says:
"....A recent study estimates that as many as 5.2 million children in the United States between six and 19 have some hearing damage from amplified music and other sources.
"It's only going to get worse as the iPod generation blasts its eardrums. I have tried to talk to Monika about this, explaining that my generation loved very loud music and many have suffered hearing loss. I tell her that she's already damaging her ears by the high volume she plays into headphones when she's on the computer or listening to her Discman.
"And that with an iPod - the perfect portable tool for drowning out reality, anywhere, anytime - her hearing loss will get even worse...."
Passing an iPod shuffle around the Dinner Table
iPod Garage's Bill Palmer says:
"Now that I'd acquired an iPod shuffle after having looked in all the wrong places, and now that I'd loaded it up with an initial burst of great albums, I thought I'd do a little experimentation of the social variety. I just happened to be headed out to dinner with family, so I thought I'd pass my little ounce of white plastic around the table for initial reactions.
"Comments ranged from 'I think I'd lose something that small' to 'I can't believe something that small has that good of sound quality.' Most comments focused on the device's size, and with good reason; it's invariably the first thing you're going to notice. But one family member, who had seen the metric ton of iPod shuffle accessories currently undergoing testing in iPod Garage Labs, asked if there was an accessory that added a screen to the device. I couldn't help myself: 'Sure, it's called an iPod mini.'
"Not surprisingly, each person's receptiveness to the idea of the shuffle was rather directly tied to that person's willingness to listen to music in random order...."
Advice
Copy One iPod to Another
The Unofficial Apple Weblog's C.K. Sample, III says:
"I hinted at this bit earlier today while talking about my new 60 GB iPod. I've also mentioned parts of this in the distant past. Basically, I keep all of my music on my iPod and backed up elsewhere, managing my iPod manually, rather than letting it automatically sync with my iTunes Music folder. Why? Because I have a 12-inch PowerBook with a teeny little 80 GB hard drive, so I'd rather not clutter it up with music that is already on my iPod. Whenever I want to listen to this music on my computer I simply plug my iPod into my computer. However, I worked out a little trick to ensure that I could also burn CDs of all the music on my iPod (that isn't on my computer) and basically move them back to my computer at will.
"In any case, if you follow me after the jump, I'll show you how I did these things, and if you want to copy all the music from your old iPod to your new iPod, I'll walk you through one way of doing it..."
Troubleshooting Songs and Audio Books That Won't Play
An updated Apple Knowledge Base Article says:
"If certain songs or audio books won't play on your iPod, here are some things you can try to resolve the issue."
Products and Services
Song Sling for iPod shuffle
Mophie, Inc., announces its first product: Song Sling, an iPod accessory for music-lovers on the move.
Song Sling takes the basic lanyard concept to the next level. Its patent-pending design features concealed audio connections and retractable ear buds for "pull and play" functionality. Song Sling raises the bar when it comes to style and convenience on the portable music scene.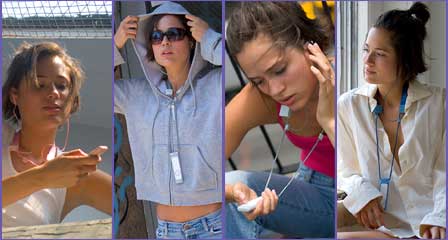 Mophie is betting heavily on the belief that they aren't the only ones frustrated by the dangle and tangle of conventional earphone wires. Where did the idea come from? "I was about to listen to some music on my Shuffle, when I realized I'd forgotten my ear buds," relates Mophie's 18-year old President and Founder, Ben Kaufman. "What I needed was a product that retained the small form factor and stylishness of the iPod shuffle, but with the added convenience of integrated ear buds."
What makes him think he can improve upon Apple's masterful iPod product line? "Good design is something everyone can appreciate," says Kaufman. "When it comes to lifestyle technology, Apple definitely has it's finger on the pulse of the market, but when you have an opportunity to make a great product even better, you take it."
Priced at $39.99, the Song Sling will be initially available in three colors: gray, blue, and pink. Preorders are now being taken at the official Song Sling website with shipments expected to begin late July 2005.
Song Sling for iPod mini is expected in Fall 2005.
Budfrog Stores and Manages Ear Buds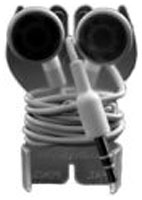 You've discovered the iPod and iPod mini accessory that answers the question "isn't there a better way to store and manage my ear buds?" budfrog is the perfect earbud accessory because it's so unbelievably simple!
What's that, you say? Don't have an iPod or iPod mini? You don't have iPod or iPod mini earphones? That's cool, budfrog works equally well with almost every type of earbud style earphone on the market today.
Metal Armor for Your shuffle
Introducing the iVault, an aluminum case for the iPod shuffle. Griffin, in collaboration with designer Greg Gutierrez, has created a stunning enclosure that incorporates maximum protection in an elegant design.
Machined entirely out of aluminum, the iVault safely encloses your iPod shuffle, while still allowing total access to the control wheel, audio jack, on switch, USB port, and LED. The front and back halves of the case are joined together by four small screws, so your iPod shuffle is guaranteed to be secure.
Lightweight yet strong, the iVault and the iPod shuffle together weigh less than 1.5 ounces. The iVault also has it covered when it comes to style. Every edge of the iVault is rounded and beveled for the perfect feel. You won't want to put it down.
The iVault comes in five distinctive colors: silver, blue, red, purple, and green. Customize your iPod shuffle in a way that will make iPod mini owners envious - and give it a suit of armor at the same time. The iVault is indeed a worthy companion to your iPod shuffle and will ensure that it, and your music, is protected in style.
The Griffin iVault keeps your iPod shuffle safe and protected from drops, scratches, and other foes. An included USB cable lets you sync your shuffle without ever removing it from the case.
Show Off Your iPod's Wild Side
Introducing the start of something new &endash; iSkin Wild Sides. These cool special edition iSkin eVo2 iPod protectors are designed to offer the coolest, most unique look for the iPod.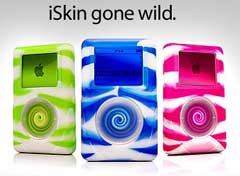 Since they are iSkin eVo2 protectors, they provide the industry's best solution for protecting and keeping the iPod safe with cool features and fun looks.
Wild Sides come in three funky color combinations:
Verve (bright green and white)
Rebel (deep blue and white)
Diva (hot pink and white)
Their cool fashionable and funky look is bound to impress.
Features:
All-round surface protection
Accommodates top mounting accessories (i.e. iTrip)
Comes with a colored ultra-clear screen protector
Comes with an iSkin click wheel protector
Comes with removable rotary belt clip
Available for all sizes of the click-wheel iPod including iPod Photo
Integrated dock port connector cover
Glows in the dark
Rear heat release pores
Funky, fashionable and fun
We didn't just stop at funky colors, we made them glow-in-the-dark in true iSkin style using our amazing ultra-Glo silicone technology.
Included is a matching iSkin Shades colored screen protector to keep your iPod's screen looking new. We also added a bonus clear screen protector for your colored iPod.
We finished it off with our cool Wheel Cap with an imprinted swirl of color to match.
Marc Jacobs Unveils Designer iPod Cases
iPodlounge's Larry Angell reports:
"Well-known fashion designer Marc Jacobs has released a new case for the iPod and iPod mini.
"The 'Marc Jacobs Collection Music Holder' comes in black, cherry, and aquamarine (shown) calf leather, has a suede lining, and features a polished nickel belt/bag clip and a 'Marc Jacobs' nameplate. It has openings for the screen, Click Wheel and top ports."
Casemandu iPod Storage Case
Casemandu has created a protective case for the iPod and its accessories. Casemandu cases are waterproof, dust proof, and shock proof. The precision routed foam insert, custom made for both iPods and iPod minis, is the same foam used by elite military units and NASA to protect the most sensitive equipment in their inventories. Casemandu cases are specially designed to prevent "bag rash", a term used to describe the damage that occurs when equipment is stored within backpacks and similar gear bags. When you store something as valuable as an iPod inside a book bag or other nonconforming type of container, the movement within the bag, combined with the damage from other items rubbing and slamming into your valuable iPod creates "bag rash" and destroys the finish and the value of your iPod. Not to mention the fact that the chances of quickly locating and using your accessories for you iPod are not good.
Casemandu cases provide the very best protection for your expensive iPod and accessories while keeping all your gear organized and ready for immediate use. We looked around for a solution like the Casemandu case and we couldn't find one, so we invented it. Casemandu is the only case on the market that combines all the protection, organization, storage capacity, and military specification quality in one nearly indestructible unit.
Software
Software to Make Your iPod Better
"The folks at Roxio have released The Boom Box: five software applets that work seamlessly with iTunes on the Mac to add features and functions we think most iPod owners will appreciate. The bundle includes MusicMagic Mixer, which helps you build better playlists by assessing the mood of a "seed" song and picking songs from your collection that match it. CD SpinDoctor converts your analog music sources into AAC, Apple Lossless, or MP3 digital files. iSpeak It converts text files into spoken audio files."
PodWorks: Song Copying Tool for iPod
PodWorks is a Mac OS X (Cocoa) application that compensates for the iPod's only downside: Apple only allows you to copy songs to your iPod. If you have two Macs and want to use your iPod to transfer music from one to the other or you only store your MP3s on your iPod and need to copy them back onto your hard drive after a disk failure, you are out of luck!
This is where PodWorks comes in: It allows you to copy songs from any iPod to any Mac running OS X 10.2 or higher. Its important features include:
Superior performance: Many other standalone iPod song transfer utilities work by reading ID3 data out of every song on the iPod - a slow process. PodWorks, by contrast, is capable of reading directly from the iPod's internal database, resulting in nearly instantaneous display of all metadata.
More metadata: Since PodWorks can read from the iPod's internal database, it can also display and sort by song "metadata" not available through ID3 (including "Date Added" and "Play Count").
iTunes integration: In addition to copying songs to the Finder, PodWorks can send songs, playlists (registered version only), and metadata (star ratings, play counts, track numbers, etc.) directly to iTunes. It can also filter its song list to show you only the songs on the iPod that are not present in your iTunes library.
iTunes-like sorting and searching: PodWorks is designed so that its data columns sort intelligently, the same way they do in iTunes. For example, the "Artist" column sorts first by artist, then by album, then by disc number, then by track number. Additionally, it features an iTunes-style "type-ahead" search to enable quick access to specific songs.
Playlists: PodWorks recognizes your iPod's playlists. Entire playlists can be copied to your computer with a single drag (registered version only).
On-The-Go Playlist support: Very handy for people who don't want to use the automatic syncing in iTunes but still want to save their On-The-Go playlists.
Song Playback: PodWorks allows you to preview songs before you copy them by playing them directly off the iPod.
Strong organizational capabilities: Copying large numbers of files can get messy, so PodWorks can sort MP3 files into directories and change their filenames according to your preferences.
Portability: PodWorks can be placed on your iPod for convenient access away from your home computer. It will work when run off the iPod, and will remember its registration information even when connected to a previously unknown machine.
New in this version:
Fixed bug that caused crashing when the new iTunes 4.9 podcast feature was used.
Fixed bug with UI selection of iPod if iPod was attached after PodWorks launch.
Added icons for "send to iTunes" functions.
System requirements:
Mac OS X 10.2 or higher (including Panther)
iTunes integration requires iTunes 4 or higher
PodWorks is $8 shareware.
Modify Your iPod's Display with alterPod
alterPod is an application for extracting and replacing your iPod's strings and display graphics. alterPod can also backup and restore your iPod's firmware partition to your Mac's hard drive.
alterPod is actually a GUI for a command line program named ipodedit, written by Austin Che.
alterPod now includes a String Editor, and an Image Browser.
alterPod includes a tutorial, which can be found in the Help Menu. For more information, help and assistance, please visit the Podite Community Forums, where other users (and the developer) will be able to provide solutions to problems.
New in this version:
After a long absence, alterPod is back!
It's better than ever, this time it has a String Editor, and Image Previews.
The editor is fairly simple to understand, but for more information, read alterPod's help documents.
Things that have been added are as follows:
String Editor
Image Preview
Ability to open images in an external editor.
Austin Che, (the developer of ipodedit) has added some new stuff to ipodedit, so expect to see a new version soon. Things that you will eventually see in future versions, will be: Support for iPods with Linux installed, file mapping, and better editing. Not necessarily in that order though.
System requirements:
Mac OS X 10.3
any iPod (except the Shuffle)
Link: alterPod
iPod Deals
For current iPod prices from a variety of sources, see This Week's Best iPod Deals.
Join us on Facebook, follow us on Twitter or Google+, or subscribe to our RSS news feed
Today's Links
Mac of the Day: 20th Anniversary Mac, introduced 1996.03.20. Honoring Apple's 20th anniversary, the TAM was the first flat panel desktop Mac and had a unique design.
Recent Content
Custom Search
Follow Low End Mac on Twitter
Join Low End Mac on Facebook
Favorite Sites
MacSurfer
Cult of Mac
Shrine of Apple
MacInTouch
MyAppleMenu
InfoMac
The Mac Observer
Accelerate Your Mac
RetroMacCast
The Vintage Mac Museum
Deal Brothers
DealMac
Mac2Sell
Mac Driver Museum
JAG's House
System 6 Heaven
System 7 Today
the pickle's Low-End Mac FAQ
Affiliates
Amazon.com
The iTunes Store
PC Connection Express
Macgo Blu-ray Player
Parallels Desktop for Mac
eBay

Advertise