Microsoft Patents iPod Interface, iPod Blows Away Competitors, iPod Shuffle Fan Book, and More
Compiled by Charles Moore and edited by Dan Knight - 2005.08.18
This Week's iPod News
PowerBook, iBook, iPod, and other portable computing is covered in The 'Book Review. General Apple and Mac desktop news is covered in The Mac News Review. News about Apple's transition to Intel CPUs and other Intel developments is covered in The Macintel Report.
All prices are in US dollars unless otherwise noted.
Microsoft's iPod Interface Patent
News and Comment
Advice
Products and Services
Software
Microsoft's iPod Interface Patent
Microsoft, Apple in iPod Patent Tussle
CNET News.com's Ina Fried reports:
"While Microsoft has struggled to challenge the iPod in the market, the software giant's lawyers have managed to slow Apple Computer's attempt to patent its digital music technology.
"In a ruling issued last month, a patent examiner rejected Apple's attempt to patent some of the user interface concepts behind the popular digital music player, noting that Microsoft developer John Platt filed for similar claims five months before Apple did.
"A Microsoft executive noted on Friday that the company is always open to licensing its technology."
Apple Appealing Patent Rejection
UPI reports:
"Apple Computer Inc. will appeal a U.S. patent office denial of an application related to technology in its top-selling iPod digital music and photo."
The Real Deal on Microsoft's Playlist Patent
Forbes' Lisa DiCarlo reports:
"Microsoft is close to patenting a technology that, for all intents and purposes, makes a TiVo out of your digital media player....
"The patent was filed by Microsoft's John Platt, an expert in machine learning, which is essentially technology that learns through repetition, says David Kaefer, director of business development and intellectual property at Microsoft. The patent has been the focus on media reports this week that suggest a connection between a digital media patent filed months later by Apple Computer.
"The reports suggest that some component of the iPod interface may be infringing on Microsoft's patent, and that Apple may be forced to pay royalties to Microsoft on millions of iPod units sold."
Here's What Happened the Last Time Someone Declared War on the iPod
iPod Garage's Bill Palmer says:
"Alright, let's just get on with the news of the week. First off we have a stunner in which, after years of trying to get the iPod's unique and innovative interface patented, Apple was defeated because someone else mysteriously filed a patent for the iPod's interface sometime between the time Apple began developing the iPod and the time it publicly launched the iPod. Coincidence? Perhaps, until you get to the part where the 'someone else' just happens to be a Microsoft employee. So what does it mean, that Microsoft had a spy within Apple's innovation team who stole the iPod's interface and secretly began the patent application process for it on behalf Microsoft before Apple got around to doing so? Probably. But in any case it looks like Microsoft is now going to attempt to rewrite history by claiming that it, and not Apple, invented the iPod. Don't worry, though, as even most die-hard Windows users are fully aware that any story containing the words 'Microsoft' and 'invent' must be total crap, so there's little chance of anyone falling for this rather desperate bit of last-ditch nonsense on Microsoft's part, long after it already lost the digital music market to Apple."
News and Comment
iPod 'Blows Away' Mobile Music Pretenders
Macworld UK's Jonny Evans reports:
"Apple's iPod, 'blows away mobile music challengers', according to analysts at Strategy Analytics
"While the mobile telecoms industry wants very much to take a slice of Apple's digital music market share, their first-generation devices don['t meet the grade, the analysts said, on the basis of sound quality and usability."
iPod Blows Away Mobile Music Challengers
Cellular News reports:
"Strategy Analytics has released its latest mobile application benchmark report, "Apple iPod Blows Away Mobile Music Challengers." Strategy Analytics' advanced wireless buyer panel benchmark evaluation concluded that first generation mobile music devices receive a failing grade on both sound quality and feature usability.
"In this analysis, the Strategy Analytics advanced buyer panel performed head to head benchmarks of the iPod against 4 leading mobile music enabled devices: Samsung E720, O2 XM, SEMC V800 and the SPV500."
Microsoft Says iPod to Face More Competition
Bloomberg News's Ian King and Dina Bass report:
"Microsoft Corp. said Apple Computer Inc.'s best-selling iPod music player will face increased competition from new products in the end-of-year shopping season.
"Microsoft is working with electronics makers including Royal Philips Electronics NV, Samsung Electronics Co. and Creative Technology Ltd. to design and test music players that rival iPod, said Erik Huggers, the head of Microsoft's Digital Media Division."
Walkman vs. iPod
Times Online's Rhys Blakely says:
"Fischer v Spassky; Prost v Senna; Apple v Sony? Times Online takes a look at the latest Walkman on the market and asks if it will take a bite out of Apple.
"....This month, Apple claimed that in just four days its Japanese iTunes Music Store, from which iPod users download tracks, had hit 1 million downloads - more than twice the number Sony's affiliated online music store in Japan, its home market, gets in a month.
"Those figures summed up the depth of the hole in which Sony finds itself. Poor results led the iconic conglomerate to appoint its first Western chief executive this year. The Welshman Howard Stringer has since been criticised for the sprawling group's continuing ill fortune."
Apple's iBod Can't Afford iPod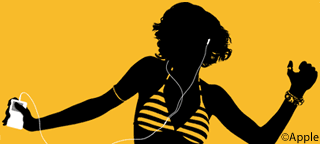 The Boston Herald's Carla M. Collado reports:
"The woman behind the striped bikini silhouette that launched millions of iPod sales says she sees herself everywhere but still can't afford one of the digital tune toys.
"Mandy Coulton, 26, a dancer and nanny from Los Angeles, was paid $1,500 to have her iBod photographed for Apple's highly successful ad campaign. However, that still wasn't enough for her to get one of the popular, white ear-budded gizmos."
Loud iPods Can Hurt Ears
The Detroit Free Press
"Jeff Hurst, 24, and Gianni Lee, 19, love their music so much they listen to it on their iPods for hours - maybe too many hours. Hearing experts wonder whether the frequent use of these devices, particularly with the inserts that sit within the ear, is contributing to noise-induced hearing loss...
"One recent study examined several commercially available portable compact-disc players and found that the volume ranged from 91 to 121 decibels. Adding earphones that fit inside the ear increased the volume by 7 to 9 decibels.
"Even the low end is considered over the threshold for safe, extended listening, which is 85 decibels for eight hours, according to the National Institute of Occupational Safety and Health."
iPod Fails to Impress South Koreans
The Register's Tony Smith reports:
"The iPod may dominate the MP3 player market in almost every country in the world, but one nation is holding out against Apple's onslaught.
"Yes, South Korea, home of a number of contenders to the iPod's title, favours local product over all that 'designed in California' stuff.
"According to market watcher GfK's Korean subsidiary, Apple's share of the South Korean MP3 player market is a mere 1.8 per cent - enough to put it in 13th place."
Legal Threats from Microsoft, Apple Top RealNetworks Agenda
Paul Thurrott says:
"Streaming media pioneer RealNetworks is entering a crucial phase of its existence. Founded by Rob Glaser, an ex-Microsoft executive, RealNetworks has watched as companies such as Apple Computer, Microsoft and Napster have eaten into its core markets. So although the company just reported record revenues for the most recent quarter, its earnings are far outstripped by the cost of its legal battle with Microsoft and by an expected legal battle with Apple."
iPod Not the Apple of Music Industry's Eye
New Zealand Herald's Peter Griffin says:
"The iPod may have become the device of choice for those who like their music digital and portable. But the music industry has a big beef with the iPod's creator, Apple.
"Two music industry executives who breezed through New Zealand in the past couple of months expressed exasperation at Apple's refusal to make the iPod compatible with Microsoft's digital rights management technology.
"A large range of music publishers, hardware makers and online music sellers have got behind Microsoft's anti-piracy technology, but Apple stands alone in ignoring it. The result is that the iPod is now incompatible with most of the music download services and media player software now available.
"That wouldn't matter, were it not for the fact that the iPod and Apple's own music service (itunes.com) account for about 70 per cent of music player sales and downloads."
Duke University iPods Tap into Public Radio
CNET News.com's Desiree Everts reports:
"Duke University students who wish to tune in to Ira Glass' radio phenomenon 'This American Life' will soon be able to so for free on their iPods. The university has struck a deal with Public Radio International to provide faculty members with segments of the show, along with 'The World' and 'Studio 360,' for use in their classrooms. The trial program will run from September to December."
Linux User Runs Doom on iPod
The Register's Jonny Evans reports:
"While pundits ponder whether Apple's market-leading iPod music player faces imminent doom, tech-savvy Linux users are hacking colour-screened versions of the device to explore another kind of Doom - this time from ID Software.
"Hard-working iPod Linux developer 'Kyle' has reworked Doom so that it will play on the device, albeit at an excruciatingly slow 3-4 fps frame rate. There's information about the port on the iPod Linux website."
iPod: A World-Destroying Menace?
iPod Garage's Eric Nguyen says:
"I hope everyone had a happy Anti-iPod Day! Personally, I didn't see anyone burning their iPods on the street or anything like that. In fact, the only iPod-related activity I saw this weekend was people buying tons of iPods at my local Apple Store. Looks like Anti-iPod Day didn't really work, after all.
"But something else happened this weekend, that threatens the position of the iPod as the world's dominant music player. This event is so momentous in scope that it dwarfs any conspiracy to date, even prophesying the end of the world. It looks like not even the iPod was immune, now that it has been revealed that the iPod, too, is a tool of Satan. Yes, it's true: the iPod can play Doom. It now joins the illustrious lineup of the Nokia 770, the TI-83, and the PocketPC as a hand-sized gadget that can play Doom. Now, considering that the PocketPC runs Windows, the TI-83 can graph satanic symbols (see here for instructions), and the Nokia 770 starts with the letter 'N' (one after the 13th letter in the alphabet), the iPod has joined one of the most notorious, evil groups on the planet."
President's Weekly Radio Address Podcasts Available via iTMS
iPod Daily News reports:
"President Bush's radio addresses [are now] offered via podcast... Here's what White House spokesman David Almacy told me: Selected Bush speeches, along with the radio addresses, are available now at the iTunes Web site. A team of about a dozen Web staffers are converting these and selected speeches into MP3 files and making them available too," Robert MacMillan reports for The Washington Post.
Advice
Syncing Music to iPod is a One-way Street
A new Apple Knowledge Base article says:
"To get tunes into iPod for your enjoyment, you generally either sync your iTunes library with your iPod, or use iTunes to manually copy songs to the player. But if you want to copy music from your iPod to your computer (maybe a friend put a song on your iPod or you want to back up your music), you can't do that. "
About the 'Do not disconnect' and 'OK to disconnect' Screens for iPod
A new Apple Knowledge Base article says:
"Learn about the disconnect screens that are part of iPod Software 1.2 and later.
"iPod Software 1.2 introduces two disconnect screens. They let you know when it is safe to unplug iPod from your computer's USB or FireWire port. Incorrectly disconnecting iPod while it is in use can damage data on iPod, or the computer's hard disk."
iPod shuffle: Checking the Battery Charge
An updated Apple Knowledge Base article says:
"You can check how much battery life remains in your iPod shuffle by pressing the button on the back and noting the color of the LED.
"Here's what the battery indicator colors mean when you press the button:
Green = good charge.
Amber = low charge (also indicates "charging" when connected to USB)
Red = very low charge
No light = no charge
"Tip: If you want to check the battery status while iPod shuffle is charging, make sure the computer is not in sleep mode and eject iPod shuffle from iTunes. Sleep mode on some computers can turn off USB signals and prevent battery status from working."
Resetting iPod shuffle
An updated Apple Knowledge Base article says:
"To reset iPod shuffle:
Disconnect iPod shuffle from the computer (if connected).
Move the switch on the back of iPod shuffle to the off position.
Tip: When iPod shuffle is off, the green stripe by the switch is not visible.
Wait 5 seconds.
Move the switch on the back to the play in order or the shuffle position. The green stripe will be visible in either position."
iPod shuffle Troubleshooting and Service FAQ
A new Apple Knowledge Base article says:
"Having trouble with your iPod shuffle? This collection of troubleshooting steps and links to helpful articles may be just what you need to resolve your issue. If, after trying all the appropriate troubleshooting suggestions, you still haven't resolved your issue, you can request service for your iPod shuffle online...."
Products and Services
iPod Shuffle Fan Book
[PR] The Shuffle is a "very different kind of iPod," says iPod aficionado J. D. Biersdorfer. "It has a lot in common with its older and bigger iPod siblings, but it also has a whole life of its own." And there's no faster, easier, or more enjoyable way to start Shuffling than by using the expert tips, tricks, and tools in Biersdorfer's new "iPod Shuffle Fan Book" (Biersdorfer, O'Reilly, US $9.95).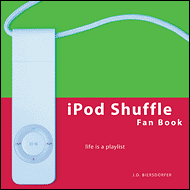 The ultimate resource for getting the most out of Apple Computer's lightest and least expensive iPod music player (it's smaller than a pack of bubble gum!), the "iPod Shuffle Fan Book" covers all the basics of iPod Shuffle hardware and software; using iTunes with ease; filling the Shuffle with nothing but the best songs; and playing them however, whenever, and wherever desired. Biersdorfer includes resource and web site listings for troubleshooting and further research, and he even delivers sample playlists, including a Classic American Rock list, an Interstate Car Trip Mix, The Moody Mix, and Happy Fun Songs!
With the Shuffle and the "iPod Shuffle Fan Book," users can enjoy an ever-changing listening experience that is as unique as they are. Music lovers needn't be limited to the song groupings put forth by a record company, radio station, or DJ in a club; the Shuffle holds up to 240 favorite songs and plays them any and every way imaginable. Random or orderly - the listener decides - the Shuffle caters to the users' every taste, mood, and whim. And the music won't even skip as much as the bigger iPods, because the Shuffle uses a solid chip of memory to store its songs instead of a little hard drive with moving parts.
Armed with the know-how in this book, says Biersdorfer, "you can also make your Shuffle serve double duty as one of those tiny USB flash-memory drives that you copy and cart your files around from computer to computer. You can drag word-processing documents, PowerPoint presentations, digital photographs, and other files too big to email, onto the Shuffle's hard drive."
While Biersdorfer's full-color Fan Book isn't a whole lot bigger than the iPod Shuffle itself, it's loaded with all the information Shuffle users need:
Getting the Shuffle up and running (with specifics for installing iPod software on both Windows and Mac)
Finding, converting, buying, and managing songs with iTunes
Using the Shuffle to listen to Internet radio and audio books
Creating custom playlists (and even burning them to CD or DVD)
Storing data files on a Shuffle
Finding cool iPod Shuffle accessories (including colorful cases, battery-life extenders, headphones, and car and home stereo adapters)
A fun book as much as a Fan Book, the "iPod Shuffle Fan Book" helps readers immerse themselves in the joy of iPodding with the versatile iPod Shuffle.
PowerJolt iPod Auto Charger
[PR] The PowerJolt auto adapter allows you to take your iPod on the road and listen to great music while keeping your iPod fully charged. The PowerJolt charges your iPod whether it's playing music or in standby mode, ensuring that you'll arrive at your destination with a fully charged iPod.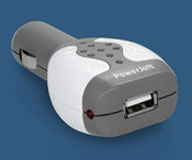 The PowerJolt comes with a charger module and a separate 4 foot, high quality Dock Connector to USB Cable.
Designed specifically for the iPod, the PowerJolt is not only great looking but it's an incredible value at $24.99. The PowerJolt is the ultimate accessory for the iPod toting road warrior.
Made for:
iPod Shuffle
iPod mini
iPod photo
4th Generation iPod with Click Wheel
Link: PowerJolt iPod Auto Charger
Tripod Speaker for iPod and MP3 Players
[PR] Boomtune mini incorporates a unique tripod design and an amazing 1W x 2 output that is surprising for such a compact size. Just one AAA battery is all you will need to enjoy up to 10 hours* of playback. With a style like you have never seen before, the tripod design can be used with almost any MP3 player from the small iPod shuffle to the iPod 4G/photo. It is also suitable for more than just table top use. In fact, you can use it anywhere. Whether you are staying in a hotel, camping, at a barbeque, or just enjoying the outdoors, Boomtune mini will ensure that you can enjoy your favorite tunes no matter where you are!
This product is only available in Japan.
Dock Adapter for iPod shuffle
[PR] This essential add-on for the iPod shuffle lets you connect iPod accessories with the Dock Connector through the shuffle's USB port. The Dock Adapter for iPod shuffle gives your shuffle the flexibility to work with such enhancements for iPod as battery packs, mobile power cords, iPod speakers, and USB/FireWire cables that have the Dock Connector.
Note: Requires 5V+ of USB power to charge your iPod shuffle. Compatible with power and audio accessories only. iPod photo accessories and car integration kits are not compatible with the Dock Adapter for iPod shuffle.
* Will not sync when used with a FireWire cable. However, power and audio will be compatible.
Color: White
Power Pack for iPod shuffle - $34.99
Ice Creme - Advanced Acrylic Polishing System
[PR] Expertly removes surface abrasion and scratches from Acrylic and bright metal surfaces - new version works 5X faster.
Ice Creme allows you to expertly remove the scuffing, scratching and abrasion which tends to occur on highly polished acrylic panels, like those used in several consumer devices and popular computers. Products like the iPod, iBook, PDAs and cell phones can all benefit from the ease of use and power of Ice Creme. Quickly restores scuffed-up Acrylic and plated metal products to like new condition. Great when you want to spruce up or sell your gear. A typical, moderately banged-up iPod requires approx. 15-20 minutes to fully restore.
The regular formula is for plastic products and lightly damaged bright metal. The "M" version adds a special metal refinishing pad which can restore severe bright metal surface damage - like the iPod's bright metal back panel. Not for use on iPod mini, painted or anodized surfaces. Both versions include Optex application and polishing cloths.
Note: Use care when working around 4G iPod click wheels - avoid direct polishing/applying excessive pressure to this fragile mechanism. 4G click wheels are not sealed as 3G scroll wheels were - avoid dispensing compounds to the periphery of click wheel/action button.
Features:
Two part formula removes even aggressive damage from most plastics and bright (plated) metals.
"M" version adds severe metal refinishing system for iPod's bright metal back panel.
Enough product to restore several iPods, or 2-3 iBooks.
Includes Optex Super60 application and polishing cloths.
Ice Creme Specs:
Ice Creme:
2-1 oz. Acrylic polishing compounds
2-Optex application/polishing cloths

Ice Creme M:
2-1 oz. Acrylic polishing compounds
2-Optex application/polishing cloths
1-Bright metal refinishing pad
Range: $20.95 - $25.95
iPod Speaker i-deck Promises to Deafen
Pocket Lint's Stuart Miles reports:
"Monitor Audio, a hi-fi manufacturer, believes it has what it takes to challenge Bose and other speaker manufacturers in the iPod accessory speaker market.
"The company has launched its first foray into iPod accessories with the £250 i-deck. The speaker set promises a knock-out punch to its rivals in the volume department by offering up to 102 dBA via a 4in Bass/ midrange driver and 14mm gold coated polymer ring dome tweeter."
Belkin Makes It Easy to Play Your iPod in Your Car
The Saskatoon StarPhoenix's Murray Hill reports:
"It's holiday time and if you're one of the lucky ones to own an iPod, then Belkin has the way for you to take your tunes on the road with you.
"Here's where an iPod really shines - not that it doesn't shine otherwise. If you've ever wondered whether it was worth it to buy a device with 20, 30, 40, 60 GB of storage capacity Belkin's TuneCast II, TuneDock and Auto Kit will provide the answer."
Scosche Industries Introduces Bluetooth Interface for iPod
[PR] Scosche Industries, a leader of mobile electronics after-market accessories, has announced it has developed and is now shipping its highly anticipated patent-pending Bluetooth wireless interface for iPod and MP3 players for after-market brand-name head units and home audio systems. Unlike other "wired" interfaces, the Scosche transmitter connects directly to the headphone output connector of the iPod/MP3 unit and transmits to a Bluetooth receiver connected to the auxiliary input of a vehicle's head unit or home audio system. Scosche's Bluetooth wireless technology transmits continuous streaming audio with digital sound CD quality to your car or home receiver
"Scosche has been synonymous with innovative car audio accessories and we are pleased to offer another first to market product with our Bluetooth wireless technology," said Kas Alves, vice president marketing and sales, Scosche Industries. "Customers now can enjoy their music without wired limitations."
Scosche's Bluetooth wireless technology features a wireless range of 30 feet and a fifteen hour transmitter lithium-ion battery life. It is Bluetooth 1.2 compliant for continuous streaming audio and can pair with an unlimited number of receivers.
Scosche's innovative Bluetooth wireless technology is designed as a family of products with flexibility that builds from its receiver/transmitter kit. Part numbers differ based on the cradle, either for the iPod (#IPBCK) or a universal cradle for MP3 players (#UBCK).
The IPBCK, designed for third and fourth generation iPods and iPod minis, or UBCK designed for universal MP3 players, will work with after-market head units with RCA inputs. For those who like flexibility with their music, the Bluetooth interface will allow a passenger in the front or back seat to control the iPod or MP3 unit playing through the vehicle's head unit. Included in the vehicle kit are a 12 volt car charger, rechargeable transmitter, and the necessary cables for a simple installation.
Using a home audio/video system, a user can add a home receiver kit (#UBR), or a user can purchase a Bluetooth wireless kit just for the home (#IPBHK). The Scosche wireless Bluetooth interface in the home will allow anyone to listen to his or her iPod or MP3 player with digital sound CD quality through his or her home audio system. In the home, the Scosche receiver is powered off standard 110 AC/DC converter included in the home kit.
Scosche's Bluetooth wireless technology is available at specialty retailers across the country. The primary interface includes the necessary cables for plug-n-play capability. The car kit for iPod players (#IPBCK) will retail at $249.99 and will be available mid-August. The universal Bluetooth kit for MP3 players (#UBCK) will be available in September and will retail at $249.99. The home kits (#UBR and IPBHK) will be available in Fall 2005 and will retail at $129.99 and $249.99 respectively.
Software
iPocketBible New Living Translation for iPod
[PR] Laridian, Inc., publisher of Bible-related software for mobile devices, has released iPocketBible New Living Translation Edition for use with iPod mobile digital devices.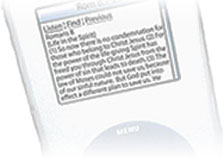 iPocketBible includes the complete text and dramatized audio of the Holy Bible, New Living Translation for reading and listening. iPocketBible utilizes the iPod "Notes" feature to present the Bible text for reading. A verse and subject index allows the user to start at any book in the Bible, from Genesis to Revelation. A "Listen" option links them directly to the audio so they can listen as they read.
"Most MP3 Bibles give users audio only," said Craig Rairdin, president of Laridian. "iPocketBible gives the iPod user the ability to read or listen or both read and listen at once to the Bible text. It takes the Bible from being another "audio book" and turns it into a devotional and study tool for your iPod."
The New Living Translation is an accurate yet easy-to-understand translation of the Bible. Published in 1996 by Tyndale House Publishers, it is a thought-for-thought translation from the original Greek and Hebrew manuscripts that is ideal for devotional reading.
iPocketBible New Living Translation offers over 73 hours of professionally recorded MP3 audio. This dramatic, multi-voice edition includes original music and sound effects. Narration is provided by Mike Kellogg, national radio host of Moody Broadcasting's Music Thru the Night.
The iPocketBible New Living Translation Edition is available for $49.99 (plus shipping charges of $5.50). The product ships on 5 MP3 CDs and can be ordered from the Laridian website. The product requires an iPod device with a dock connector (excludes iPod shuffle).
TuneTech for iPod: Maintain, Manage and Optimize Your iPod
[PR] TuneTech for iPod (formerly Pod Genius) is the only comprehensive software utility geared specifically toward iPod users. Recover lost or damaged music, repair corrupted data structures, backup your iPod to an exact copy, permanently delete unwanted files, or optimize the file layout of your music. You've invested a lot into your iPod and music, with TuneTech for iPod®, you can be sure your iPod will faithfully perform and your investment is well-protected.
TuneTech for iPod Is optimized for:
Mac OS X v10.4.x Tiger
Mac OS X v10.3.x Panther
Eight Must-Have Utilities In One Package
Backup: Make an exact clone of your iPod for safe keeping. Use your backup as protection against data loss.
Optimize: Increase battery life and minimize wear-and-tear. Your songs get optimized in the order that you want to hear them, minimizing hard drive access and reducing the work your iPod has to do.
Repair: This is the solution if songs or playlists have become inaccessible due to software errors. If songs are missing or play erratically, repair immediately before running the risk of permanent data loss.
Undelete: Accidentally deleted music? Undelete quickly recovers them in perfect condition.
Shred: Permanently delete your songs and files from your iPod. Do your part to protect against music piracy... if you sell or donate your iPod, shred your music to prevent unauthorized use.
Duplicate: Make an exact copy of your iPod on another iPod - perfect when you are migrating your music to a newer iPod model.
Scan: Analyze your iPod's hard drive for media defects that can endanger your music files.
Info: Display detailed information about your iPod's hard drive to enable sophisticated troubleshooting.
Think of it as health care insurance for your iPod.
System requirements: Mac OS 10.3.x and up
TuneTech for iPod: $59
Available Soon
iPod Deals
For current iPod prices from a variety of sources, see our Best iPod Deals.
Join us on Facebook, follow us on Twitter or Google+, or subscribe to our RSS news feed
Today's Links
Mac of the Day: Macintosh 128K, introduced 1984.01.24. 1984 wasn't going to be anything like 1984 thanks to the original Macintosh.
Recent Content
Custom Search
Follow Low End Mac on Twitter
Join Low End Mac on Facebook
Favorite Sites
MacSurfer
Cult of Mac
Shrine of Apple
MacInTouch
MyAppleMenu
InfoMac
The Mac Observer
Accelerate Your Mac
RetroMacCast
The Vintage Mac Museum
Deal Brothers
DealMac
Mac2Sell
Mac Driver Museum
JAG's House
System 6 Heaven
System 7 Today
the pickle's Low-End Mac FAQ
Affiliates
Amazon.com
The iTunes Store
PC Connection Express
Macgo Blu-ray Player
Parallels Desktop for Mac
eBay

Advertise