iTunes Phone Due Next Week, Flash iPod mini Tales, iPod Battery Settlement Approved, and More
Compiled by Charles Moore and edited by Dan Knight - 2005.09.01
This Week's iPod News
Three stories have received a lot of coverage this past week: The iTunes phone, which we may see next week, rumors of a flash-based iPod mini, and settlement of the iPod battery class action suit.
PowerBook, iBook, iPod, and other portable computing is covered in The 'Book Review. General Apple and Mac desktop news is covered in The Mac News Review. News about Apple's transition to Intel CPUs and other Intel developments is covered in The Macintel Report.
All prices are in US dollars unless otherwise noted.
The iTunes Phone
Flash iPod mini
iPod Battery Settlement
News and Comment
Advice
Products and Services
Software
The iTunes Phone
The oft-rumored iTunes cell phone has been in the news this week. The phone is made by Motorola and will be available through Cingular in the US.
Motorola Cell Phone Will Include iTunes
The New York Times' Matt Richtel reports:
"Apple Computer and Motorola plan next week to unveil a long-awaited mobile phone and music player that will incorporate Apple's iTunes software, a telecommunications industry analyst who has been briefed on the announcement said Monday.
"The development marks a melding of two of the digital era's most popular devices, the cell phone and the iPod, which has become largely synonymous with the concept of downloading songs from the Internet or transferring them from compact discs.
"Roger Entner, a telecommunications analyst with Ovum, a market research firm, said he had been told by an industry executive that the new phone, made by Motorola, would be marketed by Cingular Wireless. Entner said it would include iTunes software, which helps power the iPod."
iTunes Cell Phone Set to Launch
AP Technology Writer Greg Sandoval reports:
"A long-delayed cell phone from Apple Computer Inc. and Motorola Inc. that can play iTunes music downloads is finally set to debut through Cingular Wireless, a research analyst said.
"The new phone will be equipped with software that would allow it to play songs purchased at Apple's iTunes Web site, according to Roger Entner, an analyst for research firm Ovum who said he learned of the plans from an industry executive.
"Representatives from Apple, Cingular and Motorola declined to comment, but the three companies are expected to roll out the device at an event here next week. Apple announced Monday that it would host a news conference Sept. 7."
iTunes Phone May Underwhelm
Forbes' David M. Ewalt and Peter Kafka say:
"For more than a year, Apple and Motorola's plans to release an iTunes-enabled phone have tantalized the music and mobile phone businesses. Now, with the two companies set to unveil the long-rumored handset Sept. 7, they might be underdelivering.
"A person who has seen a version of the phone says it was designed to accommodate just 25 songs, which would be 'sideloaded' from a user's computer using iTunes. The phone was equipped with a 128-megabyte SanDisk TransFlash memory card - just one-quarter the capacity of Apple's smallest iPod, the 512-megabyte shuffle, which holds about 120 songs."
Flash iPod mini
Flash memory is hot. It's faster than hard drives, but until now it's been more expensive per MB. That seems to be changing, leading to tales of higher capacity iPod shuffles, iPod minis with flash memory, and even flash-based notebook computers.
Apple to Buy 40% of Samsung's Flash Chips
Reuters' Jennifer Tan reports:
"Apple Computer Inc. plans to buy as much as 40 percent of Samsung Electronics Co. Ltd.'s flash memory output in the second half for its new flash-based iPod mini MP3 player, iSuppli and Deutsche Bank analysts said on Wednesday.
"Apple, known for its wildly popular iPod digital music player, is expected to introduce a 4-gigabyte version of the iPod mini that uses NAND flash memory instead of a hard disk drive for the Christmas season."
Apple Using Flash in Next iPod mini
Red Herring reports:
"Apple will produce a Flash memory-based iPod mini digital music player to replace its hard drive line and plans to buy up to 40 percent of Samsung Electronics' output of NAND Flash memory chips for the holiday season, according to a report on Wednesday from the research firm iSuppli.
"Apple will be introducing a 4 gigabyte (GB) version of the iPod Mini using Samsung's NAND Flash memory. Apple already produces an iPod Shuffle that uses Flash memory from Samsung instead of a hard drive. The model is popular with iPod users who prefer the Flash model when they are running or exercising."
Flash Memory in the iPod mini
The Street's Troy Wolverton and Bill Snyder report:
"In a move that could have big implications for the storage and chip markets, Apple will unveil a new flash memory-based iPod later this year, say analysts.
"The company will soon replace its hard drive-based 4 GB iPod mini with a flash memory-based version that has the same storage capacity, Nam Hyung Kim, an analyst with industry research firm iSuppli, says in a recent report."
iPod Battery Settlement
Apple was sued over the batteries in 1st and 2nd generation iPods, which sometimes lost much of their storage capacity within the first year of use. Here's how that's being settled.
Judge OKs Settlement in iPod Battery Suit
CNET News.com's Ina Fried reports:
"A Superior Court judge in San Mateo County, Calif., has given final approval to a settlement that will compensate iPod owners whose music players' batteries failed to hold a charge.
"A preliminary settlement was reached in May. Under the terms of the deal, buyers of first- and second-generation iPods with battery issues who bought their iPods on or before May 31, 2004 can get either a $25 check or $50 in credit at an Apple Computer store."
Apple's Voucher Plan for iPod Users Wins Approval
Bloomberg News's Joel Rosenblatt reports:
"A judge has approved Apple Computer Inc.'s plan to issue $50 vouchers to settle a lawsuit filed by consumers who complained about the battery life of older versions of the iPod music player.
"Judge Beth Freeman in San Mateo, Calif., approved the settlement Thursday. Under the agreement, Apple will issue the vouchers or extend service warranties to as many as 1.4 million customers who experienced battery problems, said Steven N. Williams, a lawyer at Cotchett, Pitre, Simon & McCarthy in Burlingame, Calif., who represented consumers."
Proposed Settlement of Class Action Re iPod Batteries
From the Apple iPod Settlement website:
The above-captioned proceeding ("Litigation") is pending before the Superior Court of California for San Mateo County ("Court"). In the Litigation, Plaintiffs Lisa Chin, Andrew Westley, Courtney Craft, Joseph Smiley, Brenda Keegan, Sylvia Kieta, Sam Wagya, and Steve Yamin ("Representative Plaintiffs") claim that the Apple iPod Digital Music Player ("iPod") did not have the battery life represented and/or that the battery's capacity to take and hold a charge substantially diminished over time. Defendant Apple Computer, Inc. ("Apple") has denied the Representative Plaintiffs' allegations and asserted various affirmative defenses in the Litigation.
The Court has conditionally ruled that the Litigation may be maintained on behalf of the following Class:
All persons or entities residing in the United States who purchased or obtained a First, Second, or Third Generation iPod on or before May 31, 2004.
Apple iPod Settlement Administration Website
This site provides viewable versions of the Class Notice and Instructions, as well as printable versions (in PDF form).
This site provides the following information:
Important Dates and Information, including court filing deadlines;
The Notice of Pendency and Proposed Settlement of Class Action that describes the case and the rights of Class Members;
The Claim Form that must be filled out by Class Members;
The Instructions to assist in completing the Claim Form; and
A list of Frequently Asked Questions regarding the case.
Link: Apple iPod Settlement Administration Website
News and Comment
Apple to Sell 7.1 Million iPods This Quarter
Macworld UK's Jonny Evans reports:
"American Technology Research analyst Shaw Wu believes Apple will sell 7.1 million iPods in the current quarter.
"The figure is up 15 per cent, quarter-on-quarter, but he warns that average selling prices in iPods may come under, 'greater than expected pressure', he wrote in a note to clients obtained by Macworld UK."
Apple's Reign 'Will Collapse in Less Than a Year'
The Inquirer's Nick Farrell says:
"The maker of entertainment gear, Apple had better enjoy its reign of the online music biz while it lasts.
"Hacks at the music bible Billboard have been sacrificing a few goats and invoked a God or Goddess of prophecy and are convinced that Apple's eyePod and iTunes will start to dwindle into bit players within 12 to 18 months.
"The main problem for Apple is that it can't support the amount of interest that the online music business will generate, the magazine reckons.
"The only reason that Apple has the 80 per cent of the market figure that it has is that its rivals cannot match the Cappuccino based outfit's hardware and software integration."
Don't Bring a Stolen iPod Back to the Store You Lifted It From
engadget's Barb Dybwad says:
"File this one in the 'doh!' category: a UK iPod thief was caught red-handed when he brought the device to a local Apple retailer looking for cables for it - unfortunately for the thief, the manager of the Nottingham-based store he walked into was actually the guy he stole the iPod from...."
'Godcasting': Spirituality on Demand, on Your iPod
The New York Times' Tania Ralli reports:
"Kyle Lewis, 25, missed going to church one Sunday last month. But he did not miss the sermon.
"Lewis, who regularly attends services of the National Community Church in Alexandria, Virginia, listened to the sermon while he was at the gym, through a recording he had downloaded to his iPod. Instead of listening to the rock music his gym usually plays, he heard his pastor's voice.
"'Having an iPod is a guaranteed way to get the sermon if you're going to be out of town,' Lewis said, adding that he normally listened to the pastor's podcast at least once more during the week, usually while driving to work, even if he attended the service....
"Sending spiritual messages over the airwaves is nothing new. The Vatican made its first radio broadcast in 1931 and today offers worldwide programming in 34 languages and some programs as podcasts, as well....
"New technology like podcasting updates the mission, although on a much smaller scale for now. But Batterson said he believed that podcasting would have an impact on the church as profound as that of the printing press when the first Bibles were printed in the 15th century....
"One of the most popular Christian podcasts, Catholic Insider, already has more than 10,000 listeners for each program."
iPod Battery Failure
D'Arcy Norman reports:
"I know my battery life is really sucking on my 3G iPod. I get just enough juice to commute home and back to work (a grand total of 1 hour of use) before having to plug it in for enough charge to repeat the cycle again. On the weekend, if I just leave it 'off' without charging it, it will be completely dead on Monday morning (which makes D'Arcy grumpy on the bus on the way to campus).
"I didn't realize that this was officially categorized as 'battery failure' - I thought it was acceptable degradation of the battery life over time. Apparently it's a bit more than that. If I were American, it looks like the recent iPod Battery Settlement would have me covered, and I'd either get a new battery or a deep discount on a replacement."
Artist Creates Wooden 'PiiPod'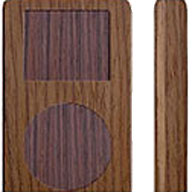 The Guardian's Patrick Barkham reports:
"It could be the solution for anyone trying to give up their iPod. A surrogate MP3 player carved out of wood has been created by a Dutch artist to mark a new exhibition featuring bronze laptops filled with genetically modified grain.
"The artist, known only as Pii, claimed that his 'PiiPod' solves the problem of MP3-related muggings and the risk of deafness by being 'specially designed to be unable to play music and sound files'. Crucially, however, the recycled wooden device still delivers an iPod-style 'fix' by producing a bulge the size of a personal music player in the carrier's pocket."
Kraft Offers Free Recipes to iPod Users
Ad Jab's Chris Thilk reports:
"Kraft has presented itself as the next in line to try and capitalize on the popularity of Apple's iPod. The food giant has made recipes available for download and viewing in the 'Notes' field on the music player. The recipes are broken up for easy viewing on the iPod's small screen but take up very little space. So far Kraft has made 6,000 recipes available for download from KraftFoods.com."
Stylish iPod Owners Add Extras
The Washington Post's Anjali Athavaley reports:
"For Suzy Wagner, owning a naked Apple iPod is so yesterday.
"To keep up with other digerati, she is styling it up. The 35-year-old advertising sales manager recently walked out of an Apple Store with a bag full of new accessories: an FM transmitter, a car charger, a cable that connects the iPod to her television and a pink case (she wouldn't want to scratch it if she were to drop it), all for $135.
"iPod owners spend an average of more than $150 on accessories, according to the Envisioneering Group, a market research firm based in Seaford, N.Y."
iPod's Journey Marks Arrival of Just-in-Time Global Economy
The Pittsburgh Post-Gazette's Jim McKay reports:
"'There are a lot of obsessed people out there,' Allison Sobczak, a spokeswoman for Moon, Pa.-based FedEx Ground, said after reviewing Internet blogs about the iPod's international travels. 'It's really what customers want. Customers want package information.'
"Because great ideas deserve great technology. When you're bringing ideas to life, your desktops, notebooks and servers should work with you, not against you. So why wait? Get new systems today and start creating tomorrow.
"You can get a glimpse of how the just-in-time global economy has evolved by tracing the trip of more than 7,000 miles that an Apple iPod took from Shanghai, China, where it was manufactured, to Pittsburgh."
Sounding Off About the 'iPod' Generation
Edinburgh Evening News Online's Jennifer Veitch says:
"I am frankly surprised that it has taken so long, but someone has finally come up with a syndrome which uses the word 'iPod' as an acronym.
"Forget the dinky, oh-so-cool music players manufactured by Apple: iPod now stands for 'insecure, pressurised, over-taxed and debt-ridden', according to the think-tank Reform.
"So if, like me, you are under the age of 35, then you are part of a younger generation that has apparently never had it so bad. You'll be struggling to afford to buy a home, up to your eyes in debt - probably as a result of paying for, or at least subsidising, your own higher education - and will be shelling out tax for welfare services like the NHS and pensions that you are unlikely to benefit much from in the future."
Virtual Silicon Announces Winner of 20 GB iPod
PR: Virtual Silicon Technology, Inc. has announced that Daniel Sakols, an independent SoC designer, was the first winner of the Virtual Silicon "Challenge our DFS" contest. The contest, announced in June of 2005, challenged ASIC designers to review the capabilities of the Virtual Silicon Mobilize Digital Frequency Synthesizer PLL for their design and submit a review of its suitability. Prizes include 20 GB iPods, iPod Shuffles and even a license to use the Virtual Silicon DFS in a design. Mr. Sakols evaluated the DFS PLL for use as the conversion clock in an audio application.
"The Virtual Silicon DFS PLL was great fun to evaluate. It is highly flexible making it suitable for many applications," Sakols said.
The Virtual Silicon "Challenge our DFS" contest runs through October 2005.
Advice
Build a Motion-Based iPod Remote Control
Peter Tyser writes:
"I thought your readers may find this interesting... As an independent study at my university I built a remote control for the iPod the responds to motion. This allows an iPod user to control their music without the use of their hands. The webpage has pictures, movies, and schematics."
Create an iPod with HFS and FAT32 Partitions
Mac OS X Hints' Jeff Hopper says:
"I'm not a specialist, but I studied the Create a bootable HFS+ partition and a FAT32 partition on one external drive hint to do this. It works for me, with a PowerBook, iPod mini 4 GB, Tiger, and tested on Windows XP.
"Read on to see how I created an iPod with FAT32 and bootable HFS partitions, while maintaining its ability to be used as an iPod."
Products and Services
iSkin Releases Dual-Layer iPod Shuffle Protector
PR: iSkin Inc., a leading provider of iPod accessories, has announced the availability of its iSkin Shuffle Duo, the world's first dual layer protective skin covering engineered specifically for the immensely popular iPod Shuffle. The iSkin Shuffle Duo features a unique design that includes both an inner and outer skin that combine to create the perfect barrier against impurities and even moisture.

iSkin Shuffle Duo ensures that the music keeps pumping no matter what is going on around you. The iSkin's moisture resistant design is made of durable, flexible and long-lasting high-grade silicone and leaves all control buttons accessible for easy access and uninterrupted playtime. The iSkin Shuffle Duo's form-fitting, contoured design is available in two distinct colors: Adrenaline (a vitalizing outer blue layer combined with an energizing inner green layer), Vigor (a intense red outer layer with a frosted clear inner layer), Oxygen (a refreshing frosted clear outer and inner layer) and Impulse (a strong grey with a frosted clear inner layer).
iSkin Shuffle Duo leaves all control buttons accessible, as well as the operation status and battery lights visible. The new iSkin features an integrated headphone port cover and includes a high quality custom neck strap. iSkin Shuffle Duo is the perfect companion for Shuffle enthusiasts and is targeted towards those with active lifestyles. It is priced at US$19.99 and available from www.iskin.com. The iSkin Shuffle Duo will be available at retail locations shortly after its debut.
iSkin Inc. introduced its first iSkin iPod protector in September 2002, creating a new and fashionable way to protect the iPod without sacrificing the functionality and aesthetics of the device. Today, iSkin is highly favored among iPod owners. With a growing line of innovative protective solutions for the iPod, PowerBook and other Apple products, iSkin is committed to delivering the best protection using the most advanced technology available.
Handmade Covers Protect Your iPod from Scratches
PR: Dear Mr. Moore,
I'm an Austrian student who produces bags to protect iPods, notebooks, and mobiles from scratches.
Give your iPod, notebook, or mobile phone a perfect fitting, custom-built "handmade" made from classic cloth or from an individualistic cloth.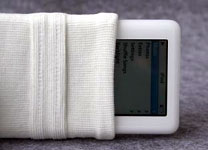 Originally I made such a bag for my friend's iPod and then we had the idea . . . we started with an easy HTML-site and a post in my friend's favourite forum.
Since Monday we have a new online-shop.
Rivet Consumers Can Customize Their iPods with Personal Style
PR: Rivet International, the leading developer of attachment systems for personal mobile devices and accessories, has announced the availability of its Rivet GRAB™ for iPod shuffle, giving users a variety of ways to accessorize their Apple Shuffle player.
The Rivet GRAB provides Shuffle owners with a colorful way to turn their players into a fashionable tool. Rivet's Shuffle holder includes the company's popular GRAB, made of polycarbonate plastic. The durable and lightweight holder was designed specifically to complement the style, size and simplicity of the Shuffle. The GRAB comes in pink, blue, clear or graphite color options.
The GRAB for iPod shuffle also includes a lanyard, with either colored glass beads or cloth with custom designs, enabling users to accessorize their Shuffle with their clothing, bags or other fashion items. Consumers may also choose to wear the Shuffle with a removable clip that allows attachment to a belt, shirt, pocket or bag. The durable and discreet lanyard Micro Clip and the compact snap-on belt clip keep Shuffle control keys accessible at all times without adding bulk to ensure the Shuffle remains a small and lightweight music player.
"At such an affordable price point, and with millions in worldwide circulation, the iPod shuffle has become a status symbol for mobile music lovers," said Raleigh Wilson, CEO of Rivet International. "With our GRAB product, consumers now have a fashionable and secure way to wear their Shuffle, by adding color and a sense of individual style."
Rivet's high quality manufacturing is backed with a lifetime warranty. The Rivet GRAB for iPod product line is available immediately at Apple Stores nationwide and online at the Apple Store, starting at $19.99.
Software
iPod Music Liberator Copies Music from Your iPod to Any Computer
PR: Free the music on your iPod
For Windows, Mac, and Linux!
Copy Music From Your iPod to Any Computer
Move Music Between Authorized Computers
Backup Music to Another Computer
Recover Music From Your iPod
Move Music to a Newly Bought Computer
Try it For free
The iPod Music Liberator is now available for the Mac. The iPod Music Liberator allows you to copy music from your iPod to any computer.
The iPod Music Liberator allows you to copy music from your iPod to any computer, filling in a missing feature of iTunes. You see, iTunes only allows for a one way transfer of music from your computer to your iPod. But what if you want to move music to another authorized computer? What if you want to make a backup of your music? What if your computer crashes and you lose all of the music on your computer? What if you buy a new computer and need to move your music? What if ... ? Use the iPod Music Liberator for all of your iPod music copying needs.
System requirements: Mac OS X
iPod Music Liberator is $15 shareware.
PodSmith Uses Your iPod to Lock/Unlock Your Files, Folders, and Apps
PR: PodSmith is a utility to make full use of your iPod.
PodSmith uses your iPod as a key for security and for various synchronization features.
PodSmith Protects your data with your iPod.
With PodSmith, iPod works as a key for your computer.
You can lock or unlock your Macintosh with your iPod.
Are you tired of iSync that is just auto backup?
You'll have full advantage of auto-sync between Macintosh and iPod.
A sample use of PodSmith:
Mount an iPod to replace the Safari bookmarks of your Mac with your iPod's bookmarks.
Then unmount it to go back to the original bookmarks.
Your favorite bookmarks are always in your iPod to share anywhere, anytime.
How does PodSmith protect my computer?
Screen Lock: You can lock and unlock the screen by unmounting and mounting your iPod. Of course you can unlock the computer by typing your password without your iPod.
File Lock: Specified folders or files can be locked by unmounting your iPod.
Protect your files: Disable all applications except those you specify.
What about Auto-Sync?
PodSmith supports Safari bookmarks, address book and schedule for auto-sync.
New features in version 1.1
Switches to "Restrict applications" :
Allow or restrict to use the specific applications
Synchronize Now: Auto-Sync start any time.
MP3 utility: Wrap MP3 files into one album file.
System requirements:
Mac OS X 10.3 or higher
Any iPod, including iPod shuffle
PodSmith is $20 shareware.
iPod Deals
For current iPod prices from a variety of sources, see our Best iPod Deals.
Join us on Facebook, follow us on Twitter or Google+, or subscribe to our RSS news feed
Today's Links
Mac of the Day: Mac Pro, introduced 2006.08.07. The last Mac to go Intel, the Mac Pro has two dual-core Xeon CPUs at 2.0-3.0 GHz. 8-core option added in 2007.
Recent Content
Custom Search
Follow Low End Mac on Twitter
Join Low End Mac on Facebook
Favorite Sites
MacSurfer
Cult of Mac
Shrine of Apple
MacInTouch
MyAppleMenu
InfoMac
The Mac Observer
Accelerate Your Mac
RetroMacCast
The Vintage Mac Museum
Deal Brothers
DealMac
Mac2Sell
Mac Driver Museum
JAG's House
System 6 Heaven
System 7 Today
the pickle's Low-End Mac FAQ
Affiliates
Amazon.com
The iTunes Store
PC Connection Express
Macgo Blu-ray Player
Parallels Desktop for Mac
eBay

Advertise